11 Top-Rated Tourist Attractions in Broome, WA
Basking under a tropical sun and bathed by turquoise seas, Broome is the gateway to the natural wonders of Western Australia's Kimberley region. But this remote tourist town has many treasures of its own.
Eye-popping coastal scenery is a highlight. Striking blue seas splash against red-hued coastal cliffs, and a diversity of shorebirds dot the tidal flats of Roebuck Bay. Broome also hosts one of Australia's iconic tourism experiences: riding a camel at sunset along the sweeping shores of Cable Beach. It's a must-do.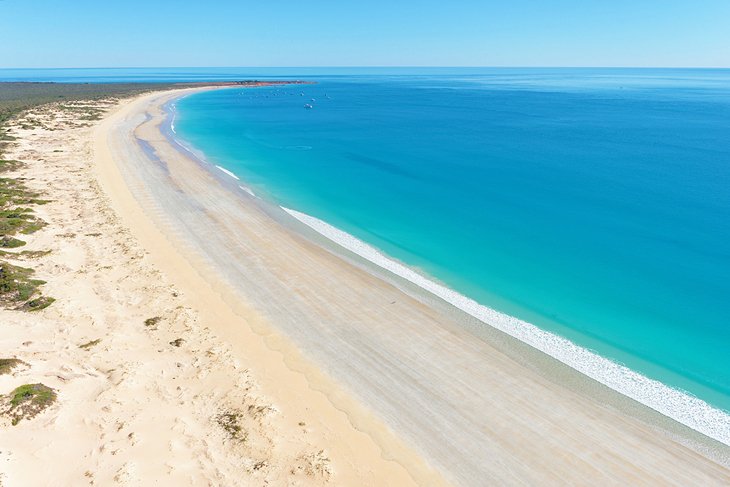 Broome fishing is legendary – in fact, it's one of the top fishing destinations in Australia. Other popular things to do in Broome include relaxing along the white-sand shores, kayaking the clear waters, and spotting marine life on a whale-watching cruise.
Broome was also once the pearling capital of the world. Many Japanese, Malay, and Chinese divers came here seeking their fortune, and today, you can explore this fascinating history in the town's museum or on a local pearl farm tour.
Broome and The Kimberley region is one of Australia's most remote areas. The distance from Western Australia's capital city of Perth to Broome is about 2,200 kilometers, and from Darwin to Broome it's about 1,870 kilometers, so once you make it here, whether by car or plane, it makes a great base for day trips to other attractions in The Kimberleys. Book a scenic seaplane tour to the spectacular Horizontal Falls, or plan a 4WD safari to Cape Leveque or Windjana National Park, and explore Tunnel Creek along the legendary Gibb River Road.
No matter what you plan to do, pop into the Broome Visitor Centre when you arrive. The friendly staff here have all the information you need to get the most out of your visit. And before you go, pinpoint the best places to visit with our list of the top things to do in Broome, Australia.
1. Ride a Camel on Cable Beach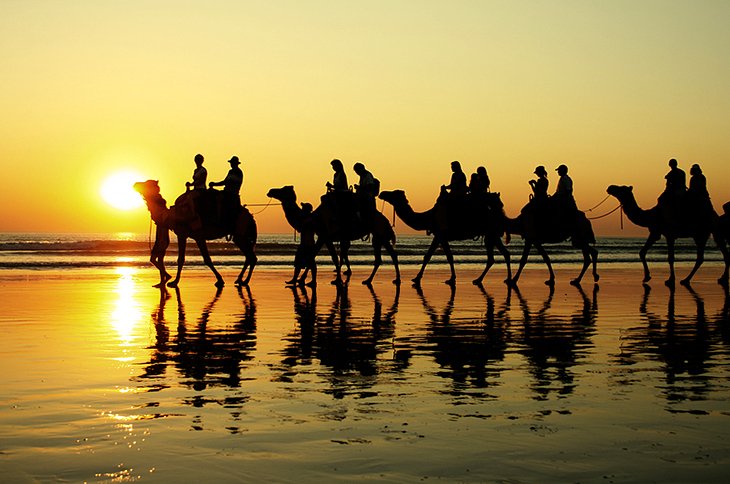 Stretching for 22 kilometers, Cable Beach is one of Australia's best beaches. This iconic strand of dazzling white sand and turquoise sea takes its name from the communications cable laid between Broome and Java in 1889. Today, riding camels along this famous stretch of sand is one of the top things to do at Cable Beach, and many travel brochures feature photos of silhouetted figures on camelback padding along the shore.
You'll also see 4WD vehicles trundling along the beach as sun seekers search for the perfect patch of sand, and there's plenty to go around. Be sure to bring an umbrella or awning; the beach sizzles in the heat of the day.
A word of warning: It's best to stay out of the water from November to May, when dangerous irukandji jellyfish inhabit the waters. You can paddle along the shore at other times of the year, but keep an eye on the tides; they can vary by as much as nine meters.
2. Soar over the Horizontal Falls on a Scenic Flight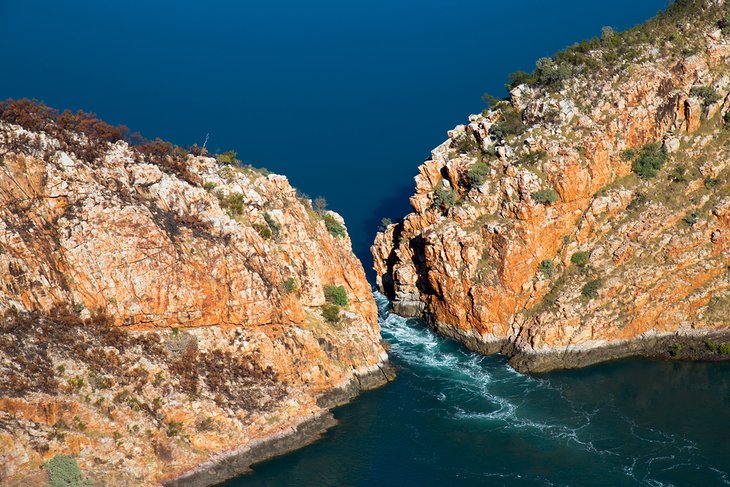 For an adrenaline-packed adventure, it's hard to beat a scenic seaplane flight to the magnificent Horizontal Falls. The falls are actually seething tides squeezed through two narrow gorges.
One of the most popular day trips from Broome, the Horizontal Falls Full-Day Tour from Broome by 4x4 & Seaplane gives you multiple perspectives of this breathtakingly beautiful region. First, you'll travel by 4WD along the Dampier Peninsular to pristine beaches. Then, you'll board a seaplane for an exhilarating flight along Western Australia's northwest coast to Cape Leveque. You'll see the red cliffs and rocky islets of the Buccaneer Archipelago, known as the Thousand Islands, before landing on the water at Talbot Bay.
From here, passengers usually board a jet boat for an exhilarating cruise through the falls. Shark feedings and shark swims add to all the excitement (swimmers can view the action from the safety of a shark cage), and a picnic lunch on a pontoon tops off the day before your return flight to Broome.
If you're short on time, opt for the Horizontal Falls half-day tour from Broome, which includes flights in both directions to maximize your time on the water.
3. Admire the Scenery at Gantheaume Point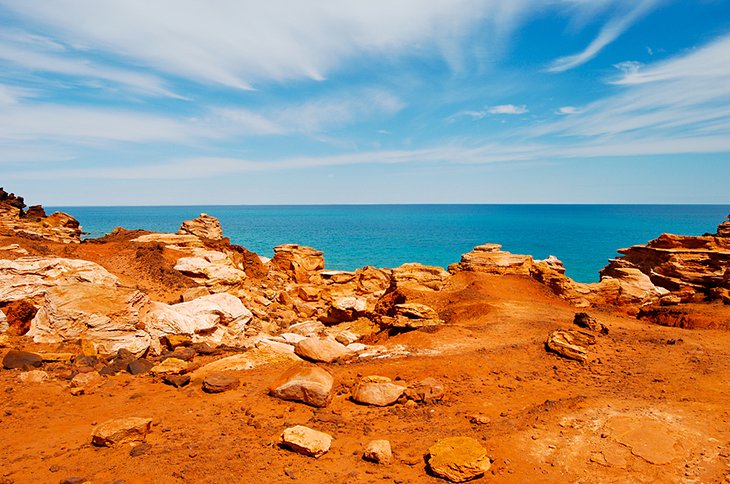 Nature's colors pop at Gantheaume Point. The striking contrast between the red cliffs and the bright blue sea make this a beautiful place to take photos. The point lies south of Cable Beach, about six kilometers from town, and visiting here is one of the best free things to do in Broome.
At low tide, dinosaur footprints, reputedly more than 130 million years old, are barely perceptible in the exposed reef, but you can view a plaster cast of them embedded into the top of the cliff. If you're hunting for the footprints in the intertidal zone, make sure you wear appropriate shoes for clambering over the rocks.
A lighthouse overlooks the Indian Ocean and, at the end of the road to Gantheaume Point, lies Anastasia's Pool. The former lighthouse keeper carved this small rock pool so his arthritic wife could bathe. It's a lovely place to visit for a dip on a hot day. And if you're an avid angler, you'll find a great fishing beach to the left of Gantheaume Point.
4. See the Staircase to the Moon at Town Beach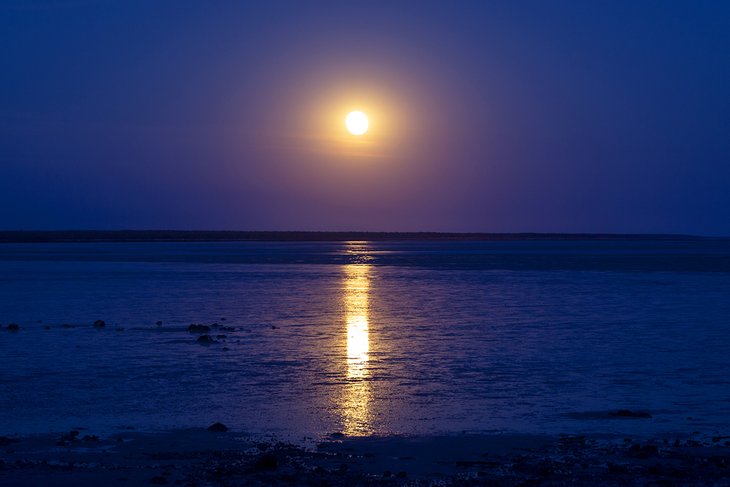 Looking for unusual things to do in Broome? The Staircase to the Moon fits the bill. About two or three days a month between March and October, locals and tourists flock to Broome's Town Beach for this mesmerizing sight. When a full moon rises over Roebuck Bay, its reflection gleams off the vast tidal flats, creating an optical illusion that resembles steps ascending into the dusk sky. The Mangrove Hotel overlooking the beach is a great vantage point.
During this popular phenomenon, Town Beach hosts the Staircase Markets. They are held from April to October on the night of the full moon. Here, shoppers can stock up on handmade gifts, and sample snacks from around the world; the cuisine ranges from Thai and Chinese to laksa, satay, and pizza. Live music lends a festive ambience.
At other times, Town Beach is a local's favorite with a popular café where mom and dad can relax while the kids run wild in the adjacent water park.
5. Visit Malcolm Douglas Wilderness Wildlife Park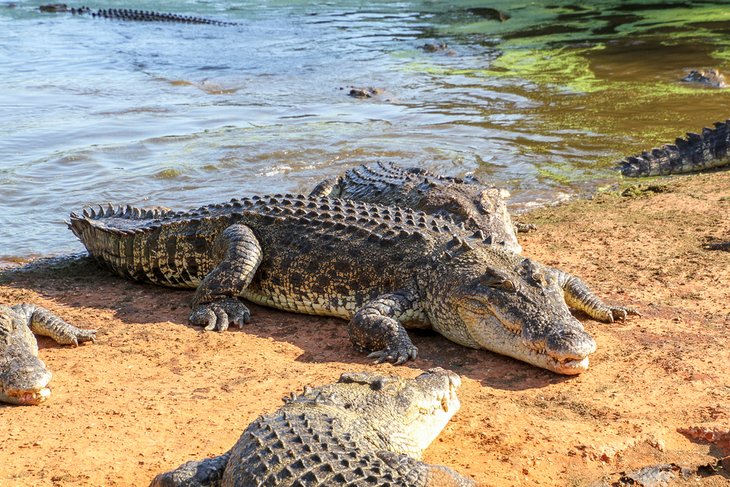 Cuddle a baby crocodile, see the rare cassowary, or pat a kangaroo. At the Malcolm Douglas Wilderness Wildlife Park, about a 15-minute drive from Broome, animal lovers can enjoy close-up views of some of Australia's quirkiest and most formidable creatures and learn about their habitat and behaviors.
This is more than just a crocodile park. Wallabies, dingoes, snakes, and lizards also inhabit the park, as well as a range of feathered critters, from emus to cockatoos and kookaburras. Stay for the croc feeding at 3pm, when some of the largest crocodiles in Australia demonstrate their surprising agility as they lunge for food.
About a five-minute drive from here, 12 Mile Bird Park features an array of exotic and indigenous birds representing 80 different species.
Address: Broome Road, Roebuck, Western Australia
Official site: https://www.malcolmdouglas.com.au/
6. Delve into the Past at Broome Historical Museum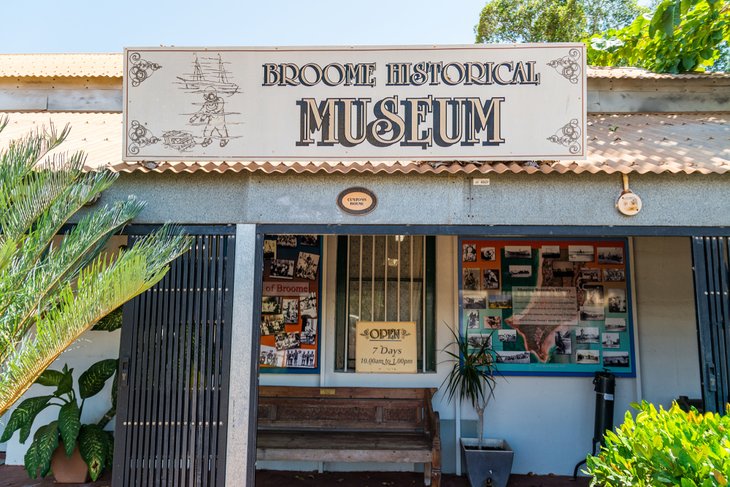 Visiting Broome for the first time? Pop into the Broome Historical Museum for an overview of the town's fascinating history. Though small, the museum features informative exhibits on the pearling industry, cyclones, Broome's One Day War, seashells, and displays of Aboriginal artifacts.
Allow a couple of hours here to fully absorb all the history, but if you run out of time, ask the friendly volunteers for a pass, so you can revisit the museum during your stay. Kids can embark on their own learning adventure with the museum's quiz. If you're looking for cheap things to do in Broome on a rainy day, this is a great option.
History buffs who are particularly interested in Broome's pearling past may want to visit the Japanese cemetery. Here, a tall column commemorates the Japanese pearl fishers who lost their lives in a cyclone in 1908.
Address: Robinson Street, Broome, Western Australia
Official site: http://www.broomemuseum.org.au/
7. See a Movie at Sun Pictures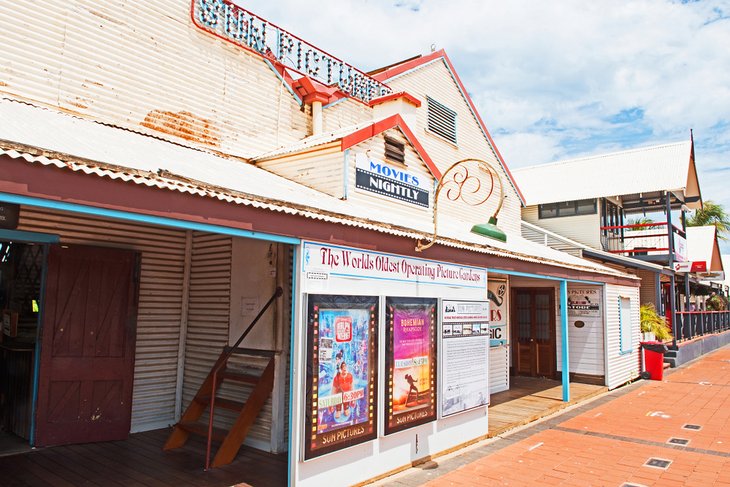 If you're looking for things to do in Broome at night, head to Sun Pictures in the heart of Broome's Chinatown. Here, you can recline in a deck chair under a star-spangled sky, and enjoy a movie at the oldest outdoor cinema in operation. Sun Pictures, screens a couple of movies a night, and it also has an interesting story of its own.
The cinema was born in the early 1900s as a store owned by the Yamasaki family. The family happened to love movies, so they converted part of their shop into a little Japanese playhouse. In 1913, a pearler purchased the building and transformed the store into a cinema.
Sun Pictures welcomed its first official audience in 1916 with a silent movie and has been screening movies ever since, despite frequent tidal flooding over the years. Today, the cinema is heritage-listed, and a levy tames the tides.
Before the movie, film buffs can pop into the small museum and browse the cinema memorabilia.
Address: Carnarvon Street, Broome, Western Australia
Official site: https://www.broomemovies.com.au/
8. Take a Pearl Farm Tour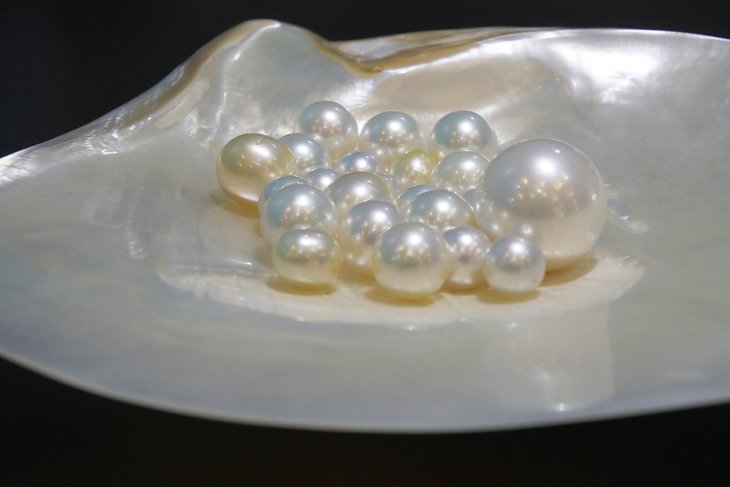 Broome was once the pearling capital of the world. Today, you can learn more about this interesting facet of the town's history on a pearl farm tour, and see how they culture these highly acclaimed South Sea pearls.
Willie Creek offers a popular Pearl Farm Tour from Broome, which demonstrates the entire process: from the initial oyster seeding to harvesting and grading. You'll also enjoy a boat cruise on Willie Creek and learn how to care for pearls. Morning or afternoon tea is included.
Cygnet Bay Pearl Farm offers a land-based tour, as well as a pearl grading class.
Of course, no visit would be complete without an opportunity to purchase some of these South Sea beauties as a souvenir when you're shopping in Broome. You can pick up some pretty pearl jewelry at the many stores in Chinatown.
9. Book a Broome Whale Watching Trip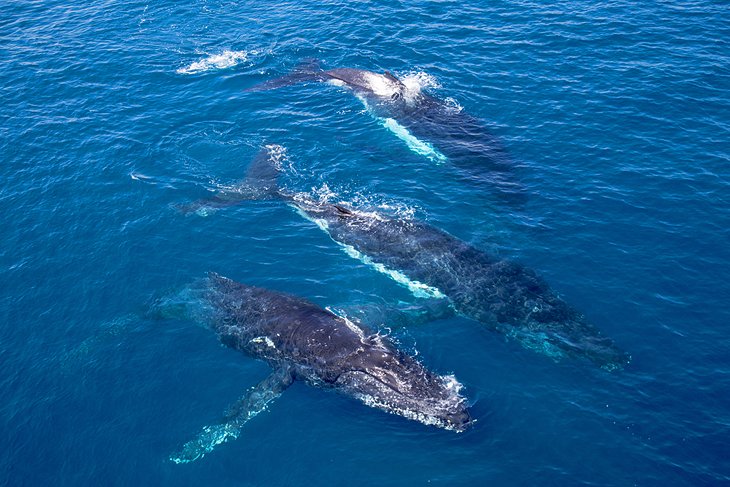 Seeing a humpback whale breach from the turquoise water is an unforgettable experience, and you can reserve a front row seat for this must-see experience in Broome. From June through September, these gentle giants of the sea migrate from the frigid waters of Antarctica to the warm waters off Broome to mate, give birth, and nurse their young.
The best way to see them is on a 4.5-hour Whale Watching Sunset Cruise aboard a comfortable catamaran. Not only can you see these magnificent animals up close, you'll also hear their sounds with the onboard hydrophone. Snacks and some refreshments are included. Whale sightings are guaranteed during July and August.
10. Plan a Day Trip to Windjana Gorge & Tunnel Creek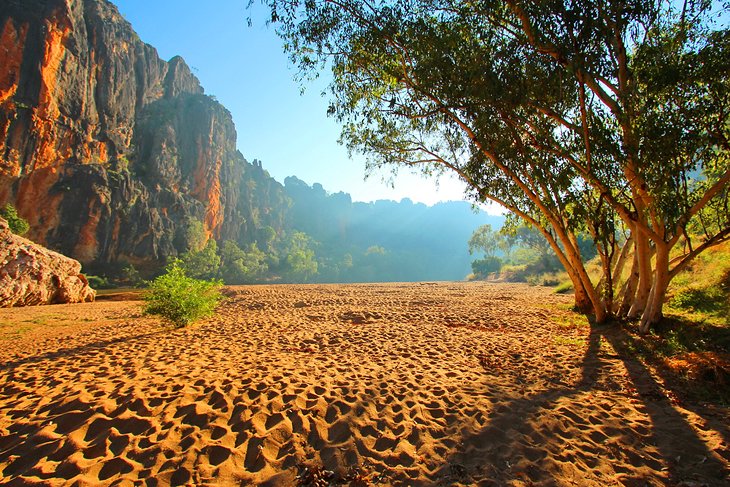 If you don't have time for a multi-day trip to the rugged outback of The Kimberley, a day trip from Broome is a great way to get a taste of this spectacular region. The Windjana Gorge National Park and Tunnel Creek 4WD Tour from Broome visits these two top tourist attractions and more. Along the way, an expert guide will share fascinating information about the local Bunuba people and their way of life, as well as details about the region's ecology.
First stop is the Boab Prison Tree, outside the town of Derby. Although legend has it that the tree was once a temporary prison, evidence suggests that it was actually used by the local Indigenous people as a shelter and possibly a burial site.
Next, the tour traverses the legendary Gibb River Road, a famous 4WD-route through the Kimberley, and one of Australia's top outdoor adventures, to the saw-toothed Windjana Gorge. Here, you can gaze up at the soaring 90-meter rock walls and look for fossils along this ancient reef. Corellas flock in the surrounding gum trees, and freshwater crocodiles lurk in the pools.
From here, the tour heads to Tunnel Creek, where you can delve deep inside Australia's oldest cave system to see more freshwater crocodiles, bats, and dramatic stalactites and stalagmites.
All meals are included, as well as hotel pickup and drop-off in an air-conditioned 4WD. It's a long day, but well worth the time to see this remote, rugged region.
11. Go Fishing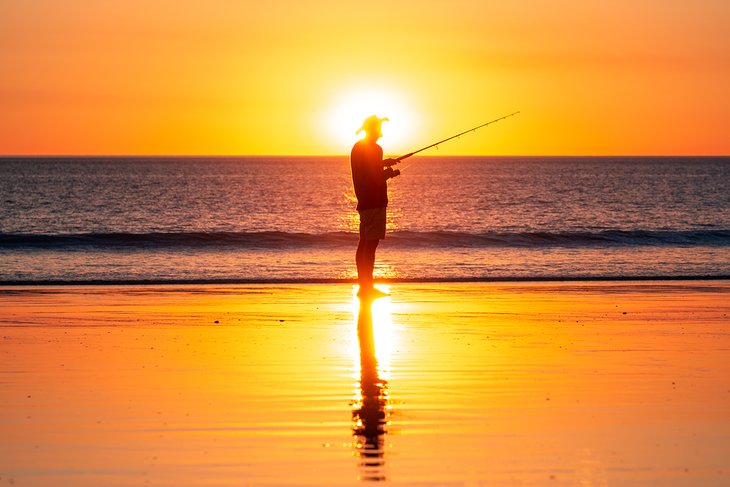 Broome fishing is diverse and rewarding. Creek fishing can be excellent. Cast a line here for barramundi, javelin fish, catfish, mangrove jacks, and threadfin and bluenose salmon.
Love to fish from the beach? Cable Beach is the best option. Here, you can cast along the gutters, or try your luck from the rocky headlands. Possible catches include dart, blue-spotted trevally, and threadfin salmon. Another decent fishing spot sits to the left of Gantheaume Point. If you're lucky, you might hook queenfish and trevally here.
Offshore fishing in Broome is another great option. Sailfish, Spanish mackerel, northern bluefin tuna, black marlin, cobia, and mahimahi are all possible catches. And if you just want an easy place to cast a line with the kids, head to the Town Jetty.
Anglers should note that huge tidal variations can impact your success. If you're fishing on your own, chat with local experts before you head out. Better still, book a guided trip. On the Broome full-day fishing charter, you'll learn all the tips and trips from local expert guides. Lunch is included, as well as all your equipment.
Map of Things to Do in Broome, WA
Broome, Australia - Climate Chart
Average minimum and maximum temperatures for Broome, Australia in °C
J
F
M
A
M
J
J
A
S
O
N
D

33

26

33

26

34

25

34

22

32

18

29

15

29

13

30

15

32

18

33

22

34

25

34

27

PlanetWare.com
Average monthly precipitation totals for Broome, Australia in mm.

203

163

104

20

25

15

3

3

3

3

10

48
More Related Articles on PlanetWare.com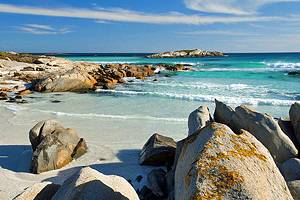 The Wonders of Western Australia: While you're in this ruggedly beautiful state, save time to explore some of the other things to see and do in Western Australia. Visit the vibrant capital of Perth, frequently voted one of the world's most livable cities, and explore the city's rewarding day trip destinations, like Rottnest Island, the picturesque Swan Valley, and historic Fremantle. In the state's far north, you can swim with whale sharks near Ningaloo reef and take a sightseeing tour of the remote red-rock wonderland of The Kimberley. Head south from Perth to bask on the dazzling beaches of Esperance.