12 Top-Rated Tourist Attractions in Esperance
Rimmed by some of Australia's most ravishing beaches, the little town of Esperance lies about 720 kilometers southeast of Perth. The town takes its name from a French vessel, The Espérance, which anchored here in 1792.
Nature is the star attraction along this spectacular stretch of coast. Powdery white-sand beaches merge with turquoise water, and three national parks lie within the Shire of Esperance, including Cape Le Grand, with some of Western Australia's most photo-worthy coastal scenery. Kangaroos often hop along the beautiful boulder-strewn beaches, where surfing, scuba diving, swimming, and fishing are all popular things to do.
Just offshore, the wild and rugged Recherche Archipelago, a group of 105 granite isles, shelters rock wallabies and Australian sea lions. Inland, where the arid landscapes stretch to the vast and treeless Nullarbor Plain, nature lovers can hike the many walking trails, bump and grind on a four-wheel-drive adventure, or bask in the solitude and beauty of wind-rippled sandscapes.
Discover the best places to visit along this dazzling coast with our list of the top things to do in Esperance.
1. Visit Cape Le Grand National Park & Lucky Bay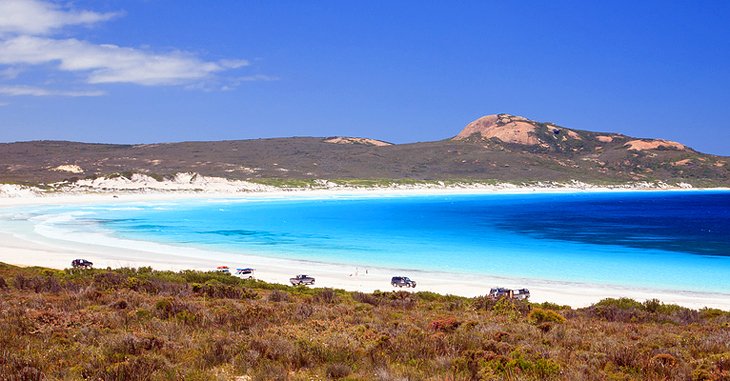 Of the three national parks in the Shire of Esperance, Cape Le Grand is the beauty queen. It lies a 30-minute drive east of Esperance. Long beaches with squeaky snow-white sand, turquoise seas, flower-flecked heathlands, and granite peaks are some of its most striking attractions.
Gorgeous Lucky Bay, a pristine stretch of coast, where sunbathers can share a patch of sand with resident kangaroos, frequently tops the list of beaches with the whitest sand.
A top thing to do in the park is the three-kilometer-long hiking trail up Frenchman Peak, which rewards you with breathtaking views over the park and the Recherche Archipelago.
Another popular walk is the challenging 15-kilometer (one way) Coastal Track. It runs from Le Grand Beach past Hellfire Bay to Rossiter Bay, with spectacular views of the coast.
The park's narrow inlets and beautiful bays lure many water sports enthusiasts. Fishing, in particular, is another popular thing to do here.
Official site: https://parks.dpaw.wa.gov.au/park/cape-le-grand
2. Swim or Surf at Twilight Beach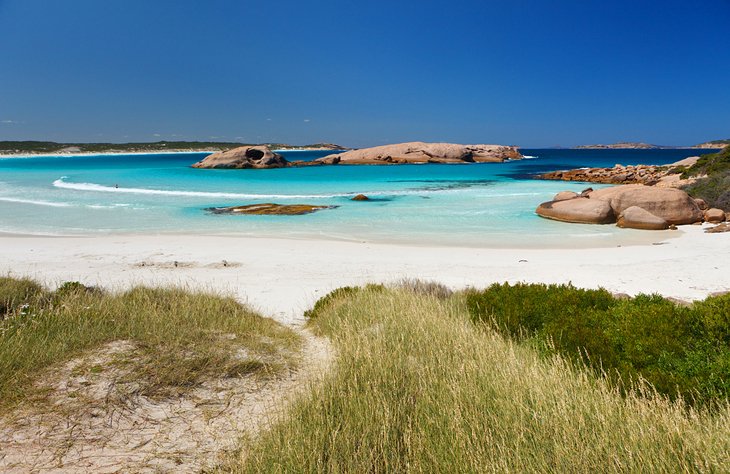 About seven kilometers west of Esperance, Twilight Beach is an exquisite slice of white sand and turquoise sea flanked by rounded granite boulders. Reminiscent of boulder-strewn strands in the Seychelles (without the rustling palms), this stunning stretch of sand and sea is one of Australia's best beaches.
Granite islets lie offshore, and the wide, flat shoreline and shallow sand bar create perfect conditions for families with small children – it's the safest Esperance beach for swimming and surfing. Lifeguards patrol during the summer months.
If you're wondering about things to do in Esperance with a dog, Twilight Beach is pooch-friendly, except for the area between the car park and the rocks to the east of the Surf Life Saving Club.
Basking on this sublime beach is one of the best free things to do in Esperance. Facilities include restrooms and showers, but you should bring shade protection, as well as snacks and refreshments if you plan to stay a while. And why wouldn't you?
3. Cruise along Great Ocean Drive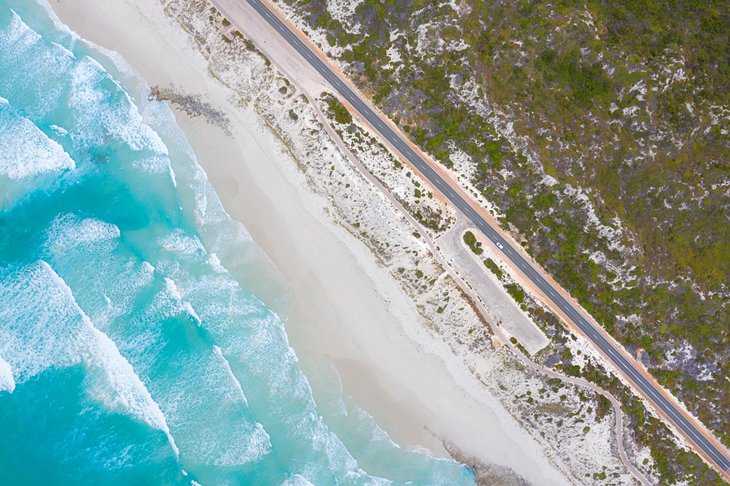 Travelers to Australia have probably heard of the Great Ocean Road, a scenic route along the country's rugged south coast. Great Ocean Drive is Western Australia's version, an almost 40-kilometer tourist route that curves along the unspoiled Esperance coastline and loops back into town.
Along the way, you can enjoy panoramic coastal views, and stop at sublime beaches to surf, swim, picnic, or fish. Highlights along Great Ocean Drive include the Rotary Lookout, perched on a granite outcrop with panoramic views of Esperance and the Recherche Archipelago; family-friendly Twilight Beach; and the Western Power Wind Farms. And if you're wondering about the Esperance Pink Lake, you can still see this famous body of water, but it hasn't been pink in a while.
This scenic drive is a great way to scope out some of the hidden things to do in Esperance.
4. Hike the Frenchman Peak Walk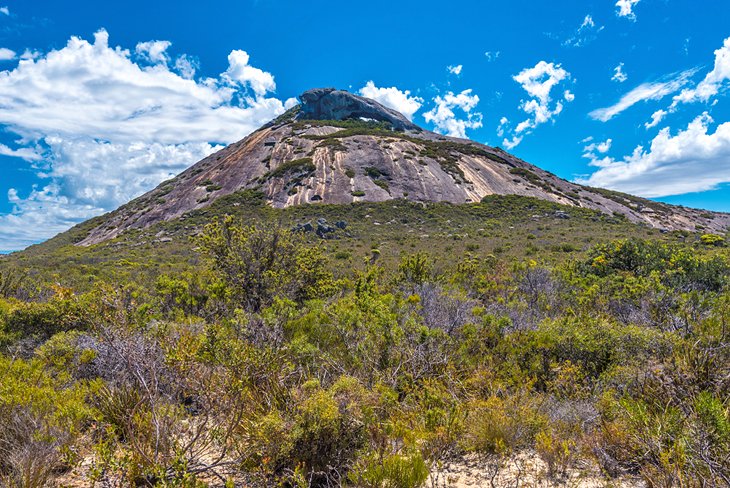 Besides the dazzling beaches, one of the most well-known landforms in Cape le Grand National Park is Frenchman Peak. Named for its distinctive shape, reminiscent of the hats worn by French troops in the 1800s, this 262-meter-high peak offers a popular summit hike, Frenchman Peak Walk, with beautiful views of the surrounding landscape.
It's a challenging three-kilometer round-trip hike, and takes about one to three hours of difficult walking up the steep slopes, but the views are worth the effort. In the spring, you can also see colorful wildflowers along the trail.
You need to be reasonably fit to make the steep climb to the summit, and make sure you wear sturdy shoes, as the trail is covered with loose gravel. After rain, the rocks are slick, so it's safer to time your hike for a clear day.
Once you're at the top, you can see for miles over the silvery-green heathlands to the sea and the islands of the Recherché Archipelago beyond.
5. Explore Cape Arid National Park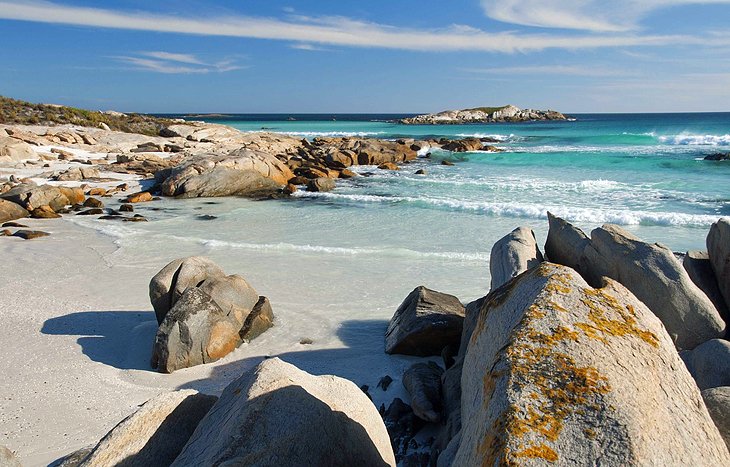 Crystal-clear seas, gleaming beaches, and boulder-strewn bays are the prime tourist attractions at Cape Arid National Park. About 120 kilometers east of Esperance, this huge park is best accessed with a 4WD vehicle and lies just east of Cape Le Grand, with similar coastal scenery. Granite promontories shelter white-sand beaches and offer fantastic fishing and water sports in summer.
From the top of Mount Arid, you can enjoy impressive views of the coast and the little islands at the east end of the Recherche Archipelago. In the north of the park, the craggy Russell Range rises from the mallee scrub with 600-meter Tower Peak at its highest point.
Coastal walking tracks and inland trails are a great way to explore the diverse plants and animals here, including many birds. Keep an eye out for mulga parrots and purple-crowned lorikeets.
During late winter and spring, migrating whales swim just offshore. At the east end of the park, the wind-sculpted dunes of Nuytsland Nature Reserve roll to the vast wilderness of the Nullarbor Plain.
Official site: https://parks.dpaw.wa.gov.au/park/cape-arid
6. Fitzgerald River National Park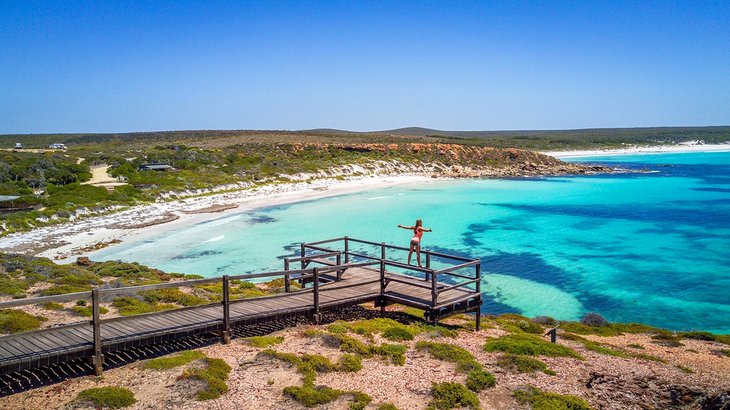 About a three-hour drive west of Esperance, Fitzgerald River National Park is a botanical wonderland. This expansive reserve is home to more than 20 percent of the state's recorded plant species, including many orchids and proteas. A few of the species are found only within the park's borders.
The scenery here ranges from sparkling bays, excellent for swimming and fishing, to undulating plains and craggy coastal peaks. In the spring, particularly in September, fields of colorful wildflowers bloom, creating fantastic photo opportunities.
The Fitzgerald River cuts through the Barren Range, which lies along the Southern Ocean, with sheer rock faces and steep scree slopes. From the peaks, hikers can enjoy magnificent views of the coast; Point Ann is a prime vantage point for whale watching between July and October.
Scenic drives are a great way to explore the park. The southern part of Hamersley Drive winds past some of the top coastal attractions, such as Four Mile Beach, Barrens Beach, Barrens Lookout, and Cave Point.
An impressive network of hiking and heritage trails fans out across the park for those who enjoy exploring on foot. Traveling with that special someone? A picnic among the spring wildflowers here is one of the most romantic things to do in Esperance.
Official site: https://parks.dpaw.wa.gov.au/park/fitzgerald-river
7. Hop aboard a Wildlife Cruise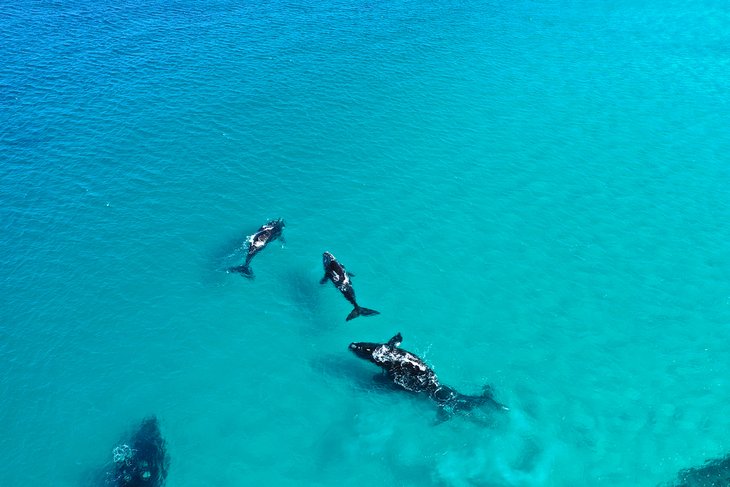 Looking for things to do in Esperance in the winter? You're in luck! This time of year is prime whale-watching season. From May through October, southern right whales migrate along this ravishing coast, and you can hop aboard a wildlife cruise to see them up close.
If you're lucky, you might also see other wildlife, including dolphins, orcas, Australian sea lions, New Zealand fur seals, and white-bellied sea eagles. You'll also cruise past some of the beautiful islands of the Recherche Archipelago, as well as some of the area's pristine white-sand beaches.
Esperance Island Cruises offers Scenic Wildlife Cruises all year, although the whale watching is season dependent. The cruises also include snorkeling gear in case you want to hop in the clear, clean water and swim with the marine animals.
Official site: http://www.esperancecruises.com.au/
8. Fish or Paddle at Stokes National Park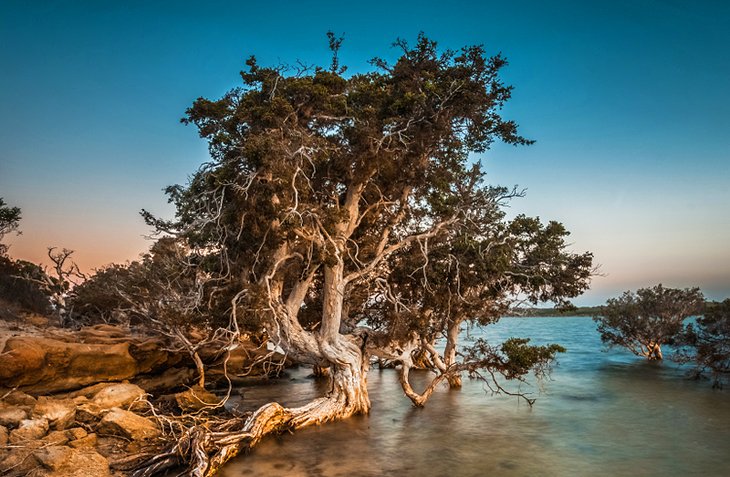 Stokes National Park, about 80 kilometers west of Esperance, encompasses the tranquil waters of Stokes Inlet. This deep estuary offers fantastic fishing, kayaking, birding, boating, and bushwalking. Long dune-backed beaches and rocky promontories fringe the coast, and low hills roll into the hinterland.
On the shores of the inlet and in the neighboring heath and wetlands, many species of plants and water birds thrive. Anglers can cast their lines for black bream, King George whiting, and Australian salmon.
On the 4.3-kilometer Heritage Trail, hikers can enjoy beautiful views of the inlet and learn about how the area has evolved over time. The main entrance to the park is suitable for two-wheel drive vehicles, however the rest of the park requires 4WD.
Official site: https://parks.dpaw.wa.gov.au/park/stokes
9. Find Treasures at Esperance Museum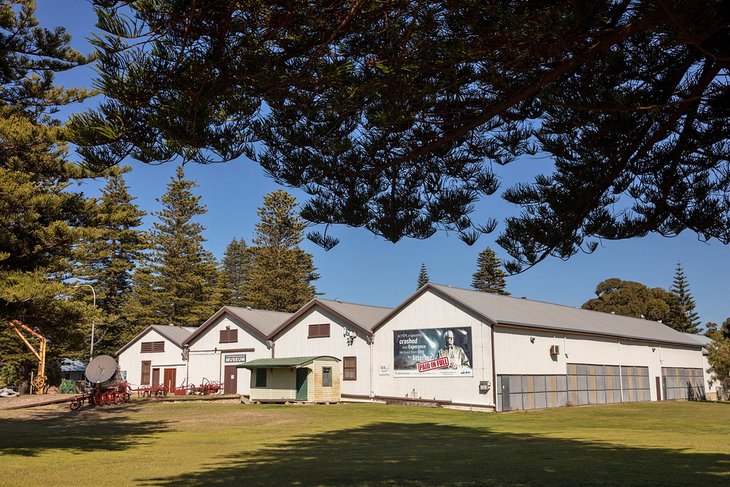 A visit to the charming Esperance Museum is like rummaging through all the treasures in grandma's attic, but with space junk thrown in the mix. This quirky little gem chronicles the region's social history according to topic, from antique farm machinery to early telephones, an old rail carriage, and even kitchen appliances.
Perhaps the most unique exhibits feature the debris from Skylab, which plummeted to earth near Esperance in 1979. Interestingly, Esperance fined NASA $400 for littering. It took 30 years, but the fine has now been paid in full.
If you're wondering about things to do in Esperance when it's raining, this is a fun way to spend a few hours. Note that the museum is only open from 1:30 to 4:30pm, so you'll have to plan an afternoon visit.
Location: Corner of James Street and Dempster Street, Esperance
Official site: https://www.esperance.wa.gov.au/esperance-museum
10. Take the Kids to Esperance Bird and Animal Park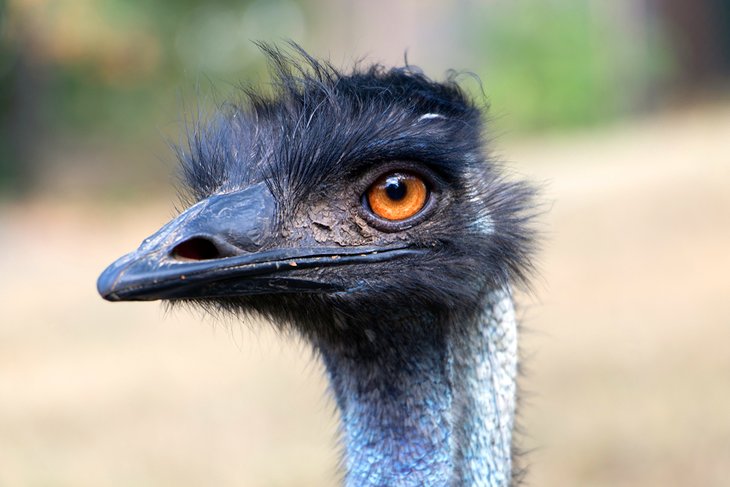 Need a break from the beach? Esperance Bird and Animal Park is a popular attraction for animal lovers, and families with young kids. Peacocks, emus, colorful macaws, and corellas are just a few of the feathered friends you can see here.
But the park is about more than just birds. Kids can cuddle a baby bunny and get up close with goats, kangaroos, alpacas, ponies, and more. Best of all, the park is free for kids under three years old.
After visiting all the animals, you can refuel with a hearty home-cooked meal at the on-site café. The park also offers pet-friendly cabins if you want to make this your home base while you explore all the things to see and do in Esperance.
Address: 549 Coolgardie-Esperance Hwy, Gibson, Western Australia
11. Wander along the Lake Warden Kepwari Wetland Walk Trail
Birders and nature buffs can stretch their legs and possibly tick off some new species at the Kepwari Wetland Walk Trail. It's only a five-minute drive from the center of Esperance. Bush-fringed trails weave along the wetlands for 3.6 kilometers (one way) through banksias, sedge lands, and over dune ridges.
Along the way, interpretative signs share information about the wetlands, and two bird hides provide a quiet shelter for serious birders and photographers to observe the water birds. The out-and-back walk takes about two and a half hours.
12. Stop by Esperance Stonehenge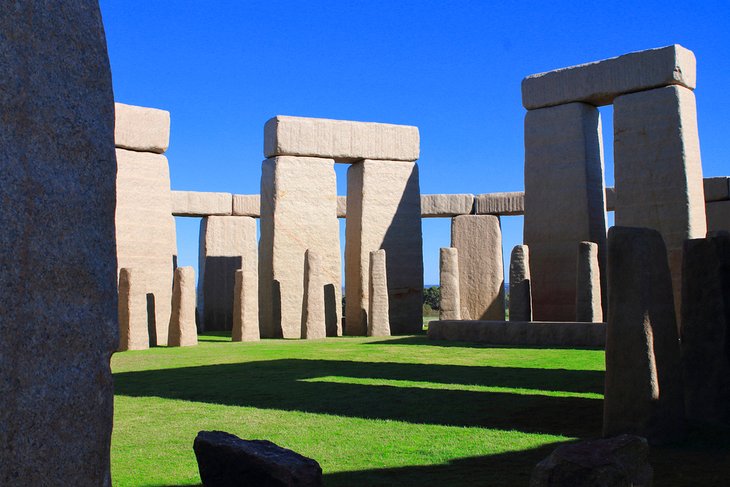 Looking for unusual things to do in Esperance? Add Esperance Stonehenge to your sightseeing list. This quirky attraction is a full-size replica of the original Stonehenge in England. But if you're thinking this is just a tacky tourist knock-off not worth visiting, think again – this Stonehenge still manages to impress.
Crafted from pink granite dug from a nearby quarry, Esperance Stonehenge sits about 6.5 kilometers from town in a green field, with plenty of space to spread out and capture photos. Friendly staff share fascinating details about the real Stonehenge during your visit, and gazing up at its huge size enhances your appreciation for the effort that went into its construction.
Esperance Stonehenge was also specially designed to align with the solstices. On the morning of the Summer Solstice (21st or 22nd December) the sun's rays shine through to the altar stone, and the converse occurs on the winter solstice (21st June). If you can swing it, this is the best time to visit.
You have to pay a small fee to enter, but most visitors think it's worth the cost.
Address: RMB 4323 Merivale Road, Esperance, Western Australia
Map of Things to Do in Esperance
Esperance, Australia - Climate Chart
More Related Articles on PlanetWare.com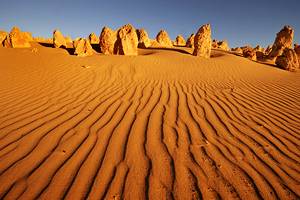 Western Australia Wonders: After enjoying all the attractions in Esperance, save time to explore some of the other exciting things to see and do in Western Australia. For a city fix, head to the state capital of Perth, less than an eight-hour drive away. Here, you can bask on the beautiful beaches, boat along the Swan River, visit some of the city's excellent restaurants, and explore attractions like Rottnest Island and the historic port of Fremantle on day trips from Perth.