12 Top-Rated Attractions & Things to Do on Kangaroo Island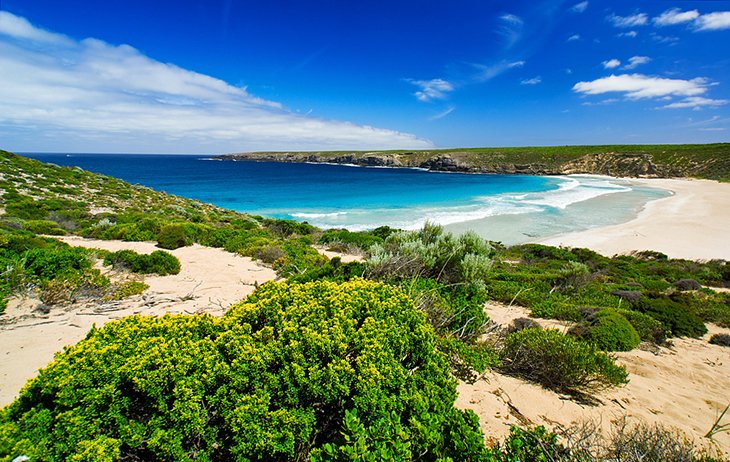 Kangaroo Island ("KI" to the locals) is an eco-tourism treasure. Australia's third largest island lies off the Fleurieu Peninsula in South Australia, and its dazzling scenery and abundant wildlife lure nature lovers from around the world. It's also a top destination for foodies.
Photographers will be in heaven. Landscapes range from sweeping white-sand beaches lapped by azure seas to steep coastal cliffs, giant wind-sculpted boulders, rolling green hills, caves, sand dunes, and nature reserves.
National parks and reserves protect more than a third of the island, and close-up encounters with animals such as Australian sea lions, koalas, echidnas, penguins, and the island's namesake marsupials are among the top things to do on Kangaroo Island.
Outdoor adventures focus on the island's natural assets. On land, you can sign up for a wildlife safari, or hike the many walking trails that thread through the wildlife-rich national parks. In the crystal-clear waters, you can swim, fish, surf, and sail. Kangaroo island is also one of Australia's best areas for temperate-water diving, with plenty of fish-rich walls and wrecks to explore.
Foodies, too, will find plenty to love here. While you're here, be sure to sample some of the island's produce, including honey, eggs, and fresh-caught seafood. Kangaroo Island is also an up-and-coming grape-growing region.
In 2020, wildfires devastated the island, but the bushland, wildlife, and businesses impacted by the blazes are undergoing an inspirational recovery, kickstarting Kangaroo Island tourism once again.
Discover the best places to visit in this eco-haven with our list of the top things to do on Kangaroo Island.
1. Explore Flinders Chase National Park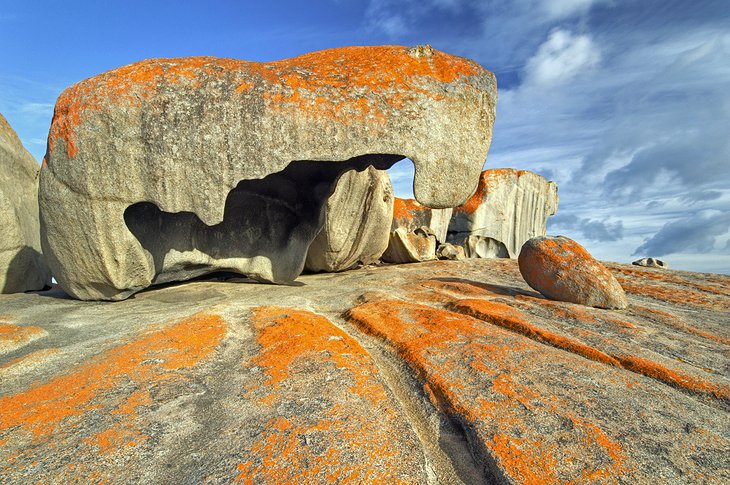 One of the island's most famous attractions, Flinders Chase National Park covers the entire western end of Kangaroo Island. You can explore the park's waterways and forests on the extensive network of hiking trails and boardwalks.
Must-see tourist attractions include the Remarkable Rocks, which are wind-blasted boulders sculpted into bizarre shapes, and perched upon a smooth dome of rock. Nearby is the improbable curve of Admirals Arch, the last relic of an ancient cave.
The park is also a prime spot for wildlife encounters. Beneath the arch, at Cape du Couedic, thousands of New Zealand fur seals congregate on the beach, entertaining guests with their antics on land and in the water. Kangaroos and many birds also live within the park's borders.
Campsites can be reserved in the park, and you can also stay in the lighthouse cottages at Cape Borda, on the island's northwestern tip, and Cape du Couedic.
Location: 110 kilometers west of Kingscote
Official site: https://www.parks.sa.gov.au/parks/flinders-chase-national-park
2. Tour Seal Bay Conservation Park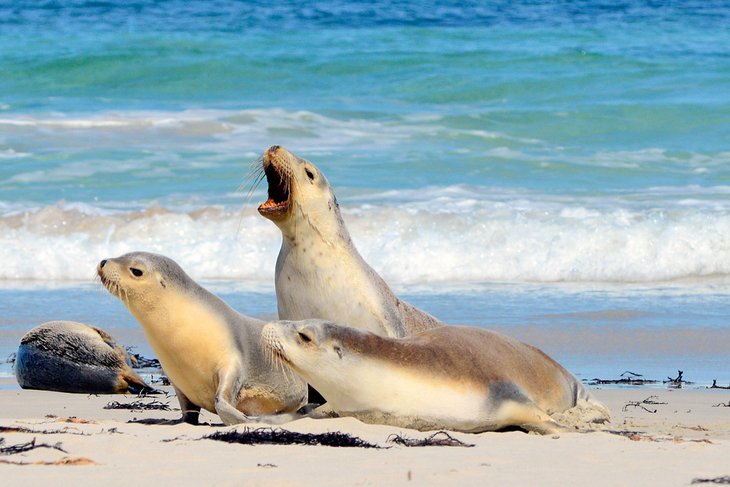 Seal Bay Conservation Park is the only place in the world where you can observe a colony of Australian sea lions in their natural habitat. A 900-meter boardwalk skirts the beach, with viewing platforms and interpretative signs along the way. Wander along here on a self-guided tour, and learn all about these playful creatures. Watch them surf the waves and sprawl on the sand.
Guided tours are also available, including a new behind-the-scenes research tour, with exclusive access to the park.
While you're here, stop by the environmentally friendly Seal Bay visitor center for more information on sea lions and their marine habitat.
A short drive from Seal Bay, Bales Beach is a prime picnic spot, with shelters, gas barbecues, and a pretty stretch of beach.
Address: Seal Bay Road, Kangaroo Island, South Australia
3. Bask on the Shores of Vivonne Bay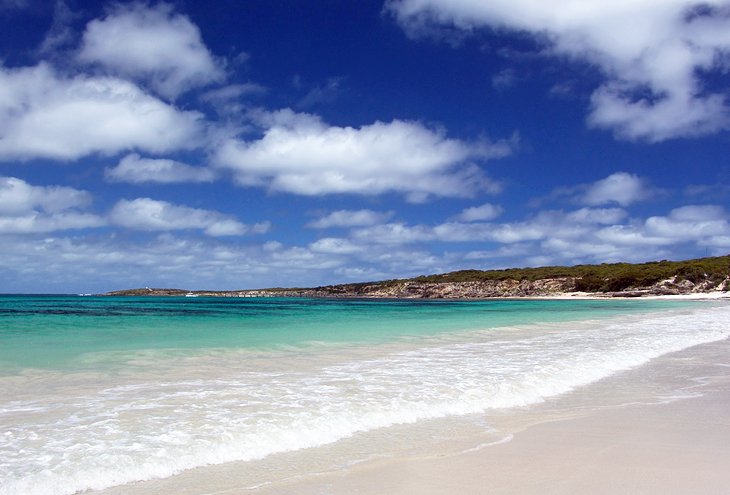 Frequently gracing the list of Australia's top beaches, Vivonne Bay is a pristine slice of coast on the island's southern coast.
This long stretch of sugary white sand and azure water is a beautiful spot for a picnic on sunny days. It's also one of the top things to do on Kangaroo Island for free. Surfing is a popular activity here when conditions are favorable, and sunbathing and fishing off the jetty are other popular activities.
Swimming is not recommended, as the undertow can be strong, and the water is chilly, even in summer. If you do want to take a dip, the island's north coast beaches, such as Emu Bay and Stokes Bay, are safer.
Looking for more adventure? Nearby you can zoom down the dunes of Little Sahara on quad bikes, sleds, and sandboards.
4. Cuddle a Koala at Kangaroo Island Wildlife Park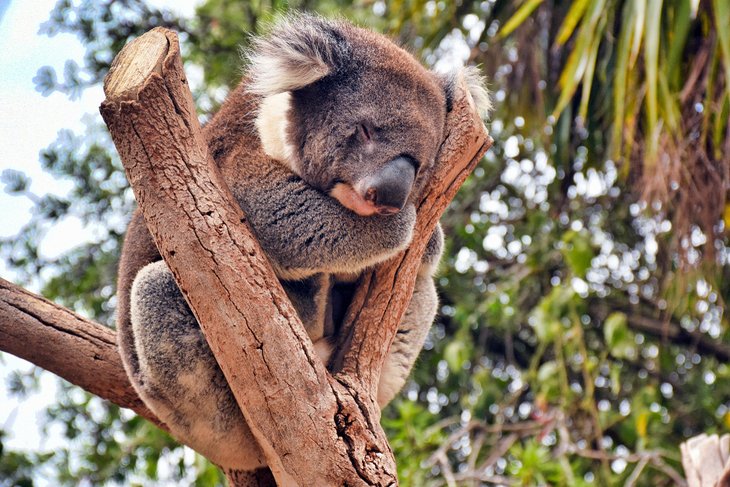 Cuddling koalas and hand-feeding kangaroos and wallabies are favorite activities at Kangaroo Island Wildlife Park. More than 150 species of native Australian wildlife live here, including wombats, quolls, birds, penguins, echidnas, snakes, lizards, dingos, and crocodiles.
This is a great way to observe wildlife up close and even interact with some of the animals and feed them. Koala cuddles are available for an extra fee, and you can also sign up for a marmoset experience, hold a snake, or book a private reptile session.
When you arrive, check the times for penguin and pelican feedings, as well as the dingo and koala presentations to get the most out of your visit here.
Address: 4068 Playford Highway, Seddon, Kangaroo Island, South Australia
Official site: https://kangarooislandwildlifepark.com/
5. Hanson Bay Wildlife Sanctuary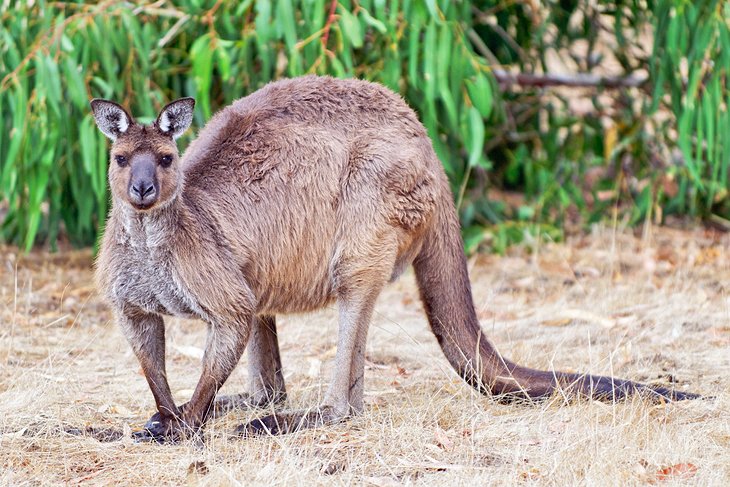 The 5,000-acre Hanson Bay Wildlife Sanctuary, between Flinders Chase National Park and Kelly Hill Conservation Park, is the best place to visit on Kangaroo Island to see koalas in the wild. The 2020 bushfires roared through this property, but the sanctuary and its residents are recovering well, and it's inspiring to see how quickly the bush has regenerated.
Daytime tours (self-guided and guided) on the Koala Walk also give you the chance to see kangaroos; echidnas; possums; goannas; and birds such as crimson-breasted rosellas, honeyeaters, and black cockatoos. Guided tours are also offered during the evening.
Want to stay longer at Hanson Bay Wildlife Sanctuary? Book one of the two self-contained beachside cabins.
Hanson Bay Wildlife Sanctuary also connects to the Kangaroo Island Wilderness Trail. This five-day trek threads past many of the island's top attractions and is one of the top things to do in Kangaroo Island in winter, when daytime temperatures are cooler. It's currently undergoing fire recovery work, but you can enjoy a modified version of the hike while the work is underway.
Address: 7797 South Coast Road, Karatta, Kangaroo Island, South Australia
Official site: http://www.hansonbay.com.au/
6. Surf the Sand Dunes at Little Sahara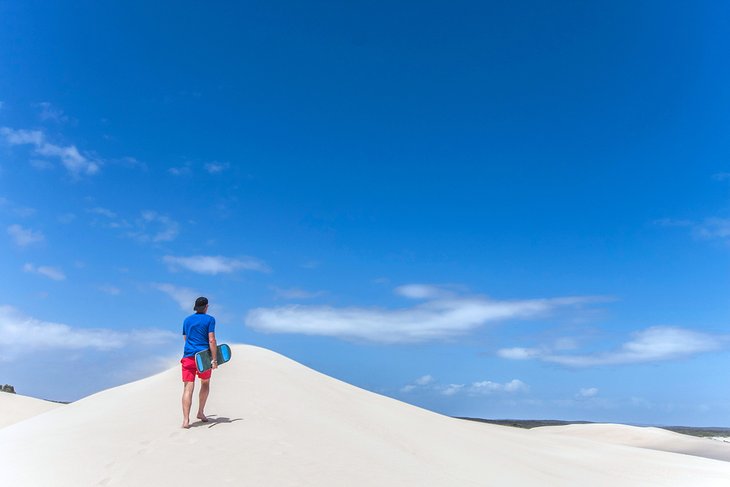 Want to try surfing but don't want to brave the cold water? Try surfing the sand dunes at Little Sahara instead.
Storms and erosion after bushfires sculpted these towering dunes, and they offer an adrenaline-fueled way to soak up the beautiful scenery. You'll find the heritage-listed landscape about a five-minute drive from Vivonne Bay. The largest dunes are about 70 meters high, and the rippling hills cover about two square kilometers. Technically, they lie on private property, but the owner kindly grants access.
To get the most out of a visit here, sign up for an organized tour. The Small-Group Buggy Tour at Little Sahara packs in some wildlife watching, as well as an exhilarating sandboarding experience on the dunes. You'll look for koalas and other wildlife along the Eleanor River, then head to a secluded beach to try and spot whales, dolphins, and birds from the sea cliffs. After admiring all the scenery, choose from a toboggan or sandboard adventure at the dunes.
7. Raptor Domain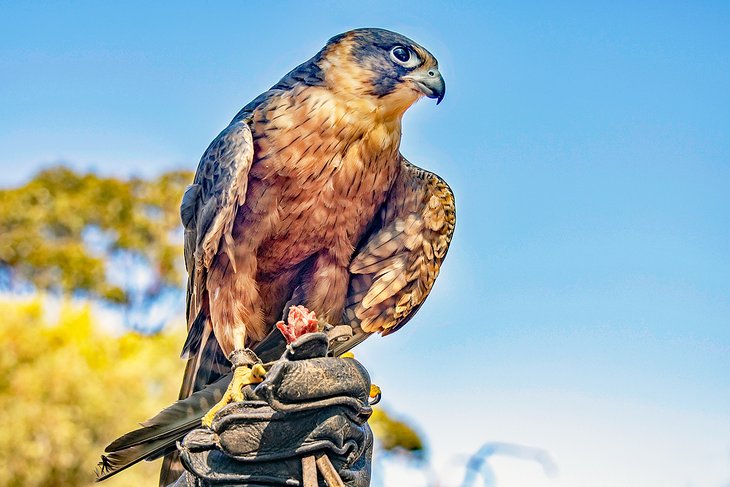 Not surprisingly, raptors are the main attraction at this popular conservation park, which rescues injured birds of prey, as well as snakes and lizards.
Unlike a zoo where animals are typically displayed, the park presents the animals to visitors through fun and informative presentations, such as the Venom Pit, with venomous snakes and spiders, and Fang-Tastic, an entertaining reptile show.
One of the favorite attractions here is the In-Flight show, where you can learn about birds of prey such as owls and the mighty wedge-tailed eagle, watch them fly, and even interact with them after the show. You can also sign up for private experiences, where you can have quality up-close encounters with six birds of your choice.
Address: LOT 51 Seal Bay Road, Seal Bay, Kangaroo Island, South Australia
Official site: http://www.kangarooislandbirdsofprey.com.au/index.php
8. Visit Kingscote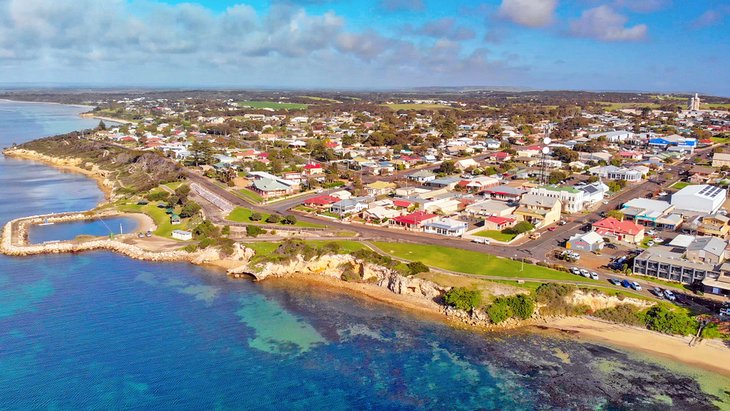 On the island's northeast coast, Kingscote is the capital, commercial center, and principal port of Kangaroo Island. Presiding over a peaceful harbor dotted with boats, it's becoming a favorite destination for foodies.
Wondering where to find some of the best Kangaroo Island restaurants and cafés? You'll find a great selection here, and you can sample some of the fresh produce from the surrounding farms. Better still, venture out and visit some of the farms. Clifford's Honey Farm produces pure Ligurian honey, and Emu Bay Lavender Farm sells loose leaf teas, as well as oils and body products.
If you're looking for gifts or just want to be inspired, head to Fine Art Kangaroo Island or Kangaroo Island Gallery. These delightful galleries showcase all kinds of art from around the island.
Kingscote is also where European settlers established their first base at historic Reeve's Point. You can soak up some of this history on the walking trail and admire the views from Flagstaff Lookout. Keep an eye out for the old mulberry tree, reputedly planted in 1836, which is reputedly the oldest surviving fruit tree in South Australia. Reeve's Point is also a lovely spot for a picnic, with tables, barbecues, and a children's playground.
Feel like casting a line? The jetty in Kingscote is a popular fishing spot.
9. American River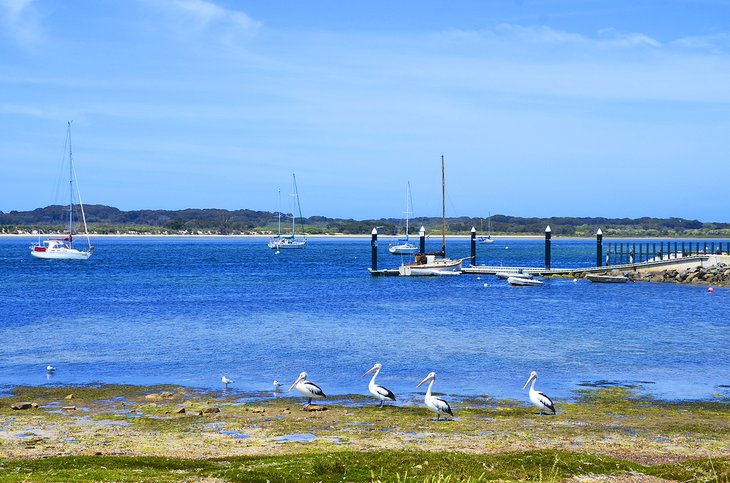 Life revolves around the water at American River, Kangaroo Island. This little fishing village and holiday resort lies near the isthmus leading to the Dudley Peninsula, and takes its name from the American seamen who built a boat here in 1803 to 1804. Perched on a bush-cloaked hillside, the village overlooks Eastern Cove, an outer bay where locals and visitors love to fish and sail.
Looking for things to do with kids in American River? Take them to the sandy shores of Island Beach, where they can splash around in the shallows. It's also a great spot to launch a kayak.
Not surprisingly, American River is also known for its fresh seafood. Make sure you try some while you're here. And if you love seeing the local wildlife, the inner bay of Pelican Lagoon is a great spot for birders, with black swans, pelicans, and important breeding habitats on the islands in the lagoon.
Fascinated by boats? Stop by Rebuild Independence Group. The group of volunteers here are busy reconstructing the tall ship, Independence, which was the first vessel built in South Australia. You can chat to the friendly volunteers and find out a little about the role Independence played in the island's history.
10. See the Penguins at Penneshaw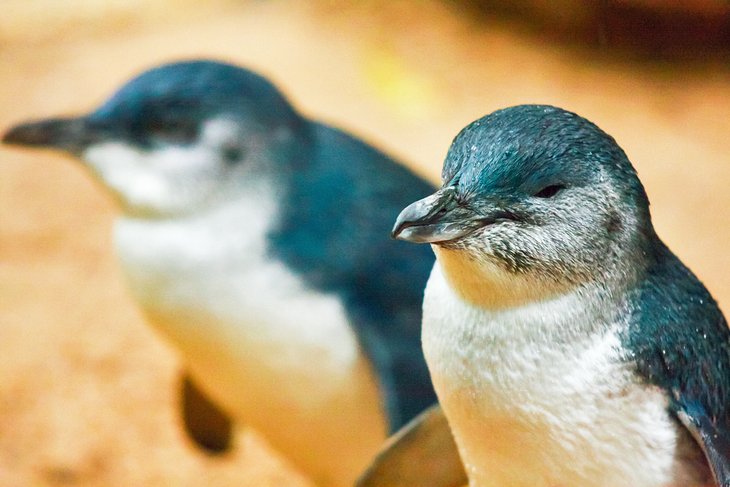 Penneshaw, on the island's northeast coast, welcomes visitors arriving on the Kangaroo Island ferry from Cape Jervis. One of the top things to do here is to visit the nearby colony of little penguins from the Penneshaw Penguin Centre. Nightly tours take you out with wildlife-friendly torches to hunt for the world's smallest species of penguins and look for other wildlife. If you're lucky, you might even see some penguin chicks.
Other Penneshaw highlights are the beach at Hog Bay, a favorite spot for family picnics, and if you're an angler, Hog Bay Jetty is a popular spot to cast a line.
Before you venture further afield on the island, stop by the Kangaroo Island Gateway Visitor Information Centre for an overview of the island's top attractions, as well as maps and plenty of useful insider tips. The small but informative Maritime and Folk Museum is also worth a visit, with interesting historical displays.
While you're in Penneshaw it's also worth clambering up Cape Willoughby Lighthouse for beautiful views across to the mainland.
11. Cape Gantheaume Conservation Park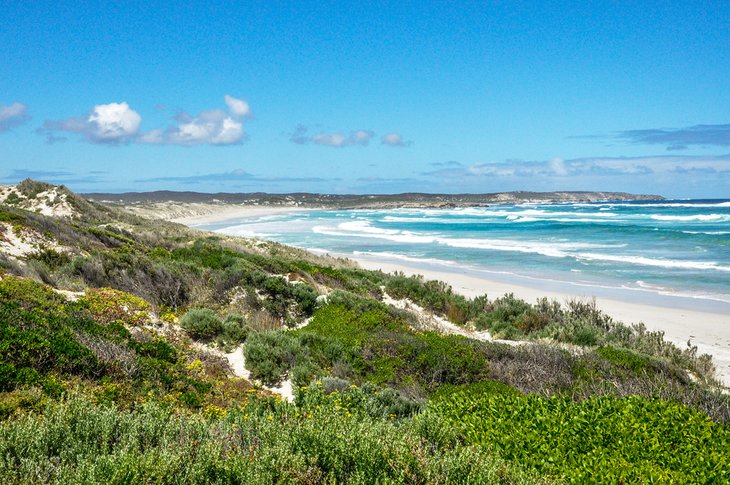 Cape Gantheaume, on the southeast coast, is a haven for naturalists and birders. The largest freshwater lake on the island lies here, as well as the Murray Lagoon wetland habitat, with an impressive number of birds, including swans, ducks, and wading birds.
Experienced hikers can tackle the Cape Gantheaume Coastal Trek, or take one of the shorter marked trails around the lagoon.
Once a whaling spot, D'Estrees Bay is great for fishing and camping. You can learn about the bay's history on an eight-kilometer self-drive tour. Access to Southern Kangaroo Island Marine Park, with its sea lion colony, is also possible from the park.
Location: 40 kilometers southwest of Kingscote, Kangaroo Island, South Australia
12. Descend into the Caves at Kelly Hill Conservation Park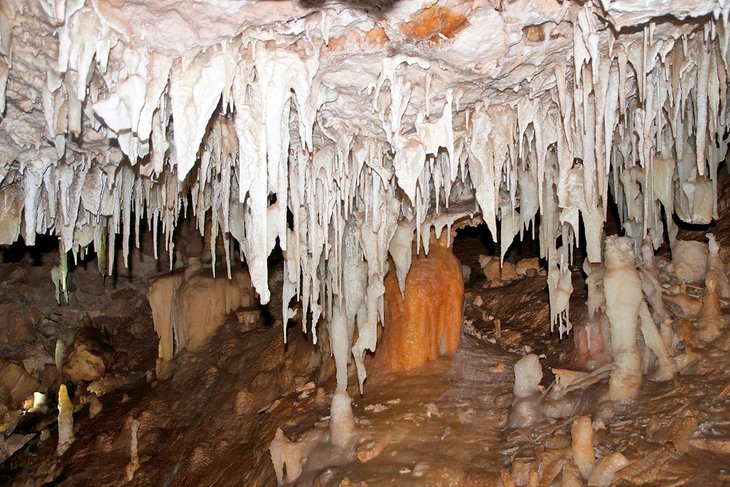 Kelly Hill Conservation Park, in the southwest of the island, is known for its beautiful limestone cave system. Stalactites, stalagmites, and stunning crystallized columns adorn the caves, and guided tours share fascinating information about how they are formed.
Thrill seekers can don a headlamp and helmet and clamber through the underground maze of caverns on an Adventure Caving Tour.
Above ground, the walking trails are a good option for claustrophobics. From here, you can hike all the way to Hanson Bay, with its woodlands, freshwater lagoons, seascapes, and popular wildlife sanctuary.
Sadly, the 2020 bushfires impacted Kelly Hill Conservation Park, and it's currently closed for fire recovery work until further notice. Check the website for reopening details.
Location: 90 kilometers southwest of Kingscote, Kangaroo Island, South Australia
Official site: https://www.parks.sa.gov.au/parks/kelly-hill-conservation-park
Tips and Tactics: How to Make the Most of Your Visit to Kangaroo Island
Full-Day Sightseeing Tour: One of the best ways to see the sights is on a Best of Kangaroo Island 4WD Full-Day

Tour

. See kangaroos and koalas in the wild, and visit Seal Bay, the Dudley Peninsula, and Cape Willoughby lighthouse.
Wondering How to Get to Kangaroo Island? Regional Express (REX) operates direct 30-minute flights from Adelaide to Kangaroo Island Airport, which lies about 12 kilometers from Kingscote. Kangaroo Island SeaLink runs vehicle and passenger ferries between Cape Jervis on the Fleurieu Peninsula (about a two-hour drive from Adelaide) and Penneshaw on Kangaroo Island. The ride takes roughly 45 minutes, and advance bookings are essential. Ferries depart at least four times daily. In addition, Kangaroo Island Connect (KIC) runs a new fast ferry to Kangaroo Island, between Cape Jervis and Penneshaw.
More Related Articles on PlanetWare.com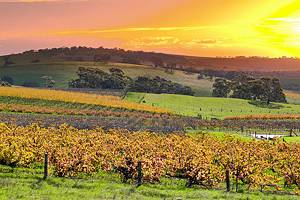 Exploring South Australia: Besides Kangaroo Island, South Australia is famous for its vast wilderness areas and vibrant capital, Adelaide. It's also home to the beautiful the Barossa Valley, one of Australia's top foodie destinations.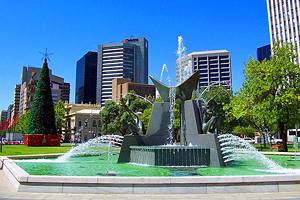 Planning Your Aussie Adventures: If you need help planning your trip to Australia, see our article on the top Aussie itineraries, and for inspiration on what to see and do while you're here, check out our pages on the top outdoor adventures, the best fishing destinations, and the best hikes in Australia.