18 Top-Rated Attractions & Things to Do in Adelaide
We may earn a commission from affiliate links ()
Elegant, culture-rich Adelaide sits between the rugged south coast of Australia and the foothills of the Mount Lofty Ranges. European immigrants founded this tidy capital of South Australia, and its layout was carefully crafted around the River Torrens/Karrawirra Parri, imparting a welcome sense of order balanced by a laid-back vibe.
Exploring Adelaide is rewarding for all kinds of travelers. The city's wide boulevards seem refreshingly uncrowded, and Adelaide's affluent heritage, financed by mining and agriculture, is still proudly on display. Magnificent private mansions and grand public buildings command an important place amid the modern high-rises. Museums, galleries, gardens, and gourmet restaurants are some of the city's finest treasures, and culture vultures can indulge in opera, symphony, and a flourishing live music scene.
Nature is never far away from Adelaide. Parklands ring the city, and a short drive from the CBD, bucolic landscapes and sparkling beaches provide a picturesque playground for outdoorsy locals and lucky tourists. Discover some of the best places to visit in this vibrant state capital with our list of the top attractions and things to do in Adelaide.
See also: Where to Stay in Adelaide
1. Get a Culture Fix along North Terrace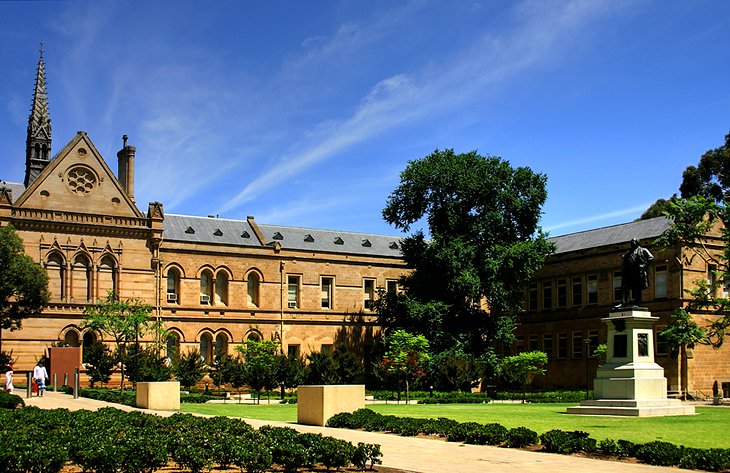 A handsome tree-lined boulevard graced by historic and cultural treasures, North Terrace is a great place to kick off a city tour. Exploring all the attractions here is one of the top things to do in Adelaide's CBD (central business district).
Parliament House, at the intersection of King William Street and North Terrace, is perhaps the most imposing building in Adelaide with its monumental colonnade. Just down the street, cheek by cheek, the State Library of South Australia, the South Australian Museum, and the Art Gallery of South Australia offer a triple dose of art and culture and are three of the city's top tourist attractions.
Bordering these, the main campus of the University of Adelaide hosts the Mitchell Building, one of the city's finest examples of Gothic Revival style.
Other North Terrace treasures include the Migration Museum; Ayer's Historic House; and the Adelaide Botanic Garden, a green thumb's dream.
2. Wander through Adelaide Botanic Garden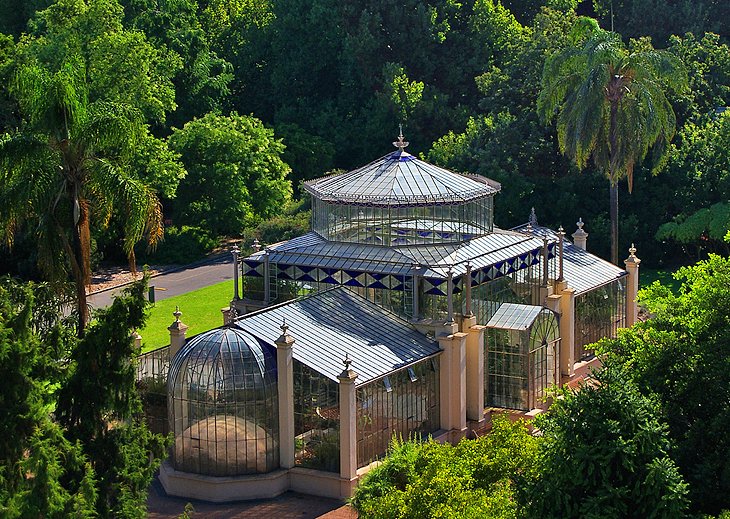 Wander through the wrought-iron gates at the east end of North Terrace and enter a wonderland of botanical treasures. Established in 1855, Adelaide Botanic Garden features educational themed plantings, including medicinal plants, a Mediterranean garden, Australian native species, and a wetland designed to sequester enough water to eventually irrigate the entire grounds.
The Santos Museum of Economic Botany provides insight on the important role plants play in everyday life through a series of permanent collections. Other garden favorites include the palm house; the Bicentennial Conservatory, with lowland rainforest plants; the night-flowering Amazonica water lilies; and Australia's oldest avenue of Moreton Bay fig trees. Kids will love the Little Sprouts Kitchen Garden complete with fruit and veggies, compost, and a worm farm.
Exploring these beautiful gardens is one of the best things to do in Adelaide for free.
3. Find Inspiration at the Art Gallery of South Australia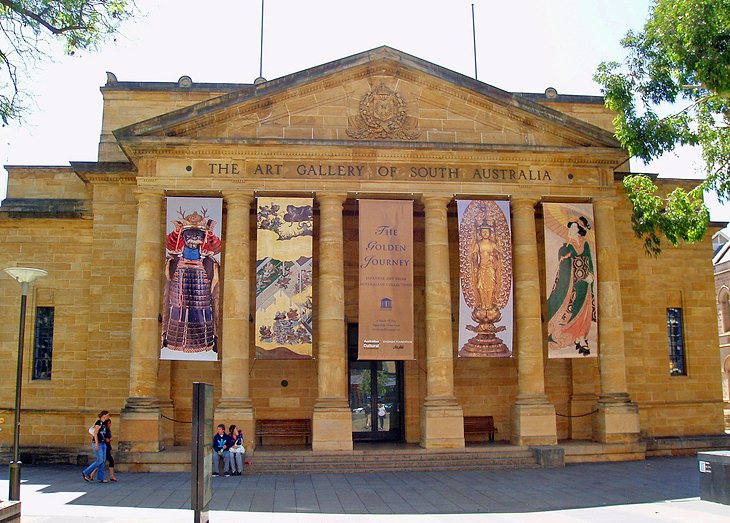 In the heart of Adelaide's cultural precinct, the Art Gallery of South Australia exhibits one of Australia's finest art collections. The elegant, colonnaded Victorian building, established in 1881, sets the tone for the esteemed works within its walls.
Spanning 2,000 years, the collection crosses all mediums, from sculpture, paintings, textiles, metalwork, and photographs to ceramics, jewelry, and furniture.
4. Take a Tour of Adelaide Oval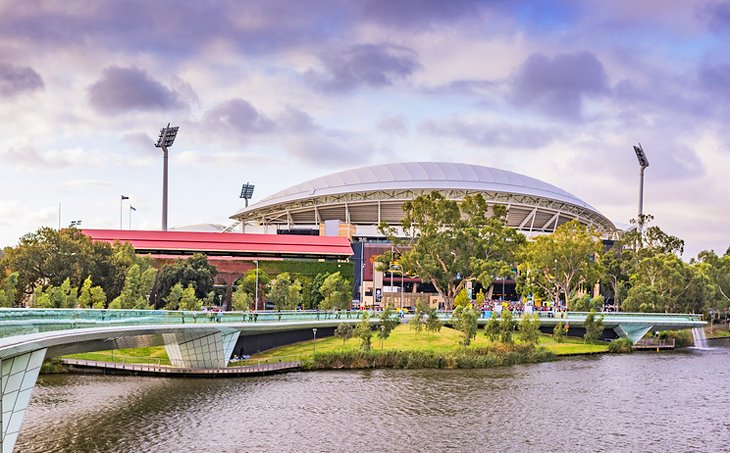 Stadiums aren't always a top attraction in a capital city, but Aussies love their sports, and this venue is an important part of the city's history.
Sitting in the center of Adelaide's attractive Riverbank Precinct, the stadium was established in 1871 and hosted its first test cricket match in 1884. Since its founding, the stadium has played host to more than 16 different sports, including AFL, archery, cycling, hockey, lacrosse, and tennis, as well as music concerts and major events.
A multi-million-dollar renovation completed in 2014 revitalized the venue, but it still features the old heritage-listed scoreboard and century-old Moreton Bay fig trees.
If you have time, try to buy tickets for a sporting match or event here. Cricket fans should make a beeline for the Bradman Museum to see memorabilia on the life of Australia's most famous cricketer.
5. South Australian Museum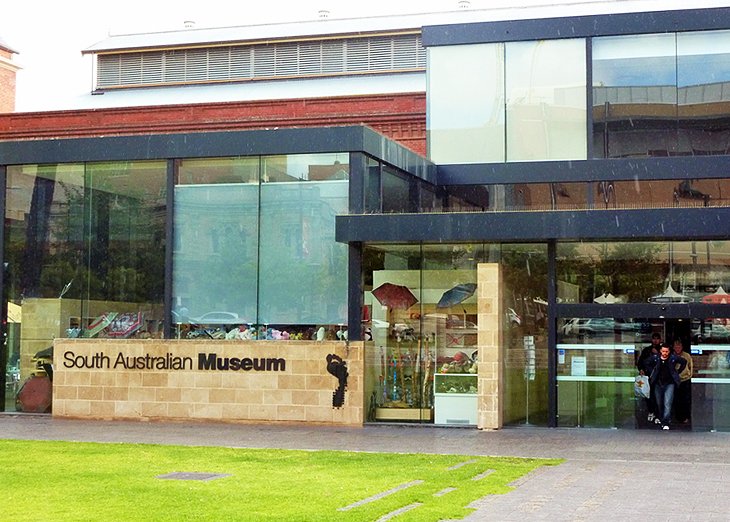 The South Australian Museum, adjacent to the State Library, is a top research facility renowned for its Aboriginal heritage collections. In addition to the excellent Australian collection, you can admire artifacts from the South Pacific Islands in the permanent Pacific Cultures Gallery, gaze upon Egyptian antiquities, and learn about local flora and fauna in the South Australian Biodiversity Gallery.
6. State Library of South Australia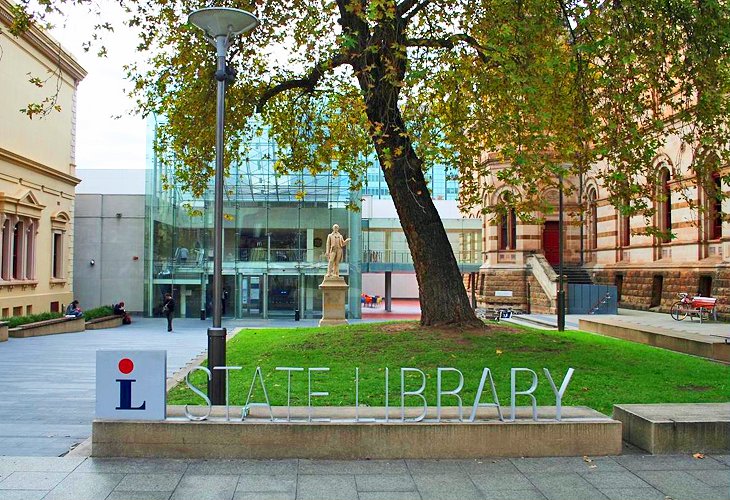 The State Library of South Australia surprises first-time visitors with its dramatic juxtaposition of old and new. The contemporary Spence Wing, with its sharp lines and glass-fronted entrance, offers modern facilities and free Wi-Fi.
From here, ask for directions to the original library, housed in the adjacent 1884 French Renaissance building known as the Mortlock Wing. Entering this grand old space is like stepping back in time. Multi-tiered galleries beckon high above, edged by elaborate wrought iron balustrades, and ladders reach up to leather-bound books neatly propped in the wooden shelves. Highlighting this flashback to libraries of old is a stream of natural light flooding through the glass dome in the roof.
7. Shop at Adelaide Central Market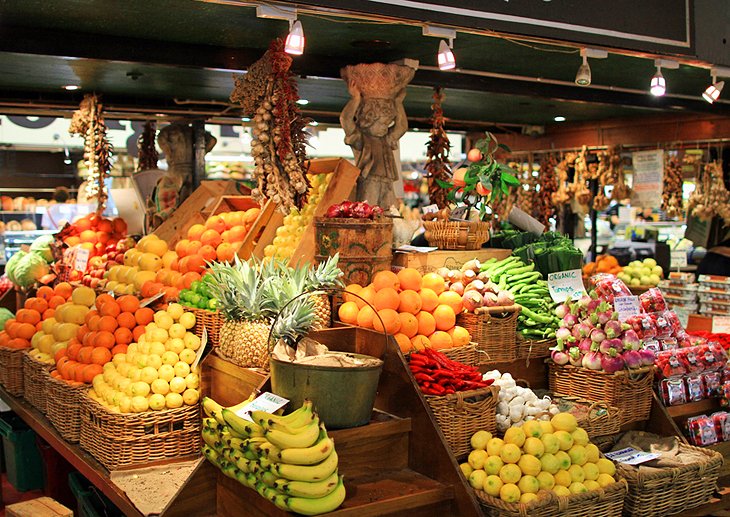 A few paces west of Victoria Square, on the south side of Grote Street, the Adelaide Central Market is one of the oldest indoor markets in the world. Founded in 1870, these colorful markets are a hot spot for shoppers. Come here to buy everything from fresh fruit and veggies, flowers, and baked goods to cheeses and a mouthwatering array of multicultural culinary treats.
After browsing the produce-packed stalls, enjoy a meal at one of the many cafés in the area or the Asian restaurants in nearby Chinatown, and don't forget to bring your own shopping bags or baskets.
The markets are open Tuesday through Saturday. But for the best bargains, try to be here Saturday afternoons, when some vendors slash prices to move their produce.
8. Soak Up the Sea Air at Glenelg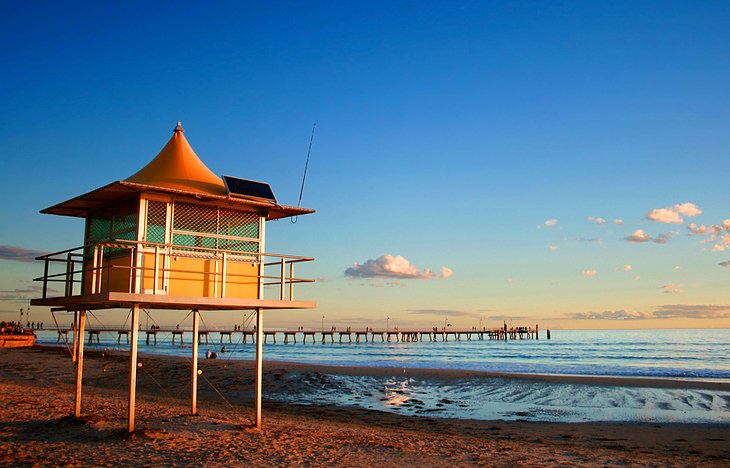 In the sheltered and surf-free Gulf St. Vincent, the seaside village of Glenelg is a popular escape from the hustle and bustle of the city. To get here, most visitors opt for the 25-minute trip on Adelaide's only surviving tram, which departs from Victoria Square in the city center.
As well as its beach appeal and many tourist attractions, Glenelg has a fascinating history. The first group of free settlers disembarked from HMS Buffalo in Holdfast Bay here, making this the oldest European settlement on mainland South Australia.
Sidewalk cafés, boutique hotels, and lively summer entertainment create a holiday feel. Looking for Adelaide attractions for families? Kids can catch their thrills at The Beachouse, an amusement park packed with rides, including a giant waterslide, bumper boats, and Ferris wheel.
Those seeking a quieter visit can bask on the beach or cast a fishing line off the pier. Sailing and swimming with dolphins are other popular things to do in Glenelg.
9. Meet the Pandas at Adelaide Zoo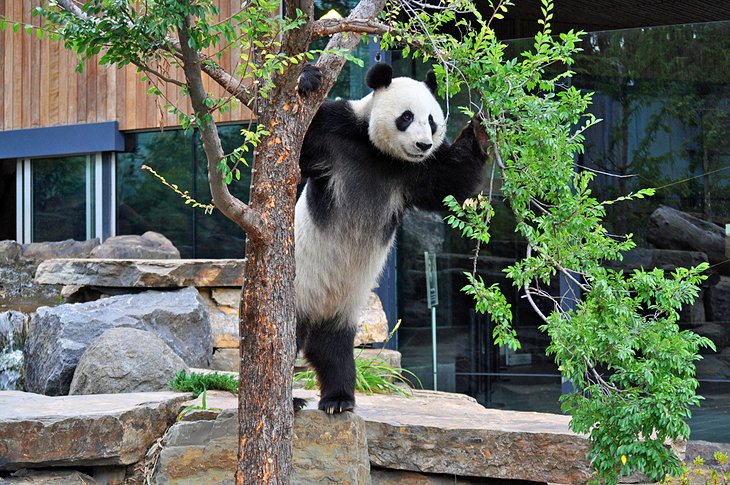 Adjoining the Adelaide Botanical Gardens on the northwest, the Adelaide Zoo is much loved for its educational focus and charismatic collection of animals. It was established in the late 19th century.
Giant pandas are the stars here, delighting young and old alike. Other popular residents include the orangutans, koalas, meerkats, lemurs, and the colorful feathered friends in the aviary. Also make sure you stop by the Envirodome, an interactive visitor center with a vertical garden and terrarium.
Enhance your visit by signing up for an interactive animal experience. Choose from a lion or tiger encounter; mingle with meerkats, lemurs, or red pandas; come face to face with a giraffe; and more.
Looking for things to do in Adelaide with toddlers? They'll love the petting zoo, where they can cuddle, kiss, and feed a cast of furry and feathery farmyard friends, as well as kangaroos, quokkas, and wallabies.
10. Feed Kangaroos at Cleland Wildlife Park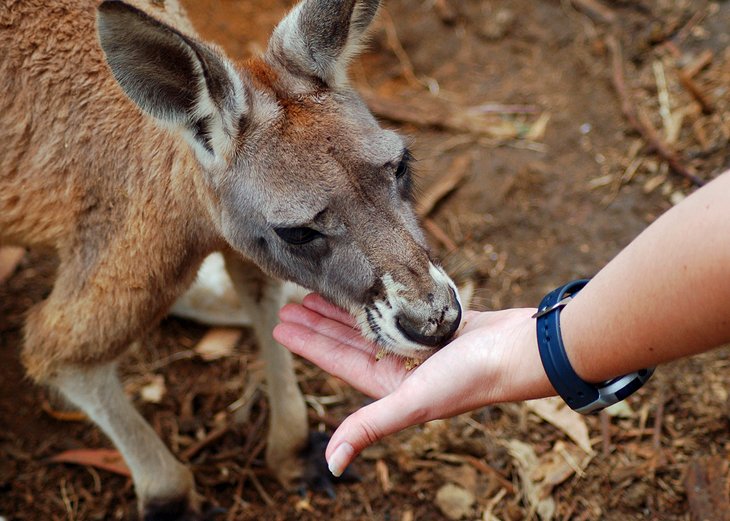 Cleland Wildlife Park cares for a cute and cuddly bunch of Aussie animals in a naturalistic environment. You won't find many enclosures here. Instead, kangaroos, wallabies, potoroos, and emus roam freely in the wide-open spaces, and you can wander among them, feed them, and enjoy close-up encounters.
Photographers will have a chance to capture some excellent shots, and the interactive keeper presentations provide interesting details about the animals and their habitats. For an extra fee, you can cuddle a koala and take home a souvenir photo.
11. Catch a Performance at Adelaide Festival Centre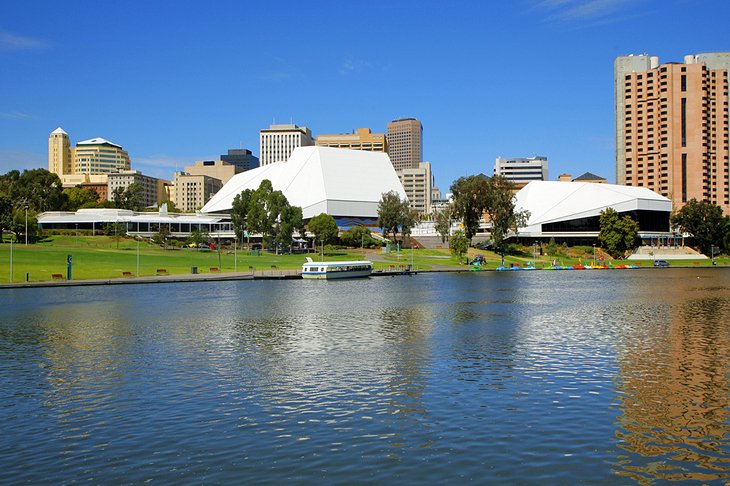 A five-minute walk from North Terrace and Rundle Mall, the Adelaide Festival Centre excites both locals and tourists with its lively cultural calendar. It was Australia's first multi-functional arts venue, and its white tent-like roof structure is a distinctive landmark along the River Torrens/Karrawirra Parri.
In addition to the large 2,000-seat Festival Theatre, the venue is home to several smaller theaters, a banquet room, light-filled gallery, and an amphitheater for concerts and recitals.
The center hosts the highly regarded Adelaide Festival of Arts, also known as the Adelaide Festival, with theater, opera, ballet, exhibitions, lectures, and readings by writers. Those who don't have time to attend an event can join a behind-the-scenes tour of the dressing rooms and performance spaces.
12. Ayers Historic House Museum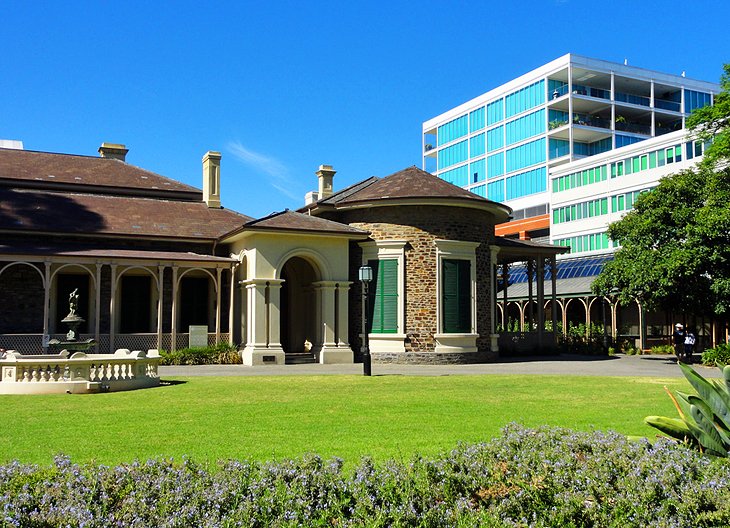 Ayers House is one of the finest examples of Regency architecture in Australia. Originally a modest house built in 1846, it was owned from 1855 to 1878 by Henry Ayers, who for many years was prime minister of South Australia. Ayers transformed it into an elegant 40-room mansion with a large new dining room and a ballroom.
It now belongs to the National Trust of South Australia and is a popular event venue, but you are welcome to view the house on a guided tour. During the tour, you'll learn fascinating tidbits about the social history of the period, as well as the life and work of Sir Henry Ayers.
13. People-Watch at Victoria Square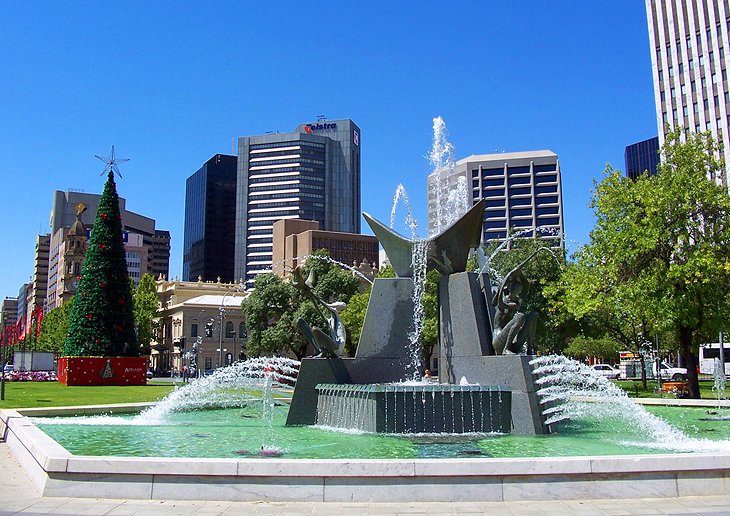 In the heart of the city, at the intersection with Grote Street and Wakefield Street, King William Street opens out into the revamped Victoria Square, also known by its Aboriginal name, Tarndanyangga. This event venue, with beautifully laid out gardens, is a popular meeting place, and it's a great spot to hang out and watch the world go by.
Children squeal with delight as they run in and out of the fountains. Workers come here for a picnic lunch, and many events and festivals are held here throughout the year.
In the shadow of the modern high-rise blocks (among them the Hilton Adelaide), a few handsome 19th-century buildings have been preserved. On the south side, stands the imposing Magistrates' Courthouse (1851) with a Doric colonnade, and the Neoclassical Supreme Court (1868). On the east side of Victoria Square lies the Treasury Building adjoining the Town Hall, and St. Francis Xavier Cathedral (1856-1926).
Other features of the square include a statue of Queen Victoria and a charming fountain by John Dowie, with figures representing the three principal rivers of South Australia: the Murray, the Torrens, and the Onkaparinga.
Victoria Square also hosts the popular Adelaide Central Market, and the city's only surviving tram departs from the square to the seaside suburb of Glenelg.
North of Victoria Square, the busy pedestrian-only Rundle Mall runs east from King William Street, lined with large department stores, boutiques, and arcades.
14. Spend a Day at Port Adelaide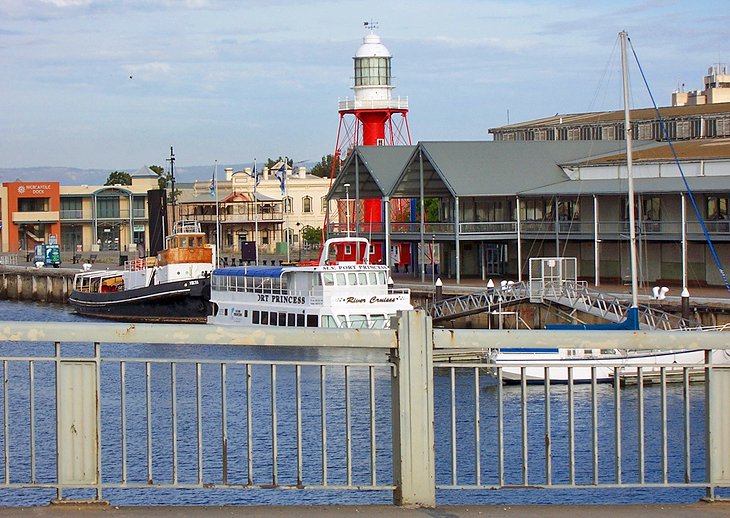 Port Adelaide is a popular tourist destination, with museums, restaurants, and well-preserved heritage buildings. You'll find it about 14 kilometers northwest of the city center.
Much of the town is a State Heritage Area, and a number of imposing 19th-century buildings bear witness to this city's early prosperity as a thriving port. Key landmarks include the 1879 Customs House and the Courthouse.
Looking for things to do with the family? Top tourist attractions include dolphin-spotting cruises and a clutch of intriguing transport-themed museums, including a National Railway Museum; South Australian Aviation Museum; and the South Australian Maritime Museum, where you can browse interesting exhibits on the region's seafaring history.
Seafood lovers head to the Fishermen's Wharf Markets on Sundays to buy fresh-caught fish straight from the boats.
15. Visit the Migration Museum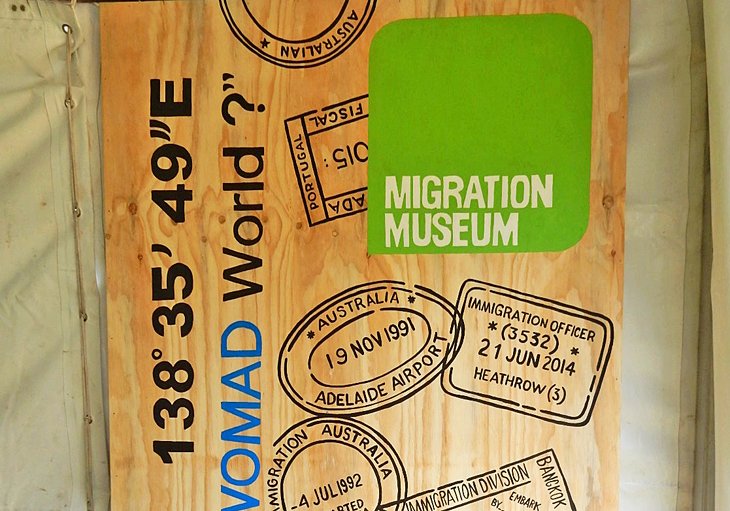 The Migration Museum, housed in a beautifully restored building behind the State Library, traces three centuries of immigration history in South Australia. From Aboriginal history before colonization to the impact of immigration on their culture and local communities, you can gain insight into the pioneering spirit and diverse cultures that changed the face of South Australia.
16. Take a Day Trip to the Barossa Valley or Clare Valley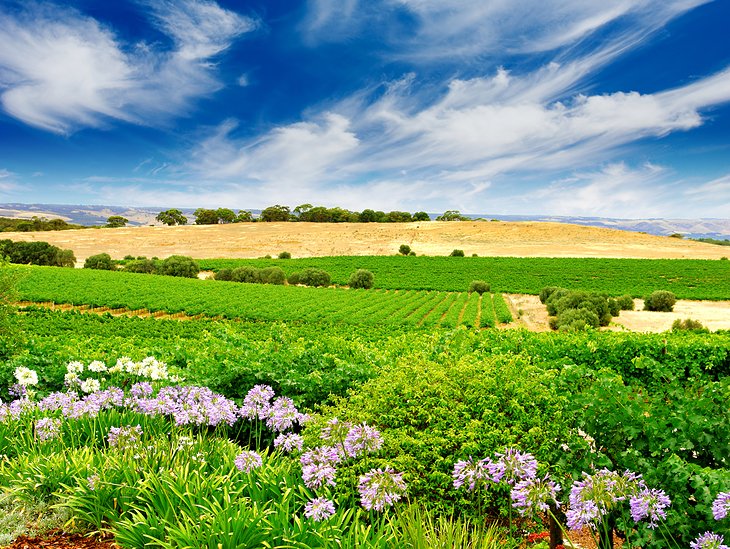 Settled by Prussian and English immigrants, the Barossa Valley is about an hour's drive from Adelaide airport and is one of Australia's oldest grape-growing regions. Foodies will be in heaven here with the plethora of fresh produce and fabulous restaurants.
In addition to all the gastronomic delights, other things to do in the Barossa Valley, include heritage trails, cookery schools, craft stores, galleries, and museums.
17. Book a Getaway to the Fleurieu Peninsula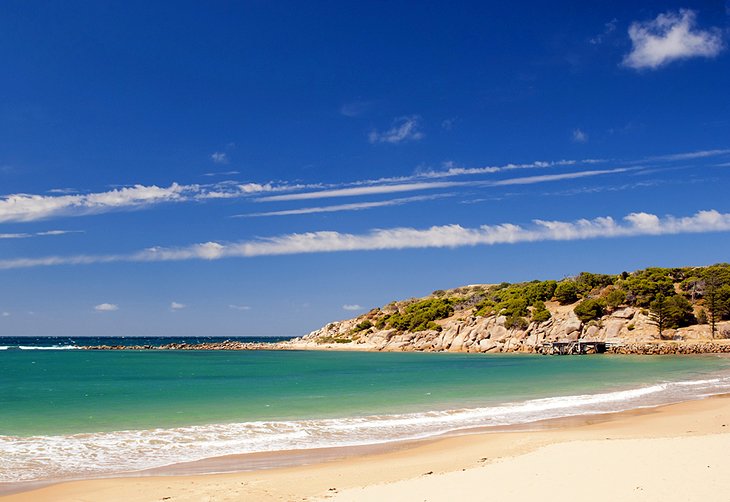 Less than hour's drive south of Adelaide's city center, the Fleurieu Peninsula is one of Adelaide's most popular coastal day trip destinations. Rolling hills, farms, fantastic surf beaches, and upscale dining lure foodies and city slickers looking for a slower pace.
Victor Harbour is the largest and one of the most popular towns along this rugged peninsula. From here, you can hop aboard a seasonal whale-watching cruise or fishing charter, surf one of the south coast swells, cast a line from one of the windswept beaches, or take a horse-drawn tram to Granite Island with its dwindling colony of Little Penguins.
Goolwa, by the Murray River, is another popular peninsula town, as are the inland towns of Strathalbyn and Mount Compass.
18. Find Your Inner German on a Hahndorf Day Trip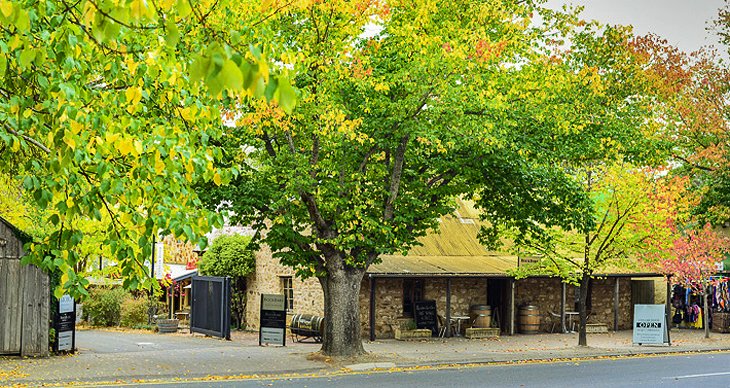 In the beautiful Adelaide Hills, about 20 minutes from the city center, Hahndorf is Australia's oldest surviving German settlement. It was established in 1839 by German Protestants from East Prussia. Tree-lined streets, half-timbered houses, and steeple-topped Lutheran churches imbue the town with a European village charm, and the many farms and German restaurants will delight foodies.
A great place to start a tour is the former 1857 schoolhouse, which houses the visitor center and the Hahndorf Academy, an art gallery spotlighting local artists.
Hahndorf is famed for one of its talented residents, Sir Hans Heysen (1877-1968), a German-born landscape artist who came to Australia in 1883 and later built an Alpine-style house on the outskirts of Hahndorf. Today, you can take a guided tour of his home and studio, known as The Cedars, stroll through the colorful gardens, and view some of his paintings.
You can easily spend a relaxing day in this charming village, sightseeing, picking fruit at nearby farms, browsing the craft shops and galleries, and dining at the excellent restaurants.
Where to Stay in Adelaide for Sightseeing
Most of Adelaide's top attractions are centered around North Terrace on the south bank of the River Torrens, and this is where you'll find the best luxury and mid-range hotels. Budget accommodation typically tends to be a little farther out but still within easy reach of the prime sightseeing spots. You'll also find some great affordable options around North Adelaide, near Adelaide Oval and the zoo.
Tips and Tours: How to Make the Most of Your Visit to Adelaide
More Related Articles on PlanetWare.com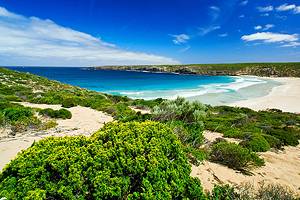 Scenic South Australia: Once you've seen the best of Adelaide, you'll find plenty of other things to do in South Australia. Less than an hour from the city, you can explore the bucolic scenery of the Barossa Valley, one of the country's top grape-growing regions and a haven for foodies. If you're looking for an escape to nature, Kangaroo Island ticks all the boxes, with abundant wildlife, fantastic hiking trails, and one of Australia's best beaches. Other top South Australia tourist attractions include the sparkling Fleurieu Peninsula, the pink-hued peaks of the Flinders Ranges, and the wild and windswept Eyre Peninsula.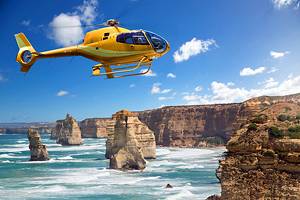 More Aussie Adventures: If you're looking for an adrenaline rush, see our article on the Top-Rated Outdoor Adventures in Australia. For tips on where to cast your line, our article on Australia's best fishing destinations is worth a look, and if you want to explore the country's spectacular scenery on foot, consult our page on the top hikes in Australia.