12 Top-Rated Tourist Attractions in Perth, Australia
Perth is one of the planet's most isolated capital cities. But this sun-soaked capital of Western Australia defies its remote location by boldly flaunting its riches, and there are many – both natural and material.
A gorgeous setting astride the winding Swan River, with a string of pearly beaches nearby, provides the perfect playground for outdoor adventures. Sailing, swimming, fishing, and boating are all popular things to do in Perth, and in the center of the city, beautiful Kings Park brims with natural bushland and panoramic views.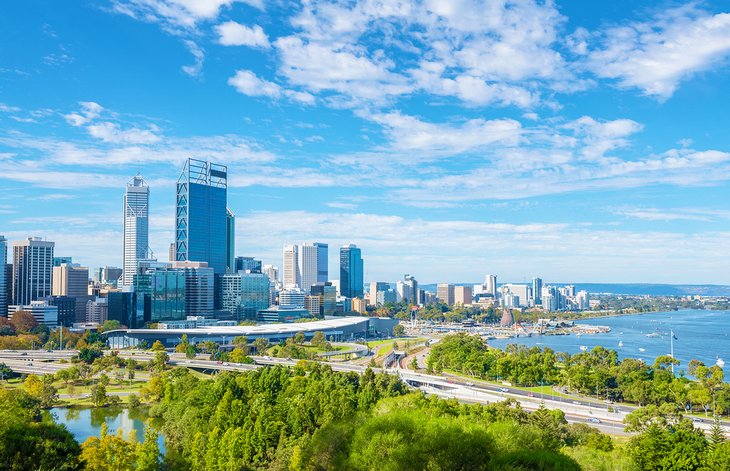 Like Melbourne, Perth frequently ranks as one of the world's most livable cities. Despite its sprouting skyscrapers, fueled by a mining boom, the city exudes a refreshingly relaxed vibe, but you'll still find plenty of big-city tourist attractions and activities. You can dine at fine restaurants, shop at stylish boutiques, browse art galleries and museums, or see some of the country's top talent at its lively entertainment venues.
Not far from the city, idyllic Rottnest Island is a popular day trip from Perth, as is Fremantle, at the mouth of the Swan River. This historic port is the namesake of the famous Fremantle Doctor, a cool sea breeze that blasts the summertime heat from this effervescent city.
Explore the best places to visit in Western Australia's capital with our list of the top attractions and things to do in Perth.
See also: Where to Stay in Perth
1. Wander through the Treetops at Kings Park and Botanic Garden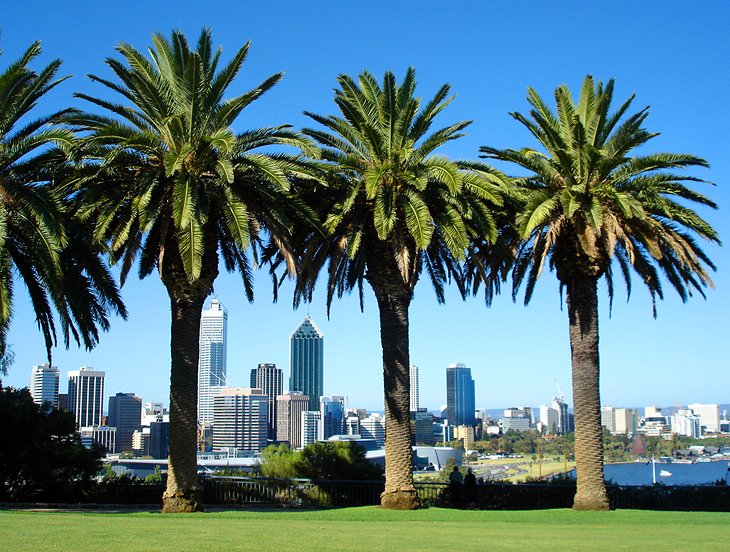 With beautiful views of the Swan River and Darling Range, Kings Park and Botanic Garden is an oasis of peace near the heart of the city. It's also one of the largest inner-city parks in the world.
One of the top things to do in Kings Park is wander through the treetops on the Lotterywest Federation Walkway. This is a great way to soak up spectacular city views. Suspended in a canopy of eucalyptus trees, the walkway stretches for 620 meters through the Western Australian Botanic Garden.
Other walking trails weave through the park, taking you to picturesque ponds, play areas, and panoramic viewpoints. Mount Eliza, in particular, offers stunning views over the city, and you'll also find the Kings Park War Memorial here, a poignant tribute to servicemen from Western Australia.
Almost two-thirds of this 1,000-acre park is natural bush, with a diversity of native plants and birds. Dedicated to conservation, the Western Australian Botanic Garden spotlights plants from Western Australia and other Mediterranean climates, such as South Africa and California. Highlights include an acacia garden, the peaceful Place of Reflection, and a water garden that recreates a Darling Range creek.
After a stroll through the park, pop into Aspect of Kings Park, a retail precinct of gift shops and galleries highlighting local artists. Fraser Avenue Lookout dishes up delicious views of the city.
Looking for romantic things to do in Perth? At night, the park is the perfect spot for a romantic stroll, with views of the twinkling city lights.
Address: Fraser Avenue, West Perth, Western Australia
Official site: http://www.bgpa.wa.gov.au/
2. Cruise along the Swan River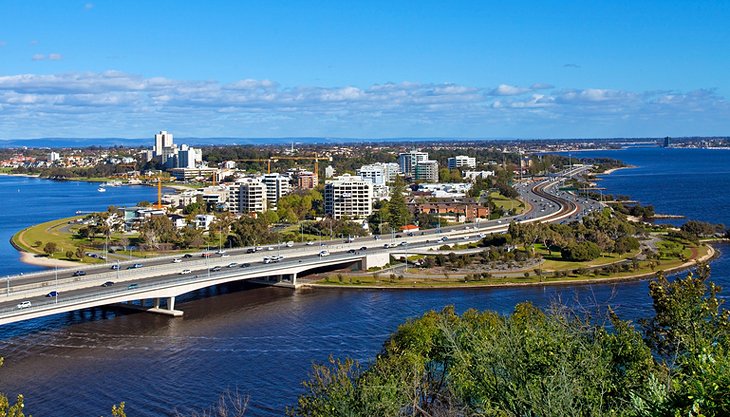 Local Aboriginal people believe the rainbow serpent, "Waugal," created this winding river. To Perth locals and tourists alike, it's the perfect setting for outdoor fun.
To see some of the posh houses of the riverfront suburbs, hop aboard a relaxing river cruise between Perth and the historic port of Fremantle. Another popular day trip is a cruise upriver to the fertile shores of the Swan Valley, Western Australia's oldest grape-growing region. Here, foodies can sample fresh local produce and scrumptious artisan foods at the highly acclaimed restaurants. Most ferries and river cruises depart from Barrack Square Jetty.
Looking for other ways to enjoy the Swan River? You can picnic in the riverside parks, bike or hike along the many trails, cast a fishing line, sail, swim, or kayak the calm waters.
3. Bask on Perth's Beaches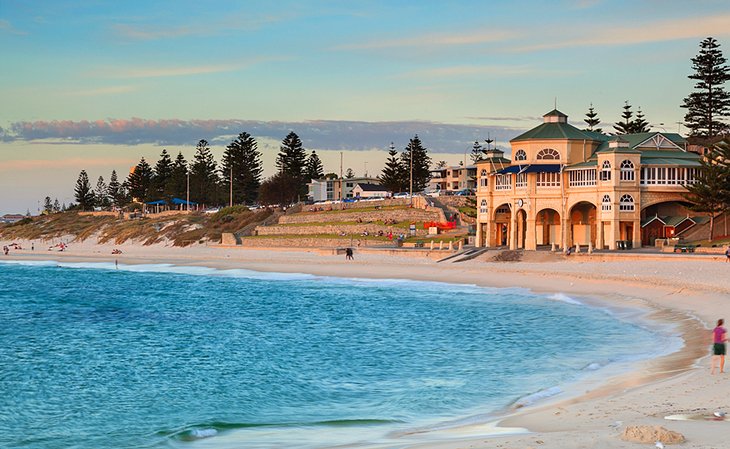 Sun lovers can choose from a bevy of beautiful beaches in and around Perth. Less than a 15-minute drive from the city center, pine-fringed Cottesloe is one of Perth's most popular beaches, with clear waters and a thriving café culture.
Port Beach is also a favorite, and City Beach has a children's playground and plenty of picnic nooks.
For families, the sheltered inlets on the snaking Swan River, such as Como, Crawley, and Point Walter are top choices, as well as Rockingham Beach and the sheltered shore at Hillarys Boat Harbour.
Ready to surf some swells? Trigg Point has one of Perth's best and most reliable surf breaks, and Scarborough is another top spot to ride the waves.
Farther afield, the shores of Rottnest Island and Penguin Island offer excellent snorkeling and are great for fun family day trips.
4. Hang Out at Elizabeth Quay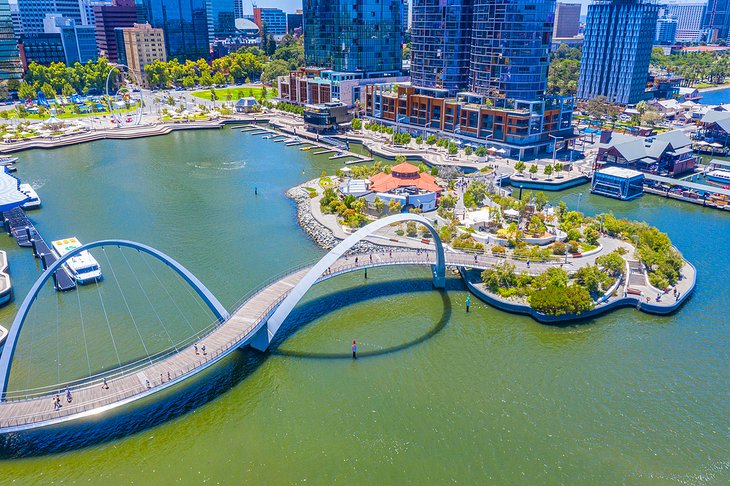 Wondering about things to do in Perth's CBD? Add a visit to Elizabeth Quay to your sightseeing itinerary. Adjacent to the city center and the Swan River, this new waterfront pedestrian precinct is a hot spot for Perth nightlife.
If you're hungry, you can dine on everything from gourmet burgers and pizza to succulent seafood specialities. Live music adds to the convivial vibe.
Taking the kids? They'll love riding the antique carousel, devouring tangy gelato, and frolicking around the fountains at the BHP Water Park. Visit after dark, and the fountains light up in all the colors of the rainbow. Kids can also jump, climb, and "walk the plank" at the maritime-themed playground.
Elizabeth Quay is also a romantic spot to stroll along the water. Outdoor sculptures and art installations adorn the Public Art Walk, and you'll also find the rocket-shaped Bell Tower here. Beautiful views of the city skyline and the ferry boats plowing the Swan River also greet you along the way.
Looking for a place to stay in Perth? Elizabeth Quay makes a good base. You'll find a range of Perth accommodation here to suit all budgets.
More attractions are being added as the precinct develops, so check here first if you're looking for new things to do in Perth.
5. Find Your Weight's Worth in Gold at the Perth Mint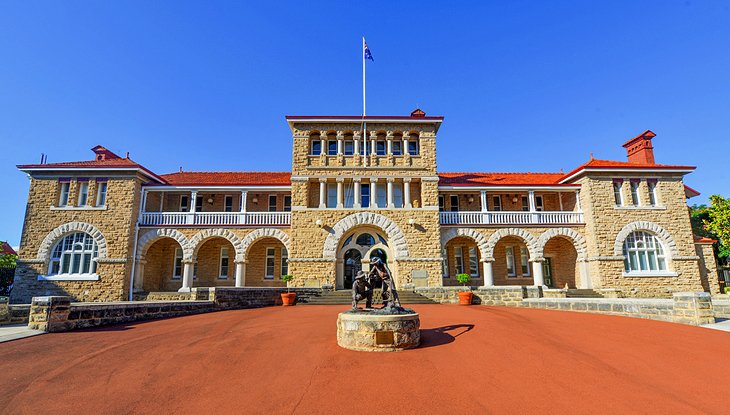 Popular with adults and children, the Perth Mint offers a fascinating glimpse into the history of gold in Western Australia. The Gold Exhibition displays the world's largest coin, weighing a whopping one-tonne, as well as gold nuggets and bullion.
In the 1899 melting house, you can watch pure gold being poured to form a solid bar, and you can also ogle the largest collection of gold nuggets in the Southern Hemisphere.
Hourly guided talks provide fascinating insight into the discovery of gold in the state and the history of the Perth mint, and the tours include a short film. You can even find out your weight's worth in gold, one of the unique things to do in Perth.
After your visit, stop by the gift shop to ogle the Argyle pink diamonds or pick up an unusual souvenir, or enjoy a Devonshire Tea at the café.
Address: 310 Hay Street, East Perth, Western Australia
Official site: http://www.perthmint.com.au
6. Hillarys Boat Harbour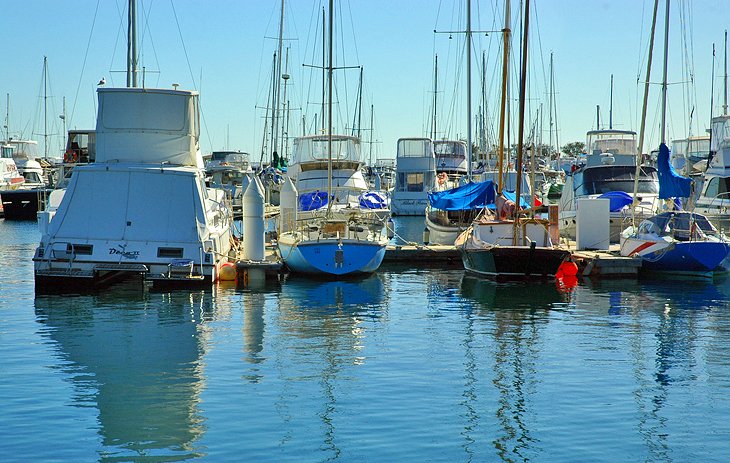 Looking for things to do in Perth with the family? About 20 kilometers northwest of central Perth, Hillarys Boat Harbour is an expansive marina with restaurants, shops, and kid-friendly attractions.
The Aquarium of Western Australia is a top tourist draw here. You can stroll through a glass underwater tunnel and observe more than 200 species of marine animals, including stingrays, manta rays, dolphins, and sharks.
Bike paths, walkways, parks, and sheltered beaches make this a favorite spot for a fun family day out, and if you're looking for some indoor family fun, Leisurezone hosts all your favorite retro arcade games.
Want to get out on the water? Fishing trips, whale watching cruises, yacht charters, and dive excursions depart from here, and you can also catch a ferry to Rottnest Island, one of Perth's top day trips.
Address: 86 Southside Drive, Hillarys, Western Australia
Official site: http://hillarysboatharbour.com.au/
7. Art Gallery of Western Australia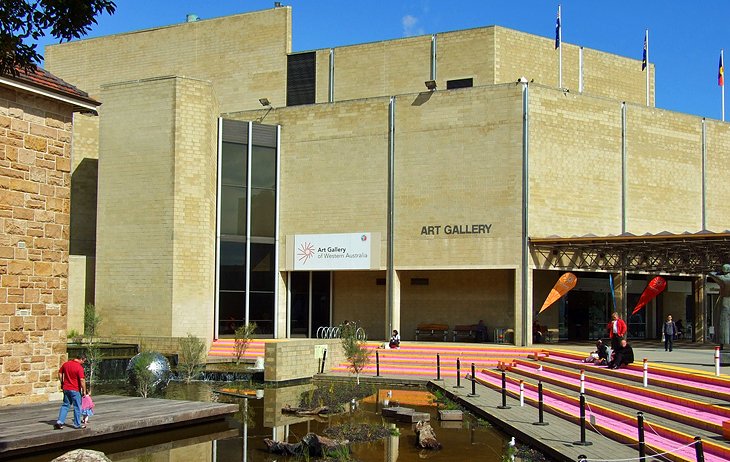 In the Perth Cultural Centre, a one-minute-walk from the nearest train station, the Art Gallery of Western Australia houses a collection of both international and Australian art from 1829 to the present day. Special emphasis lies on works from Australia and the Indian Ocean Rim.
As well as an extensive collection of traditional and contemporary Indigenous art, the gallery displays works by eminent artists such as Hans Heysen and Frederick McCubbin.
Art Gallery of Western Australia is currently undergoing a redevelopment project to create a new rooftop event venue with an open-air sculpture walk. Plans include a new internal gallery space for exhibitions and events and two outdoor spaces with inspirational Perth views.
Art lovers will be pleased to know that entry to the gallery is free, but visitors are asked to make a donation upon entry.
Address: James Street Mall, Perth Cultural Centre, Perth, Western Australia
Official site: https://artgallery.wa.gov.au/
8. Meet the Animals at Perth Zoo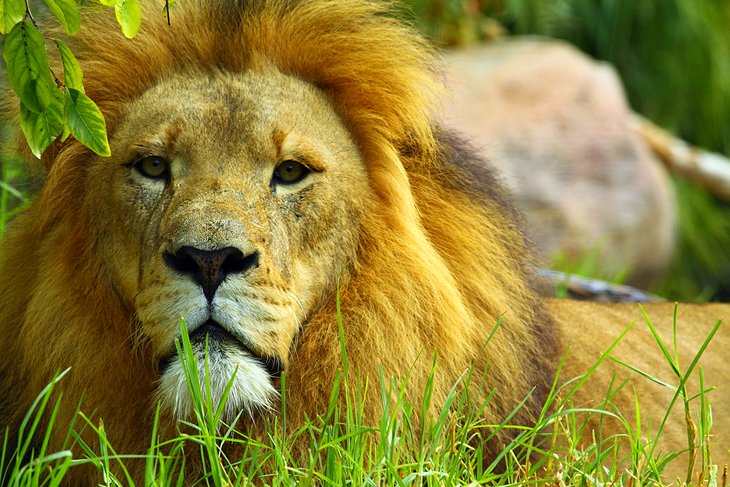 About three kilometers from the city center, Perth Zoo has been delighting animal lovers since 1898. International visitors can experience some of the country's unique wildlife in the Australian Bushwalk and Wetlands exhibits. All the favorites are here: kangaroos, koalas, wallabies, wombats, and Tasmanian devils.
Other exhibits take you around the world to different ecosystems. Feed giraffes at the African Savannah, ogle orangutans in the Asian Rainforest, enjoy an elephant show, or peer at a pygmy marmoset in the South American primate exhibit.
The zoo is easily accessible by bus, car, train, and bike, and you can also hop aboard a ferry from Barrack Street jetty.
Address: 20 Labouchere Road, Perth, Western Australia
Official site: http://perthzoo.wa.gov.au/
9. The Bell Tower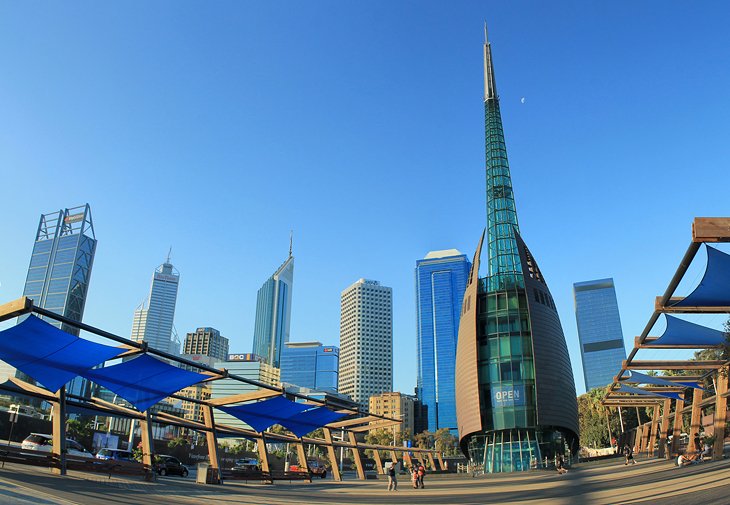 It looks like an alien spaceship or rocket, but the Bell Tower in Barrack Square is actually one of the world's largest musical instruments. Despite its space-age appearance, housed within it are the original 14th-century bells from Saint Martin in the Fields Church, the parish church of London's Buckingham Palace.
Entry tickets include an interactive demonstration on the ancient art of bell ringing, as well as interesting exhibits on the history of the bells.
While you're here, make sure you take time to enjoy the 360-degree views of the city and Swan River from the open-air observation deck on the 6th floor. For an extra fee, lovestruck couples can purchase a personalized "love lock" to add to a chain-link fence.
It's easy to visit the Bell Tower. You can walk here in about five minutes from the CBD.
Nearby is Elizabeth Quay, a new riverfront precinct, with restaurants, shops, cafés, and entertainment venues.
Address: Barrack Square Riverside Drive, Perth, Western Australia
Official site: https://www.thebelltower.com.au/
10. Find Inspiration at Scitech
If you have wiggly kids in tow, Scitech makes a great addition to your sightseeing itinerary. This engaging, family-friendly museum encourages kids to explore science and technology, engineering, and math through imaginative and interactive exhibits.
Discoverland is specially designed for three to seven year olds. Here, you'll find displays on air, water, gravity, electricity, and magnets. The construction zone here is great for budding builders, and kids can even dress up as sea creatures and crawl into a tunnel at the small aquarium exhibit, or spy on mom and dad through a periscope.
Waterlandia explores the water cycle, and older kids will enjoy the planetarium movies and science shows. A puppet theater and special themed exhibitions round out all the fun.
Address: City West Center, Corner of Sutherland Street & Railway Street, West Perth, Western Australia
Official site: http://www.scitech.org.au/
11. St. Mary's Cathedral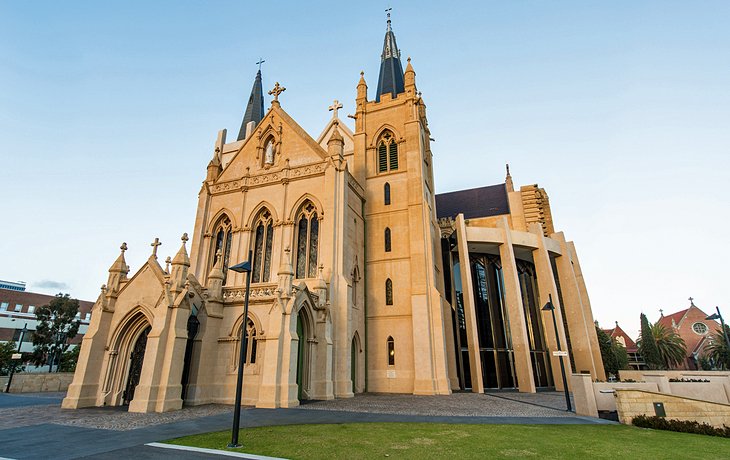 St. Mary's Cathedral is a soothing spot to escape the hustle and bustle of the city. Constructed over three centuries, this grand neo-Gothic church was consecrated in 1865 and renovated extensively over the years. The site for the cathedral was included in the first plan of Perth in 1838.
If you're interested in learning more about the cathedral, you can join a tour of the building every Tuesday at 10:30am. Tickets are available at the Church Office across the road. At night, lights imbue the cathedral with an ethereal glow.
Address: 17 Victoria Square, Perth, Western Australia
12. Aviation Heritage Museum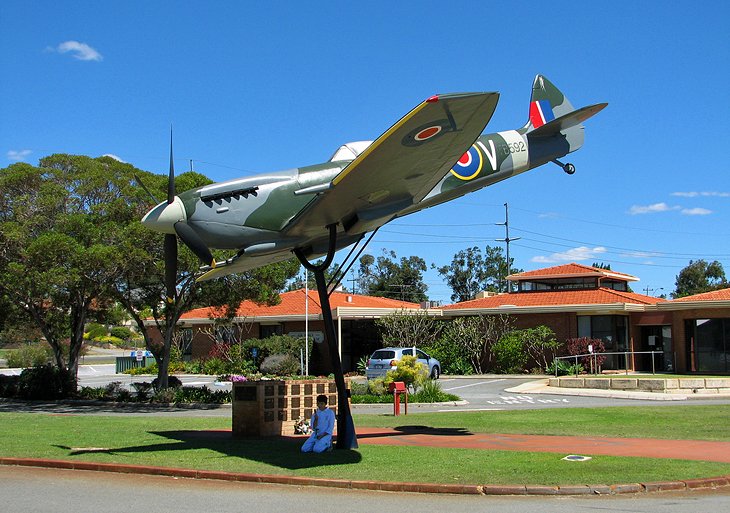 Even if you're not interested in aircraft, you might be surprised by the fascinating displays at the Aviation Heritage Museum. Exhibits of more than 30 aircraft and thousands of artifacts cover civilian and military aviation. They trace the evolution of aircraft, from two-winged WWI planes to present-day passenger jets.
For an extra fee, you can also book a personal tour of a Lancaster bomber or a Dakota C-47 and Spitfire Mark XXII.
The Aviation Heritage Museum lies about 15 kilometers south of Perth.
Address: Air Force Memorial Estate, Bull Creek Drive, Bull Creek, Western Australia
Official site: http://www.raafawa.org.au/museum/
Where to Stay in Perth for Sightseeing
For first-time visitors to Perth, one of the best places to stay is the city center, near the sparkling Swan River. This is especially convenient for those planning to use public transport. Fantastic shopping and dining are within walking distance, and top attractions such as the Art Gallery of Western Australia, the Western Australian Museum, St. Mary's Cathedral, and Kings Park are also close by. Free CAT buses loop around the city, stopping at the top sites. Here are some highly-rated hotels in this central location:
Luxury Hotels:
In a lovingly restored mid-19th-century state building, steps away from fabulous shopping and St. Mary's Cathedral, COMO The

Treasury

blends contemporary styling in its oversized rooms with ornate architectural features. Its modern amenities include an indoor pool, gym, library, and holistic spa.
The Ritz Carlton,

Perth

is a popular 5-star pick presiding over the Swan River at Elizabeth Quay. Swim in the river-view infinity pool, relax at the luxury spa, and drink in the views through floor-to-ceiling windows in the stylish rooms.
Pan Pacific

Perth

is a larger property in the city center that sits steps away from the Perth Mint and an easy stroll to the shops and restaurants of Elizabeth Quay and the city center.
Mid-Range Hotels:
A great option for longer stays is the apartment-style Quest Mounts Bay

Road

, at the base of Kings Park. Bright and modern, the rooms range from studios and one-bedrooms to dual studio interconnecting apartments. Guest laundry is complimentary.
On the outskirts of the city, a walk from Kings Park, Sage Hotel West

Perth

is a popular 4-star choice. Tasty food and contemporary rooms with super comfy beds make for a cozy stay. Want to stay fit? Work out at the 24-hour gym or hop on a free loaner bicycle to explore Perth.
Guests love the buffet breakfasts and quaint European charm of the European

Hotel

, a short hop from shops, restaurants, and St. Mary's Cathedral.
Budget Hotels:
Offering excellent value for money, the Comfort Hotel Perth

City

offers large, clean rooms within walking distance to the city center, the waterfront, and the free CAT bus.
Other budget options in the CBD are Baileys

Motel

in East Perth, with a small pool and a family-owned Italian/Mediterranean restaurant on-site, and the basic Citylights

hotel

, close to the city and public transport.
Tips and Tours: How to Make the Most of Your Visit to Perth
An organized tour is a convenient way to see the sights around this vibrant city without the hassle of planning your trip, driving vast distances, or organizing boat trips. Many of these tours include admission fees and pickup and drop-off at your hotel, saving you time and money. Below are some fun city sightseeing tours and day trips:
Best Time to Visit Perth, Australia - Historical Climate Averages
Average minimum and maximum temperatures for Perth, Australia in °C
J
F
M
A
M
J
J
A
S
O
N
D

32

17

32

18

30

16

25

13

22

11

19

9

18

8

18

8

20

9

22

11

26

13

29

15

PlanetWare.com
Average monthly precipitation totals for Perth, Australia in mm.

10

15

15

48

104

168

158

112

71

46

23

10
More Related Articles on PlanetWare.com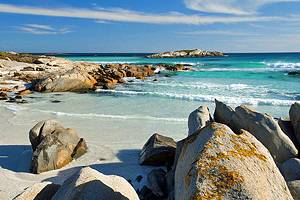 Perth is a great jumping-off point for other adventures and things to do in Western Australia. In the state's north, you can visit the tropical tourist town of Broome. To the south, Esperance is the gateway to spectacular Cape Le Grand National Park. A short flight from Perth, Exmouth is home to World Heritage-listed Ningaloo Reef, as well as some of Australia's best fishing opportunities. Need help planning your Aussie travels? See our article on the top itineraries in Australia.