10 Top-Rated Day Trips from Perth, Australia
On the banks of the sparkling Swan River in Western Australia, Perth is one of the world's most isolated capital cities, but right on its doorstep, you'll find a dazzling array of natural wonders. Hauntingly beautiful deserts, gleaming beaches, wildlife-rich islands, and the agricultural bounty of the Swan Valley and Margaret River make rewarding places to visit outside Perth.
Distances between attractions can be vast, but the scenery is worth it. Striking rock formations rise from golden-sand deserts, and wildflowers erupt from the scorched earth in a breathtaking blaze of color from September through November.
Looking for places to visit near Perth and easy half day trips from the city? Bask on bone-white beaches with beautiful turquoise bays, or plan a trip to Perth's port city, Fremantle. With its rich convict and maritime history, art exhibitions, and heritage trails, it provides a pleasing counterpoint to all the natural attractions surrounding the city.
Wildlife is also a highlight, both in the sea and on land. Not far from the city, you can swim with wild dolphins, spot humpback whales on their annual migration, kayak with sea lions, and get up close to quokkas (small marsupials) on ravishing Rottnest Island. See all the highlights with our list of the best day trips from Perth.
1. Rottnest Island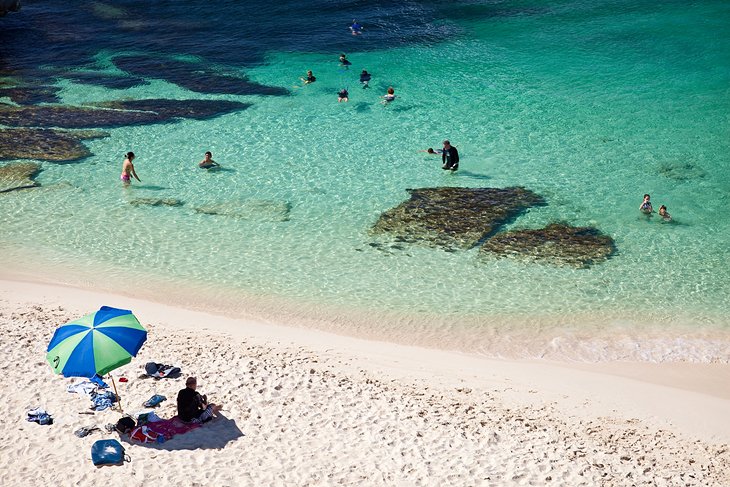 Rottnest Island is one of the best short trips from Perth. This popular weekend getaway, comprises a slow-paced, car-free splotch of sand with an appealing blend of sun-soaked beaches, historical attractions, and wildlife.
In 1696, the Dutch navigator Willem de Vlamingh landed on the island's dazzling shores and called it paradise. But he mistook the cute, wallaby-like quokkas for rats and named the island Rotte Nest ("rats' nest"). Today, these sweet marsupials are one of Rottnest Island's top attractions, along with its beautiful reef-fringed bays and beaches lapped by turquoise water.
Besides swimming, other popular things to do on Rottnest Island include nature walks, exploring the Parker Point Marine Snorkel Trail, fishing, Segway tours, and admiring the sea views from Vlamingh Lookout and Wadjemup Lighthouse.
Are you a history buff? Stop by the Rottnest Museum, housed in an old mill and hay store, and visit the island's historic sites.
Getting to Rottnest Island is easy. Ferries take about 25 minutes from Fremantle, 45 minutes from Hillarys Boat Harbour, and 90 minutes from Barrack Street Jetty in Perth.
Better still, you can cover all the highlights and maximize your time by hopping aboard a high-speed boat from Perth on the Rottnest Island Day Tour. This eight-hour trip includes a cruise down the Swan River along Millionaire's Row, home to some of the city's priciest real estate; a high-speed wildlife cruise around the island's secluded beaches and bays; and time to explore all its natural and historical attractions.
2. Fremantle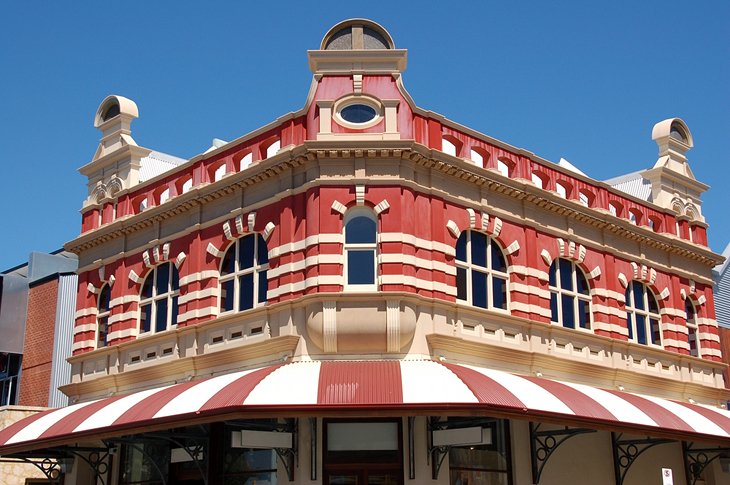 Fremantle is Perth's port and a reservoir of maritime and convict history. About a 30-minute drive from the CBD, at the mouth of the Swan River, it was the first site of settlement for the Swan River colonists in 1829. Today, it exudes a free-and-easy bohemian feel; many artists and creative types make their home here.
A great way to become acquainted with "Freo," as it's called by the locals, is to take a guided tram tour of the city. Once you know the lay of the land, you'll see that most of Fremantle's top attractions are within easy walking distance in the center of town.
Fine buildings with richly decorated façades, such as the Italian-style Town Hall, bear witness to the town's late 19th-century wealth, when it was a trading hub and a gateway for gold miners traveling to inland towns. For more history, don't miss a tour of Fremantle Prison, the state's only World Heritage-listed building.
Fremantle also has a rich sailing history. The Western Australian Museum's Shipwreck Galleries exhibit the sobering remains of vessels that met their match along the coast, and the Western Australian Maritime Museum proudly displays the winning America's Cup yacht, Australia II.
Other popular things to do in Fremantle include heritage trails; exhibitions and concerts at Fremantle Arts Centre; and Fremantle Markets, where the stalls have been selling arts and crafts, fresh produce, and ethnic street food since 1897. Popular whale-watching cruises also depart from Fremantle.
A fun way to access the city from Perth is on a Swan River Cruise.
3. Caversham Wildlife Park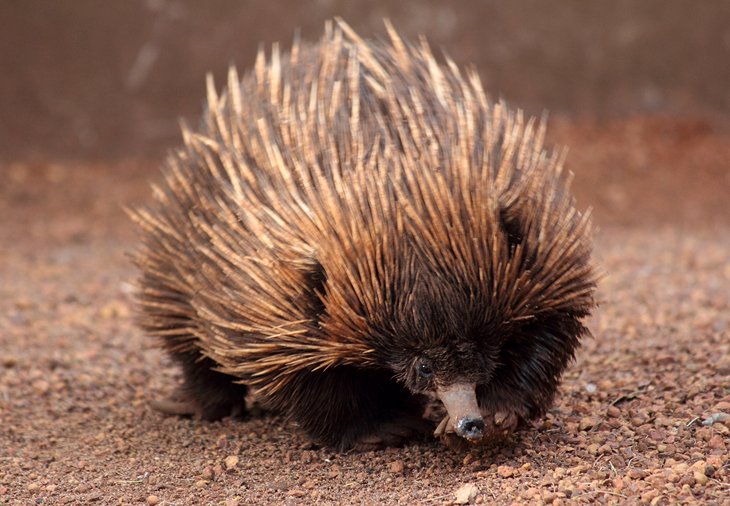 Caversham Wildlife Park is a hit with animal lovers, both young and old alike. About a 30-minute drive from the city, this is a great spot to bring the little ones to see all the quintessential Aussie animals. Kangaroos, koalas, kookaburras, quokkas, echidnas, and wombats are just some of the critters you can see here.
Reptile lovers can see some of Australia's impressive pythons, as well as lizards like the lace monitor and perentie.
Interactive experiences are a highlight. You can hand-feed the kangaroos and visit Molly's Farm, with a full cast of farmyard animals. The park also offers a dose of Aussie culture, with sheep shearing and whip-cracking demonstrations. Kids will also love the zookeeper talks, which give them a chance to learn about the resident critters and get up close and personal with them.
Official site: http://www.cavershamwildlife.com.au/
4. Yanchep National Park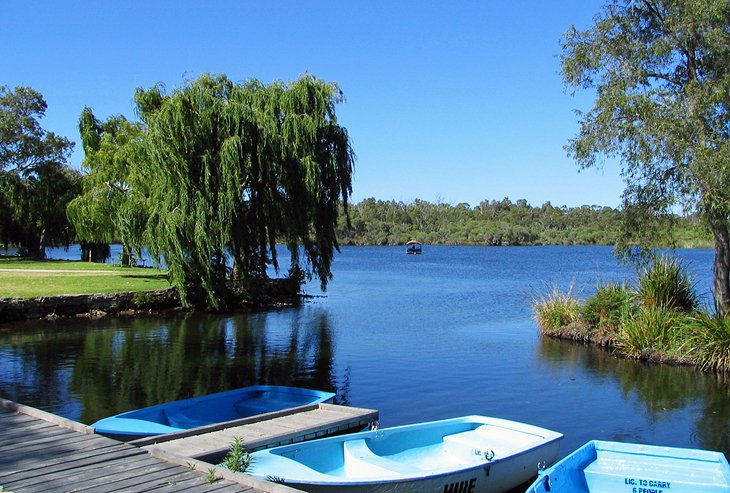 Yanchep National Park promises a fun, family-friendly day out near Perth. Walking trails, wildflowers, and plenty of wildlife are the top attractions at this wilderness area, about 50 kilometers north of Perth.
Scenic nature trails fan out through the coastal plain and circle the large lake. Choose from nine different trails, ranging from 500 meters to 55 kilometers, and look for wildlife along the way – kangaroos are common throughout the park, and koalas cling to the trees over a short boardwalk trail.
Birding is also excellent. The park's woodlands and wetlands are home to many species of birds, including black cockatoos, rainbow lorikeets, and fairy wrens. Nearby, limestone caves shelter an impressive display of stalactites and stalagmites.
To learn about the park's Noongar Aboriginal heritage, sign up for a guided cultural tour. Yanchep National Park is also the perfect setting for a picnic after a relaxing day soaking up all the natural sights. Free barbecues look out over the picturesque lake.
Official site: https://parks.dpaw.wa.gov.au/park/yanchep
5. The Swan Valley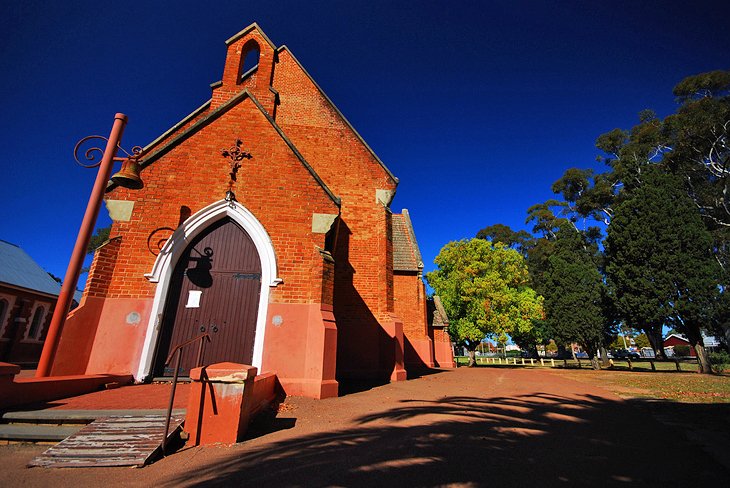 The Swan Valley is a haven for foodies. The journey to this picturesque pastoral region, about 14 kilometers from Perth's CBD, is as fun as the destination. From Perth, you can hop aboard a ferry and enjoy a relaxing cruise up the Swan River to the fertile farming country of Australia's oldest grape-growing region. You can also drive here in about 25 minutes.
As you explore the region, be sure to sample some of the fresh local produce and artisan foods. Grapes, asparagus, melons, strawberries, nuts, honey, citrus fruits, nougat, chocolate, and cheese are some of the local treats. The region is also home to several excellent art galleries and antique furniture stores.
Are you looking for day trips from Perth in winter? Cozying up in a Swan Valley restaurant is an appealing option on a cold, rainy day. Enjoy lunch at one of the highly acclaimed restaurants that spotlight the scrumptious farm-fresh produce. The main hub of Guildford is also a lovely spot to enjoy a Devonshire tea and admire the elegant 19th-century architecture.
This is a relaxing day trip and an easy hop from the city center. Most of the ferries and river cruises leave from Barrack Square Jetty, and if you're looking for day trips from Perth by train, you can hop the Midland Line to Guildford and be here in about 19 minutes.
6. The Margaret River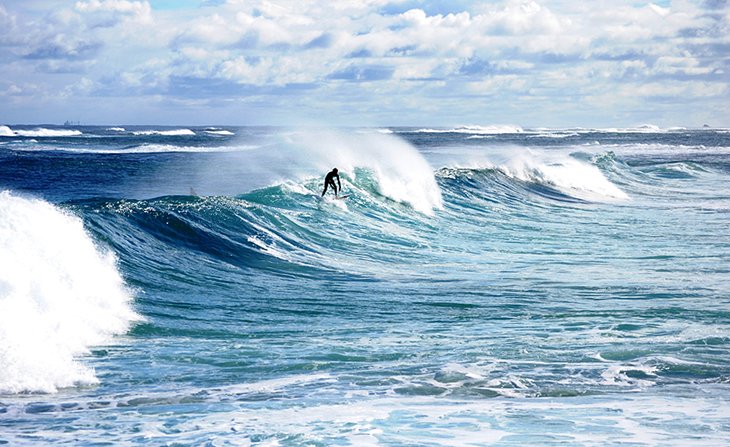 Although three hours is a long drive for a day trip, the Margaret River is one of Perth's best loved city escapes. Sparkling beaches, fantastic surf breaks, scenic hiking trails, and superb restaurants and galleries are among the many attractions here.
A great way to soak up the scenery is by hiking the seaside walking trail to the Cape Leeuwin lighthouse, where the Southern and Indian Oceans meet. Other Margaret River attractions include dense karri forests and limestone caves, such as Mammoth Cave, Lake Cave, and Jewel Cave, with impressive stalactites and ancient fossils.
Besides swimming and surfing, top things to do in the Margaret River include fishing, kayaking, whale-watching tours, rock climbing, and mountain biking.
After a fun day of sightseeing, be sure to savor some of the region's high quality produce and artisan foods. Fresh seafood, grass-fed meats, cheeses, and heirloom fruit and vegetables feature high on the list of local specialties.
Even though it's a long distance, a visit here is one of the best self-drive day trips from Perth – driving your own vehicle makes it easy to stop and explore whatever attractions interest you along the way.
7. Pinnacles Desert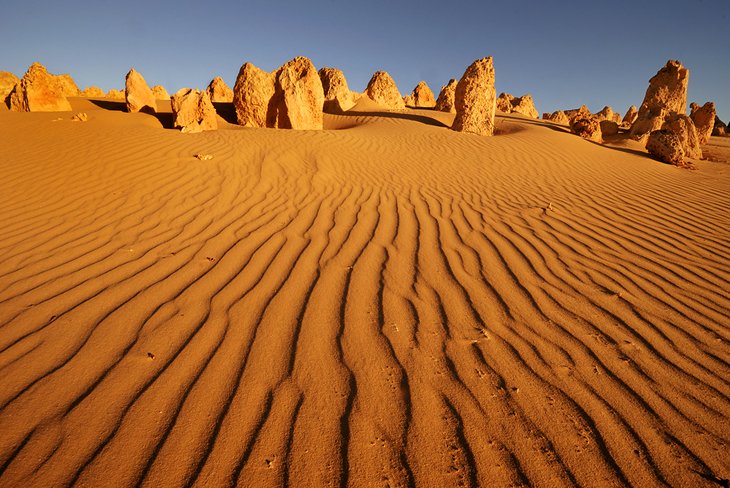 In Nambung National Park, about three hours' drive north of Perth, the Pinnacles Desert is a photographer's dream. Golden sands, wind-sculpted red spires, and deep blue skies make a striking canvas for capturing images, and you can explore this otherworldly landscape on walking trails or a scenic drive.
Emus and kangaroos are among the wildlife inhabiting the park, and from August to October, colorful wildflowers carpet the parched earth. It's worth a visit to the Pinnacles Desert Discovery Centre while you're here to learn about the natural history and ecology of these starkly beautiful landscapes.
The park is also rimmed by ravishing stretches of white-sand beach, where you can swim, snorkel, and surf.
After exploring the desert, stop by the nearby fishing town of Cervantes, about 23 kilometers north of the pinnacles, for a delicious lunch. The beaches here are also beautiful, with many water sports on offer, including SCUBA diving, swimming, surfing, fishing, and sailing. Just south of Cervantes, Thetis Lake is home to a colony of rare marine stromatolites or living fossils.
About 26 kilometers north of Cervantes is the town of Jurien Bay with more pristine beaches, excellent diving opportunities, and wildlife-rich national parks. Along the coast here you can spot sea lions, as well as migrating whales from June through October.
To pack all the highlights of the region into one day, the Pinnacles Desert 4WD Day Trip from Perth is a great option. This 11.5-hour tour also includes an exhilarating desert sandboarding adventure and a visit to Caversham Wildlife Park, where you can get up close to koalas and kangaroos.
8. Shoalwater Bay: Dolphins, Sea Lions, and Penguins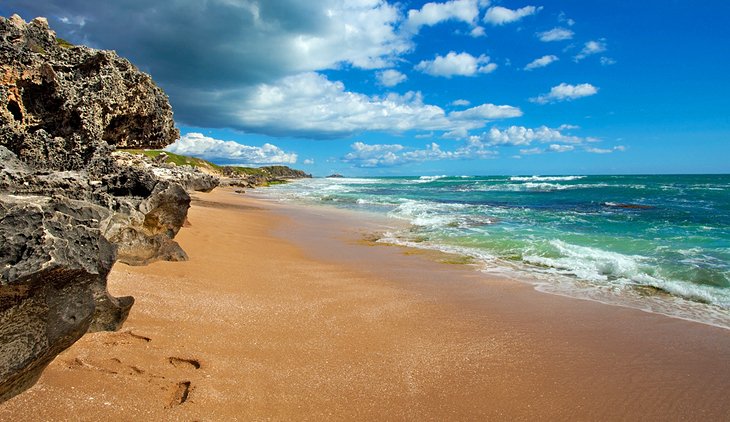 Close-up wildlife encounters are the big draw at beautiful Shoalwater Bay in Rockingham, about 50 kilometers south of Perth. Australian sea lions and pods of dolphins swim in the clear waters of Shoalwater Islands Marine Park, and you can see them close-up on sightseeing cruises.
Over the course of decades, the crew of a customized dolphin-viewing boat habituated more than 200 wild bottlenose dolphins, who willingly swim and interact with visitors. The boat is fitted with a large rear platform, so you can easily don your snorkel gear and plunge into the water.
Prefer to stay dry? Opt for a wildlife cruise aboard a glass-bottom boat. The cruises circle the rocky shores of Seal, Penguin, and Bird Islands and offer the chance to see nesting ospreys and pelican rookeries.
You can also visit these wildlife-rich islands on a guided kayak tour. As you paddle across crystal-clear waters, the sea lions and bottlenose dolphins often splash around you at close range. After paddling with the pinnipeds, some tours offer the opportunity to watch little penguins feeding. Diving and snorkeling is also excellent on the surrounding reefs.
The Swim with Dolphins Day Trip from Perth is a great way to see some of the wildlife. A professional guide, snorkel equipment, and light lunch are included.
9. Wave Rock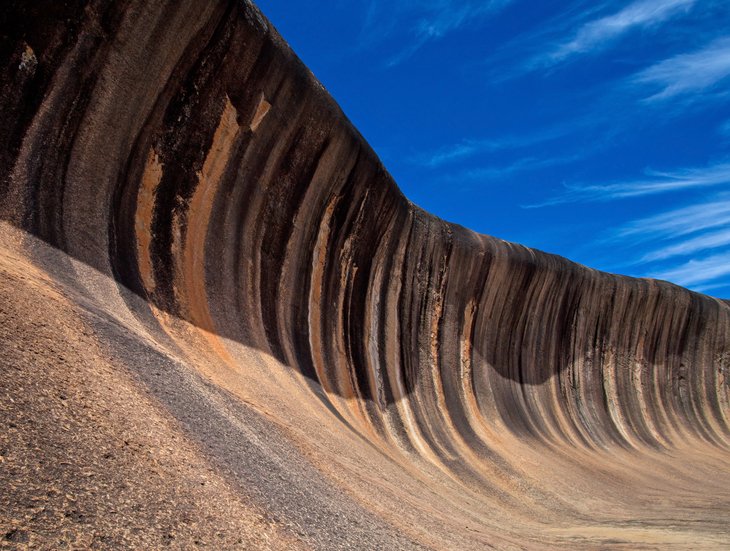 Driving east from Perth for almost four hours through the wheat belt, you will eventually reach one of Western Australia's most striking natural monuments: Wave Rock. Named for its distinctive shape, which looks like a wave frozen in motion, the 15-meter-high rock reveals the fascinating forces of Mother Nature.
From here, a 10-minute stroll on well-marked trails takes you to Hippo's Yawn, another bizarrely-shaped rock formation with more great photo opportunities. After this, you can hop back in your car for a 15-kilometer drive to The Humps, Precambrian granite domes, and Mulka's Cave, an eroded granite boulder. Bring a flashlight to see the ancient Aboriginal handprints on its surface.
Other attractions near these rugged rock formations include a wildlife park, wildflower shop, and a somewhat incongruous antique lace collection. Though this is a long journey for a day trip, venturing into the state's arid outback gives you a sense of Perth's isolation and the vast desert wilderness that lies on its doorstep.
The best way to see all the top sites in one day is on the Wave Rock and Aboriginal Cultural Tour from Perth. This full-day tour includes a visit to the old township of York in the Avon Valley, followed by stops at all the key attractions and rock formations, including Hippo's Yawn, Wave Rock, and the sacred aboriginal site of Gnamma Holes. You can learn all about the attractions from your expert guide, and the tour includes a country-style lunch, entrance fees, and hotel pickup and drop-off.
10. Whale Watching Cruise, Hillarys Boat Harbour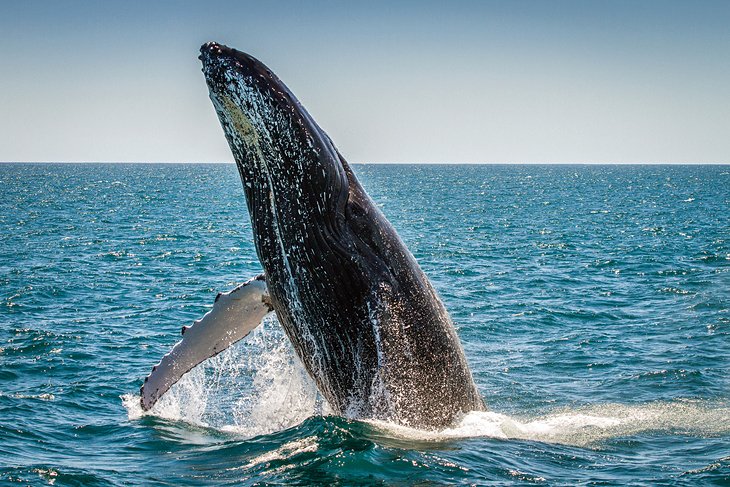 Are you a wildlife lover? Humpback whales swim the waters off Perth from mid-September to the end of November, and you can take a front-row seat to see these gentle giants as they make their way along the coast.
Hillarys Boat Harbour, on the Sunset Coast, about 20 kilometers northwest of Perth, is the departure point for popular two-hour whale watching cruises during migration season. You can also upgrade your ticket to include a visit to the Aquarium of Western Australia, one of the many family-friendly attractions at Hillarys Boat Harbour. Here, you can walk through a glass underwater tunnel and see more than 200 species of marine creatures, including dolphins, sharks, and manta rays.
After your cruise and aquarium visit, spend some time exploring the restaurants, shops, and other tourist attractions of this large marina. Hillarys Boat Harbour is also a lovely spot for a stroll and a picnic. Bask on the calm beaches, and wander along the walking paths.
Hillarys Harbour is also one of the best day trips from Perth with dogs in tow. Let your furry friends run wild on the dog beach here year-round.
Ferries to Rottnest Island depart from Hillarys Boat Harbour, too.
Address: 86 Southside Drive, Hillarys Boat Harbour, Western Australia
Map of Day Trips from Perth, Australia