14 Best Beaches in Australia
Rimmed by more than 60,000 kilometers of sun-soaked coastline, Australia is famous for its spectacular beaches. Many of these gleaming beauties grace lists of the best beaches in the world, and with more than 10,000 beaches in Australia to choose from, you're sure to find the perfect stretch of coast for your favorite activity, whether it's surfing, snorkeling, swimming, or sunbathing.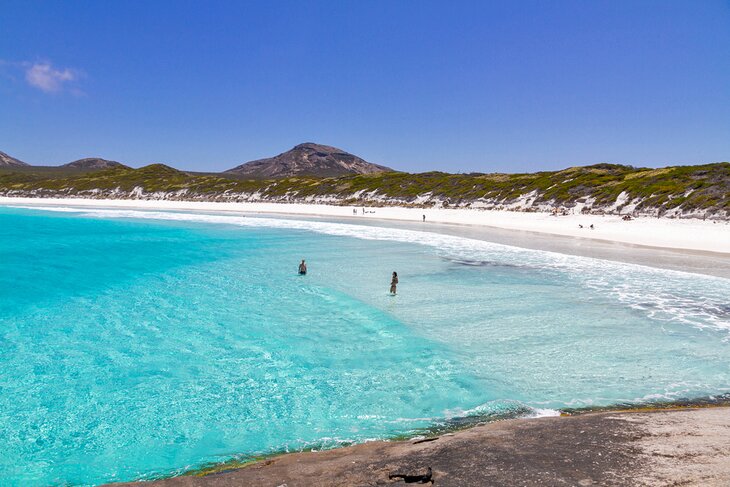 Nature lovers find nirvana on pristine stretches of sand and sea tucked deep in the wilderness. Surfers seek out glistening green-barrel breaks, and city slickers love a beautiful beach with easy access to restaurants, shops, and attractions.
From coral-fringed bays in Western Australia and blonde-bombshell beaches in New South Wales and Queensland to a curvaceous cove in Tasmania, and even a tropical island fantasy in the remote Cocos (Keeling) Islands, Australia has an alluring stretch of sand and sea to dazzle even the most jaded beach lovers.
Discover the top places to visit along the coast of this vast country with our list of the best beaches in Australia.
1. Whitehaven Beach, Queensland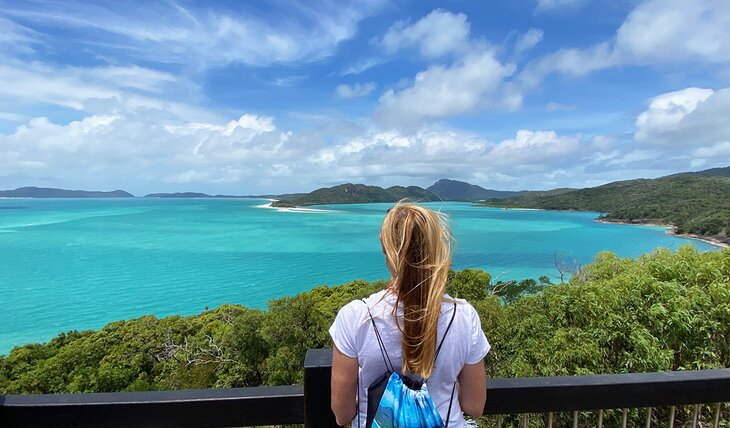 Whitehaven Beach in the Whitsunday Islands along the Great Barrier Reef is not just one of Australia's top stretches of coast, it often scores a place on lists of the best beaches in the world.
The seven-kilometer arc of powdery white sand here is actually silica, a silky-soft substance that creates a striking contrast with the tropical turquoise sea and emerald headlands. Best of all, the beach lies in a national park on Whitsunday Island, ensuring that it remains protected and pristine, despite the many day-trippers who land on these shores. Camping is permitted on the southern end of the beach.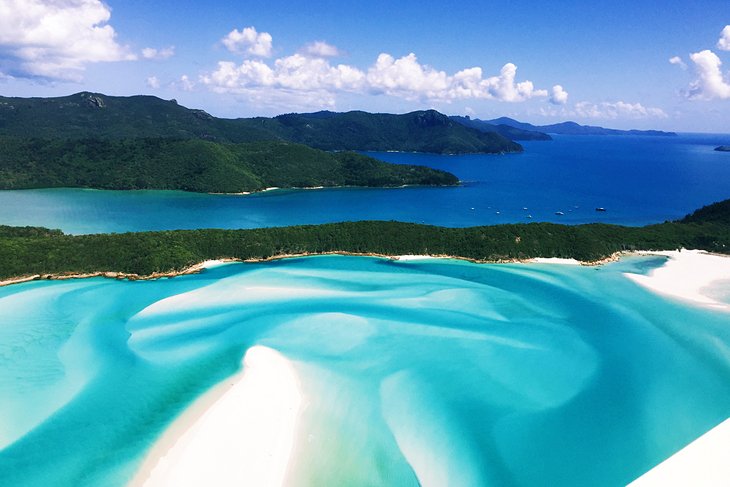 Tongue Bay is a popular anchorage for bareboats, and from Tongue Point, you can take a 10- to 15-minute hike up to the lookout for breathtaking views over Hill Inlet, where striking hues of turquoise and blue mingle with the snow-white sands, creating a marbled mosaic as the tides shift.
Author's Tip: If you have time, don't just hike to the first viewpoint — you can enjoy even better views from the two other viewing platforms farther along the trail, usually with fewer people. Each one offers a different perspective.
If you're short on time, hop aboard a seaplane and soar over the swirling seascape on a plane. Most tourists visit the beach on day trips from Airlie Beach, Shute Harbour, or one of the resorts in the Whitsunday Islands.
Hamilton Island makes a great base for exploring Whitehaven Beach and the Great Barrier Reef. The island offers a wide range of accommodations, from luxury resorts like Beach Club and Qualia Resort to the mid-range Whitsunday Apartments Hamilton Island.
2. Turquoise Bay, Western Australia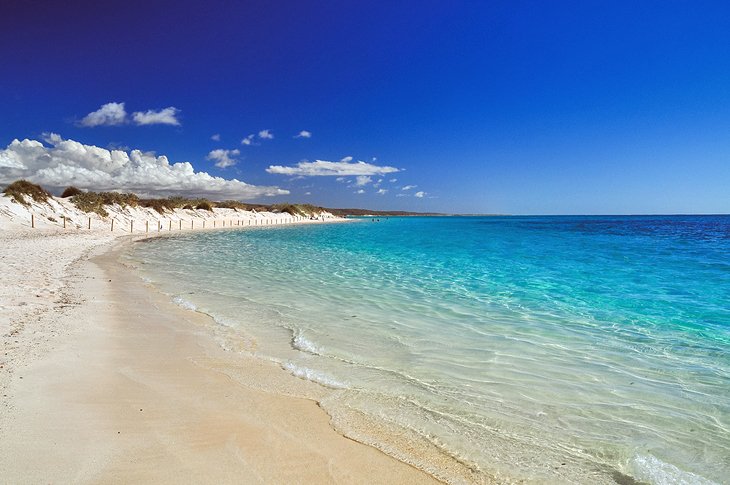 One of the most ravishing beaches in Western Australia, pristine Turquoise Bay is true to its name. Luminous blue-green water laps the powdery shores of this striking bay, which sits about 60 kilometers south of Exmouth in Cape Range National Park.
Turquoise Bay is also one of the few mainland beaches where you can snorkel on colorful coral reefs right from shore. World Heritage-listed Ningaloo Reef, Australia's largest fringing reef, lies steps from the sand, with more than 250 species of coral and 500 different species of fish, including stingrays, sea turtles, and whale sharks.
One of the popular things to do here is drift snorkeling. You can swim out to the reef at the southern end of the beach and ride the current north to a shallow sandbar. The vivid turquoise waters and soft, white sand also make this a beautiful spot to bask on the shore and soak up all the views.
It's a good idea to bring shade protection, snacks, and drinks, as there are no facilities except restrooms.
Read More: Top-Rated Tourist Attractions in Western Australia
3. Cossies Beach, Cocos (Keeling) Islands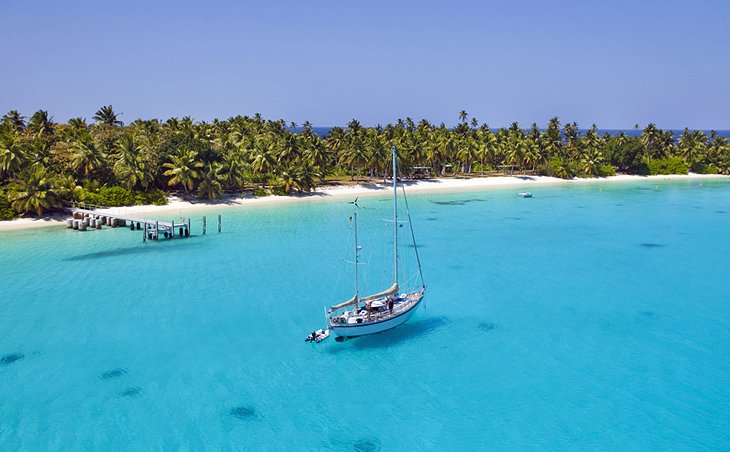 Imagine an idyllic South Pacific Islands beach: coconut palms bristling above a bone-white sliver of sand, and luminous aqua water lapping softly on shore. This is the delicious stretch of sand on Direction Island in the Cocos (Keeling) islands.
This remote Australian Territory of two atolls and 27 coral islands lies about a 4.5-hour flight from Perth. In 2016, with permission from the locals, beach expert and author Brad Farmer christened this sublime slice of coast "Cossies," after Australia's 26th Governor-General, Sir Peter Cosgrove.
Bordered by lush coconut palms, this beguiling beach curves seductively out into the tropical turquoise sea, and you can snorkel among coral gardens and diverse marine life in the crystal-clear waters.
Eco toilets, wood-fired barbecues, and walking trails are the only signs of development. The beach is a popular anchorage for visiting boaters, and camping is allowed on the beach, but you need to bring all your own equipment and drinking water.
Yes, it's difficult to access this remote cluster of islands, but that only adds to its allure.
4. Wineglass Bay, Tasmania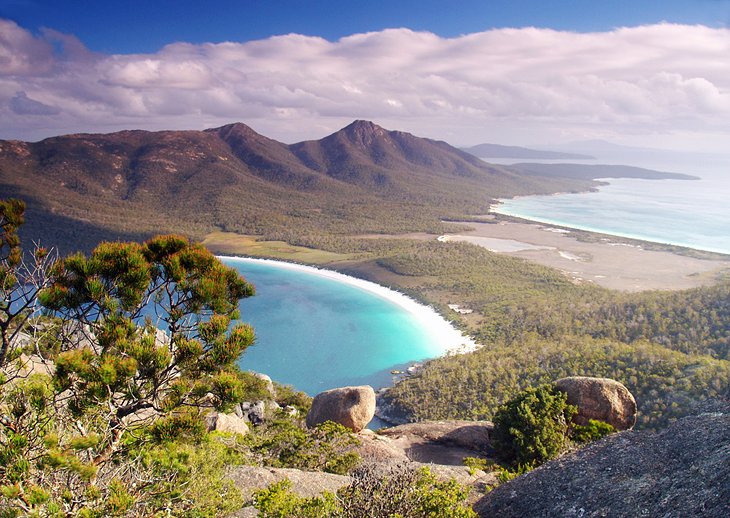 On a clear day, it's hard to beat the beauty of Wineglass Bay in Tasmania's Freycinet National Park. Lay eyes on this luscious jewel from the lookout, with its curving bush-fringed shoreline, stark-white sand, and sapphire waters, and you'll be spoilt forever.
After soaking up the views, take the 20-minute walk from the lookout to the southern end of the beach, where you can gaze up at the Hazards, the pink-tinged granite peaks punctuating one end of the bay.
Sea kayaking, sailing, and fishing are favorite things to do here, and bushwalking is especially popular. Wineglass Bay lies on the Freycinet Experience Walk, a four-day trek along the entire peninsula, which is one of the top hikes in Australia. The surrounding wilderness is home to wallabies, wombats, quolls, and even Tasmanian devils.
Wineglass Bay lies about a 2.5-hour drive north of Hobart. Try to visit during the warmer months, from December through April.
The nearby beach resort of Coles Bay makes a great base to explore Wineglass Bay, with accommodations ranging from campsites to the luxury all-inclusive eco-resort Saffire Freycinet, with floor-to-ceiling windows that drink in all the views.
5. Cable Beach, Western Australia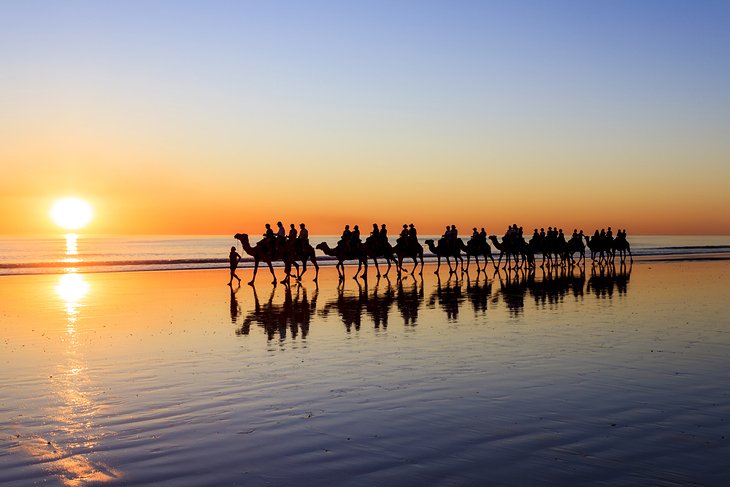 If you've ever seen a photo of people riding camels silhouetted against a fiery sunset on an Aussie Beach, you can bet it's Cable Beach. It's one of the most popular things to do along this 22-kilometer stretch of creamy white sand and turquoise sea.
Cable Beach skirts the coast of Broome in Western Australia. It was named for the communications cable laid between here and Java across the Indian Ocean in 1889.
You can drive 4WD vehicles along the shore, and stake out your own private patch of sand, but it's a good idea to bring shade protection if you're planning to visit during the heat of the day.
From November to May, dangerous irukandji jellyfish swim in these waters, but you can paddle along the shore at other times of the year. You'll find plenty of restaurants right near the sand, and many people bring picnics to enjoy.
This is a wonderful place to watch the sunset. Make sure you visit at least once during this time of day for beautiful views of the blazing sun sinking slowly into the Indian Ocean.
If you want to stay as close as possible to this iconic stretch of sand, the luxury Cable Beach Club Resort & Spa, with studios, bungalows, villas, and suites, overlooks this famous beach.
6. Noosa Main Beach, Queensland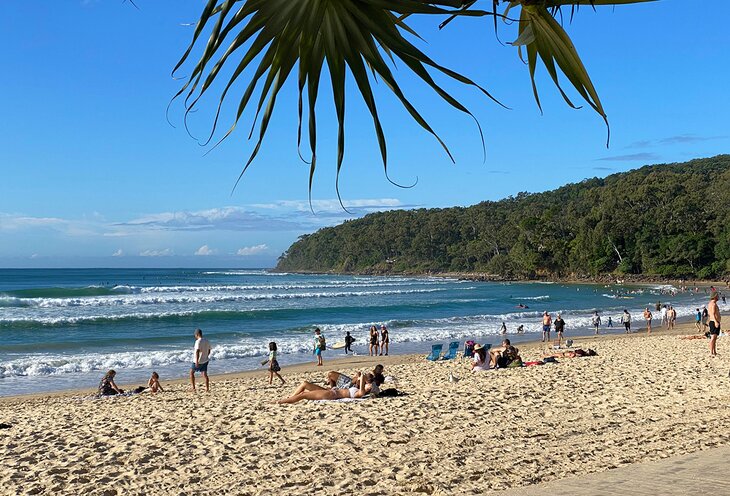 Fringed by palms, pandanus, and casuarina pines, Noosa Main Beach is an Aussie favorite. It lies about two hours north of Brisbane on the Sunshine Coast.
This clean stretch of golden sand and blue-green water boasts a beautiful setting between Noosa National Park and the chic shops and cafés of Hastings Street. Its sheltered and sunny north-facing aspect makes it popular year-round. At the eastern end of the shoreline, the national park cloaks the headland, and if you hike up the hill into the park, you can often spot koalas in the trees.
Swimmers love the clean, clear waters, and surfers love to ride the long waves paralleling the headland at the famous First Point. The Noosa Festival of Surfing takes place here each March.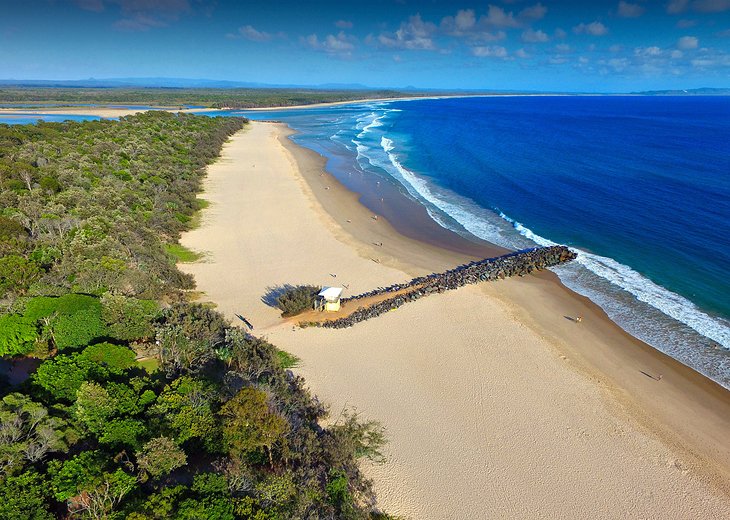 Children and adults alike love to ferret among the rock pools at the eastern end of the beach, and the boardwalk along the beach is a popular place for a sunset stroll. The beach is patrolled throughout the year.
When you need a break from the sun, Hastings Street — one of Noosa's top attractions — is steps away from the sand, with gourmet restaurants, cafés, shops, and galleries.
During summer and school holidays, city slickers from Sydney and Melbourne flock to Noosa Heads for their vacation, so parking in the little beach lot can be a challenge, but other lots are nearby. Better still, you can forget about finding a parking spot and stay at Netanya Noosa right on the beachfront in a spacious apartment with a full kitchen.
7. Twilight Beach, Western Australia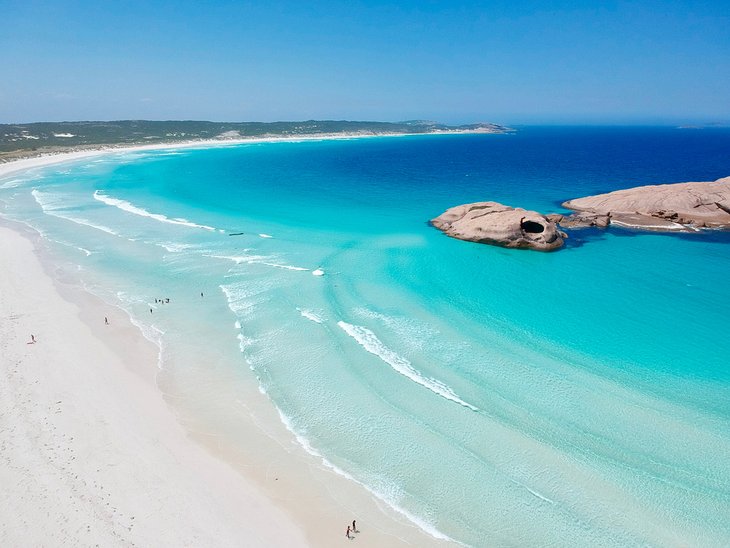 Twilight Beach is Australia's version of the boulder-strewn beaches in the Seychelles. It lies about seven kilometers from the little beach town of Esperance, You won't find rustling palm trees here, but you will find crystal-clear turquoise water, a gorgeous slice of blinding-white sand flanked by smooth granite boulders, and typically safe conditions for swimming and surfing.
The broad, flat shoreline and shallow sandbar make this an ideal spot for families with small children, and many visitors like to swim out to the large granite rocks, climb to the top for fabulous views, and jump into the impossibly blue sea.
Lifeguards patrol during summer. Restrooms and showers are available here, but you should bring shade protection, as well as water and snacks.
8. Hyams Beach, New South Wales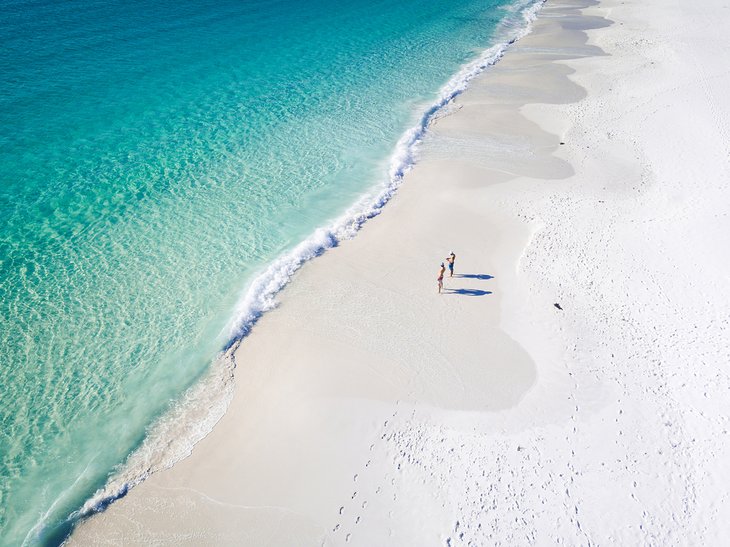 Fringing the Jervis Bay Marine Park, Hyams Beach is famous for its snowy-white, squeaky-fine sand. It's a popular weekend getaway from Sydney and a 2.5-hour drive south of the city.
Swimming, snorkeling, stand up paddleboarding, and fishing are popular things to do in the clear, blue waters, and it's a beautiful spot to bask on the powder-soft sands. Once you lie eyes on its striking shores, you'll see why this is one of the best beaches in NSW (New South Wales).
Bushwalking is also a popular thing to do here. Scenic trails lace the national park, including Hyams Beach Trail, also known as the Bird Spotter's walk, where you can look for colorful crimson rosellas and honeyeaters; interpretative signs help you identify the species. White Sands Walk takes you along the powdery shores of this sublime stretch of coast.
Whales migrate along here from May to November, and bottlenose dolphins are also frequently spotted.
Feeling peckish? Don't worry, despite the remote feel here, a little café serves snacks and drinks.
On weekends and holidays, parking can be difficult, but plenty of other beautiful beaches are nearby, including Murrays Beach on a sheltered bay in Booderee National Park (with a fee to enter), Seamans, and Chinamans beaches.
Read More: Top-Rated Tourist Attractions in New South Wales (NSW)
9. Lucky Bay, Western Australia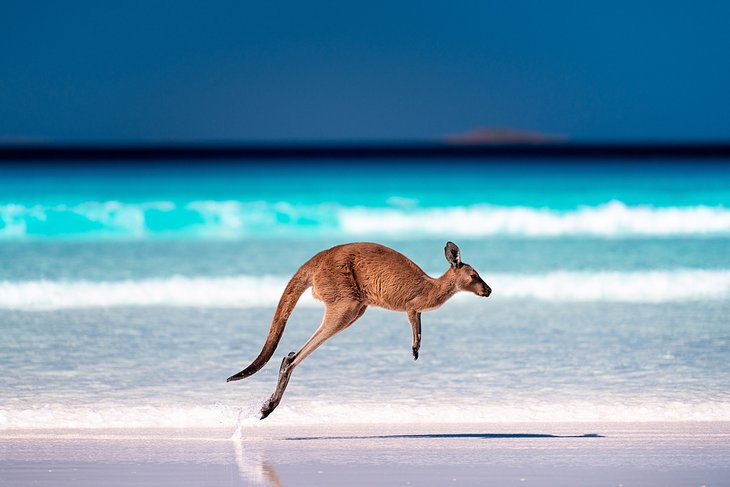 About 70 kilometers from Twilight Beach in Cape le Grand National Park, Lucky Bay is another one of Australia's whitest stretches of sand. The explorer Matthew Flinders named this beautiful bay after he took shelter here during a fierce summer storm.
Today, anyone would be lucky to find themselves in the embrace of this dazzling crescent-shaped bay. Wildlife lovers will also be in heaven here — kangaroos often lounge on its shores, posing for quintessential Aussie photo ops.
Snorkeling, surfing, swimming, and fishing are all popular things to do along this wild stretch of coast. You can drive 4WD vehicles along the shore here, but be careful — plenty of unsuspecting drivers get bogged in the soft sand.
10. Vivonne Bay, South Australia
Vivonne Bay, on Kangaroo Island in South Australia, is an unspoiled stretch of bright, white sand and azure sea. You can sometimes spot seals bobbing in the cool, clear water.
The waves here are often perfect for surfing and boogie boarding, but you need to take care, as the beach is not patrolled. Swimming is best in the summer, when the water warms up.
Other popular things to do include picnics, sunbathing, fishing, and watching the fresh crayfish catch arrive at the jetty. Picnic and barbecue areas are available near the jetty, but you should bring your own food and refreshments.
East of Vivonne Bay is another of Kangaroo Island's top attractions, the Seal Bay Conservation Area, with Australia's third-largest colony of sea lions. Not far from the beach, you can surf down the sand dunes at Little Sahara.
If you're looking for another beautiful Kangaroo Island Beach, Stokes Bay lies hidden beyond a cluster of boulders and a tunnel-like cave system on the island's northern coast. Relax on the soft sands, look for dolphins darting offshore, and paddle in the little rockpool.
11. Surfers Paradise Beach, Queensland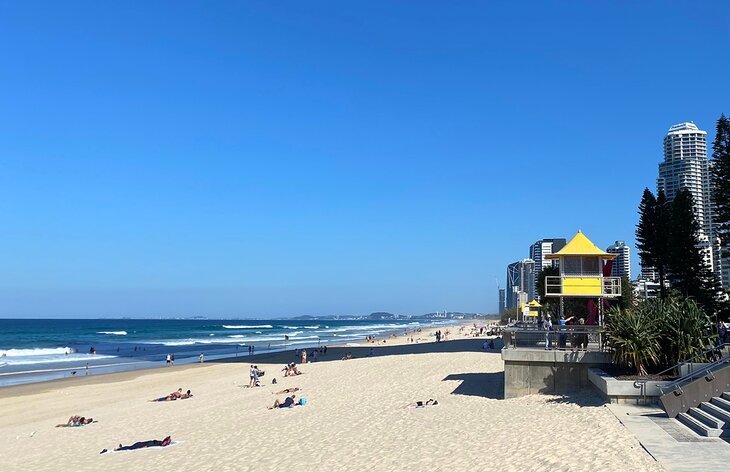 Backed by high-rise apartments, but still managing to impress with its beauty, this broad three-kilometer stretch of squeaky, white sand and surf-laced sea is one of Queensland's most famous beaches. Not surprisingly, this famous Gold Coast attraction is a fantastic place for beginner surfers to catch some gentle waves.
Swimming, sunbathing, and strolling along the soft sands or beachfront promenade are all equally satisfying here, and despite the crowds, the beach is surprisingly clean. Lifeguards patrol 365 days a year.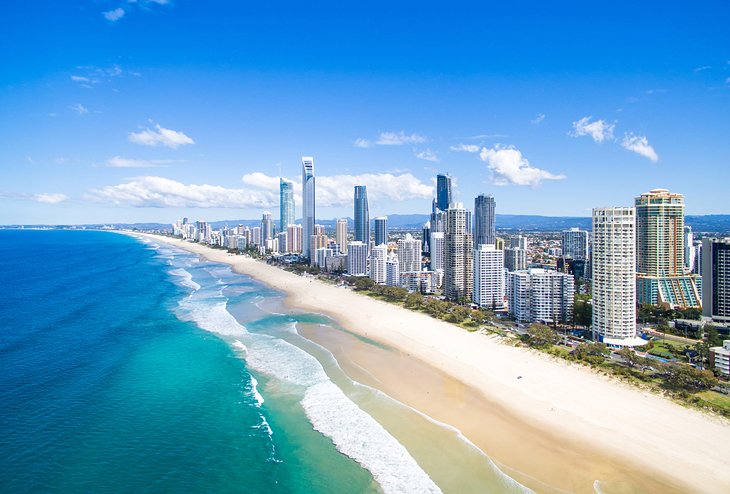 Surfers Paradise is arguably the best beach city in Australia. After a relaxing day soaking up the sun on the beach, you can hop across to fabulous shops, cafés, and restaurants only steps away from the sand. Shoppers also come here Wednesday, Friday, and Sunday nights to the Surfers Paradise Beachfront Markets, with more than 120 stalls selling everything from photographs and fashion to souvenirs and jewelry.
For convenient beachfront accommodation, Peppers Soul Surfers Paradise, with one-, two-, and three-bedroom luxury apartments and gorgeous sea views, sits right across from the beach.
12. Bondi Beach, New South Wales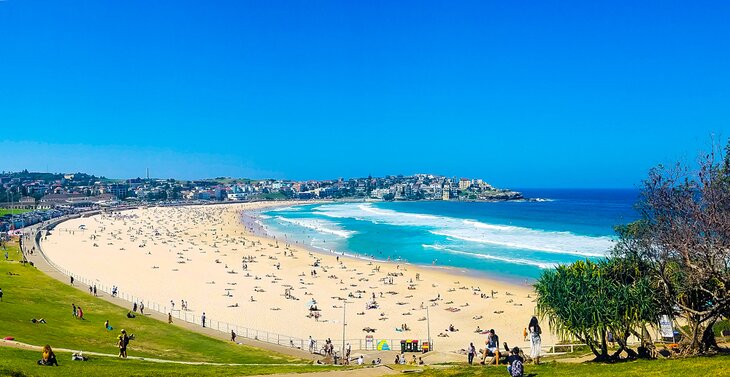 It might not be the most beautiful beach in Australia, but for pure iconic status, cosmopolitan color, and proximity to a world-class city, this Australian Heritage Landmark scores a well-deserved place on this list.
A mere 15 minutes by car or bus from Sydney's CBD, this curvy one-kilometer strand of blond sand and clear blue sea is one of the best beaches in Sydney. It's so famous that it stars in its own Aussie reality TV show, Bondi Rescue. The beach is home to the country's first documented surf life saving club, dating from 1907.
In safe conditions, this is a beautiful spot to swim or surf, but it's important to stay between the flags here, as dangerous rip tides can sweep unsuspecting swimmers out to sea. Bondi comes from an aboriginal word meaning "noise of water breaking over rocks," an apt description of the sometimes dangerous surf that rolls in here - especially after a storm.
Bondi Beach is also a prime people-watching spot. You can brush shoulders with backpackers from around the world, latte-sipping locals, and business people taking a quick beach break from work.
Skateboarders love the beachfront skate park, and you can also take a dip in the oceanfront pool, or browse the trendy shops and cafés just across the street. The famous Bondi Icebergs Club here is a popular place to enjoy lunch or dinner, with spectacular beach views.
If you're looking for beachside accommodations, QT Bondi sits right across the street with bright, modern apartments.
From Bondi Beach, you can soak up some picturesque scenery along the beautiful Bondi to Bronte coastal walk. It begins at the southern end of the beach and skirts the coastline for six kilometers along the sandstone cliffs.
Read More: Top-Rated Tourist Attractions in Sydney
13. Loch Ard Gorge, Victoria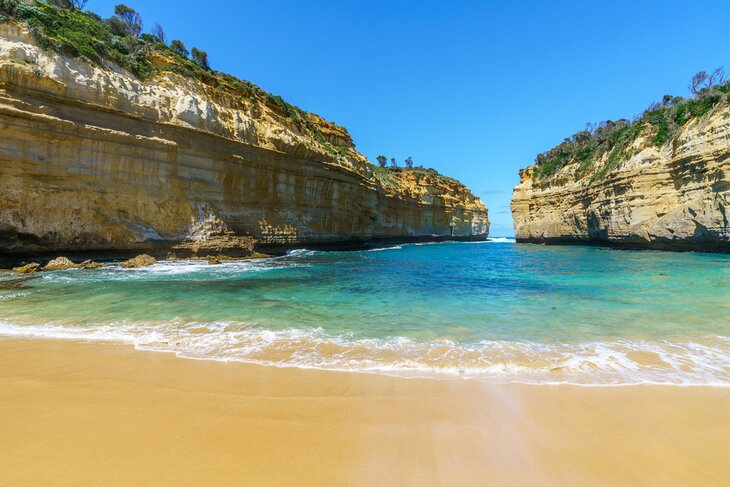 Few Aussie beaches can match the sheer majesty of Loch Ard Gorge in Port Campbell National Park. Slung between two 30-meter-high sea cliffs on Victoria's Great Ocean Road, this honey-hued pocket of sand hosts some of the most iconic scenery in Australia. Mother Nature's sheer power is on full display here.
Gaze out across the sea-foam-green waters from the clifftop, and you'll see two chunky fingers of land extending out to sea like a giant gate. A natural bridge, the Island Archway, once sat between them, but that collapsed in 2009, a testament to the brutal conditions here. Today, the churning waters of the Southern Ocean squeeze through the gorge and slam the shore.
Wild and wind-raked, the waters here are not safe for swimming. In fact, this area is known as the Shipwreck Coast — you can read about the fate of the legendary Loch Ard when you visit. But foamy seas and sheer cliffs impart a dramatic beauty that more than compensates for the lack of water sports options.
Descend the steep staircase for a closer look and to feel the spray on your wind-pricked skin. Sea caves scallop the cliffs, dripping with ghostly stalactites.
While you're on the Great Ocean Road, don't miss Gibson Steps Beach, a three-minute drive away, where limestone stacks rise from the foam-topped sea near the famous Twelve Apostles. And nearby is surfing hot spot Bells Beach with some of Australia's biggest waves.
If swimming is more your thing, Victoria hosts many other enticing shores — from the singing sands of Squeaky Beach in Wilson's Promontory to the sedate bays of the Mornington Peninsula.
14. Misery Beach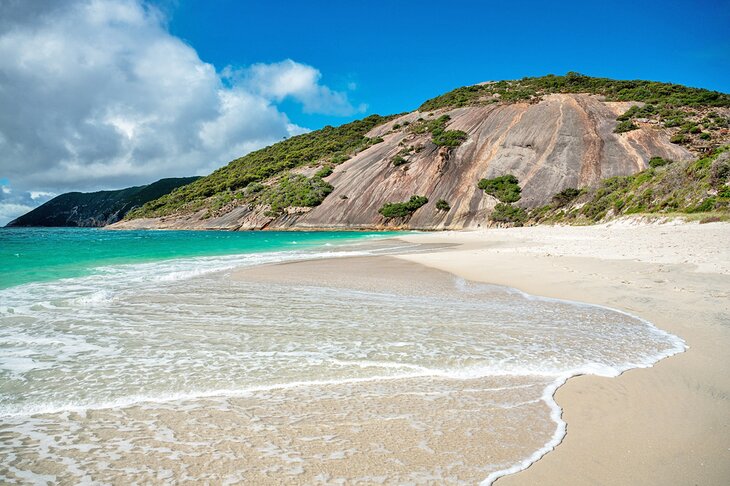 Misery Beach — yes, you read that right — makes this list despite its name. Another granite-flanked beach beauty in WA, it was named for the brutal whaling massacres that once took place here. But today, this tranquil beach transcends its dark past.
Misery Beach is remote. It's about a 20-minute drive from the town of Albany on WA's south coast, but it's worth the journey. Blindingly white sand edged by a bulbous granite cliff and crystal-clear waters make for memorable photos.
Popular things to do here include fishing, swimming, and snorkeling in the clear waters. But the beach itself is small, and you won't find any facilities — bring everything you need with you.
In 2022, the beach was named Australia's top beach and has since lured throngs of travelers who come to see what all the fuss is about.