11 Top-Rated Day Trips from Sydney
Surrounded by sparkling waterways and World Heritage-listed wilderness areas, Sydney brims with alluring day trip destinations. A short hop from the city, you can see the raw beauty of the Blue Mountains, cruise up the bush-fringed Hawkesbury River, or bask on one of Sydney's golden beaches.
Sydney day trip ideas cover all interests - from sand boarding and fishing at Port Stephens to whale watching along the coast, and wildlife viewing in pristine national parks. Scenic road trips take you to other rewarding places to visit near Sydney - on a Wollongong day trip, you can cruise along the cliff-hugging ocean-view Grand Pacific Drive.
Cultural experiences are just as appealing. Spend a day exploring the galleries, museums, and memorials of Canberra, the nation's capital. Stroll along an Aboriginal heritage trail in beautiful Ku-ring-gai Chase National Park, or for something completely different, watch Aussie stockmen round up the sheep on a classic country farm, and sample traditional bush tucker.
Foodies will also be happy. Farm-fresh produce and gourmet restaurants await at some of the quaint country towns in the Southern Highlands and Hunter Valley. Plan your adventures with our list of the best day trips from Sydney.
1. Blue Mountains National Park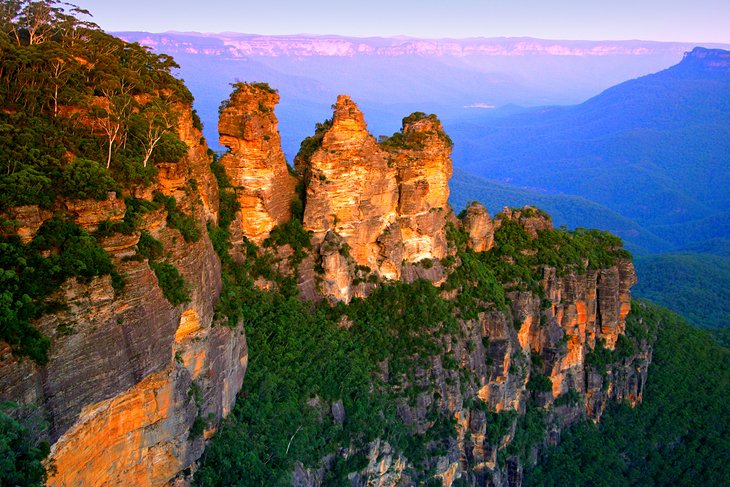 A UNESCO World Heritage Area of breathtaking beauty, the Blue Mountains is one of the most popular day trips from Sydney. The oil in the eucalyptus leaves scents the air and imbues a blue haze over the park, inspiring its evocative name. When it comes to scenic places around Sydney, it's hard to beat the Blue Mountains.
Tourists and locals alike come here to immerse themselves in the 664,000 acres of unspoiled wilderness. Dense eucalyptus forests, rugged gorges, waterfalls, Aboriginal rock paintings, and more than 140 kilometers of hiking trails are waiting to be explored.
Among the many highlights of the Blue Mountains are the massive rock formations called the Three Sisters, a photographer's favorite; Bridal Veil Falls; and the hair-raising ride down the Jamison Valley on the Katoomba Scenic Railway. Heart-stopping lookout points abound throughout the park.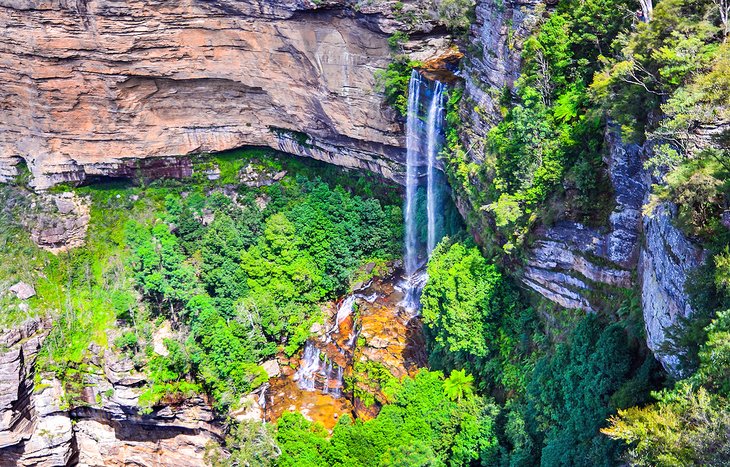 Popular things to do here include abseiling, rock climbing, mountain biking, horseback riding, and hiking.
You can access the Blue Mountains by car from the city via the M4 Motorway. This is also one of the most popular day trips from Sydney by train - you can travel from Central Station in Sydney to Blackheath or Katoomba.
Better still, let someone else do the driving and join the Blue Mountains Nature and Wildlife Day Tour from Sydney. On this full-day tour, you can visit the quaint mountain towns of Leura, see kangaroos and koalas at Sydney Zoo, and enjoy spectacular views over the park. Your guide will also share Aboriginal legends behind some of the park's top landmarks. For a different perspective of the park, the optional upgrade includes a ride on the railway or cableway at Scenic World.
2. The Hunter Valley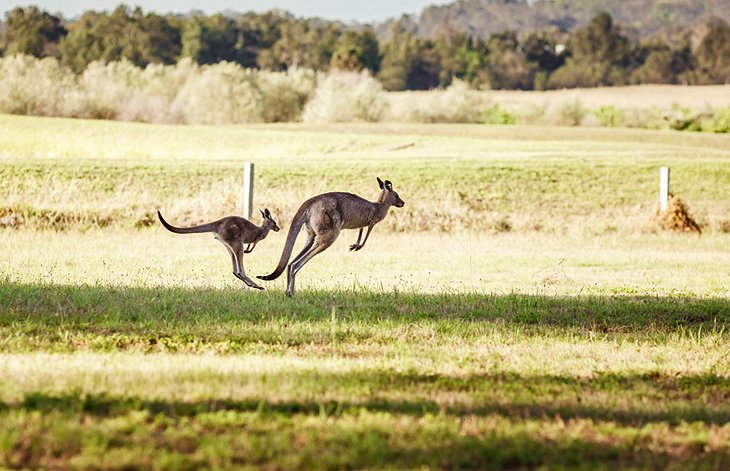 About 250 kilometers from Sydney, the Hunter Valley is a popular city escape and a hot spot for foodies. This beautiful, fertile valley is one of Australia's oldest grape-growing regions and is also known for its fresh produce and artisan foods, such as cheeses, chutneys, chocolate, aromatic oils, olives, and luscious golden honey. The region's superb restaurants spotlight this gastronomic bounty in mouthwatering tasting menus.
After sampling all the scrumptious foods, you can work off the calories outdoors. Popular things to do in the Hunter Valley include hiking the nature trails at World Heritage-listed Barrington Tops and Wollemi National Parks, and exploring the region's elegant architecture on heritage trails. You can also soar over the bucolic landscapes in a hot air balloon.
In the 19th century, the Hunter Valley was a prosperous coal mining center, and many of the old mansions in the area reflect this wealth. Stop by the regional museums to learn more about the area's rich history, and save time to admire the exhibitions at Maitland Regional Art Gallery and Newcastle Art Gallery.
Another popular attraction is the Hunter Valley Gardens, with more than 60 acres of horticultural treasures and themed gardens. For travelers on a tight timeline, hot air balloon rides or helicopter rides are a great way to soak up the scenery.
3. Manly Beach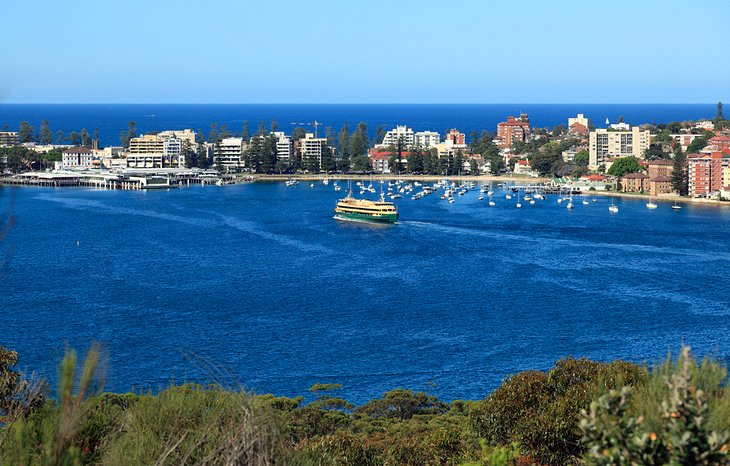 Feasting on fish and chips at the beach is a favorite Aussie dining experience, and Manly is a top spot to indulge. When it comes to Sydney day trip ideas, this is an easy one to organize, and the journey can be just as rewarding as the destination. From Circular Quay, this famous beachfront suburb is a scenic 30-minute ferry ride, with plenty of photo opportunities en-route.
Once here, you can soak up a classic dose of Aussie beach culture. Bask on the golden sands; take a dip in the ocean; surf some fantastic breaks; or head to the Corso, a sunny pedestrian mall, lined with shops, restaurants, and cafés.
At Manly SEA LIFE Sanctuary, you can view sea turtles, tropical fish, and sharks, and even organize a dive with these razor-toothed predators.
And yes, there are plenty of fish 'n' chip shops in Manly. So, hop on a ferry and bring your camera for great photo ops of the Sydney Opera House along the way.
4. Hawkesbury River Cruise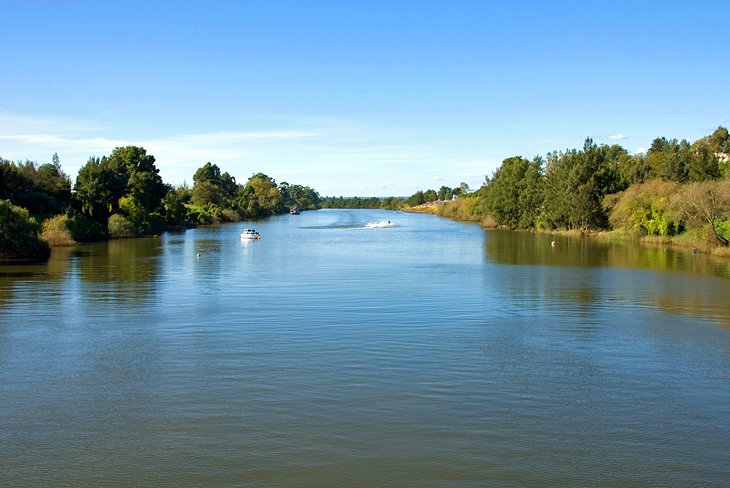 About an hour northwest of Sydney, the Hawkesbury is one of the most beautiful rivers in Australia. It played an important part in the early days of the colony of New South Wales. The first settlers arrived in the area in 1794 and established farms that helped feed the colony. Today, farms still dot the surrounding area, and pockets of unspoiled bush flank the river.
The small villages in the region and the main towns of Windsor and Richmond offer tourist attractions, such as heritage buildings, galleries, gardens, museums, and markets.
On the river, water sports abound, particularly in its lower wide reaches between Brooklyn and Pittwater. Waterskiing, wakeboarding, tubing, and fishing are all popular things to do.
The best way to explore these beautiful waterways is by boat. Brooklyn, Bobbin Head, Berowra Waters, and Wisemans Ferry all offer boat rentals, and you can also join a guided cruise, or hop aboard The Riverboat Postman cruise, which delivers mail to settlements along the river that are only accessible by water.
The Hawkesbury River is surrounded by four national parks. It forms a boundary of Ku-ring-gai Chase National Park to the north of Sydney, and the southern boundary of Brisbane Water National Park. To the northwest is Dharug National Park, famed for its Aboriginal rock drawings, and to the north of Broken Bay is Bouddi National Park. All offer excellent hiking opportunities and a slice of nature not far from the city.
5. Ku-ring-gai Chase National Park, West Head, and the Northern Beaches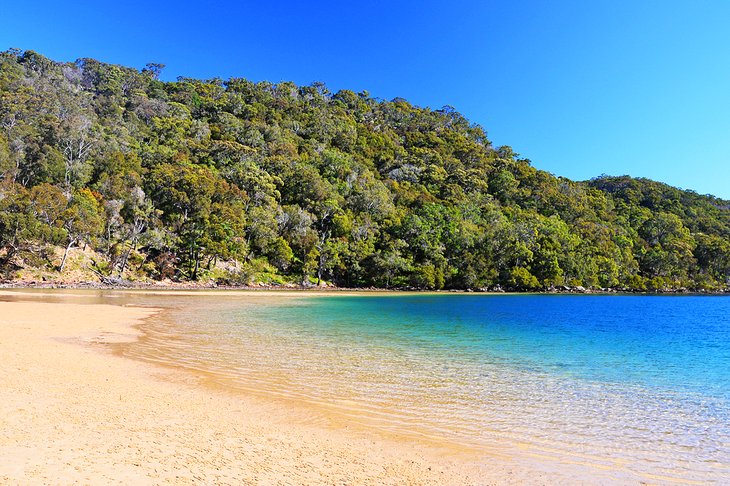 About 45 minutes north of Sydney's CBD, you can escape to nature at Ku-ring-gai Chase National Park, the second oldest national park in Australia. Named for the Guringai aboriginal people who originally lived in this area, the park features beautiful scenery: tranquil bays, bushland creeks, rainforests, eucalyptus forests, and sparkling views along the coast from West Head. From here, you can gaze down upon the blue waters of Pittwater, as well as Broken Bay, Barrenjoey Headland, Lion Island Nature Reserve, and the Central Coast.
You'll find plenty of things to do in Ku-ring-gai National Park. Rewarding activities include hiking the many nature trails, Aboriginal heritage walks, wildlife viewing, birding, and boating on the beautiful bush-fringed waterways. You can rent a boat from Akuna Bay and pull up for a snack or refreshment at one of the cute waterfront cafés or restaurants.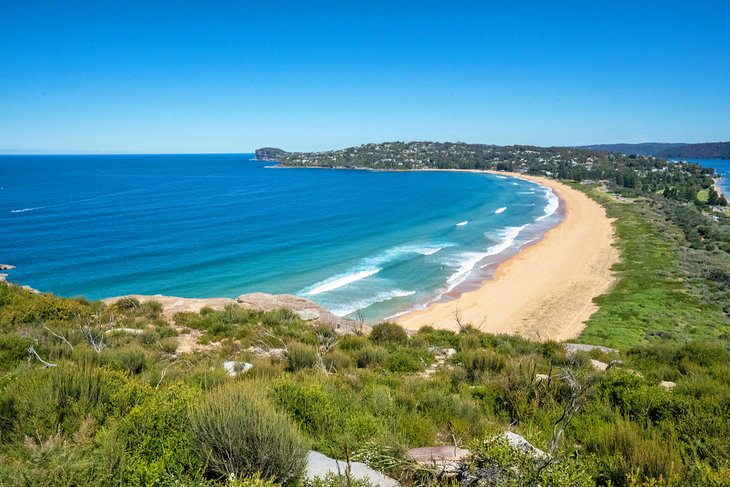 Farther north from here, Palm Beach is a lovely spot to bask on the golden sands, swim, surf, enjoy a picnic, or dine at a beachside café.
The small-group Sydney's Northern Beaches and Ku-ring-gai National Park bus tour covers all the top things to see and do in the area. See Aboriginal rock art in Ku-ring-gai Chase National Park, soak up the views from The Spit, Narrabeen, and North Head, and glide past the Sydney Harbour Bridge and Sydney Opera House on a ferry during the return trip.
Official site: http://www.nationalparks.nsw.gov.au/visit-a-park/parks/Kuringgai-Chase-National-Park
6. Royal National Park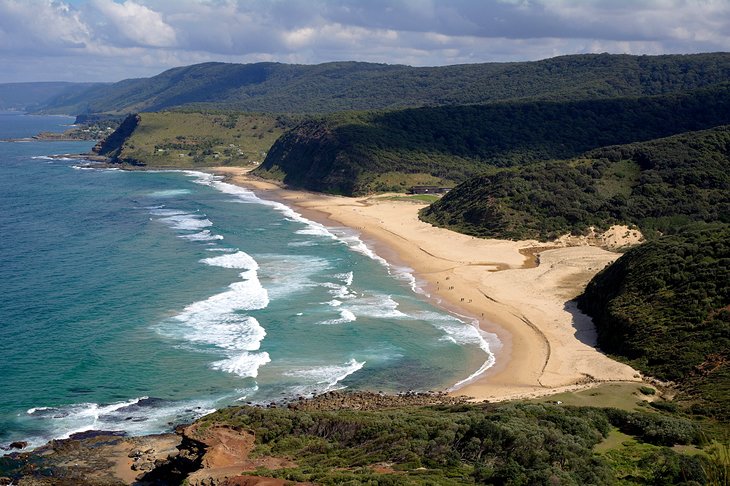 Rimmed by 21 kilometers of surfing beaches and cliff-fringed coast, Royal National Park is a haven for nature buffs and beach lovers. Established in 1879, it is the second oldest national park in the world and lies about an hour's drive south of Sydney's central business district, near Cronulla.
The park sits on a sandstone plateau with deeply indented valleys and a covering of heathland. The Hacking River flows through almost its entire length, creating fantastic opportunities for fishing and boating. On the upper course of the river, patches of forest offer prime bushwalking and picnic spots. Along the coast, swimming, snorkeling, surfing, fishing, and whale watching are popular pursuits.
Other attractions in the park include Aboriginal rock art and a vast array of wildlife, including more than 241 species of birds.
To access the park, you can drive or catch a ferry from Cronulla, and some walking trails are accessible from nearby railway stations. A visitor center at Audley provides rest areas, informative exhibits, and a café.
If you want to immerse yourself in this stunning wilderness area, the Day Trip To Cronulla & The Royal National Park takes you to some of the park's hard-to-access areas with an expert guide. On this eight-hour private tour, you can customize your itinerary depending on your interests, from visiting beautiful Garie Beach and the Dharawal Aboriginal Engravings Site to a refreshing soak in the rock pools.
Official site: http://www.nationalparks.nsw.gov.au/visit-a-park/parks/Royal-National-Park
7. Port Stephens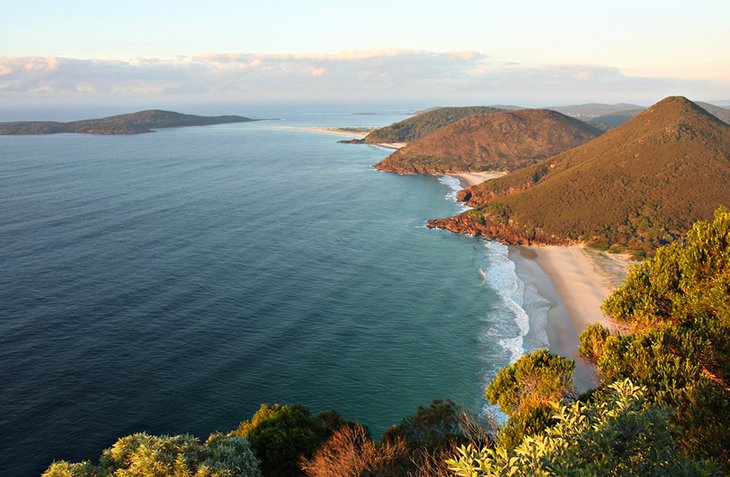 Sparkling Port Stephens Bay is a haven for water sports thanks to its Great Lakes Marine Park. This long slice of beautiful bushy coastline lies about 200 kilometers from Sydney's CBD and is more than twice the size of Sydney Harbour, providing plenty of space to get out on the water.
Your biggest dilemma is deciding what to do first. Take your pick: Swim at one of more than 20 pristine beaches, snorkel and dive at Fly Point, surf the swells, go sailing, paddle a kayak, or take a boat cruise. Port Stephens is also one of the top fishing destinations in Australia.
For a breathtaking overview of the region, take the short walk to Gan Gan Lookout, or hike to the top of Tomaree Headland Lookout to admire beautiful views over the bay and islands.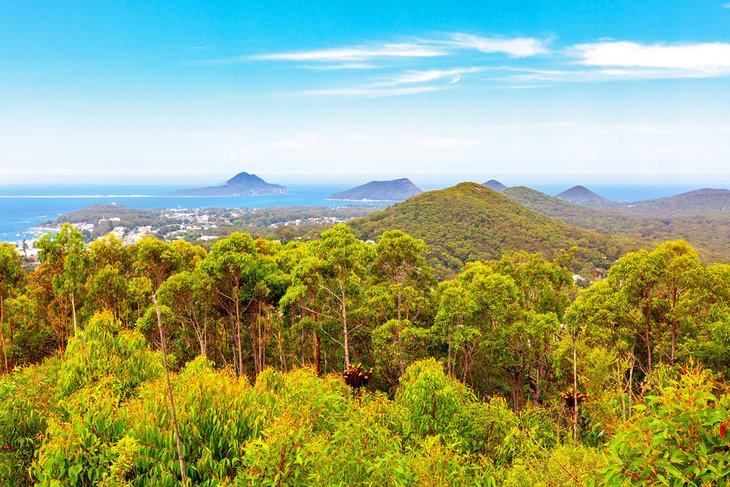 Marine life is also a top draw here. You can swim with wild dolphins, hop aboard a dolphin-watching cruise, or look for migrating humpback whales from November to May.
While you're in the area, stop by Nelson Bay, one of the main towns. Explore the cute shops and fabulous restaurants or stroll along the seaside promenade.
Another fun adventure in the area is sand boarding down the Stockton Bight Sand Dunes, Australia's largest system of dunes. Some rise up to 30 meters in height. You can also explore them on horseback or camelback, or venture in via 4WD.
Port Stephens is also known for its fresh local produce, such as avocados, figs, olives, and macadamia nuts. Sample them at the local farmers markets.
To experience all the region's highlights, the Port Stephens Private Bus Tour from Sydney is a great option. On this exhilarating full-day excursion, you'll explore all the region's natural highlights with an optional dolphin or whale watching cruise, depending on the season. Another optional add-on is a sand-boarding adventure at Anna Bay.
8. Wollongong & the Grand Pacific Drive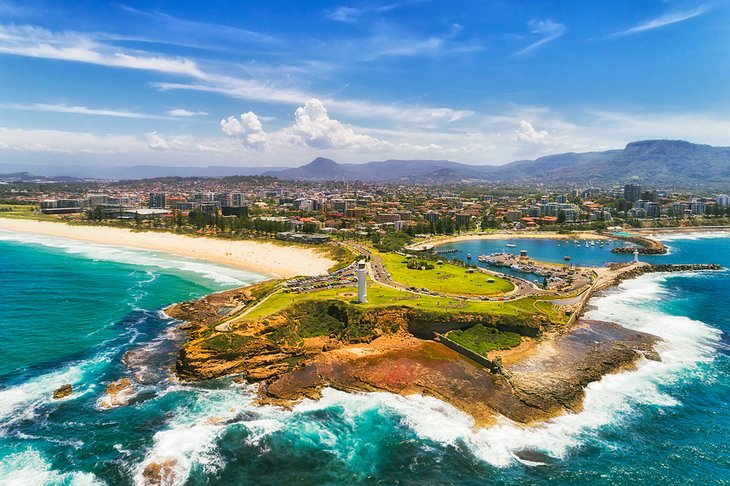 Sun-drenched beaches, bike trails, botanic gardens, and museums - you'll find all this and more in Wollongong. About 80 kilometers south of Sydney, Wollongong ("The Gong") is the state's third largest city, and it's a great spot for a scenic day road trip along the Grand Pacific Drive.
Stretching from the Royal National Park to Nowra, this 140-kilometer scenic drive snakes along the rugged and rocky coast, past surf-washed beaches and over the iconic Sea Cliff Bridge, which juts out over the sea, tracing the contours of the wind-weathered cliffs. From the viewing platform on the bridge, you can gaze out over mesmerizing views of the Pacific Ocean and look for migrating whales, in season.
Foodies will also find a diverse array of cafés in the city. Seafood features prominently on Wollongong menus, but you'll find everything here, from vegan food to Vietnamese.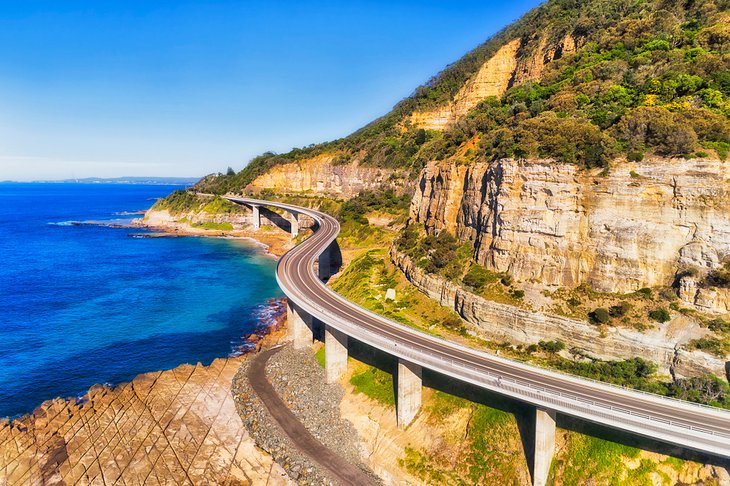 Students from the University of Wollongong fuel the bubbly nightlife, and the city's vibrant arts and culture lure loads of day-trippers and weekend wanderers. Admire Aboriginal art at Wollongong Art Gallery. Stroll through the floral wonders at Wollongong Botanic Garden. See a live Bubbleology show at the Science Space Museum, or chill out at the Nan Tien Temple, the Southern Hemisphere's largest Buddhist shrine.
Prefer outdoor fun? Surf, swim, or paddle along a string of glorious beaches - Austinmer is a favorite, and Belmore Basin offers calm waters for paddling. Or head to the bush. Hike through rainforest, or bike along more than 42 kilometers of trails. Are adrenaline-fueled sports more your style? Hang-glide at Stanwell Park, or sign up for a skydiving adventure. With all these things to do, you might have to turn your Wollongong day trip into a weekend.
9. Canberra: Australia's Capital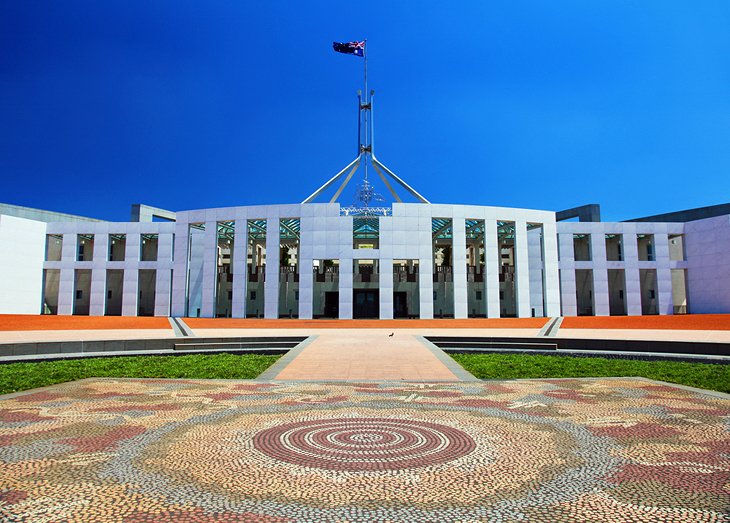 Packed with cultural attractions, Canberra in the ACT (Australian Capital Territory) is home to fabulous museums, art galleries, and memorials. This consciously crafted capital of Australia lies about three hours' drive from Sydney and a similar distance from Melbourne. The site was chosen in 1908 as a compromise between these two competing cities.
Designed by award-winning American architects Walter Burley Griffin and his wife, Marion Mahony Griffin, Canberra features expansive parklands, colorful gardens, and a quirky geometric layout. Most of the prime tourist attractions fan out from Lake Burley Griffin, the artificial lake that is the city's centerpiece.
While you're there, be sure to visit New Parliament House, which opened in 1988 after an extensive facelift, and try to time your visit when parliament is in session. Old Parliament House is now home to the excellent Museum of Australian Democracy.
Other highlights include the National Museum of Australia, Questacon - the National Science and Technology Center, the National Library, the National Gallery of Australia, the National Portrait Gallery, and the poignant Australian War Memorial.
To appreciate the city's design, visit the summit of 843-meter-high Mount Ainslie. You can drive to the lookout or wander along the two-kilometer trail from the Australian War Memorial.
To see all the top attractions in one day, sign up for the Canberra Full Day Private Tour. This customizable full-day tour from Sydney will take you to your choice of attractions with an expert guide.
10. The Southern Highlands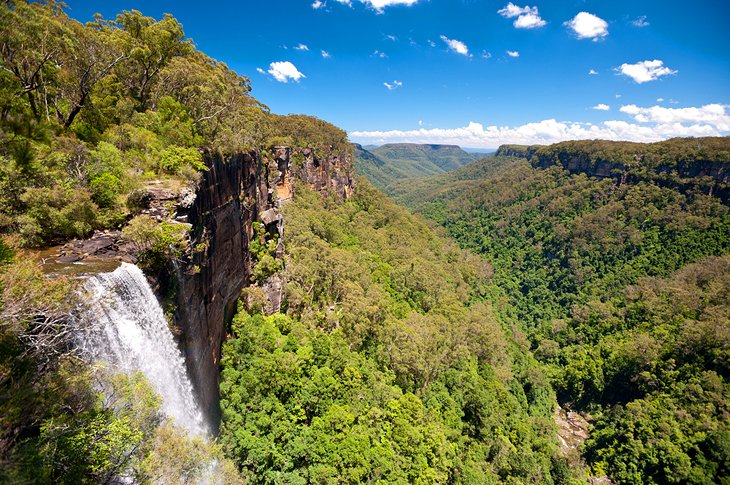 Gorgeous gardens, wildlife-rich wilderness areas, and cute country towns are some of the many attractions of the Southern Highlands. About a 90-minute drive from Sydney, this is a great place to see native Australian animals in their natural habitat.
Morton National Park, near Fitzroy Falls, is home to the town's namesake 81-meter-high waterfalls, as well as scenic walking trails through rainforest-cloaked gorges; wildflowers; panoramic lookouts; and many species of birds and animals, including kangaroos, wallabies, wombats, echidnas, platypuses, and possums. Lying mostly within the park, the Kangaroo Valley is among Australia's prettiest valleys.
Thanks to the Southern Highland's fertile soils, fresh produce is abundant. And you can sample some of the local specialties at the cozy cafés and restaurants in the small towns and heritage villages.
The region's main towns of Berrima, Bowral, Bundanoon, Mittagong, and Moss Vale are worth exploring. The main attractions here range from historic buildings, art galleries, and local craft studios to boutiques, spas, antique shops, and gardens.
The Southern Highlands are usually cooler than the city with less humidity, so this is a popular country escape on sweltering summer days.
11. Tobruk Sheep Station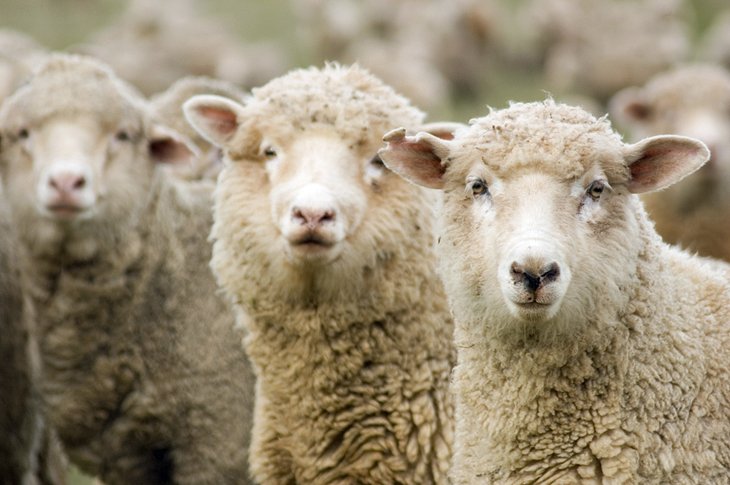 Tobruk Sheep Station offers an authentic taste of Aussie culture. The journey here is scenic in itself. The station lies in the beautiful Hawkesbury River Valley, 70 minutes from downtown Sydney. Along the way, you can admire views of the Hawkesbury River and the Blue Mountains.
Whip-cracking, boomerang throwing, and sheep-shearing demonstrations provide a feel for the life of a typical Aussie stockman, and you can watch them skillfully mustering the sheep with the help of well-trained sheepdogs.
Another favorite activity here is learning how to bake damper (traditional Australian bread) over a crackling fire, and make billy tea. You can also enjoy a classic Aussie BBQ complete with traditional lamington cakes (vanilla sponge cakes smothered in chocolate and coconut) for dessert. This is one of the best day trips from Sydney for families.
Map of Day Trips from Sydney