13 Top-Rated Things to Do in the Hunter Valley, Australia
A two-hour drive north of Sydney, the Hunter Valley is one of Australia's oldest grape-growing regions. But this scenic area offers plenty of things to do for visitors who are looking for something different.
Dining is a particular highpoint. Foodies will find a tantalizing array of farm-fresh produce and artisan foods at Hunter Valley farmers markets, as well as top-notch restaurants offering everything from multi-course tasting menus to gourmet country lunches and high tea.
This beautiful valley is also famous for its picturesque vistas, elegant day spas, golf courses, and the World Heritage wilderness areas of Wollemi and Barrington Tops National Parks.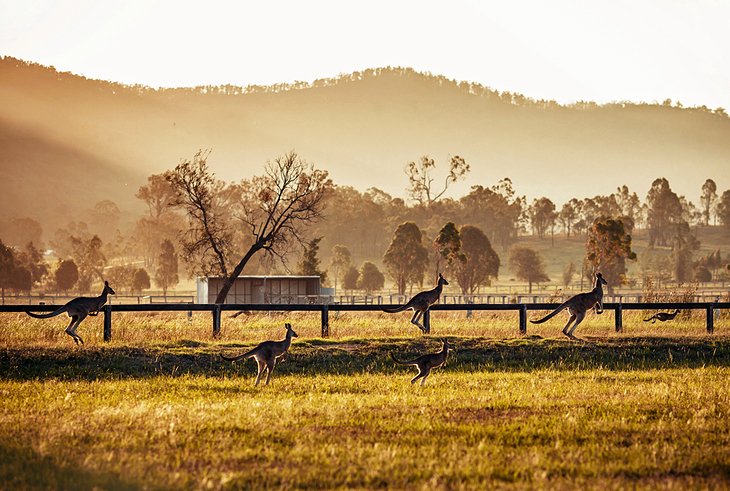 You'll also find plenty of activities for families in the Hunter Valley. Hovering over the countryside in a hot air balloon or horseback riding are wonderful ways to soak up the scenery, and kids love interacting with Aussie animals at the Hunter Valley Zoo.
Other rewarding places to visit in the Hunter Valley include the heritage trail in Wollombi; the Hunter Valley Gardens in Pokolbin; and Bathers Way, the popular seafront promenade in Newcastle, the valley's largest town.
With all these diverse Hunter Valley tourist attractions and activities, it's easy to see why this alluring region is one of the most popular getaways from Sydney. Plan your trip with our list of the top things to do in the Hunter Valley.
1. Soar over the Valley in a Hot Air Balloon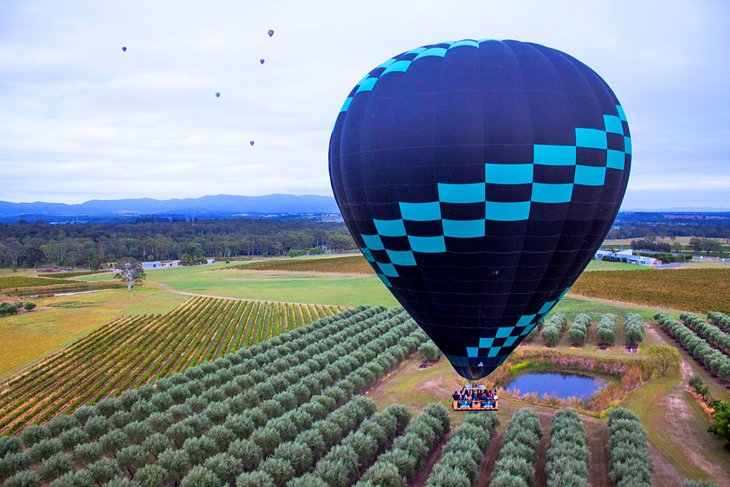 One of the best ways to appreciate the beautiful, bucolic landscapes of the Hunter Valley is to soar high above it in a hot air balloon. From above, the valley unfurls in a patchwork of fields and rolling, mist-cloaked hills studded with eucalyptus trees.
Companies like Beyond Ballooning and Balloon Aloft both offer early morning flights that last about an hour. Sunrise is the best time to soak up the serenity and see kangaroos hopping across the fields. Top off your ride with a delicious gourmet breakfast.
Traveling as a couple? This is a romantic way to celebrate a wedding or anniversary. Family packages are also available and include photos and breakfast.
If you happen to plan your visit for the long weekend in October, you can take part in the Hunter Valley Balloon Fiesta, when 20-plus brightly colored balloons drift over the countryside. It makes a beautiful photo. Better still, book a seat and join in the ride.
2. Enjoy a Gourmet Meal or Cooking Class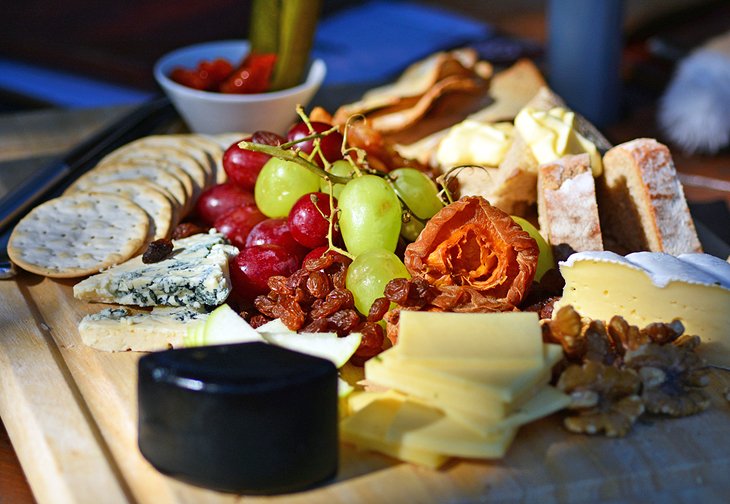 The Hunter Valley is a nirvana for foodies. Cheeses, chutneys, chocolates, grapes, aromatic oils, olives, and honey are just some of the delicacies produced in this fertile valley, and the region is home to highly acclaimed restaurants.
You can enjoy seasonal chef's tasting menus at top restaurants like EXP., Circa 1876 Restaurant, and Muse Restaurant in Pokolbin; devour fresh farm-to-fork fair at a rustic café in a heritage cottage; or dine alfresco with views of kangaroos grazing at dusk.
Another way for foodies to experience the wonderful produce here is to attend a cooking class. The Hunter Valley Cooking School at Hunter Valley Resort, and Majors Lane Cooking School, specializing in Thai street food and slow smoked foods, are top choices.
For those with a sweet tooth, Sabor in the Hunter is an award-winning dessert bar, which also offers a popular high tea.
3. Hike the Trails at Barrington Tops National Park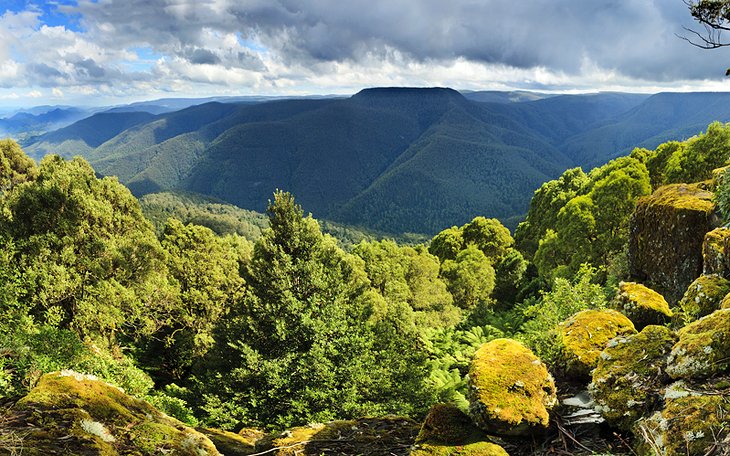 Want to work off all that mouthwatering food? Hiking is a great way to burn calories and do some sightseeing at the same time. Preserving one of the largest temperate rainforests in Australia, beautiful Barrington Tops National Park, in the upper Hunter Valley, is part of the Gondwana Rainforests of Australia World Heritage Area. Hitting the trails here is one of the best free things to do in the Hunter Valley.
Popular trails include the 1,500-meter-high Aeroplane Hill Walking Track, which weaves through wetlands and woodlands in the subalpine region of the park. It also offers stunning views from Careys Peak lookout.
The Antarctic Beech Forest Walking Track provides a wonderful walk through subalpine snow gum forests and temperate rain forest, where you can see some of the park's picturesque waterfalls. Giant tree ferns and carpets of cool, green moss are other distinguishing features, and the trail is also popular with birders.
Other recommended hikes include the Blue Gum Loop trail; the easy, wheelchair-friendly Devil's Hole lookout walk; and the eight-kilometer Gloucester Tops Circuit, which combines three of the park's top hikes into a rewarding trek. While you're hiking, keep an eye out for wildlife like swamp wallabies and grey kangaroos.
Official site: http://www.nationalparks.nsw.gov.au/visit-a-park/parks/Barrington-Tops-National-Park
4. Stroll along Newcastle's Bathers Way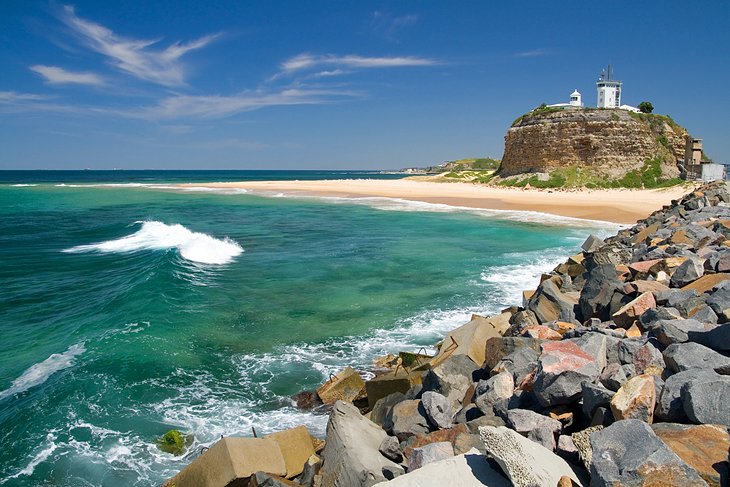 Sitting between fantastic surf beaches and one of Australia's busiest ports, Newcastle is the Hunter Valley's largest town. This vibrant city is packed with hip restaurants and cafés, a lively arts scene, parks and gardens, and eclectic shops.
One of the top things to do in Newcastle is to take a stroll along the Bathers Way. It's a great way to soak up the city's salty sea air and ocean views, and learn a little about its history at the same time.
This six-kilometer coastal promenade stretches from the lighthouse at Nobby's Headland south to Merewether Beach. Yellow signs along the route share details about the area's culture, convict heritage, and natural environment. Along the way, you can take a detour and stop for a snack at a café on Darby Street, explore the city's early coal works, or take a dip at one of the golden beaches.
Connecting to Bathers Way is the poignant Newcastle Memorial Walk. Suspended above the sea, this scenic bridge and walkway was built to commemorate the centenary of the ANZACs (Australian and New Zealand Army Corps) and honor the fallen soldiers. You can also spot whales from here during their annual migration, from late May through early November.
5. Kayak at Wollemi National Park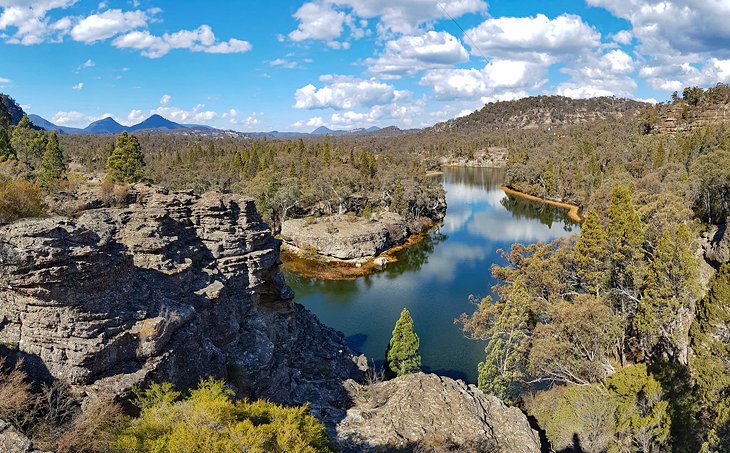 About 100 kilometers from Newcastle, Wollemi National Park is a World Heritage-listed wilderness of cliffs, canyons, and gushing rivers. Vast tracts of unspoiled bushland fringe the banks of the Colo and Wollemi Rivers, where nature lovers can relax with a picnic, or paddle the wild waters.
One of the park's top features is Ganguddy, also known as Dunn's Swamp, a mist-shrouded swamp hemmed by beehive-shaped rock formations. You can explore this beautiful area on a guided kayak tour and learn about the park's Aboriginal heritage and unique wildlife. Some kayak tours also incorporate a short hike. During prime visitor seasons, kayak rentals are also available for self-guided tours.
Other top things to do in Wollemi National Park include hiking the bushland trails, and rock climbing along the rocky escarpments. Wollemi National Park is also famous for its Glow Worm Tunnel Walking track, one of the most popular things to do at night here.
Bordering Wollemi National Park, Yengo National Park is another pristine wilderness area to explore, with Aboriginal rock art and popular hiking trails. The Finchley Cultural Walk is a favorite hike here.
Official site: http://www.nationalparks.nsw.gov.au/visit-a-park/parks/Wollemi-National-Park
6. Gallery Gaze at Maitland Regional Art Gallery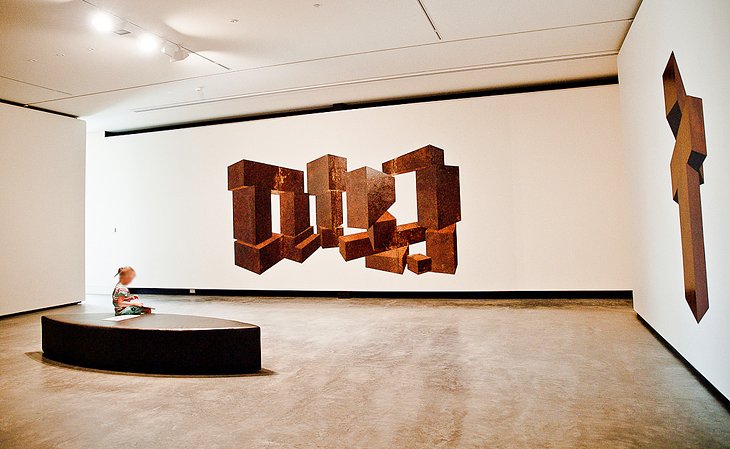 Housed in a federation Gothic building, the Maitland Regional Art Gallery is fun for the entire family. This bright, contemporary space encompasses eleven light-filled exhibition spaces showcasing works from well-known Australian and international artists, including luminaries such as Sidney Nolan.
The museum's focus is works on paper, however the collection also includes sculptures, installations, photographs, and more. One entire wing of the museum is dedicated to children and is home to the Art Factory, with free kids' art activities and special holiday workshops.
Evocative bronze sculptures surround the museum, and temporary exhibitions mean you'll always find something new to see here. A visit here is one of the top things to do in the Hunter Valley when it's raining. To get the most out of your visit, take the informative audio tour, and enjoy a snack at the popular café.
Another worthwhile gallery to visit in the region is the Newcastle Art Gallery, which displays an impressive collection of Australian art, particularly from the 19th century, and the largest collection of modern Japanese ceramics in the Southern Hemisphere.
Address: 230 High Street, Maitland, New South Wales
Official site: https://mrag.org.au/
7. Feed a Kangaroo at the Hunter Valley Zoo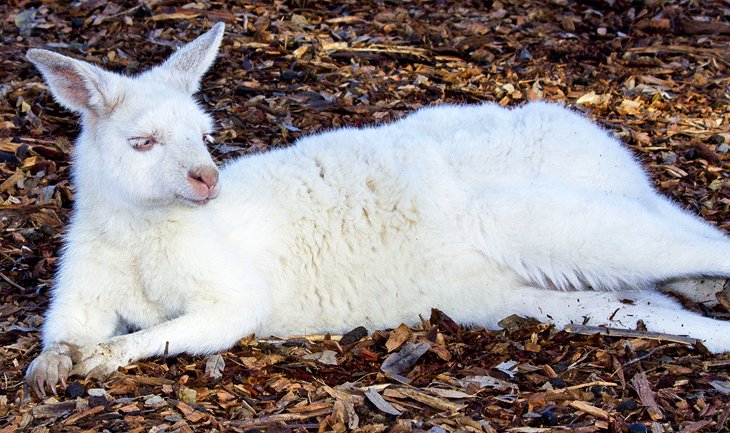 Kangaroos, koalas, marmosets, and monkeys - you'll find all these animals and more at the popular Hunter Valley Zoo. A visit here is a wonderful activity for families and a great way to experience some of the local wildlife up close.
Pat a koala, hand-feed kangaroos, and wander through the aviary while the feathered beauties fly all around you. White lions, cheetahs, and ring-tailed lemurs are other more exotic highlights, and you can sign up for a fun encounter with animals like an emperor tamarin, a marmoset, meerkat, lemur, or squirrel monkey. Kids will love coming face-to-face with the farmyard animals and feeding them special food.
Free barbecue facilities are available here, and you can also bring a picnic to enjoy on the grounds.
Address: 138 Lomas Lane, Nulkaba, New South Wales
Official site: https://www.huntervalleyzoo.com.au/
8. Wander through History in Wollombi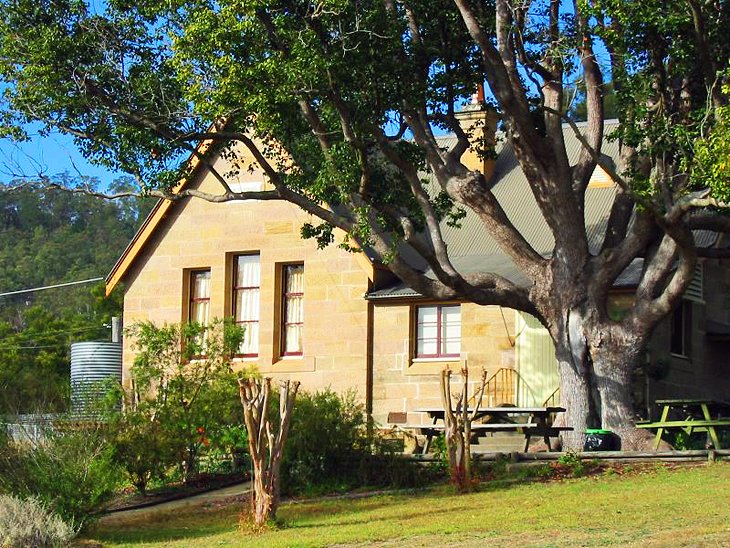 Surrounded by mountains, Wollombi is a charming village dotted with 19th-century sandstone cottages. The town lies in the south of the Hunter region and has long been a popular rest stop along the Great North Road. Today, cafés and cozy guesthouses jostle along the streets near the old buildings.
The best way to explore the town is on the Historic Wollombi Village Walk. This one-kilometer, self-guided heritage walk takes you through the fascinating history of this little town, from its Aboriginal heritage to its convict and colonial days. You can pick up a map at the Wollombi Museum.
Nature lovers can explore more Aboriginal heritage at the nearby World Heritage Wilderness area of Yengo National Park.
9. Stroll around the Hunter Valley Gardens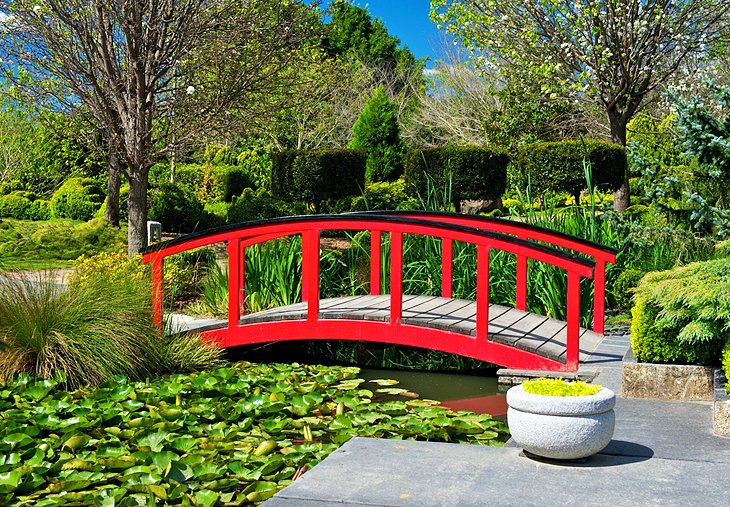 In the heart of the vine-covered hills of Pokolbin, Hunter Valley Gardens is a must-see for green thumbs. It's one of the top things to do in Pokolbin. Pathways wind through more than 60 acres of gardens organized into contrasting themes, and around a beautiful lake with a waterfall feature.
Favorite gardens include the sweet-scented Rose Garden; the Oriental Garden, with its pagoda and pretty plantings of azaleas, magnolias, and camellias; and the Italian Grotto. Children will love the delightful Storybook Garden replete with nursery rhyme characters. Allow a minimum of two hours to explore all the imaginative plantings here.
After a stroll through the gardens, you can browse the little village of shops or snack at one of the many restaurants or cafés. For an extra fee, a tiny train takes visitors around the gardens.
Official site: https://www.huntervalleygardens.com.au/
10. Relax at a Luxury Spa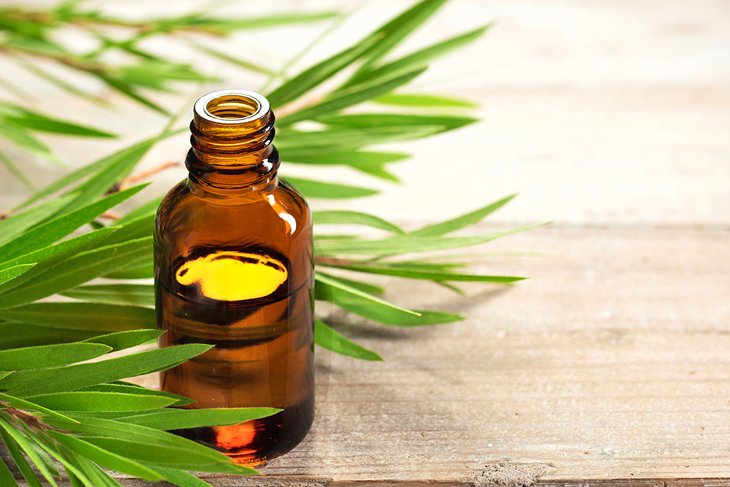 The Hunter Valley is a favorite place for Sydneysiders to relax and rejuvenate, and spa treatments are the perfect tonic. Set amid the peaceful countryside, many spas offer a range of treatments inspired by local products, as well as double treatment rooms for couples and friends.
Among the most popular spas is the Château Élan Day Spa. In addition to its pampering treatments, it offers a hydro-lounge with two Jacuzzis on a mountain-view deck and a relaxing reflection lounge.
Day Spa at Elysia at Elysia Wellness Retreat is the state's largest day spa and is known for its Watsu Aquatic Bodywork. You'll find 26 wet and dry treatment rooms here, as well as a sun-splashed garden and a lovely outdoor pool.
Another popular option is Ubika Spa at the Crowne Plaza Hunter Valley in Lovedale.
11. Tee Off at a Championship Course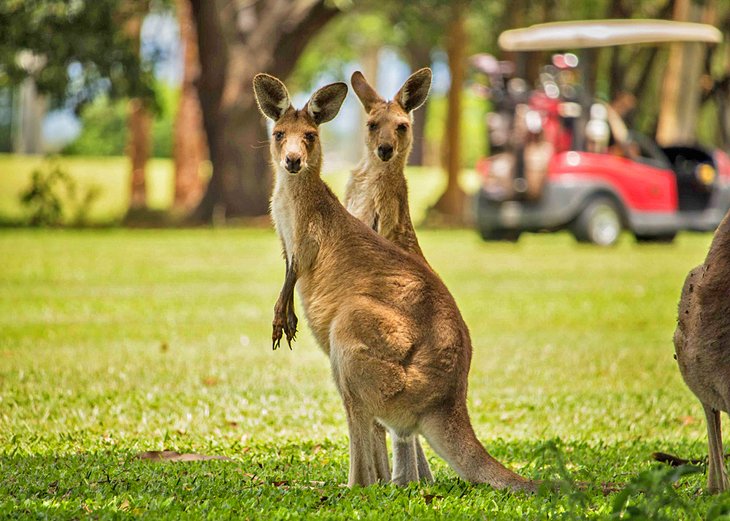 Teeing off in the tranquil countryside of the Hunter Valley is a memorable experience for golfers of all skill levels. Some of the courses also offer popular restaurants and charming accommodations, so you can take advantage of convenient stay-and-play packages.
Top courses include The Vintage Golf Club in Rothbury, a Greg Norman-designed championship course on the grounds of the luxury resort Chateau Elan At The Vintage Hunter Valley. Other popular choices are the Hunter Valley Golf & Country Club in Lovedale and the Steve Smyers-designed Cypress Lakes Golf Course in Pokolbin, next door to the Oaks Cypress Lakes Resort.
Many of the clubs also offer golf lessons, and if you're truly a beginner, you can practice your putting skills at Hunter Valley Aqua Golf and Putt Putt.
12. Shop at Hunter Valley Markets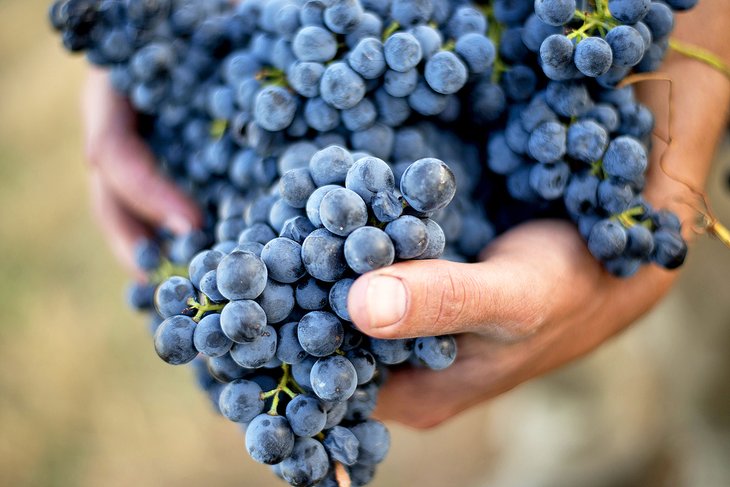 Plucking fresh produce from a country market stall is a key part of the Hunter Valley experience. Luckily visitors have a wealth of options.
Handmade in the Hunter Markets are true to their name. Every stallholder here makes their products with love by hand. Find unique art, crafts, jewelry, home decor, and artisan foods at these popular markets, held on the second and fourth Saturday of the month in Pokolbin.
Broke Village Markets, with "the best coffee in the Hunter Valley," also sells artisan goods, from clothing and pet accessories to fresh fruit and flowers. You'll find them at Stewart McTaggart Park in Broke on the first Sunday of the month.
On the second Sunday of each month, Wollombi Village Market is a favorite community event. More than 100 stalls sell everything from tasty treats like cheese, bread, and jams to arts, crafts, and gifts.
Also on the second Sunday of the month is Singleton Sunday Markets. Come here for plants, woodwork, clothing, furniture, candles, pet treats, and more.
13. Explore the Hunter Valley on Horseback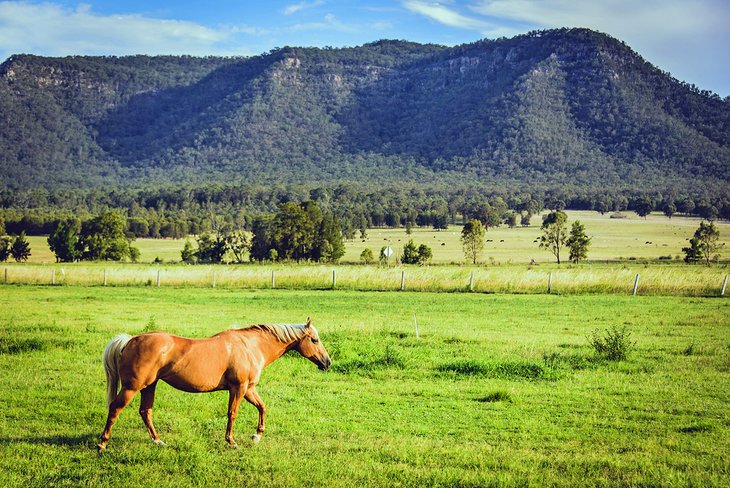 Sightseeing on horseback is a rewarding way to soak up the region's bucolic vistas. You might even spot some of the valley's wildlife along the way, from kangaroos and wombats to galas and cockatoos.
This is an adventure for the whole family, and all abilities are welcome - even tiny tots can plod along on ponies.
Hunter Valley Horse Riding and Adventures in Lovedale offers a range of scenic trail rides through the spectacular scenery of the Molly Morgan Range. Choose from picnic rides and private tours to romantic sunset rides.
Prefer to let someone else steer the horse? Hunter Valley Horses in Pokolbin offers horse-drawn carriage tours in a charming old-fashioned carriage, with views to the beautiful Broken Back Range. You can also book rides through the vine-covered fields and on bushland trails.
Map of Things to Do in the Hunter Valley, Australia
More Related Articles on PlanetWare.com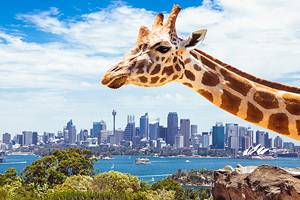 Spectacular Sydney: The Hunter Valley is only a two-hour drive from the famous attractions of Sydney, including beautiful beaches and the iconic Sydney Opera House and harbor bridge. You'll also find plenty of things to do with kids in this vibrant harbor city, from visiting Taronga Zoo to riding roller coasters at Luna Park.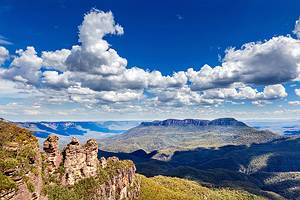 Exploring New South Wales: The Hunter Valley is a popular day trip from Sydney and one of the top attractions in New South Wales. But you'll find plenty of other must-see attractions in the state. About an hour's drive from Sydney are the spectacular Blue Mountains, a haven for nature-lovers and hikers, and southwest of Sydney, the Snowy Mountains are home to some of the best ski resorts in Australia. You can also snorkel the coral reefs of Lord Howe Island; swim, sun, and surf at seaside towns like Coffs Harbour and Byron Bay; and explore the Australian War Memorial and Parliament House in the nation's capital of Canberra.