14 Top Attractions & Places to Visit in New South Wales (NSW)
New South Wales (NSW) is the oldest state in Australia and one of its most diverse. Sydney shines as the state capital, with famous tourist attractions like the Sydney Opera House and the Sydney Harbour Bridge, as well as top-notch restaurants, galleries, and museums. Venture beyond this beautiful harbor city, and you'll find a state full of surprises, with six of Australia's World Heritage Areas.
Topographically, New South Wales reflects the diverse landscapes of the country as a whole. The Great Dividing Range cuts through the center of the state, carving it into an eastern coastal strip, rimmed by dazzling beaches, while the stark desert beauty of the Outback sprawls to the west.
Exploring New South Wales is easy, and you'll find plenty of rewarding things to do. Climb or ski the rugged peaks of the Snowy Mountains, hunt for opals in red-earthed Outback towns, hike through World Heritage-listed rainforests, dive the coral reefs of Lord Howe island, and step back in time at Norfolk Island's World Heritage historic sites.
Learn more about this dynamic state with our list of the top attractions and best places to visit in New South Wales.
1. Sydney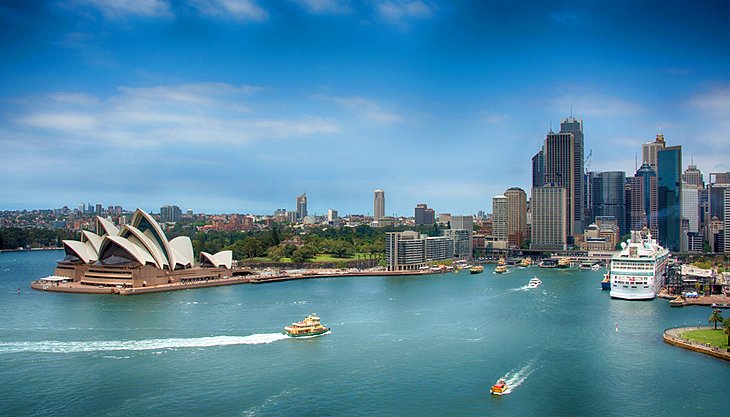 Sydney, the capital of NSW, is one of the world's most alluring cities. Graced by the iconic Sydney Opera House and harbor bridge, the sparkling blue harbor is the city's crown jewel. Hop aboard a ferry or harbor cruise to really appreciate these top Sydney attractions and the city's stunning waterfront location.
In addition to world-class restaurants, festivals, galleries, and museums, you'll find plenty of things to do in Sydney. Stroll along the cobblestone streets of the historic Rocks area; wander through the Royal Botanic Gardens; or climb the Sydney Harbour Bridge. You can also explore the shops, restaurants, and tourist sites at Darling Harbor, one of the top New South Wales attractions for families.
Sydney is known for its excellent beaches. You can bask on famous Bondi Beach, learn to surf at Manly, or paddle the calm waters at Balmoral.
You'll also find plenty of attractions near Sydney. Stretching northwest from the city, the picturesque Hawkesbury River and surrounding national parks are great day trip destinations, with excellent opportunities for bushwalking, birding, and boating.
2. The Blue Mountains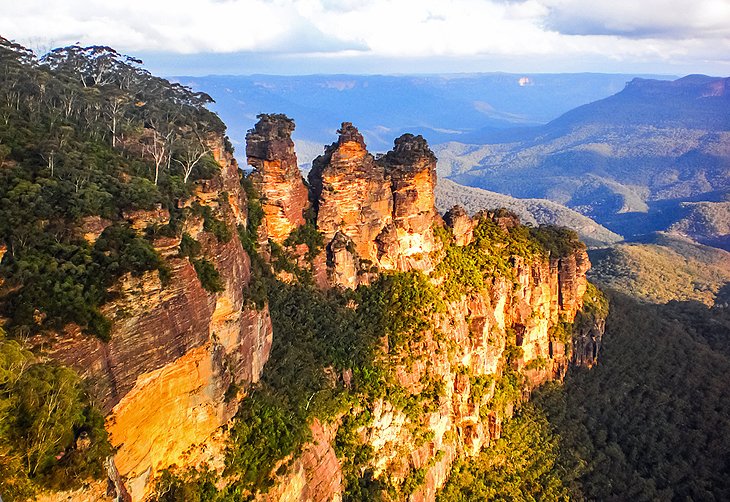 The Blue Mountains are one of the most scenic places to visit in New South Wales. For more than a hundred years, this region has been a favorite getaway for nature lovers.
About 65 kilometers west of the city, the mountains rise steeply out of the coastal plain, combining magnificent gorges, waterfalls, rock formations, and sacred Aboriginal sites with excellent tourist facilities. Named for the blue haze created by the many eucalyptus trees, the region forms one of the state's magnificent World Heritage Sites.
Popular things to do in the Blue Mountains include hiking, rock climbing, abseiling, mountain biking, and photographing the spectacular beauty. Save time to see all the top attractions. Highlights include Wentworth Falls, the towering sandstone rock formations called the Three Sisters, and the Blue Mountains Botanic Garden Mount Tomah.
At Jenolan Caves, the world's oldest known open cave system, you can view glittering stalactites and stalagmites. The Blue Mountains also host some of Australia's best hiking trails.
Wondering about the best way to see some of the top natural attractions with limited time? Sign up for the adventures offered by Scenic World. These include a Skyway, cableway, an elevated walkway, and one of the world's steepest railways. Better still, book a combination of these adventures to see the park from different perspectives.
Blue Mountains National Park is one of the top places to visit near Sydney by car, but you can also catch a train or join a guided day trip tour.
Read More: Top Attractions & Places to Visit in the Blue Mountains
3. Lord Howe Island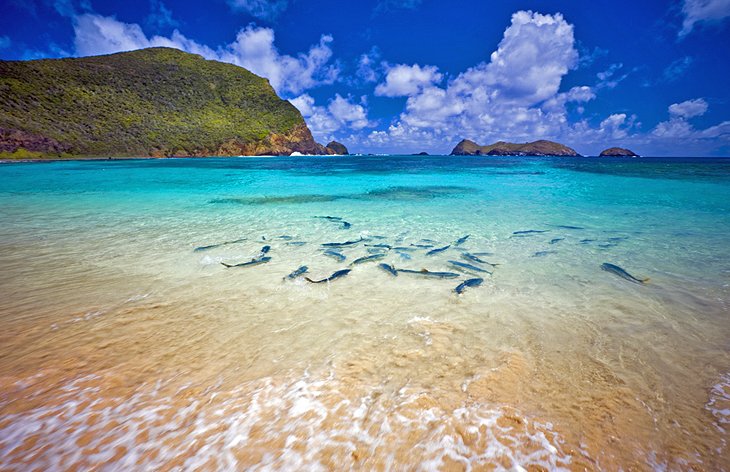 World Heritage-listed Lord Howe Island is a haven for serenity-seekers and nature lovers. Surrounded by the world's most southerly coral reef, this spectacular island, about 660 kilometers off the New South Wales north coast, only allows a maximum of 400 guests at a time.
Lord Howe encompasses a number of islets, which are part of a former volcano. Dramatic cliffs rise along the rugged coast, and other island highlights include white-sand beaches, pristine native forests of pandanus and kentia palms, and spectacular views from atop 875-meter-high Mt. Gower.
Almost two-thirds of Lord Howe is protected, and the island is home to a diversity of flora and fauna. Birding is excellent, with more than 130 permanent and migratory species. Offshore, the Lord Howe Island Marine Park protects coral reefs, and offers superb diving and snorkeling.
Other popular things to do on Lord Howe Island include fishing, surfing, kayaking, and hiking along the many walking trails. Bikes are the best way to explore the island - they are also the island's main mode of transport.
Looking to disconnect from the stress of daily life? You're in luck. You won't find any cell phone reception here, which helps to preserve the peaceful ambience.
Lord Howe Island lies less than a two-hour-flight away from Sydney or Brisbane, and although it's not technically a tropical island, it still ranks as one of the most beautiful islands in the South Pacific.
4. Byron Bay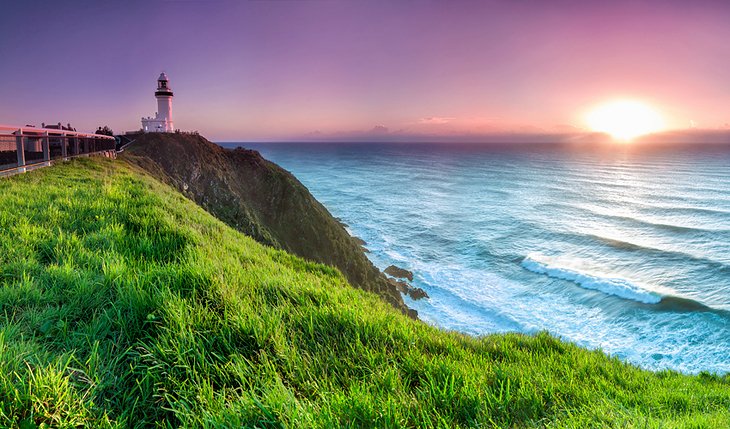 On the north coast, Byron Bay is a hot spot for surfers and New Age nature buffs. A wide stretch of golden beach fronts the ocean here, and a lovely hike along the Cape Byron Track leads to the most easterly point on the Australian continent and its famous lighthouse. Dolphins and whales frolic in the waters, and water sports abound.
In the hinterland, you can explore World Heritage-listed Wollumbin National Park (formerly Mount Warning National Park) with tranquil rainforests and waterfalls. Byron is also known for its colorful markets, as well as its health and yoga retreats, spa resorts, and luxury boutique hotels.
Lately, celebrity spotting has become a favorite pastime. Chris Hemsworth is a famous resident, and several other high profile Hollywood stars have spent time here between movie shoots.
To soak up the soul of old Byron Bay, venture about an hour inland to the tiny town of Nimbin, a hippie hub and hotbed for counterculture and alternative lifestyles.
5. The South Coast's Beaches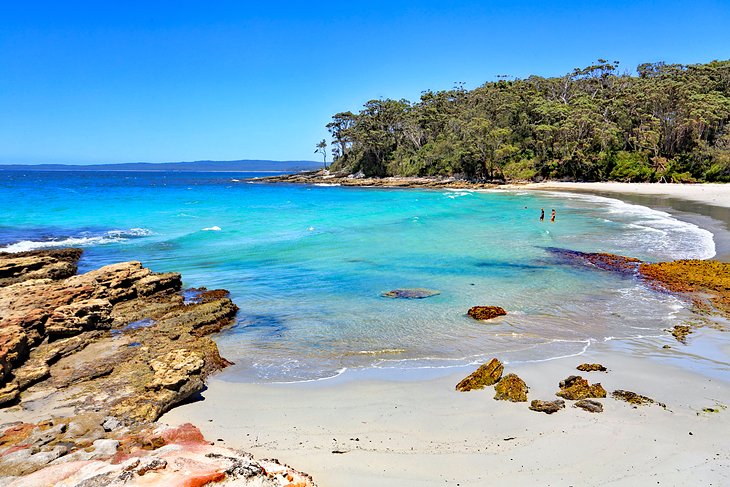 If you love beaches, bucolic landscapes, and charming small towns, you'll love the South Coast of New South Wales. Stretching from the southern fringe of Sydney to the Victorian border, this region is home to some of the state's most beautiful white-sand beaches set against the dark summits of the Great Dividing Range. Rolling green hills, lakes, inlets, and forests fringe the coast, and the climate is mild throughout the year.
Strung along the coast are a series of small holiday resorts. Many offer fantastic opportunities for water sports from their beaches, including swimming, fishing, snorkeling, and surfing. Kiama is home to the world's largest blowhole, and Jervis Bay is a standout with its radiant powder-soft sands. Nearby, the dazzling Hyams Beach, reputedly with the world's whitest sand, is one of Australia's best beaches. Batemans Bay is also home to alluring shores, as well as the Batemans Bay Snorkelling Trail.
If you're looking for some of the most beautiful hidden places in New South Wales, you'll find them along the South Coast. Merimbula and its sister village Pambula on the Sapphire Coast are hidden gems, with beautiful beaches, crystal-clear lakes, and fantastic opportunities for water sports.
One of the most southerly places on the coast is the old fishing village of Eden, once a prosperous whaling station. North and south of town lies the Ben Boyd National Park with magnificent views of reddish sandstone cliffs from Boyd's Tower, a former lighthouse.
6. The Hunter Valley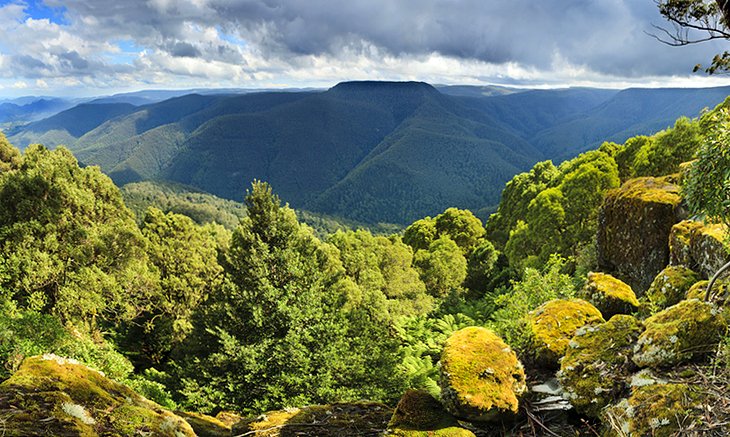 The picturesque Hunter Valley, about a two-hour drive north of Sydney, is one of Australia's most famous grape-growing regions. It's also a popular weekend escape from Sydney - especially for foodies, who come here for the delicious farm-fresh produce, cooking schools, and gourmet restaurants with chef's tasting menus.
Highlights of the Hunter Valley region include the beautiful Hunter Valley Gardens, several excellent art galleries, and vast stretches of unspoiled bushland.
At World Heritage-listed Barrington Tops National Park, you can hike through ancient rain forest and see impressive waterfalls and a diversity of wildlife.
Also in the region, Wollemi National Park is one of the largest national parks in New South Wales. It's home to the famous Wollemi pine and offers excellent bushwalking, rock climbing, and canoeing.
Newcastle is one of the largest towns in the region, and it's a great place to visit if you want an urban buzz after your country getaway. It's one of the biggest New South Wales' cities after Sydney, with museums, galleries, excellent cafés and restaurants, and a lively entertainment scene. Save time to stroll along the Bathers Way coastal walk while you're here. It's one of Newcastle's most popular attractions.
Accommodations in the Hunter region range from luxury spa resorts and boutique hotels to rustic cabins.
7. Coffs Harbour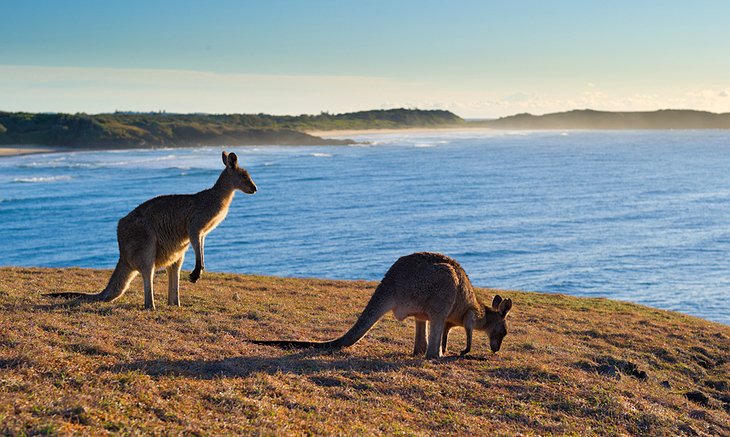 Blessed with beautiful beaches and a mild, subtropical climate, Coffs Harbour is a favorite holiday destination for families. The town is famous for its Big Banana, an homage to the local banana-growing industry, with interesting displays, sweet banana-inspired treats, and kid-friendly attractions.
Favorite Coffs Harbour activities revolve mostly around the water. Along the coast, you can bask on uncrowded beaches, fish, surf, dive, kayak, and visit the Muttonbird Island Nature Reserve.
About 50 kilometers west of Coffs Harbour, nature lovers can explore the rainforest and waterfalls of Dorrigo National Park, a World Heritage Area. To the north lies a string of pretty beaches (Emerald Beach is a favorite), and the town of Grafton. Famous for its jacaranda trees, Grafton has six large national parks within easy reach, including the World Heritage Areas of Gibraltar Range National Park (Glen Innes) and Washpool National Park.
8. Norfolk Island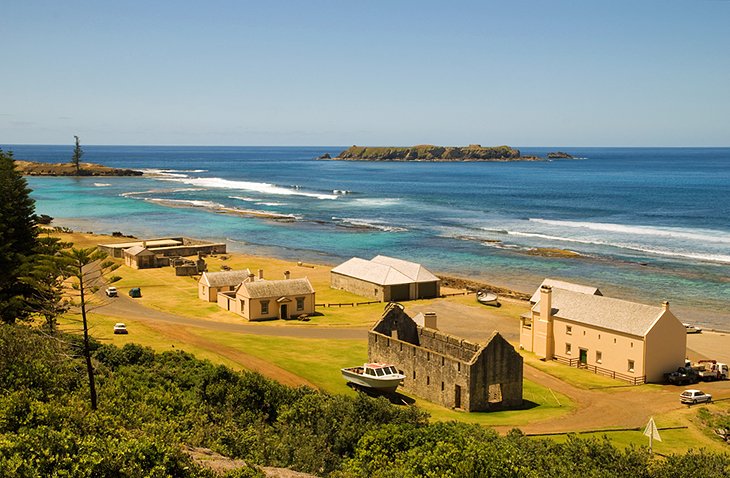 Once a brutal convict colony, Norfolk Island is now a charming holiday resort with World Heritage-listed historic sites. Although the island is an external territory, it remains part of the Commonwealth of Australia and is home to the Pitcairn Island descendants of the HMS Bounty mutineers.
Today, you can tour ruins of the old settlements and learn about the island's Polynesian heritage and colonial past at its excellent museums. A third of this emerald island consists of national parks and reserves, with scenic hiking and biking trails, excellent birding, and sweeping green landscapes dotted with native Norfolk Island pines.
Water sports are a highlight. Diving, swimming, and snorkeling are all popular things to do on Norfolk Island, and beach lovers will find a few secluded coves carved into the rugged and rocky coast. Coral reefs lie offshore, and the fishing is superb in these remote waters.
One of the most unusual places to visit in New South Wales, Norfolk Island is about a 2.5-hour flight from Sydney or Brisbane.
9. Port Stephens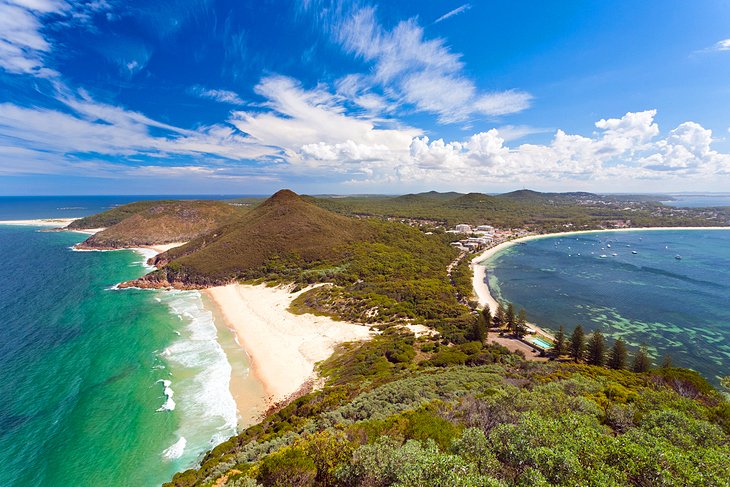 About an hour's drive north of Newcastle, Port Stephens is a large and beautiful blue-water bay enclosed by two volcanic headlands. Natural bushland fringes many of the 26 white-sand beaches here, and whales and dolphins are often spotted in the bay.
Despite the many vacationers who come here in the summer, you can still find a quiet stretch of beach. This is also one of the top fishing destinations in Australia, especially for big game fishing. Other popular water sports include swimming, surfing, kayaking, and boating.
To see panoramic views of the Port Stephens coastline, take the Tomaree Head summit walk. Another popular activity here is quad biking or sledding on the Southern Hemisphere's largest sand dunes.
The main holiday resorts are Nelson Bay and Shoal Bay, but you can also stay at Soldiers Point, Fingal Bay, and Lemon Tree Passage. Nearby, Myall Lakes National Park encompasses one of the state's largest lake systems and is another great destination for fishing, swimming, and kayaking.
10. The Snowy Mountains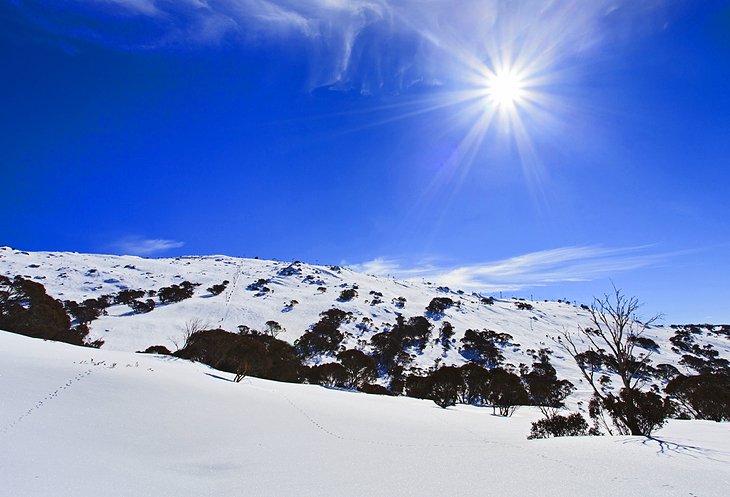 Forming part of the Great Dividing Range, the Snowy Mountains are home to the continent's highest mountains, including 2,228-meter Mount Kosciuszko, Australia's highest peak.
One of the top attractions in the Snowy Mountains is Kosciuszko National Park. This UNESCO Biosphere Reserve is a popular recreational area year-round. Snowy winters lure skiers, and in the summer, the easily accessible alpine terrain of snow gum forests and glacial lakes attracts hordes of bush walkers, climbers, anglers, horseback riders, mountain bikers, and water sports enthusiasts.
Wondering where to stay in the Snowy Mountains? Famous for its excellent trout fishing, Jindabyne is a great base for alpine adventures.
The Snowy Mountains are also home to some of Australia's best ski resorts. Perisher Blue Ski Resort incorporates the popular Perisher Valley, Smiggin Holes, Guthega, and Mount Blue Cow. Thredbo Village, at the foot of the Crackenback Range, boasts a year-round chair lift. Near the summit of Mount Kosciuszko, Charlotte Pass is a great base for ski tours to the highest peaks in the Australian Alps.
With all these snowcapped peaks, it's not surprising the Snowy Mountains are one of the most popular places to visit in New South Wales in winter.
11. Kangaroo Valley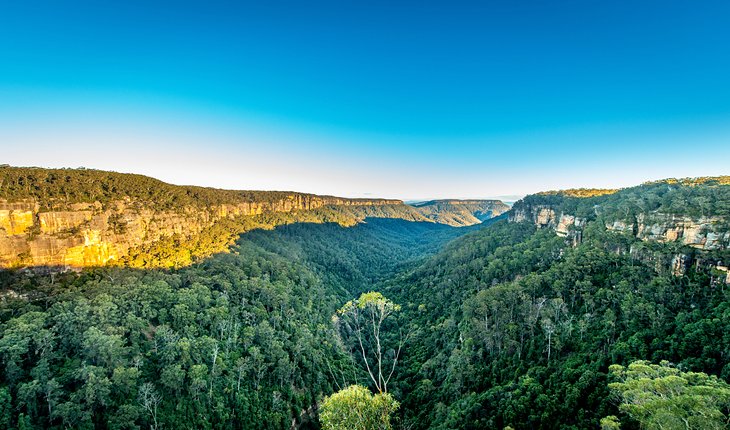 Gorgeously green, the Kangaroo Valley is a quintessential Aussie country town. Surrounded by lushly cloaked escarpments and rolling pastures, it lies about a two-hour drive southwest of Sydney in the scenic Shoalhaven Region.
Perhaps the town's most distinctive landmark is the handsome, historic Hampden Bridge spanning the Kangaroo River, Australia's only remaining wooden suspension bridge. Driving across its single-lane between the soaring sandstone pillars sets the tone for a relaxed visit here, encouraging visitors to slow down and smile at passing drivers.
You'll find plenty of things to do in the picturesque Kangaroo Valley. Horseback riding, hiking, golfing, kayaking along the rivers and creeks, and absorbing some local history at the Pioneer Village Museum are all popular activities.
Nature is also a highlight. Don't miss the impressive Fitzroy Falls in Morton National Park, and while you're in the valley, keep an eye out for the namesake marsupials, as well as wallabies, especially at Tallowa Dam, where you can also kayak and fish. Beautiful Bendeela Camping and Picnic area is one of the best spots to see wombats in the wild.
The Kangaroo Valley is also earning a reputation as a foodie destination, with its abundance of fresh produce, cute tea rooms, and farmers market. Try to squeeze in a cooking class, and don't miss the fresh-baked pies at Kangaroo Valley Pie Shop in Barrengarry Old Store.
12. Outback NSW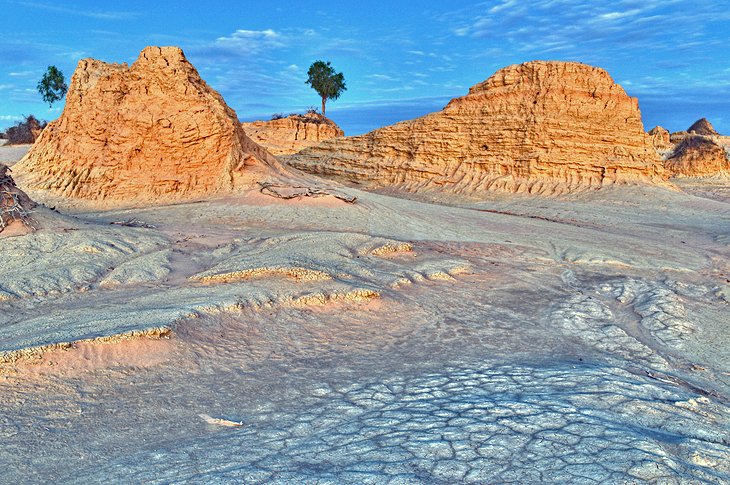 Outback New South Wales is a land of sacred Aboriginal sites, harsh deserts, and haunting beauty. Mungo National Park in the Willandra Lakes World Heritage Area holds records of Aboriginal life dating back some 40,000 to 60,000 years.
At Warrumbungle National Park, in the zone of transition between the arid areas to the west and the rainy east, spectacular rock buttresses and domes are the result of volcanic activity. Snow gums crown the surrounding hills, and deep spring-fed gorges lie in the valleys. You can explore this park on an excellent network of hiking trails and see colorful displays of wildflowers in the spring.
In addition to exploring the rugged national parks, the country towns in the Outback are some of the most unique places in New South Wales, with plenty of unusual things to do. You can hunt for opals at the mining towns of White Cliffs and Lightning Ridge, visit the Living Desert Sculptures of Broken Hill, and ride a bike around Taronga Western Plains Zoo in Dubbo.
13. Armidale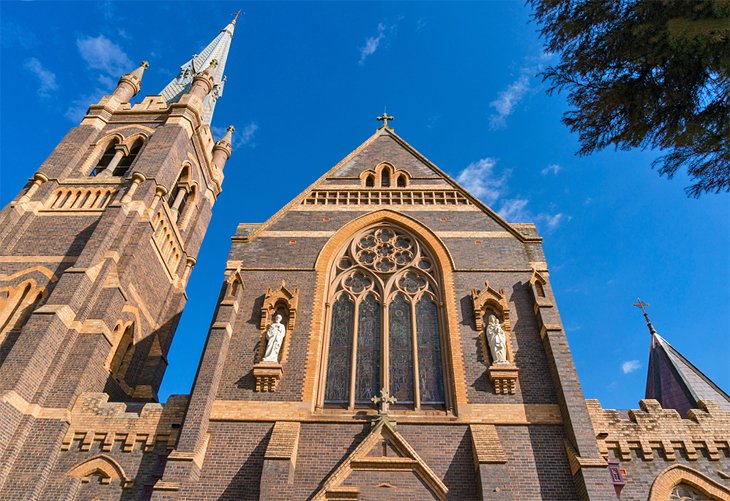 In the Northern Tablelands of New South Wales, the elegant university town of Armidale is a city of four seasons. Just shy of 1,000 meters in altitude, it's the state's highest town, with relatively mild summers, riotous spring blooms, fiery fall foliage, and even a sprinkling of snow during winter.
Highlights of a visit here include heritage tours of the town's lovely old buildings, which were funded by the region's rich agricultural wealth, as well as visiting the excellent galleries, gardens, and museums. Saints Mary & Joseph Catholic Cathedral is a famous landmark, and the University of New England adds a youthful buzz to this stately town.
Pristine wilderness areas surround the city, with attractions for families and nature lovers, as well as plenty of outdoor adventures on tap. Trout fishing, mountain biking, canyoning, hiking, and bird-watching are just some of the popular things to do.
If you're driving to Armidale, don't miss Waterfall Way. This 185-kilometer scenic drive connects the coastal town of Coffs Harbour with Armidale, revealing beautiful scenery around almost every bend, from river-carved valleys and World Heritage-listed rainforest to picturesque cascades. Ebor Falls is a highlight.
The road also passes through five national parks, including Dorrigo National Park; the Wollomombi Gorge and Falls, with one of Australia's highest waterfalls; and New England and Oxley Wild Rivers national parks.
14. Canberra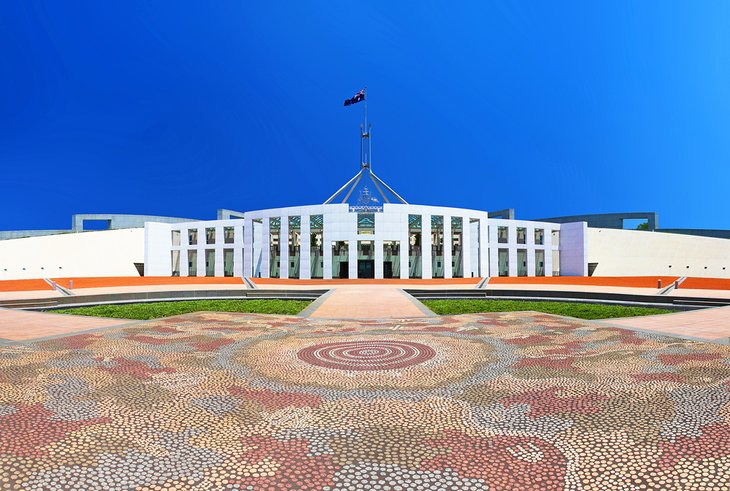 Brimming with cultural treasures, the Australian capital city of Canberra lies about 280 kilometers southwest of Sydney. It's technically in the Australian Capital Territory (ACT) a 2,400-square-kilometer self-governing federal district, rather than the state of New South Wales, but it is entirely surrounded by New South Wales and is an easy weekend getaway from Sydney.
Besides the city's excellent museums and memorials, it's also known for its fun family-friendly festivals - in particular, the Floriade festival, usually held in September to October, which celebrates the city's many spring blooms.
Canberra was carefully planned. Its streets are laid out on a generous scale, with many of them flanked by colorful flower gardens and thousands of trees with glorious autumn colors. A central feature is sparkling Lake Burley Griffin, a long artificial lake surrounded by parks, picnic areas, a walking trail, and many of Canberra's top attractions.
Canberra's principal buildings lie within the Parliamentary Triangle and include the National Gallery of Australia, with three levels of exhibitions and a sculpture garden; the National Library of Australia; Old Parliament House, now a museum depicting the story of Australian democracy; and New Parliament House.
Don't miss the poignant Australian War Memorial, and make sure you save time to stroll around the impressive collection of native plants at the Australian National Botanic Gardens.
Map of Attractions & Places to Visit in New South Wales (NSW)