12 Top-Rated Beaches in Port Macquarie, NSW
Powdery white-sand beaches are one of Port Macquarie's top attractions. You'll find more than 17 alluring stretches of sand and sea scalloping the Pacific Coast here, as well as picnic-perfect lake beaches.
Squeaky soft sand, clear water, and plenty of well-maintained facilities draw throngs of vacationers here each year, especially in the summer months, when the water is deliciously warm, and the sea breezes keep beachgoers cool. Surfing, swimming, stand up paddleboarding, sunbathing, and fishing are all popular things to do at Port Macquarie's beaches, and you can even drive along the shore on some of the longer stretches of coast.
If you look at a map of Port Macquarie beaches, you'll see that many are strung along the Port Macquarie Coastal Walk. This means it's easy to visit more than one in a day. You can hike the trail and stop for a refreshing dip at different beaches along the route.
Except where noted, most of these beaches are patrolled by lifeguards during the prime summer months and school holidays, and most offer picnic and restroom facilities.
So what are you waiting for? Pack your sunblock, a towel, and a picnic, and find a great place to sink your toes in the silky sand with our list of Port Macquarie's best beaches.
1. Town Beach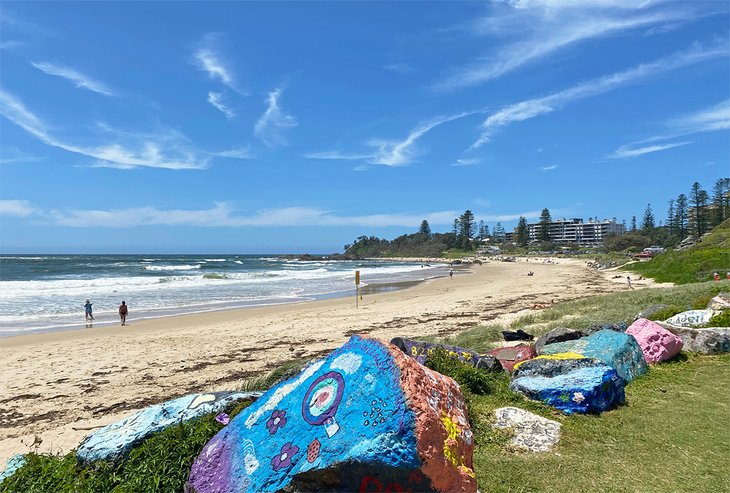 Smack bang in the center of Port Macquarie, Town Beach is the area's most iconic stretch of coast. Despite its proximity to town, this is a surprisingly pretty pocket of shoreline, with soft, white sand backed by plenty of grassy patches.
What makes Town Beach so popular? For starters, The Port Macquarie Coastal Walking Trail, one of the top things to do in Port Macquarie, starts here. Tourists and locals love to stroll along the Breakwall Walking Path skirting the beach, and stop for a coffee and a snack at one of the alfresco cafés. If you're looking for the perfect spot to snap an Instagram shot, this is it. Colorful rocks painted by tourists line the boardwalk by the beach, and photos of the beach scene appear on Port Macquarie tourist brochures and postcards.
Being so close to town, you'll find plenty of amenities here. Cafés and picnic tables beckon behind the beach, and Port Macquarie's main shopping area, packed with cafés and restaurants, sits steps away from shoreline. A skate park and campground nearby make this a buzzy little beach spot.
Planning to catch some waves? The exposed point break and protection from south winds makes this a top surf spot, too.
2. Lighthouse Beach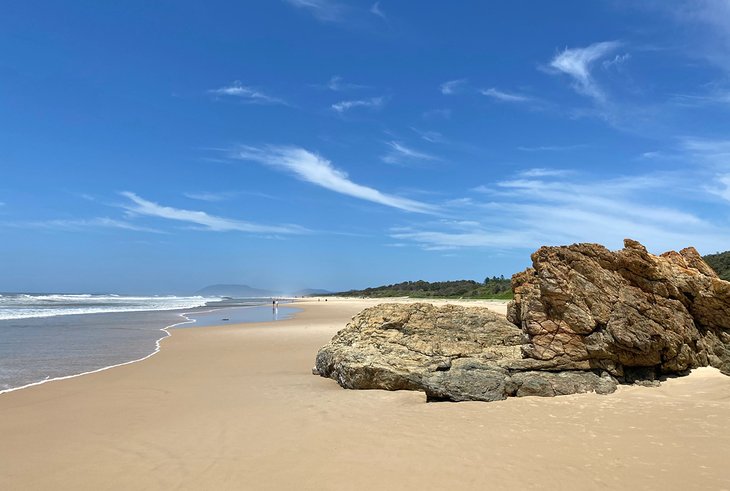 Long and lovely Lighthouse Beach seems to stretch on forever. Capped by the iconic Tacking Point Lighthouse on the headland at its northern end, the beach stretches all the way south to Lake Cathie.
Not surprisingly, it's a great beach for a long walk - preferably barefoot so you can feel the powder-soft sand squeaking underfoot. Lighthouse Beach is also known as the "summer saviour" because it offers protection from the season's northeasterlies.
Surfing is also popular - especially for intermediate and advanced surfers. You'll find a beach break here, with swells from all directions, although the beach is protected from the summer northeasterlies.
Camel safaris are a popular thing to do at Lighthouse Beach for tourists. Look for these gangly creatures plodding along the beach near the Tacking Point Surf Life Saving Club. And if you want to bring your dog for a run, head to the area south of Watonga Rocks for off-leash frolicking.
Beach fishing is also popular, and you can drive your 4WD right onto the sand at the southern end.
Before you go, check out Tacking Point Lighthouse on the rocky headland, which is still in use today. Then wander over to the nearby lookout for breathtaking views of the Pacific thrashing against the wave-worn rocks below. Don't forget your camera!
3. Flynns Beach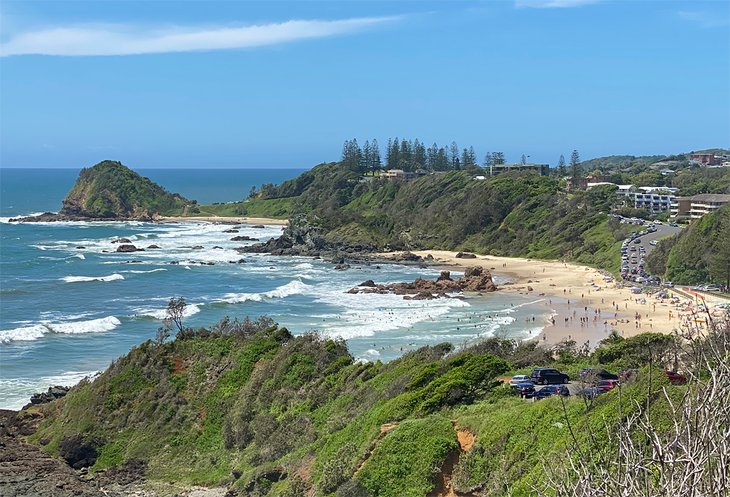 Flynns Beach is a favorite family beach. Embraced by lush headlands, this 500-meter strip of sand is sheltered from southerly and westerly winds, with typically safe swimming conditions. Lifeguards patrol here vigilantly, and it's a great place for beginner surfers.
Feeling hungry? Fuel up on snacks from the Sandbox Cafe, steps from the sand. You can also enjoy a picnic under the Norfolk pine trees fringing the beach - shaded tables along the grass here enable sand-free snacking.
Note that parking can be tricky at Flynns - limited spaces are available down near the shore, but on weekends and school holidays you might have to hike down from Pacific Drive.
4. Shelly Beach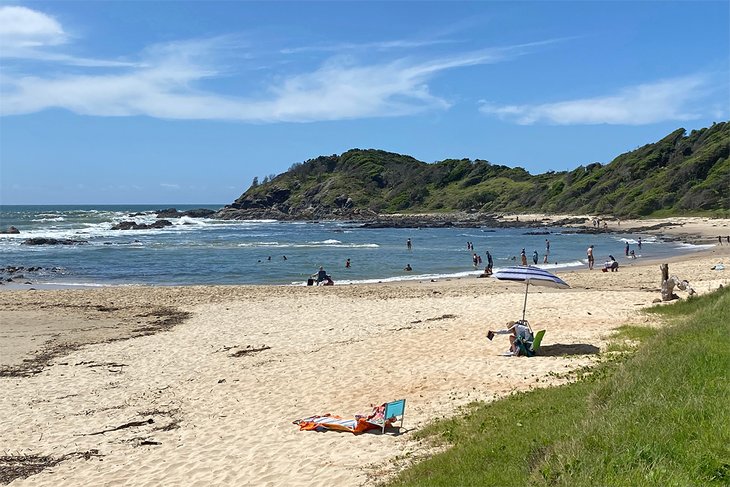 Rainforest provides a lush backdrop to Shelly Beach's pretty slice of sand and sea.
If you're hiking the coastal trail north from Tacking Point Lighthouse, you'll emerge from the rainforests here, and you'll be happy to find restroom facilities and perhaps a coffee truck (if you're lucky). After a refreshing dip, you can pick up the coastal trail again at the opposite end of the beach.
Shelly Beach is also great for families. Kids love the rock pools, but when they're swimming, watch out for dangerous currents.
If you're planning a family day at the beach, you can use the picnic and covered barbecue facilities behind the beach. Keep an eye out for brush turkeys and prehistoric-looking lace monitors scrounging for tasty handouts.
If you have time for some sightseeing, Sea Acres Rainforest Centre sits on the hill above Shelly Beach with guided tours along the rainforest boardwalks.
5. Nobbys Beach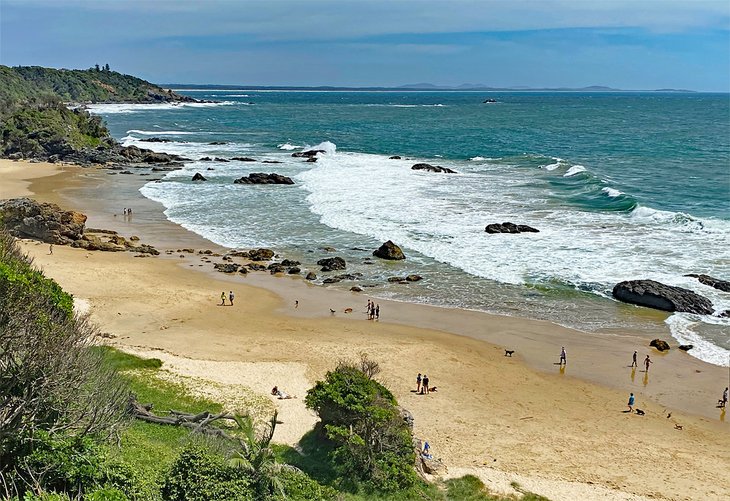 Looking for a stretch of sand where Fido can run free? Nobbys is a favorite dog-friendly beach. Sheltered by Nobby Head, a knuckle-shaped headland, it's also a great beach for a swim, but take care - this beach is not patrolled by lifeguards.
One of Nobbys' most distinctive features is the clump of rocks at its center. In fact, the rocky nature of Nobbys and the typically calm waters mean it's not a top spot to surf.
Fishing, however, is popular here. Rocks along the shore provide a handy perch, and anglers will also find some productive gutters along the beach.
You can access the beach from various points. Park in the lot and descend the path and stairs to the beach, or walk around from adjacent Flynns Beach on the boardwalk. For a more scenic route, you can take the five- to 10-minute Kenny Walk around the coast.
6. Oxley Beach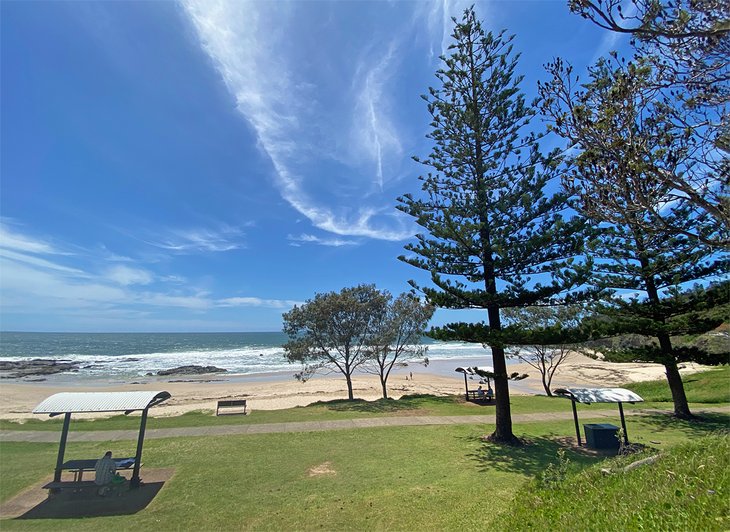 Oxley Beach is a picnic paradise. Rolling lawns peppered with towering Norfolk pines slope down to the shoreline, and you'll also find covered picnic tables and barbecue facilities, all with a dreamy view of the striking white sand and blue-green sea.
It's also close to Port Macquarie's CBD, where you can stock up on snacks and refreshments. After lunch, you can work off the calories with a refreshing swim or a stroll or bike along the coastal path. Dogs are welcome on Oxley Beach, too, but they need to remain on a leash.
Oxley is also usually less crowded than other Port Macquarie beaches. It's a beautiful spot to just lay down your towel and soak up the serenity, potter around in the rock pools, take a cool dip, or cast a fishing line.
Fun fact: In 2020, Oxley Beach was chosen as the site for New South Wales' first new ocean pool in more than 50 years. But it will take a few years before construction is completed.
7. Rocky Beach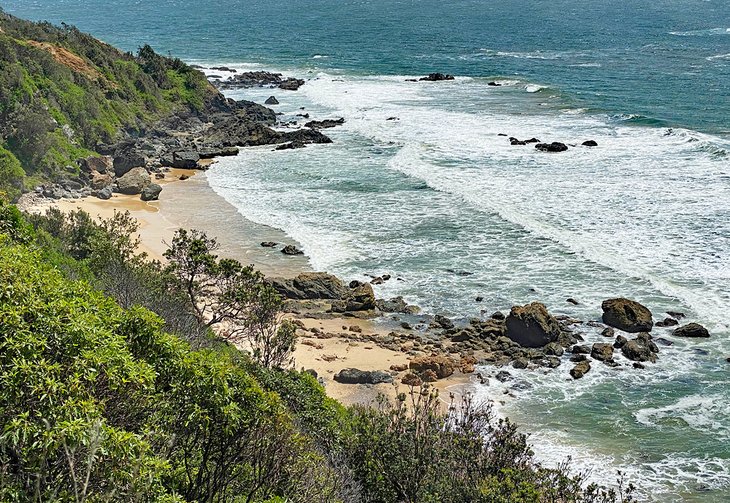 True to its name, Rocky Beach is scattered with boulders and sea-worn pebbles. You won't find any lifeguards here, and due to all the rocks and some treacherous rips, it's not a safe spot for a swim. But 400-meter-long Rocky Beach is a perfect place to walk your pooch off-leash, sit and soak up the tranquility, or cast a fishing line.
The steep stairs down to access this beach tend to deter many visitors, so it's a great spot to find some peace and quiet.
Rocky Beach is also a decent fishing spot. Sand gutters line the beach between the rocks and near the headlands.
Above the beach, you can gaze out over the Port Macquarie coastline from the Rocky Beach Lookout. It's a great place to get your bearings and enjoy an eagle-eye view of the spectacular shoreline.
8. North Beach, North Shore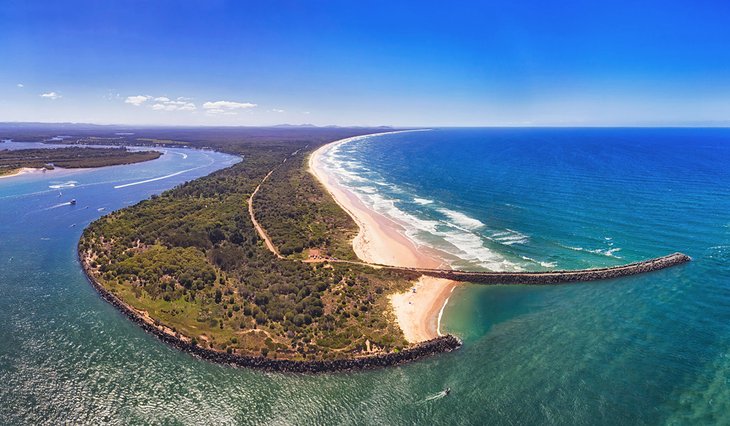 Craving a truly remote beach escape? North Beach is a top pick. This wild and wide-open stretch of sand and blue-green sea stretches for 13 kilometers to Pelican Point, so there's plenty of room to stretch out. It's also a great spot if you love driving your 4WD right onto the beach and setting up for some beach fishing.
Access is tricky, though. You can only reach North Beach on a river ferry from Port Macquarie's Settlement Point to the North Shore. At Queens Head, you can drive onto the beach, and you'll also find a parking lot and picnic area here.
It's worth the trip to this little sea-and-sand getaway. Once you arrive, you'll feel like you've really left the world behind. You can surf, fish, swim (but watch out for rip currents), or just plonk down on the sand and chill out with a good book for the day.
Fishing is excellent, with plenty of long gutters. Note, though, that if you're planning to drive on the beach, you need a permit, available from Kempsey and Hastings Shire councils.
On the north side of Queens Head, the beach at Point Plomer is another wild and beautiful stretch of coast. You'll also find a campground with restrooms and cold showers here.
9. Miners Beach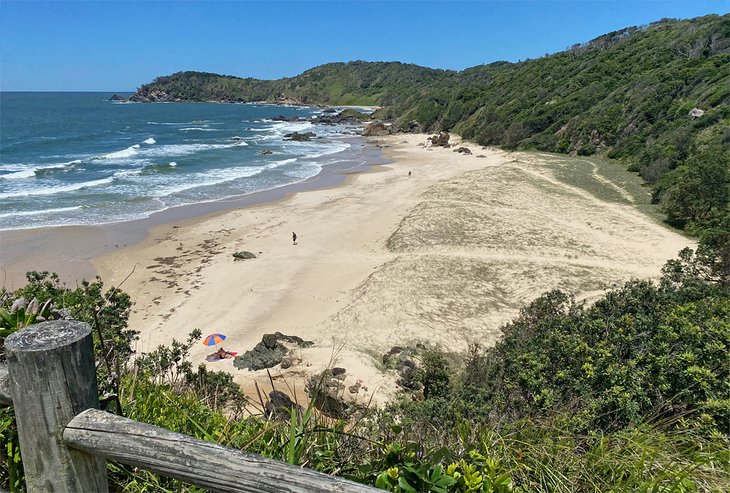 For seclusion, serenity, and a back-to-nature feel, Miners Beach makes a great little escape. Sea Acres National Park, one of the largest remnants of coastal rainforest in New South Wales, spills down to the beach, creating a peaceful backdrop of pandanus and palm forests.
It takes a little effort to find this pretty little pocket of powdery sand and rocky sea, but this is what usually keeps visitors to a trickle. Miners lies about a 10-minute walk on a track through the rainforest from Lighthouse Road. You can also take the long, scenic route and hike here along the coastal walk south from Shelly Beach or north from Tacking Point Lighthouse.
Chilling out is the top thing to do at this unpatrolled patch of paradise, and it's a romantic spot for couples. Pack snacks and water, sun protection, and a good book, and you can hang out here all day and feel like you're on a deserted tropical island.
Note that Miners Beach has for years been unofficially clothing optional, but nudity is strictly prohibited here, and the local council has been cracking down on offenders.
10. Grants Beach (North Haven) & Pilot Beach (Camden Head)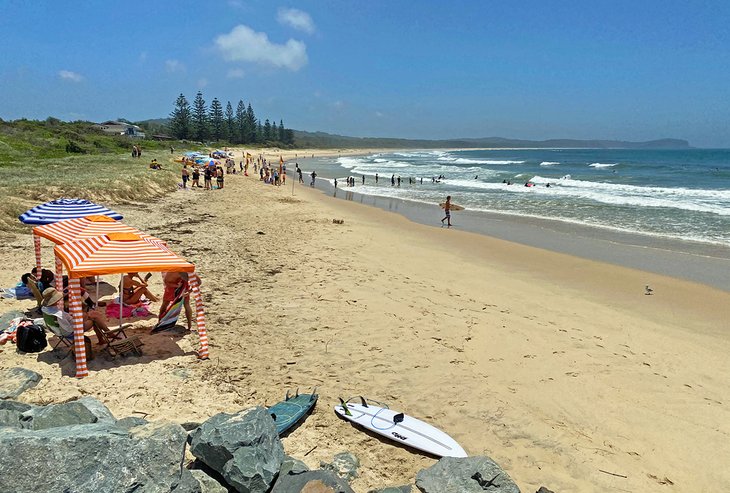 Stretching for 3.5 kilometers on the north side of the Camden Haven River mouth, Grants Beach is a top spot for surfing.
Boardriders come to Grants for the "right handers" with a southerly swell at the southern end of the beach, where a long break wall extends out into the ocean. Anglers also like to cast a line from here. But if you're just looking to hang out for the day, you'll find picnic tables, showers, and restrooms back behind the beach at the southern end, too.
If swimming is top on your agenda, adjacent Pilot Beach across the inlet sits between two break walls and is typically calmer. But this beach is not patrolled.
Grants Beach also hosts the Camden Haven Surf Lifesaving Club, with lifeguards patrolling on summer weekends. Stay near the patrolled south end if you're swimming, as rips dominate this stretch of beach. Both beaches are backed by thick bush, which makes you feel like you're miles away from the stress of daily life.
Planning on bringing a four-legged friend? Head to the north end of the beach. Dogs are allowed off leash here between Grants Head and 200 meters north of the surf club.
If you're looking for a break from the beach, Grants Beach Coastal Walk weaves through melaleuca and eucalyptus forests and offers excellent bird-watching.
11. Lake Cathie Beach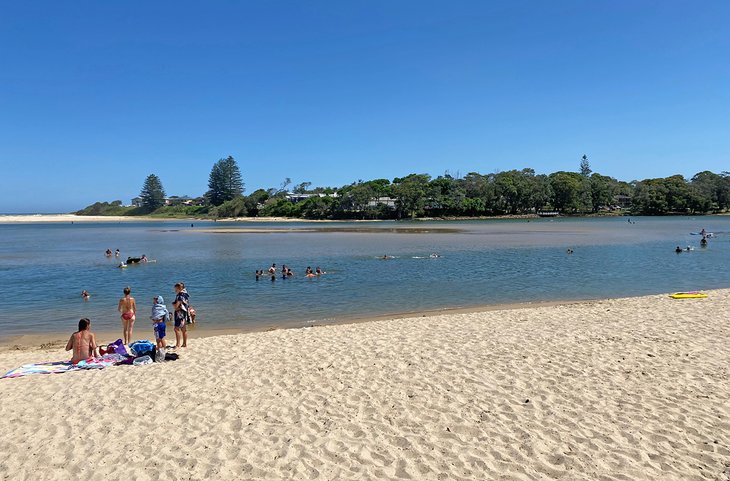 Lake Cathie Beach, about a 20-minute drive south of Port Macquarie on Ocean Road, is a favorite family picnic spot - especially with young kids in tow. The pancake-flat lake waters are perfect for paddling, and the soft-sand shore is ideal for building sandcastles. Kids can also burn off steam on the playground here when they get sick of splashing around in the water.
Ready for lunch? Covered picnic tables and gas barbecues are waiting for you. Alternatively you can stroll to nearby cafés.
Lake Cathie is also ideal for kayaking and stand up paddleboarding. Fishing is popular here, too - you'll even find a wheelchair-friendly fishing platform. Whiting and luderick are the prime catches, especially at dawn and dusk.
Note that this lake can be short on water in periods of drought, so it's best to check conditions before you head out.
12. Rainbow Beach, Bonnie Hills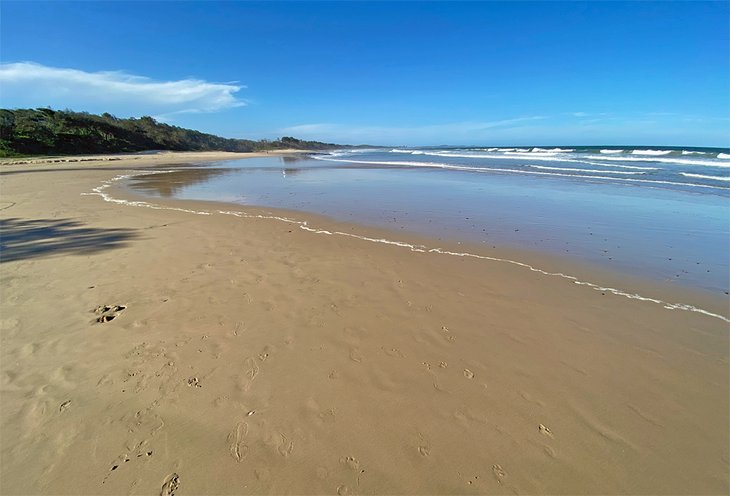 Rainbow Beach is another popular family hangout. It lies about 20 kilometers from Port Macquarie and stretches for 2.5 kilometers all the way to Lake Cathie.
If you're bringing the kids, head to the southern end of the beach. Above the shore, you'll find covered picnic tables and a fantastic playground in the Rainbow Beach Reserve for when the kids want a break from the beach. Back on shore, the sand is often quite hard-packed, but it's perfect for building sandcastles.
Surfers relish the point break here, and anglers like the less crowded northern stretches of the beach, where they can park their 4WD and camp out for the day.
Planning to take a dip? Lifeguards patrol the beach during school holidays from October through April. The Wauchope Bonny Hills Surf Life Saving Club overlooks the beach's southern end.
Map of Beaches in Port Macquarie, NSW