25 Top-Rated Things to Do in Bali
Magical, mystical Bali brims with things to do for every type of traveler. Whether you're seeking outdoor adventures, a culture buzz, a relaxing beach escape at a resort, a girls' spa trip, or a spiritual experience, you can find it all on this enchanting Indonesian island.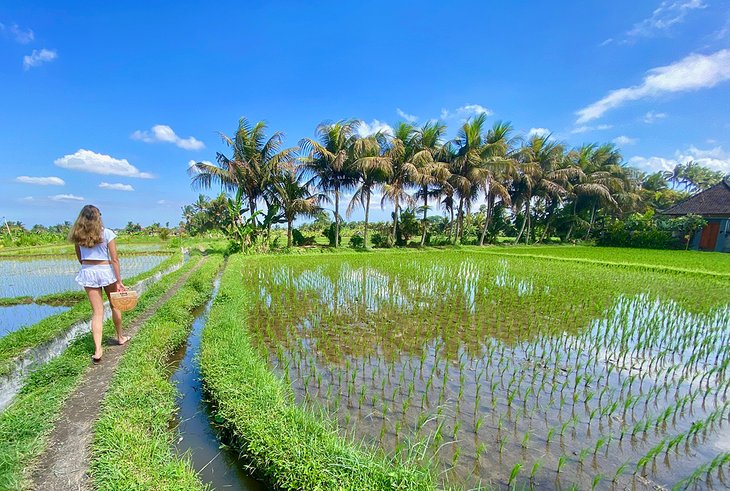 Nature lovers can scale the peaks of lushly cloaked volcanoes; gape at gushing waterfalls; surf epic waves at Bali's beautiful beaches; and cycle through vibrant fields, where rice paddies bristle in the golden sun.
Culture vultures, too, will find plenty to love. Visit local villages, learn about centuries-old crafts, or pay your respects at Bali's sacred temples. Want to dive a little deeper? Bliss out at a yoga or meditation retreat.
No matter what facet of this captivating island you choose to explore, find inspiration with our list of the top things to do in Bali.
1. Watch the Sunset at Purah Tanah Lot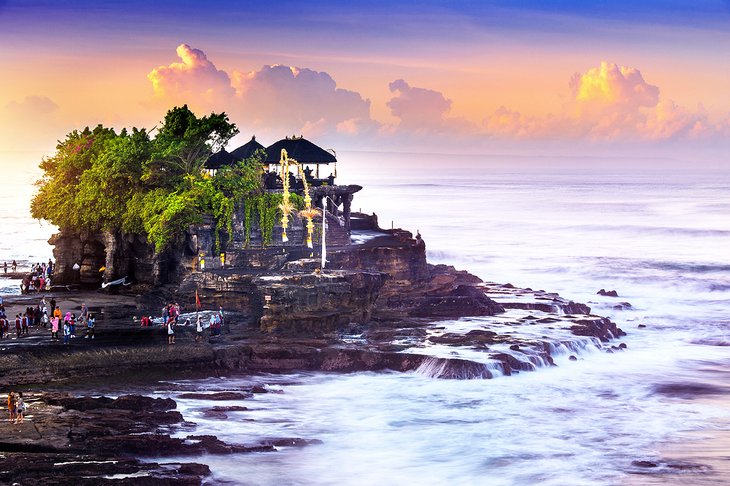 If you can only see one temple on your Bali visit, make it Pura Tanah Lot. This is one of the most popular places to visit in Bali. Perched on its own rocky islet, lapped by foamy waves, this sacred sea temple enjoys one of the most spectacular settings of all Bali's temples.
Sunset is the most popular time to visit – even better if it coincides with low tide, when a narrow spit of land emerges from the frothy sea, and you can walk across to the temple. Note, though, that foreigners can't enter the temple. Still, it makes a stunning sight.
After you've clicked all your photos, save time to stroll around the other temples and shrines in the complex. A highlight is Batu Bolong, another sea temple with a rocky causeway connecting it to the shore.
Wander the walkways and browse the market stalls, relax at the cliff-top restaurants and cafés, and sample the famous Kopi luwak (civet coffee). Don't be surprised if you see one of the friendly civets snoozing on the tables – they make great Instagram photo ops.
Purah Tana lot lies about 20 kilometers northwest of Kuta.
Address: Beraban, Kediri, Tabanan Regency, Bali 82121, Indonesia
2. Bask on Bali's Beaches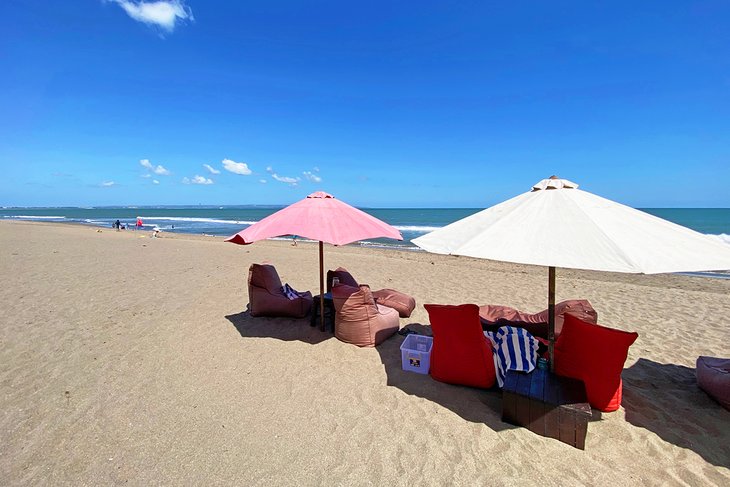 Bali's beaches differ dramatically depending on where you go. Are you seeking soft golden sand and rustling palms? Head to honeymoon-favorite Nusa Dua Beach, set on its own gated resort area on a private peninsula. Some of Bali's best resorts fringe the frequently groomed sands here.
Jimbaran Bay is perfect for relaxing on the soft, white sand; a refreshing dip in the typically calm sea; or a beachfront seafood lunch. Sanur Beach is great for sailing, kitesurfing, and kite flying.
To soak up the scene, the beaches in Canggu, Kuta, Legian, and Seminyak are the top picks. In Seminyak, Double-Six Beach is the prime people-watching spot, where you can rent a sun lounger, relax under a colorful umbrella, and enjoy easy access to resorts and restaurants.
For dramatic beauty, Kelingking Beach on Nusa Penida takes the cake – its dramatic setting and T-Rex-shaped headland make it one of the best beaches in Asia. Look for manta rays from the cliff top, but tackle the tricky descent to the beach only if you dare.
Bali is perhaps best known for its surf beaches. If riding the swells is your top priority, Dreamland, Canggu, Balangan, Bingin, Padang-Padang, and Nyang Nyang or the cliff-fringed hidden coves of Uluwatu are the hottest surf spots.
Read More: Top-Rated Tourist Attractions in Indonesia
3. Visit the Ubud Monkey Forest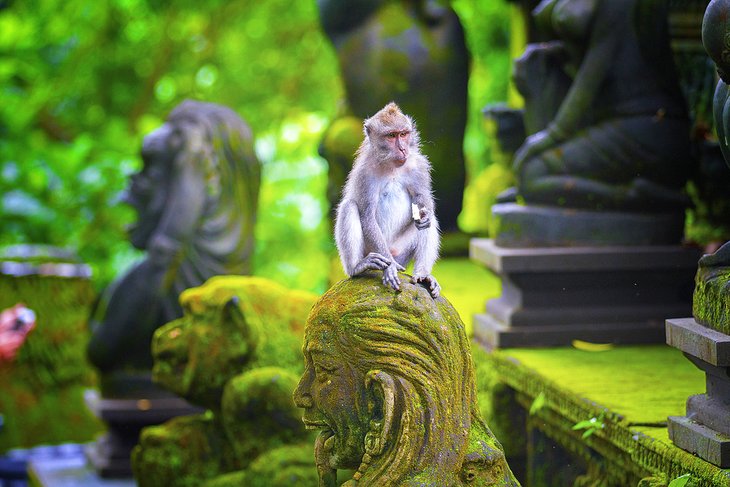 A stroll through the Monkey Forest in Ubud is about more than just capturing monkey selfies. It's an evocative journey through a mystical jungle, and one of the most popular things to do in Ubud.
Also called the Sacred Monkey Forest Sanctuary, this lush reserve represents the harmonious coexistence between humans and animals. Trails wind under giant banyan and nutmeg trees, where the ruins of sacred shrines and moss-cloaked temples peek out through snaking vines.
On the southwest side of the forest is one of the sanctuary's three temples: the 14th-century Pura Dalem Agung Padangtegal. An ancient bathing temple, Pura Beji, nestled next to a cool stream, is another evocative backdrop for photos.
And yes, you'll also see plenty of monkeys. Troops of free-roaming gray long-tailed macaques scamper among the temple ruins, enchanting tourists with their antics, and snatching food from unsuspecting onlookers – secure all your belongings and avoid direct eye contact for the most harmonious experience.
This is one of the top places to visit in Ubud – especially for animal lovers and photographers.
Address: Jalan Monkey Forest, Padangtegal, Ubud, Gianyar, Bali
4. Climb to the Top of Mount Batur or Mount Agung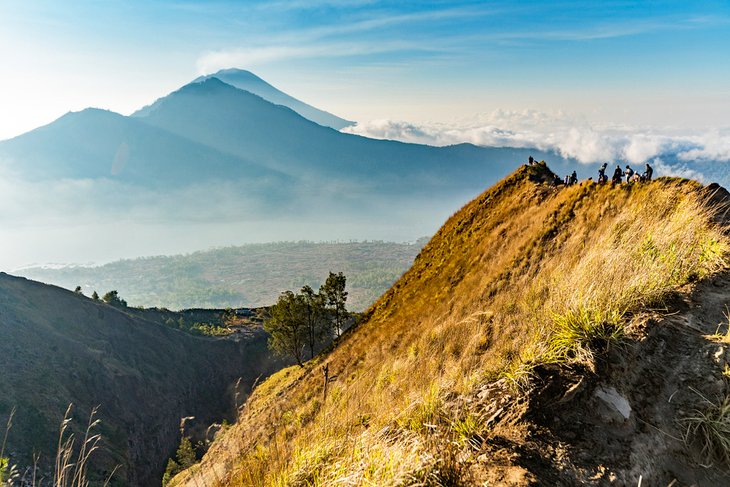 Seeing the sun rise from the misty peak of 1700-meter- high Mount Batur is one of the most iconic things to do in Bali. But you'll need to set your alarm – the hike begins in the pre-dawn darkness.
Anyone with average fitness – even older kids – should be able to conquer this hike. The trailhead lies about a 1.5-hour drive from Ubud and about 2.5 hours from Seminyak. Traveling along well-marked trails, the ascent takes about two to three hours and is best tackled on a clear day.
Once at the top, you can gaze across the caldera to the surrounding mountains and the glittering expanse of Lake Batur. Top off your adventure with a picnic breakfast, including eggs cooked by the volcano's steam. If you're an active traveler looking for things to do in Bali for couples, this is a great option.
Though the Mount Batur hike is popular, it's not Bali's highest mountain. That distinction goes to 3,031-meter-high Mount Agung. If you're a more experienced hiker and prefer a less traveled trail, you can hire a guide for this longer, more challenging trek.
Another mountain hike to consider if you're a socially conscious traveler is the award-winning Muntigunung Trek on the northern slopes of Bali's mountains. The cost funds projects that support local villages, and with every step, you are helping to improve the lives of locals in the region.
5. Watch a Kecak Fire Dance at Pura Luhur Uluwatu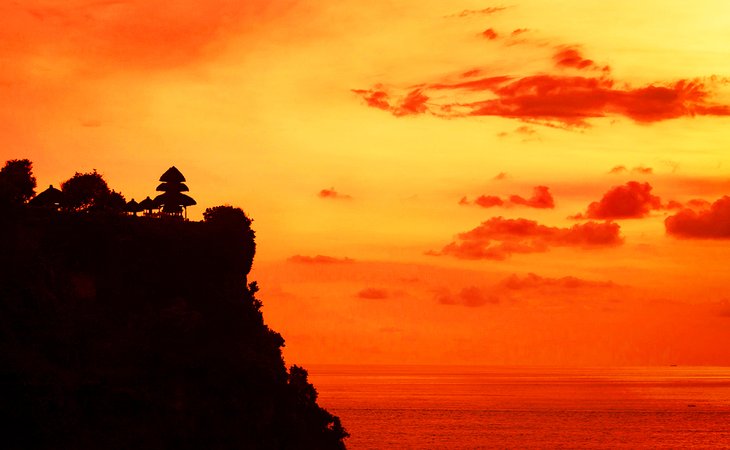 One of Bali's most famous temples, Pura Luhur Uluwatu sits in a spectacular setting on a sea cliff. The temple is believed to protect Bali from evil sea spirits.
Sunset is the best time to visit. Not only can you see the temple glow in the late golden light and soak up the breathtaking views, you can also watch the special Kecak and Fire Dance Show performances held each evening. These are one of the highlights of a visit here. Billowing flames, colorful traditional costumes, and mesmerizing dances enchant adults and children alike.
Only Hindus can enter the temple, but you can wander around, watch the cheeky monkeys, and gaze out as the setting sun ignites the sky.
Insider's tip: The traffic coming to and from the temple around sunset can slow your journey. Leave plenty of time to arrive.
Address: Pecatu, South Kuta, Badung Regency, Bali, Indonesia
6. Swing over the Tegallalang Rice Terrace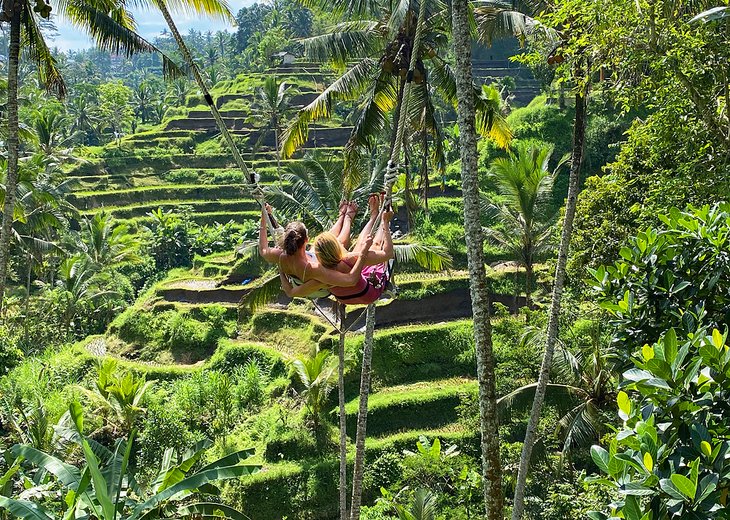 Bali is known for its Instagrammable experiences, and you'll find a top one at the Tegallalang Rice Terraces. Not only can you ogle a mosaic of vibrant greens at this UNESCO World Heritage Site, you also can soar over it in a giant swing. It's an exhilarating way to soak up the splendor of this historic attraction.
Cap off your swing with coffee tasting in a little hut overlooking the rice fields. And be sure to try the famous "cat-poo-cino" or kopi luwak, made from coffee beans pooped out by civets. (It tastes better than it sounds.)
Tegallalang Rice Terrace lies about a 30-minute drive north of Ubud. A little further afield (about a 90-minute drive from Ubud) you can have a less touristy experience at the Jatiluwih rice terraces, which are also recognized by UNESCO.
Address: Jalan Raya Tegallalang, Tegallalang, Gianyar, Bali 80561, Indonesia
7. Hike to Bali's Waterfalls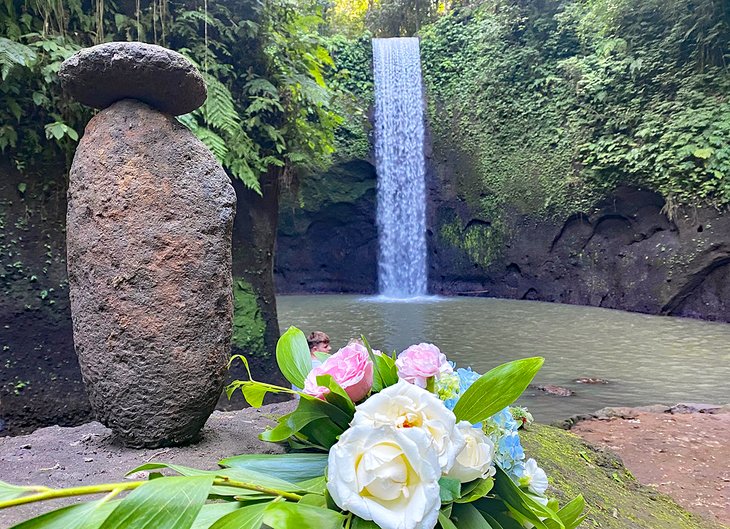 Waterfall aficionados are spoiled for choice in Bali. Some falls are hidden jewels, cascading down mossy rocks along jungly trails and spilling into tranquil pools. Others lie along short, well-trodden tourist tracks. Wherever you travel in Bali, it's likely you'll find a waterfall within a short drive. Most require a small fee, but hiking to them is one of the best cheap things to do in Bali.
Arguably one of the most beautiful cascades in Bali is Sekumpul Waterfall, a series of about seven falls. But it's also one of the most challenging to access – you have to negotiate a dirt road and steep steps on the three- to four-hour round-trip trek.
Easier to access, Gitgit waterfall is among Bali's most popular falls. Stroll along a wooden boardwalk to this twin-streamed beauty. Along the way, you'll pass over a small gorge and cool streams, and see fragrant spice and macadamia nut trees.
Tibumana Waterfall is a lovely single veil flowing into a limpid pool, and Tegenungan is also worth a stop. A large resort overlooks these falls, but what it lacks in tranquility, it compensates for in convenience – this is one of the closest large waterfalls to the busy resort areas of Kuta, Sanur, and Ubud.
The split streams of Banyumala Waterfall are eye-candy for photographers. You'll find it high in the mountains of north Bali, about a 90-minute drive from Ubud.
8. Browse the shops in Seminyak and Canggu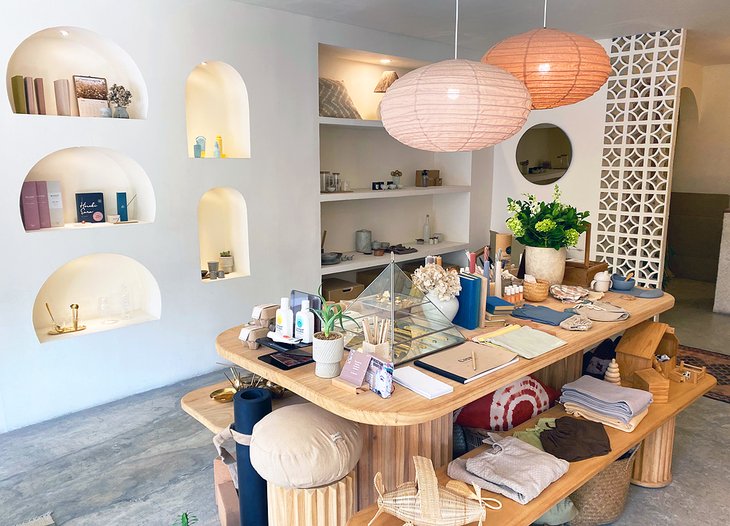 Boho design, beachwear, bags, and bangles – you'll find all this and more along the busy streets of Seminyak and Canggu.
In Seminyak, hip boutiques include Paulina Katarina, Magali Pascal, Uma and Leopold, Biasa, and Bamboo Blonde. Browse styles from more than 40 independent designers under one roof at Bali Boat Shed, which sells men's, women's, and children's wear, or head to Sea Gypsy for handcrafted silver jewelry.
For one-stop shopping, stroll through Seminyak Village, an air-conditioned western-style mall packed with stores selling everything from fashion to shoes to jewelry and souvenirs. You can also browse the stores in the smaller open-air Seminyak Square.
Looking for a real bargain? Browse the stalls at the Seminyak Flea Markets near Seminyak Square. Clothing, jewelry, carvings, and handicrafts are among the many treasures you'll find here.
Canggu is home to many of these same designer stores, as well as other hip boutiques. One Love sells sustainable and small-batch styles created by independent designers. COVE is another worthwhile stop, with island-style decor, clothing, and jewelry, and Indigo Luna sells eco-conscious yoga wear and swimwear at its flagship store here.
9. Catch a Wave at a Bali Surf Spot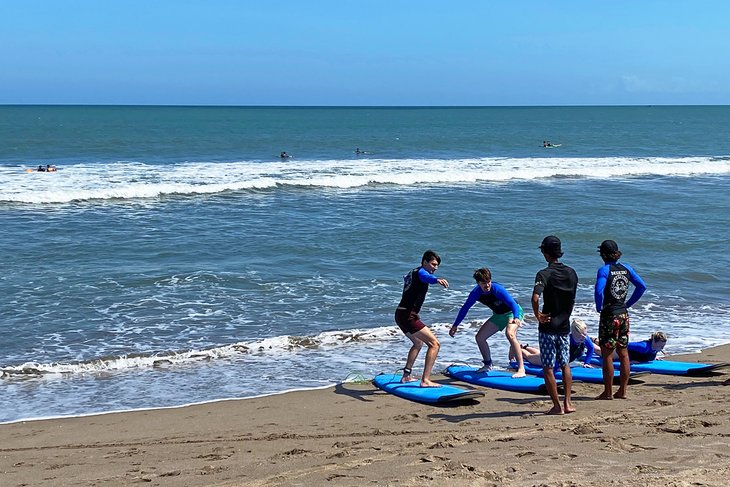 Bali is famous for its fantastic surf breaks. Whether you're a newbie or a seasoned wave rider, you're sure to find a top spot to hone your skills.
Beginners will find gentle waves, surfboard rentals, and affordable lessons in the top tourist areas of Kuta, Seminyak, and Canggu's Echo Beach. Just head to the beach and find a vendor along the shore.
But some of Bali's best surf spots are a little further afield. Best surfed at low tide, Dreamland on the Bukit peninsula lures experienced surfers in big swells, and others when the waves are smaller.
Uluwatu's legendary surf breaks are more technical, and the view of one of Bali's famous Uluwatu temple perched on the clifftop makes surfing here a magical experience.
Padang Padang is known as the Balinese Pipeline. Advanced surfers ride the big barrel breaks over the reef here, and surfing enthusiasts of all stripes come to watch the annual Rip Curl Cup.
Blue Point, Green Bowl, Balangan, Bingin, and Nyang Nyang are other popular surf spots for intermediate and more advanced wave riders.
10. Escape to the Nusa Islands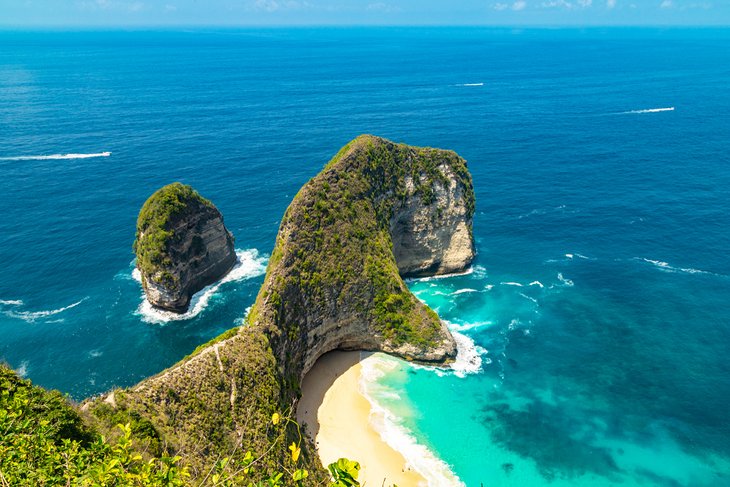 If you're planning a romantic getaway in Bali, consider the Nusa Islands. Here, you'll find wild beaches, hidden caves, blue lagoons, and a more traditional way of life.
Nusa Lembongan is the most visited of these three slower-paced islands. About 20 kilometers offshore from Sanur, it's easily accessible by speedboat. Top things to do here include surfing, snorkeling, diving, kayaking, stand up paddleboarding, and watching the local seaweed farmers along the shore. Don't miss Dream Beach; Mushroom Bay; and the Devil's Tears blowhole.
Nusa Penida is the largest of the island trio. It's home to rugged rock formations, a bird sanctuary, caves, coral reefs, and popular dive spots with manta rays and turtles. A must-do here is the steep hike down to Kelingking Beach, also known as T-Rex Bay – it's one of the top beaches in Asia and a popular spot for Instagrammers.
Nusa Ceningan, the most petite of the island trio, is known for its beautiful blue lagoon, a popular hangout for cliff jumpers.
Insider's tip: If you can't squeeze a stay here into your Bali itinerary, you can always book a day trip.
11. Bike Ride through Local Villages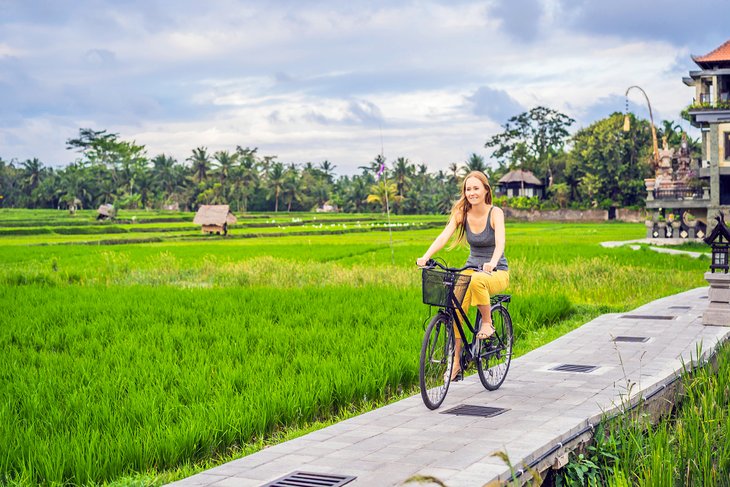 Biking through Bali is the best way to soak up the local way of life, far from the tourist throngs and souvenir shops.
Popular Bali biking tours typically start at a high point around Ubud, like Mount Batur's famous caldera lake, so your ride is mostly downhill. Along the way, you'll pass vibrant rice fields, coffee plantations, temples, and tiny villages, where you catch a glimpse of traditional life and take part in local customs.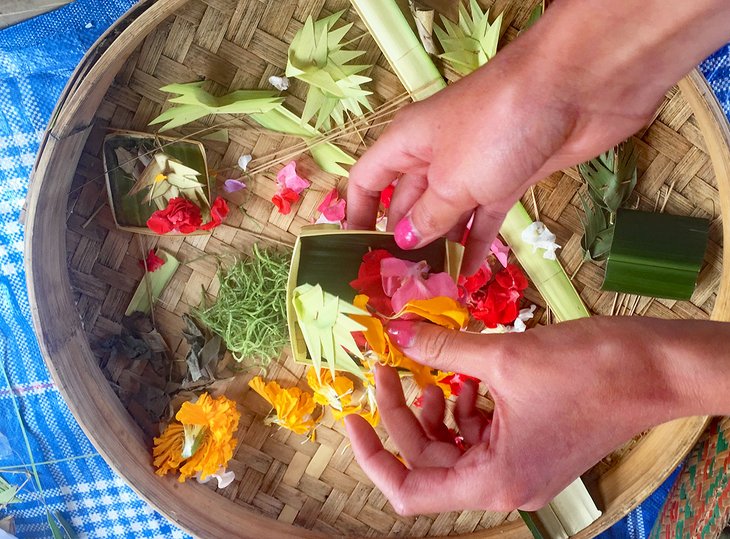 Better still, save some pedal power and take the half-day electric cycling tour of Ubud. On this three-hour e-bike tour, you'll soak up the scenic countryside and explore the UNESCO-listed Tegallalang Rice Terrace, local villages, and a coffee plantation along the route, then top off your day with a tasty Balinese lunch.
Many hotels and resorts in Ubud also have complimentary-use bicycles for guests, so you can take your own self-guided bike tour of the surrounding area.
12. Trek through the Jatiluwih Rice Terraces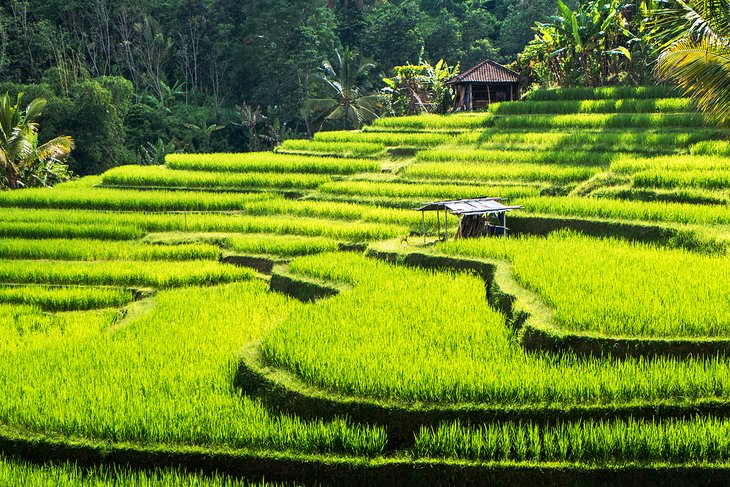 Trekking though Bali's emerald-green rice terraces connects you to the beating heart of Bali. Rice has been cultivated in Bali for at least 2,000 years, and in the fields, you can see locals toiling year-round, planting, tending, and harvesting this precious crop. A stroll through these patchwork fields gives you an opportunity to meet local families working together.
Tegallalang is Bali's most famous rice terrace, but Jatiluwah rice terraces are less touristy and offer a taste of traditional Bali. About a 90-minute drive from Ubud, the Jatiluwih rice terraces cloak more than 600 hectares of rice fields along the slopes of the Batukaru mountain range.
You can book an organized Jatiluwhi Rice Field trekking tour. Alternatively, you can take the self-guided 3.7-kilometer Jatiluwhi Rice Terraces Loop.
Afterwards, many hikers relax at a local restaurant with a cool refreshment overlooking the fields.
Another place to walk through the rice terraces is the sleepy Sideman Valley.
13. Take an Outrigger to Pura Ulun Danu Bratan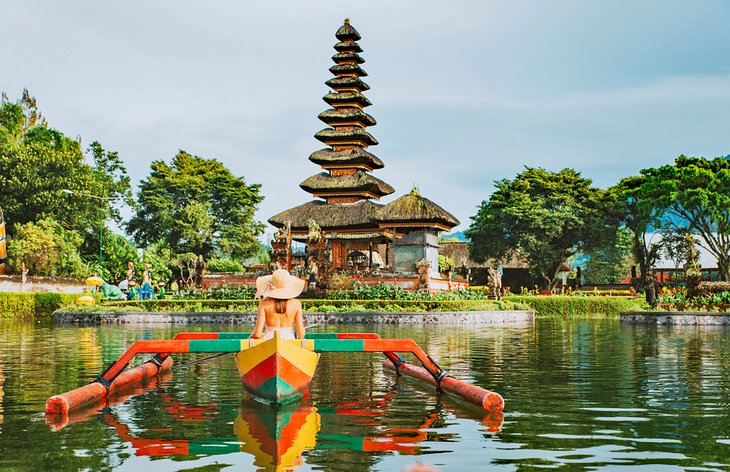 Perched on a small island along the western shore of Lake Bratan, 17th-century Pura Ulun Danu Bratan is one of Bali's most beautiful temple complexes. Set in the cool highlands of central Bali against the striking backdrop of Gunung Bratan, the tiered temples reflect on the mirrored lake and appear to float on its surface when the water levels rise.
Pura Ulun Danu Bratan is dedicated to Dewi Danu, goddess of the sea and lakes, and it seems as though she is still smiling down on this sacred site. The best way to soak up the beauty here is to hire a traditional jukung outrigger to tour the lake.
Try to visit early in the day, before the tourist buses arrive – you might even catch the temple shrouded in mist for an especially haunting photo op.
Insider's tip: You can combine a visit here with a stroll around the bamboo forests and begonia collections at the nearby Bali Botanic Gardens.
Address: Danau Beratan, Candikuning, Baturiti, Tabanan Regency, Bali 82191, Indonesia
14. Shop at the Ubud Art Market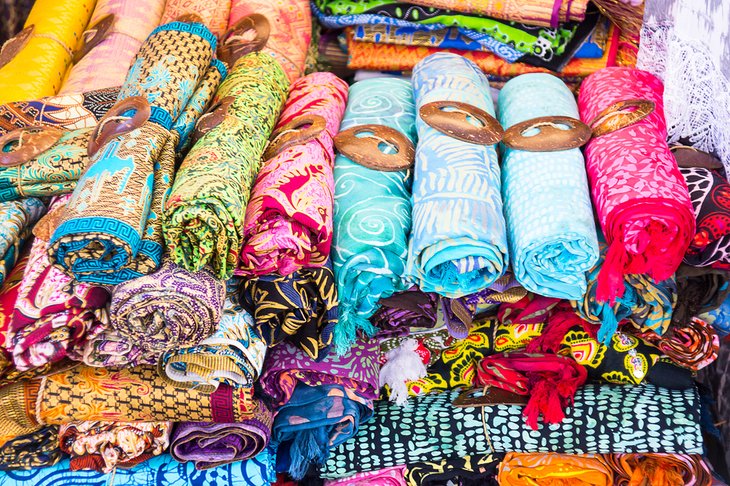 If it's your mission to pick up some Bali souvenirs, don't miss the brimming stalls at Ubud Art Market (Pasar Ubud). Sculptures, sarongs, carvings, jewelry, paintings, and homewares are just some of the many items you'll find here, and browsing the bustling stalls is one of the top things to do in Ubud – even if you don't buy anything.
Bargaining is expected, and a good rule of thumb is to offer half the asking price and go upwards from there, but always with a polite smile.
Note that in 2022, the market is under construction, and many of the stalls have set up shop in the surrounding streets, alleys, and parking areas, spilling out onto the busy sidewalks. Construction could continue until 2024.
15. Chill out on the Gili Islands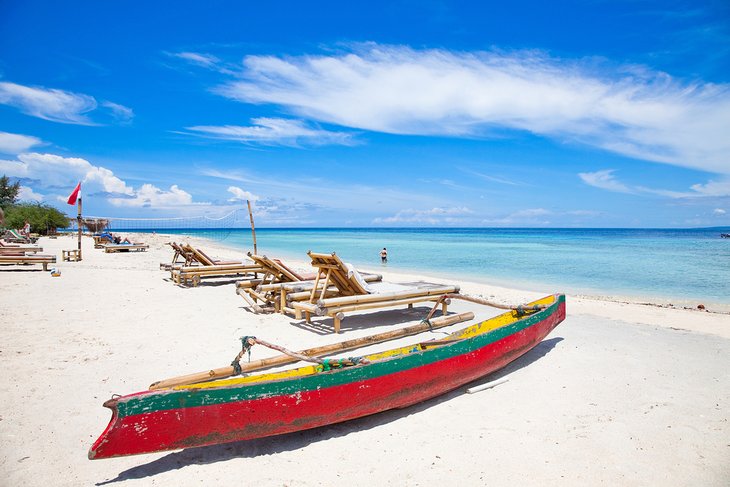 If even the Nusa Islands are too busy for you, it's time to check out the positively snoozy Gili Islands. Life moves even more slowly on this trio of tiny islands (Gili actually means "small island"), which lie off the coast of neighboring Lombok, but tourists are quickly discovering this tropical escape, and boutique hotels are sprouting up along their shores. For the moment, though, you can still tap into a mellower vibe here.
You won't find huge hotels – or even cars and motorbikes – on the Gilis. Instead, these islands are more about local guesthouses and exploring by bike.
Swimming in crystal-clear waters; basking on palm-lined, pure white-sand beaches; and cultural experiences like cooking classes are among other top things to do on these sleepy isles.
Gili Trawangan, called"Gili T", is trading its boho backpacker status (think full moon gatherings and reggae tunes) for more upscale tourists from Europe and Asia.
Peaceful Gili Meno is great for couples and families who don't mind limited amenities, and Gili Air offers the best of both worlds.
Getting to the Gili Islands takes a little more effort than other places to visit in Bali – you need to take a fast boat to the islands (around 90-minutes) from Padang Bai harbor. But it's worth it for the relative tranquility and more traditional feel of these far-flung isles.
16. Feast on Vegan Food in Ubud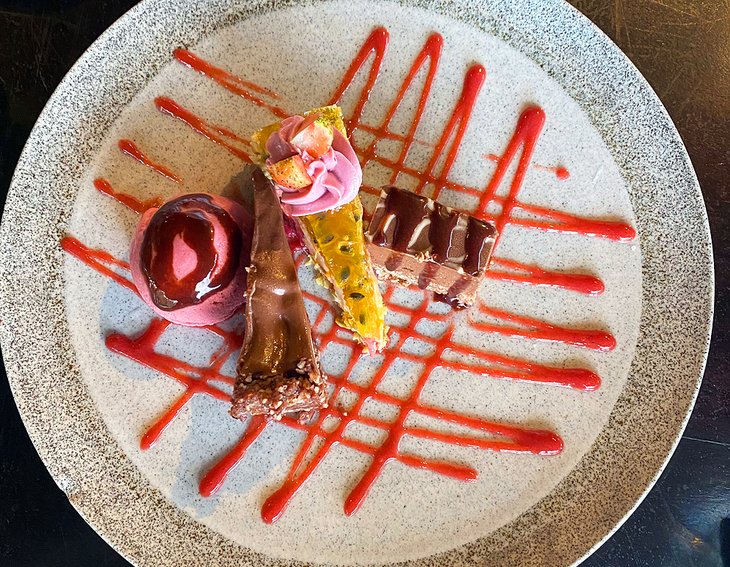 Plant-based food lovers, rejoice: Ubud is home to some of the best vegan food in Asia. Sustainability is at the heart of many of the top restaurants in Ubud, and you can even dine overlooking permaculture gardens.
Moksa is one of these venues. Sit cross-legged in the open-air pavilions and sample innovative plant-based cuisine, from love burritos to living tacos and decadent raw desserts.
Zest offers more upscale dining in a dramatic venue. Perched high on a hill just outside Ubud's busy center, this Zen venue serves up plant-based fare from around the world made from locally grown ingredients.
In downtown Ubud, Alchemy is all about healing through food. A medicinal soup bar, raw cakes composed of superfoods, vibrant salads, and vegan soft-serve ice cream are among the many plant-based goodies here. You can also learn how to create some of your meals at their raw vegan cooking school. Detox retreats, vegan cheese workshops, and gluten-free baking courses are also offered.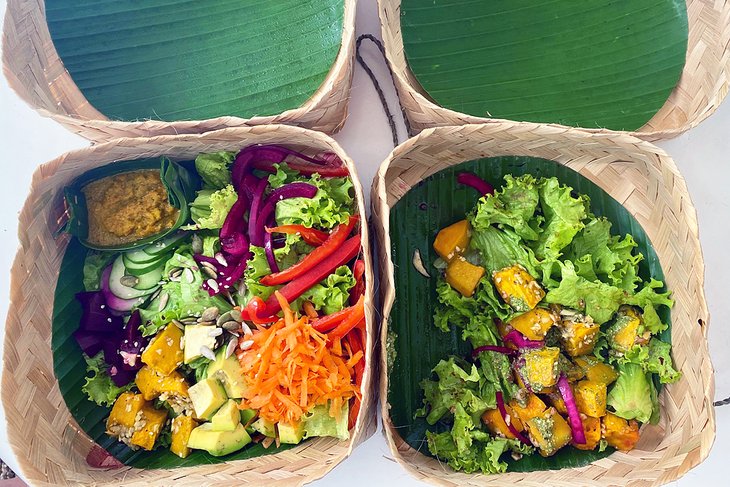 Clear Cafe spotlights local, ethical produce, and Mana Kitchen, tucked amid Ubud's rice fields, fuses Japanese superfood with Indonesian cuisine. Think organic, probiotic-rich meals made with fresh garden produce.
But vegan dining doesn't mean sacrificing comfort food. Pizza Cult is a plant-based pizzeria offering mouthwatering vegan-cheese topped versions of this favorite Italian food.
17. Snorkel or Dive at Amed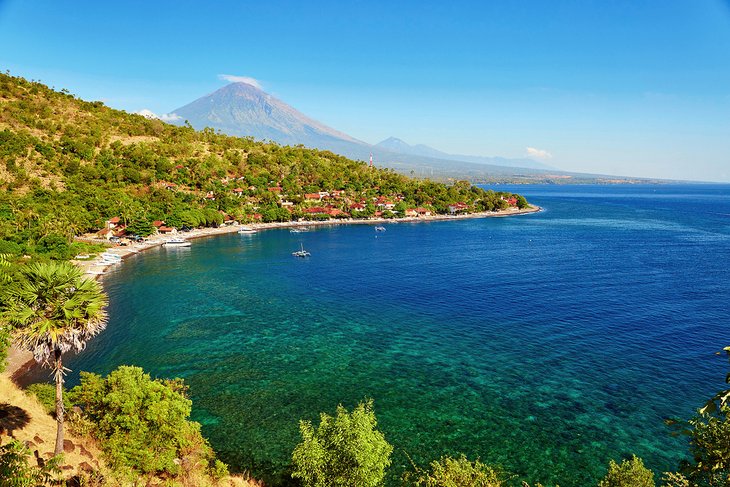 A shimmering coral reef laces the shallow waters along the smoky-gray sands of Amed Beach, making it one of the best easily accessible places to snorkel and dive in Bali.
Amed lies on Bali's northeastern coast and actually encompasses seven different seaside villages, with coral reefs just a few meters from shore. Rays, reef sharks, shipwrecks, and colorful tropical fish are among the underwater attractions you can explore here, and you can even sign up for a freediving course at Apneista.
You can also snorkel and dive at neighboring Tulamben, home to a US cargo shipwreck, the USAT Liberty.
Not into snorkeling or diving? No problem. Rent a sun lounger at a beachside café, book a beachside massage, order up a snack and a frosty cold coconut juice, and settle in for a day of lounging.
Instagrammers can also photograph Bali's colorful jukungs (outrigger canoes) lined up along the beach.
Amed is also a fun place to stay for Bali beach bums – you'll find plenty of affordable guesthouses, warungs, and dive shops along this oceanfront stretch.
18. Bathe in the Holy Springs of Pura Tirta Empul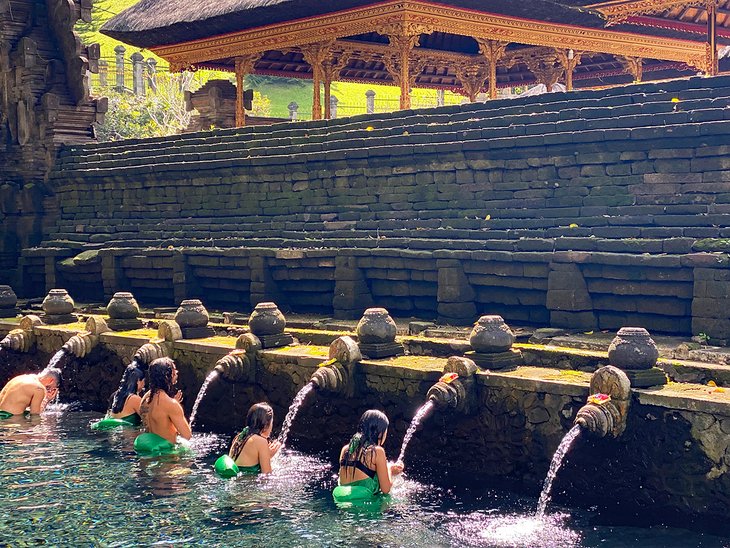 Pura Tirta Empul is famous for its sacred purification ritual. Dating from around 960 CE, this beautiful temple complex in central Bali is a national cultural heritage site centered around a rectangular pool fed by a holy spring.
Visitors can join the locals in the cleansing ritual, but it's recommended that you ask an experienced guide first to make sure you respect the customs. Bathers must enter the water fully clothed, and you will be asked to wear a sarong and sash. Make sure you take photos and explore the temple grounds before you bathe, so you don't walk around in dripping clothes.
As with most of Bali's temples, the best times to visit Tirta Empul Temple are early morning and late afternoon.
Address: Jl. Tirta, Manukaya, Kec. Tampaksiring, Kabupaten Gianyar, Bali 80552, Indonesia
19. Bliss out at a Balinese Spa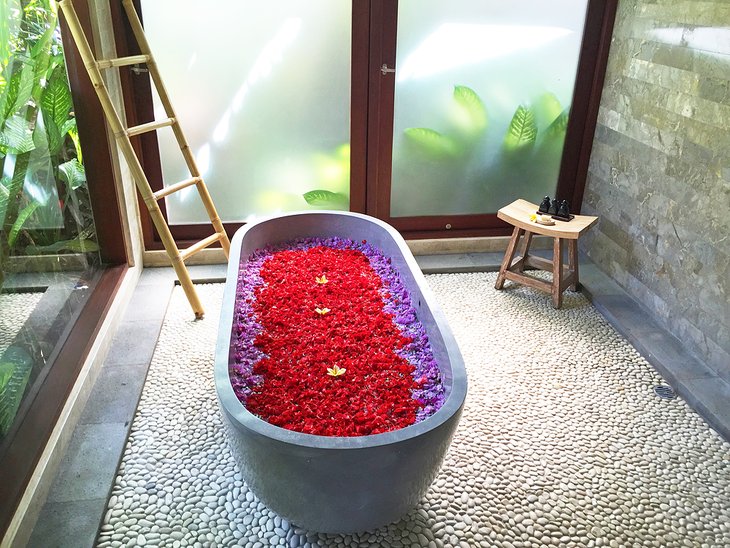 Bali hosts some of the planet's most pampering – and affordable – day spas. Treatments range from invigorating foot scrubs, manicures, pedicures, and facials using local ingredients to full-body Balinese massages.
A particularly pampering Balinese specialty is a flower bath. Slip into a steaming hot bathtub cloaked in brightly hued blooms, and soak your cares away.
If you really want to splash out, our top picks are Sundari Day Spa in Seminyak and Healing Village Spa at Four Seasons Resort Bali at Jimbaran Bay. Fancy a 24-carat gold facial? Goldust Beauty Lounge in Canggu is the place for you.
If you're looking to get the best price, you'll want to visit a local Balinese spa or a smaller resort. Spa treatments at the bigger resorts are pricier.
20. Explore Candidasa & Manggis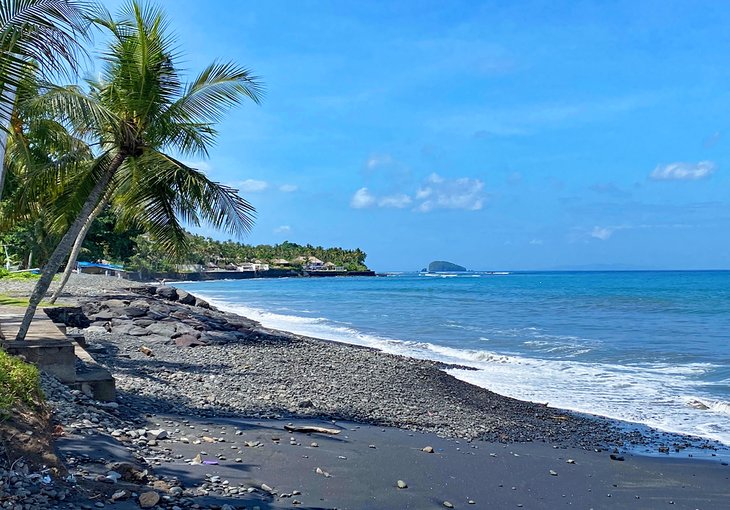 Candidasa (pronounced "Chandidasa") and the little beachfront town of Manggis make a fantastic base for exploring the attractions of northeast Bali.
Life moves languidly in this part of Bali. Gazing out over pebbly, smoky-sand beaches; temple-hopping; strolling through rice fields; and snorkeling are some of the top things to do near Candidasa and Mangiss.
From here, you can visit Tirta Ganga Water Gardens about an hour's drive north of Candidasa. This royal water garden complex is a beautiful place for photos. Perfectly manicured gardens adorn the grounds, and stepping stones pepper the tranquil pools, where gigantic koi swim. Trips to Pura Lempuyang Luhur and the fabulously Instagrammable Gateway to Heaven are also popular.
In town, stop by Candidasa Lotus Lagoon when the fuchsia blossoms are in full bloom. It makes a colorful photo.
Other top things to do in the region include day trips to the Blue Lagoon; ocean kayaking; and visiting Tenganan, one of Bali's oldest villages.
Wondering where to stay? Manggis is home to the lovely four-star Alila Manggis, a luxury beachfront resort on sprawling, palm-studded grounds, with a pampering spa overlooking the water.
21. Pose for a Photo at the Gates of Heaven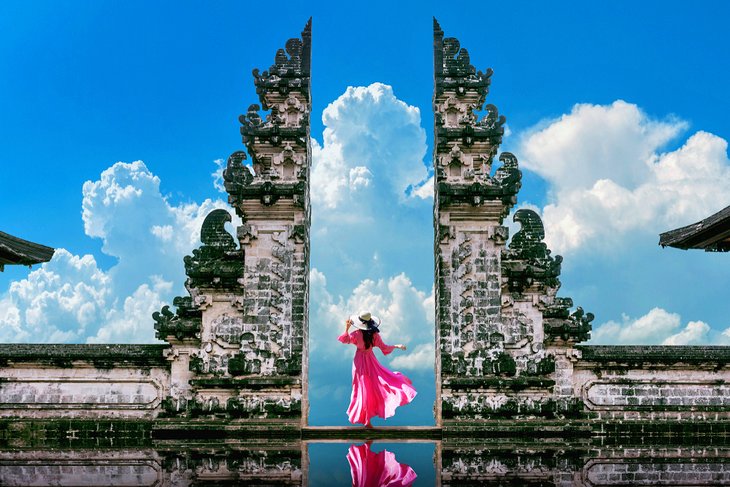 If you're an Instagrammer looking for a memorable photo op, consider adding Pura Penataran Agung Lempuyang to your sightseeing list. Posing for a photo between the famous Gates of Heaven here is one of the top things to do at the temple. These towering dragon staircases frame billowing clouds and the misty peak of Mount Agung, creating an iconic Bali image with an ethereal quality.
Often just called "Lempuyang Temple" (Pura Lempuyang), this famous shrine is actually part of a complex of temples in the highlands of Mount Lempuyang. For breathtaking views over the lush countryside, hike up the grueling 1,700 steps to Pura Luhur Lempuyang, one of Bali's most sacred temples. Even better, pay a local for a moped ride part of the way to save your legs.
Note that visiting this sacred shrine is not for time-strapped tourists. For the privilege of posing for a photo at the Gates of Heaven, you'll have to join a long line – and pay a fee. But if you have time to explore the other temples in this complex, it's worth a visit.
Address: Jl. Pura Telaga Mas Lempuyang, Tri Buana, Kec. Abang, Kabupaten Karangasem, Bali 80852, Indonesia
Read More: Indonesia in Pictures: Beautiful Places to Photograph
22. Explore the Sidemen Valley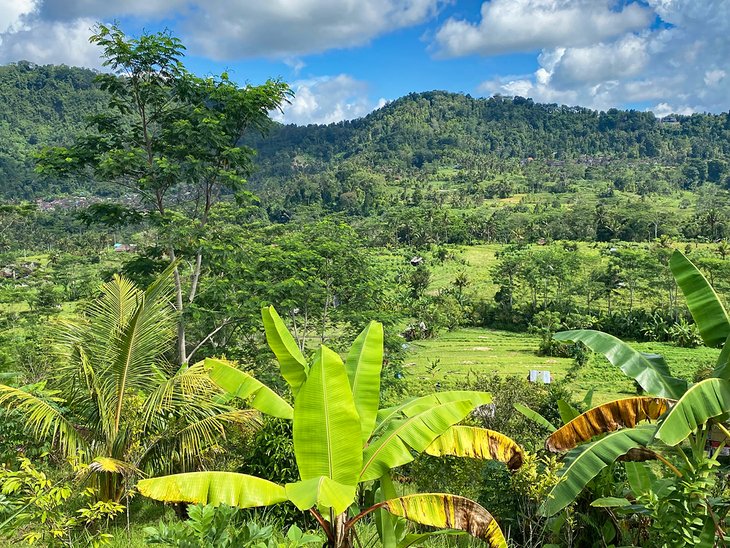 Craving a slice of old Bali? The Sideman Valley, about a 90-minute drive northeast of Ubud, is where you'll find it. One of the top things to do here is stroll around the tiny villages and watch the locals tending to their traditional activities.
Follow the narrow paths through the rice fields and lush countryside, past cocoa and coffee plantations, where Mount Agung looms in the background. You can also hike to the summit of this cloud-capped peak.
Other popular things to do in the Sideman Valley include yoga retreats and river rafting. You can also take part in cultural activities such as carving and dancing, or sign up for a traditional weaving workshop.
Bali homestays, B&Bs, and even a few luxury villas nestle amid the rice fields.
23. Visit the Tenganan Ancient Village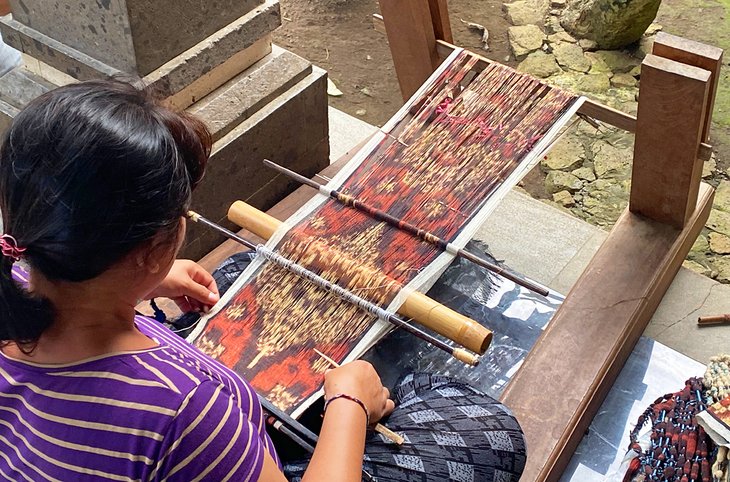 Strolling through Tenganan Ancient Village is like stepping back in time. This quaint little settlement is one of only two villages in Bali where the locals practise the intricate art of double ikat weaving.
For a small fee, you can take a tour with one of the residents and see the locals weaving the colorful textiles on handmade looms. Each piece is dyed using natural ingredients from plants, herbs, and tree bark. After your tour, you can view some of the pieces, and purchase them if you wish.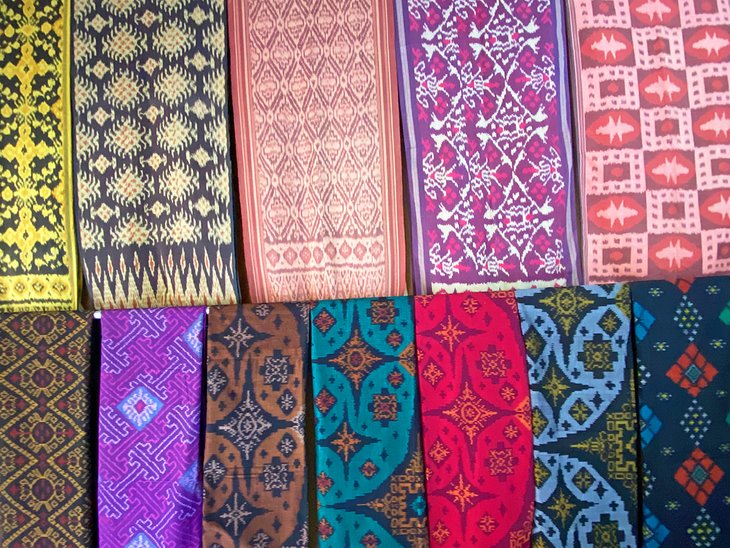 Tenganan village also hosts an unusual ceremony. The Makare-kare Festival in June, includes a theatrical fight between the local Balinese men to honor the God of War and their ancestors.
24. De-stress at a Yoga Retreat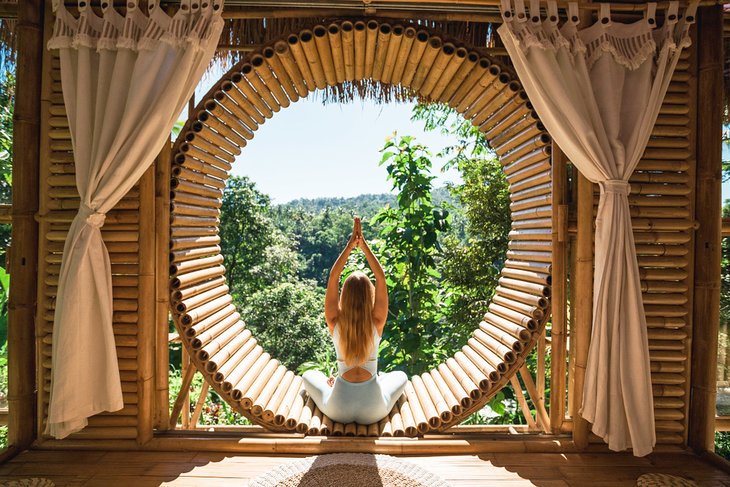 Bali is one of the world's top places for yoga retreats. Thanks to its predominantly Hindu population, yoga has deep roots here, and travelers will find endless luxury wellness resorts offering spiritual, yoga, and meditation retreats, from beachfront escapes to jungle sanctuaries.
On the banks of the Ayung River, about 30 minutes' drive from Ubud, the award-winning Fivelements Retreat Bali offers yoga and meditation sessions, massage, martial arts, and healing consultations.
Yoga classes and fire ceremonies are offered at Bagus Jati, set in the rainforests of Ubud, and holistic Zen Resort Bali offers 16 villas on the remote coast of Singaraja, with private yoga classes that can be customized to guests' wellness needs.
25. Splash around at Waterbom Bali, Kuta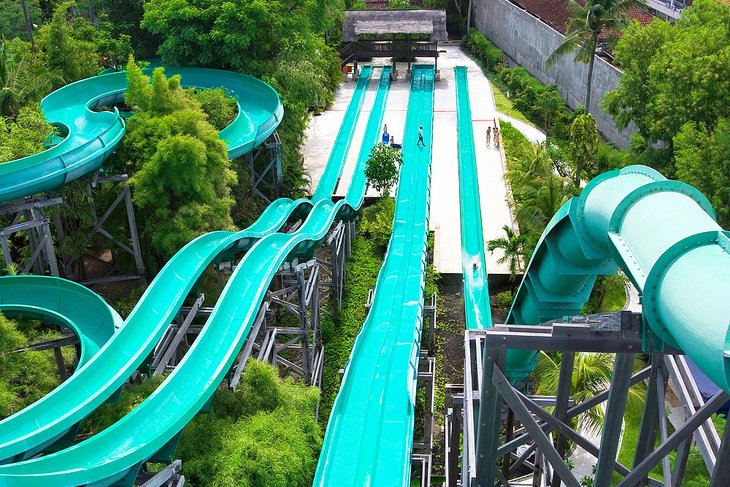 Traveling with the kids in tow, and looking for a place to keep cool? Head to Waterbom Bali. This popular water park in the heart of Kuta offers every type of water fun you can imagine. Float down a lazy river, zoom down waterslides, try surfing on the FlowRider, and splash around in the pools.
Parents will be happy here, too. Manicures, pedicures, and reflexology sessions provide a little on-site pampering, and you can even try the fish spa therapy. Tropical gardens with plenty of shade make it a pleasant place to hang out until the kids wear themselves out. Don't forget the sunscreen!
Bali, Indonesia - Climate Chart
Average minimum and maximum temperatures for Bali, Indonesia in °C
J
F
M
A
M
J
J
A
S
O
N
D

30

26

30

26

31

26

31

26

30

26

29

25

28

24

28

24

29

24

30

25

31

26

30

26

PlanetWare.com
Average monthly precipitation totals for Bali, Indonesia in mm.

348

287

213

94

76

71

51

23

41

91

155

292