11 Best Beaches in Singapore
Many of the most beautiful beaches in Singapore are located on Sentosa Island, just off the southern coast of the main island, and one of the top places to visit in Singapore. Once a British military base and prisoner-of-war camp, Sentosa eventually evolved into what it is today: an entertainment resort, home to hotels, golf courses, a Universal Studios park, and a stunning coastline of white sand.
Sentosa's two-kilometer-long beach is divided into three sections: Palawan Beach, Siloso Beach, and Tanjong Beach. The entire length of the beach is artificial, created by reclaiming land from the sea and then filling it in with imported sand brought in from Malaysia and Indonesia.
Off Sentosa Island, Singapore also offers other small beaches worth exploring.
Whether you're looking for an active holiday or just some quiet time under the sun, here's our list of the best beaches in Singapore.
1. Tanjong Beach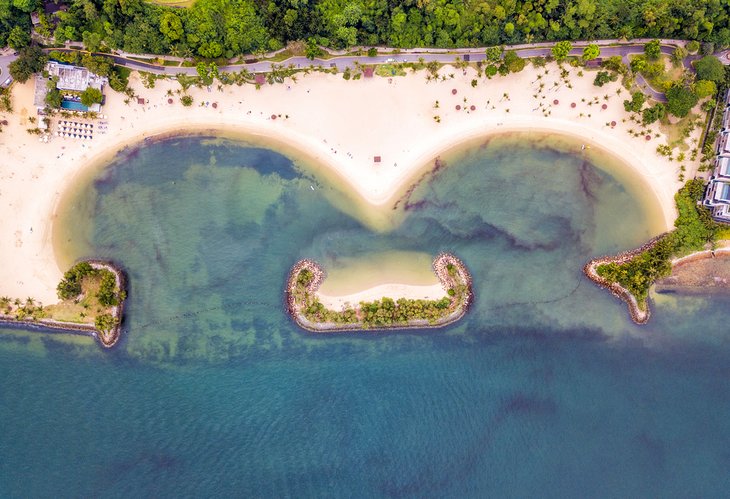 Located on beautiful Sentosa Island, Tanjong Beach is the most secluded and remote of the three beach sections. This doesn't mean you'll be completely alone there – Sentosa Island receives over 20 million visitors per year – but Tanjong Beach offers better chances of finding a quiet spot under the palm trees.
The beach is even quieter on weekdays. Arrive in the evening to catch sight of twinkling lights in the distance as cruise ships pass by.
The beach sits on a crescent-shaped bay, and it's flanked by plenty of trees that offer a break from the heat. The sand here is at its whitest, and the sea is warm and perfect for swimming. Plus, Tanjong Beach is dog friendly, so you'll often see humans jumping into the water with their canine companions.
Need a change of scenery? The Tanjong Beach Club is a major attraction here and the only place on this beach where you'll get food. It offers a swimming pool, deck chairs, and cabanas, as well as live music events twice a month.
2. Siloso Beach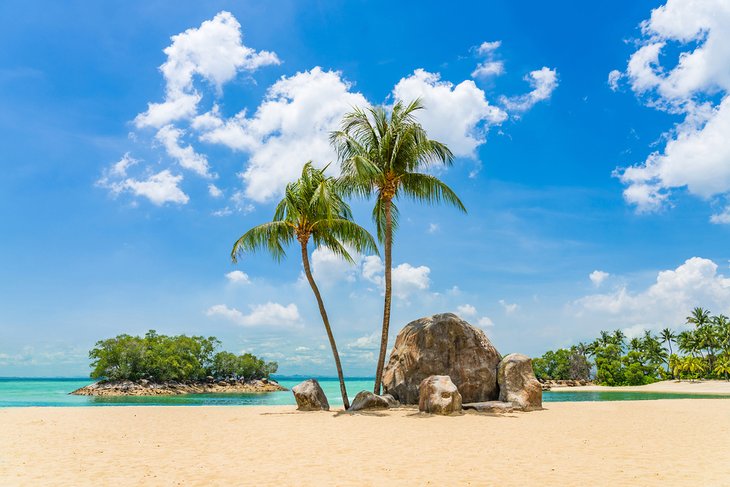 Siloso Beach is where the action is on Sentosa. If your idea of fun in the sand includes things like canoeing, beach volleyball, or even water jet packs, this is where you should be.
For dining and shopping options, it also doesn't get much better than Siloso, where you'll find everything from the standard beach eateries offering fast food and pizza to Hawaiian-themed menus, fresh fruits, and even poke bowls. Shopping outlets and cafés are dotted all throughout the coastline, offering plenty of options for when you need a break from the golden sands.
Siloso is Singapore's hippest beach, with live music, cafés, and some of the coolest attractions on the island just steps away from the sand. While no sun loungers are allowed on the beach, you can bring a towel and just lie back on the soft sand for a while - though be warned, this isn't the kind of quiet beach where you can just relax with a book.
Want the best views around? The nearby MegaZip zipline zooms you over the water and coastline for 450 meters of stunning scenery. There's also a 50-meter-tall bungee jumping tower, rock climbing opportunities, two luge tracks (including one with neon lights you can ride at night), a chair lift ride, and rollerblading options.
3. Palawan Beach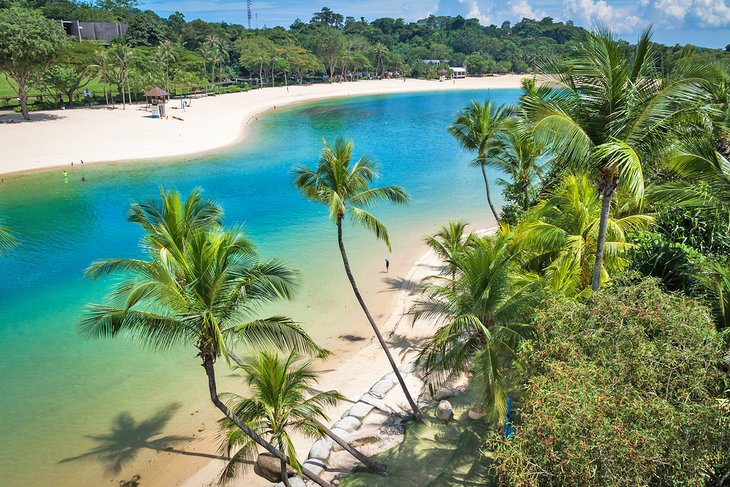 Of the three sections of Sentosa Beach, Palawan Beach is the most visually famous. It's located right in the middle of the island, at the end of an impressive suspension bridge with viewing towers on each end.
Climb all the way up for 360-degree views of the water, the tropical jungle, and the coastline. Then head back to walk on the softest white sand as you hear the swaying palm trees all around you. This is Singapore's best swimming area, with calm, warm blue waters.
Palawan is said to be the closest point to the Equator in Asia and is full of photo opportunities. It is walking distance from Tanjong Beach and though it offers more attractions and activities, it's still much more relaxed than lively Siloso. You'll find lots of families here, as well as plenty of solo travelers and couples looking for a place to chill out and have a picnic.
When you're ready for some fun, try swimming out to the tiny island near the shore, visit the indoor entertainment center KidZania, try the immersive virtual environment at MOSH!, or sit at one of the many oceanfront cafés and restaurants for a mouthwatering meal.
4. Changi Beach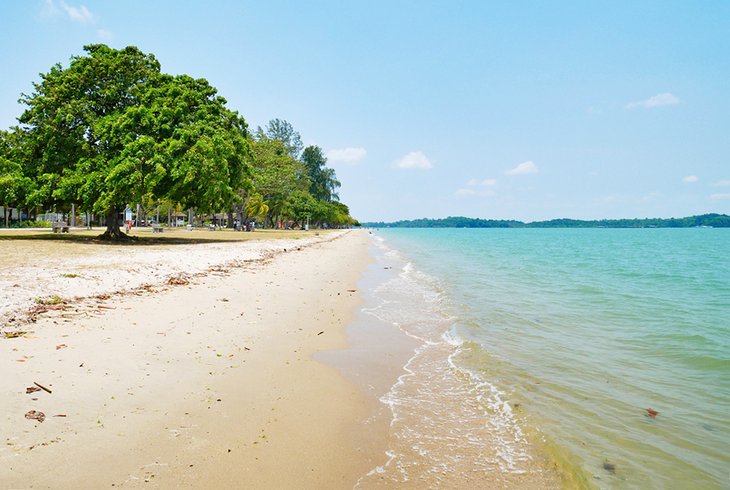 Changi Beach is part of Changi Beach Park, a 3.3 kilometer-long park with stretches of golden sand popular among the locals. Changi Beach doesn't have the hip, modern look that you'll find on the beaches at Sentosa Island – and that's part of its magic. The area retains the feel of a kampong, a type of traditional floating village common in many parts of Asia.
You can get to Changi via the Changi Ferry Terminal, which sits right next to the beach. Although occasional crocodile sightings can be a little daunting, this is still a popular swimming spot.
If you prefer to stay safe on land, you'll find plenty of BBQ pits, rental shops for kayaks and canoes, and many restaurants for alfresco dining. Changi is perfect as a lounging beach - people flock here to catch the sunset or to watch low-flying planes heading to the nearby airport.
There are plenty of places to camp near the beach, or you can head to the northern tip of Changi to find the area's best resorts. The Sea Sports Club here offers kayaking courses, and you'll find a walkway that connects all the way back to the beach.
5. Punggol Beach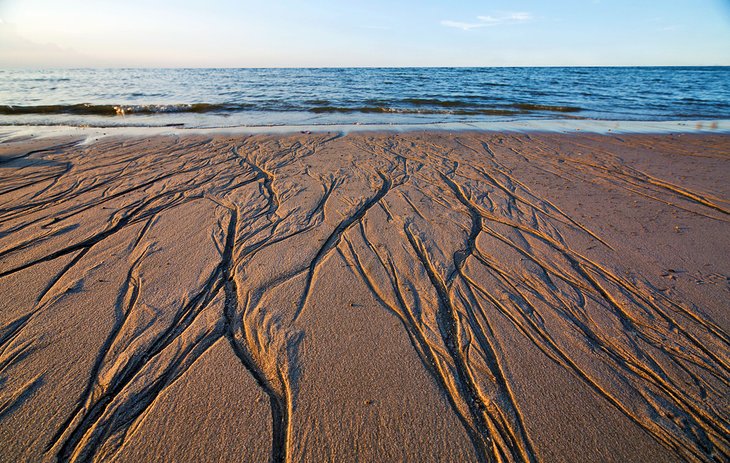 For those wanting to leave hectic Singapore life behind for the day, Punggol Beach will feel like a tropical paradise. The site of the 1942 Sook Ching Massacre and later a very rural area where wild pigs lived, Punggol has been cleaned up and re-imagined over the years. Today, it offers a quiet escape in Northern Singapore, where you can dig your toes into the golden sands or jump into the azure waters for a cool swim.
Punggol is a favorite destination for photographers and nature lovers, with the many boulders on the beach offering stunning views as the sun both rises and sets over the water.
Just steps from the beach, you'll find Punggol Settlement, an area with many restaurants and eateries, plus places to rent bicycles, explore the fauna and flora at the Lorong Halus Wetlands, and walk along Punggol Promenade (where the Punggol Jetty is located) and Punggol Waterway Park.
6. St. John's Island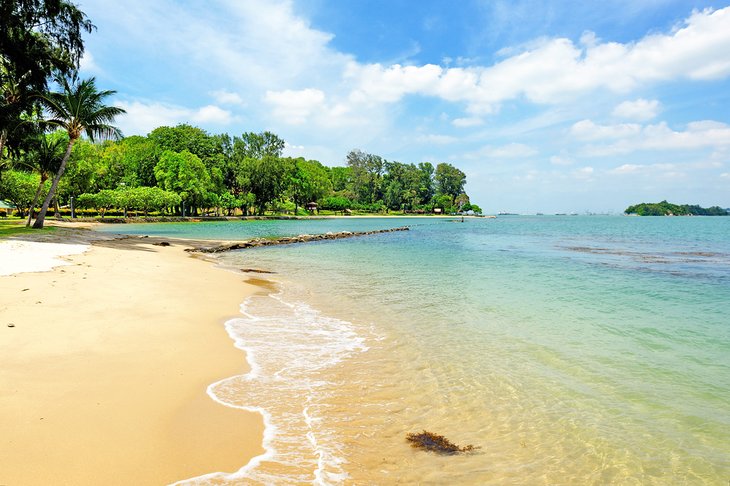 Singapore's many offshore islands offer plenty of adventure for nature lovers. Luckily for visitors to St. John's Island, that means not only beaches but also caves and mangroves that can be explored on short hikes.
St. John's beaches are narrow but golden and soft, with plenty of beautiful coral reefs around. They're a great place to sit back and relax while listening to the waves crashing on the shore. The island is also home to swimming lagoons, picnic grounds, and a rustic vibe that will appeal to those wishing for a quieter getaway.
St. John's was once known as "cat island" because of the many free-roaming cats that inhabited it. Over the past few years, however, a successful trap-neuter-return program headed by the SPCA has reduced the population to a manageable number that's now watched over by dedicated caretakers.
St. John's can only be visited on a day trip, since there are no accommodations on the island. The one exception is for renters of the Holiday Bungalow, a single property that can be shared by up to 10 people.
To get to the island, you'll have to catch a ferry from Singapore's main Marina South Pier. The last boat back leaves at 5 to 6pm depending on the day of the week, so make sure you don't miss it if you don't have accommodations on the island. There's no food available for sale on the island either - if you have a picnic in mind, make sure you bring your own food.
7. Lazarus Island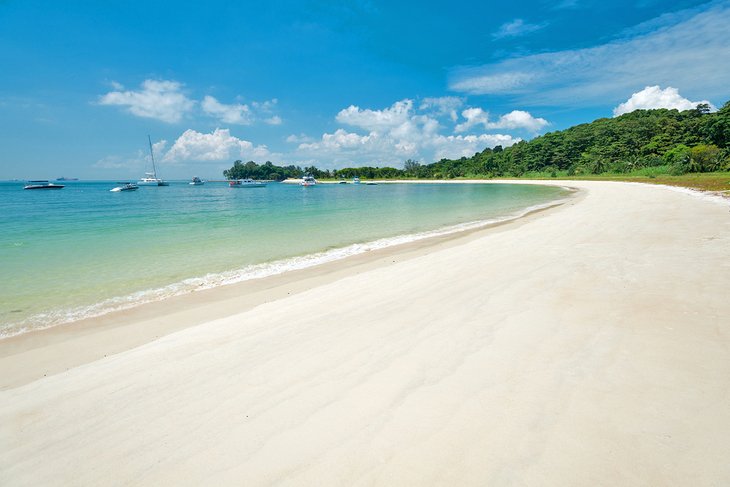 Connected to St. John's Island by a bridge, Lazarus Island is a well-kept secret and one of the most private beaches in Singapore. It's just a few minutes' walk from the bridge to the C-shaped lagoon and one of the whitest soft beaches around.
Especially on weekdays, the tranquil beach is almost always deserted and perfect for a stroll or a swim in the clear blue waters.
Lazarus is popular for picnics, too. It offers plenty of shade in the form of coconut trees lining up the beach and a rain shelter for the occasional afternoon downpour. There are no facilities on the island (no food or accommodation available and no toilets), so anybody visiting should bring anything they need for the day.
With no entertainment options available and no development anywhere to be seen, visitors arriving on Lazarus Island can focus on sunbathing, swimming in the clear waters, and taking walks on the beach.
If you're ready for more adventure after a few hours of relaxation, walk back to St. John's Island and rent a boat to explore Kusu and other nearby islands.
8. East Coast Beach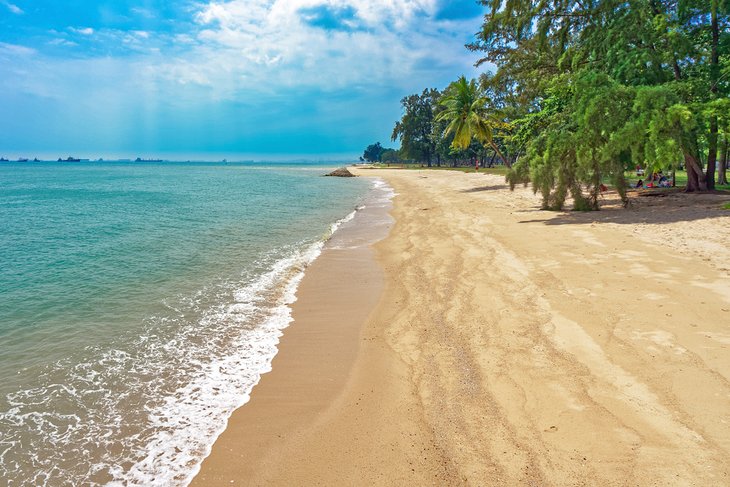 Singapore's largest park stretches for 15 kilometers right against the ocean on the southeastern coast. Like in most of Singapore, the beach here is man-made, built on reclaimed land, and offers plenty of sunbathing spots. The massive size of the park means there's plenty of space for visitors to kayak, windsurf, and swim in their own corner, away from the crowds.
Arrive in the early morning, and you'll find tai chi classes on the beach and plenty of people in silent contemplation at Bedok Jetty, which looks out over the calm blue waters.
Cycle and walking paths, plenty of oceanfront restaurants, camping sites, and BBQ pits make this a great weekend destination, which means it's better to arrive during the week if you want peace and quiet. Sit under the swaying coconut palms and you can easily forget that a bustling metropolis is just minutes away.
Xtreme SkatePark, cable skiing, and cycling circuits are available for those who want a more active getaway. There's no shortage of cafés in the area, either, and the park even offers shower activities for a quick rinse off after a day playing in the sand.
9. Pulau Ubin Island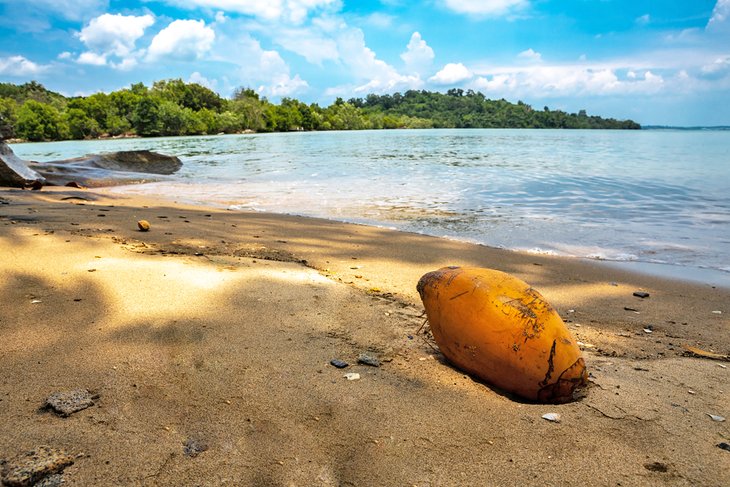 Pulau Ubin was once a very active granite quarry, but as the industry slowed down in the area, tourists started to arrive for other reasons. The island is part of the Ubin-Khatib Important Bird Area (IBA), where many endangered bird species live.
Pulau Ubin is also one of the largest (and one of the last) rural areas in Singapore – there's no urban development and no centralized public transportation here, and wooden jetties and villages are more common than cement constructions.
The island is just a short boat ride away from Changi Point Ferry Terminal and makes for a perfect day trip. Singapore's last-remaining kampong is here, set among coconut rubber plantations and hiking trails that crisscross through the tropical forest.
The beaches at Pulau Ubin are small and remain underdeveloped. They're often hidden among the mangroves, offering privacy, as well as stunning views over the water. The best ones to visit are in the section known as Chek Jawa wetland beaches. Getting here requires transportation or a 40-minute walk from the main port.
Chek Jawa has both rocky and sandy beaches, a great swimming lagoon, and a large coastal area covered in forest. There are only basic facilities in the area, so bring your own food if you want to hang around and have a picnic.
10. Kusu Island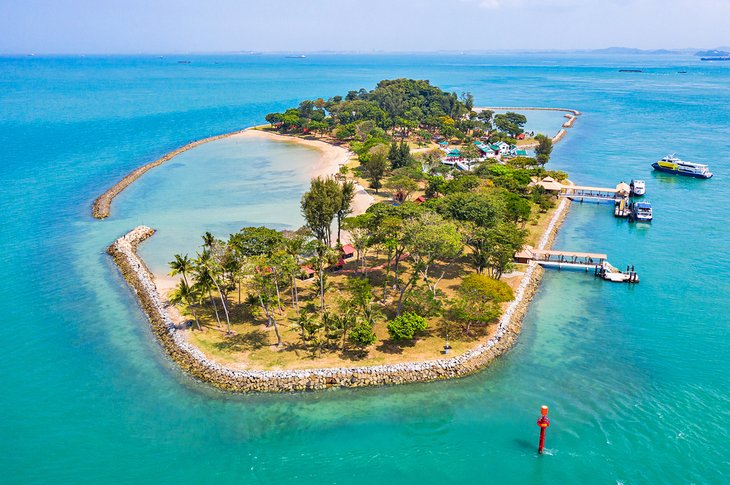 Kusu (or Tortoise) island can be accessed by ferry from Marina South Pier. The island attracts tourism because of its pristine beaches and beautiful blue lagoons, but remains a quiet off-the-beaten-path location, so you won't find particularly large crowds. There's great snorkeling off the coast and a beautiful Chinese temple open to visitors.
Overnight stays at the island aren't allowed, and there are no food stalls available. If you're hoping for a meal by the sea, make sure you bring drinks and snacks with you, so you can take advantage of the picnic tables and BBQ pits.
11. Pasir Ris Beach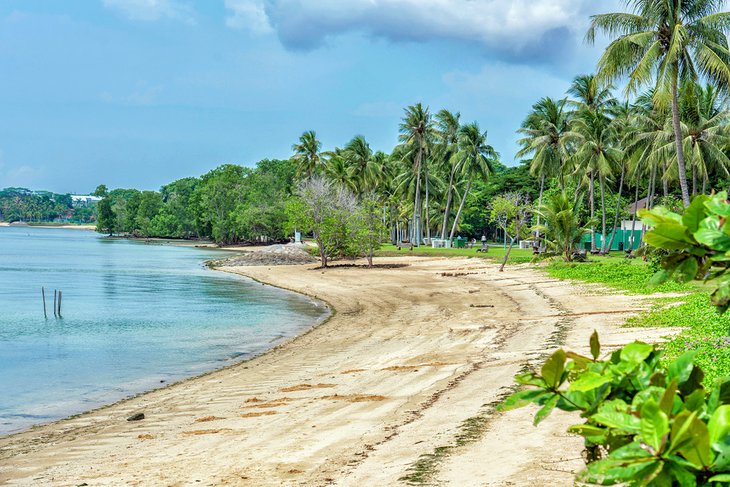 For families with kids, it doesn't get any better than this beach, located in one of Singapore's largest parks. Palm trees and a lush mangrove forest line up the narrow 6.6-kilometer-long beach, while clean, transparent waters and a soft descent, perfect for swimming, await you on the other side.
Nearby, the tranquil park offers opportunities for rope climbing, pony rides, and BBQ pit rental. You can arrange a number of water sports experiences, have a picnic under the trees, and even camp in certain areas of the park.
Or you can head off into the six-hectare mangrove forest to explore its boardwalks and climb the bird-watching tower to catch sight of blue-eared kingfishers and milky storks.
Map of Beaches in Singapore
Singapore - Climate Chart
Average minimum and maximum temperatures for Singapore in °C
J
F
M
A
M
J
J
A
S
O
N
D

30

23

31

24

31

24

32

24

32

25

31

25

31

24

31

24

31

24

31

24

31

24

30

23

PlanetWare.com
Average monthly precipitation totals for Singapore in mm.

198

155

170

142

158

140

145

142

178

168

252

332