12 Top-Rated Attractions & Things to Do in Koh Samui
Koh Samui is the largest island in the Gulf of Thailand, followed by its two smaller "sisters": Koh Phangan and Koh Tao. Diving, snorkeling, swimming, and basking on the picturesque jungle-backed beaches are popular things to do here, as well as boat tours around the sublime seascape of Ang Thong National Marine Park.
Because Koh Samui is the only of the three "sisters" with an airport, most tourists arriving from Bangkok or abroad land here. Regular ferries run between all three islands, however—for example, the trip between Koh Samui and Koh Phangan takes only half an hour, making it easy to island hop and see all the sights.
For ideas on how to spend your time and what to do when visiting the island, see our list of things to do in Koh Samui.
1. Sunbathe and Swim at Koh Samui Beaches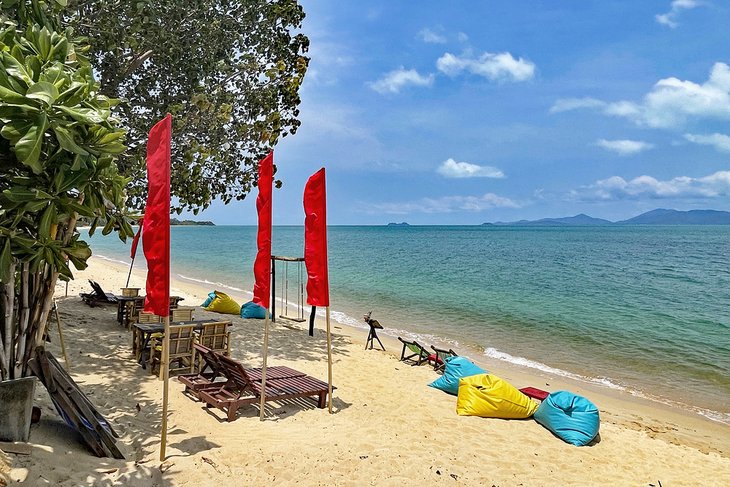 Koh Samui's beaches provide variety and serenity in equal parts. Chaweng Beach is one of the most popular on the island and the most developed. It's home to luxury resorts like Vana Belle and Anantara Lawana Koh Samui Resort. Chaweng Noi, to the south, is one of the top-rated beaches in Thailand.
On the less developed southeast coast lies Laem Setbeach. This peaceful, palm-fringed slice of paradise has a beautiful coral garden off the coast and unusual rock formations. To catch the sunset, head northwest to Phang Kabeach for a spectacular view.
At Lamai Beach, Koh Samui's second largest resort area, look for the distinctive rock formations colorfully described as "Grandpa" (Hin Ta) and "Grandma" (Hin Yai), referring to the anatomical likeness to their names. You can stay right on the beach here at the four-star Rocky's Boutique Resort, or go with five-star Banyan Tree Samui for sumptuous villas overlooking the bay. Northeast of here, Silver Beach (Haad Thong Ta-khian) is a picturesque, palm-lined cove flanked by smooth granite boulders, with great snorkeling in the calm bay.
On the north side of the island, peaceful Maenam Beach offers views of Koh Phangan. You'll find an appealing range of accommodations here, from affordable backpacker bungalows to mid-range boutique hotels, like Code, and five-star resorts, like the Santiburi Koh Samui and the W Koh Samui.
2. Take a Boat to Koh Phangan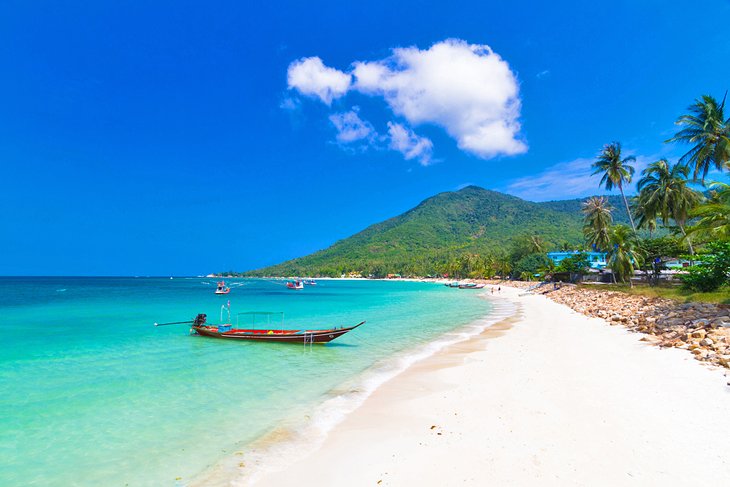 Just a stone's throw (in fact, you can see one island from the other's shore) is Koh Phangan, the second largest of the three islands and one of the most popular day trips from Koh Samui. Koh Phangan's coast is more rugged than Koh Samui, with huge granite rocks and jungle-cloaked mountains rising behind the beaches. Most of the development clusters along the south and west coasts.
Unlike the many wide stretches of flat beach along Koh Samui, Koh Phangan's coastline tends to scallop into sheltered coves, flanked by outcroppings of granite and backed by lush hills. On the island's relatively quiet east coast, Thong Nai Pan Noi and Thong Nai Pan Yai are among the most popular beaches—Noi in particular tends to be cleaner and has plenty of food stalls. Accommodation options here range from budget resorts to the five-star Anantara Rasananda Koh Phangan Villas and the four-star Buri Rasa Koh Phangan.
On the island's northwest coast, Haad Yao, Hat Salad (Salad Beach), and Haad Son, also known as "Secret Beach," are great options, with decent snorkeling a short kick from shore. Accommodation options here are mainly budget and mid-range resorts, like Sunset Hill Resort, perched high on the hills overlooking Secret Beach.
Just to the south, Haad Chao Phao, about 30 minutes from the pier and main tourist area, provides a perfect balance of comfort and quiet, with several good restaurants and small seaside bungalow resorts, like Seaflower Bungalows. It's easy to find transportation to other parts of the island, but quiet enough that you feel you have a little piece of Phangan (almost) to yourself.
For a truly secluded experience, Bottle Beach (Hat Khuat) on the island's north coast is an excellent choice, but it's best accessed by long-tail boat—unless you don't mind a hike through the steamy jungle along a rutted dirt road. Accommodation here is fairly basic, like the beachfront bungalows at Bottle Beach 1 Resort.
3. Tour Ang Thong National Marine Park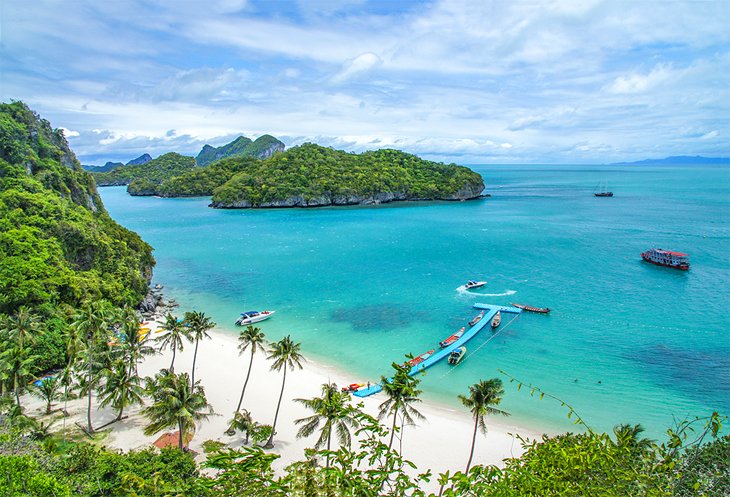 Both Koh Samui and Koh Phangan are part of this breathtaking archipelago of 42 islands. If you take only one tour while you're on vacation in this area, make it a sightseeing tour around Ang Thong. Many tour companies offer one-day packages, and you can typically arrange these through your hotel or guesthouse.
Most include a boat tour through the islands with stops for snorkeling, kayaking, and hiking to viewpoints, where you can admire this amazing island chain. Limited accommodation is available in the park, so plan your time well if you want to return to the main islands for the night. Be sure to keep your camera handy and find a spot above deck, because you won't want to miss the breathtaking photo ops.
4. Hop Over to Ko Tao for Diving and Snorkeling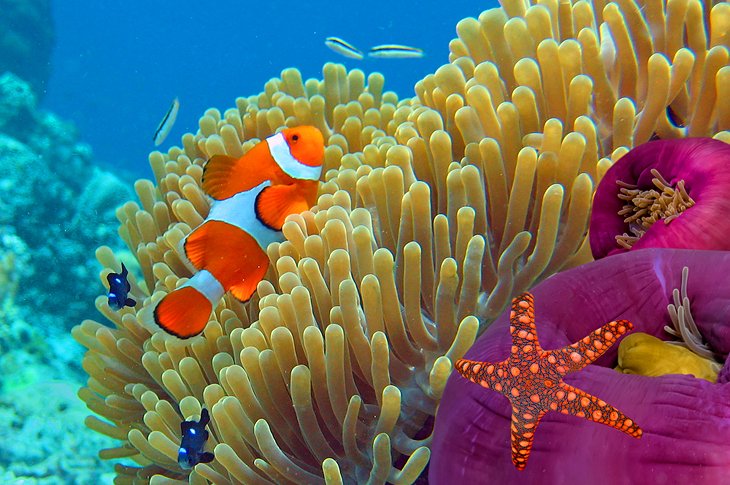 From the air, Ko Tao (the smallest of the three islands) looks like mounds of granite boulders cloaked in green, drifting on a jade-green sea and linked by dazzling sweeps of white-sand beach. Diving is the most popular thing to do here. Colorful coral reefs lace the clear waters that are home to some of the best diving spots in Southeast Asia. Vast schools of fish, brightly-colored sea anemones, stingrays, and even whale sharks are among the sea creatures spotted here, and the island is a popular and relatively affordable place to obtain PADI scuba diving certification.
Though it's certainly no off-the-beaten-path destination, Koh Tao typically has less tourists than both Samui and Phangan. Accommodation consists mainly of villas and bungalows that peek out from the jungly slopes, with breathtaking views of the bay, like Monkey Flower Villas and The Place Luxury Boutique Villas.
5. Head to Sail Rock for Even More Diving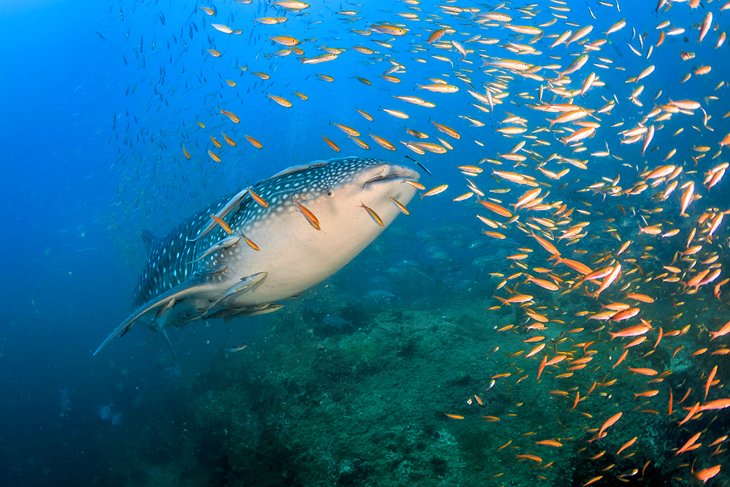 Experienced divers will want to check out this popular diving site between Koh Tao and Koh Phangan, marked by a huge limestone rock jutting 10 meters out of the water. This famous wall dive, with a maximum depth of about 40 meters, is known for being one of the best areas in Thailand for swimming with a range of exotic fish, and even whale sharks if you're lucky.
You can also see giant black coral, moray eels, and large schools of fish, such as batfish, snapper, and trevally. Another feature is the vertical chimney swim-through. While popular with experienced divers, Sail Rock is actually suitable for all levels of divers, depending on conditions.
6. Discover the Secret Buddha Garden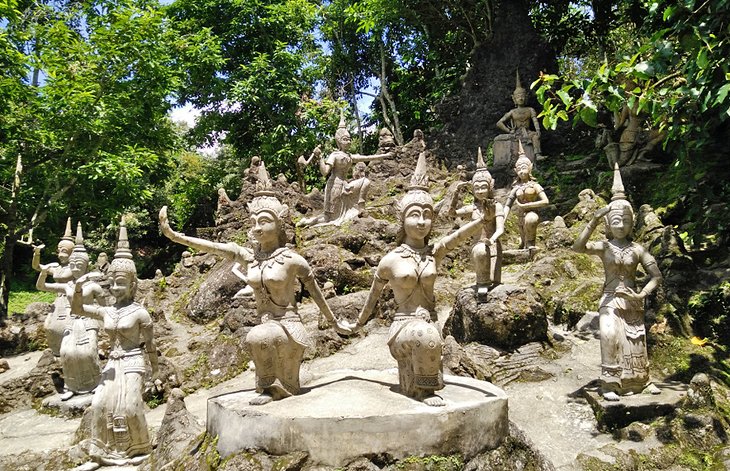 Set at the top of Pom Mountain, one of the highest hills in Koh Samui, the Secret Buddha Garden (AKA Tarnim Magic Garden) is a sculpture park worth a visit. Getting here requires a long and somewhat difficult climb, though, so be prepared for it.
The entire garden was the beloved project of Khun Nim, a retired farmer who worked on it for 14 years until his death at the age of 91.
He originally envisioned the place as an oasis to meditate and relax in solitude, but also as his final resting place one day. Over the years, however, he also added little houses with roofs covered in vegetation that traveling monks could use as a place to rest or meditate.
The final result is a magical place full of enclaves; fountains; and sculptures, including many Buddha statues in different poses, but also animals, angels, and musicians. There are even a couple of sculptures representing his parents, grandparents, and himself as a child. A short walk away, on a staircase path surrounded by a lush flowering garden, Nim's tomb offers the final peace he so eagerly wanted.
7. Explore Phra Yai Temple Complex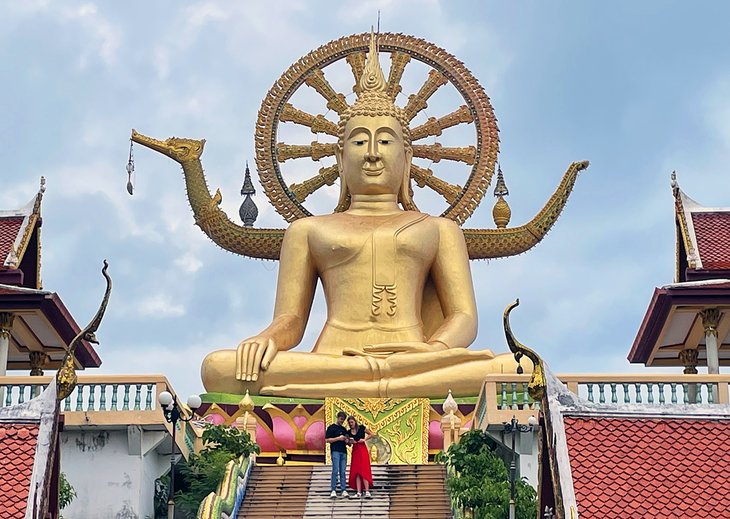 A somewhat majestic, somewhat overwhelming mix of reds and golds, this Buddhist temple is located in Ko Phan, less than three kilometers offshore from Koh Samui. Home to a massive 12-meter-high gold Buddha statue at the top of a staircase, Phra Yai (also known as the Big Buddha Temple) is one of the most popular temples in Koh Samui and a massive attraction for tourists year-round. Aside from the main Buddha statue, there are also smaller statues here, as well as a collection of bells on the grounds of the temple.
Visitors who arrive in the early morning will be able to see local monks during their daily prayers. After a walk around the grounds, you can pick up some food or Buddhist statues and meditation supplies to take with you. Nearby Ang Thong National Marine Park and Wat Plai Lem are also worth a visit while you're here.
8. Stop by Wat Plai Laem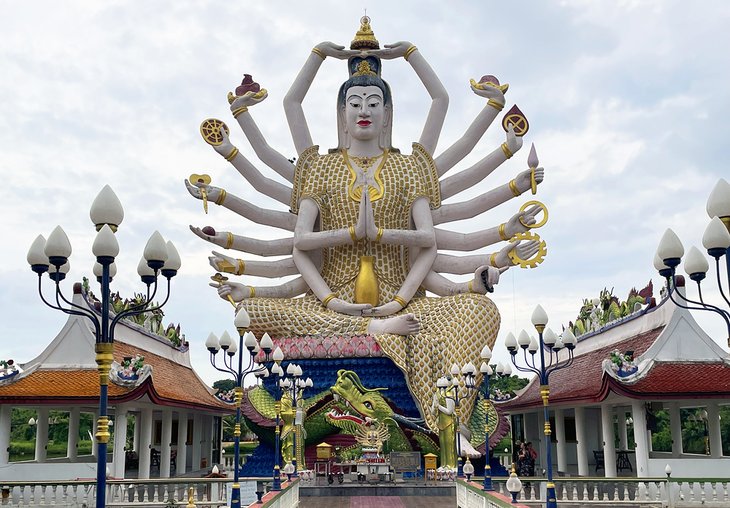 Wat Plai Laem is a Buddhist temple dedicated not to Buddha but to Guanyin (or Kuan Yin), the Chinese goddess of compassion and mercy. Although the temple is relatively new, it's been decorated using ancient techniques and murals. Guanyin herself is depicted in her ancient form, as a massive gold and white statue with 18 arms. She's sitting on a platform-pavilion decorated with a large dragon, who is said to be able to carry the goddess to aid shipwrecked sailors. From here, she watches over the temple and a pond filled with fish—visitors who make a donation to the temple can grab a small bag of fish food in exchange.
On the other side of the temple complex, a giant laughing Buddha holding prayer beads presides over the ordination hall.
9. Kayak in Koh Taen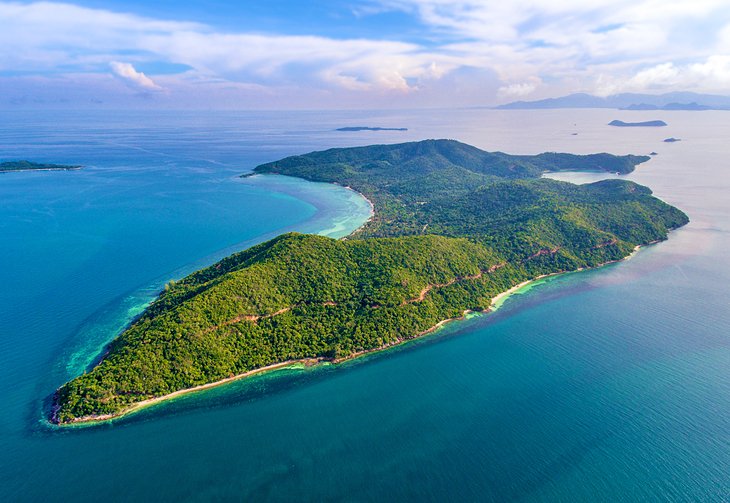 Koh Taen or Coral Island is located just five kilometers off the coast of Ko Samui. Technically part of the main archipelago, Koh Taen is only accessible by boat and rarely visited by tourists despite offering stunning coral reefs, great mountain biking trails, and a unique mangrove forest buzzing with local fauna. The island is also home to many monitor lizards—-which can reach a size of up to 2.5 meters long—and a number of simple bungalows that can be rented for overnight stays.
Although Koh Taen has less than 50 permanent residents year-round, a number of companies offer day tours to the island for kayaking and snorkeling. Because of its location among other small archipelagos, the waters of Koh Taen are soft and calm and perfect for kayaking along the coastline.
10. Eat and Shop at Fisherman's Village Bophut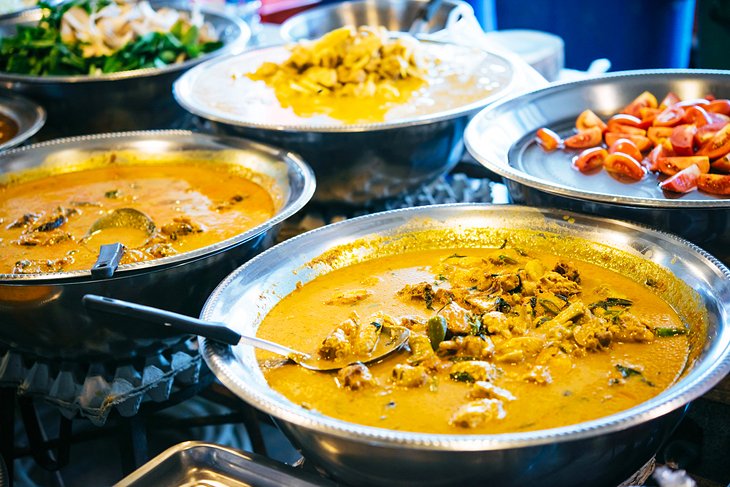 On the island's north coast, Bophut beach is right by the old Fisherman's Village, with its Chinese shophouses, funky boutiques, and popular night market. The Fisherman's Village Walking Street comes alive every Friday at 5pm—its sidewalks crammed with stalls, food vendors, and street performers. While many night markets in Thailand focus mainly on cheap souvenirs and street food, Bophut offers a unique range of handicrafts, high-quality handmade jewelry, high-quality textiles, and even local spices and snacks.
Aside from shopping, this is a great place for local dining—both sitting down cafés and restaurants or food stalls where you can pick up a quick bowl of som tam or pad Thai to savor while you keep walking and exploring. Keep your eyes open for performances, too, once you reach the junction near the pier —traditional Thai dancers and Muay Thai fighters often put on short shows here that are full of color and charm.
11. Go Rock Climbing at Chaweng and Lamai Beaches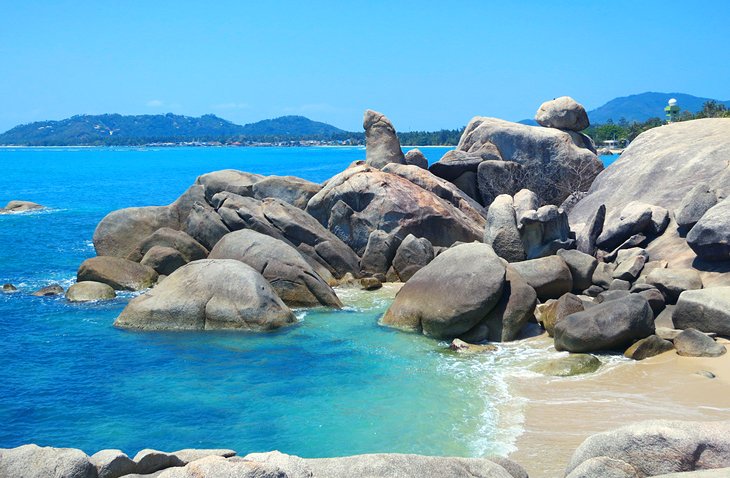 The stretch of coast near Koh Samui's most developed beaches has become a popular climbing and bouldering spot. With limestone walls up to 40 meters high and the promise of stunning views of the island's scenery from the top, both Chaweng and Lamai beaches offer great hot spots for rappelling and climbing. There are suitable routes here for both beginners and advanced climbers. Nearby Koh Tao island also has plenty of granite blocks, ideal for bouldering.
It's also possible to rock climb farther inland—but since much of the inland mountains can only be reached after a jungle trek, this option is best for experienced outdoor enthusiasts or those joining an organized climbing group. Day tours can be organized if you're a beginner or just want some help conquering the rocky formations.
12. Trek to See Some Waterfalls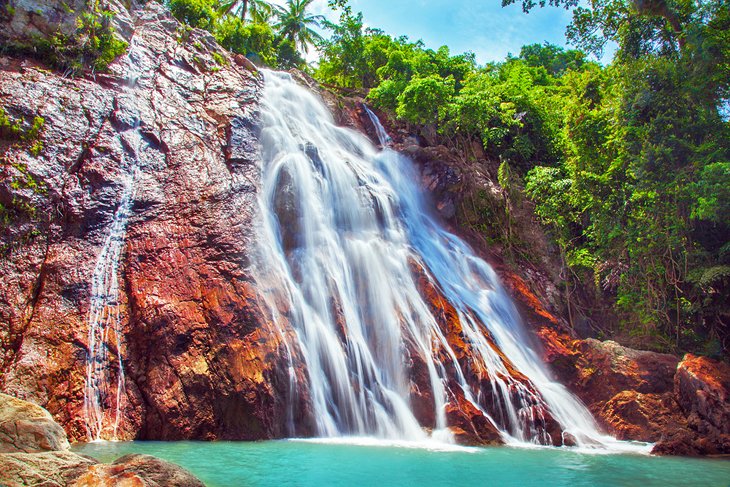 There's a lot more to Koh Samui than white sandy beaches—just venture inland and away from the turquoise waters, and you'll discover a jungle paradise that's equally enchanting. If you're up for a slightly steamy but fascinating trek through a tropical forest, set off to find Koh Samui's three major waterfalls.
Na Muang 1 and Na Muang 2 (the "Purple Waterfalls") are located inside a park of the same name, which can be accessed by car. Na Muang 1 is close to the park's parking lot and easily accessible on foot; Na Muang 2 requires a steep but short trek uphill from the first waterfall. The first waterfall is the biggest and offers a small pool, perfect to cool down or for a swim.
Another waterfall worth a visit is Khun Si Waterfall. Located just a few minutes away from Khun Si viewpoint over Chaweng Beach, this waterfall is smaller and harder to find but that means smaller crowds—and if you come in the morning, a good chance you'll have the waterfall all to yourself. Surrounded by thick lush jungle, this waterfall makes for a refreshing stop before you continue on to other attractions.
More Related Articles on PlanetWare.com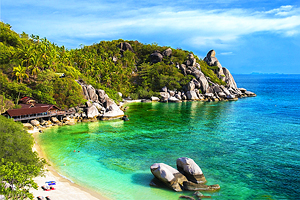 Exploring Southern Thailand: Koh Samui and its neighboring sister islands are home to some of the best beaches in the world. Whether you're looking for white sand and crystal-clear waters or an active holiday, you can find that in our list of picks for the Top-Rated Beaches in Thailand. Arriving in Koh Samui from Bangkok? Take a look at some of the best ways to make the trip on our article, From Bangkok to Koh Samui: 4 Best Ways to Get There.
More on Thailand