13 Top-Rated Attractions & Things to Do in Hua Hin
The sleepy town of Hua Hin sits right on the ocean, two and a half hours south and a world away from the hustle and bustle of Thailand's capital, Bangkok.
Before this small town of 60,000 people became a tourists' favorite, it was best known for being home to Klaikangwon Palace, the summer residence of one of Thailand's former kings back in the 1920s. Today, it's the perfect getaway to some of the country's best national parks and quietest beaches.
If you're thinking of stopping by here when visiting Thailand, plan your travels with our list of the top attractions and things to do in Hua Hin.
1. Hua Hin Beach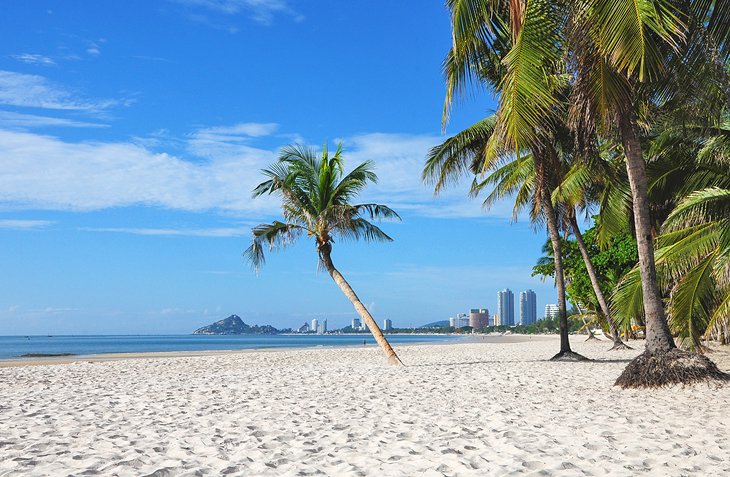 Most people who come to this sleepy town come here for the beach. While other beach towns in Thailand are all about the nightlife, Hua Hin is a much quieter destination where you can truly lie down on the beach for hours of peaceful sun-worshipping.
Hua Hin's beach stretches for four kilometers—and while it might not be the largest or the whitest in Thailand, it makes up for it by being great for swimming, offering lots of family-friendly things to do (kitesurfing and banana boat rides included), and always having deckchairs and umbrellas available for rent. Beach vendors selling refreshments and local souvenirs and crafts are often around (without being pushy) in case you need to stock up on goods without walking too far.
2. Cicada Market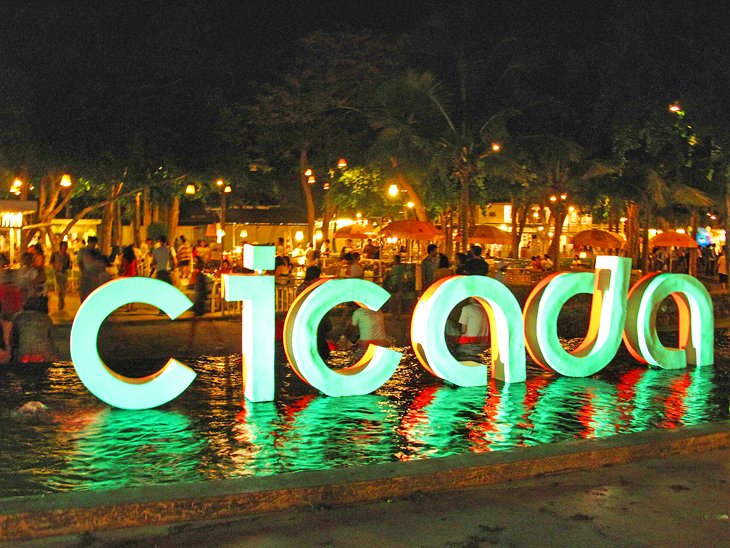 An open-air weekend market that's all about arts and crafts, Cicada is popular with both Thai and foreign tourists and is particularly lively once the sun goes down. The market is divided into four sections that include decorative home items and fashion for sale, an art gallery, a massive outdoor food court, and an area dedicated to live music and shows featuring bands, dance groups, unique pantomime performances, and live DJs.
What makes Cicada different from other night markets is definitely its style. You won't find cheap plastic souvenirs here, but instead a lot of handmade items, original paintings and sculptures, contemporary art displays, and even artists working on glass blowing and live sketching. And while there's a lot of cool things you can take home and many chances for artsy retail therapy at Cicada, the focus doesn't fall heavily on shopping either because of the many opportunities to chill out and just enjoy the surroundings. Bonus points for the market being near the beach, so you can catch the cool salty breeze in a hot evening out.
Address: 83/159 Nong Kae-Khao Takiap Road, Hua Hin District, Prachuap Khiri Khan
Official site: https://www.cicadamarket.com/
3. Maruekhathaiyawan Palace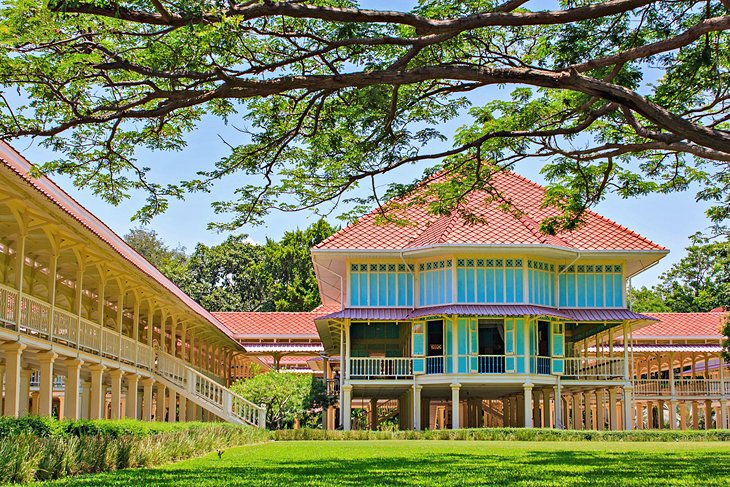 Built for King Vajiravudh (Rama VI) as a summer retreat in the 1920s, Maruekhathaiyawan Palace is constructed entirely of teak wood and sits right on the beach.
The clever design of the palace—which sits on pillars and is made up of several sections connected by long covered corridors—allows for perfect air circulation and keeps the place cool in the hot and humid Thai afternoons. There's even a corridor leading straight to the beach and the Queen's former bathing pavilion.
The King's living chambers are partially furnished with some of his original possessions. His study, where the king composed poetry when staying here, overlooks the ocean and houses his beloved desk and writing materials.
Visitors can also explore the manicured gardens surrounding the palace or enjoy a picnic on the grass.
Address: 1281 Phetkasem Road | King Rama VI Army Camp
4. Plearn Wan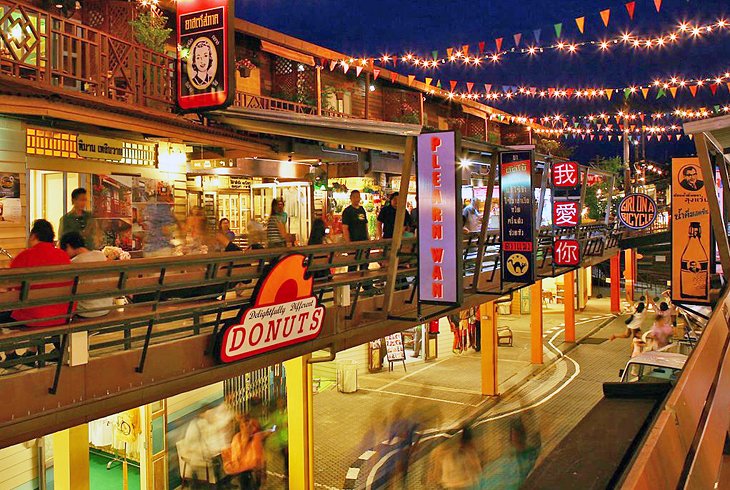 Another unique shopping stop in Hua Hin is Plearn Wan, a massive space designed to look like the Thai-Chinese shophouses that populated Bangkok over half a century ago.
A cute retro market that's all about photo opportunities, Plearn Wan feels a little like a living museum—complete with a Ferris wheel, an outdoor cinema, and a boutique guesthouse where all the rooms are decorated with period furniture pieces.
Shopping and food are at the center stage of a visit here, with traditional mango sticky rice, shaved ice with grass jelly, and "tong muan sod" (a type of sweet pancake) available from retro carts lining up the two-story courtyard. A must-not-miss stop is the old-fashioned ice-cream parlor, complete with checkered floor and thicker-than-life milkshakes.
For those in the shopping mood, Plearn Wan offers anything from tin toys to fashion souvenirs to old-fashioned candy. In the end, however, it's the little things you'll discover around unexpected corners—such as antique cars and old pinballs machines—that make Plearn Wan feel a little bit like a movie set where you are the star.
Location: Phetkasem Road (between Hua Hin Sois 38 and 40)
Official site: http://www.plearnwan.com/en/home.php
5. For Art's Sake
Thailand's first 4D Art Museum is a must-see for all ages. A quirky collection of fun murals painted by Thai artists, art installations, and sculptures, these are truly living images. Place yourself in the right spot, take a photo, and voila—you're automatically part of a 3D image where piano stairs come to life, you can jump into the mouth of a shark, and monsters almost get you in the Horror Zone. The 4D element is provided through music and sound effects that make each museum zone even more unique.
Address: 22/141 Phetkasem Road, Hua Hin, Prachuap Khiri Khan 77110
6. Hua Hin Night Market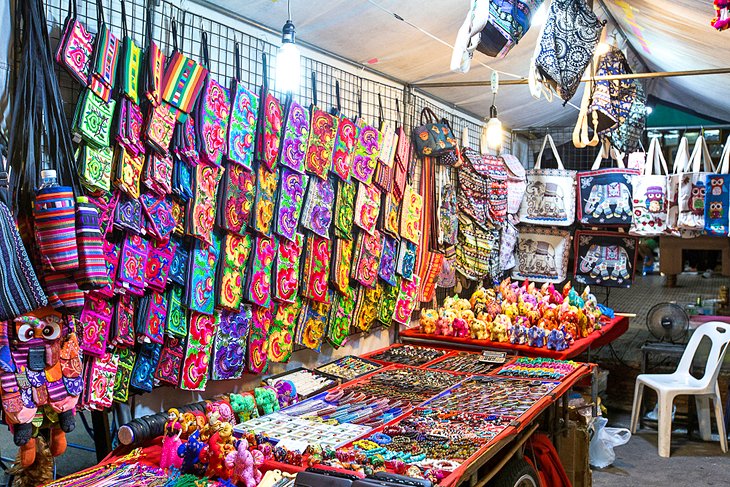 No matter how much upscale shopping you do in Thailand, nothing beats the authentic feel of a local night market—a chance to soak up the atmosphere and experience real Thai market culture. Night markets often have no rhyme or reason in Thailand—and Hua Hin's night market is no exception. Here, you'll find arts and crafts next to cheap snacks (don't be too shocked at the deep-fried insect snacks for sale) and stalls offering apparel.
Because Hua Hin's night market also attracts tourists, you'll find your share of stalls selling cheap souvenirs and beachwear, but also lots of street vendors selling authentic ware and fare for everyday life, Buddhist tokens, and traditional Thai crafts.

Address: Petchkasem Road near 74 Street, Hua Hin
7. Khao Takiab Hill and Beach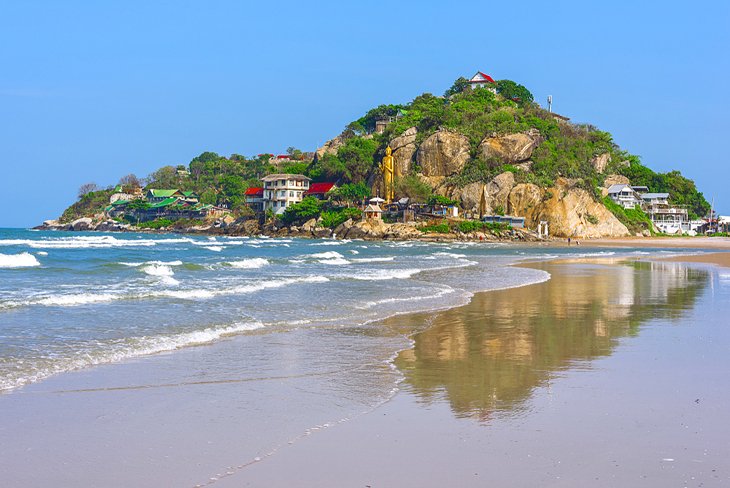 Khao Takiab hill offers access to a quiet stretch of beach and impressive views over Hua Hin from up top. Some of the best seafood restaurants in town are located in this area, as well as some of the most colorful Buddhist temples you'll find in Hua Hin.
Khao Takiab temple, better known to locals as "Monkey Mountain," is home to hundreds of wild macaques—a fun experience as long as you hang on to your bags and phone, since they have become quite good at stealing things from tourists.
8. Santorini Park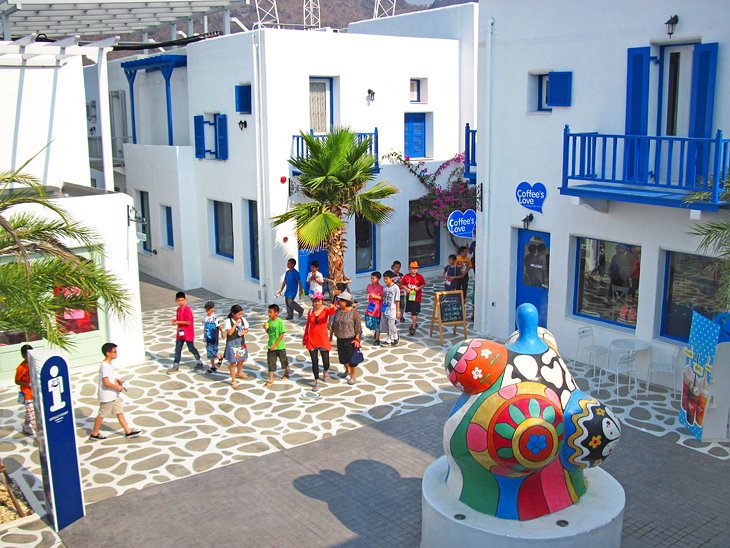 Just 15 minutes away in the neighboring town of Cha Am is Santorini Park, a themed shopping and attraction village that looks exactly like the name suggests. You might not get the sweeping views here of the ocean that you would at the real Santorini, but otherwise, Santorini Park does a very good job of bringing a picture-perfect Greek island to Hua Hin.
Rows of whitewashed buildings line up the stone-paved streets, winding around cafes, shops, and souvenir stores. There's even an outdoor performance space and a small amusement park here, complete with a Ferris wheel, a carousel, and a number of climbing and adrenaline rides for both kids and adults.
Address: Phetkasem Road (198 kilometer post)
Official site: http://www.santoriniparkchaam.com/
9. The Venezia Hua Hin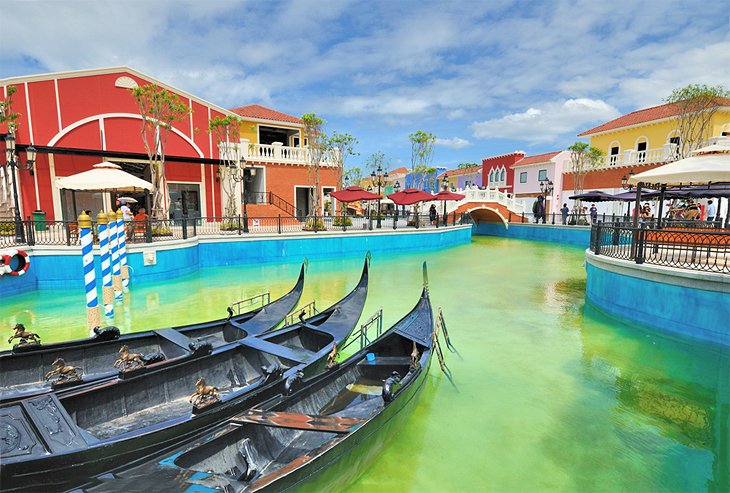 Thailand seems to have mastered the art of building themed shopping centers, where shops aren't the main attraction but instead just blend in with the incredible scenery. If visiting Santorini got you inspired and yearning for European lands, this place makes perfect sense as your next stop.
The Venezia is an impressive mini replica of magical Venice, complete with a reproduction of the San Marco's bell tower; a 200-meter-long canal (Gondolas included) that cuts through the shopping center; and plenty of attractions—including mini train rides; a 3D museum; and many photo opportunities around every corner.
While The Venezia is technically a shopping center, stores aren't the main attraction here. Still, you'll find plenty of local and international brands, as well as a chance to pick up some high-end local souvenirs.
Address: 1899 Petch Kasem Road, Cha Am
Official site: https://www.theveneziahuahin.com/
10. Black Mountain Water Park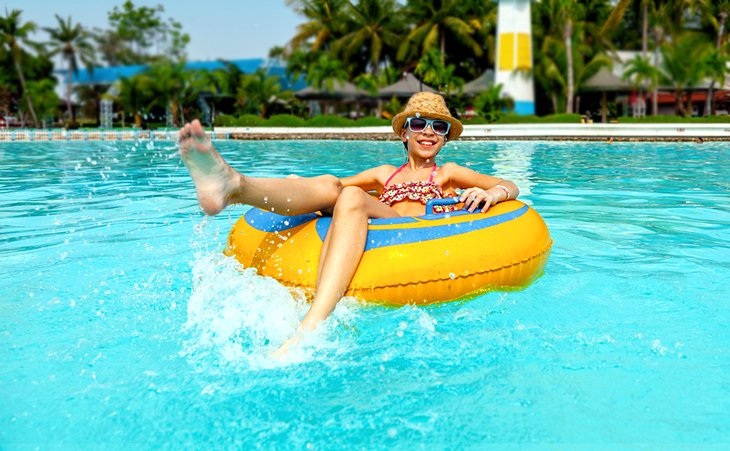 The beach might be just a few steps away, but that doesn't mean visitors should skip a visit to Hua Hin's water park when in town. With nine slides (including an impressive 17-meter-high vertical slide tower with a heart-stopping straight double-drop) and six pools, Black Mountain has something for everybody.
Lounge around in the lazy river, try the giant pool especially dedicated to water games, or jump into the largest wave pool in Thailand—then have a bite or grab a beach chair for some relaxing time in the shade.
Location: 1 Moo 2, Tambon Hin Lek Fai
Official site: https://www.blackmountainwaterpark.com/
11. Day Trip to Kaeng Drachan National Park and Pala-U Waterfall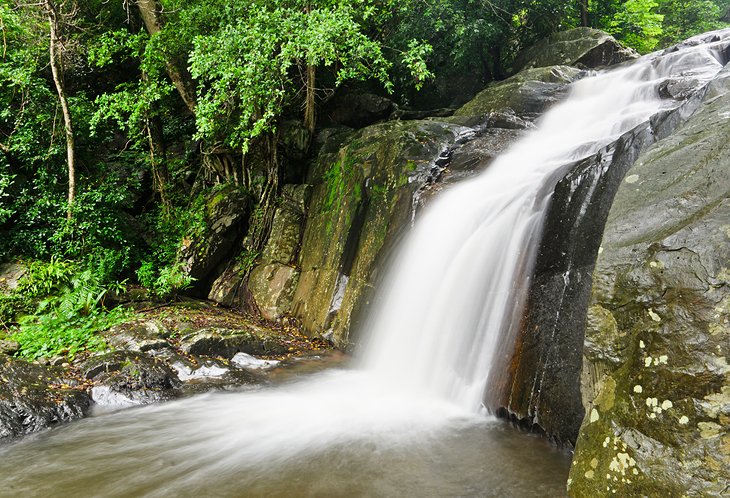 The largest national park in Thailand simply can't be explored in one day—so if that's all you have, you might want to start at Pala-U waterfall. Located near the border with Burma and about 1.5 hours from Hua Hin, the waterfall consists of 16 levels and is one of the highest in Thailand. Don't expect to climb it to the top, though—anything beyond the third level requires an arduous trek meant only for expert hikers and climbers.
Still, you don't need to go beyond the third level to enjoy the magic here. Cool water, deep pools surrounded by a 1,000-year-old forest, and thousands of butterflies are just a little glimpse of what you'll find when you get to the falls. Keep your eyes open for lots of wildlife as well, including gibbons and rare birds.
Want to extend the trip? There are no accommodations available inside the park itself aside from two very rustic campgrounds, but you can overnight at Kaeng Krachan Town, just minutes away. Come back the next day for bird-watching and cave exploring—or hire a park ranger to take you deeper into the rainforest, where trails are trickier to find but wildlife is richer, and you might catch a glimpse of wild elephants, boars, and even leopards.
Location: Huai Sat Yai, Hua Hin District, Prachuap Khiri Khan
Official site: https://www.thainationalparks.com/kaeng-krachan-national-park
12. Pranburi Mangrove Forest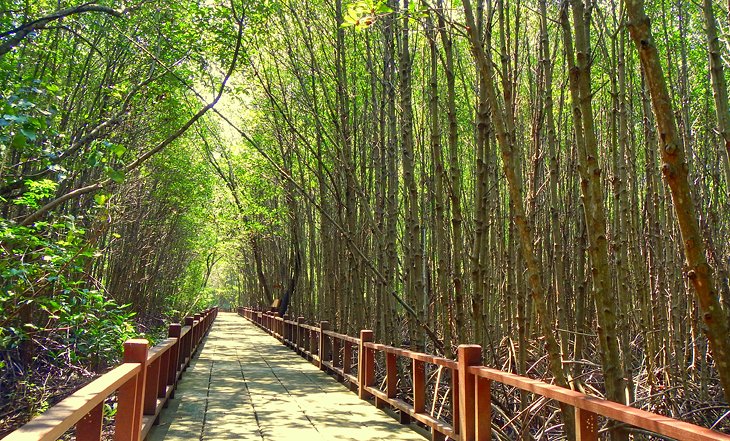 Twenty kilometers from Hua Hin and reachable by car or song-taew (an open, multi-passenger truck taxi), Pranburi Forest Park is home to the largest mangrove forest in Thailand. The highlight here is the two raised wooden boardwalks that twist and turn through thick mangrove growths, over the Pranburi River and all the way to the ocean—all along the way offering peeks of wildlife and even a small fishing village.
Once you're done walking the wooden trails, head to the park's pine-lined beach, just steps away. Because few tourists know about the park, chances are you'll have the beach all to yourself. This is a perfect day trip if you want to see some awe-inspiring scenery and escape the heat of town.
Location: Pak Nam Pran (Pranburi)
13. Day Trip to Sam Roi Yot Freshwater Marsh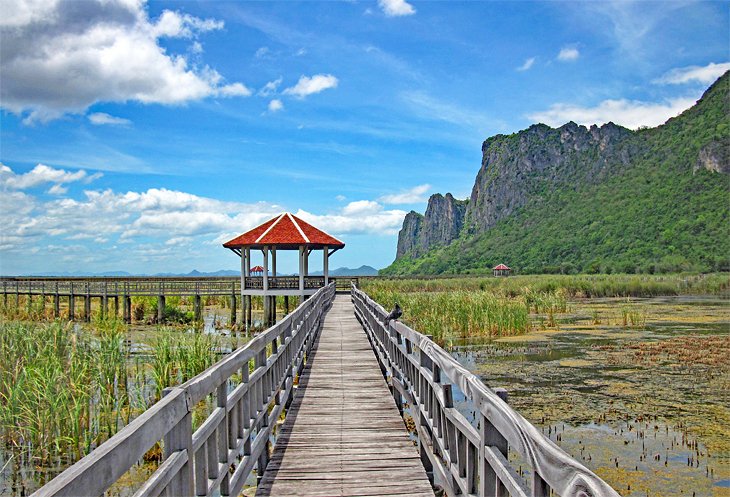 Thailand's largest freshwater marsh is located within Sam Roi National Park—a massive marine national park worth a visit on its own if you have the time to spare. The park is about 60 kilometers from Hua Hin and is home to massive caves, limestone islands, and over 300 different species of migratory birds.
If you can only visit one section of the park, however, the marsh—which is surrounded by limestone peaks and covered in lotuses—should be it. A wooden boardwalk extends across the marsh and leads to seven roofed pavilions that offer breaks from the heat and a chance to appreciate the mirror-like views in the distance. There's a great observation tower for bird-watchers at the entrance of the park, but you'll have a much better chance to see rare birds, such as purple swamphen and spoon-billed sandpipers, up close when walking through the marsh.
More Related Articles on PlanetWare.com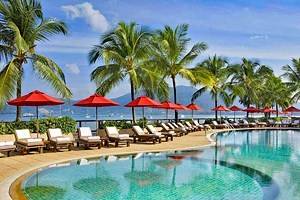 Things to do Nearby: Hua Hin is approximately 200 kilometers south of Bangkok. Although many people simply transit through this city, the attractions in Bangkok are worth seeing. A day's journey south of Hua Hin will take you to Phuket, home to some lovely beach resorts.
More on Thailand