From Bangkok to Koh Samui: 4 Best Ways to Get There
Koh Samui's palm-fringed beaches and lush rainforests attract millions of tourists every year. No other island represents everything Thailand has to offer better than this one–from sandy resorts to massive golden wats (temples) to plenty of water sports, Koh Samui is the ultimate tropical destination.
While most visitors arrive in Koh Samui to enjoy the white-sand beaches, the islands are also home to vibrant coral reefs, the Ang Thong National Marine Park, and some of the best scuba diving in Asia. There's also the 12-meter-high Big Buddha; the stunning Na Muang Waterfalls; a sculpture-filled Secret Buddha garden; and plenty of colorful, ornate temples spread throughout the island.
Located just over 700 kilometers south of Bangkok, Koh Samui can be tricky to reach and often requires changing transportation several times. Whether by land, sea, or air, here are the best ways to get from Bangkok to Koh Samui:
1. From Bangkok to Koh Samui by Plane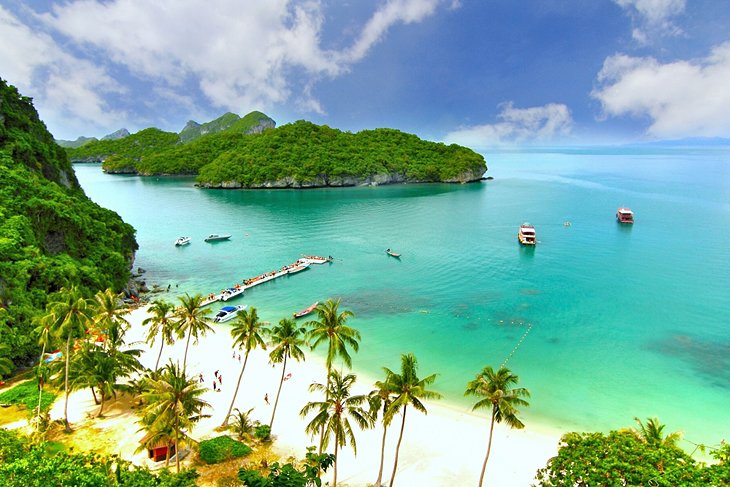 Flying to Koh Samui is not only faster, but it's also the only way to land directly on the island without changing transportation along the way. Up until a few years ago, Bangkok Air was the only airline that flew directly to the island, making flights inconvenient and expensive. For the past couple of years, however, a number of other airlines (including Thai AIr) also offer daily flights. The flights are basic (no free snacks or onboard entertainment) but since they're also short, you probably won't miss those things too much.
You can lower your cost by flying from Bangkok to Surat Thani instead, then catching a ferry to Koh Samui. Budgets airlines such as Air Asia and Nok Air fly to Surat Thani for much less than any flight you'll find that goes directly to Koh Samui. Taking the ferry will add about two hours of travel time to your journey, more if there's a long waiting time between your flight's arrival and the next ferry. On the positive side, the ferry offers great views of the islands and the emerald waters.
The biggest influx of tourists to Koh Samui and the nearby islands is during the dry season (December to February). Flights sell out fast, and prices go up during these months, so if you plan on arriving at that time, make sure you book early to save money.
Flights to Koh Samui leave from Bangkok's Don Mueang local airport and take just over an hour to reach the island. From here, it's a quick taxi ride to the town center. Taxis and tuk-tuks (three-wheeled motorcycle taxis) are always available right as you exit the airport–just remember that they don't have fixed prices, and you're expected to discuss the fare before you get in.
2. From Bangkok to Koh Samui by VIP Bus and Ferry Package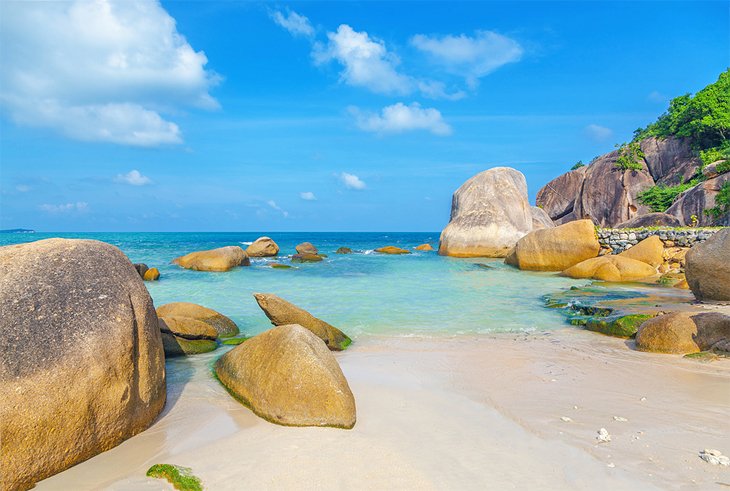 If you don't want to worry about finding good land/sea travel combinations on your way to the island, a ferry and VIP Bus tour from Bangkok to Koh Samui could be the perfect solution. This 2-in-1 package deal combines a VIP bus ticket with a ferry ride that will take you right from the heart of Bangkok to the picturesque Nathon Pier on the shores of Koh Samui.
Start your trip at Khaosan Road (Bangkok's jam-packed street loved by travelers), where you'll board an air-conditioned VIP bus equipped with reclining seats, free Wi-Fi, and free snacks and cold drinks. The sleeper bus makes one rest stop around midnight, so you can stretch your legs, then continues on for several hours before you switch to a modern, comfortable ferry in the early morning. After a short sea ride with incredible island views, you'll reach Koh Samui before noon.
3. From Bangkok to Koh Samui by Train and Ferry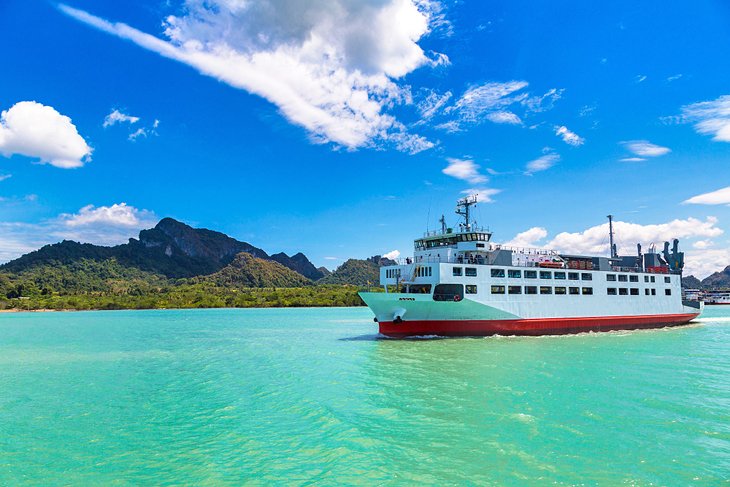 If you're not flying to the islands, any other transportation option to Koh Samui will include some kind of boat. A cheap option that's full of character is the combination of an overnight train with a ferry.
While you could catch a daytime train, choosing an air-conditioned sleeper train will save you money on accommodations and make the trip a lot more comfortable. If you choose first-class carriages, you'll get your own private two-person cabin with your own washbasin. Second class is an open carriage with seats that convert into beds at night. The trains offer food (mostly Thai dishes) and sell drinks, but if you want quick, easy snacks, you'll have to bring your own.
Overnight trains departing from Bangkok's Hua Lamphong Train Station arrive in Surat Thani early the next morning (depending on the train, this can be as early as 4:30am). Once here, you'll have to grab a shuttle bus or walk to either the Don Sak or the Bangrak Seatran Pier (depending on where the bus drops you off) and hop on a boat. At the piers, you'll find two options: a conventional 90-minute ferry ride (great to enjoy the views and the sea breeze) or a high-speed catamaran that'll get you to the islands in half the time.
To make things easier and avoid delays, you can buy the entire trip through an online portal–this guarantees you'll have a bed on the train but also space on the ferry as soon as you arrive at Surat Thani. The trip takes over 17 hours–more if there's a wait between the train and the ferry.
4. From Bangkok to Koh Samui by Bus and Ferry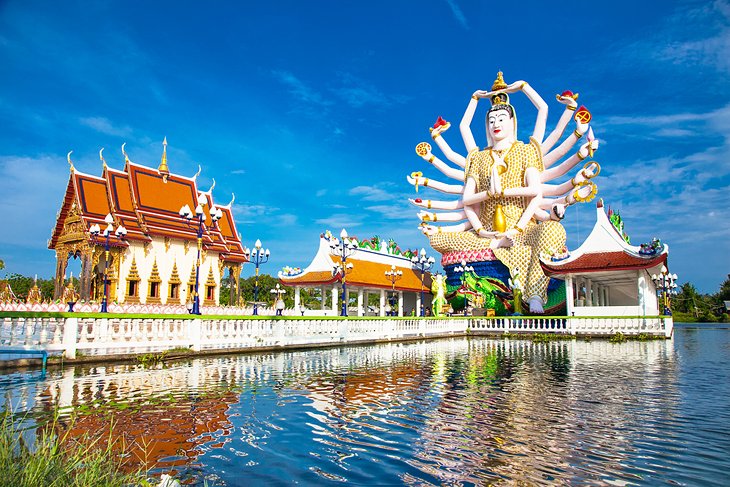 Your cheapest option to get to Koh Samui from Bangkok is to catch a bus (instead of a train) to Surat Thani, then change to a ferry or catamaran at the pier for the rest of the journey. This trip can be economical, but prices go up depending on the season and the time of day (nighttime buses cost more because the journey is more convenient). While this combination can take as little as 11 hours, and the buses are air-conditioned, the travel isn't as comfortable or charming as what you get on a sleeper train.
The ferries on this route offer both indoors and sun deck seating, with open views of the stunning seascape, as well as a small café with snacks and cold drinks. The crossing takes anywhere from 90 minutes to two hours, depending on the type of ferry you're boarding.
It's also possible to add hotel transport to your ticket for just a few extra dollars. If you choose this option, a small nine-passenger van will be waiting for you when your ferry arrives and take you directly to your hotel. Tickets for bus/ferry or bus/ferry/van are available online through travel agencies or online portals.