10 Best Beaches on Koh Samui
Thailand's second largest island might not be as popular as Phuket, but that means one thing: slightly smaller crowds, cleaner beaches, and no over-development ruining the coastline.
Koh Samui beaches have some of the finest white sands in Thailand. Add to that the azure waters of the Gulf of Thailand and the endless coconut trees lining up the shore, and you have the recipe for tropical heaven.
Koh Samui is one of those islands that you need to see to believe. It has one of the highest concentrations of luxury hotels in the country, and while it certainly is popular among tourists, you'll find that it has plenty of places to steal away and stay hidden.
While some of Koh Samui's beaches are louder and busier with young solo visitors, many others offer plenty of quiet calm. Whether you're looking for sports activities, a relaxing corner to sunbathe, or the perfect spot for a massage right on the sand, Koh Samui won't disappoint. Pick your perfect patch of sand with our list of the best beaches on Koh Samui.
1. Silver Beach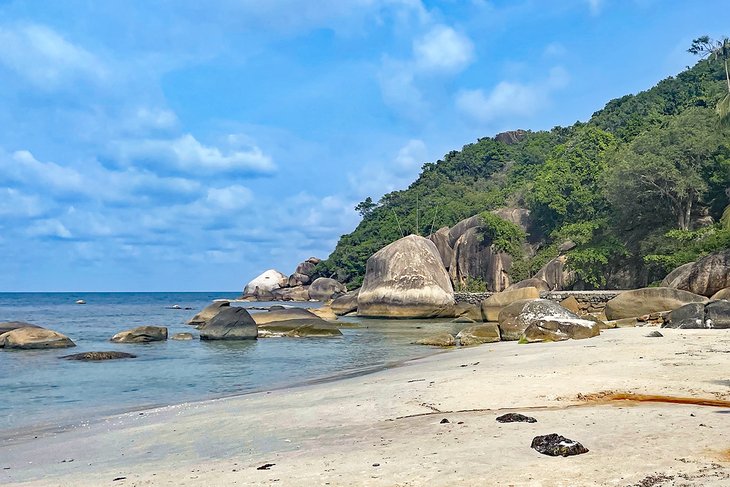 Silver Beach (also known as Haad Thong Ta-khian or "the beach of the Ta-khian trees") might be just 250 meters of pristine white sand, but don't let that disappoint you. As beaches go, this is one of the best ones on the island.
Four resorts and restaurants open up right over the sand, offering sun loungers, open-air dining, and plenty of umbrellas for when you need a break from sunbathing.
Sitting on the east side of the island (arrive early to watch the sunrise from the sand if you can), the beach is home to many laid-back activities, including snorkeling, Thai massages right against the waves, and sea kayak rentals. The emerald waters of the bay are also perfect for swimming. For those who want to get their PADI certification, the Crystal Bay Yacht Club offers all-inclusive courses and a beachfront pool.
Silver Beach offers a quiet escape under the swaying palm trees, and it's perfect for couples and those looking for a calmer getaway. You can always grab a motorbike taxi for a 10-minute ride to Lamai beach if you need a more lively (and busier) destination.
2. Thongson Bay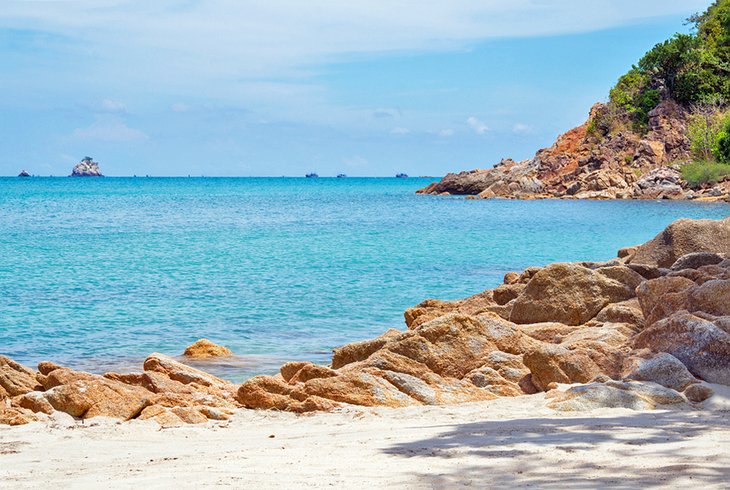 Thongson Bay is a sort of well-kept secret among visitors - the kind of beach where you might end up almost on your own if you arrive early enough. Because the area is underdeveloped, it remains away from all the hustle and bustle but still offers the basic amenities so you can rent a sun lounger, grab a quick bite to eat, or find a kayak to take on the calm waters.
Located near the northern end of Koh Samui, Thongson Bay is just half a kilometer long and offers stunning views of Koh Phangan across the crystal-blue waters. While much of the beach here is made up of powdery white sand, powdery coral debris can be hard on the feet in certain areas, especially as you enter the water.
On the other hand, the waters near the coast are shallow, perfect for families with young children and those who are a little unsure about swimming in stronger currents.
3. Lipa Noi Beach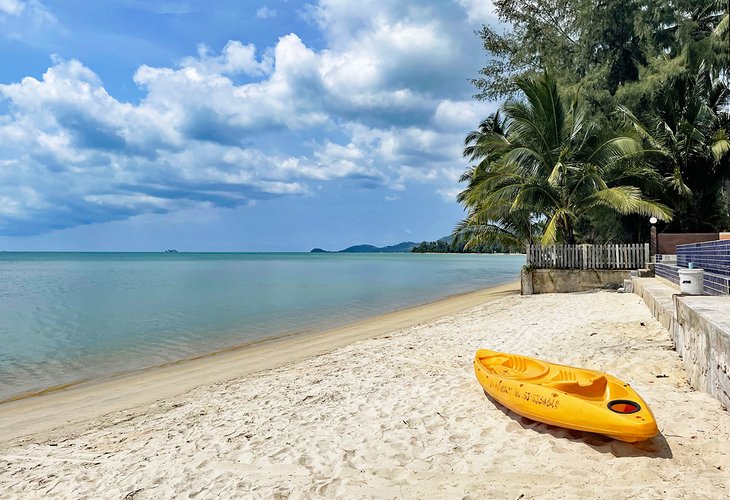 If you're looking for the perfect place on Koh Samui to catch a sunset, this is it. Not only does the sky turn into an incredible rainbow of reds and yellows as the evening arrives, but the reflection on the beach means you'll get the illusion of walking on perfect pink sands.
Lipa Noi's remoteness and the lack of entertainment also means fewer tourists and a much quieter destination if you're looking for sand and sea away from the crowds.
Because the water is calm and shallow near the beach and only deepens gradually, Lipa Noi is perfect for kids and those searching for relaxing water sports, such as kayaking as the sun sets in the distance. Since this beach is secluded, your choices for meals and entertainment are more limited. On the other hand, if peace is what you want, you'll find it here.
4. Choeng Mon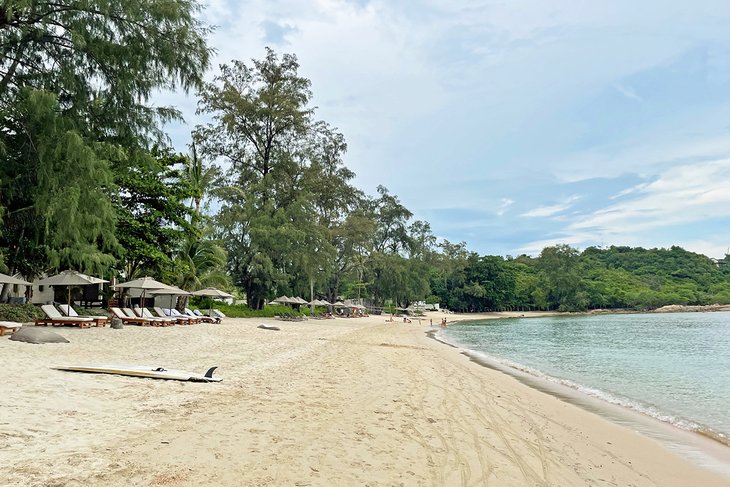 Despite its small size and proximity to other beaches, Choeng Mon is uniquely beautiful. Hidden away in its own bay with stunning views over the crystal blue ocean, the beach offers a sense of privacy and attracts mainly families and those looking for peace and quiet.
At the farther end of the beach, you'll find the islet of Ko Fan Noi. During low tide, you can actually walk to the island, otherwise, you can rent a kayak to get there or circle it before heading back to your sun lounger on the main beach.
The island is home to a 22-villa luxury resort, Cape Fahn Hotel, which is certainly one of the best ways to splurge in luxury when staying on Koh Samui. A private beach on the island is a wonderful perk for guests looking for a private island experience that is still very close to the conveniences of the "mainland."
Choeng Mon's accommodations are more expensive than in other parts of Koh Samui. Even cheap fan-only bungalows are pricier here, and Choeng Mon is best known for its pricey resorts and fine hotels. The beach also sits directly under the airport, so those staying here can expect to hear airplanes overhead several times per day. That said, quaint restaurants set up tables over the sand in the evenings, allowing for stunning views over the starry skies reflecting on the ocean.
Although most visitors coming to this beach are looking to relax, the area is also famous for its many water sports activities. Snorkeling and scuba diving, PADI training courses, and boat tours out to coral-rich islands are available. Choeng Mon is also home to two of the island's most famous tourist attractions: Wat Plai Laem and the Big Buddha.
5. Maenam Beach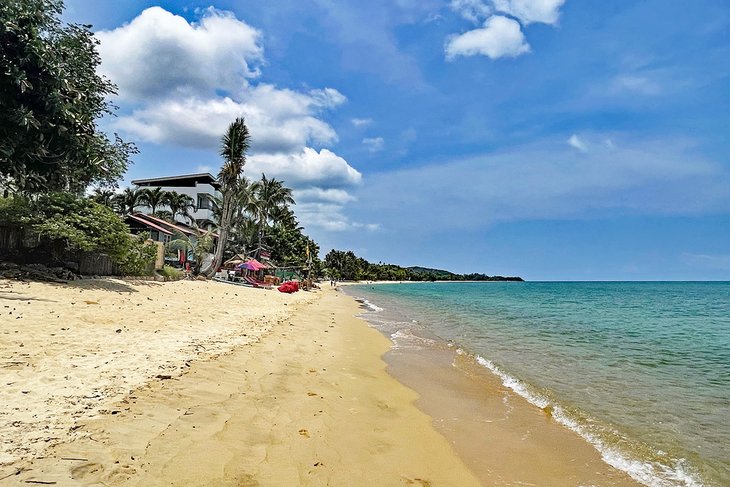 Maenam remains one of the most affordable beaches in Koh Samui. Bungalows abound on the beach, offering plenty of beautiful views without breaking the bank. That doesn't mean there aren't luxurious resorts around; it's just that the options are plenty at both ends of the scale.
Maenam beach is almost seven kilometers long, so most people stick to one area rather than trying to explore the whole length of it. Head towards the end of it in either direction, and you'll find a lot more privacy. Any area you end up in, however, you'll find very little hustle and bustle in the Maenam area. Instead, you'll get a weekly night market, a temple, and plenty of opportunities to swim or kayak the blue waters around.
Flanked by a line of palm trees, the golden sands of Maenam beach play host to plenty of restaurants, bakeries, and cafés. Whether you're eating right on the sand facing the ocean or you're picking something to go for a picnic under the trees, you'll be spoiled by choice here.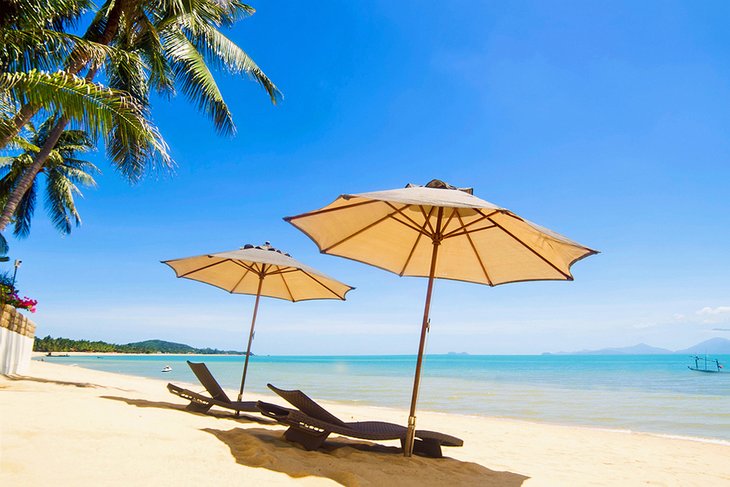 Maenam is also considered to be Koh Samui's Chinatown. You'll notice this by the presence of several small pagodas and gateways that delineate the area. This gives a different cultural perspective to the island. The small community just back from the beach is decidedly laid-back, with plenty of places to hang out, far away from the hustle and bustle of beaches located more in the east.
6. Chaweng Beach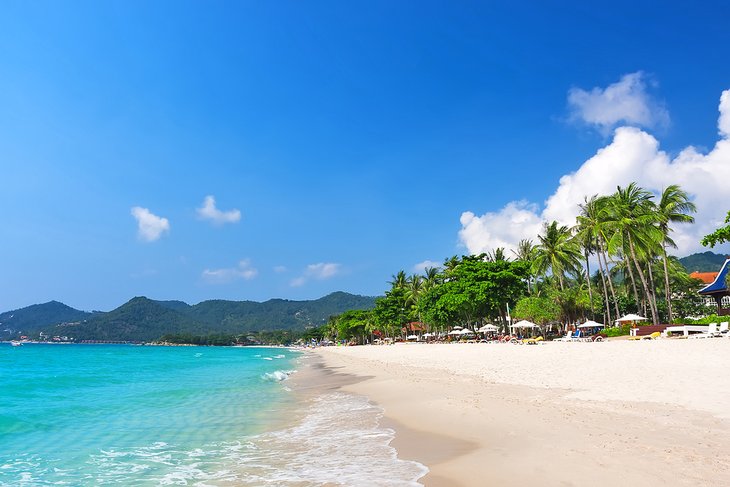 Koh Samui's largest beach is known for its glistening azure waters and soft white sands. Although Chaweng Beach is seven kilometers long, its high popularity means it's often crowded and rarely quiet. But if you're looking for big waves, lots of action, plenty of water sports opportunities, and a chance to dive, then this is your beach.
If you have your heart set on visiting Chaweng Beach but want some peace and quiet, head to the south end of the beach - most visitors congregate in the center, where the rental shops and restaurants are set up.
Accommodations on Chaweng vary from simple bungalows over the sand to high-end resorts with direct access to the beach.
Because of its location and the tide direction, Chaweng sees a lot of ocean trash wash up on the shore. Heading to the stretches of beach in front of resorts almost always guarantees a cleaner, fresher experience, as the staff makes an effort to keep their section pristine. Plus many resorts offer dining on the beach at dusk - a beautiful experience.
7. Taling Ngam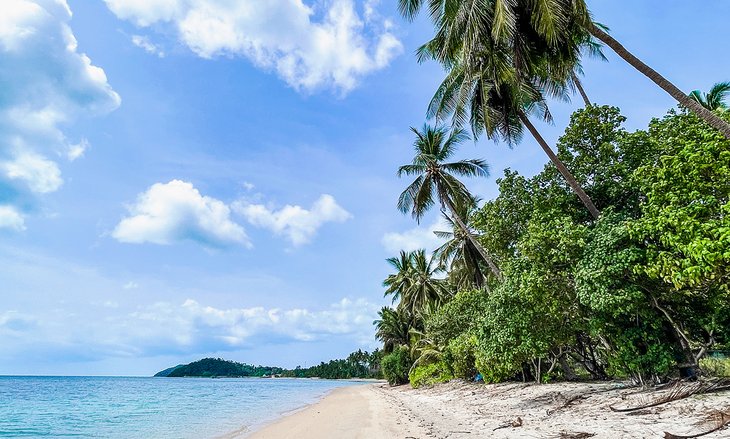 Located in the less touristy southwest corner of Koh Samui, Taling Ngam remains a mostly wild beach. This means little development, only a few hotels and restaurants opening up over the sand, and a sometimes unkept coastline – palm branches, coral pieces, and coconuts can often be found on the sand.
The only accommodations here are basic bungalows, and the closest town is about 20 minutes away, so if you want to go shopping, you'll have to hop on a motorcycle taxi or a tuk-tuk. On the flipside, Taling Ngam's laid-back attitude also means you will have much of the beach to yourself most of the time.
The ocean is shallow near the coast, but rent a kayak and find your way to deeper azure waters for great swimming, diving, or just some leisurely paddling. In the distance, you'll be able to see some of the archipelagos that make up Ang Thong National Marine Park. You can rent a boat to take you out there right from Taling Ngam.
Taling Ngam Beach offers some impressive sunsets, and you can watch the night roll in from one of the restaurant tables on the coast.
8. Bophut Beach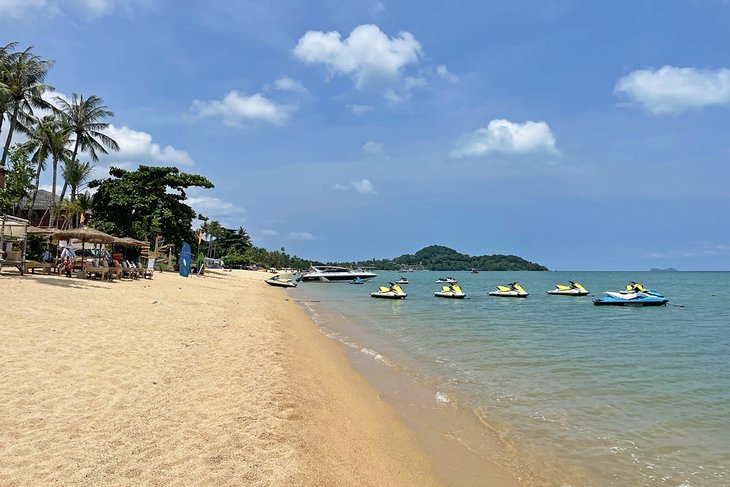 Bophut might not be the biggest beach on the island, but it's definitely one of the most beautiful. The three-kilometer-long stretch of sand is relatively quiet and kept in pristine condition by the many beachfront hotels here. Soft waves, crystal-clear waters, and rows of palm trees make Bophut an inviting place to relax under the sun.
Smack down in the center of the beach is an area known as Fisherman's Village. Though technically this is also part of Bophut Beach, the distinctive feel of the area - which is lined up with old Chinese shophouses - is very different. Several small streets coming off from the beach are packed with boutiques, night markets, and entertainment options. This area of the coast also has the cleanest sand, beautiful sea views towards Koh Phangan, and some of the best dining in Koh Samui.
The biggest dive shops in Bophut are also around Fisherman's Village, most of which offer trips to Koh Tao and Ang Thong Marine Park.
9. Lamai Beach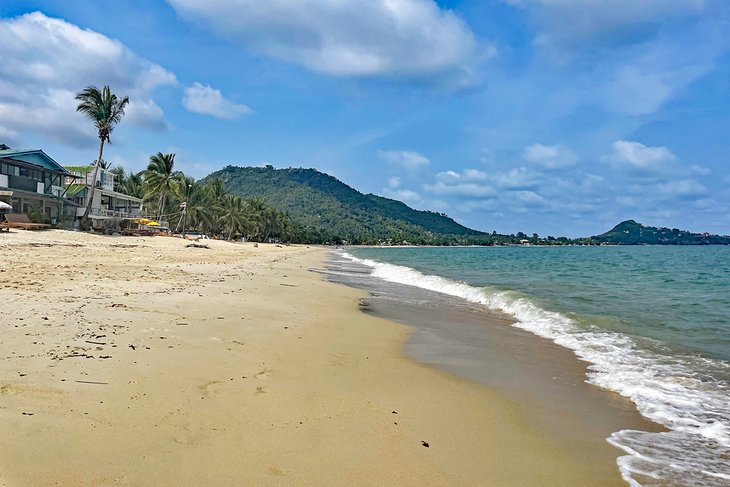 Lamai Beach is Samui's second largest beach. More laid-back than Chaweng, Lamai still offers plenty of things to do - just at a more leisurely pace. Dining, shopping, and accommodations are also cheaper in Lamai, so it's a good destination for those on a budget.
Smaller crowds doesn't mean Lamai is any less beautiful. Crystal-clear waters, soft sand, and a background of blueish hills make for picture-perfect scenery.
The area around Lamai beach offers plenty of additional activities for when you need a break from the sun. Wat Lamai and Wat Khunaram are interesting local temples where you can experience fair-type games and celebrations, attend religious festivals, see ancient artifacts found locally (including a 2000-year-old ceremonial drum) and even see the mummified body of a monk.
Lamai Beach is a popular starting point for boats living to nearby Ko Tao for diving. You can also climb through the rain forest to reach the Lamai viewpoint for stunning views over the ocean.
10. Bang Po Beach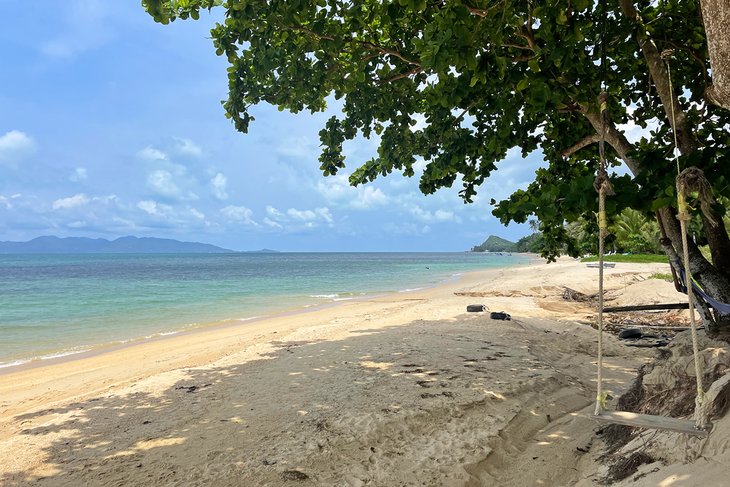 Bang Po beach sits right between the Gulf of Thailand and the thick tropical rain forest, offering an almost hidden stretch of soft white sand for those looking to relax. At four kilometers long, this is one of Koh Samui's largest beaches, but since it's located on the northwest coast (away from the main areas), it doesn't receive as many tourists. If you're looking for a quieter destination with great prices and local food, this is it.
Compared to other beaches on the island, Bang Po has seen little development. Local fishermen still visit the bay, and the food choices around are more of the local, simple variety set in thatch-roof shacks. Plus, the splendid view of Ko Pha Ngan across the water is hard to match.
The warm, calm waters of Bang Po gently lapping ashore make it ideal for swimming and kayaking. There are plenty of sun loungers available (free if you buy a drink or snack at one of the beachfront restaurants) and even the option of having a massage as you look over the blue waters.
Map of Beaches on Koh Samui
More Related Articles on PlanetWare.com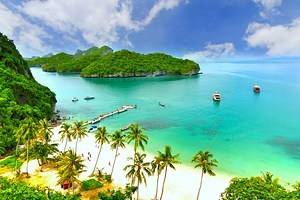 Visiting Koh Samui: Two important considerations for your trip are where to stay and when to visit. You can find accommodation options on Koh Samui to suit all tastes and budgets, and of course, resorts and hotels on the beaches. If you are trying to figure out when to go, have a read through our guide to the best time to visit Koh Samui.