13 Best Islands in Krabi
Thailand packs a sensory punch when it comes to natural beauty – from soaring mountains and deep caves to lush jungles and plunging waterfalls. But perhaps one of the top places to soak up natural beauty is among its southern islands. Visiting the islands is one of the best things to do in Thailand, particularly in the province of Krabi. And it's the best islands in Krabi that will blow your mind.
Krabi province is what you see when you close your eyes and think of Thailand's islands. This southern province has a coastline along the Andaman Sea, and is known for its nearly 200 islands around the coastline. These islands are showstoppers in terms of beauty – think bleached sand; lush, green palm trees; and water so clear, you can see straight to the reefs that hum with a kaleidoscope of tropical fish.
Many of the best islands in Krabi are well-equipped for tourism, like the Phi Phi Islands with their world-class resorts, restaurants, attractions, and tour companies. Other islands blend tourist facilities with local life, such as on the island of Koh Lanta. And other islands remain completely undeveloped, or far, far off the tourist trail.
Whatever you picture when you think of dramatic tropical islands, find your fantasy with our list of the best islands in Krabi.
1. Koh Phi Phi Don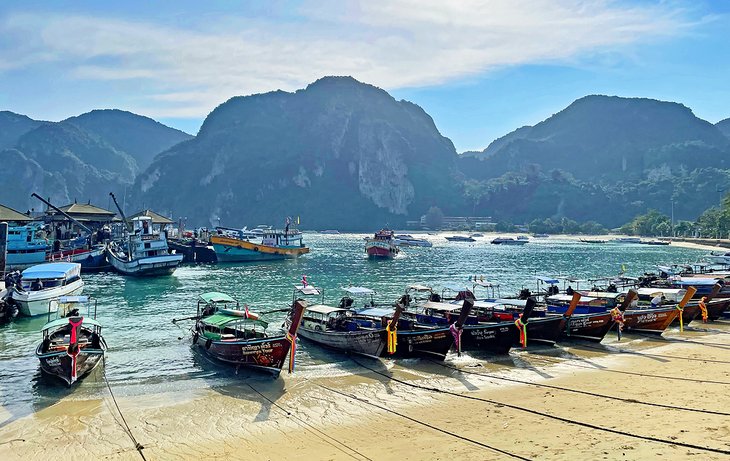 The Phi Phi Islands are not only among the most famous islands in Krabi, they are likely the most famous islands in Thailand overall. This small archipelago of six islands in the Andaman Sea are made most famous by its two largest islands: Phi Phi Don and Phi Phi Leh.
While Phi Phi Leh is left completely undeveloped (and best enjoyed on a nature-inspired day-trip or sunset sail), Phi Phi Don is where most travelers will visit and rest their heads.
Don't be fooled by your arrival into Phi Phi Don. The pier is a veritable swirl of sensory overload, from the seemingly endless strip of restaurants and shops to humming throngs of visitors arriving by ferry, and hotel representatives trying to wrangle passengers to get them where they are going.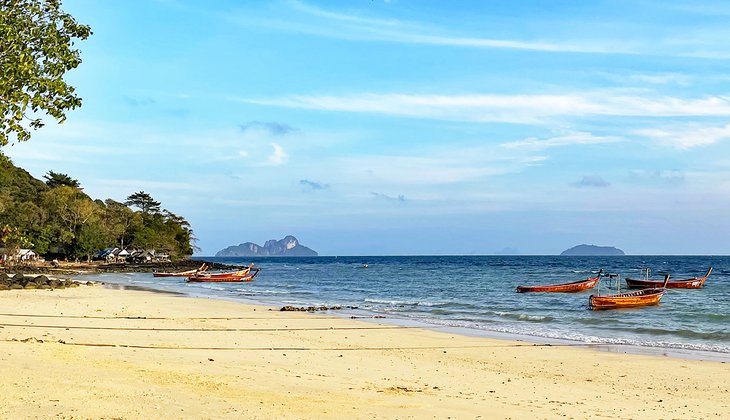 Escape to the eastern coast or the Hat Yao area in the south of the island. This is where you'll find those postcard-perfect snapshots of sun-bleached beaches, verdant jungles, and sparkling sea. Phi Phi Don is also one of the best islands in Thailand from which to explore Krabi's smaller, less trodden islands and beaches.
The Phi Phi Islands are also where you can find the famous Maya Bay – the beach made famous by the Leonardo DiCaprio film, "The Beach." Maya Bay is a breathtaking beach hidden behind towering limestone cliffs. The beach was closed in 2018 to allow for regrowth due to over tourism, but reopened in 2022. To keep tourism numbers low, you must visit as part of an organized tour, and the tour must be booked in advance. Visitors should be aware, though, that swimming is no longer permitted in order to preserve the coral reef. You are allowed, however, to take as many pictures as you like from the sand.
2. Koh Lanta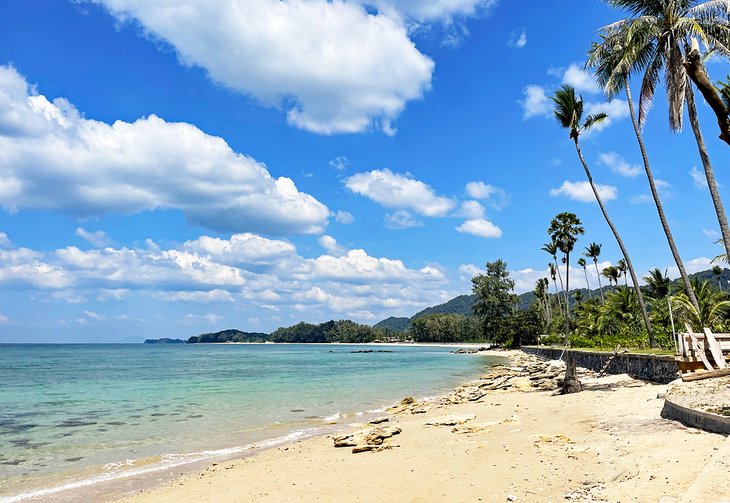 Amid hotel development and mass tourism throughout the islands in Krabi, Koh Lanta has remained relatively off the beaten path. This is surprising, given its proximity to the mainland and size of the island – it is one of the largest in Krabi, at about 16 miles long. Still, Koh Lanta is one of the province's best-kept secrets, and a favorite island among travelers who like to keep it chill.
Koh Lanta has many of the best beaches in Krabi, starting with the famous Long Beach that stretches for more than three miles, down to Bamboo Bay, which is a more remote crescent of beach near the island's national park. Oh, yes, Koh Lanta is home to one of Thailand's national parks.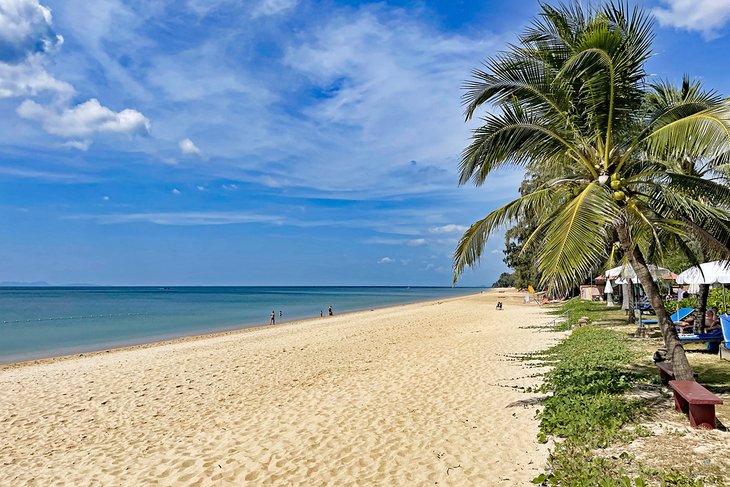 The Mu Ko Lanta National Park actually consists of several islands, but the southern tip of Koh Lanta belongs to it. Much of the national park is a rainforest, while other islands include mangrove forests, beach forest, and more than 130 species of birds.
The water around Koh Lanta is not as crystalline as other islands, but the low-key vibe is what keeps travelers coming back to the casual beachfront bungalows and restaurants that line the shore.
3. Koh Poda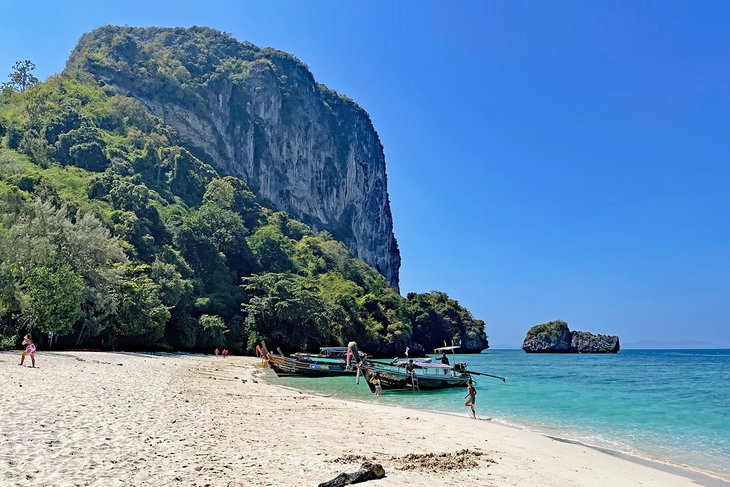 If you're looking for that quintessential southern Thailand postcard shot, chances are you'll find it on Koh Poda. Another one of the petite tropical islands off the coast of mainland Krabi, Koh Poda is a popular stop for island-hopping tours.
It's no wonder why. One look at the streak of warm white sand, crystalline water teeming with colorful fish, and soaring limestone karst that explodes from the sea, and you'll see why this tiny island is truly a little slice of paradise, and one of the best spots for snorkeling in Krabi.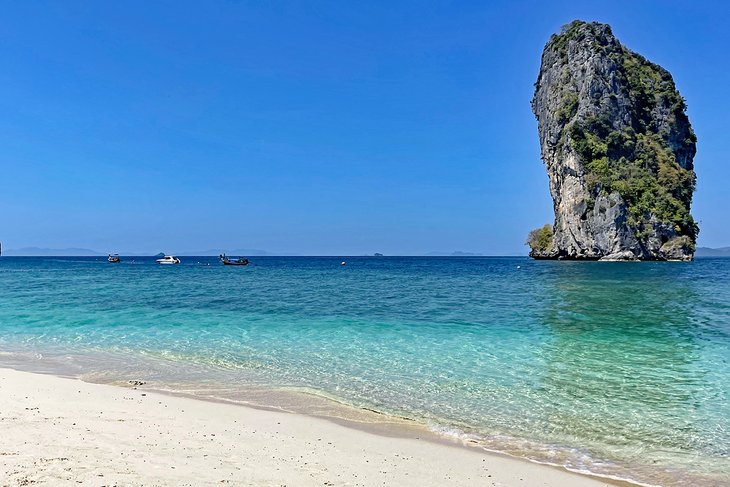 Several shaded lunch pavilions are at the center of the island, which is a perfect spot for a picnic. Many of the local island sightseeing tour packages include lunch in their itineraries, and you'll often stop here to enjoy it.
Note: A national park fee is required to play on Koh Poda. The fee is usually about 400 baht and must be paid to the park rangers, or paid to your tour guides before you depart for a tour.
4. Koh Yao Noi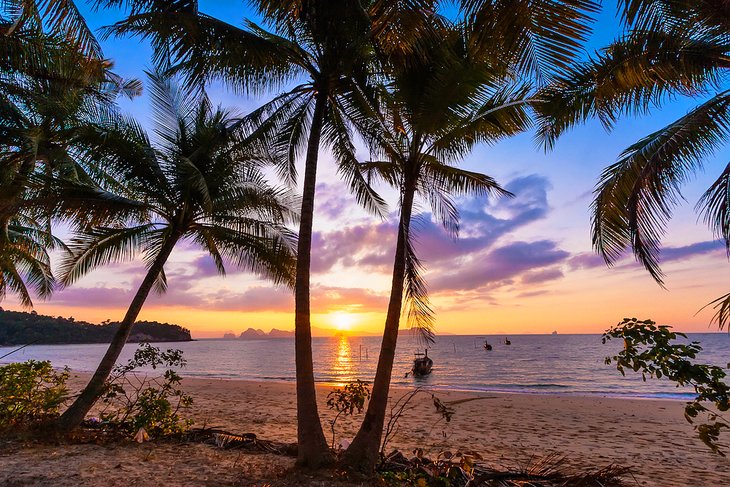 What makes Koh Yao Noi so special is that for a small island, it offers so much diversity in terms of landscape. From the stunning east beaches that overlook the skyline of karst cliffs to the mangrove forests, and the grassy, undulating hills of the interior, Koh Yao Noi is one of Thailand's best-kept secrets.
The island sits halfway between Phuket and Krabi, and is one of the quieter, more tranquil islands in the Andaman Sea. The island was put on the map by the Six Senses Yao Noi, a spectacular luxury resort with an impeccable infinity pool, luxe bungalow-style rooms, decadent cuisine, and spectacular sunset and sunrise views.
But the island has much more beyond the resort. Sleepy villages offer more budget-style accommodations, and outdoor markets provide delectable street food. The island also offers opportunities for rock climbing, diving, yoga, and Muay Thai.
5. Koh Gai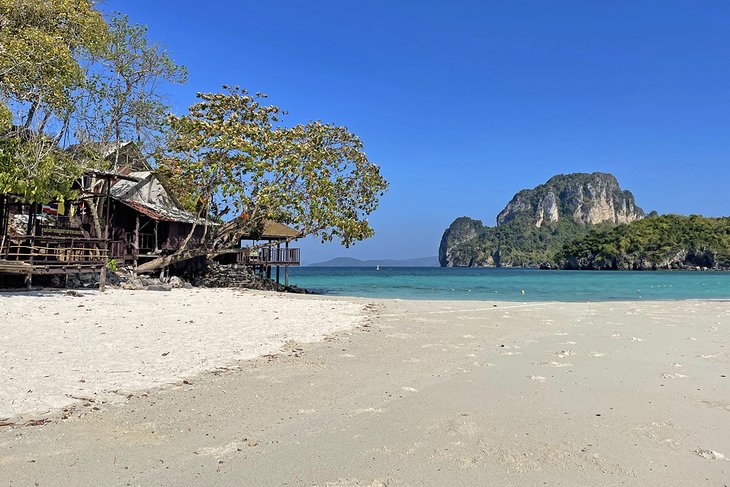 Koh Gai translates to "Chicken Island," and it will be immediately obvious why. A rock formation at the tip of the island rises out of the water and looks remarkably like the head of a chicken. The island itself is uninhabited, but it is one of the most popular stops for day trips from Krabi.
The beach at Koh Gai is remarkable. If you're looking for the postcard-perfect, Robinson Crusoe-style tropical island, this is the one to beat. Sun-bleached sand dips gradually into water so clear, it's almost unbelievable.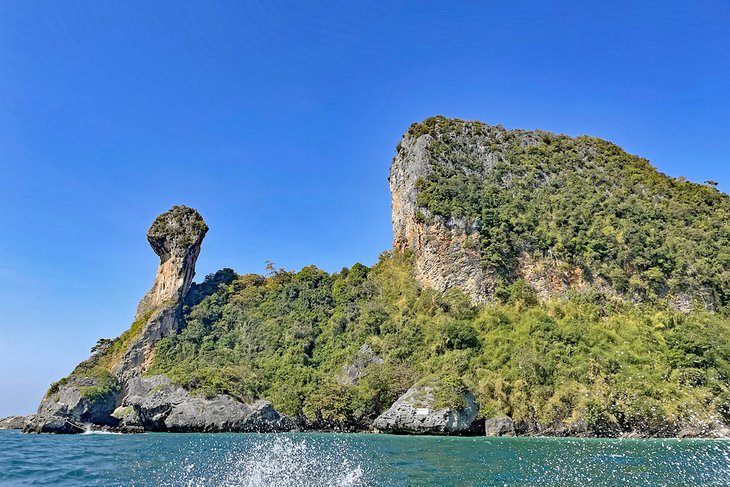 A short, rocky path leads up from the beach to a lookout point that overlooks other islands in the distance, as well as the cliffs of the Krabi mainland. It's certainly worth the scramble up for the sweeping view.
6. Koh Yao Yai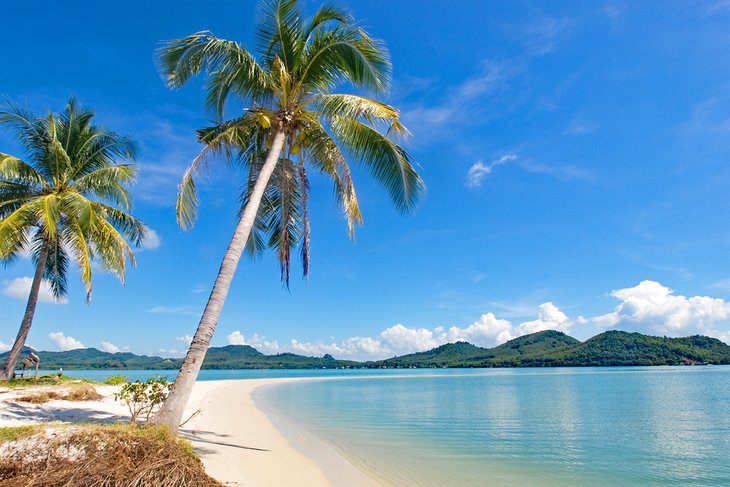 Not far from Koh Yao Noi – directly to the south, actually – is Koh Yao Yai. Known for its white-washed beaches, diving, and clear waters that shimmer with flashy, colorful fish. Koh Yao Yai has a wide range of accommodations, as well, all of which are very stylish and comfortable, but for a much lower price than nearby islands like Phuket.
The best beach on the island is Laem Had Beach. This powder-soft stunner is known for the Koh Yao Yai sandbank that, at low tide and from above, looks like it whips across the water in a dramatic swish. The island's position within Phang Nga Bay means that it's a prime destination for divers, as well, especially if they are looking to explore Shark Point.
Other activities on Yao Yai range from exploring the small villages or sidling up to one of the many outdoor seafood eateries that serve the freshest daily catch. The pace of life is slow on Yao Yai, and that is exactly why tourists love to visit.
7. Koh Hong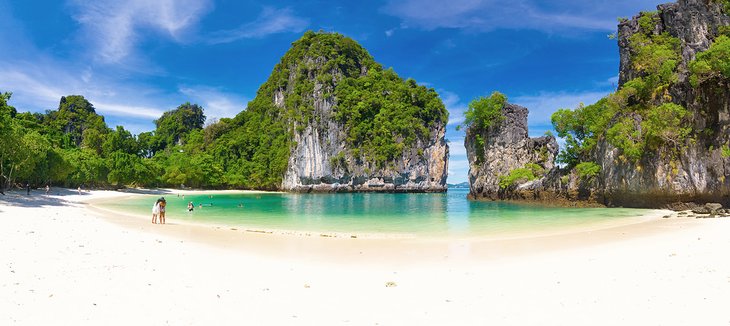 Krabi's Hong Islands are yet another glorious archipelago chain just off the coast of the mainland. Located within the Thanbok Kharanee National Park, these islands are easily reached via day trips from mainland Krabi, as well as Railay and Tonsai beaches.
The main island is Koh Hong, which is a secluded slice of paradise shielded by towering limestone cliffs and backed by lush, green jungle. No people live in Koh Hong, but if you keep your eyes peeled, you may be able to spot a white-faced gibbon or a monitor lizard or two.
Venture deeper within Hong Island, and you'll discover a secluded lagoon that is wreathed in cliffs. In fact, the word "Hong" means "chamber," and refers specifically to this shrouded spot.
Koh Hong is very easy to visit from Krabi, as most tour companies offer an itinerary that visits the island. Tours often include stops for swimming and snorkeling. The beautifully clear water is perfect for viewing all sorts of vibrant tropical fish.
8. Bamboo Island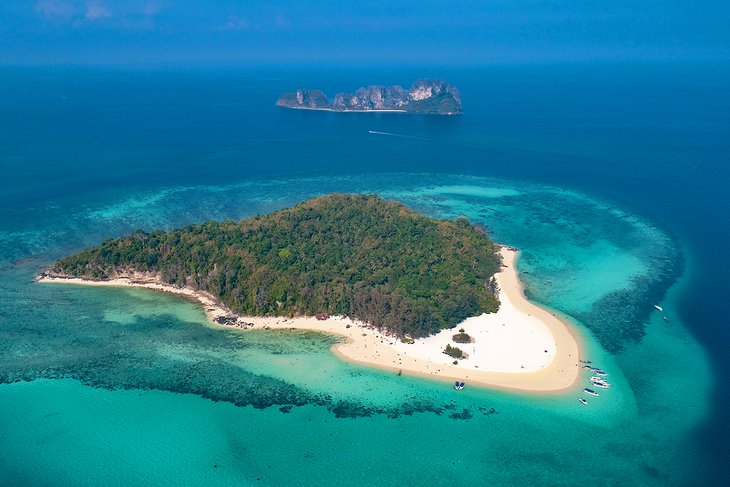 Just five kilometers from the boisterous energy of Koh Phi Phi Don is the deserted-island paradise of Bamboo Island. Or, as it is called in Thailand, Koh Phi. The northernmost island of the Phi Phi archipelago, Bamboo Island is technically part of the Phi Phi National Marine Park.
To visit the island costs about 400 baht, and is certainly worth the payment for the unbelievable sun-bleached beaches and endless views in every direction of shimmering blues that extend to the horizon. Bamboo Island is only about 700 meters long, and its interior is thick with stalks of bamboo. Around the perimeter of the island is pearly sand and transparent water that is teeming with colorful fish.
Not much exists on the island, save for a small beach hut that serves snacks. People come to Bamboo Island as part of a day trip, usually for snorkeling or diving.
9. Koh Jum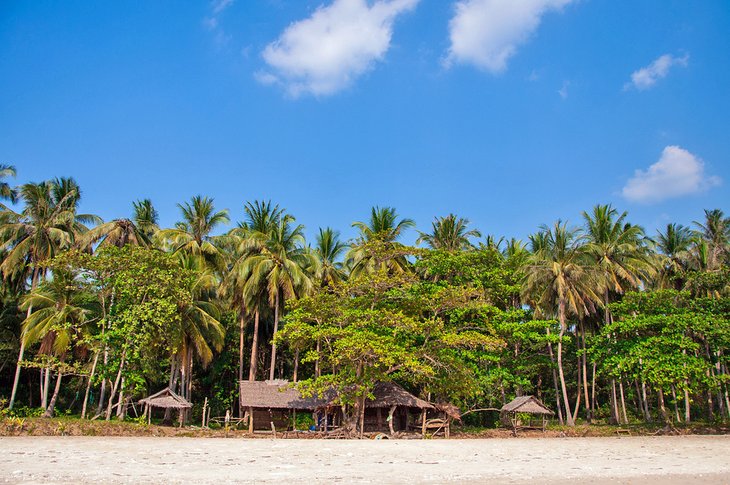 Traveling by water between Krabi Town and Koh Lanta, you will certainly pass the island of Koh Jum. If you're looking for dirt roads that weave their way through towering palm trees, Koh Jum is the island paradise for you.
For being so close to Koh Lanta, Krabi, and Koh Phi Phi, it's peculiar that Koh Jum is often skipped over. But those who do manage to find their way here don't seem to mind that they have this secret island almost to themselves.
Koh Jum has a handful of gorgeous beaches, like quiet, and tranquil Coconut Beach, or the picture-perfect Ao Si Beach. This is the island for you if you love to kick back and relax with nothing more than a motorbike and a hammock. The pace of life is slow here, with small villages; jungle trails; sleepy cafés; and long, empty beaches
10. Koh Pak Bia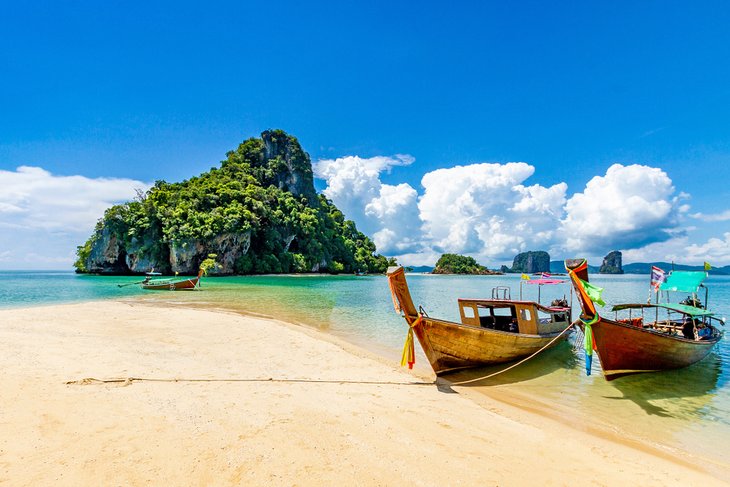 Part of the Koh Hong archipelago, Koh Pak Bia is yet another small, tropical paradise with no inhabitants and nothing but photogenic vistas as far as the eye can see. The island is between Koh Yao Noi and the coast of mainland Krabi, and is one of the best islands in Krabi for a day trip.
A sandy strip connects Park Bia with another small island, making for a beautiful, bleached sand bridge that looks absolutely stunning. The water here takes on different shades of green, in addition to turquoise, and the shallow sea is absolutely vibrating with colorful fish.
The island has no facilities, but it certainly makes for a wonderful place to spend the afternoon, and seeing as it is very close to Koh Hong, you can easily combine the two.
11. Koh Tub and Koh Mor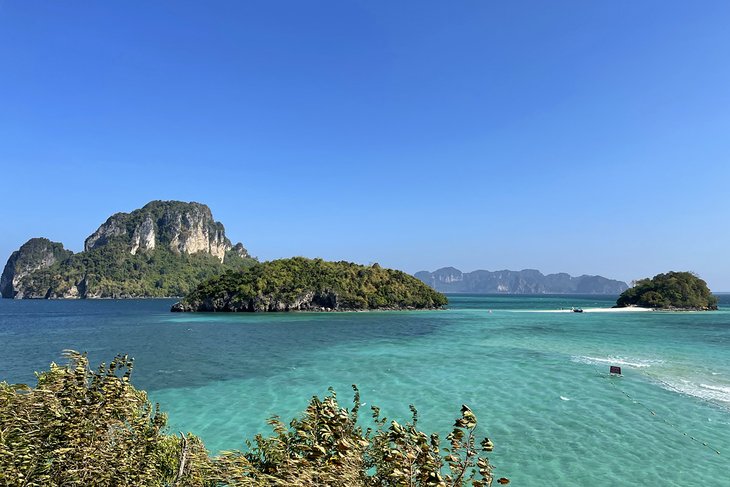 These two islands are linked (at low tide) by a wisp of sand bridge that extends from Koh Gai. The three islands together are a popular day trip stop on island-hopping tours from Krabi. These islands are all part of the Poda archipelago, and offer visitors exactly what they're looking for when they go in search of idyllic, sandswept tropical islands.
The water around both Koh Tub and Koh Mor is gentle and clear, swirling with tropical fish just below the surface. You won't find much to do on these islands aside from admire the natural beauty and snorkel. But if you're looking for exactly that, then these two tiny islands deliver in spades.
12. Koh Ngai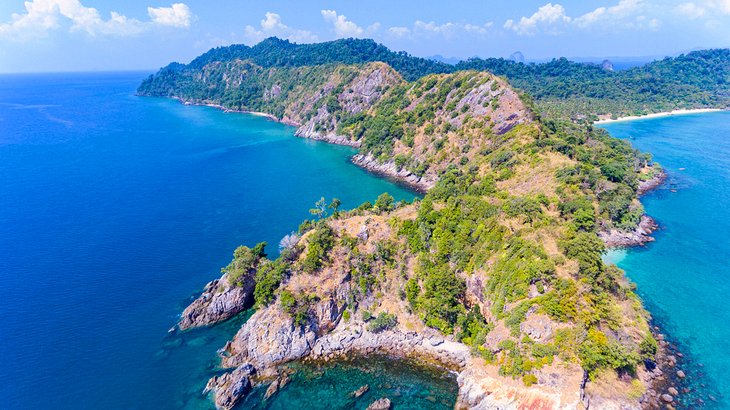 If you haven't completely tired of sugary sands and crystalline water (as if you could!), then you'll want to make a stop at Koh Ngai. This tiny islet is only five square kilometers, void of any brand stores, or even roads for that matter.
Instead, what you'll find are tranquil resorts, striking beaches, and loads of places to visit to kick back and rest. A reef sits just offshore, which offers ample opportunity to snorkel and explore the rainbows of fish.
A few resorts are on Koh Ngai, but you'll also find small beach restaurants that pepper the powder soft sands. If you're interested in diving, then you will find a small dive shop on the island, as well. What you will not find are many conveniences, like 7-11s or even ATMs, so be aware of that before you get here.
13. Koh Klang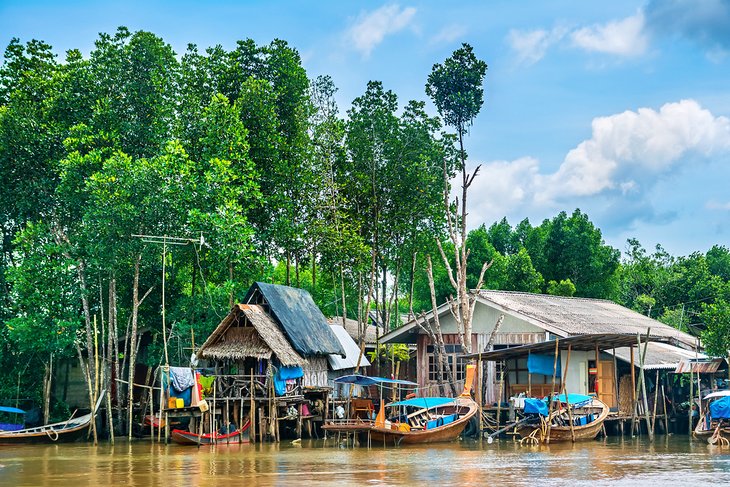 Koh Klang is a perfect little secret in Krabi, and one with its own vibe entirely from the other islands in the province. It's so close to the mainland that from a map it may even look like it's part of it, but it is very much an island, separated by a river and narrow canals.
Koh Klang, thus, offers a little bit of both worlds – close enough to the comforts and conveniences of Krabi Town, but still slow-paced, with beaches, mangroves, and small fishing villages.
The landscape here is beautiful, with lush green rice fields, deep caves, and towering limestone cliffs. But the majority of the island is covered in mangrove forest. You'll also find wildlife, from macaques and otters to gray herons and sea eagles.
Those who visit Koh Klang are interested in eco-tourism, as the island does not really cater to the mass-market holiday makers or backpackers. Visitors may explore the batik shops, kayak the mangroves, or hire guides to take them to the caves.