16 Top-Rated Attractions & Things to Do on Phuket Island
Phuket is Thailand's largest island, and arguably the most famous. Blue waters, sandy beaches, spicy Thai cuisine, and excellent snorkeling and diving are all part of the appeal. Arriving from all over the world, travelers flock to Phuket for relaxation and adventure, and the island rates as one of the most popular destinations in Thailand.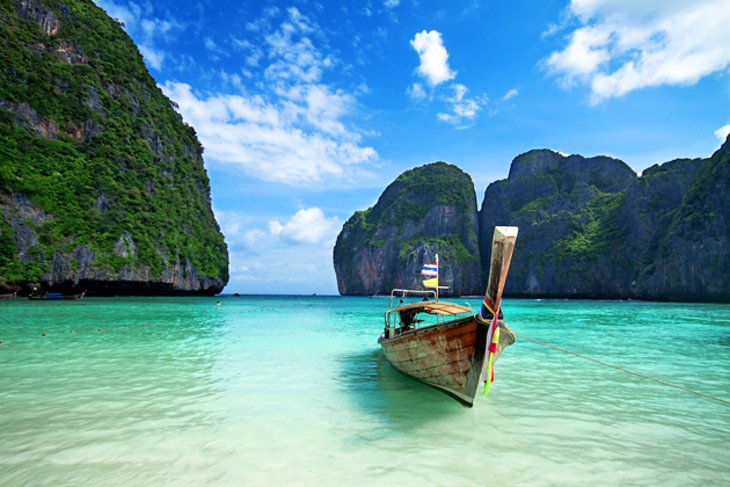 Phuket has an exceptional climate, with warm, sunny days year-round. Monsoon season is usually mid-May through October, but it might only rain once or twice a day during this period. Phuket is also easy to access; it's a short one-hour flight from all the big-city attractions of Bangkok.
Discover our picks for the top attractions and things to do on Phuket.
1. Catch Some Rays at Patong Beach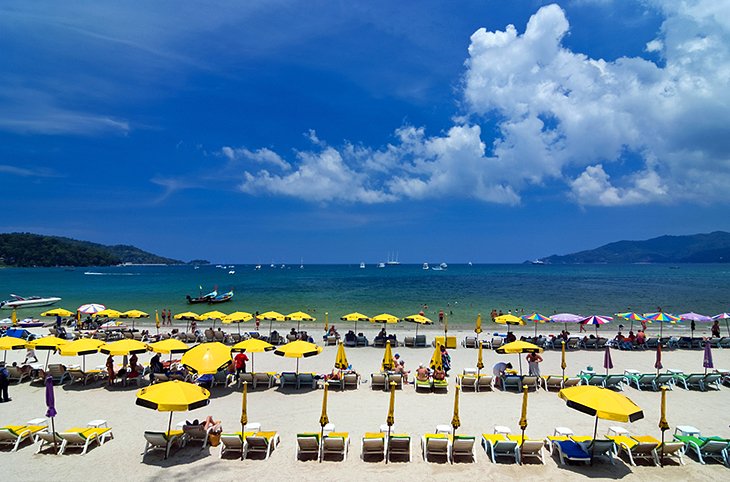 Phuket's longest beach was also once its most beautiful, until development and tourism turned it into a bustling hub of activity rather than a retreat from the world. Still, Patong is great for people-watching, and part of the fun of Thailand is that (in addition to being a land of smiles) it is one of contrasts.
You may not be able to find a quiet spot on Patong to read and contemplate life, but you'll find plenty of water sports to keep you entertained. You can try everything here, from flyboarding, jet skiing, and parasailing to stand up paddleboarding and banana boat rides.
Many shops and resorts are strung along the beach road, and one of the island's best hotels, the luxury Amari Phuket, perches on a headland overlooking the sea.
Patong also offers some of the best nightlife on Phuket. After dark, head to Bangla Walking Street (formerly Bangla Road) if you want to be in the heart of the action.
2. Walk the Golden Sands of Kata Beach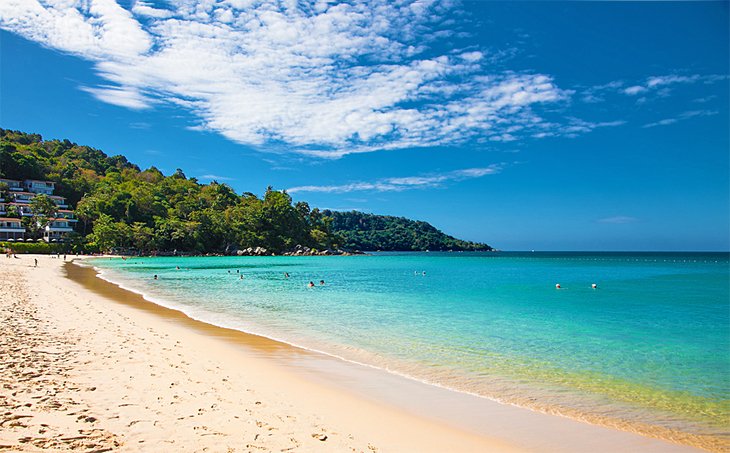 Fringed with casuarinas and palms, Kata Beach is a lovely, curving bay hugged by lush hillsides at either end. Although it's still touristy, it's more peaceful than Patong Beach with fewer hawkers. A tiny islet sits just offshore, and the beach itself is broad, with soft, white sand and decent snorkeling spots at either end.
If you're hungry, you can grab a papaya shake or a snack at one of the beachfront stalls, and larger restaurants are within walking distance.
At the southern end of the beach sits The Boathouse Phuket, a luxury boutique hotel that is one of the only resorts fronting the sand. If you want an even quieter slice of shoreline, head south to adjacent Kata Noi Beach.
3. Swim at Karon Beach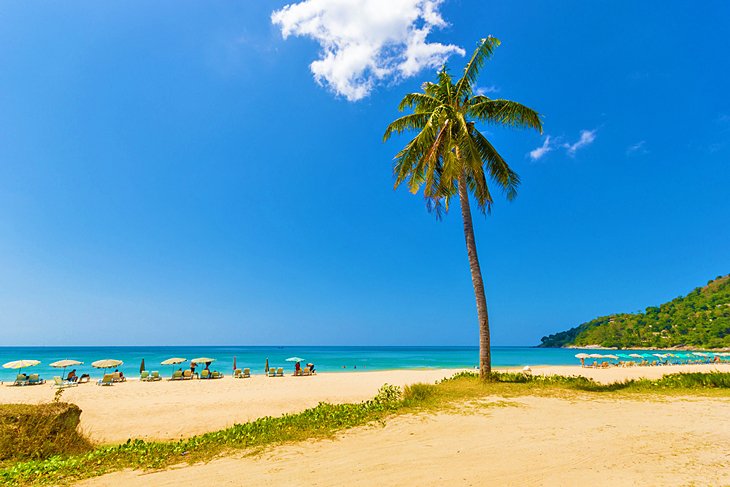 Less developed than the popular Patong Beach, about 15 minutes away, Karon Beach is a 3.5-kilometer-long strand of squeaky, golden sand and sapphire sea that attracts many couples and families.
When the weather is calm, it's a beautiful spot for a swim, but when the winds whip up, big waves pound the wide-open shoreline here, so take care if you are swimming during these times.
Restaurants and resorts are spread out opposite the beach along the busy road, but a few four-star resorts offer direct beach access, including adults-only Beyond Resort Karon and the luxury bungalows of the nearby Marina Phuket Resort at the southern end of the beach. At its northern end, Centara Grand Beach Resort Phuket overlooks the shoreline with its own water park.
4. Green Elephant Sanctuary Park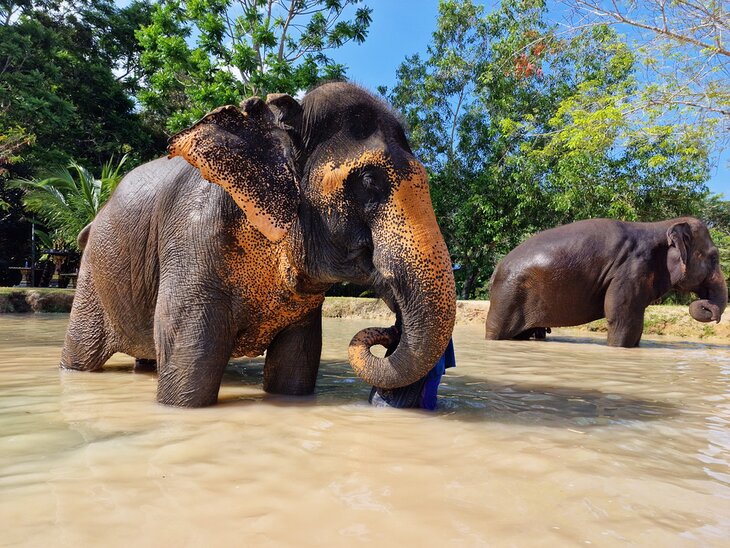 Calling all animal lovers! At Green Elephant Sanctuary Park, you can sign up for that bucket list elephant experience and feel good knowing that it was provided by an ethical company.
Green Elephant Sanctuary Park nestles in the middle of the jungle near Surin Beach, providing a natural setting and a safe home for all its pachyderm residents, some of whom may have previously been abused.
Elephant lovers can connect with these gentle giants by helping out with tasks in their everyday life — bathing them, petting them, brushing them, and feeding them — all under the watchful eyes of experienced elephant trainers.
You can also watch them playing in the lake and take a dip right beside them. What could be cuter than a baby elephant splashing about in the water?
The half-day tours are offered in the morning and afternoon. They include hotel pickup, elephant feeding, an educational presentation, elephant washing, and a generous Thai buffet. Park rangers also capture photos of your interactions with the elephants for you to take home as a souvenir. And it's all included in the package.
Note that to ensure the elephants' well-being, riding the animals is strictly taboo.
Address: No.4, Soi Cherngtalay 1, Choeng Thale, Thalang District, Phuket 83110, Thailand
5. Discover the Past at Phuket Town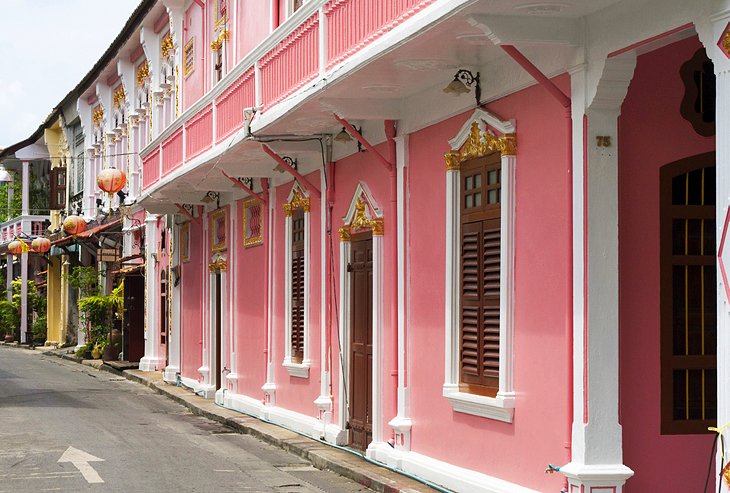 Phuket Town lies on the southeastern coast of the island on a picturesque bay. This island city bustles with activity thanks to its many hotels, restaurants, spas, and other tourist attractions that have sprung up in the decades since Patong Beach was opened for development in 1980.
The architecture reflects the influence of Chinese immigrants and a Portuguese aesthetic, and provides an interesting contrast to the more traditional Thai styles seen elsewhere. Make sure you stroll through the streets of Old Phuket Town, with its well-preserved shophouses, Sino-Portuguese mansions, temples, and shrines.
Other things to do in town include visiting Phuket 3D Museum, an interactive 3D art gallery, and paying your respects at the Jui Tui Shrine, a colorful Chinese temple.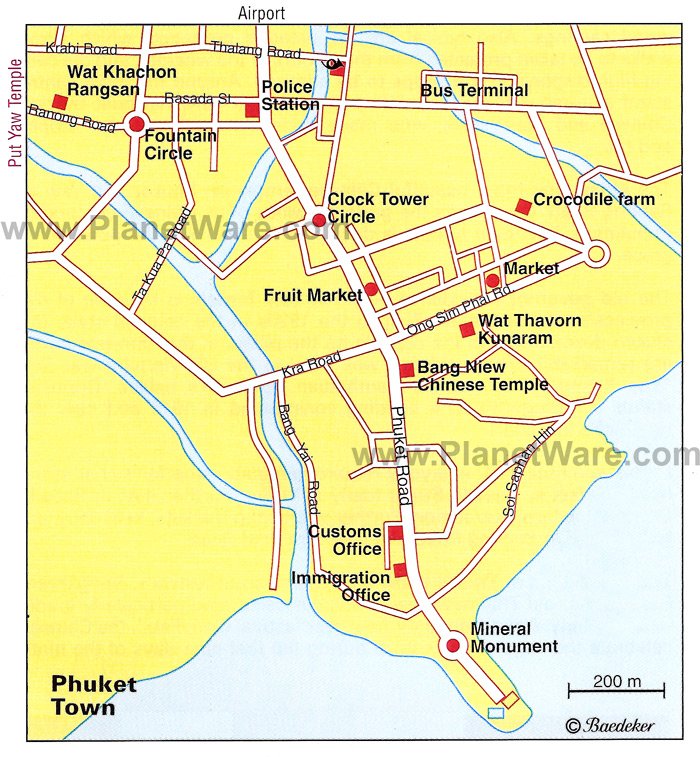 6. Experience Island Boat Tours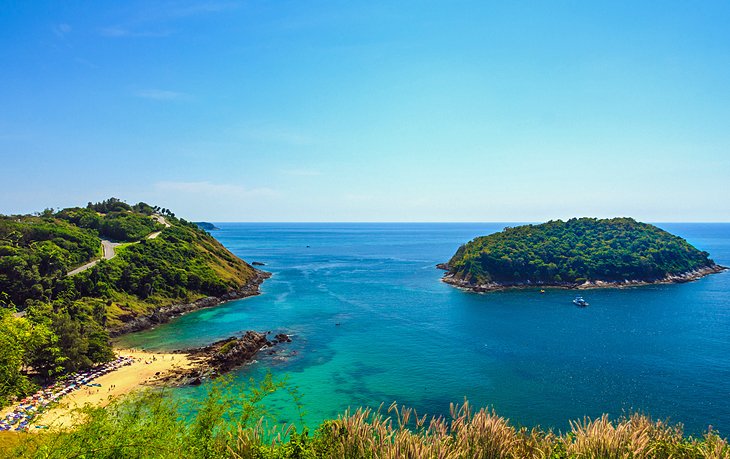 You may be tempted to lounge on the beach for your entire stay (and really, who would blame you?). But if you're willing to exert just a little effort during your tropical getaway, sign up for an island tour to discover the stunning seascape surrounding Phuket.
Particular mention must be made of Maphrao, Nakha Yai, and Nakha Noi (on the east coast, with pearl culture at the latter) as well as Koh Kaeo, Racha Noi, and Racha Yai (off the southern tip), and finally little Koh Poo on the west coast off Hat Kata.
Organized tours are the best way to make sure you see all the highlights. The nine-hour, guided Phang Nga Bay Day Trip from Phuket includes a visit to the distinctive "James Bond Rocks," and the eight-hour Phuket to Phi Phi Islands Tour takes you to Koh Phi Phi and the famous Maya Bay beach from the Leonardo DiCaprio movie The Beach. An expert guide, transportation, food, and refreshments are all included.
7. Go Diving & Snorkeling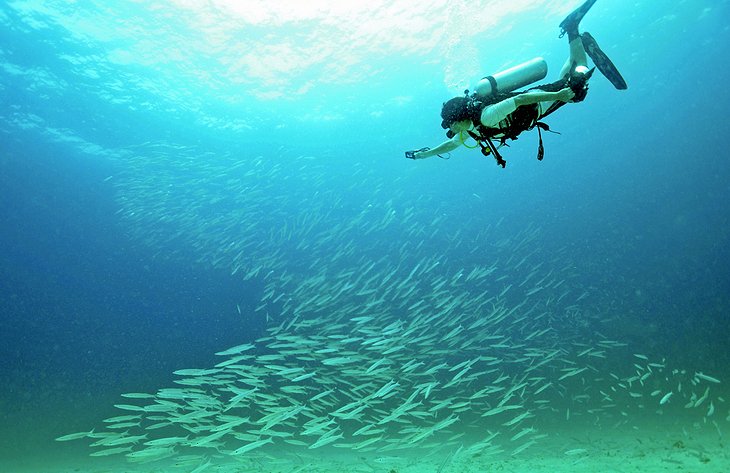 The waters around Phuket Island offer some of the best diving and snorkeling in Thailand, with typically excellent conditions. Visibility is good, and the water temperature ranges from 26 to 30 degrees Celsius. Apart from colorful corals and tropical fish, you can see seahorses, sea turtles, manta rays, and even whale sharks.
Many travelers come to Thailand to complete their scuba diving certification because the courses tend to be more affordable here than in other countries. Some dive operators will take you to Koh Phi Phi, one of the world's most beautiful islands, and other picturesque locations.
Once you've earned your certification, consider checking out Similan Islands National Park. Comprised of eleven uninhabited islands, this area is famous for its superb diving. Note, though, that the Similan Islands are closed from mid-May through mid-October to help protect and preserve its fragile marine ecosystem.
8. Visit Phuket Big Buddha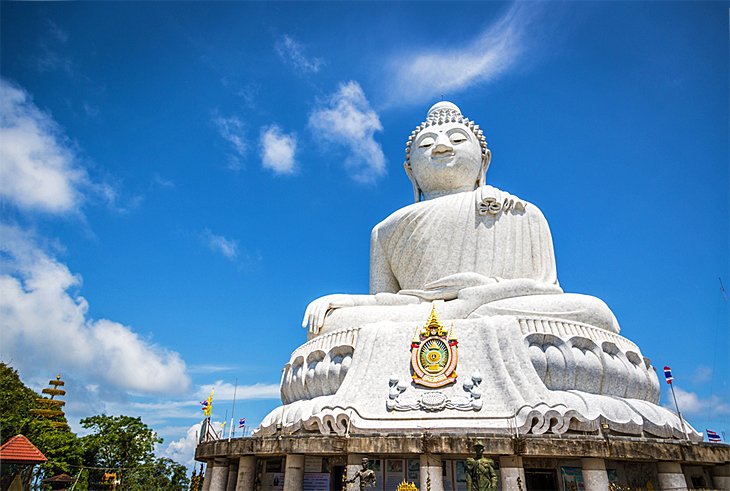 Sitting serenely above the island at the top of Nakkerd hills between Kata and Chalong, the Phuket Big Buddha is one of the island's most distinctive landmarks. Spectacular 360-degree views greet you at the summit, where this 45-meter-high monument presides. Faced with white jade marble, the statue was constructed in 2004.
It's a peaceful spot to take time out from your day. Prayer flags flutter in the breeze, and you'll hear the tinkling of small bells. You can take a taxi or tuk-tuk up the windy six-kilometer road to the hilltop, but you have to climb a steep flight of stairs to the monument.
If this is your first time on Phuket Island, a tour like the Amazing Phuket Island Guided Tour & Big Buddha could be a great option. This five-hour tour takes you to some of the best spots in Phuket, including busy Patong Beach; the Karon Viewpoint for stunning postcard views over the Andaman Sea; and Phuket's largest temple, Wat Chalong. The last stop on the tour is the Big Buddha, where you'll have 45 minutes to enjoy the views and explore the surroundings.
If possible, pick a clear day for the best views; mornings are generally less crowded. And be sure to dress respectfully, which generally entails covering your shoulders and legs. Otherwise, you could be asked to purchase a scarf or sarong.
9. Visit the Authentic Rawai Village and Nai Harn Beach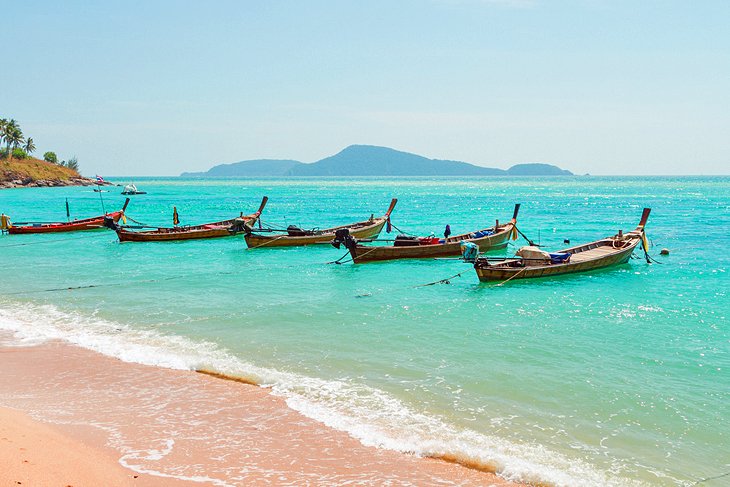 To experience a more authentic side of Phuket, venture out to this small village on the island's east coast. Here, you can glimpse the lifestyle of the Moken, a tribe of "sea gypsies." They have roots in the Andaman and Nicobar Islands and have remained staunchly committed to their own beliefs and customs.
Some Moken live by the sea, and others choose a semi-nomadic life on land. The men of the village work mostly as fishermen and sometimes also as guides for sea trips.
Rawai itself has a small fishing harbor and a sliver of beach covered with coconut palms, swamp oaks, and fishing boats (Nai Harn Beach is one of the best in the area.) You can rent boats here to sail to offshore islands.
The village is also known for its seafood markets, where you can buy the catch of the day, and one of the local restaurants will prepare it cooked to order.
10. Hike Up to Karon Viewpoint (Three Beaches Hill)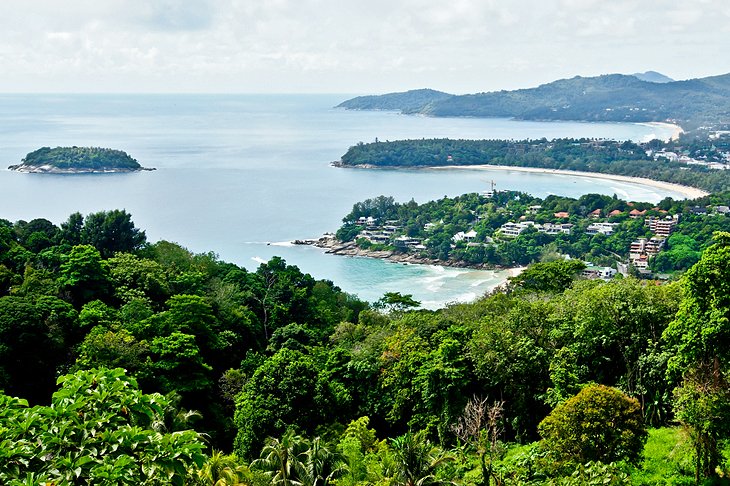 Just south of Kata Noi Beach, this aptly named vantage point gives you a lovely view of three of Phuket's most beautiful beaches: Kata Noi, Kata Yai, and Karon Beach.
Look north from the viewpoint over one of the island's most iconic views, with a little bit of everything that makes this island so picturesque: emerald hillsides, blue seas, and white surf. This is one of the island's most photographed vistas.
You can reach the viewpoint by traveling along the branch road in front of Kata Noi Beach in a southwesterly direction toward the southern tip of the island.
11. Wat Chalong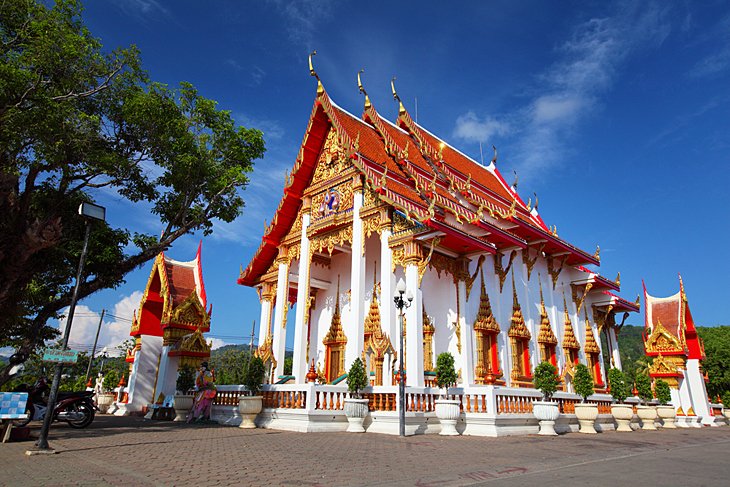 Wat Chalong is the largest, most popular, and arguably the most beautiful of all Phuket's 29 temples. It is dedicated to two highly respected monks, Luang Pho Chaem and Luang Pho Chuang, and you can see life-size wax models of them and other figures in the exhibition home.
The Grand Pagoda protects a fragment of Lord Buddha's bone and features murals depicting images from the Buddha's life story.
As you wander through the complex, notice the many golden buddhas in various poses, and make sure you dress respectfully; visitors are not allowed to wear shoes inside the temple, and women must cover their shoulders and knees.
Address: Chaofa Road ( West ), Chalong, Phuket
12. Gibbon Rehabilitation Center & Bang Pae Waterfall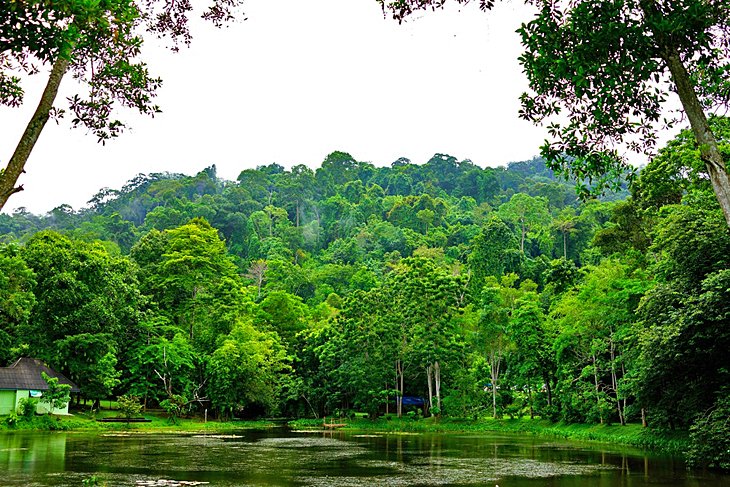 Located within the Khao Pra Theaw Non-Hunting Area, the Gibbon Rehabilitation Center is a great place to learn more about these intelligent creatures and support important work at the same time. The center's mission is to rescue, rehabilitate, and return gibbons to their natural environment.
Many of these animals were poached from their mothers as babies and sold as pets or used in the tourist trade. Visitor contact with animals suitable for release is limited, so they don't become habituated to humans; however, you'll have a chance to meet some of the animals that live full-time at the sanctuary and hear stories about their miraculous rescues.
The center does not charge an entrance fee, but you need to pay to enter the park. You can support the center's important work by making a donation or sponsoring a gibbon. Another way to help their efforts is to refuse requests to pose for pictures with wild animals that are held captive so that their owners can make money from tourists.
After visiting the center, trek through the lush tropical forest to the Bang Pae waterfall for a refreshing dip in the pools.
Address: Bang Pae Waterfall, Pa Khlock, Talang, Phuket
13. Spend a Couple of Hours at the Phuket 3D Museum
If you're looking for indoor places to visit during a particularly hot day, the Phuket 3D Museum is a great option. You'll even be able to add a few zany vacation photos to share with your friends and family back home.
This interactive 3D art gallery allows you to look as though you are part of more than 95 trompe-l'œil-style paintings created by clever Korean artists. Teeter on a tightrope, touch ET, climb a wall with Spiderman, or step into a famous masterpiece. This is the perfect rainy day hangout for the whole family.
Address: 130/1 PhangNga Road, Taladyai, Muang, Phuket
14. Enjoy Nature at Sirinat National Park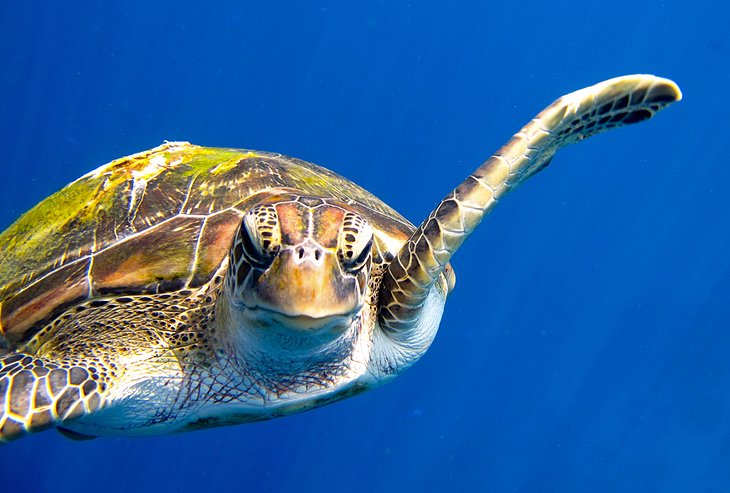 Formerly called Nai Yang National Park, Sirinat National Park reveals a quieter side of this touristy isle. The 90-square-kilometer coastal park sits on the island's northwest coast and is largely made up of marine areas, including four relatively unspoiled beaches.
Two of these, Hat Nai Yang and Hat Mai Khao, are the only two beaches in Phuket where leatherback turtles come ashore at night to lay their eggs. The best time to see them is from November to February, when locals patrol the beaches and help protect their eggs.
15. Wat Phra Thong at Thalang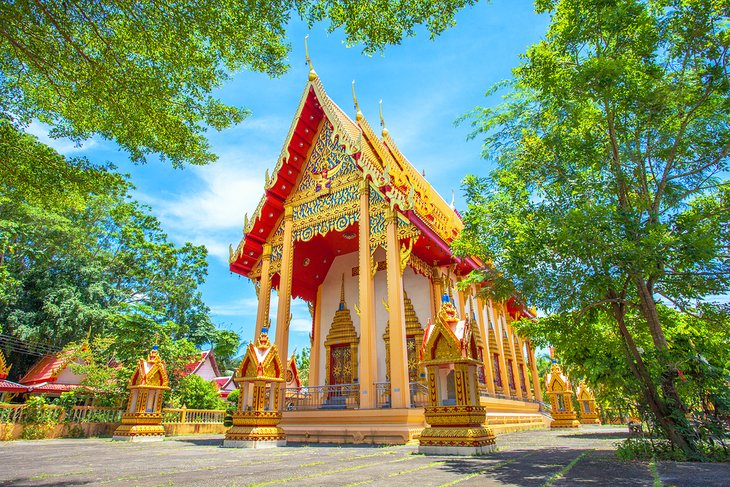 Wat Phra Thong is steeped in local lore. It houses a half statue of Buddha that was broken during a Burmese invasion.
Legend has it that a boy was minding a water buffalo, which he tethered to a piece of metal protruding from the ground using a hemp rope. Suddenly, the boy died, but he later appeared to his father in a dream and told him about the piece of metal. The father began to dig and came upon a statue of Buddha cast in pure gold. The Buddha could not, however, be completely excavated and so a temple was built on the site in 1785.
When the Burmese conquered Thalang, a second attempt was made to dig up the statue, but it broke in two. One half disappeared, and the other still stands in the temple today.
Besides the half Buddha statue, things to see here include the rich carvings on the gables and windows of the temple buildings and a little museum displaying historical artifacts.
16. Shop for Food and Souvenirs at Phuket's Markets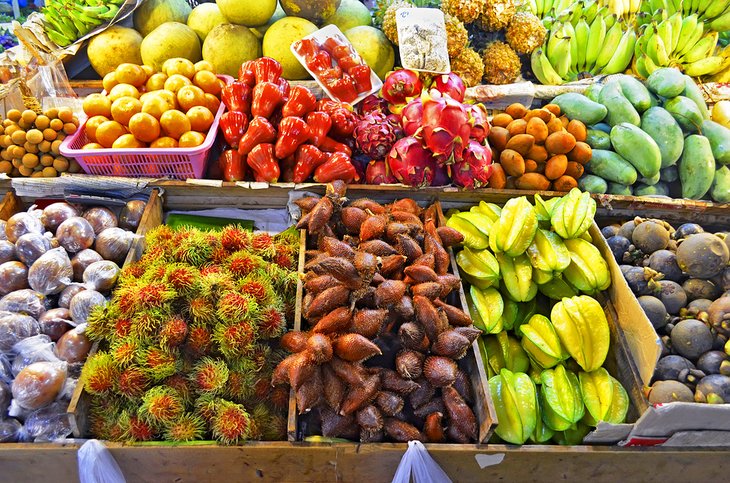 Markets are a must-visit when you're in Phuket. You can tantalize your tastebuds with some sizzling street food, listen to live music, pick up some souvenirs, and practice your bargaining skills all in one visit.
A good place to start your market adventure is at the Sunday Walking Street Market. This is one of Phuket Island's biggest attractions, set in the heart of the historical part of town. As the name suggests, this is a Sunday-only market, which runs from 4 to 9pm. It's vibrant, full of lights, busy, and loud — a perfect way to end the week surrounded by beautiful old buildings, stalls selling arts and crafts, and tons of lip-smacking good food. Make sure you wander down the side streets, too. More treasures await off the main strip.
Located on Sai Kor Road, the well-designed indoor Banzaan Fresh Market is a good place to discover exotic fruits, pick up some fresh vegetables and seafood, or try a glass of refreshing coconut water or sugarcane juice. Don't forget to check out the stalls selling gifts and accessories on your way to the big food court upstairs.
If you're after more typical Thai souvenirs, curios, or some cheap T-shirts, the Phuket Weekend Night Market is the place to be. Located just outside Phuket Town, the market is also a good place to find second-hand goods, grab some odds and ends, and try some unique foods. Are deep-fried insects or fishcakes calling your name? This is the place to pick some up.
Tips and Tours: How to Make the Most of Your Visit to Phuket
One of the most popular things to do while visiting Phuket is explore some of the beautiful surrounding islands on an organized tour.
Phang Nga Bay: See some of the stunning limestone karsts rising from the jade-green sea on this small-group, guided Phang Nga Bay and

Beyond

tour. Along the way, you'll stop at "James Bond Island," paddle through tranquil lagoons on a canoe, explore limestone caves, and have time to relax and swim at a peaceful beach. A Thai lunch near Koh Yao Yai Pier is included.
Phuket, Thailand - Climate Chart
Average minimum and maximum temperatures for Phuket, Thailand in °C
J
F
M
A
M
J
J
A
S
O
N
D

31

23

32

23

33

24

33

25

31

25

31

26

31

25

30

26

29

24

30

24

30

24

31

23

PlanetWare.com
Average monthly precipitation totals for Phuket, Thailand in mm.

36

31

38

163

348

213

264

262

419

305

208

51
Average minimum and maximum temperatures for Phuket, Thailand in °F
J
F
M
A
M
J
J
A
S
O
N
D

88

73

90

74

91

75

91

77

88

77

87

78

87

77

86

78

85

76

86

76

86

75

87

74

PlanetWare.com
Average monthly precipitation totals for Phuket, Thailand in inches.

1.4

1.2

1.5

6.4

14

8.4

10

10

17

12

8.2

2.0