16 Top-Rated Beaches in Phuket
Phuket has it all: romance, beauty, adventure, tourist attractions, and some of the most delicious food you'll ever eat! Talk about a dream beach destination. The largest of Thailand's islands, Phuket is also one of its most highly visited. You can thank the luxurious sugar-white sand, tree-fringed beaches, and unbeatably crystal-clear jade waters of the Andaman Sea for the island's popularity.
With over 30 beaches peppering Phuket's breathtaking coast, you won't have to worry about being stuck somewhere you don't like. Whether you're looking for a boisterous and entertaining spot, a high-end luxury experience, or a secluded seaside escape, Phuket's beaches offer a bit of everything.
Before you book, remember that you'll have the best beach experience while visiting between November and May. The monsoon rains and rough sea hit hard after that. Now all you have to do is choose a beach. Don't worry, we've narrowed down your choices with our list of the best beaches in Phuket.
1. Freedom Beach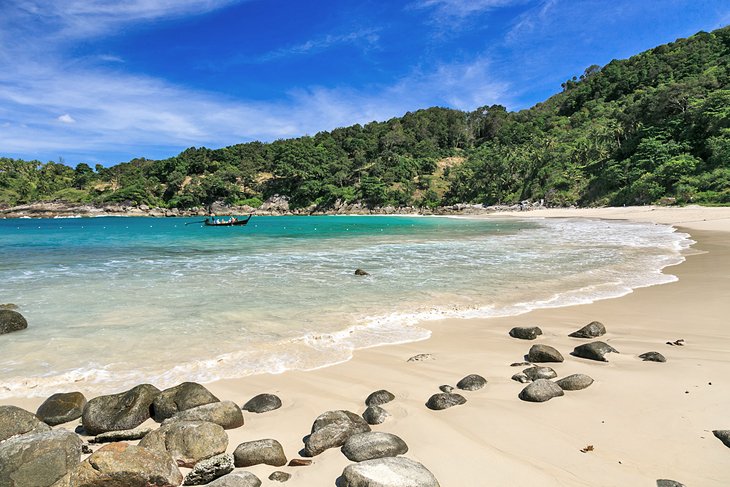 A short, 10-minute ride in a long-tail boat will take you from the hustle and bustle of Patong (on the west coast) to the heart of tranquility at Freedom Beach. One of the cleanest beaches in Phuket, this hidden masterpiece is the reason you came to Thailand in the first place–to marvel at its picturesque, virtually untouched beauty.
Freedom beach offers a throwback to the way Thailand was before tourism turned its enchanting shores into a tourist hot spot—-dotted with quiet beaches, immaculate sand, and an atmosphere of utter relaxation.
Those looking for a bit more of an adventure can climb the cement stairs at the northern side of the beach. Their reward: an incredible panoramic view of jade-hued water so clear you can see the reefs below. At the south end, you'll find the beach's only restaurant, aptly called One 'n' Only. The prices are high by Thai standards, but the food is tasty and welcome after hours spent sweating on the shore.
Those looking for water sports may want to try a busier beach like Patong (see number 4 on our list) or Kata (see below). People come to Freedom with a desire to swim, play soccer (there are two mini goals available), bump a volleyball around, or try snorkeling.
Don't worry, your peaceful visit won't be interrupted by any outside noise, barring the puttering engines of long-tail boats.
2. Kata (including Kata Noi and Kata Yai)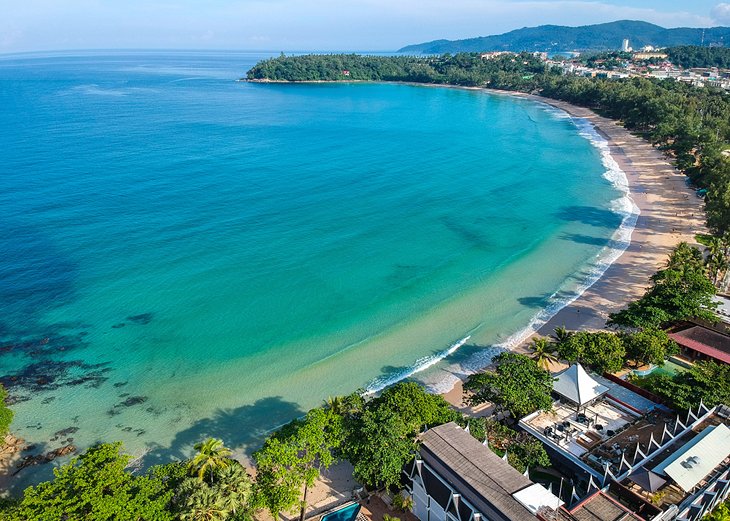 A family favorite, Kata beach is as calm as it is beautiful. It's divided into two parts: Kata Noi (the smaller, less populated of the two in the north) and Kata Yai (the larger section at the south end, where you'll find family hotels and commerce). Both are spectacular and offer picturesque views of the small island, Koh Pu, which is best photographed during sunset.
The sandy bay of Kata Yai is one of the best swimming spots on the island and a safe place for little ones to splash about and try their hands (or bellies) at body surfing. While they're safely occupied building a sandcastle at your feet, you can enjoy a massage on the beach. It's also a great place to snorkel around the rocks.
Kata Noi is mostly taken over by the luxury Katathani Phuket Beach Resort, but there are plenty of public areas to enjoy. Plus, it's much less crowded than Kata Yai.
Kata beach is becoming more popular, which means more restaurants, shops, and beach resorts are popping up near its shore, especially at Kata Yai. While this may result in more traffic on the beach, it will also make it easier to escape the heat and flex your shopping muscles when you've had enough of picking sand from your swimsuit.
3. Ao Sane Beach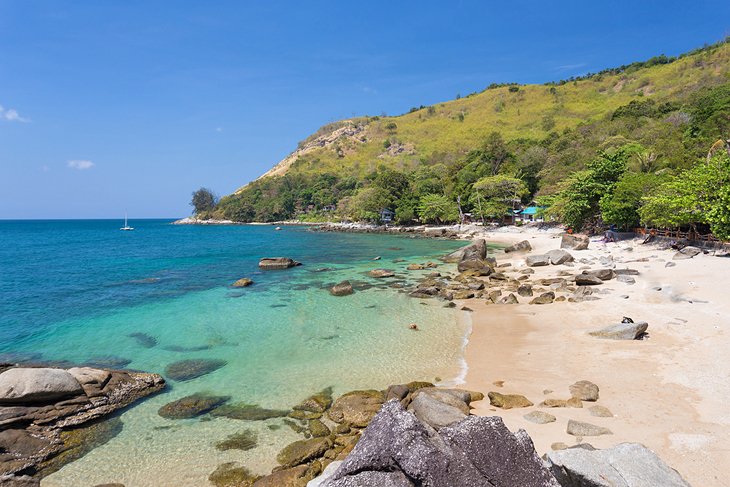 Another hidden nirvana, Ao Sane beach can be reached by driving or walking through the Nai Harn hotel on Nai Harn Beach. Perhaps the island's rockiest beach, Ao Sane is also one of its best "secrets." This beach is where you'll find the meaning of true tranquility.
You won't be bombarded by hawkers selling their wares or have to suffer through the incessant whining of Jet Skis on Ao Sane. Nor will you be able to rent a beach chair or body board, but this lack of commerce is the beach's greatest perk, and one of the many reasons it will keep you sane (get it?).
The sand at Ao Sane is rougher than it is on other beaches in Phuket. It's also incredibly rocky, so don't plan on a game of volleyball. This idyllic spot does, however, rate as one of the best places to snorkel and dive on the island. Plus, it's lined by giant trees, which provide much-needed shade to help you cool off.
Insider's tip: Don't forget to bring everything with you, as there's nowhere to purchase or rent it along the beach. That includes a snorkel and mask if you're planning on getting up close and personal with the thriving reef.
4. Patong Beach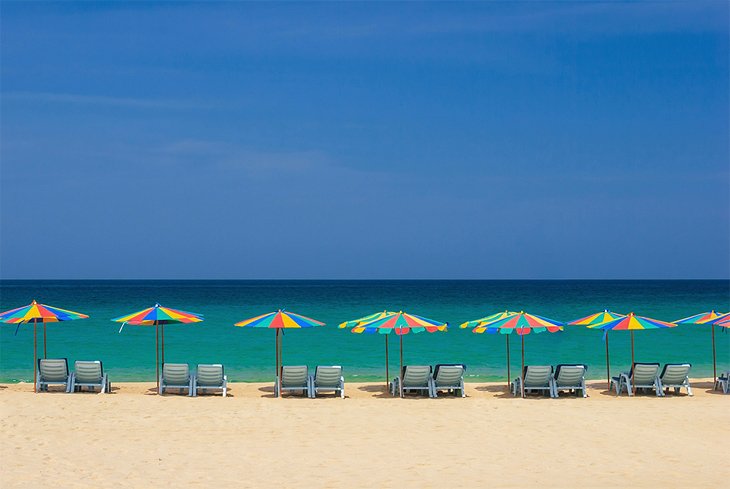 The longest beach on Phuket, Patong beach is also its most popular. If you're looking for a soulful or relaxing experience, this isn't the beach for you. Envision Miami Beach, and you're getting close to the action you'll find at Patong. Great for people-watching, shopping, and dining, this bustling beach is the place to see and be seen–it's also the place where you can munch on spicy curry while having a pedicure.
Patong was once one of the island's most beautiful beaches. When the booming tourist industry, all-inclusive hotels, restaurants, and luxury resorts took hold, however, it became known more for its busy night scene, neon lights, water activities, and multiple attractions. The calming sound of waves crashing upon the shore is now masked by pounding music and high-pitched Jet Skis.
Traveling alone? Patong beach is the perfect place for you. Where else can you lounge on soft sand during the day and meet new friends in a lively Thai disco at night? Wondering where to stay in Phuket for singles? There are a ton of nearby accommodations in this dynamic spot.
Insider's Tip: Break up your sun with a trip to Phuket Town, a 30-minute drive inland from the beach. Here, you'll find a fun mix of brightly colored shops, markets, and heritage buildings to help add a bit of culture to your trip.
5. Karon Beach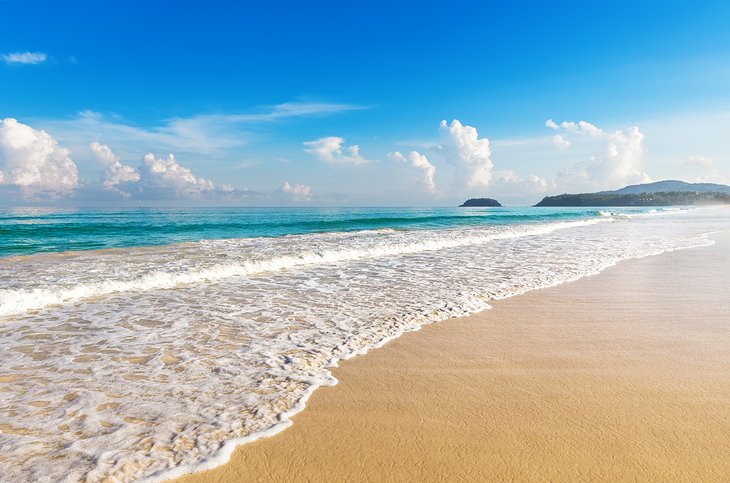 Karon beach is long, wide, and lovely. Wedged between Patong (to the north) and Kata (to the south), it's the third longest beach on the island and one of the most popular. Karon beach boasts the typical soft, golden sand made famous by this region, and sea so turquoise it screams "holiday."
Much quieter than its sandy neighbors, this beach offers visitors a quieter, more laid-back experience. You'll still have plenty of things to do (like parasail, swim, and jet ski), but Karon makes relaxing an easy "sport" to undertake.
Looking for a fabulous resort and spa? Le Méridien Phuket Beach Resort ticks all the boxes for true luxury, and it's located beach side. If that's a bit too upmarket for your taste (or budget), you'll find plenty of nice guest houses to choose from. And you'll find fantastic family resorts (like the Centara Grand Beach Resort Phuket) sharing the sandy shore.
Insider's Tip: Head to the beach's south end for the best snorkeling and diving.
6. Paradise Beach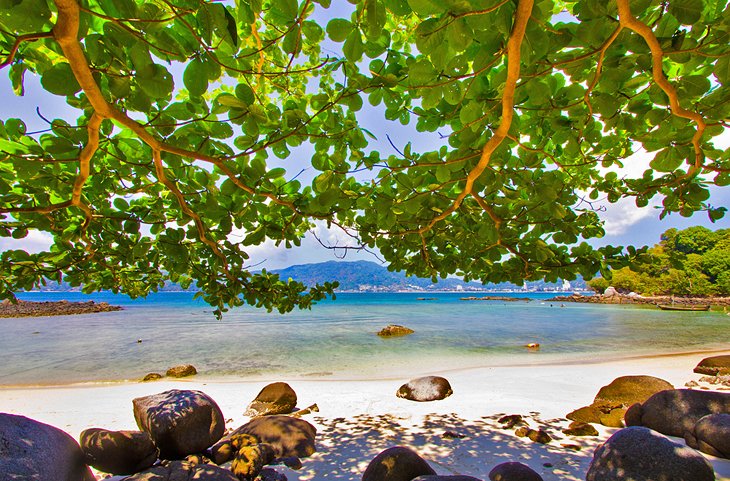 Walking on Paradise Beach is akin to stepping into the pages of a travel magazine. The glossy, azure sea laps an impressively clean shore while giant palm trees lean and sway in the background. A rope swing glides gently with the breeze. It's literally like living in a postcard.
Less than 10 minutes from busy Patong Beach, Paradise offers visitors a more laid-back environment to help them switch off from the real world. The beach is small but well protected and enjoys a sweeping, endless, bright-blue sky and giant granite rocks. Just 100 meters from shore is a coral reef teeming with life. This spot is a snorkeler's dream come true.
Paradise Beach Club offers restaurants, shops, and activities to keep you busy and well fed. They also have a beach volleyball court and comfy sun loungers. Be prepared to pay a small fee to enter. Many tourists (especially singles) stay to attend the full moon party at night.
Insider's Tip: Wear water shoes. The ocean floor is peppered with sharp pieces of rock and coral.
7. Bang Tao Beach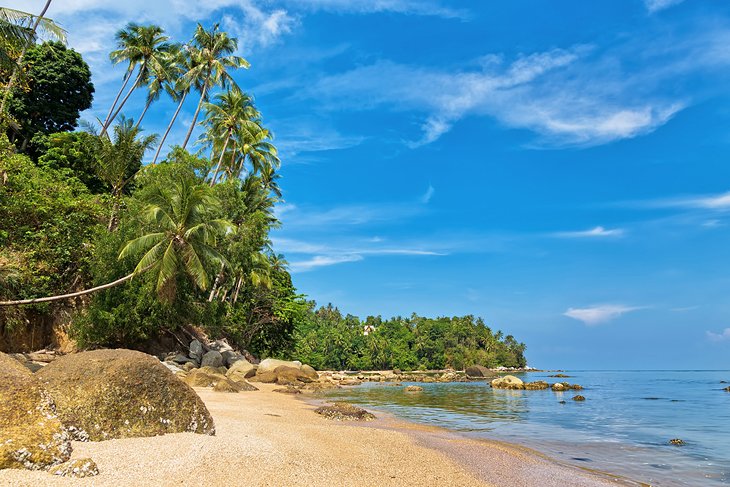 Despite its close proximity to restaurants, stores, and resorts, Bang Tao beach remains relatively quiet and quite clean. Stretching more than six kilometers, this golden shore is the second longest beach on Phuket. It sits almost halfway between Phuket International Airport and Patong. A short walk away is the small village of Cherng Talay, which lies in stark contrast to the area's luxurious hotels.
If you're looking for solace, head to the beach's northern tip. It's much less populated, free from large hotels, and relatively untouched. You'll likely run into a fisherman or two, out looking for their daily catch. But be careful, the surf is rougher here than it is on the southern part of the island.
The south end of Bang Tao is where you'll find more affordable accommodation–everything from a beach hut to a guesthouse to a family hotel is on offer here. As we mentioned, the sea is more forgiving here, due to the cove that juts out to protect it.
Smack in the middle of the beach lies the impressive (and massive) Laguna Holiday Club Phuket Resort. It comes equipped with its own playground and offers easy access to water sports, so it's an easy sell for kids of all ages.
8. Nai Harn Beach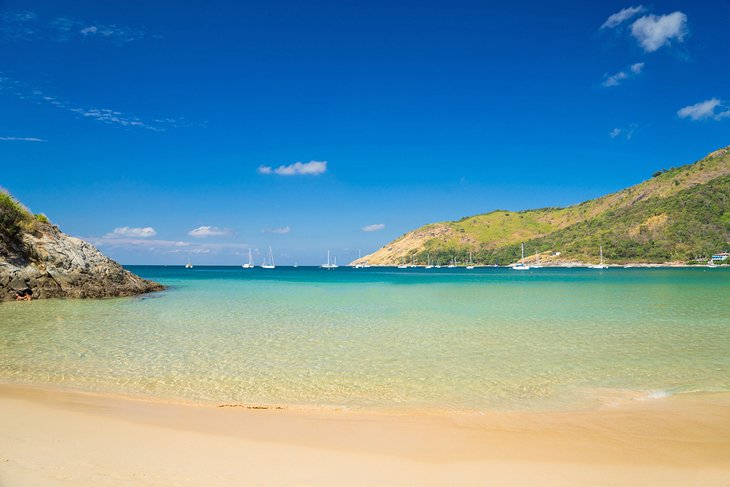 Once a quiet and well-kept secret, it didn't take long for the lovely Nai Harn to become a popular beach destination. With feather-soft sand, shallow waters, and incredibly clear blue surf, it's no wonder tourists (and locals) latched on to this small haven. That said, you won't need to fight crowds to find a comfy spot to spread out your towel.
One upside to being more well known can be found right off the sand, in the small shops lining the shore. You won't need to wander far to cool off with a refreshing beverage. Another plus: the beach is guarded by lifeguards during the high season.
Time your visit between November and May for the best water conditions. After that, you'll be fighting rough waves that can make swimming and snorkeling a dangerous challenge.
Insider's Tip: Don't miss the small Buddhist temple just off the shore.
9. Banana Beach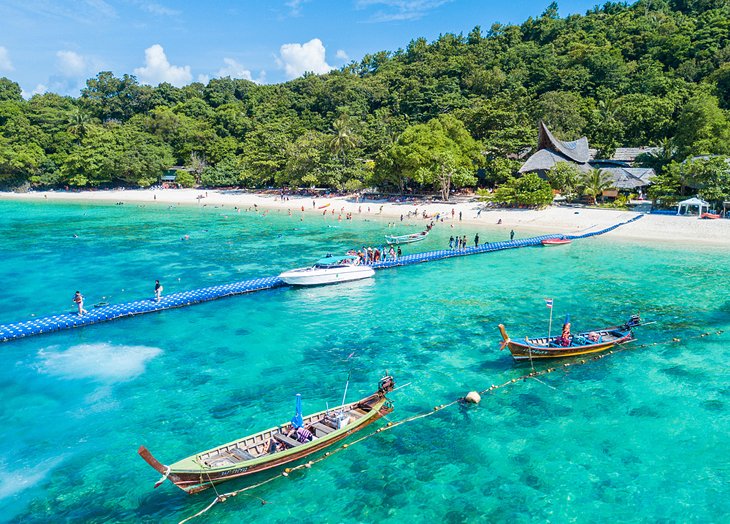 Accessible by long-tail boat (many are available at nearby Rawai beach) or by hiring a car, this hidden gem is not to be missed. Backed by a lush green jungle, the magnificence of this pristine beach is one of a kind. The tight, stress-laden shoulders you've been harboring will immediately relax once your feet hit the smooth sand of this secluded wonderland.
Also known as Banana Rock beach, this Thai utopia is located on Koh Hey Island (a.k.a. Coral Island). Technically not on Phuket, it's one of the top beach day trip destinations for those who visit this Thai paradise.
You'll find plenty of things to do on Banana Beach–from parasailing to snorkeling to kayaking. As is the case on all of Phuket's beaches, the best (and safest) time to swim here is between November and May. Outside of those months, the surf becomes too rough and dangerous.
When you're feeling parched, stop by the beach's only restaurant for a cool drink and the freshest fish you'll ever eat–it's delivered straight from the boat.
Insider's Tip: Up the relaxation by having a beach massage. Masseuses wait in the shade by the restaurant. Also, if you're looking for more solitude, visit in the afternoon, when the crowds have left.
10. Railay Beach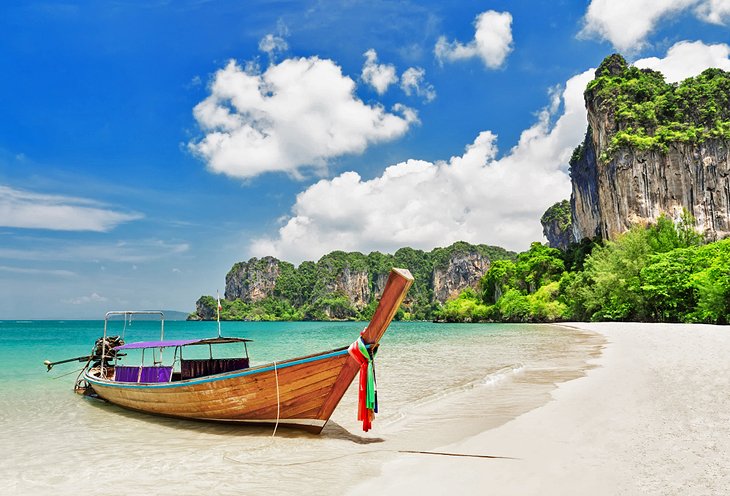 You'll be hard-pressed to find sand as velvety soft as that on Railay Beach in Krabi Province. Its spectacular surroundings are also hard to beat, which makes it one of Thailand's most popular beach destinations. The sea presents an impressive gradient of the most beautiful blues, while coconut palms provide the perfect amount of shade. What really gets your camera clicking, though, are the rugged limestone cliffs.
While most beaches attract water lovers and sunbathers, Railay (and its neighbor Phra Nang Cave Beach) entice rock climbers from all over the globe. There are nearly 1,000 climbing routes, ranging from beginner to super challenging, located in this area. Not sure you're ready to make the ascent? Don't worry, there are a few climbing schools to help train you to scale the karst peaks.
Also not technically in Phuket, this beach is one of the most visited by the island's tourists. It's only accessible by boat, which adds to its charm. You can hop on one from Ao Nang and buy tickets for ferries at multiple Phuket beaches.
Insider's Tip: Be prepared to boat hop. Once the boat or ferry gets close to shore, you'll have to transfer to a long-tail boat to get to the beach.
11. Ya Nui Beach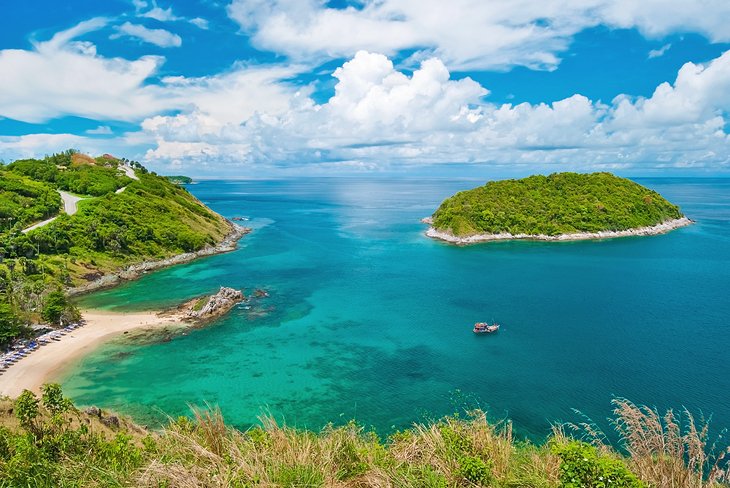 More a small cove than a beach, Ya Nui is a perfect beach for families. It's well sheltered (at the back), a palatable size, and one of the cleanest beaches on the island. Ya Nui also employs lifeguards. Another plus, it's not overcrowded, like some of Phuket's other, larger, and more popular beaches.
Situated just off Nai Harn Beach, Ya Nui offers a captivating view of the impressive Phrom Thep Cape, home to one of the best panoramic views on Phuket. The calm, clear water make it an idyllic place for diving. Rent a kayak, snorkel offshore, or chill out in a shady spot beneath the trees. When you're feeling peckish, visit one of the local restaurants for an authentic Thai meal.
Insider's Tip: Pay attention to the safety flags and keep an eye open for jellyfish, which have been known to frequent the water near this beach.
12. Surin Beach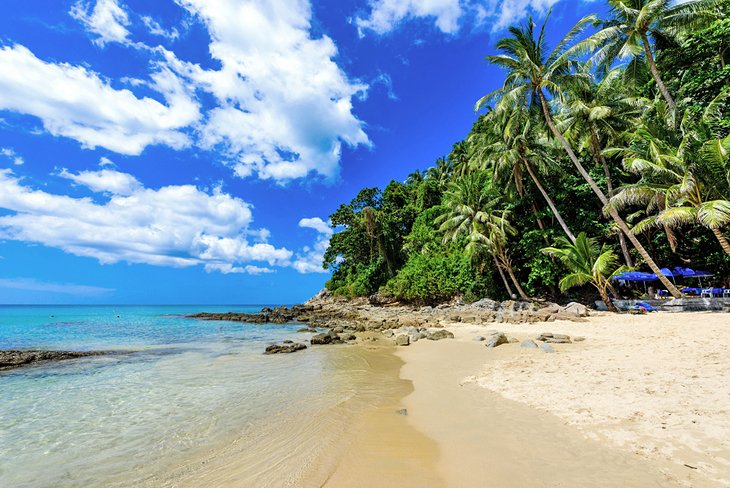 Surin Beach used to be the most happening beach on Phuket. Once famed for its great restaurants, hopping nightlife, and eclectic shops (including massage salas), it was the place to be. The Surin Beach of today looks much different.
In 2016, a dispute between the government and beachside businesses led to a grand demolishing of shops and restaurants. Now, the towering palms, colorful hammocks, perfectly turquoise water, and impeccable sand are the shore's most valued features. Don't worry, though; local vendors have come back to sell beach toys, fresh juices, food, and yes, massages, from their tiny stalls.
People no longer come to Surin for the entertainment factor. They come for the peaceful charm; raw beauty; and calm, translucent water (which is perfect for swimming during high season). When you're not floating on the sea, throwing a frisbee, or snorkeling, be sure to partake in some people watching. Celebrities tend to flock to this beach, many staying at nearby high-end resorts. With these come top-of-the-line spas, which are definitely worth a visit. Go on, pamper yourself!
Insider's Tip: Sign up for a cooking class at The Chedi. You'll learn to make delicious Thai dishes and visit a market to pick out the freshest ingredients.
13. Kamala Beach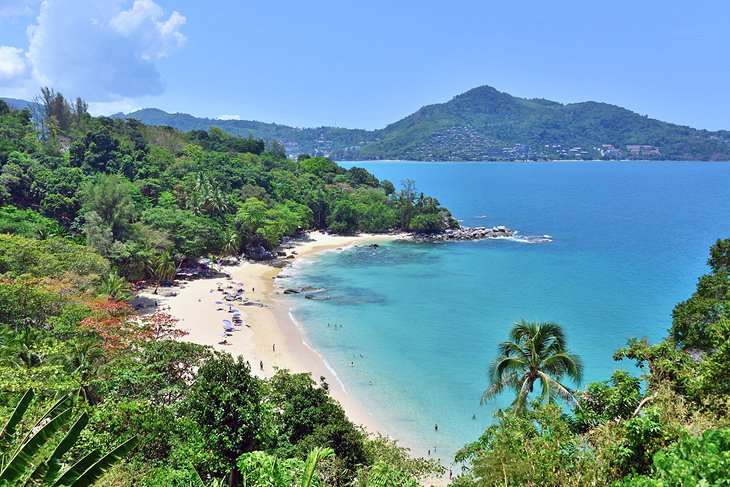 There's nothing quite like curling up with a good book while lying on a hammock facing a vibrant sea. As the gentle breeze caresses your warm skin, you'll look up to find swimmers splashing in the calm water, children digging holes in the sand, and runners making you feel guilty for being idle as they rush past.
While this beach isn't the most spectacular on this list, it's still beautiful and inviting. It doesn't boast the loud water sports of bigger beaches like Patong, but that's part of its charm. The nearby streets are an added plus, offering funky cafés, eclectic shops, and friendly locals who are always up for a chat.
While most beaches on this list (and the world) show evidence of pollution in the form of things like plastic bottles and ropes, Kamala seems to be one of the cleanest beaches in Phuket. This could be due to a volunteer-organized beach cleanup (usually on Wednesdays and Fridays). Why not lend a hand while you're there?
Insider's Tip: Enjoy the magnificent sunset while eating at one of the many beachside restaurants.
14. Phra Nang Cave Beach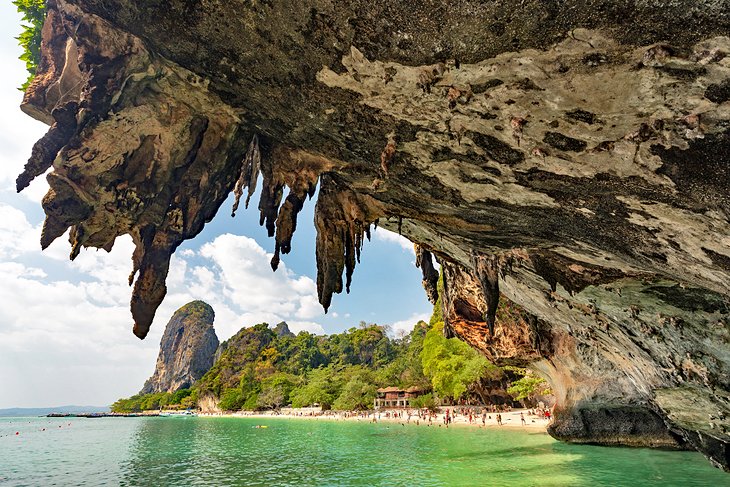 Not many beaches are home to a captivating cave. Known as Tham Phra Nang Nok (a.k.a. Princess Cave), it's used as a shrine by local fisherman. Beside it is another cave, also used as a shrine. The caves also contain lingams (interesting symbols), which have to be seen to be believed.
Located at the south end of Railay Bay (a 10-minute walk from the east side of Railay Beach), Phra Nang Cave Beach is also not technically in Phuket. The warm, inviting water is clear and shallow–perfect for kids. And the sea is spotted with dramatic rocks and the type of Thai islands you conjure up when dreaming of an idyllic beach vacation. As is the case on Railay Beach, climbing is a major attraction for most visitors to this secluded spot.
Hungry? Grab lunch at one of the floating restaurants–long-tail boats anchor along the shore and offer tasty treats and cool drinks.
Insider's Tip: Look out for monkeys. They tend to visit the water in groups and will eat anything you've left out.
15. Laem Singh Beach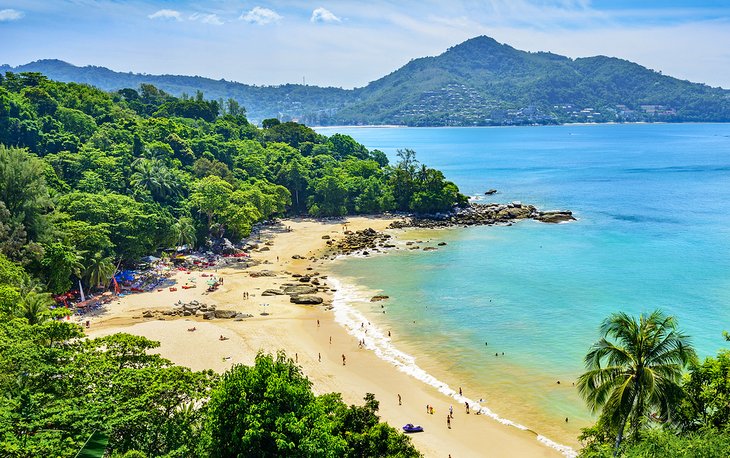 A tropical paradise greets visitors who are willing to make the trek down a steep path to beautiful Laem Singh beach on Phuket's west coast. Located just north of Kamala and south of Surin beach, this crescent-shaped beach is backed by towering trees that provide well-appreciated shady breaks.
Thanks to its long, steep entry way, this pretty spot is less crowded than other area beaches. That said, weekends can get particularly busy, especially during the high season.
Rent or bring snorkel gear to explore the nearby reefs and pack everything you need for a fun day out (like snacks, water, and beach chairs) as there are no facilities here. It can also be bit tricky to find for first-timers. Drive slowly and keep your eyes peeled for beach signs when you're on the road that runs from Kamala to Surin.
Insider's tip: There are two car parks which boast entrances to the beach, the second of which lies on the road north from Kamala. Its path is less steep but longer than that found at the first entrance.
16. Nai Thon Beach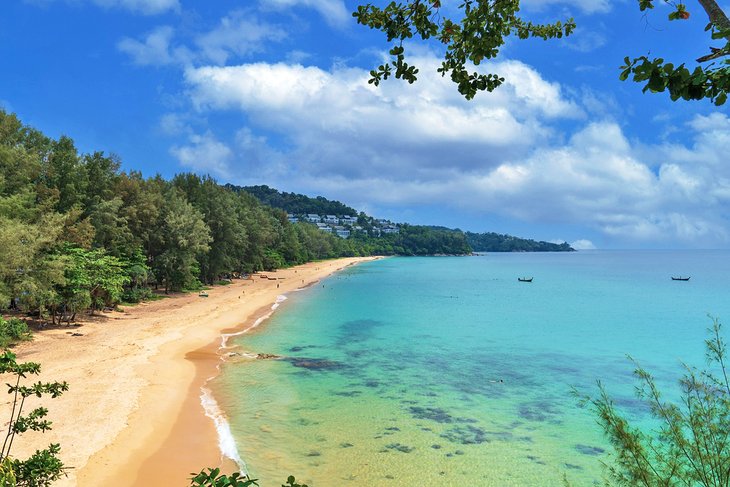 Phuket's West Coast is home to another hidden gem that is perfect for a romantic interlude. It's small (only one kilometer in length) and quiet enough that you can nap undisturbed on the soft, sandy shore.
The wide strip of sand makes it easy to find a spot to lounge and the tall trees backing the beach provide plenty of shade for those looking for a break from the sun. Rent a beach chair or umbrella while you're there.
Restaurants can be found across the street, if you're looking for a cool drink or lunch. In high season, various eateries pop up on the beach itself.
Set in Sirinat National Park, this elysian beach is technically split into two beaches: Hat Nai Thon Yai and Hat Nai Thon Noi. Both sections lie on an inlet in the village of Nai Thon. This is an ideal spot for swimming during the high season, but low season sees crashing waves and more inclement weather, so it's best to steer clear of the water.
Phuket, Thailand - Climate Chart
Average minimum and maximum temperatures for Phuket, Thailand in °C
J
F
M
A
M
J
J
A
S
O
N
D

31

23

32

23

33

24

33

25

31

25

31

26

31

25

30

26

29

24

30

24

30

24

31

23

PlanetWare.com
Average monthly precipitation totals for Phuket, Thailand in mm.

36

31

38

163

348

213

264

262

419

305

208

51
More Related Articles on PlanetWare.com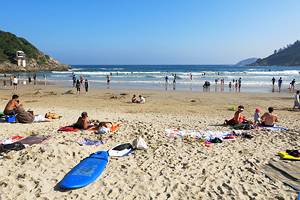 Beaches in Asia: If you're interested in the beaches in Phuket, chances are you're a lover of sun, sand, and tropical destinations. For some ideas on places to add to your bucket-list, have a read through our list of the Best Beaches in Asia to get you started. For something a little more specific, see our list of Best Beaches in Thailand, Vietnam, or the Philippines. To combine the excitement of a world-class city with a bit of beach action, have a read through our article on the Best Beaches in Hong Kong.