12 Top-Rated Beaches in Thailand
We may earn a commission from affiliate links ()
The southern regions of Thailand are home to some of the most visually stunning and exotic beaches in the world. If you are looking for quiet serenity, stroll the beaches overlooking the towering limestone monoliths and caves in the green water of Krabi Province. For a more active beach scene, you can head on over to popular Phuket Island.
The southern tip of Thailand is a beachgoer's paradise no matter where you choose to lay out your beach blanket. Choosing the right beach for your getaway depends on how you want to spend your time, being active or relaxing, and the kind of environment that suits your mood, social or secluded. Some beaches are always crowded, and other hidden gems are tucked away on islands, requiring a bit more effort to find. Figure out what suits you with our list of the top beaches in Thailand.
Note: Some businesses may be temporarily closed due to recent global health and safety issues.
1. Railay Beach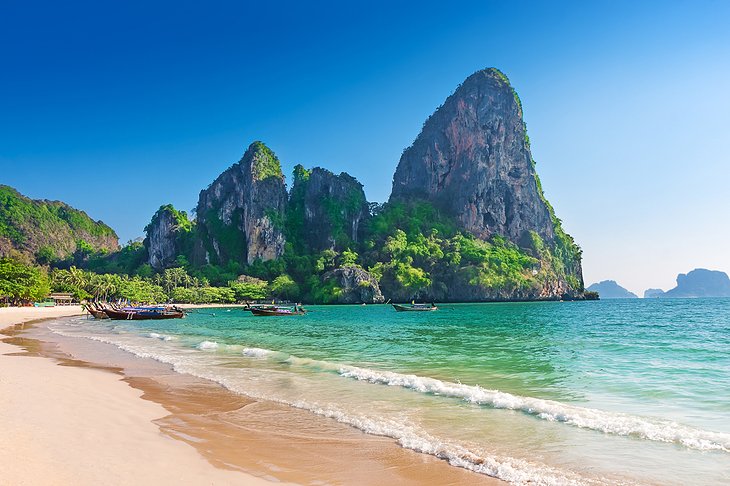 The majestic Railay Beach, one of the top attractions in Thailand, is only accessible by longtail boat since it sits on a small peninsula, but it is well worth the effort to get here. The soft white sand on the beach is only one part of the experience. Railay Beach is surrounded by cliffs and caves, limestone monoliths, jungle landscapes, and lagoon-like swimming areas.
There are several smaller beaches that make up Railay Beach, and all are within close proximity. This stretch of coast is perfect for combining traditional beach time with some exploration around the island. The luxury accommodations at the
Rayavadee Resort and Bhu Nga Thani Resort and Spa bring you close to nature, surrounding you with lush gardens, elaborate pools, and views of the beach even when you head back to the room to relax.
2. Nai Harn Beach, Phuket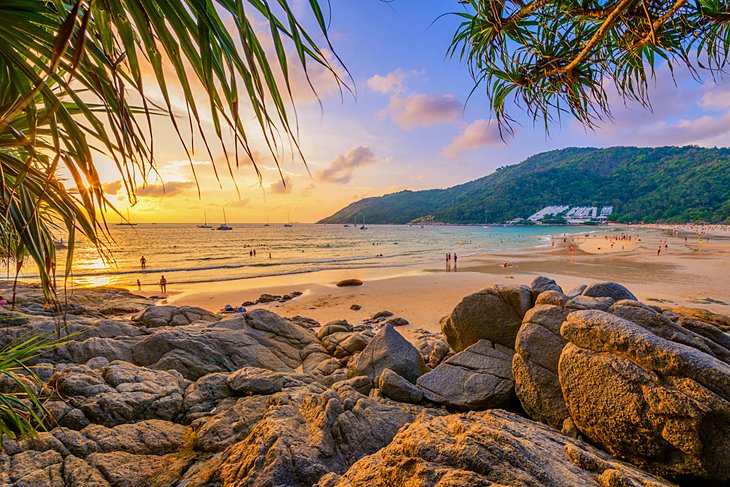 Though Nai Harn Beach can get quite crowded, it is still one of the most popular beaches in Thailand. Located on Phuket, the beach is known for crystal clear water, white sand, and waves that are not overbearing when swimming.
The beach is one of the most popular because of its consistent climate and weather conditions that make it suitable to visit year-round. Nearby restaurants and local food vendors make it convenient to stay a full day at the beach. A number of resorts like the Navatara Phuket Resort, The Nai Harn, and Sunsuri Phuket are within walking distance of the beach.
3. Haad Rin, Koh Phangan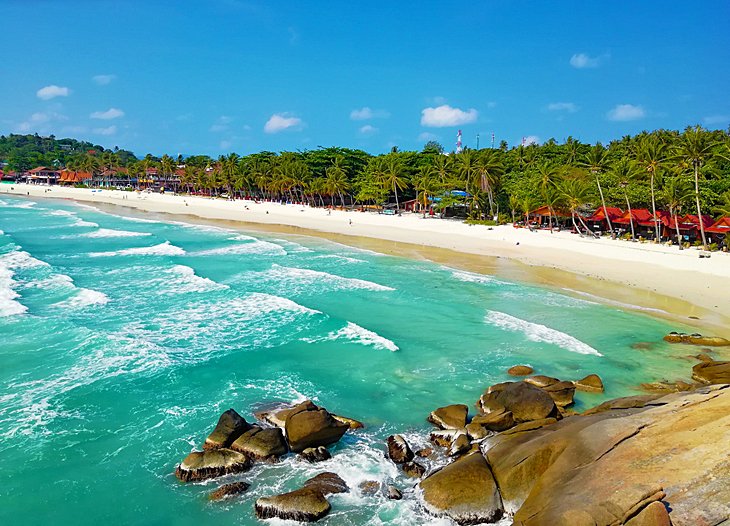 Haad Rin Beach is one of the most popular of the nearly 30 beaches on the small island of Koh Phangan. The long stretch of white sand and blue water surrounded by coconut trees and cliffs makes it a picturesque beach day. The beach is generally an active scene, with spontaneous games of volleyball, people swimming, and vacationers enjoying water sports like jet skiing and kayaking.
Nearby lodging ranges from private villas at Anantara Rasananda Koh Phangan Villas to full-service resorts, like the Santhiya Koh Phangan Resort & Spa and even hostels on the beach for those who are on a tight budget. The best time to visit is outside monthly full-moon events, when the area can get quite crowded with young beach-goers.
4. Phra Nang Cave Beach, Krabi Province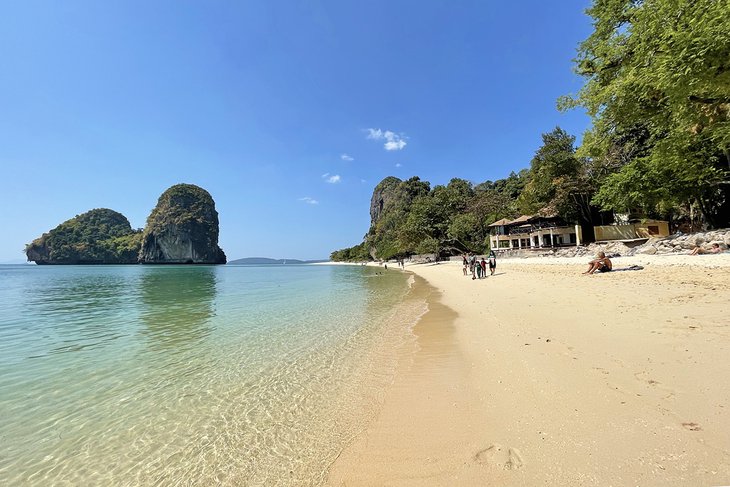 For a beach surrounded by a stunning landscape and outdoor adventure that few others can match, visit the Phra Nang Cave Beach in Krabi Province in southern Thailand. Characterized by outcroppings of cliffs that are popular for rock climbing, the shallow water of this beach makes it a favorite stop for tourists and families looking for safer waters to swim. It can be overcrowded at times, but it is one of the most unique beaches in Thailand.
For a more private beach experience, stay at a resort like the Rayavadee Resort, which secludes guests in the forest surroundings, with a low profile pool and beach area. Short trails near the beach take you through caves and showcase the area's landscape. Try some fresh fruit from a floating vendor to cool off in the heat. The best times to visit for decent weather and fewer crowds are May and October. High season is November through April.
5. Maya Bay, Koh Phi Phi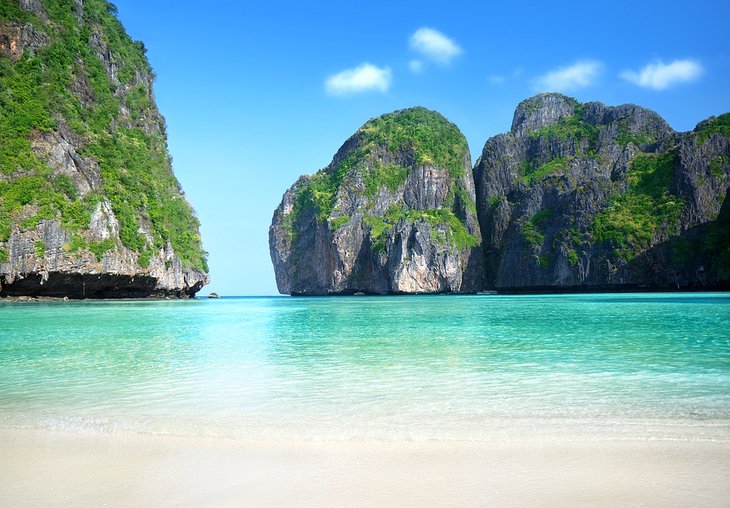 The shallow, azure waters of Maya Bay on Koh Phi Phi, one of the world's most beautiful islands, are almost entirely surrounded by huge limestone monoliths. The aerial view of the beach makes it easy to see why this location was used as the backdrop for the Leonardo DiCaprio movie The Beach. The steep hills that surround the water make it feel like a private paradise, even though it is likely to be crowded with visitors and longtail boats when you go.
Since the bay is a large reef, you will see many tropical fish – snorkeling is one of the popular things to do here. The best time to visit is during the high tourist season from November to April when seas are calm. Unless you want to stay in Phuket and ferry to the island, you can stay near the bay at the SAii Phi Phi Island Village or Paradise Pearl Bungalows and just pay a small national park entry fee.
6. Pattaya Beach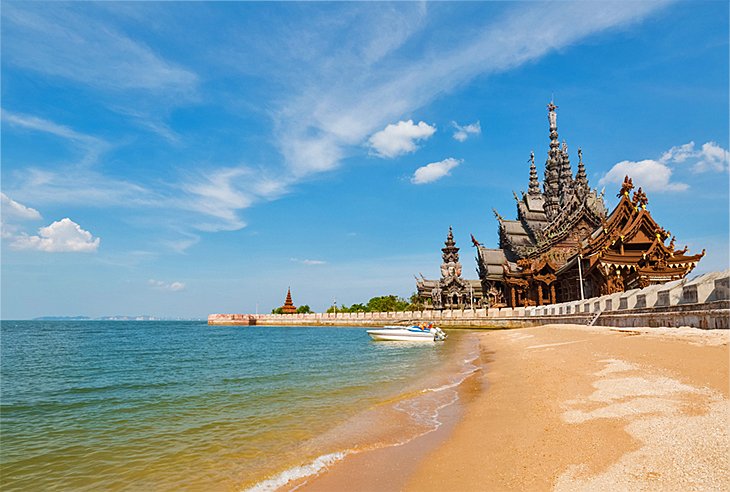 About an hour south of all the attractions in Bangkok is Pattaya Beach, a popular tourist beach on Thailand's Gulf coast. The most notable feature is the hillside temple that sits above the sand. The area that was once a fishing village is now modernized with resorts and shopping. Large resorts like the artful Renaissance Pattaya Resort & Spa and the trendy Royal Wing Suites & Spa are among them.
This is a great beach if you want to do water sports like parasailing or Jet Skis that you will not find on smaller beaches. Like other beaches near Bangkok, Pattaya Beach can be a bit crowded at times but still ideal if you enjoy strolling the crescent coastline or promenade area. The best time to visit Pattaya Beach is March through May, when the weather is typically fine but there are fewer tourists.
7. Chaweng Noi Beach, Koh Samui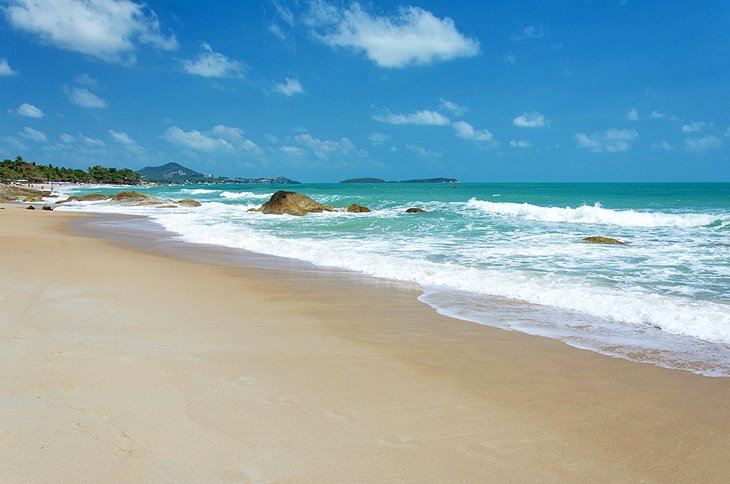 The popular beach of Chaweng on the island of Koh Samui can be quite crowded, which is why its smaller and more secluded version down the coast, Chaweng Noi, is a top choice. The shallow water, calm surf, and quiet beachfront make this beach perfect for a day of relaxation away from the crowds.
Enjoy lunch from one of the many small beach restaurants with tables in the sand, or melt your worries away with an ocean-front massage from a local vendor. Luxury resorts like the Sandalwood Luxury Villas and Bo Phut Resort & Spa near the beach make you feel like you are on your own private island. Planning a visit between late December and April gives you the best beach weather on the island.
8. Freedom Beach, Phuket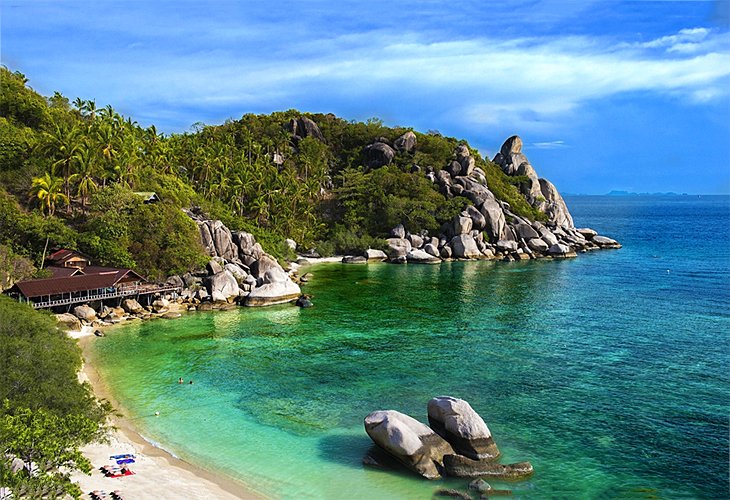 Spend a day relaxing or snorkeling in the clear waters of Freedom Beach in Phuket. It is best to take a longtail boat from Patong to reach the beachfront, as it is difficult to access by land. Be aware that you will need to pay a small entrance fee, but the view is worth it.
The Avista Hideaway Hotel has a small path to the beach if you are up for a short hike. Freedom Beach is typical of the picturesque, unspoiled beach scene that you expect to see in tropical Thailand. The best time to visit is December through February.
9. Bottle Beach, Koh Phangan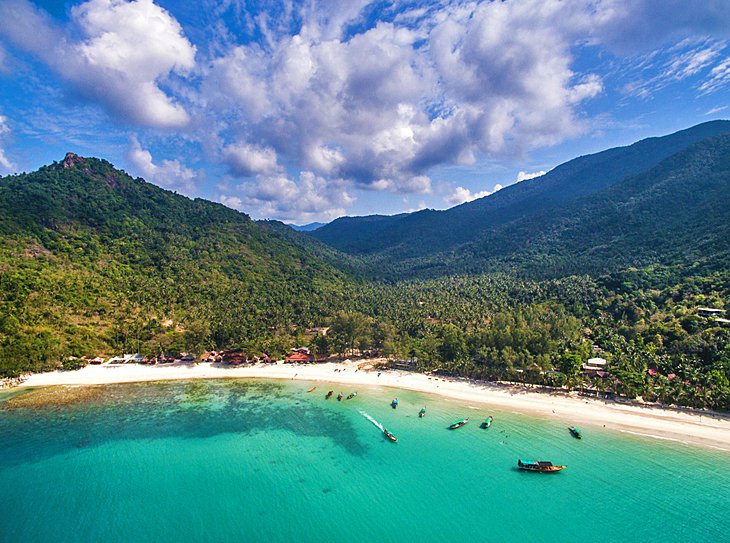 Like other popular beaches in Thailand, Bottle Beach can be crowded in high tourist seasons but for good reason. It is primitive and naturally beautiful. Other times though, this beach can be almost secluded and tranquil. Most visitors come here on day trips, so staying overnight will give you a chance to have the beach almost all to yourself in the early morning.
You can stay in a bungalow on the beach at Bottle Beach 1 Resort, but many visitors stay on the island's east coast, in full-service accommodations at Buri Rasa Koh Phangan or Panviman Resort and take a longtail boat to the beach. Small bungalows and shacks on the beach give you shade from the Thailand sun in between your swims in the warm water.
10. Ao Prao Beach, Ko Samet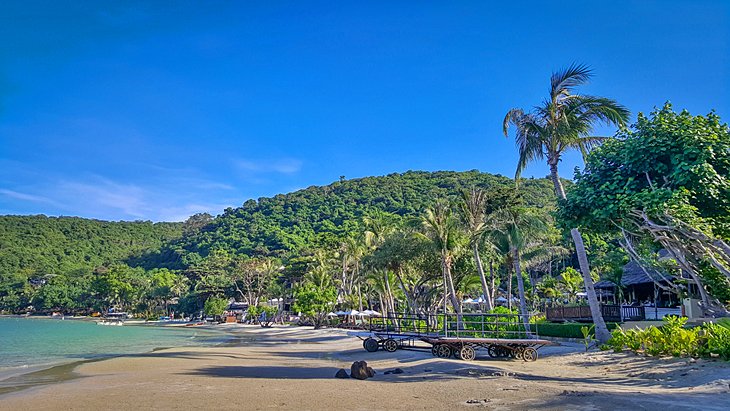 With 14 white-sand beaches in Ko Samet there are plenty of choices in this area, but Ao Prao Beach is one of the best. The area is a weekend retreat for locals in Bangkok because of the jewel-toned water and soft white sand. Another great beach for families, visitors here can enjoy calm waters for swimming during the day and indulge in local seafood at a beachside restaurant in the evening.
There are a number of high-end resorts, with options like luxury beachfront villas at Paradee Resort to comfortable cottages and spa amenities at Le Vimarn Cottages & Spa. Ao Prao Beach generally has decent weather year-round, but the best months to visit are October through February during the milder season.
11. Sairee Beach, Ko Tao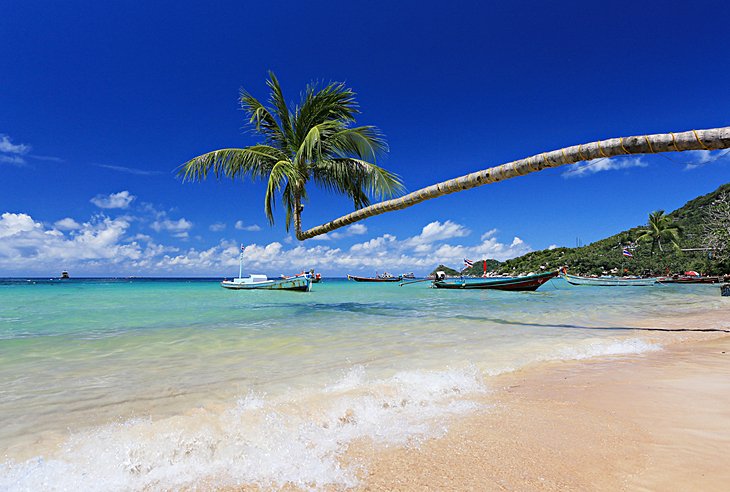 One of the best views of a spectacular Thailand sunset is from Sairee Beach on the tiny island of Ko Tao. This is the happening spot on the island, with plenty of restaurants and water sports like diving and snorkeling. The long, narrow beach is great for walking, with unobstructed views of the sunrise and sunset, so it is a popular beach for photographers.
This is also the main area for lodging on the entire island. You will find rooms at places like The Tarna Align Resort, designed for a perfect view of the sunsets. Sairee Beach is ideal to visit from February to September.
12. Hua Hin Beach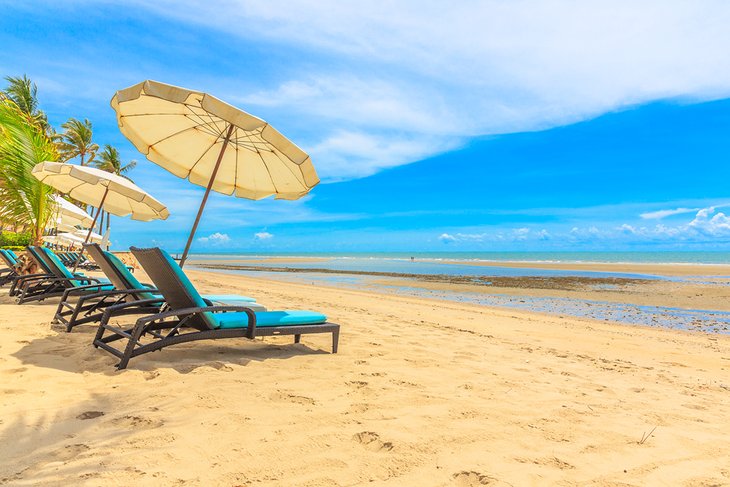 With over four kilometers of sandy beachfront, Hua Hin has something for everybody: plenty of family-friendly activities such as banana boats and pony rides, great windsurfing and parasailing schools, and sun loungers and umbrellas as far as the eye can see. Hua Hin Beach has a more relaxed vibe than other beach destinations in Thailand, attracting visitors looking for rest and relaxation.
At the far end of Hua Hin Beach, behind Khao Takiap hill, there's the small, palm-fringed Suan Son Beach. And for those up for a day trip, the spectacular Sam Roi Yot National Park is not far from Hua Hin and home to Laem Sala Beach, a secluded stretch of sand that is hard to access but is always peaceful with stunning water views.
There are plenty of places to visit in Hua Hin and near the beach, including restaurants, world-class golf courses, and many shopping destinations. Plus, Hua Hin has many high-end resorts and luxury accommodations, such as the InterContinental Hua Hin Resort, which offers 119 guest rooms and suites and a private beachfront, and the exclusive V Villas Hua Hin, which offers private villas, infinity pools, and a private beach.