Exploring Khao Yai National Park: A Visitor's Guide
Thailand's oldest and third largest national park has it all: mountains, dense forest, exotic wild animals, waterfalls, lakes–the list goes on and on. Covering more than 2,100 square kilometers, the sprawling Khao Yai National Park stretches into four provinces and holds something for everyone who visits.
The park is an especially great place to see Thailand's natural glory on your way north. When in Pak Chong, the largest town close to the park, be sure to stop by the daily market, where local people sell their wares – and if you're staying overnight, you shouldn't miss the night market either. About 15 kilometers east of the city, you'll find the beautiful Lam Takhong reservoir set in a wide valley.
For more ideas on how to make the most of your visit to Khao Yai, see our list of tips and tourist attractions in Khao Yai National Park.
Things to Do in Khao Yai National Park
1. Haew Narok and Haew Suwat Waterfalls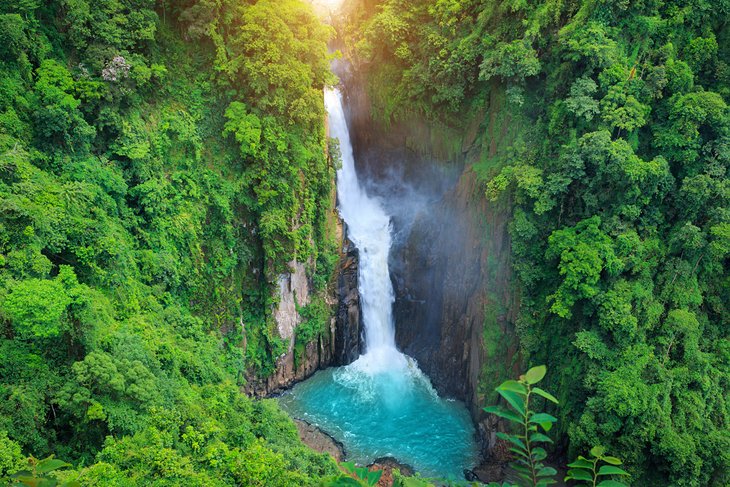 A trip to Khao Yai wouldn't be complete without a visit to at least one of several waterfalls. Haew Narok is the obvious choice, as the highest waterfall in the park (it's also a promising spot for scoping elephants, as they like this area).
This three-tiered beauty can be reached by hiking a 600-meter trail; you'll find a restaurant and restrooms where the trail begins, so you can fuel up before the hike.
Film buffs will be interested in checking out Haew Suwat, a waterfall that was featured in the Leonardo DiCaprio film The Beach. Nam Tok Pa Kluai, known as the Orchid Waterfall because orchids surround the rocks, is also worth seeing.
There are a number of other smaller and less well-known waterfalls guests can hike to as well, including Nam Tok Haeo Prathun and Nam Tok Haeo Sai.
2. Khao Laem and Khao Khiau Viewpoints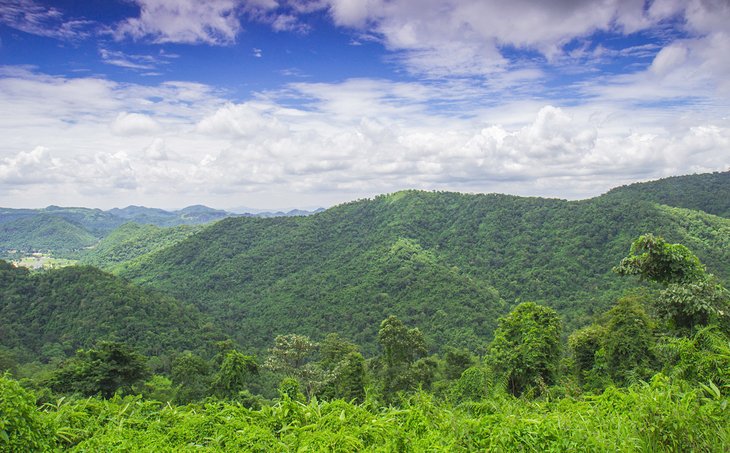 For great views of the surrounding area, visitors can hike to one of several volcanic peaks. The highest mountains, located in the southern section of the park, are Khao Laem (1,328 meters) and Khao Rom (1,351 meters).
Both can be climbed during a day tour. Paths are marked according to the level of difficulty, so check with park guides to find out which are open and safe–some can only be climbed with a guide.
3. Trekking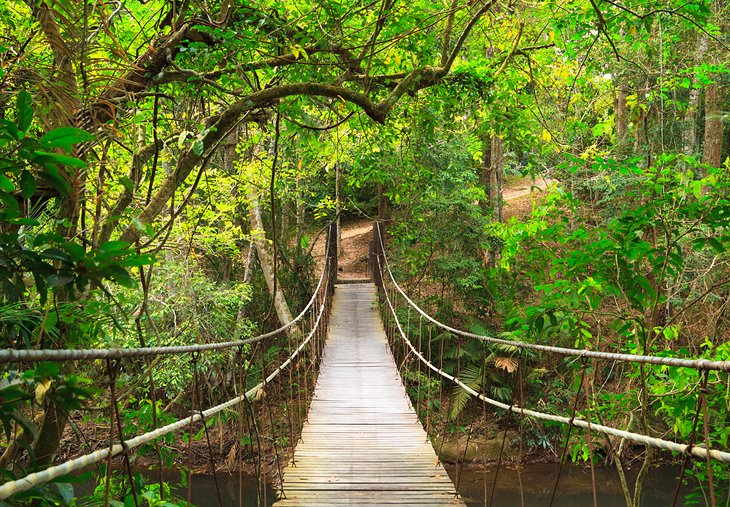 More than 50 kilometers of hiking trails cut through the park, crossing over grasslands, through jungles, and up to the waterfalls. Some of the trails are well maintained, and the park actively promotes the use of six specific trails, as they are safe, offer great views along the way, and are perfect for people of all fitness levels.
Visitors can choose from a basic 1.2-kilometer, one-hour loop great for bird-watchers or a 3.3-kilometer, two-hour hike that takes you to the Nong Pak Chi observation–one of the best spots to catch sight of elephants in the early morning or late afternoon.
For more adventurous folks, there are also rougher, more advanced trekking opportunities. A great example is the eight-kilometer, five-hour-long trek to the Haew Suwat waterfall, which requires hiring a park ranger guide.
4. Wildlife Watching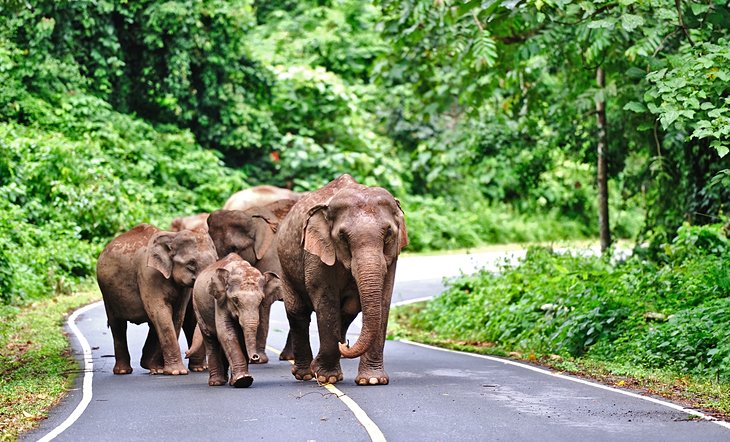 Wildlife at Khao Yai is the main attraction for many tourists and for good reason–with over 70 mammal species recorded within the park, this is a great opportunity to catch sight of some impressive fauna.
A wide range of creatures call the park home, including pig-tailed macaques, Asian black bears and sun bears, clouded leopards, water monitors, king cobras, pythons, and a colorful and diverse array of birds, to name a few.
Khao Yai National Park is also one of the best places in Thailand to see wild elephants–about 300 call the park home and you can hire a park ranger to take you to the areas where they congregate, including the jungle undergrowth and a massive waterhole on the grassy plains.
Wild animals can also be observed from the Nong Pak Chi tower during morning and evening hours, but also during safari drives near the grassland areas, where gaur and deer congregate to graze.
Jungle hikes are the best option for bird-watching–the park is home to four species of hornbills, banded kingfisher, pelicans, cuckoos, and many other birds.
5. Night Safaris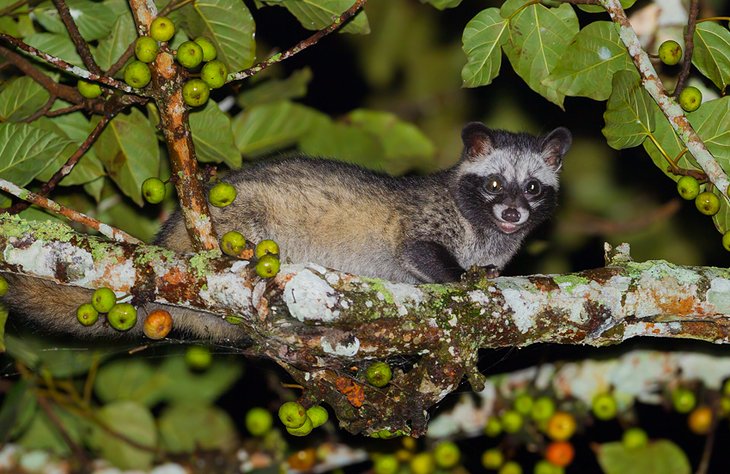 Night safaris are often your best chance of catching sight of elusive nocturnal animals. Just jump in the back of a pickup truck led by park rangers and head into the night to search for wildlife. The rangers will track animals through the park, and once they find one, they'll shine a spotlight in their direction.
On any given night, you can see deer, spotted civets, field mice, snakes, and more–but regardless of what you end up encountering, the drive through dark, eerily quiet dirt roads is an adventure in itself.
Night safaris last around an hour and are available at 7pm and 8pm, after the last daytime visitors leave the park. You can sign up for tours at the park's visitor center, but spaces are limited, so book early in the day.
6. Khao Luk Chang Bat Cave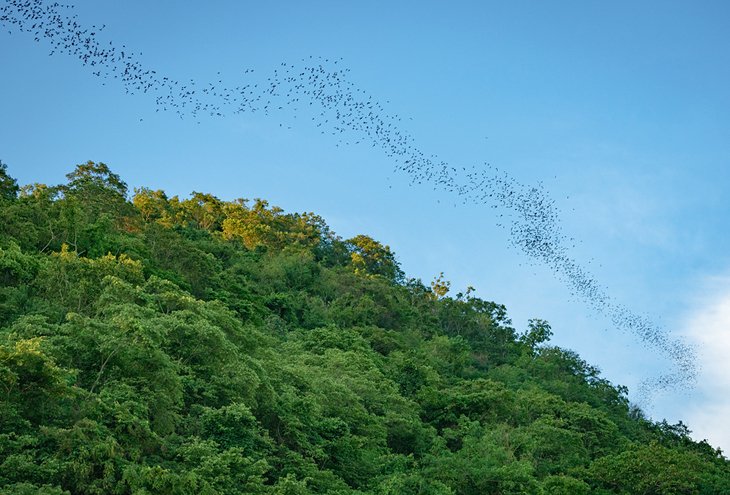 Bats aren't everyone's cup of tea, but it's worth making your way to Khao Luk Chang Bat Cave before sunset to see the long cloud of the nocturnal creatures fly into the night. It makes for a spectacular, if spooky, sight, as tens of thousands of bats exit into the sky all at once.
The rocky, dry road to get there is hard to maneuver, so paying a park ranger to get you to your destination is a good idea–otherwise, be prepared for a very tricky (but rewarding) hike.
7. Whitewater Rafting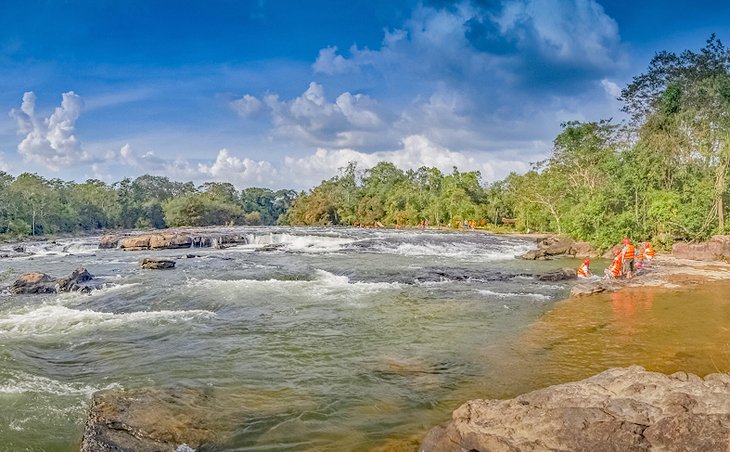 If you happen to be in the area during the rainy season, the Sai Yai River inside the park offers some stunning class 4 and 5 rapids. Because water levels are too low during the cool and dry season, you'll need to arrive between June and October to make the most of the river–with September and October being the most popular months (but also the rainiest).
The multi-level rafting course has six rapids–from a fun Class 2 row through islets and falls to a class 5 requiring navigation through rocky crevices and strong waves.
The rapids can only be attempted with a guide, and beginners will need to complete a safety briefing before attempting the one-hour raft down the river.
Location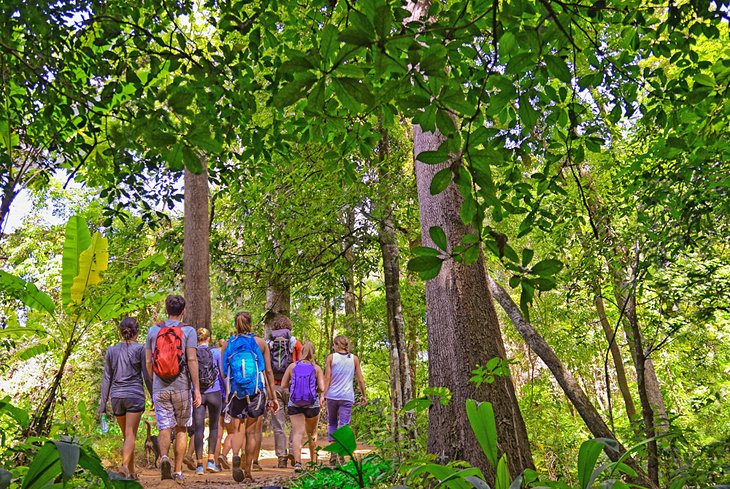 The small town of Pak Chong serves as a popular gateway to the famed Khao Yai National Park and the mountainous region in which the park stands. Conveniently located about 200 kilometers from Bangkok, Pak Chong and Khao Yai are easily accessible from the capital.
You can reach Pak Chong by car, taking Highway 1 from Bangkok to Saraburi, then following Highway 2. It's also possible to reach the town by train on the Bangkok-Nakhon Ratchasima line, or by bus from the Bangkok Northern Bus Terminal (approximately four hours).
Once here, you'll have to find a small local bus to get you closer to the park (about 40 minutes away from Pak Chong) or get a local taxi driver to bring you to the park's entrance.
A convenient way to experience the park is to take a tour from Bangkok
Tips for Visiting Khao Yai National Park
For conservation purposes, the park limits the number of visitors it allows each day, making it a good idea to book your visit with a tour company at least a day in advance.
The best time to visit the park is between November and February, when the weather is slightly cooler and the monsoon rains have stopped. During the rainy season, trekking through the park is almost impossible because of the mud and slippery terrain (you also have to deal with mosquitoes and other creepy crawlies during this time). For longer hikes, consider starting early in the morning, when the high humidity hasn't kicked in yet, and you can often get temperatures in the mid-20s.
The park draws a large number of both Thais and foreigners, so it is best to avoid visiting on weekends or public holidays, when the place tends to be particularly crowded.
Be careful of particularly "cheap" prices for taxi journeys from the park entrance; they are often only for one-way journeys. When in doubt it is advisable to rely on tour operators in Pak Chong, Saraburi, and Nakhon Ratchasima.
Map of Exploring Khao Yai National Park: A Visitor's Guide
More Related Articles on PlanetWare.com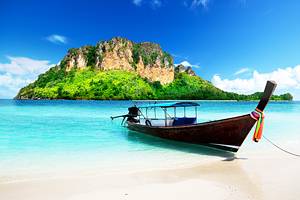 Planning Your Trip: If you're starting your trip to Khao Yai in Bangkok, make sure you don't miss out on some of the best things to see and do in the capital. Trying to figure out what else to fit into your trip when exploring Thailand? Take a look at the best places to visit in Thailand, then check out our Top-Rated Tourist Attractions in Thailand article to see other must-not-miss destinations within the country.