Exploring Khao Yai National Park: A Visitor's Guide
The small town of Pak Chong serves as a gateway to the famed Khao Yai National Park and the mountainous region in which the park stands. Conveniently located about 200 km from Bangkok, Pak Chong and Khao Yai are easily accessible from the capital. And the park is an especially great place to see Thailand's natural glory on your way north. When in Pak Chong, be sure to stop by the daily market where local people sell their wares. About 15 km east of the city you'll find the beautiful Lam Takhong reservoir set in a wide valley.
You can reach Pak Chong by car, taking Highway 1 from Bangkok to Saraburi, then following Highway 2; by train on the Bangkok-Nakhon Ratchasima line; or by bus from the Bangkok Northern Bus Terminal (approximately 4 hours).
Khao Yai National Park
Thailand's first national park has it all: mountains, dense forest, exotic wild animals, waterfalls, lakes - the list goes on and on. Covering more than 2,100 sq km, the sprawling park stretches into four provinces and holds something for everyone who visits here.
A trip to Khao Yai wouldn't be complete without a visit to one of several waterfalls. Haew Narok is the obvious choice, as the highest waterfall in the park (it's also a promising spot for scoping elephants, as they like this area). This three-tiered beauty can be reached by hiking a 600 m trail; you'll find a restaurant and restrooms where the trail begins so you can fuel up before the hike. Film buffs will be interested in checking out Haew Suwat, a waterfall that was featured in the Leonardo DiCaprio film The Beach. Nam Tok Pa Kluai, known as the orchid waterfall because orchids surround the rocks, is also worth seeing. There are a number of other smaller and less well-known waterfalls guests can hike to as well, including Nam Tok Haeo Prathun and Nam Tok Haeo Sai.
Visitors may want to hike to one of several peaks that offer advantageous views of the surrounding area. The highest mountains, located in the southern section of the park, are Khao Laem (1328 m) and Khao Khiau (Green Mountain, 1350 m). Both can be climbed during a day tour. Paths are marked according to level of difficulty, so check with park guides to find out which are open and safe.
Wildlife at Khao Yai is a main attraction for many tourists, and with good reason. A wide range of creatures call the park home, including elephants, monkeys, Asian black bears and sun bears, clouded leopards, water monitors, king cobras, pythons, and a colorful and diverse array of birds, to name but a few. Wild animals can be observed easily from Nong Pak Chi tower during morning and evening hours.
Bats aren't everyone's cup of tea, but it's worth making your way to Khao Luk Chang Bat Cave before sunset, when you'll see a long cloud of the nocturnal creatures fly into the night. It makes for a spectacular, if spooky, sight. There are also night safari tours that can be arranged through park staff.
Those who wish to overnight can set up in one of two campsites. Conveniently, visitors can rent tents, blankets, sleeping bags, and pillows right at the site, so there's no need to lug a lot of equipment around. The park does warn that the macaque monkeys will pry their way into the tents one way or another, so it's best to leave food items out in the open so they don't go tearing apart your bags. And remember, it's all part of the fun of being in the wild.
Hours: Daily 8am-5pm
Admission: 400 THB for adults, 200 THB for children; 500 THB per car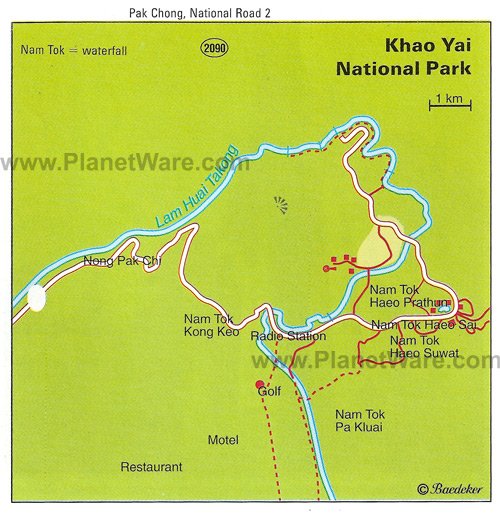 Khao Yai National Park, Nakhon Ratchasima Map
Want to use this map on your web site?
Copy and Paste the code below:
Tips
For conservation purposes, the park limits the number of visitors it allows each day making it a good idea to book your visit with a tour company at least a day in advance.
The park draws large number of Thais and foreigners, so it is best to avoid visiting on weekends or public holidays, when the park tends to be particularly crowded.
Buses depart from both Pak Chong and Bangkok for the national park. If traveling by car from Bangkok, turn off to the right shortly before Pak Chong on to Highway 2090 and follow the signs.
Be careful of particularly "cheap" prices for taxi journeys from the park entrance: they are often only for one-way journeys. When in doubt it is advisable to rely on the tour operators in Pak Chong, Saraburi and Nakhon Ratchasima.
More on Thailand