From Bangkok to Chiang Mai: 3 Best Ways to Get There
Chiang Mai is one of Thailand's largest and oldest cities–a laid-back land of palaces and temples and a getaway to the lush, misty mountains of the north. The ancient walled city is a prime destination for hiking, culinary adventures, and animal lovers–Chiang Mai is home to more ethical elephant sanctuaries than anywhere else in Southeast Asia.
Located 700 kilometers north of Bangkok, getting from Bangkok to Chiang Mai takes some planning. If you're hoping for just a quick weekend visit, it makes sense to fly between the two cities, as land travel options will take more than half a day. But whether you're looking for a relaxed trip that allows you to enjoy the scenery or want to get to your destination as quickly as possible, check out our list of the best ways to go from Bangkok to Chiang Mai.
1. From Bangkok to Chiang Mai by Plane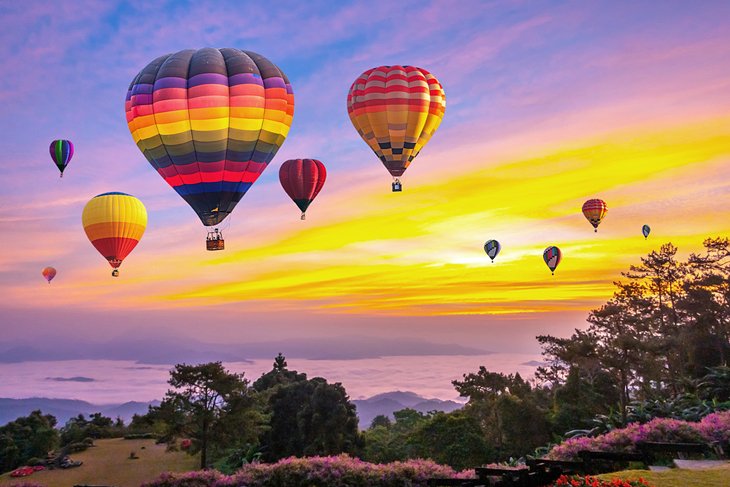 Flying from Bangkok to Chiang Mai is the simplest mode of transportation if you're planning the trip on your own. Most low-cost carriers–such as Nok Air and AirAsia–flying to Chiang Mai leave from Bangkok's Don Mueang Airport, which mostly handles local flights. Suvarnabhumi International Airport (BKK) is home to bigger airlines such as Bangkok Airways, which also fly to Chiang Mai but for a significantly higher price.
The flight between the two cities is about one hour and 15 minutes long regardless of the airline you choose, with the main difference between budget and "regular" flights being the little details. For example, budget airlines often don't allow checked luggage–not even for an extra fee. They also don't offer onboard snacks or drinks, and legroom is significantly limited.
If you book in advance, you can get very reasonably priced tickets, although in low season (July to October) you might be able to find promo fares at even cheaper prices. Since there are over 50 flights from Bangkok to Chiang Mai every week, finding one that suits you should be no issue. Keep in mind that ticket prices are much higher during Songkran, the Thai New Year celebration that lasts for five days in mid-April.
Once in Chiang Mai, you can catch a tuk-tuk (a motorized three-wheeled taxi) or a moto taxi to the Old City center, just a few minutes away from the airport. Always agree on a price before you get on a taxi to avoid being overcharged later.
2. From Bangkok to Chiang Mai by Train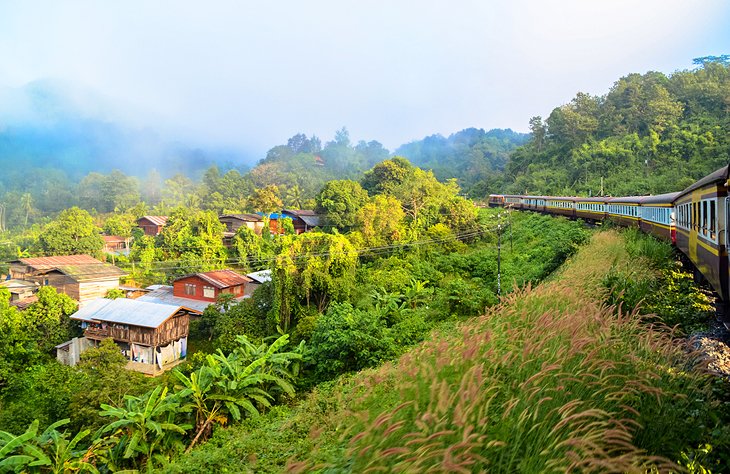 The train ride from Bangkok's Hua Lamphong Station to Chiang Mai station can take anywhere from 12 to 15 hours, so choosing a comfortable seat is a must. Don't let the distance feel daunting – this is one of Thailand's most picturesque train rides. On the way, you'll ride past historic Ayutthaya, golden temples on top of hills, lots of tropical jungle, and small traditional villages.
Sleeper trains are your best bet, and if you pick a first-class ticket in a two-person or four-person sleeper carriage, you'll get AC, a stewardess, and a train with a restaurant car. Lower bunks are always more expensive, as they're slightly bigger. The trains going to Chiang Mai also allow you to book the entire two-person compartment all for yourself by charging you the equivalent of 1.5 tickets – a great option at a decent price if you want some privacy. Anything marked as a second-class sleeper train is usually fans only–this saves you a little money, but you have to decide if the savings is worth the long, hot journey.
The Thai Railways 6:10pm daily sleeper train to Chiang Mai also has special "ladies and children only" carriages. If you're a woman traveling alone, this could be a fun way to travel that also offers some extra peace of mind.
For those on a budget, there are two cheaper options: The first one is a daytime 2nd Class seats-only (no beds) air-conditioned train. Although relatively comfortable and clean, traveling for 15 hours in a sitting position is not ideal. The extreme budget option is a third-class train with no beds, no AC, and wooden benches as seats. Third-class tickets cannot be reserved in advance and are only available on the day of the journey. These trains are hot, crowded, and not really comfortable, but the tickets are cheap, and you won't find a more authentic Thai experience than this.
No matter what train you choose, you'll get beautiful views of rice paddies and rainforest, plus snapshots of life in rural Thailand, along the way. Once you arrive in Chiang Mai, you will find tuk-tuk and moto taxis waiting right outside the railway station to take you to your hotel.
3. From Bangkok to Chiang Mai by Bus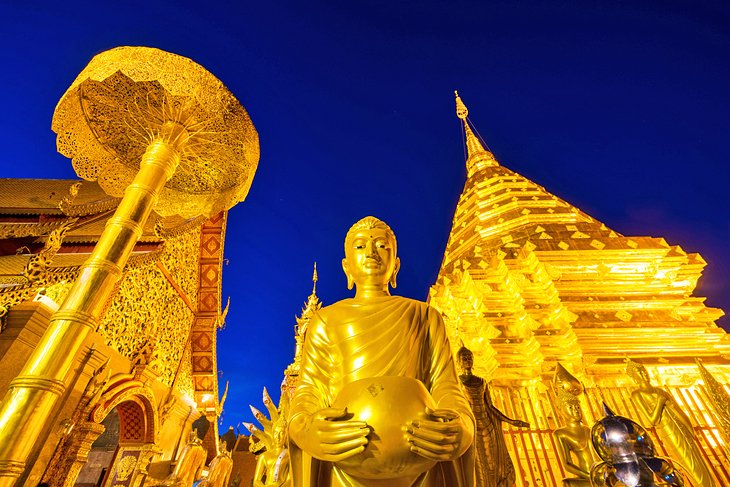 The cheapest way to get from Bangkok to Chiang Mai is by bus. Several bus companies make the 10- to 11-hour trip every day from Bangkok's Mo Chit Bus Station to the Arcade main bus station in Chiang Mai. Because most of these companies have websites only in Thai, the easiest way to find a convenient ticket is to book through an online portal such as 12Go, Asia's largest online travel agency.
The cheapest tickets are for a seat in Express buses. Despite the name, these buses aren't any faster than the average, although they do offer basic comforts such as AC and onboard food. VIP buses offer a lot of upgrades for just a little more money–including a stewardess, onboard entertainment, bigger seats with more legroom, and free snacks.
Thailand's most popular bus transportation company, Bangkok Busline, also runs a VIP 24 bus, which carries fewer passengers and offers single seats for additional comfort. These buses also offer additional amenities, such as Wi-Fi, onboard restrooms, free water and snacks, and power outlets. All VIP buses are air-conditioned.
All buses arrive at the main bus station in Chiang Mai. Don't let the signs indicating you're inside the city confuse you. While that's technically true, all the main tourist attractions and hotels are on the other side of the river, a very long walk away from the station. Your best option is to catch a songthaew (shared open buses) to make it closer to your destination.
Chiang Mai - Climate Chart
Average minimum and maximum temperatures for Chiang Mai, Thailand in °C
J
F
M
A
M
J
J
A
S
O
N
D

29

14

32

16

34

19

36

23

34

24

32

24

32

24

31

24

31

23

31

22

29

19

28

15

PlanetWare.com
Average monthly precipitation totals for Chiang Mai, Thailand in mm.

8

5

15

46

152

135

168

226

252

132

43

15
More Related Articles on PlanetWare.com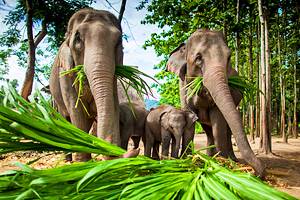 Exploring Chiang Mai: For awe-inspiring nature, temples, and culture, check out what to do when visiting "the Rose of the North" in our Top-Rated Tourist Attractions in Chiang Mai article. If you haven't chosen a hotel yet, this handy guide to the Top-Rated Places to Stay in Chiang Mai can help.