From Bangkok to Phuket: 3 Best Ways to Get There
Phuket has always been a magnet for beach lovers–but this popular island, 850 kilometers south of Bangkok, is also a popular destination for diving, snorkeling, and, thanks to the many hilly viewpoints around, also hiking. Thailand's largest island is also known for its nightlife, which attracts many tourists all year long.
Most international visitors going to Thailand arrive in Bangkok first. Although you'll find more frequent flights, trains, and buses from Bangkok to Phuket during high season (November to March), there are always many transportation options for the rest of the year, too.
To pick the best one, it's important to keep your main goal in mind–you can get to Phuket faster, cheaper, or with magnificent views along the way, depending on whether you opt to fly or use land transportation. No matter your preferences, here are the best ways to get from Bangkok to Phuket.
1. From Bangkok to Phuket by Air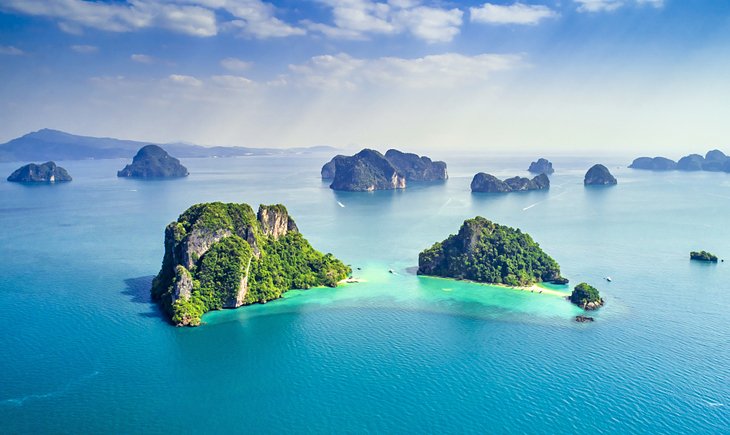 Flights depart from Bangkok Suvarnabhumi International Airport for Phuket International Airport several times a day and take only one hour. During a weekday, you can find very reasonably priced one-way flights from Bangkok to Phuket, but expect prices to be higher on weekends and during high season.
Bangkok's domestic airport–Don Muang Airport–also offers flights to Phuket. All the low-cost airlines fly from here, and during special promotions, you might be able to find a flight for less than you would pay to have lunch in Bangkok. Low-cost airlines fill up quickly, often experience delays, and offer no extras (no drinks/food on board, no movies or entertainment, and no check-in luggage)–but if you don't mind the little inconveniences, this could be a very good way to get to Phuket.
Phuket airports are located about 30 kilometers outside town, so once you land, you'll have to figure out a way to get to your hotel. If you want comfort and speed, a taxi will get you to the hotel's door in under 45 minutes, but it won't be very cheap. Shared transportation options are cheaper and include a minivan and a public local bus–but be warned that buses don't have AC and take 90 minutes to get into town.
Money Saving Tip: Evening flights are cheaper and a good choice if you don't mind navigating Phuket at night. While May to October is the rainy season in Phuket, the months of June and July tend to see heavy but short rains (usually in the late afternoons) and plenty of sunshine the rest of the time. If you're trying to save money, this is the best time to fly to Phuket, as it's considered low season, and flights are heavily discounted.
2. From Bangkok to Phuket by Train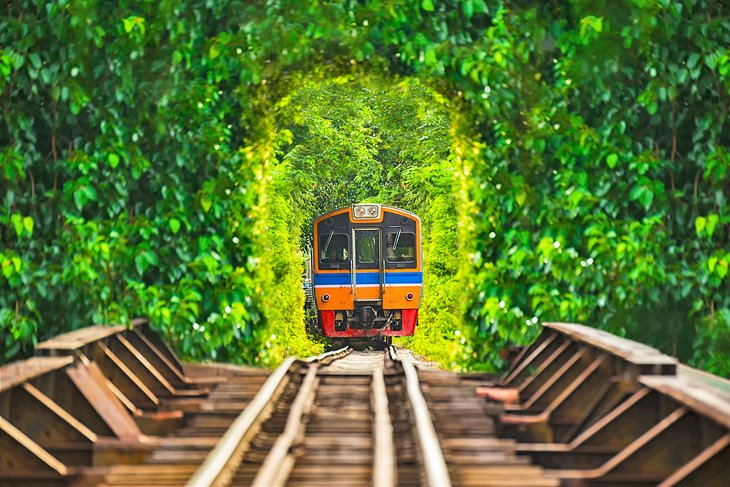 Trains don't go all the way from Bangkok to Phuket, but you can hop on one until you reach the town of Surat Thani and then switch to a bus for the rest of the journey. The train ride takes anywhere from 8.5 to 12 hours, depending on which train you choose. Most trains are sleepers with AC and you can choose between 1st and 2nd class tickets.
First class gets you a private two-person cabin, while second class means sharing a carriage with many other passengers. There's also a cheaper train with seats only (no beds)–but it's a long overnight trip, and the savings aren't big enough to be worth the discomfort. Also, while Thailand tends to be safe in general, pickpockets are common in open carriages, and foreigners are more of a target, so consider a private cabin if finances allow.
The bus ride from Surat Thani to Phuket is an extra four to five hours, but the buses are spacious and comfortable. The Phantip Travel Company has modern buses that leave directly from the Surat Thani Railway Station towards Phuket, so you don't have to worry about getting into town for a connection.
Prices vary widely throughout the year and sometimes the time of the day, so check carefully before booking to pick the best option. You can see train times on the official railway site or book directly through an online travel agency. Keep in mind that if you do it this way, you'll have to book train and bus tickets separately, so make sure you allow enough time for transfer and delays.
Money Saving Tip: The Thai Railway also has a fans-only (meaning, no AC at all), no-beds train that runs between Bangkok and Surat Thani once a day. If you think you can stand making the trip without cool air, you can get a cheaper ticket.
3. From Bangkok to Phuket by Bus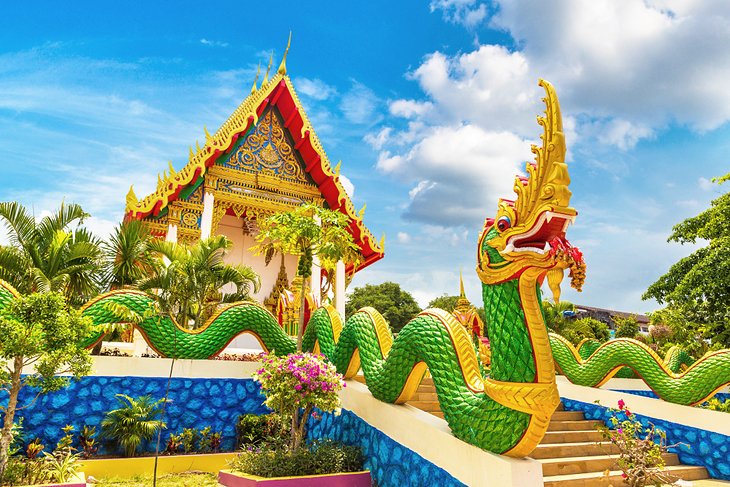 There are both day and overnight buses from Bangkok to Phuket–all of them offering AC, on-board snacks and drinks, and free movies. Overnight buses are more popular and fill up quickly, so make sure you book well in advance, especially during high season.
While there are no seat classes on the buses, you can pick between a 1st class bus (usually referred to as a VIP bus) and 2nd class buses. Besides price, the main difference is legroom and much more comfortable reclining seats in the VIP buses–an important consideration since the journey is at least 14 hours long if you don't run into traffic jams. VIP buses also offer single-row seats, so no need to worry about a travel companion invading your personal space when you're trying to sleep.
Buses to Phuket leave either from the Southern Bus Terminal or the Mo Chit Northern Bus Terminal in Bangkok, and all stop halfway along the route for 30 minutes, so you can get some coffee or just stretch your legs. This is actually inconvenient if you're on the night bus, but a welcome break if you're taking the daytime one. You can get tickets directly at the station or online through a travel agency.
Keep in mind that while trains often have food vendors on board, buses don't sell snacks or drinks. You'll either have to bring extra water with you or wait till you reach the halfway point of the trip and the bus makes a stop to buy something.
Money Saving Tip: Daytime buses are cheaper, but keep in mind that if you take one, you'll arrive in Phuket in the middle of the night–if that's the case, make sure you have a room already reserved and waiting for you. You don't want to depend on a taxi driver to find you a last-minute place to sleep.
Best Time to Visit Phuket - Historical Climate Averages
Average minimum and maximum temperatures for Phuket, Thailand in °C
J
F
M
A
M
J
J
A
S
O
N
D

31

23

32

23

33

24

33

25

31

25

31

26

31

25

30

26

29

24

30

24

30

24

31

23

PlanetWare.com
Average monthly precipitation totals for Phuket, Thailand in mm.

36

31

38

163

348

213

264

262

419

305

208

51
More Related Articles on PlanetWare.com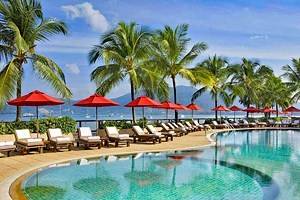 Exploring Phuket: Need ideas on what to see and do while in Phuket? Take a look at our article on top-rated tourist attractions on Phuket Island for tips on choosing the best beaches, finding amazing viewpoints, and day trips you won't want to miss. If you need a little pampering after a day in the sun, take a look at our list of top-rated resorts in Phuket for a peek into tropical luxury.