From Bangkok to Siem Reap: 5 Best Ways to Get There
Siem Reap is the gateway town to the breathtaking ancient ruins of Angkor–Cambodia's most famous tourist attraction and one of the top places to visit in Southeast Asia. Although not necessarily close to Bangkok, many international tourists going to Siem Reap do arrive in Thailand first and then make their way to the ancient city.
If you're vacationing in Thailand and looking to take a quick detour to Cambodia, there are many ways to get you there. From a quick plane ride to a long, winding journey on land, here are five ways to find your way from Bangkok to Siem Reap, no matter your budget:
1. From Bangkok to Siem Reap by Tour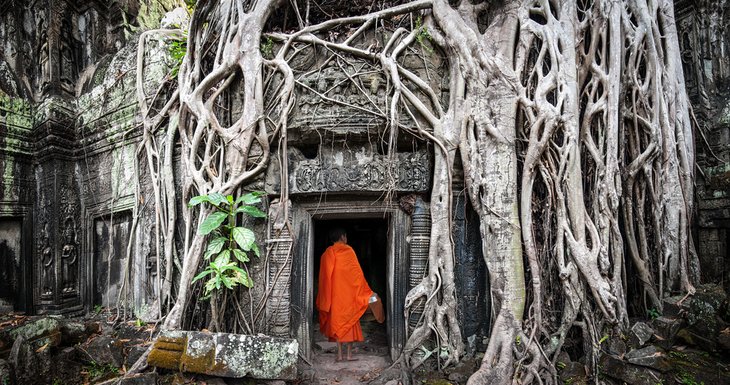 If you're only going to Siem Reap to see the temples but then returning to Bangkok, a round-trip might be your best option. Not only does this save you planning time, but it'll end up being cheaper, and you won't have to worry about delays or missing connections.
A Bangkok to Angkor Wat Tour can take you straight from your hotel door to Angkor Wat and back over a period of two days. The tour includes transportation and accommodation plus an English-speaking tour guide to get you through Cambodian customs. Meals aren't included in the tour (except for breakfast on Day 2), so you'll need to plan for that–or you can ask your tour guide for local recommendations.
Once across the border, you'll spend the first day exploring Tonle Sap Lake, the largest freshwater lake in Southeast Asia, designated as a UNESCO biosphere reserve. You'll get to discover the beauty and biodiversity of the lake on your own private boat before heading over to the lake's northern end to visit the Chong Kneas Floating Village. In the evening, you'll have free time to explore the many restaurants in Siem Reap and to visit the night markets.
On Day 2, you'll have a chance to explore Angkor Wat and Phreah Khan (a massive temple system right on the water), plus additional smaller wats (temples) such as Baphoun, Elephant terrace, and the Leper King terrace. You'll end the day at Ta Prohm (the famous temple overtaken by a vast tree root system) before the minivan then drives you back to your original departure point in Bangkok.
2. From Bangkok to Siem Reap by Bus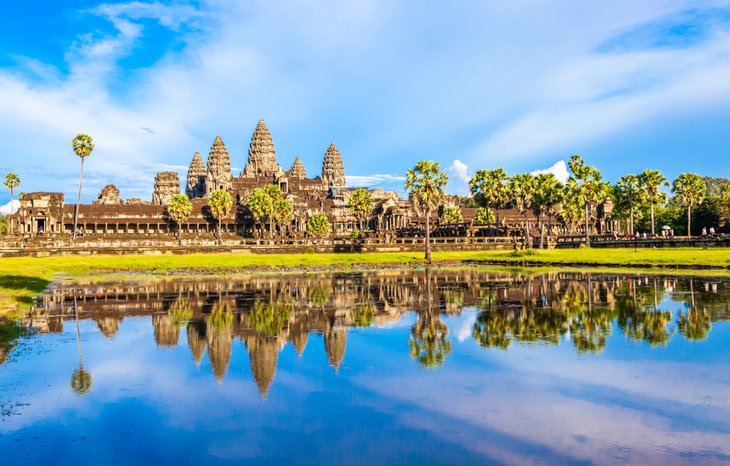 Buses leave from Bangkok's Mo Chit station twice a day and reach the Cambodian border in about 3.5 hours. While the buses are comfortable and have AC and a toilet, don't expect any extras such as movies, onboard snacks, or ample legroom.
For a little more luxury, you can get a Bangkok to Siem Reap VIP Bus ticket. These fancier air-conditioned buses offer onboard meals, seats that recline to 135 degrees (that's a lot farther back than standard bus seats), free Wi-Fi, and blankets.
Once at the border, you'll have to get off the bus in order to get a visa and enter Cambodia. Some buses come with a helper who offers assistance at the border, while others let you deal with the process on your own. The VIP buses offer an optional paid service to help you with the visa once you get to immigration.
Either way, expect to spend two to three hours at the border dealing with paperwork before you can board the bus again to continue into Cambodia. From here, it's an additional three to four hours to reach Siem Reap.
3. From Bangkok to Siem Reap by Air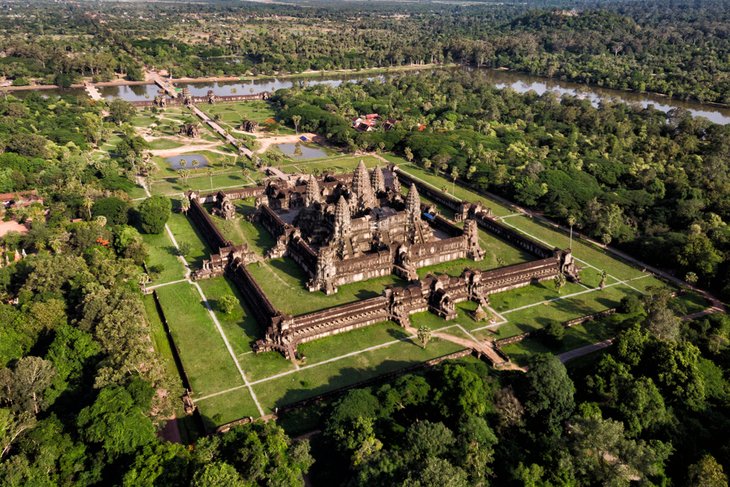 There are four airlines that fly from Bangkok to Siem Reap and they make the trip several times a week from one of Bangkok's two airports (Suvarnabhumi and Don Meung), so you shouldn't have any issues finding a flight that meets your budget and time requirements. Keep in mind that budget airlines like Air Asia don't include luggage, so if you have a bag to check in, you'll end up paying more.
After you arrive in Siem Reap and go through immigration, you can grab a moto-taxi, a tuk-tuk (three-wheeled motorcycle taxi), or a regular taxi to get you from the airport to the city center. Make sure you agree on a price before you get on any of these to avoid being overcharged.
4. From Bangkok to Siem Reap by Train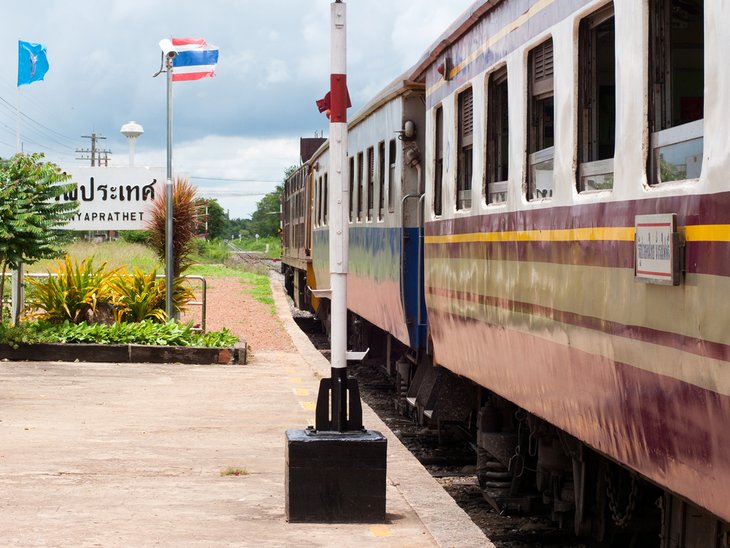 While you can't get all the way from Bangkok to Siem Reap by train, you can at least reach the town of Aranyaprathet near the Cambodian border this way–and then switch to a bus or taxi.
There are only two daily trains from Bangkok to Aranyaprathet (morning and early afternoon), and both take just under six hours to reach their destination–that is, if there are no delays, which are fairly common. The trains are both third-class, which means hard seats, tiny fans on the ceiling instead of AC, and no food service onboard. On the other hand, the trains are clean and safe, and riding one will give you a chance to experience "real Thailand," as you'll be traveling mainly with locals.
Reservations are not possible on third-class trains, so arrive at the station early to buy a ticket on the day you're traveling. Once you reach the railway station in Aranyaprathet, you'll need to take a tuk-tuk to the border crossing, four miles away. Buy your visa on arrival here, cross into Cambodia, and find a shuttle bus or a shared taxi at the Poipet Tourist Passenger International Terminal a few minutes away.
5. From Bangkok to Siem Reap by Private Taxi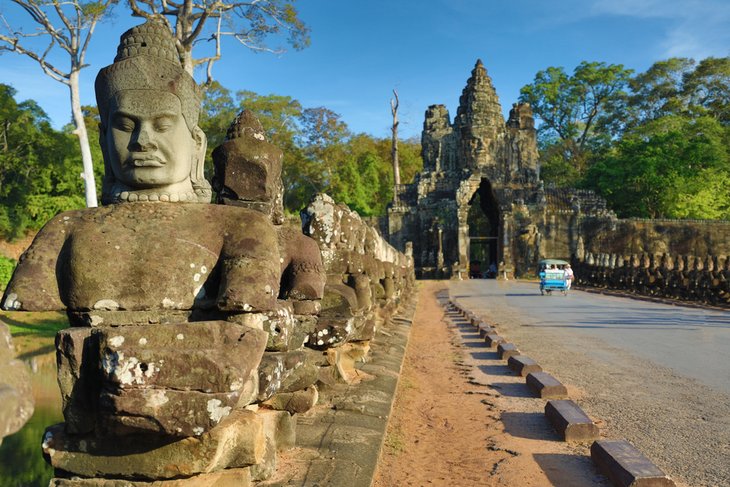 One way to save yourself the stress of transfers and delays when taking public transportation is to pay for a private overland transfer from Bangkok to Siem Reap. When you get your own air-conditioned vehicle, you're picked up directly from your hotel or from Don Muang airport in Bangkok. The company can offer private transportation for groups of up to eight people in either a sedan car or a minivan. After the pickup, you'll travel with your friendly experienced driver until you reach the border.
Once you clear immigration (which might take up to an hour), you'll be escorted to a second vehicle to complete the rest of the journey through Cambodia. The entire trip takes eight to nine hours, and while no meals or extras are included, having your own private transport means quick stops for a bite and to stretch your legs are never a problem.
More Related Articles on PlanetWare.com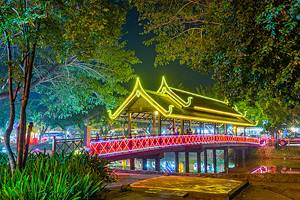 Exploring Siem Reap: There's much more to see in Siem Reap after you've visited the amazing Angkor Wat temples. For lots of things to do in Cambodia's number one tourist destination, check out Top-Rated Tourist Attractions in Siem Reap.