11 Top-Rated Day Trips from Bangkok
Author Meagan Drillinger has explored Thailand extensively, most recently on a three-month trip here in 2022.
There's enough excitement in Bangkok to fill your entire vacation—but the Thai capital is also a great starting point to explore nearby cities, beaches, and national parks on day trips when you need a break from the non-stop action.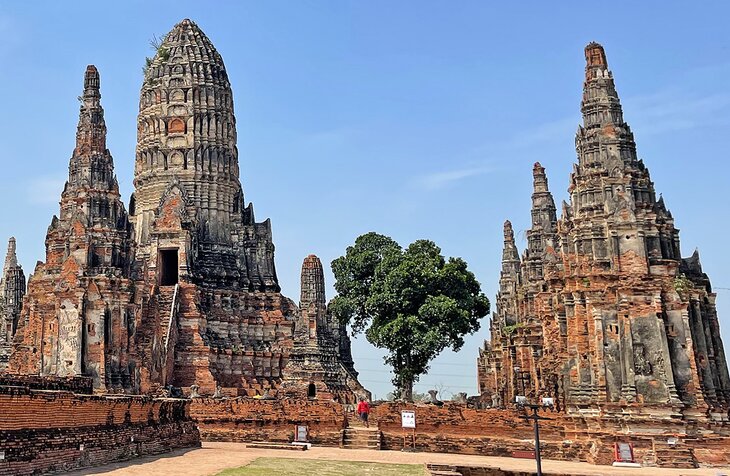 A number of popular attractions are located just a short drive from the capital. From the ancient ruins of the old kingdom of Ayutthaya to the majestic nature of national parks like Erawan and elephant-watching at Khao Yai National Park, the choices are endless if you want to escape the city for the day.
Other destinations can be visited as a day trip from Bangkok but merit staying overnight if possible. For example, you can easily make it to the seaside town of Hua Hin and back in one day, but this resort destination is worth at least an overnight (or better yet, a weekend) stay.
Plan your perfect getaway with our list of the best day trips from Bangkok.
1. Ayutthaya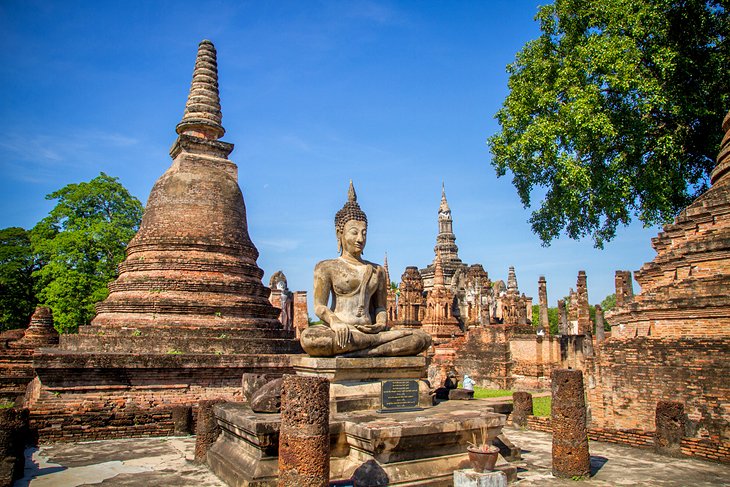 The old city of Ayutthaya covers an area of 289 hectares within a historical park designated as a UNESCO World Heritage Site. Founded in 1351, Ayutthaya was once one of the largest and most powerful cities in the World. Today, it is a magnificent array of over 100 ruins, a mix of wat (temples), palaces, and tower-like spires known as prangs.
While there's much to see here, exploring the entire compound in one day can be tricky because of its size, so visitors often focus on the main sights at Ayutthaya, including the famous Wat Mahathat (which features a stucco Buddha head entwined in tree roots); Wat Phra Si Sanphet (the largest temple in Ayutthaya and home to three massive chedis); and Wat Lokaya Sutha, home to a 42-meter-long reclining Buddha dressed in a bright golden robe.
A great way to visit Ayutthaya in one day is with an organized tour. Thailand's Ayutthaya Temples and River Cruise from Bangkok tour takes the guessing out of what to see in Ayutthaya by picking up travelers in an air-conditioned vehicle and bringing them directly to the main temples inside the Ayutthaya Historical Park.
From here, you'll make a quick stop at the summer palace of King Rama IV, followed by a traditional Thai lunch and a boat cruise on the Chao Phraya River back to Bangkok.
2. Pattaya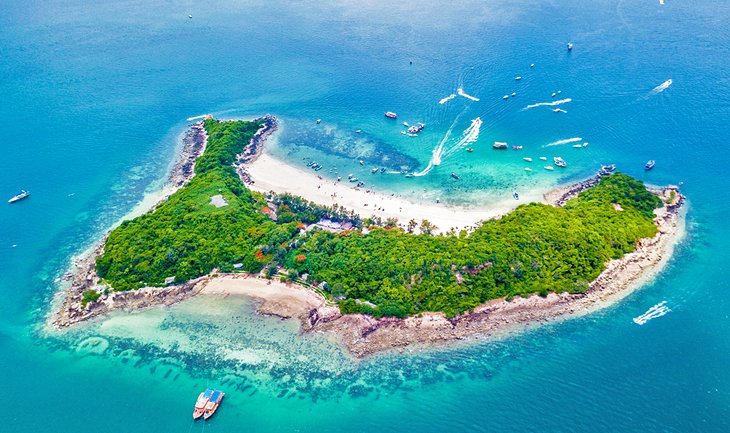 Just 1.5 hours from Bangkok, the seaside city of Pattaya makes for a perfect seaside escape. There's lots to see and do in Pattaya, so if you only have a day here, you'll have to make some choices in advance.
The Sanctuary of Truth, a magnificent teak structure, and the French-style Nong Nooch Tropical Gardens are two of Pattaya's most popular destinations. You can also walk up the massive staircase to Wat Phra Khao Yai ("Big Buddha Hill") for a visit to the temple and an amazingly clear view over the city. Another viewpoint worth visiting is Khao Pattaya on Pratumnak Hill, which looks over the bay.
Right off the coast of Pattaya is Koh Lan Island. Aside from its beautiful white beaches set against a backdrop of steep limestone hills, the island also offers parasailing, underwater sea walking, and boat tours.
3. Kanchanaburi and the River Kwai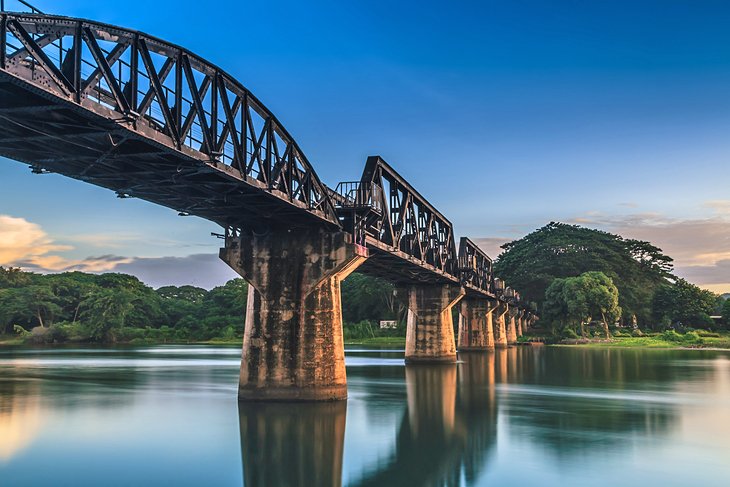 The building of the Thai-Burma "Death Railway Bridge" is a dark period in history. Over 12,000 French and American WWII POWs and 90,000 civilians died here, building the ultimate railway route that would connect Burma and Thailand.
The railway was never finished, but the bridge still remains and can be crossed today on a slow local train. The province of Kanchanaburi, where the river Kwai and the bridge are located, is home to a number of WWII memorials and museums; two national parks (Erawan and Khuean Srinagarindra); and the Prasat Muang Singh historical park, where you'll find a much smaller version of the ruins in Ayutthaya.
Perhaps the best way to truly understand the impact of the railway is to take a Thai–Burma Death Railway Bridge on the River Kwai Private Tour from Bangkok. Your tour guide will share details and interesting information as you make your way in an air-conditioned van to the River Kwai bridge, with stops at the Allied War Grave cemeteries and the JEATH War Museum.
You'll also have a chance to explore the river on a long-tail boat and cross the bridge on the only train line that still makes the journey over it. After a traditional Thai lunch, you'll return to Bangkok.
4. Koh Samet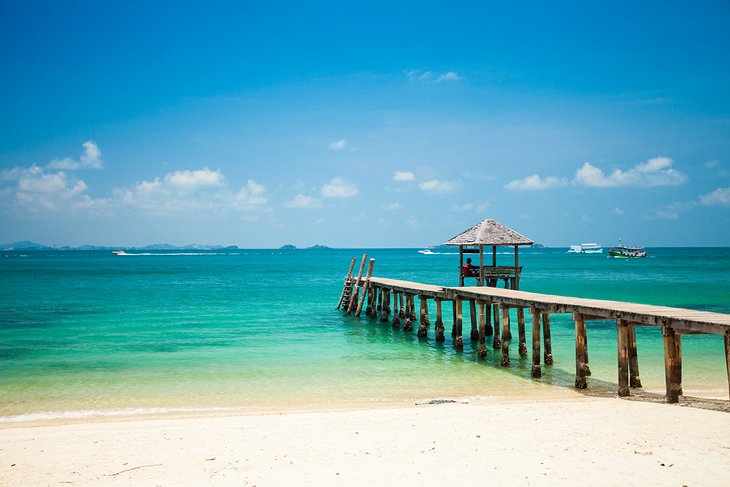 While Pattaya offers the easiest and closest access to sand and beach from Bangkok, you'll have to head farther away to find more turquoise waters and scuba diving options. The island of Koh Samet, a three-hour drive from Bangkok, offers just that: pristine white beaches for sunseekers, plenty of water activities, and amazing food choices.
Koh Samet is small and can be easily explored on foot. Ao Phai and Haad Sai Kaew are the busiest beaches on the island and the best choices for an active getaway.
If you're looking for more privacy and silence, beaches like Ao Wai are mostly undeveloped and attract fewer tourists—which means you might end up having the entire area to yourself, especially if you arrive early in the morning.
5. Damnoen Saduak Floating Market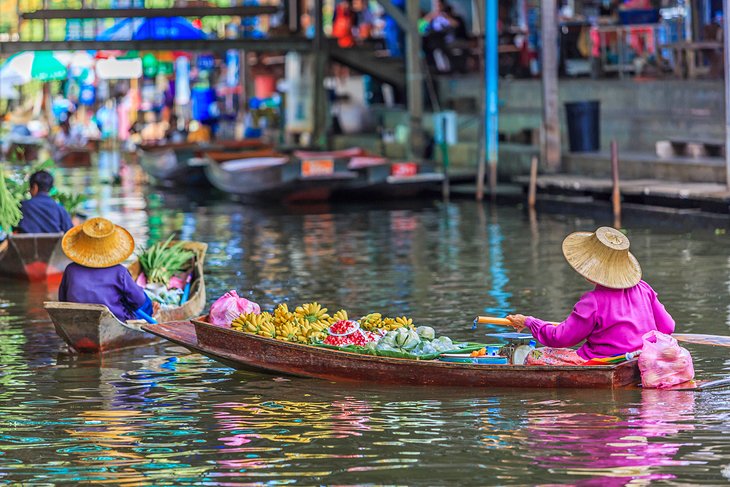 Bangkok's most famous traditional market is on the water. Floating markets were once standard in Thailand, especially for communities living along the river. While Thais don't go shopping on their longtail boats today, the Damnoen Saduak floating market has recreated the feeling perfectly.
Sit back on your very own boat and let the driver take you through the winding canals to see fruit vendors and wooden houses on stilts along the way. Then step off the boat to wander through the stalls for small souvenirs or snacks to take with you.
A fun way to explore floating markets—plus a special surprise along the way—is to join a Train Market and Damnoensaduak Floating Market small group tour. This half-day tour can help you learn more about local traditions while on your way to the Damnoen Saduak Floating Market, where you'll hop on a longtail boat to cruise the canals as you shop for small gifts and local delicacies.
You'll also have a chance to experience the very unique Maeklong Railway Market, where vendors offer their fares right on a live train track—moving their products and umbrellas off to the sides when a train comes, before returning everything to the tracks.
6. Erawan Waterfall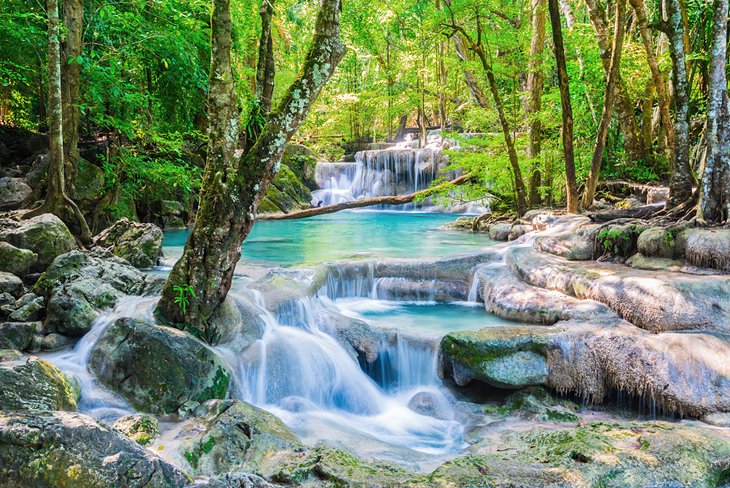 The Erawan National Park is not far from the River Kwai bridge and could be visited on the same day—although to truly appreciate the lush evergreen forest and catch a sight of the park's more elusive fauna, you probably need to spend the entire day here.
The seven-tiered Erawan Falls is the park's main attraction—emerald green waters cascading down to a pond where you can swim and relax. The park's many caves are also worth a visit for their beautiful stalagmite or stalactite formations and their prehistoric rock paintings.
If you would rather combine a visit to Erawan with a trip to the River Kwai, the Private Erawan Waterfall, River Kwai, Death Railway Tour from Bangkok might be your best option. This full-day tour starts early in the morning and gives you a chance to trek through Erawan Park and splash in the waterfall before you change into dry clothes and head off to explore the River Kwai on a bamboo raft.
You'll also have a chance to board the train that crosses the bridge and try traditional Thai dishes before you head back to Bangkok.
7. Dream World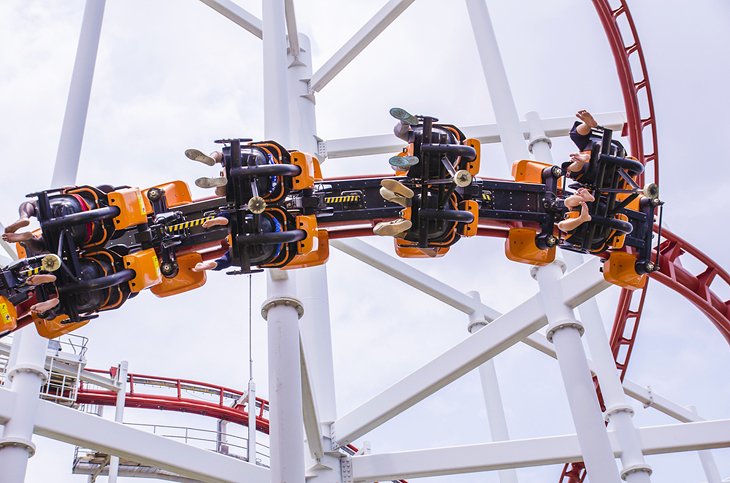 Dream World is Thailand's answer to Disney—a theme park offering 40 thrill rides, shows, family attractions, a cable car, costumed characters, and plenty of fun sculptures that make for perfect photo opportunities.
Located 43 kilometers from central Bangkok, this park is a great option for families but also for solo or adult travelers looking for something different to do. There's no easy way to get to the park using public transportation, but travel agencies often offer packages that include transport and entry to the park, or you can also catch a taxi.
In addition to roller coasters (including Southeast Asia's first hanging coaster), there are also water rides; a smaller version of Disneyland's Main Street USA; and an indoor area called Snow Town, where you can experience true winter and play in the snow in the middle of the tropics.
Official site: https://www.dreamworld.co.th/
8. Hua Hin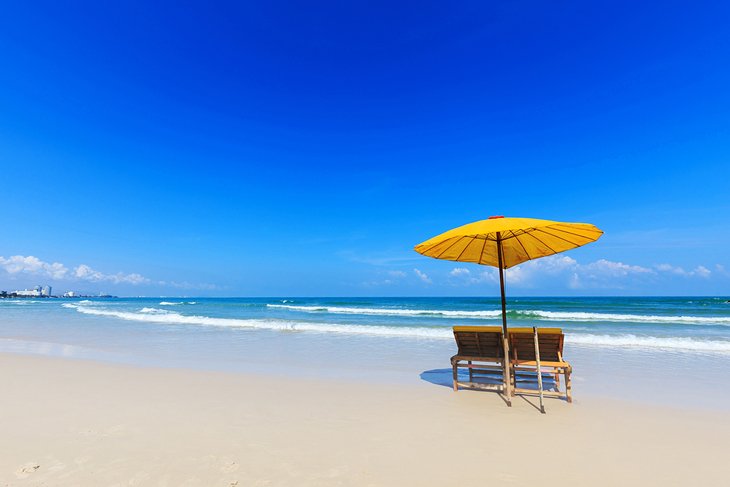 The small city of Hua Hin, 2.5 hours south of Bangkok, is home to the King's summer palace, a quiet stretch of beach, and plenty of themed attractions and shopping opportunities.
More laid-back than Koh Samet and Pattaya, the oceanfront here is perfect for kitesurfing, sunbathing, and trying out the local cuisine. Khao Takiab (Chopstick Hill) at the far end of Hua Hin, is home to a long stretch of quiet beach and a few beautiful temples.
Just minutes outside Hua Hin, visitors will find the all-teak Maruekhathaiyawan Palace, built in the 1920s for King Rama VI, which sits right on the sand with stunning views over the ocean.
Hua Hin also has its share of world-class golf courses; a massive Black Mountain water park; and two themed shopping centers (The Venezia and Santorini), complete with gondolas, white cobblestone-paved paths, and even their own amusement parks.
The Hua Hin Artists Village offers galleries, art studios, and painting and sculpture classes, or you can head out to the Sam Pan Nam Floating Market, which offers a charming mix of boat rides with great shopping and live shows.
Less than an hour away from Hua Hin is Khao Sam Roi Yot National Park, home to wetlands, mangrove forests, and massive caves.
9. Khao Yai National Park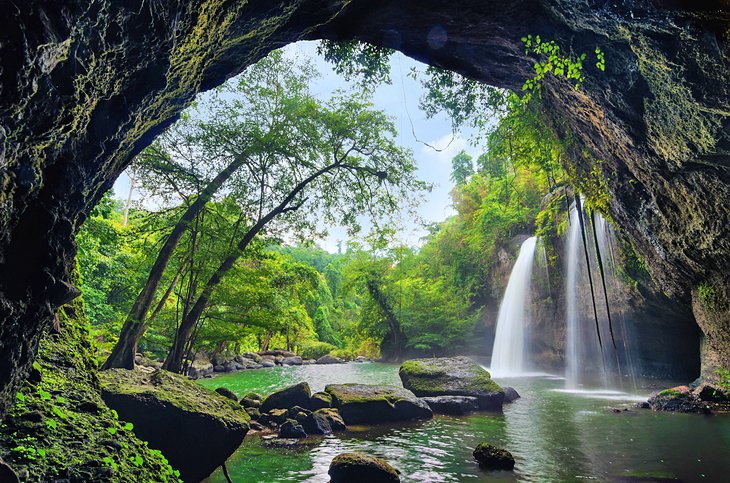 Thailand's oldest national park is a 2.5-hour drive from Bangkok, and it's massive at over 2,000 square kilometers—if you only have one day to spend here, try to arrive as early in the morning as possible. If you can stretch the visit, there are bungalows and lodges inside the park where you can book a room, as well as a number of camping sites (you can rent everything for camping, including tents and sleeping bags, from the visitors' center).
You'll get more chances to explore some of the 20 hiking trails; catch a glimpse of wild elephants and other animals that will often hide during the hottest hours of the afternoon; and reach Haew Suwat waterfall, famous as Leonardo Di Caprio's waterfall on The Beach.
Khao Yai is also home to many caves, including Khao Luk Chang Bat Cave—where over one million wrinkle-lipped, free-tailed bats live. For an experience that's hard to forget, stay around until sunset, when the bats come out from the cave and take over the sky in a spectacular dance.
10. Koh Kret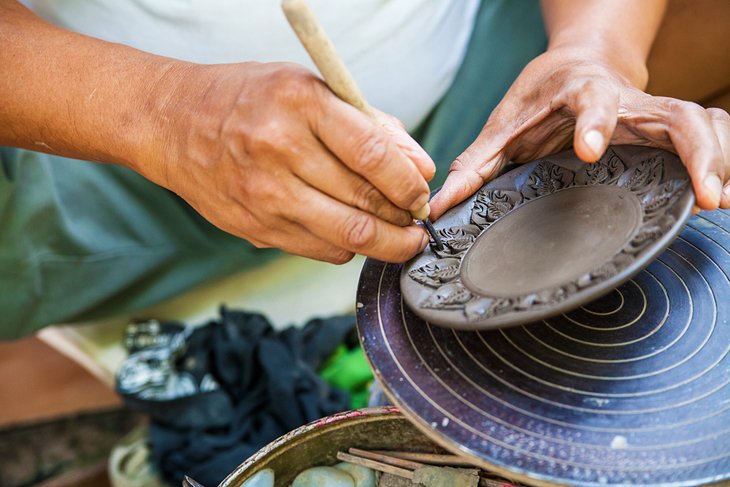 The small island of Koh Kret sits right on the Chao Phraya River, less than an hour away from Bangkok. This man-made island was created in the 18th century, when a canal was dug to allow boats to pass through.
Today, this quiet rural area is best known for being a lush getaway for Bangkokians but also as the oldest Mon people settlement in Thailand. The Mon people are an ethnic group from Myanmar with strong ties to Thailand.
Koh Kret hosts a major weekend market, where crafters congregate to sell hand-thrown terra-cotta pots, one of the island's most popular wares. The market is also a great place to visit to try traditional Mon dishes, including savory-sweet snacks and nor galah, made by deep-frying a local aquatic vegetable.
The island is also home to the Kwan Aman Pottery Museum, where you can learn about the history of Mon terra-cotta ceramics, and to Wat Paramaiyikawat, famous for its leaning pagoda roof. There are also many great trails on the island, which can be explored on a bicycle for a relaxing day out.
11. Nakhon Pathom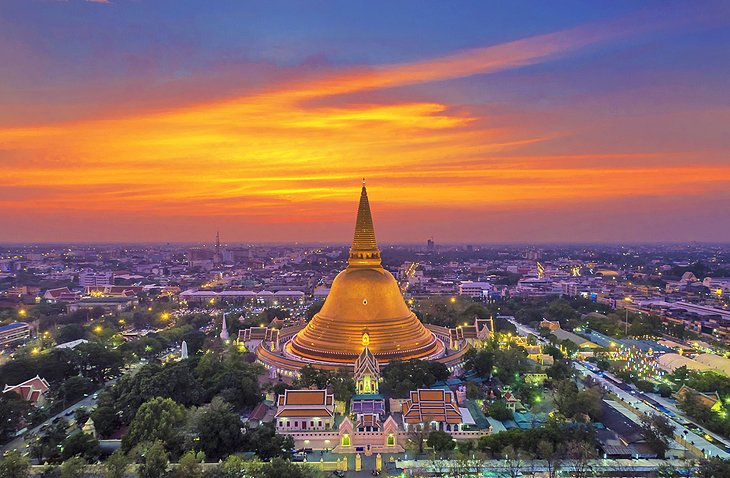 Just 45 minutes away from the center of Bangkok is Nakhon Pathom, famous for being home to both the world's tallest golden stupa and to the only female Buddhist monastery in Thailand. This quiet province receives fewer foreign visitors than other areas in Thailand, and it's a great place to discover the "real Thailand" most tourists never get to see.
Nearby, the Western-style Sanam Chandra Palace is an unexpected sight. Built in 1907 by future King Rama VI, the palace is set on the banks of a lake, has a Disney-like bridge that connects it to other buildings in the complex, and is surrounded by teak houses and a well-manicured garden.
A short drive away is the Jesada Car Museum, home to a private collection of over 500 vehicles, from three-wheeled cars and a DeLorean (made famous by Back to the Future) to small helicopters and even a London double-decker bus.
Map of Day Trips from Bangkok
More Related Articles on PlanetWare.com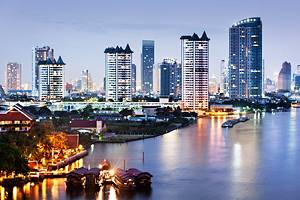 Exploring Bangkok: If you're using Bangkok as a home base to explore the surroundings, finding the best hotel location is key. You can figure out what works best for you using the tips in our article, Where to Stay in Bangkok: Best Areas & Hotels. While here, don't forget to check out everything the Thai capital has to offer; you can get an idea of many interesting places to see in our piece, Top-Rated Tourist Attractions in Bangkok.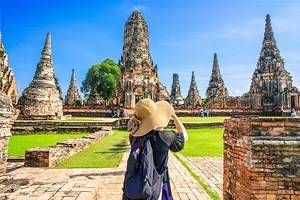 Getting to Ayutthaya and Pattaya: For tips on how to get to Ayutthaya, check out From Bangkok to Ayutthaya: Best Ways to Get There. For transportation to Pattaya, take a look at our From Bangkok to Pattaya: Best Ways to Get There article for the fastest, easiest, and most convenient options to get to the beach.