11 Top-Rated Beaches near Bangkok
Most visitors looking for the best beaches in Thailand are heading to the South, where the island of Koh Samui or the beaches of Krabi attract thousands of visitors every year. But the truth is that Thailand is a tropical paradise no matter where you land — even if that means you're touching down in Bangkok first.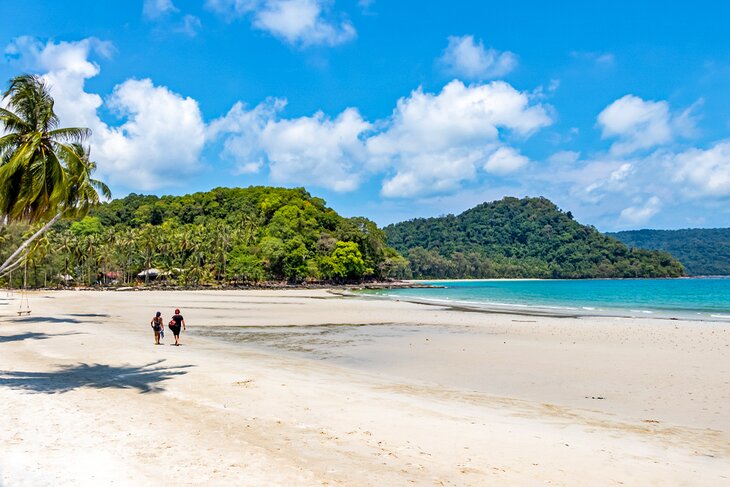 With over 10 million residents, Bangkok is one of the largest metropolitan areas in Southeast Asia. As a result, it's more about skyscrapers and urban beauty than about sunbathing near the water. But if you're in the capital for a while and longing for some sand and sea, you still have options. From small islands just outside the city to larger beach towns a day trip away, you can still get the best of both worlds close to the capital.
Find some tropical inspiration with our list of the best beaches near Bangkok.
1. Ko Samet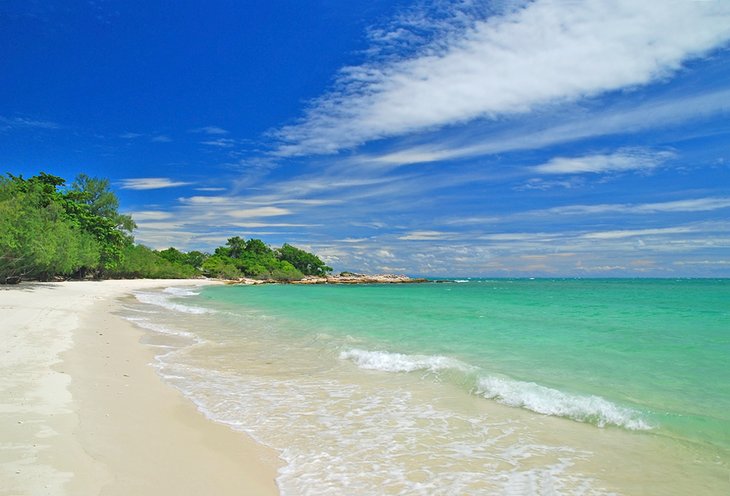 Ko Samet (also Koh Samet) is about 220 kilometers south of Bangkok, and it's the closest tropical island to the capital. On a good traffic day, you can get there in about three hours if you're driving. Much of the island falls within a protected area, which for visitors means clean waters and nature, underdeveloped beaches, and a tight control on noise and pollution.
There are 16 beaches on Ko Samet, only one of which is private. The other 15 are free to access and open to the public.
The swimming is excellent no matter where on the island you are, but some beaches are all about relaxing on the sand while others offer plenty of water sports opportunities or great dining.
Some of the beaches, including Laem Yai and Ao Lukyon, are tiny - quiet stretches of perfect golden sand in front of the island's resorts or just off Samet Village.
Others, like Ao Phrao and Ao Pakarang, are famous for the beautiful resorts lining up the coast and the mix of soft sand and rocky areas with plenty of shade.
Koh Samet's largest beach is the one-kilometer-long Haad Sai Kaew or Diamond Beach. The most popular destination on the island, this is the place to be for action: Jet Skis, live music on the sand, and plenty of boats.
2. Koh Kood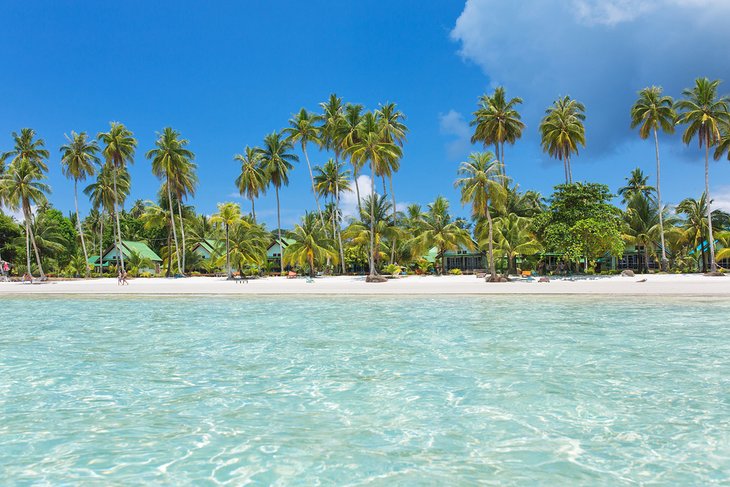 Koh Kood is about 4.5 hours from Bangkok near the border with Cambodia, making it better for a weekend away than just a quick day trip. Koh Kood is just as stunning as the famous islands in the south of the country but a lot less famous with international tourists. The result: a quiet stretch of white beaches and thick tropical jungles that you're likely to have almost all to yourself for most of the year.
There's very little development on the island, no public transportation, and mainly only dirt roads connecting resorts to a few small fishing villages. Klong Chao Beach is the most developed of the beaches here, offering a few shops and restaurants, a couple of 5-star resorts, and a few bungalows right on the sand.
Bang Bao Beach and Klong Hin Beach offer cheaper and simpler accommodations but equally impressive sweeps of sand, and stunning views over the azure waters of the bay.
Ao Tapao is the longest beach on the island, with small undeveloped stretches of sand at the far end. Ao Noi beach is the only one that cannot be accessed via land. But grab a kayak and paddle your way to the idyllic white sands to enjoy the quiet setting in almost complete privacy.
3. Hua Hin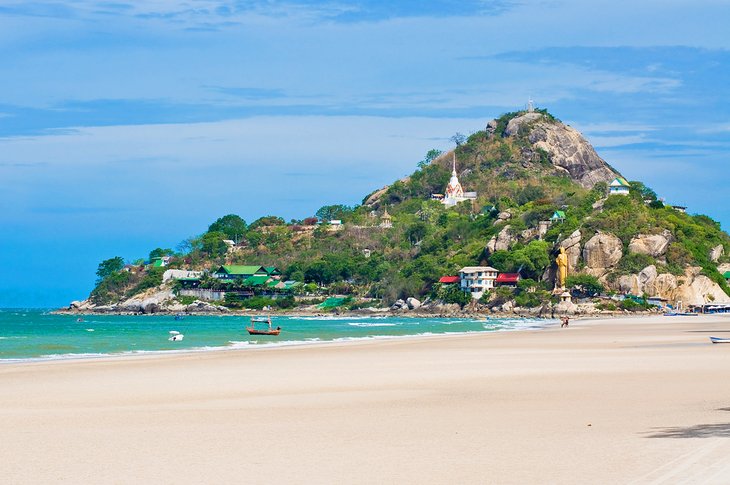 Once a sleepy resort town, Hua Hin has become a popular beach destination about two and a half hours south of Bangkok. European tourists now flock to Hua Hin during December and January (and many own properties in town) to escape the cold winters. As a result, the town has become a well-developed destination, with plenty of things to do; great cuisine; and better, cleaner beaches than ever before.
Hua Hin sits smacked down in the center of what the Thai tourism department calls "the Thai Riviera" - a long stretch of coast that starts in Phetchaburi, closer to Bangkok, and stretches for 300 kilometers to end in Chumphon. Hua Hin beach is just over four kilometers long, just minutes away from the center of town on foot.
Family-friendly and rarely overcrowded, the beach is famous for its white sand and many activities - from pony rides to boat rentals to windsurfing. Known for its stunning sunsets, the beach also offers plenty of sun chairs and places to just sit back and relax.
On the south end of the beach there's Khao Takiab, a temple famous for its massive golden Buddha standing against the rocky cliffs. The small pine-fringed Suan Son Beach sits right behind the temple and offers solitude and a more local vibe for those looking for peace and tranquility.
4. Cha-am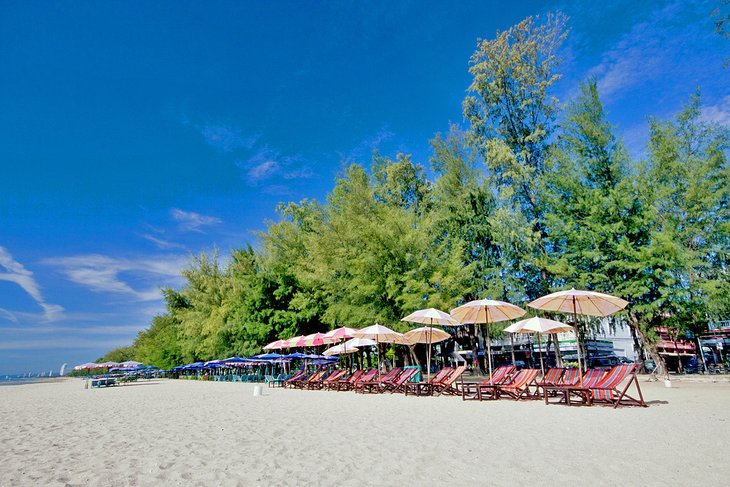 Just 26 kilometers from the heart of Hua Hin, and two hours from Bangkok, is the smaller town of Cha-Am, a more relaxed place perfect for budget-conscious travelers. While hotels and eateries are cheaper here, the beach isn't any less beautiful.
Some of the big-name hotels, such as the Sheraton Hua Hin Resort & Spa, sit right on the edge of the two towns and offer direct access to their own patch of soft, well-manicured beach.
Otherwise, Cha-Am beaches are less developed than the ones in Hua Hin, so you won't find food stalls lining up the coastline, though there's still plenty of sunchairs available for rent.
One of the most famous sights on the Cha-Am beach is Mrigadayavan Palace. Built completely of teak wood and sitting on stilts, the palace was the summer residence of King Vajiravudh in the 1920s. The palace consists of 16 buildings connected by covered wooded corridors, and it's open to visitors.
5. Ao Manao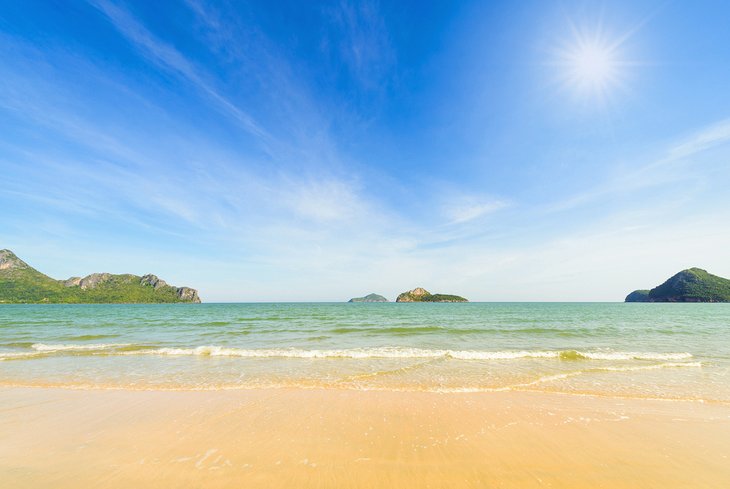 The crescent-shaped Ao Manao (Lime Bay) is located in the province of Prachuap Khiri Khan, less than four hours south of Bangkok. Though the beach technically belongs to the local military base, tourists are welcome to visit the tree-fringed coastline. If you have trouble finding it, ask around for the "military beach," as many know it locally.
Largely untouched and undeveloped because it's managed by the Air Force, the bay offers dark blue-green waters, clean sand, and a few food stalls selling ice cream, seafood, and cold drinks.
Steep limestone outcrops lined up in the background offer plenty of opportunities for stunning photography, some hiking, and plenty of climbing.
Not far away is the Khao Lommuak viewpoint, home to hundreds of rather friendly dusky leaf monkeys.
6. Pranburi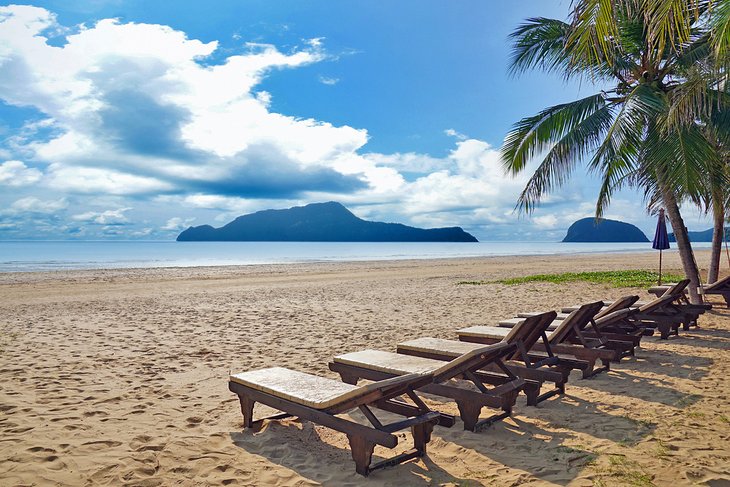 About half an hour after passing Cha Am on your way south, Pranburi is a quiet escape that was once just for the locals. That is, until tourists discovered it and realized what they were missing.
Pranburi is still best known for being the starting point to reach Khao Sam Roi Yot National Park and its dramatic wetlands, mangroves, and limestone peaks covered in lush greenery. But the clear blue waters of Pranburi are just as stunning as the nature around them.
Pak Naam Pran's beachfront promenade and the Pranburi Grand Marina area have the best beaches - soft sands and great waters for swimming, and kiteboarding for those who want something more than just soaking in the sun.
Although available, speedboats and Jet Skis aren't as popular here as they are in Hua Hin, and visitors can instead take to the water with canoes and kayaks.
Thai-style eateries and beach vendors offer great options for a quick meal, so you don't have to stray far from your rented beach chair for a yummy treat.
7. Koh Chang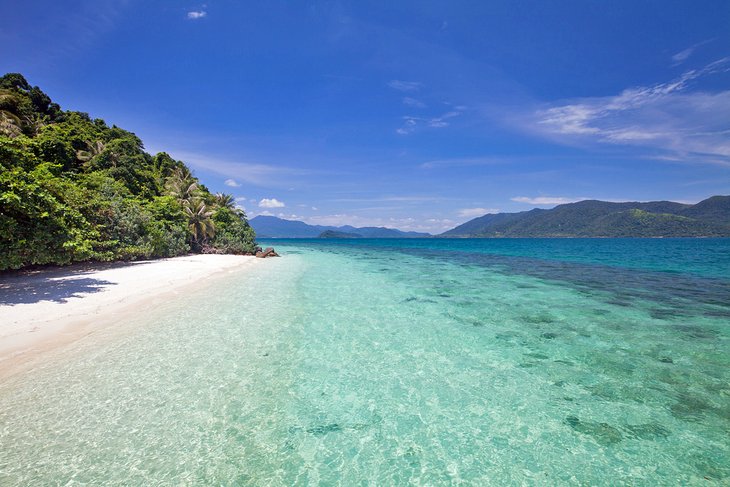 About 300 kilometers from Bangkok via bus plus ferry is the island of Koh Chang (Elephant Island), a somewhat close neighbor to Koh Kood island. High-speed ferries connect the two islands, a perfect option for island hopping.
Part of Mu Ko Chang National Park and home to stunning rainforests and waterfalls, Koh Chang was once a backpacker's destination. Over the years, resorts and amenities arrived, making the island a popular destination for families and young travelers looking for a quiet stretch of sand.
Of the many beaches on the island, White Sand Beach is the busiest and most touristy. It's also the most developed, offering plenty of places to eat, rent a boat, or just chill. The area around it also has everything from banks to hotels and pensions. If you're hoping to visit several beaches, this is the best jumping-off spot, as you can easily catch a motorcycle taxi to take you around.
Klong Prao Beach, the largest on the island, is near the beautiful Klong Plu waterfall and offers long stretches of soft white sand fringed by palm trees.
Kai Bae Beach and Lonely Beach have remained the go-to options for backpackers, so they offer cheaper accommodations and are noisier, but the golden sands and azure waters aren't any less beautiful.
8. Bang Saen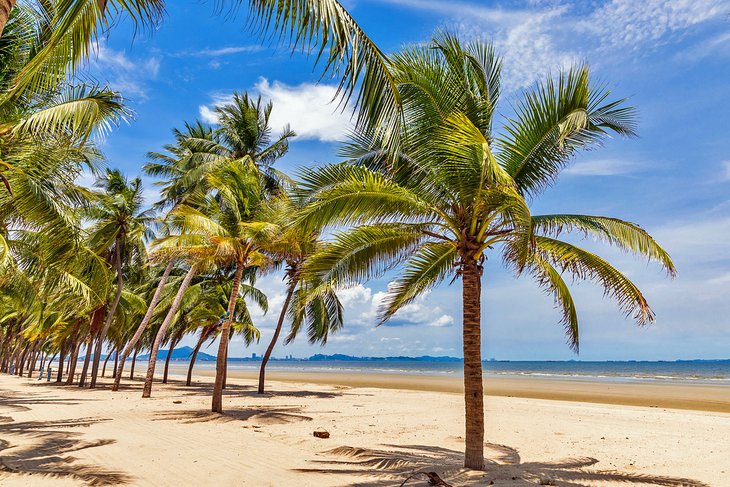 Bang Saen, between Bangkok and Pattaya, is a tiny stretch of sand that offers a perfect quick day break. Just 2.5 kilometers long, Bang Saen is at its best between the months of October and February, when the waters are clear. Because it attracts mainly local tourists, this is a great destination if you're looking for a more Thai vibe without the chaos of foreign tourists, especially during the high season.
You'll still get plenty of sun loungers, shops renting bicycles and kayaks, and great food. Recent developments have added high-end hotels, but there are also cheap accommodations to be found.
9. Pattaya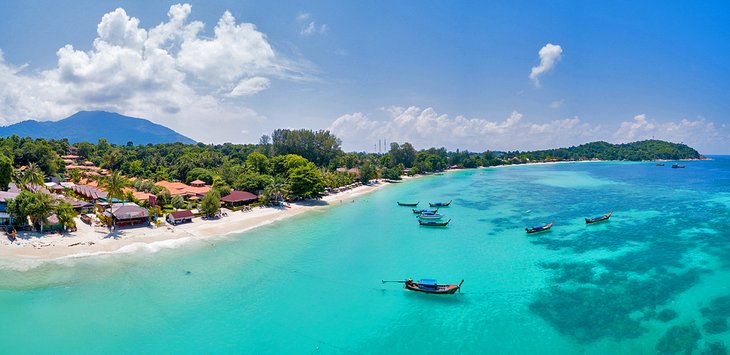 Under two hours away from Bangkok, Pattaya is the closest large beach to the Thai capital and a popular destination for both locals and tourists.
Pattaya has undergone a major beach restoration process to stop erosion from eating away at the 2.7-kilometer-long stretch of sand. Over the past few years, the government has actually imported sand to fix the damage and as a result, Pattaya now has clean, soft sands.
While Hua Hin and Cha-Am offer plenty of quiet solitude on the sand, Pattaya is all about action. The four kilometers of golden sands are filled with rental options for speedboats, Jet Skis, and parasailing boats, especially in the very busy southern end of the beach.
For a quieter time on the sand, head to the northern end, where the tiny waves and the sun umbrellas are the main attraction.
Lots of diving boats depart from Pattaya towards the surrounding coral islands. A busier beach also means lots of vendors pacing back and forth offering everything from food and drinks to knick-knacks to Thai massages right on your beach chair.
Nearby, Wat Phra Yai, one of Pattaya's top attractions, sits on top of the hill and offers great views over Pattaya Bay.
10. Koh Larn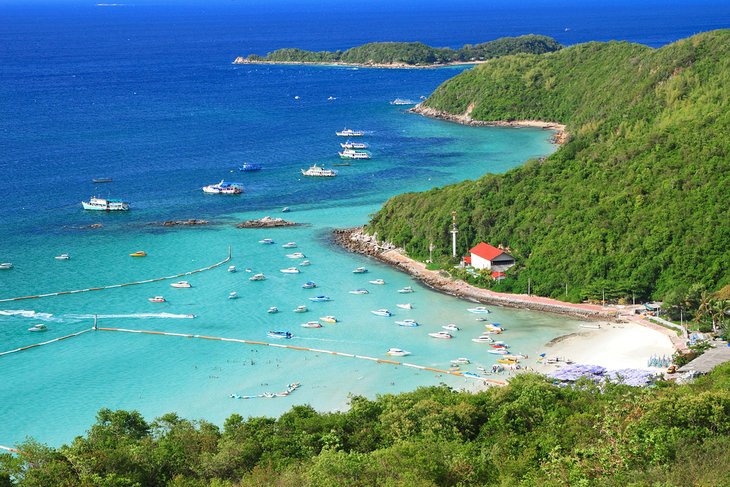 Koh Larn is about seven kilometers off the coast of Pattaya, right at the end of the Bay of Bangkok. Koh Larn is a tiny island, about four kilometers by two kilometers, and home to just two small villages offering the main places to eat and sleep.
Despite their small size, Koh Larn's six beaches have plenty to offer. No matter where you're heading, you'll find beautiful blue waters and the softest white sands. Samae and Tawaen are the only two beaches offering accommodations right against the sand, but you can find sun loungers for rent in every corner of the island.
Tawaen is the busiest beach on Koh Larn, filled with souvenir shops, plenty of seafood restaurants, and tons of water sports fun.
Though just 400 meters long, Tien Beach is perhaps the most picturesque, flanked by palm trees and deep green hills in the background. Head here for the bluest waters and a very relaxed and quiet atmosphere.
Tonglang Beach, only reachable by boat or a hike down a trail and barely 200 meters long with perfect golden sands, and even tinier Tayaiy Beach (just140 meters long), are just as enchanting but offer more peace and quiet.
11. Jomtien Beach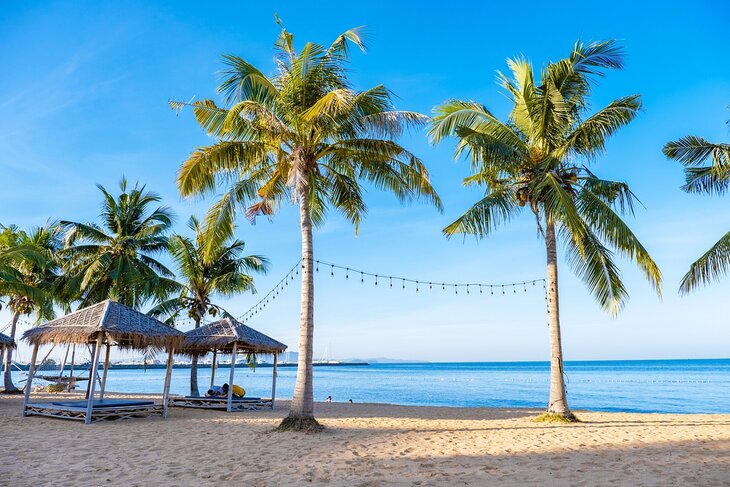 Located just three kilometers outside Pattaya and 165 kilometers from Bangkok, Jomtien Beach has become a popular destination for those wanting a more relaxed vibe without giving up on comfort.
Once an area covered in paddy fields, Jomtien is now a place with great restaurants, beachside hotels, and plenty of water sports options, including scuba diving, windsurfing, and parasailing in the emerald-green sea.
The six-kilometer stretch of white soft sand also offers plenty of spots to sit back and relax under beach umbrellas as you take in the views of the islands off the coast. The quiet surroundings and amenities make this a perfect destination for families looking to escape Bangkok.
During the day, you can walk along a pleasant promenade shaded by palm trees, have some fun at the Park and Tower (a water park with giant slides), or get your adrenaline pumping as you try the Jungle Bungy Jump.
Jomtien is home to a lively night market famous for its food stalls, live music, and plenty of sellers offering souvenirs and knickknacks.
Bangkok, Thailand - Climate Chart
Average minimum and maximum temperatures for Bangkok, Thailand in °C
J
F
M
A
M
J
J
A
S
O
N
D

32

22

32

24

33

26

34

27

33

27

33

27

32

26

32

26

32

25

32

25

31

23

31

21

PlanetWare.com
Average monthly precipitation totals for Bangkok, Thailand in mm.

10

28

31

71

191

152

158

188

320

231

58

10