From Bangkok to Krabi: 4 Best Ways to Get There
We may earn a commission from affiliate links ()
Krabi is a province and town in the south of Thailand and the getaway to some of the most stunning islands in the country. Ko Phi Phi, Koh Lanta, and Railay Beach—all famous for their turquoise waters and stunning snorkeling—can be reached from Krabi.
There are many ways to travel from Bangkok to Krabi—get on a plane for the quickest option or choose water or land to get peeks of the beautiful Thai countryside on your way to a tropical paradise.
Note: Some businesses may be temporarily closed due to recent global health and safety issues.
1. From Bangkok to Krabi by Plane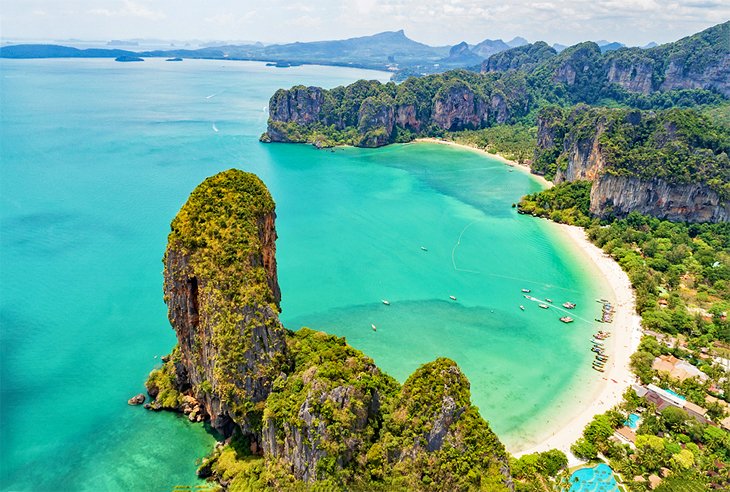 Flights to Krabi town leave from Bangkok's Don Mueang Airport and take under 90 minutes to reach their destination. A number of airlines make this connection.
During peak season (December to April) prices start at double the low season rate and can go into the hundreds of dollars if you don't book well in advance. There are many flights between Bangkok and Krabi Town every day, so it's worth checking and comparing prices—flights at inconvenient times (very early mornings or late in the evenings) are often cheaper.
Most budget airlines (including AirAsia and Thai Lion Air) only offer carry-on luggage as part of the ticket price, so you'll have to pay extra for checked luggage.
Once you arrive at Krabi International Airport, you'll have to figure out transportation, as the airport lies 15 kilometers outside town. Air-conditioned shuttle buses, songthaew (shared pick-up taxis), and standard taxis are always waiting outside the airport. Always negotiate a flat fare before you start the ride to avoid being overcharged.
2. From Bangkok to Krabi by Express Bus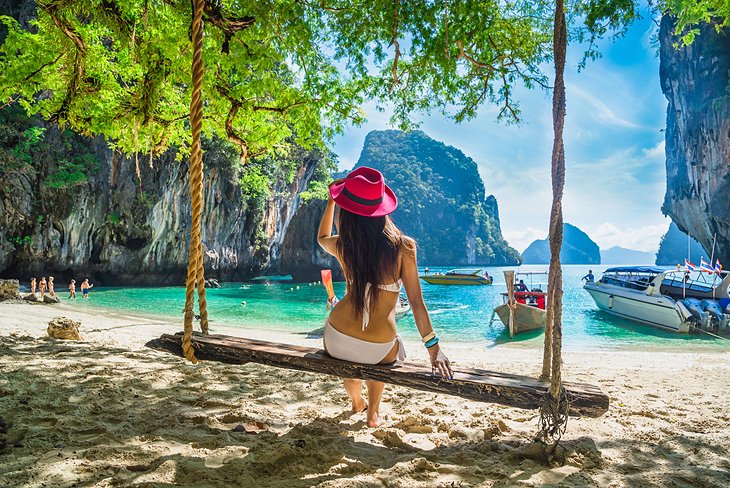 If you want the convenience of direct transportation with higher travel quality and without unexpected bus stops, a Bangkok to Krabi Express Bus could be the perfect solution. Private VIP buses leave from Bangkok Southern Bus Terminal three times a day, both during the daytime and in the evening. However, since the journey takes 11 hours, a nighttime sleeper bus is not only a better use of your time but also a lot more comfortable.
These buses are equipped with air-conditioning, and you'll also be provided with snacks, cold drinks, and one meal, as well as blankets to cozy up at night. There are one or two stops along the way (depending on which bus time departure you choose), so you have a chance to stretch your legs and grab some food or coffee. Arrival is at the Krabi Bus Terminal, just four kilometers outside town, from where you can catch a moto taxi or songthaews to reach the city center. It is also possible to take a taxi to the pier from the bus station if you plan on hopping on a ferry to reach one of the islands.
3. From Bangkok to Krabi by Train and Bus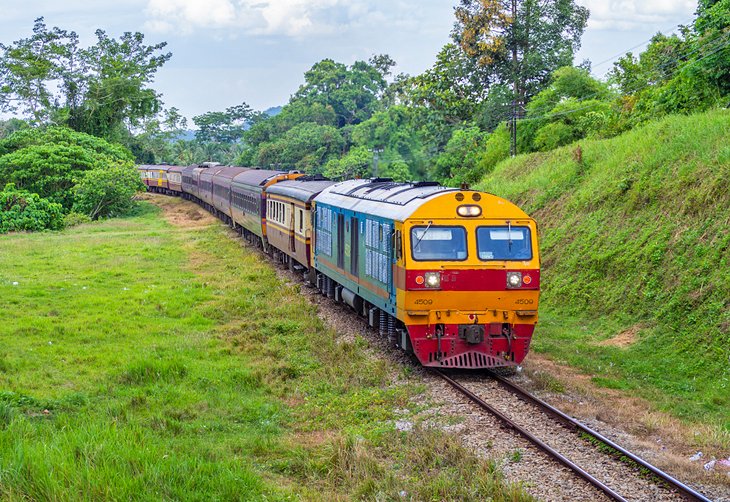 If your heart is set on train travel, the bad news is that you can't travel from Bangkok to Krabi that way—but you can take a train to Surat Thani and then use a bus for the rest of the journey. This would allow you to do the overnight bit of the trip on a comfortable sleeper train, then travel just a few hours by bus to reach Krabi.
All trains to Surat Thani leave from Bangkok's Hua Lamphong station. Although there are daytime options available, sleeper trains provide a much nicer way to travel. For example, if you take the 6:30pm or 7:30pm train, you'll arrive in Surat Thani at 6:25am and 7:10am, respectively. This gives you a chance to grab some quick breakfast before you hop on the bus to continue on your way.
The cheapest trains are 2nd Class Sleepers Fan (meaning no AC is available on the train), followed by 2nd Class AC seats only (no beds). For true comfort, your best choices are 2nd Class Sleepers with AC and 1st Class Sleepers with AC. First class offers the choice of private cabins for just two people, while in second class trains, the berths are in an open carriage with many other passengers.
Once you arrive in Surat Thani, you can catch a small local bus, which takes about three hours to reach Krabi. While you can't book joint train plus bus tickets in advance, you can reserve both separately through an online travel portal. Or just buy the train ticket and then get a bus seat once you arrive in Surat Thani.
4. From Bangkok to Krabi and the Islands by Ferry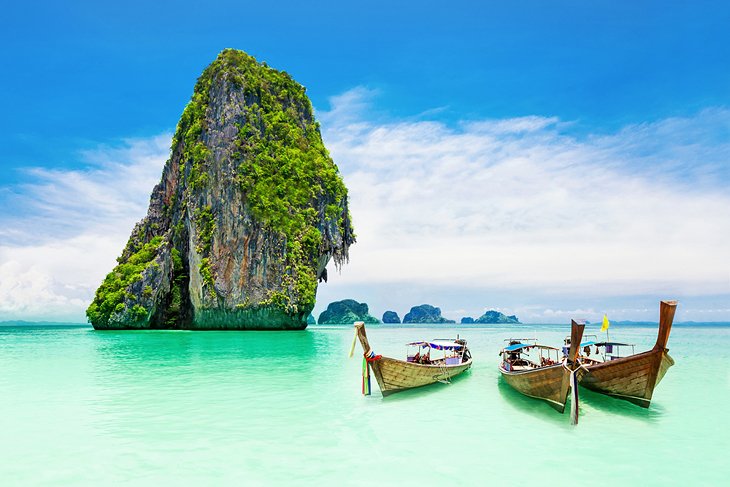 If your final destination in the Krabi province is one of the islands, a ferry will eventually come into play—basically, once you arrive in Krabi Town via bus or plane, you can then hop on a ferry to get you to the islands. A large number of travelers arriving in Krabi are heading to Railay West Beach or the Koh Phi Phi islands—both of which require a water transfer at the end of your journey.
Boats leave from a number of piers in Krabi and offer different levels of service and comfort. Ferries take about two hours to reach the Phi Phi islands. The ferries are comfortable and offer air-conditioned travel, as well as a sundeck for those who prefer open views of the sea, plus a stall to buy food and drinks. High-speed catamarans take around 90 minutes for the same trip—and while saving some time is nice, you have fewer chances to walk around and enjoy the trip, since high speeds mean more bouncing on the water and the need to sit down.
While it's possible to arrive in Krabi and get a ferry ticket there, you can also buy a combination ticket that includes a bus to Krabi and a ferry to the islands.
More Related Articles on PlanetWare.com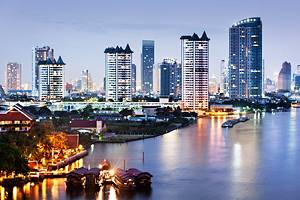 Explore Bangkok: If you have time in Bangkok before heading out to other destinations, spend some time seeing the sites with our article on the Top-Rated Tourist Attractions in Bangkok. If you haven't yet figured out your accommodation situation, see our article on Where to Stay in Bangkok: Best Areas & Hotels.