14 Top-Rated Things to Do in Pattaya
Thailand's famous beach resort town of Pattaya has developed a colorful reputation over the years. Located less than 200 kilometers from Thailand's capital city of Bangkok, it's a convenient place to enjoy the sun, sand, and sea.
Pattaya has drawn tourists and expats from all over the world ever since US soldiers "discovered" the once-sleepy getaway destination during the Vietnam War. Since then, Pattaya's profile has steadily increased, and it is now one of the most popular beach destinations in Southeast Asia.
In recent years, the government has made efforts to attract families to Pattaya, and you'll find a host of kid-friendly attractions and things to do, like water parks and an aquarium. Still, it remains more of an adult's destination – especially the area along Walking Street, the main entertainment hub in town.
If you are traveling with the family or are seeking a more subdued location, check out Jomtien Beach or Naklua. These areas are still touristy, but quieter than the bustling center of town. Plan your travels with our list of the top things to do in Pattaya.
1. Explore Nong Nooch Tropical Botanical Garden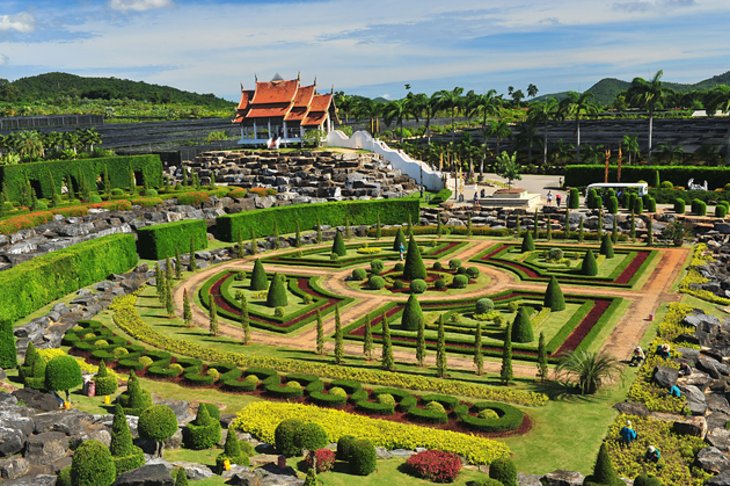 The sprawling park at Nong Nooch (pronounced "nung nut") Village offers a variety of activities for all the family. Walkways wind among colorful themed gardens, including a topiary garden; 17th-century French garden; European Renaissance garden; and species-specific gardens featuring plants like tropical palms, succulents, and bonsai.
The magnificent orchid garden will awaken the inner horticulturist in anyone. Live shows at the Thai Cultural Hall add to the line-up with performances of traditional Thai dancing, sword-fighting, Thai kickboxing, and an elephant show of dubious ethical quality.
You can rent a bicycle to explore the different areas of the park, and door-to-door transportation is available.
Address: 34/1 Moo 7 Na Jomtien, Sattahip
Official site: http://www.nongnoochtropicalgarden.com/home/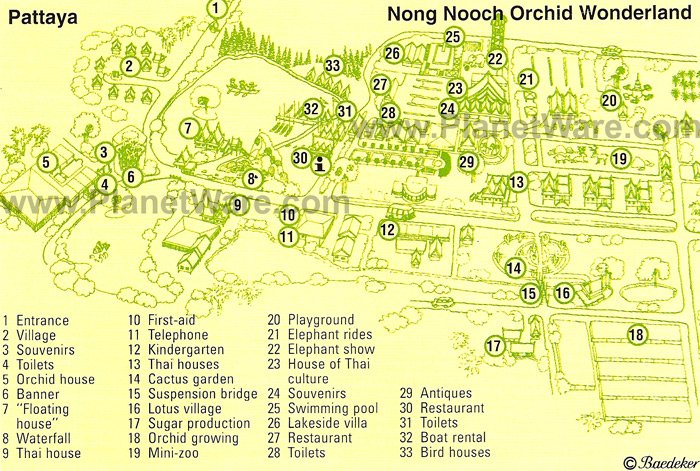 2. Work on Your Tan at Jomtien Beach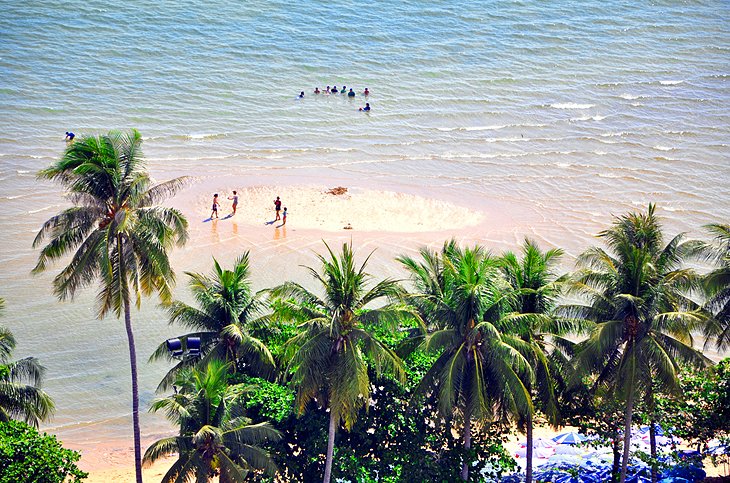 Stretching for six kilometers, Jomtien Beach is at the top of the places to visit in Pattaya and a welcome escape from the bustle of the main city four kilometers away. You can sunbathe along its golden shores or take refuge in shade provided by trees at the beach's edge. Water lovers can enjoy all kinds of activities, including jet-skiing, kitesurfing, parasailing, and windsurfing.
When you need refreshments, you'll find plenty of restaurants and cafés along the beach serving local fare and fresh seafood.
Right nearby, family-friendly Cartoon Network Amazone is an action-packed water park replete with spiraling slides, sprawling pools, splashing fountains, and cartoon-themed rides and characters.
3. Discover the Sanctuary of Truth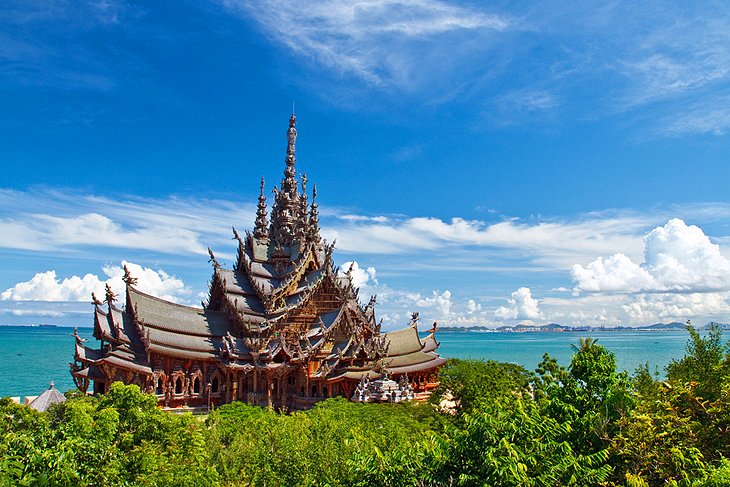 Billed as "the magnificence of heaven recreated on Earth," this massive monument, built entirely of wood, is a study in Thai architectural styles. Every available space is intricately decorated with wooden carvings, and the entire structure was built to pay homage to ancient religions and philosophies.
The cycle of life, Utopia, and humanity's relationship to the universe are some of the themes reflected in the artwork here. While visiting the sanctuary, you can enjoy Thai cultural shows and Thai boxing, go elephant trekking or horseback riding or take a ride on a speedboat.
Address: 206/2 Moo 5, Soi Naklua 12 , Naklua, Banglamung
Official site: http://sanctuaryoftruthmuseum.com/
4. Wat Yansangwararam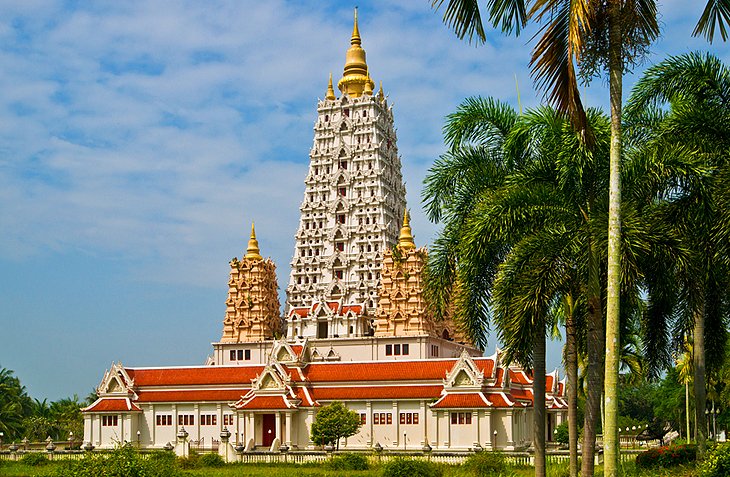 As with all of Thailand's impressive wats (temples), Wat Yansangwararam (known as Wat Yan) offers insight not only into Thai design and architectural traditions but also into the society's values. Surrounded by sprawling palm-studded gardens, the temple was dedicated to King Bhumibol Adulyadej in 1988 to commemorate the 42nd year of his reign.
Precious Buddhist relics are housed in the main complex, and on the right-hand side of the path leading to the temple is a lake with impressive Chinese pavilions, filled with antiques and artifacts. Wat Yansangwararam's shrine stands on a hill, reached by a flight of 299 steps lined with Naga snakes.
5. Big Buddha (Wat Phra Yai)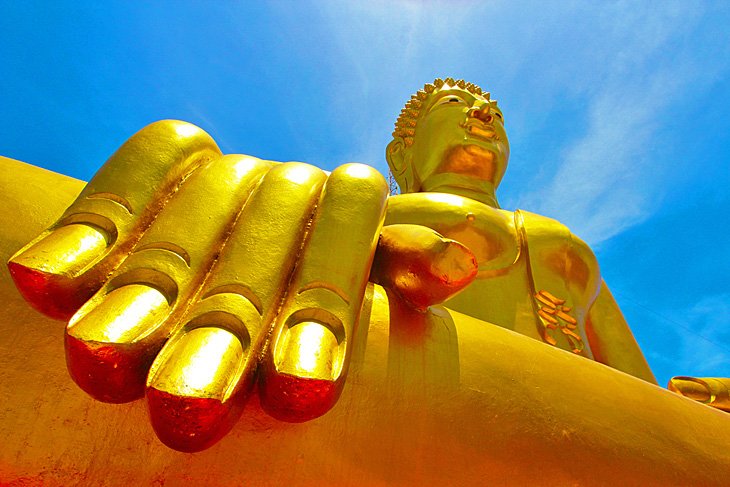 This 18-meter-tall golden statue of the Buddha looks peaceful and relaxed perched atop the wooded Pratamnak Hill south of Pattaya. Climb the steep stairs, adorned on both sides with golden Naga snakes, to see the statue up close and admire the several smaller Buddhas surrounding it.
Many locals come here to pray for good health, happiness, and prosperity. You can also enjoy beautiful views over Pattaya and the bay from the top of the hill. If you're not up for a long walk up the hill, you can catch a taxi up and save your energy to climb the stairs to the statues.
6. Take a Day Trip to Koh Larn (Coral Island)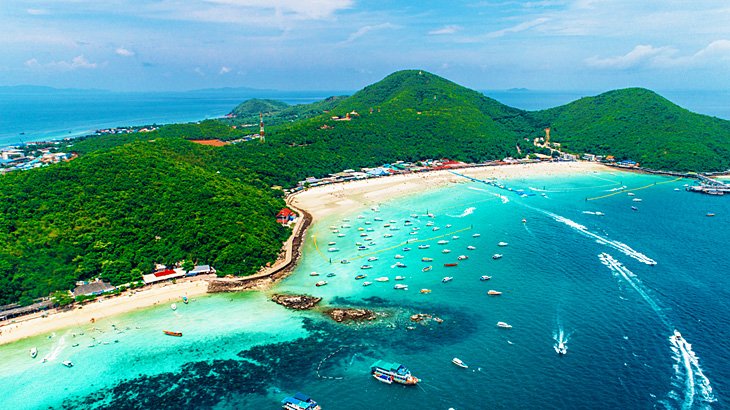 A 30-minute speed boat ride or 45-minute ferry ride from Pattaya, Koh Larn (also called Koh Lan) is a relatively peaceful escape from tourist-packed Pattaya. Several white-sand beaches stretch along the island's shores, with food stalls, restroom facilities, and plenty of water sports. Parasailing, banana boat rides, and underwater Sea Walking are some of the most popular.
Tien is one of the prettiest beaches, and monkeys frolic on Nual Beach. You can rent motorbikes to tour the island, and it's also possible to stay overnight at one of the many resorts along the beach at Samae and Tawaen. This is a popular place for families to spend the day away from the hubbub of Pattaya.
7. Art in Paradise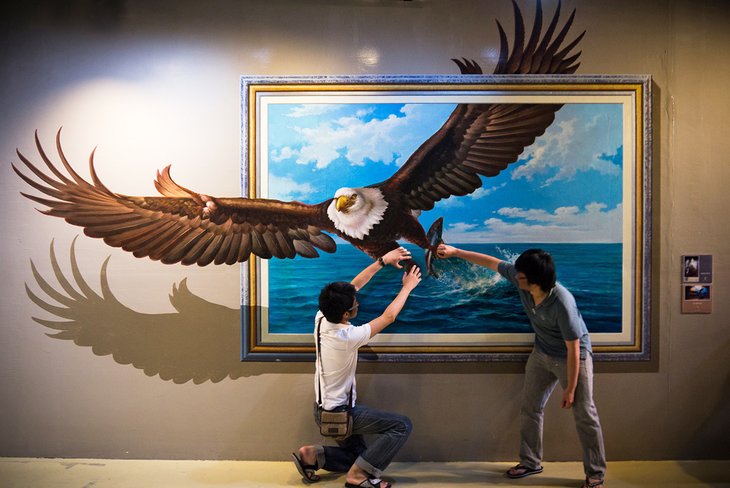 Family-friendly Art in Paradise is an illusion art museum and the perfect place for fun photo ops. It's also a great place to visit when you need a break from the heat. Tickle a whale's belly, touch a rhino, or tackle a marlin in life-like artwork, and capture the moment in a photograph to share with family and friends later.
The different themed zones include classic art, Egypt, the underwater world, safari, dinosaurs, and fantasy. This is a great rainy day attraction and a fun place to round out your vacation photo collection.
Address: 78/34 Pattaya Sai 2 Road, Muang Pattaya, Nongprue, Bang Lamung, Chonburi Chang Wat Chon Buri 20150
8. Escape the Heat at Ramayana Water Park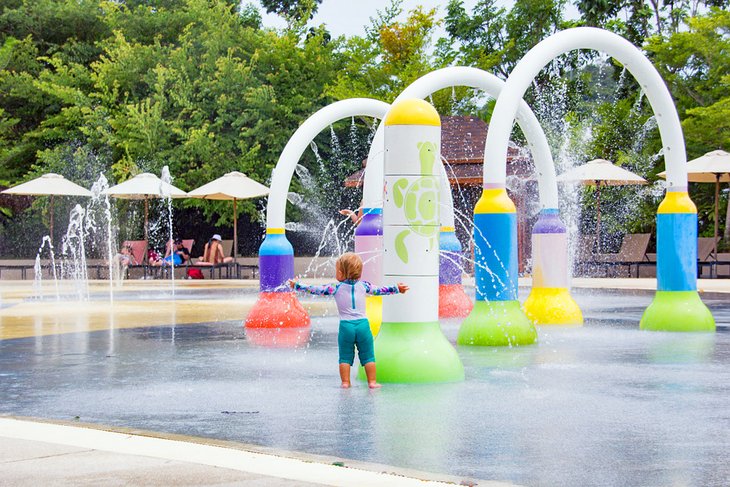 Billed as "the biggest and best water park in Thailand," Ramayana Water Park offers an exhilarating day out for travelers of all ages, with 21 different water-themed rides. A riot of colorful, serpentine slides spiral around the park, including a heart-stopping freefall and more gentle slides for the little ones.
Other things to do here include the double wave pool, a kids' Aquasplash park with fountains, and even a green maze. The lazy river ride snakes through mysterious caves and bubbling geysers. Daily activities add to all the fun and include water polo, fish feeding, Zumba, and volleyball.
Address: 9 Moo 7 Ban Yen Road, Na Chom Thian Sattahip District
Official site: https://www.ramayanawaterpark.com/
9. Four Regions Floating Market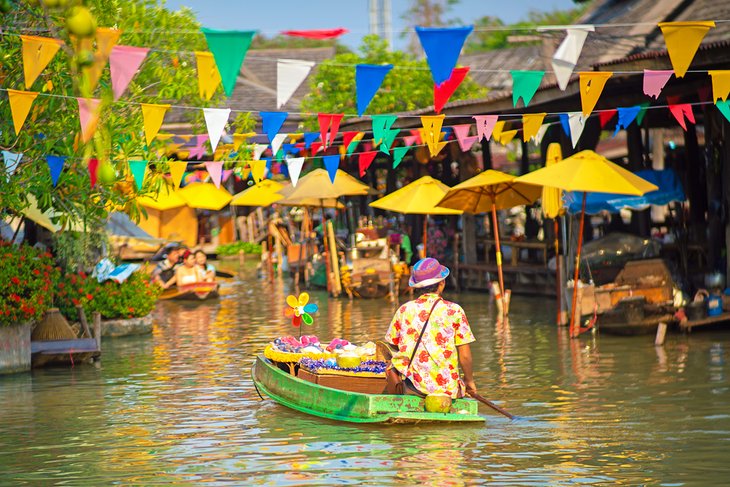 The first and only floating market in Pattaya, this bustling hive of commerce is divided into different sections selling merchandise from the four major areas of Thailand. Souvenirs, arts and crafts, and clothing are among the many items sold here, and it's also a great place to indulge in some exotic cuisine; you can try everything from scorpions to crickets and crocodile meat.
A great way to explore the markets is to rent a boat. Unlike more authentic floating markets, you have to pay for admission here. Your ticket gets you more than just a boat ride, however. There are shows and activities to be enjoyed here, including sea boxing, traditional Thai dances, and even a zipline over the water.
Address: 451/304 Mu 12, Sukhumvit Road, Tambon Nong Prue, Amphoe Bang Lamung
Official site: https://www.pattayafloatingmarket.com
10. Shop for Your Next Meal at Naklua Fish Market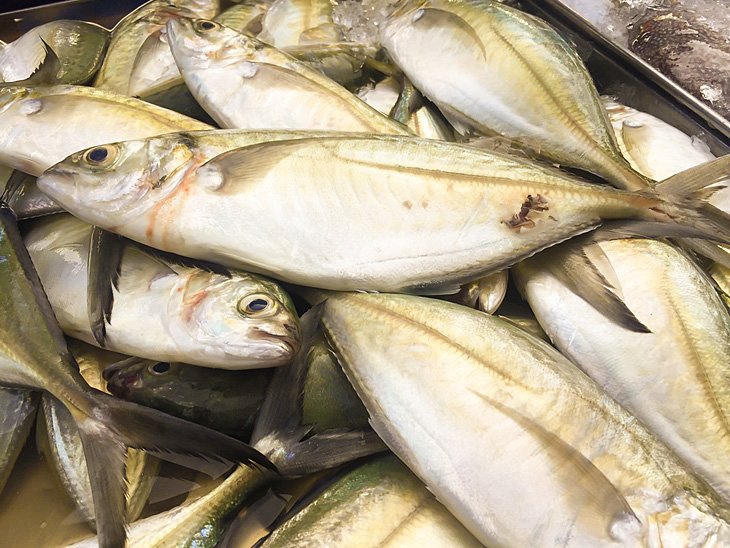 For a slice of local life and succulent fresh seafood, head to the fish market in the small town of Naklua, about a ten-minute taxi ride north of Pattaya. Vendors sell fresh-caught seafood at bargain prices and barbecue it for you on-site.
You can also buy fresh fruit and other locally sourced foods, and several good restaurants are also in the area. A group taxi is the most cost-effective mode of transport, so make some new friends while lounging at the beach and make an outing of it together.
11. Mini Siam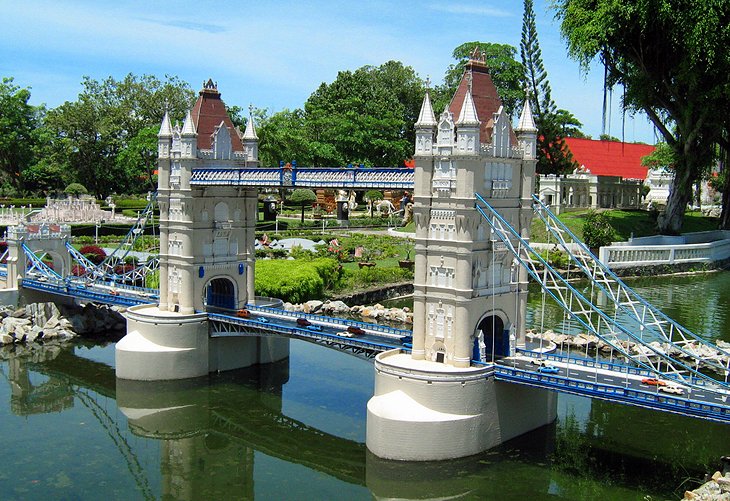 A fun way to see the wonders of Thailand and the world, Mini Siam displays models of some of the most famous international sites. Among those on display are Bangkok's Victory Monument and Wat Arun (also known as the Temple of the Dawn), New York's Statue of Liberty, London's Tower Bridge, the Sydney Opera House, and the L'Arc de Triomphe in Paris.
Children, especially, will enjoy seeing some of these famous structures all in one place. Arrive in the late afternoon to catch the sunset, when special warm lights turn on Bookings should be made at least a day in advance.
Address: 387 Moo 6 Sukhumvit Road, Pattaya City Naklua, Banglamung
12. Underwater World Pattaya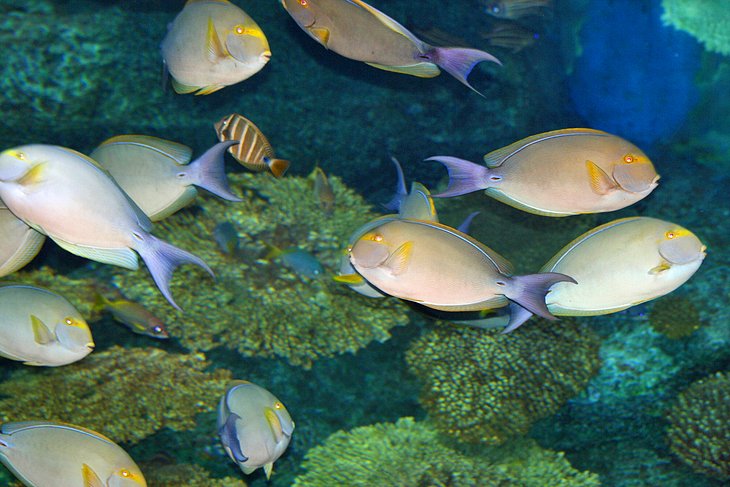 Underwater World might not be as big as other aquariums, but it's home to an impressive array of sea creatures from different underwater environments. Here, at Thailand's first modern aquarium, you can feed koi fish from bottles, get up close to sharks and rays, feel the texture of sea creatures in the touch pool, and see Thailand's largest collection of jellyfish.
Special events for children include the Sleepover with Sharks & Rays Camp, where kids can spend a night in the underwater glass tunnel learning about marine animals.
Address: 22/22 Moo 11,Sukhumvit Road, Nongprue, Banglamung
Official site: http://www.underwaterworldpattaya.com/
13. Shop for Keepsakes at Thepprasit Night Market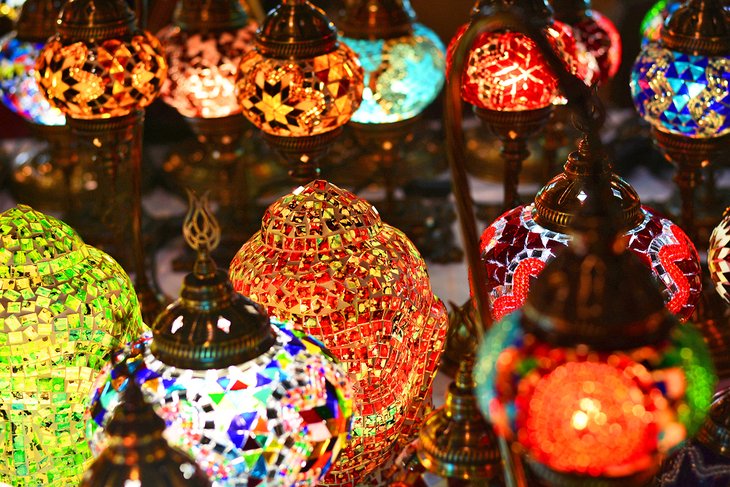 This bustling Friday to Sunday market runs between 5 and 11pm and attracts both locals and tourists. While there are other markets in Pattaya, the ones in the city center tend to charge more, so it's worth hopping on a tuk-tuk to get to Thepprasit. There are both indoor and outdoor stalls here, but the indoor part of the market is by far the largest and most impressive.
As with most Thai markets, there's not a lot of rhyme or reason to the way the stalls are set up, with sellers offering hot food standing next to those selling electronics or T-shirts. To get the best deals, you'll have to walk the entire length and width of the market and practice your haggling skills.
Be on the lookout for copied designer items and dodgy products, and instead focus on paper lamps, authentic souvenirs, and surprisingly cheap silk clothing.
14. See the Giant Buddha Engraving at Khao Chi Chan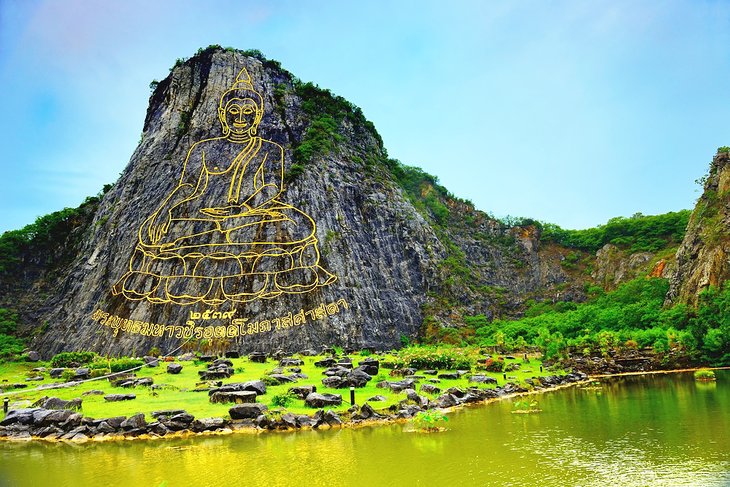 Known as Buddha Mountain, Khao Chi Chan is a limestone hill with the world's largest Buddha image carved right on it. The golden carving of a sitting Buddha measures 109 meters tall and 70 meters wide, and takes over most of the side of the towering rock.
Created in 1996 as both an homage to the king and as a place for local Buddhists to visit, the image was cut into the stone using guided laser technology, then inlaid with gold leaf.
A tranquil garden with a small lake, paved paths, and a number of water pools filled with lotus flowers add to the beauty of the place. You'll find a few vendors and a small visitors center here, but in general, it's a place for worship and to relax surrounded by beautiful scenery.
The mountain is located just 15 kilometers outside Pattaya and not far from Jom Tien beach. While in the area, you can visit the Viharn Sien temple and museum, which houses a beautiful collection of bronze statues, cultural and religious artifacts, and a number of archeological finds.