From Bangkok to Ayutthaya: 4 Best Ways to Get There
Just 80 kilometers north and an hour away from the hustle and bustle of Bangkok, the royal city of Ayutthaya, a UNESCO World Heritage Site, makes for a perfect day trip. The Ayutthaya Historical Park covers an area of 289 hectares, and you would need several days to truly explore it all. Still, you can fit all the most important places to visit within the park into a single day with a little planning.
Founded in 1350, Ayutthaya was once the capital of the kingdom of Siam–centuries before the land became known as Thailand. Today, the ruins of this city–characterized by its giant spires, prang (reliquary towers), and moats surrounding the temples–offers visitors a chance to explore a completely different side of "the land of smiles."
There are several ways to travel from Bangkok to Ayutthaya–from the easy do-it-yourself option on public transportation to the comfort of a guided tour. No matter what your preferences are, here is a breakdown of the options for getting to Ayutthaya:
1. From Bangkok to Ayutthaya by Tour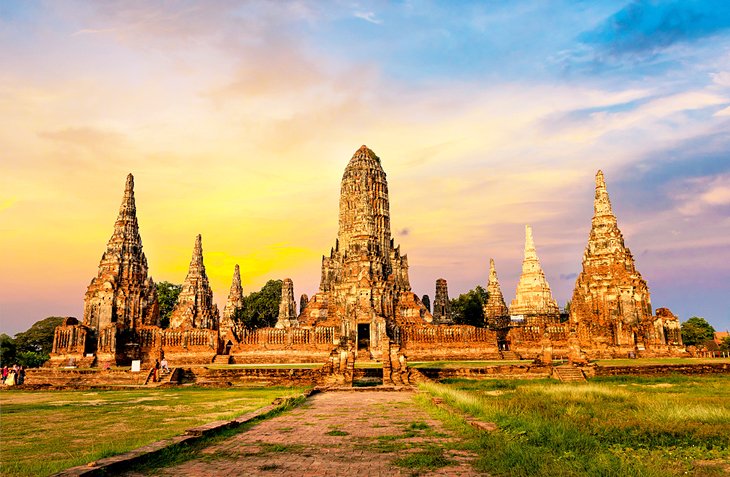 Ayutthaya is a massive maze of temples that spreads over 289 hectares. There's little rhyme or reason to the location of the buildings and even with a map, chances are you'll have a hard time locating specific ones.
One of the main advantages of joining an Ayutthaya Sightseeing Day Trip from Bangkok is that your English-speaking guide will take you to see the main wats (temples), so you don't have to wander around and miss out on the most important buildings. Main stops in this tour include Wat Phra Si Sanphet (the holiest and most impressive of the temple ruins); Wat Yai Chai Mongkol (famous for its 121-foot-long and 26-foot-high reclining Buddha statue); and Wat Mahathat, best known for the massive tree roots overtaking the building. You'll also stop by Wat Mongkhon Bophit, an active worship temple where you can see one of the largest sitting Buddha statues in Thailand.
A tour also gives you a chance to hear the story behind Ayutthaya–there aren't many signs posted around the ruins, so without a guide, you'll miss out on the little details that make the place truly amazing.
After a morning exploring the ruins, your air-conditioned minivan will take you to lunch. You'll get back to Bangkok on a riverboat cruise down the Chao Phraya River, enjoying views of the temples lining up along the riverbank on the way. Once in Bangkok, another minivan will be waiting to bring you back to your hotel.
2. From Bangkok to Ayutthaya by Train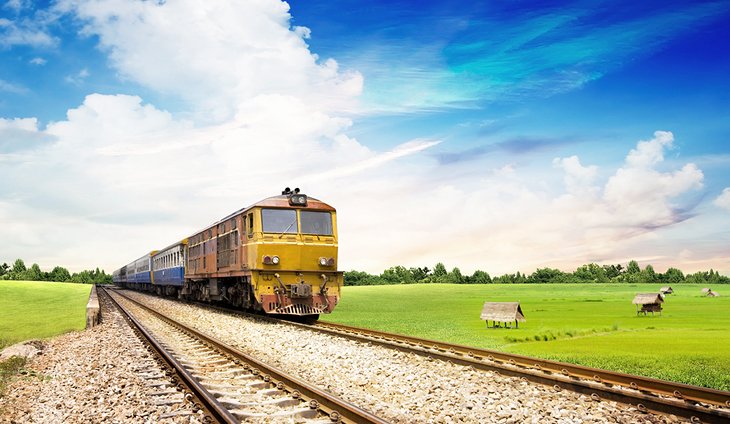 For a scenic route with a touch of local charm, trains departing from Bangkok's Hualamphong train station will get you to Ayutthaya in 80 to 150 minutes, depending on which service you choose. The fastest train of the day is the 8:30am train, which completes the journey to Ayutthaya in 77 minutes.
First-class tickets are not available for local, short-distance trains, but second-class will get you comfortable seats in an air-conditioned carriage for a reasonable rate. You can check train times online, but the reservation system is only in Thai. You can instead book tickets through an agency like 12go, which handles most of the transportation ticket sales in Asia.
Alternatively, you can just walk into any train station and buy tickets over the counter. Third-class tickets in carriages with no AC (which cost less than a cup of coffee and are the cheapest travel option available between the two cities) don't offer a reservation option, so arrive at the station early if this is your preferred travel choice. An unexpected plus of train travel is that there are vendors on the train offering cold drinks, fresh fruit juice, and packs of pineapple chunks to make your trip a lot better.
The railway station in Ayutthaya is not near the temples. You'll either have to take a ferry or a tuk-tuk (three-wheeled motorcycle taxi) to the ruins. If you don't want to walk the entire complex, you can rent a bike or pay a tuk-tuk driver to take you from one temple to the next–an especially good idea on a very hot day.
3. From Bangkok to Ayutthaya by Bus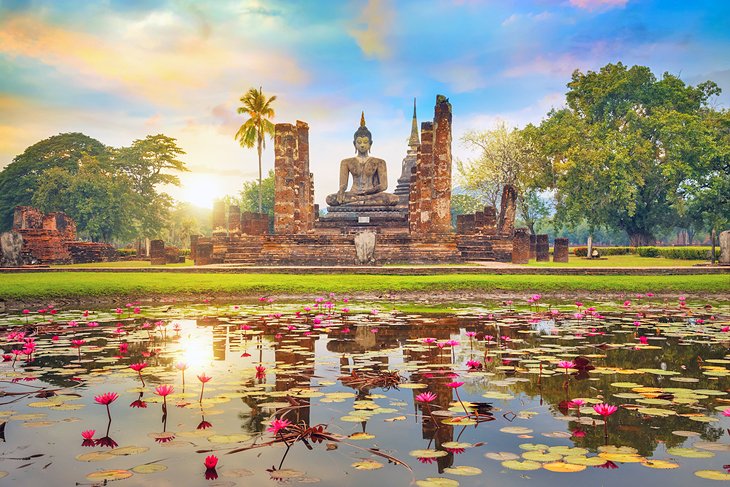 Up until 2016, it was possible to take a regular city bus to reach Ayutthaya from Bangkok, but the route no longer exists. Instead, passengers trying to reach the ancient city via public transportation will have to use a minivan instead. The vans (which carry 12 passengers) are Thailand's midway option between buses and taxis. They're faster; they have AC; and they're a lot more comfortable than crowded, hot city buses.
Minivans leave from Mo Chit Bus Station and cost about double the price of the train. There's no set time for departure and you can't book tickets in advance–instead, minivans will leave as soon as they're full, which means you could wait around anywhere from 5 to 30 minutes.
Keep in mind that the minivans make several stops along the one-hour trip to Ayutthaya, and you have to stay on until the last stop to reach the ruins. Once you get off at Naresuan Alley, it's a short walk to Wat Mahathat in the northeast corner of the park. You'll walk past Chao Phrom market on the way there, a good place to grab a snack and a cold drink before you reach the archeological park.
4. From Bangkok to Ayutthaya by Private Tour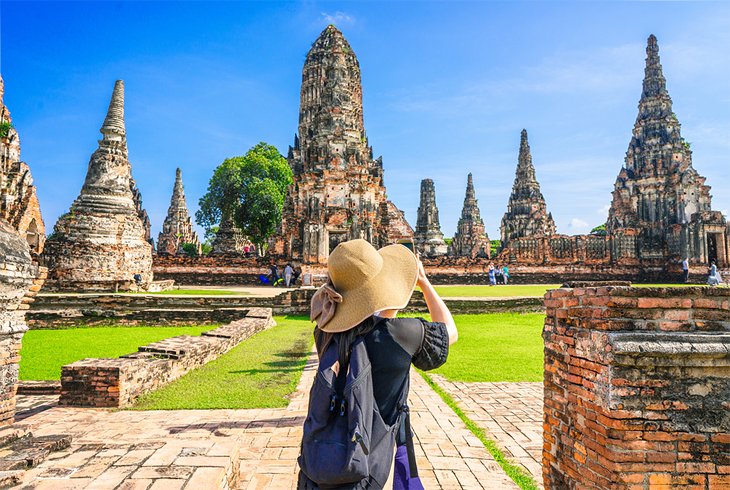 If you're seeking privacy and a more in-depth look into Thai history and culture, a private Ayutthaya Day Trip from Bangkok might be your best bet. Lasting 8 to 10 hours, this round-trip in an air-conditioned van not only allows you more time to explore the temples but also gives you a chance to discover some Thai delicacies along the way. Even better, this full-day itinerary is completely private for you and your group, so it can be modified and slightly customized based on your needs.
After you're picked up from your hotel, the tour takes you to the most important attractions at the ruins, including the most famous wats, such as Wat Phra Sri Sanphet (famous for its restored three chedi-mound-like structures resembling a bell that are used to house relics); Wihan Phra Mongkhon Bophit and its massive golden Buddha statue; Wat Mahathat (home to a stone Buddha head wrapped in the roots of a tree); and Wat Chaiwatthanaram, Ayutthaya's best known and most impressive temple.
This unique tour then takes you to taste local snacks directly from a local market and to get a behind-the-scenes look into the production (and tasting) of Roti Saimai, a cotton candy delicacy wrapped in a sweet roti bread. End the day with a traditional Thai meal onboard a rice barge docked on the Chao Phraya River before the van takes you back to your hotel.
More Related Articles on PlanetWare.com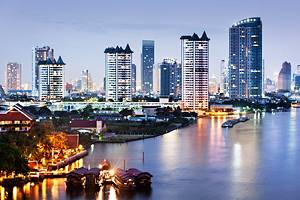 Exploring Bangkok: While you are in Bangkok exploring the city, be sure to have a look through our article on the top tourist attractions in Bangkok to help plan your sightseeing.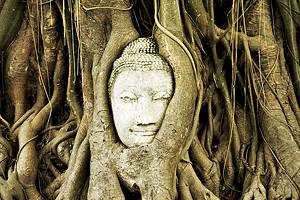 Things to Do in Ayutthaya: If you decide to see the sights on your own, or you're just wondering what to do in Ayutthaya, see our list of top attractions in Ayutthaya, which also offers tips on Where to Stay.