11 Top-Rated Attractions & Things to Do in Nakhon Pathom
Nakhon Pathom was once a place of royal and religious significance-but time and the changing geographic landscape altered the province, shifting its appearance as the sea retreated more than 50 kilometers from Thailand's central plains.
Despite the changes, this is still an attractive destination for visitors because the location is convenient (about 50 kilometers from Bangkok), and it houses one of the greatest Buddhist monuments in the region.
Since Nakhon Pathom is a short drive from the Thai capital, the area's main sightseeing attractions can be taken in during a quick day trip. Or you can allow a few days for a visit and enjoy everything the area has to offer.
For ideas on what to see when visiting this often-ignored province, take a look at our list of top tourist attractions in Nakhon Pathom.
1. Phra Pathom Chedi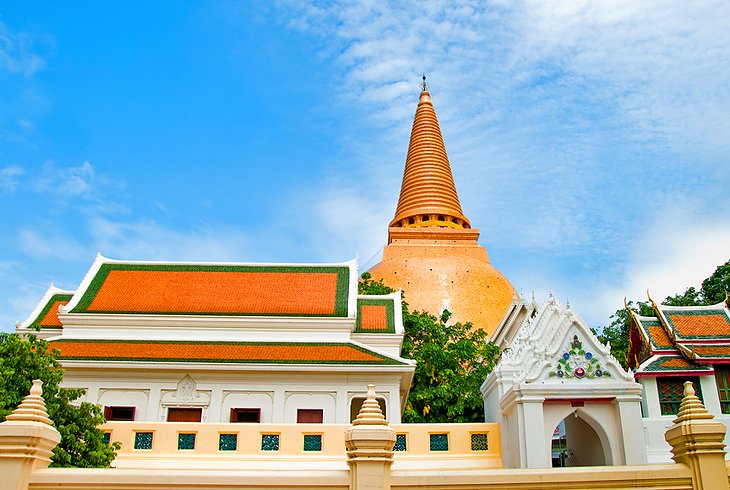 Known as the "holiest and first among chedis," Phra Pathom Chedi is the single most important attraction in this ancient enclave. At 118 meters, (127 meters including the terraces), it is the tallest Buddhist monument in the world, standing higher even than the famous Shwedagon Pagoda in Yangon, Burma.
The legend of the chedi is a tragic one: It's said that an astrologer told the ancient King Phya Kong that one day his son would kill him. The king sent his son to live in the forest, where a woman found him and raised him. As a young man, the son, called Phya Pan, entered the service of the King of Ratchaburi, who was a vassal of the king of the neighboring kingdom Nakhon Chaisi.
Phya Pan's great wisdom and prudence brought him to the attention of the king, who adopted him. Phya Pan persuaded him to wage war against his feudal lord and, during the ensuing battle, killed his own father. After the victory, he followed local custom by marrying the queen, his mother, but then learned the story of his origins. The dagoba (tomb) he built as an act of atonement was the predecessor of the Phra Pathom Chedi and is today concealed within the larger structure.
The great chedi stands on a circular terrace in the middle of a square park, surrounded by a latticework wall, with the main entrance on the north side. The bot, one of the buildings on the terrace, holds a Buddha made of clear quartzite and overlaid with lacquer and gold leaf. This Dvaravati-style figure shows the Buddha seated in the European pose, "the Buddha of the future."
The four wiharns consist of an open lobby and an inner room. A bronze statue of a standing Buddha in the Sukhothai style, known as Phra Ruang Rojanarit, stands in the lobby of the northern wiharn and is a highly revered piece. An inscription on the wall of the wiharn says that the ashes of King Mongkut are interred in the plinth.
2. Phra Pathom Chedi - Museum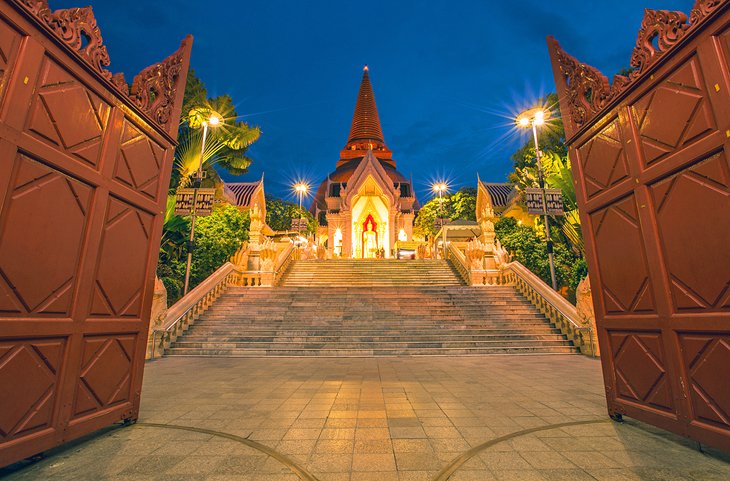 The old temple museum, containing Mon stucco and stone sculptures, is in the wiharn near the East entrance. The main building of the museum dates back to 1979 and is by the South steps. Here, you'll see stone tablets from Nakhon Pathom's earliest days, as well as coins, statues of Buddha, and everyday objects from Thailand's ancient past.
There are also a number of stone and terra-cotta sculptures and a bas-relief of the Buddha preaching to his first disciples, as well as items showcasing Nakhon Pathom's history and development through the decades.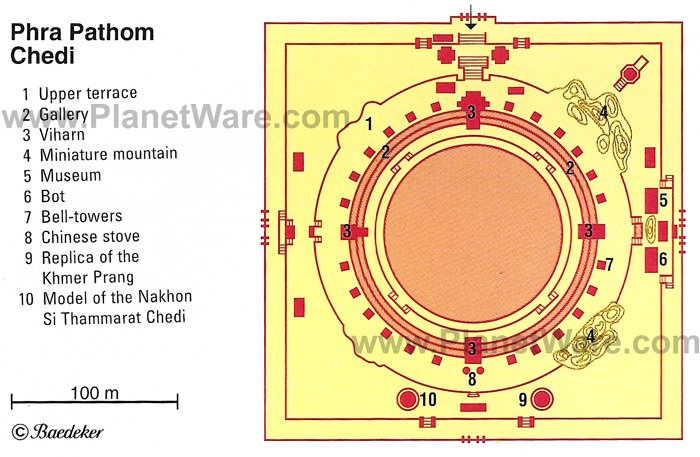 3. Phra Pathom Chedi Festival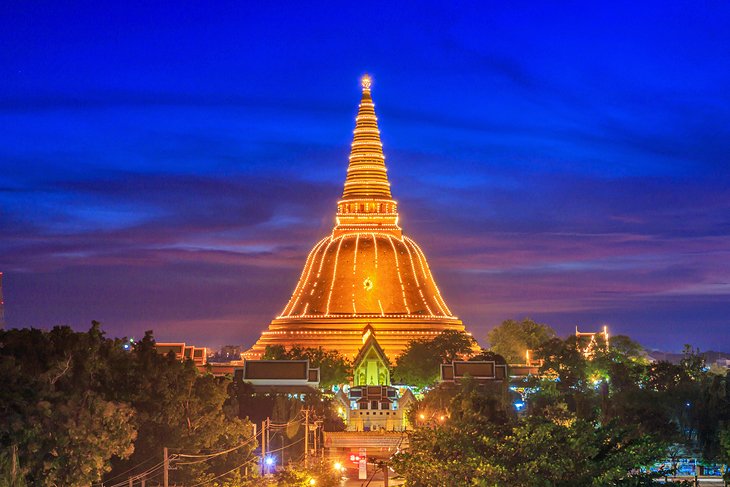 Every year pilgrims from all over Thailand flock to Nakhon Pathom's Grand Temple festival in November. The chedi itself is lit up with fairy lights while classical dance drama, shadow plays, and other entertainments take place on the terraces.
During the festival, the great square at the chedi's foot is turned into an amusement park, buzzing with activities and plenty of stalls serving hot food. Don't miss out on the chance to try Khao Lam, a traditional local dessert of sweet sticky rice served on bamboo. There's also a sprawling market here during the festival, where you can buy anything from Buddhist amulets to second-hand clothes, trinkets, and souvenirs.
4. Sanam Chan Palace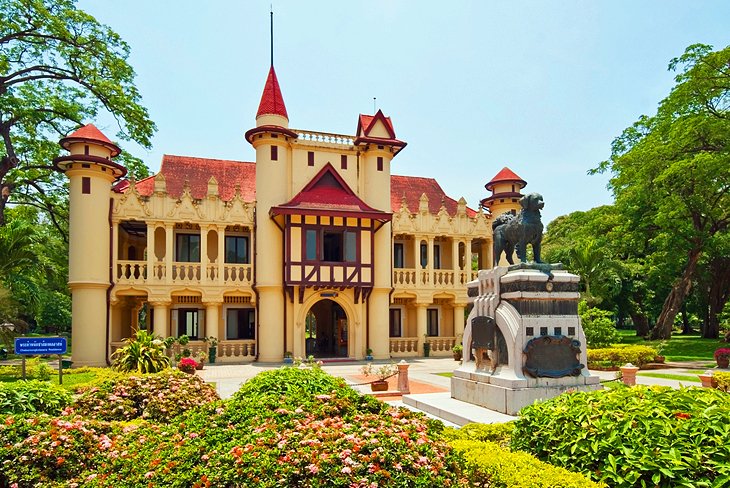 In 1910, before he became king, Rama VI built the Sanam Chan Palace in the northwest of the town. The massive complex has some interesting buildings in a mixture of Thai and European styles. There are a number of ornate halls that were used as theaters and meeting rooms, as well as the Phiman Pathom Hall, where Rama VI is said to have seen a miraculous vision of Phra Pathom Chedi.
In the audience chamber, a small shrine contains a statue of the Hindu god Ganesha, with the head of an elephant and a human body with many arms. The curious statue of a dog in front of the Chali Mongkol Asana, as the building is called, is probably meant to be Ya Le-the favorite dog of King Rama IV.
These buildings now house provincial government offices but still provide an interesting look into the ancient society that once existed in this unique part of Thailand.
5. Wat Bang Phra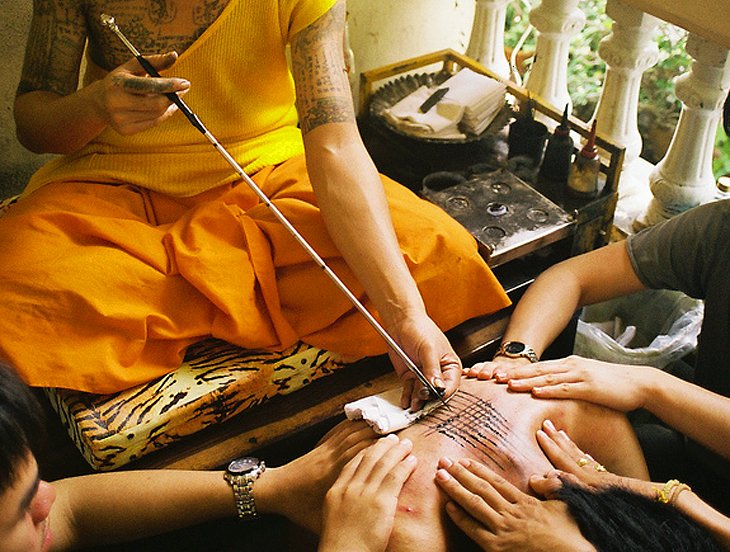 While the true origins of this temple are unknown, archeologists believe it dates back to the late 18th century. Today, monks practice here the art of giving sak yant tattoos, a traditional art form in which they use a long stick to tattoo a blessing onto the back.
Tourists can visit and get a tattoo, though the monk chooses which to use. These are meant to protect the bearer from evil, and bring them strength and luck.
Wat Bang Phra is the site of the annual Sak Yant Festival, when over 10,000 people flock to Nakhon Pathom to practice and honor this ancient tattoo art form. Many become "possessed" during the festival, acting out the behaviors of animal gods or behaving erratically as they claim to be moved by spirits.
Official site: http://www.wat-bang-phra.com/
6. Wat Phra Ngam
Wat Phra Ngam is known as the "temple of magnificent Buddha images," a site where a number of significant historical artifacts were excavated. Finds included sandstone Buddha images, the Sema Dhama Chakra (a Buddhist Wheel of Virtue that marked the boundaries of the temple and sacred areas), statues of crouching deer, and both bronze and earthen Buddha images.
The temple was built during the reign of King Rama V, in the late 1800s. Many of the relics and artifacts excavated here are on display at the National Museum in Bangkok.
7. Rose Garden Thai Village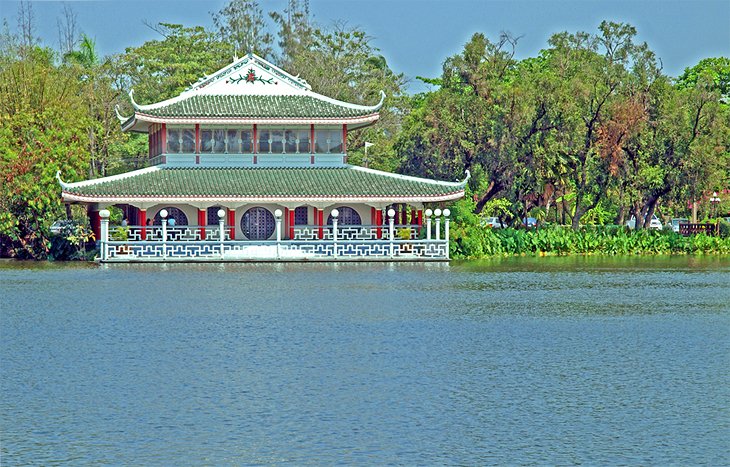 East and West meet here, where guests can enjoy the many Italian-style gardens in a uniquely Thai setting and relax after visiting some of the ancient sites of Nakhon Pathom.
This massive green space of 55 acres is home to beautiful floral displays, as well as a handicraft market, a mini floating market, and an outdoor food court offering Thai specialties and snacks. Things to do here include attending cultural shows and ceremonies, such as traditional Thai folk dancing and muay Thai displays. Elephant shows and rides are also offered here-something to keep in mind if you don't approve of elephants in captivity.
If you want to spend the night here and explore in the early morning, before the heat of the day rolls around, there's also a riverside hotel with its own restaurant on site.
8. Jesada Technik Museum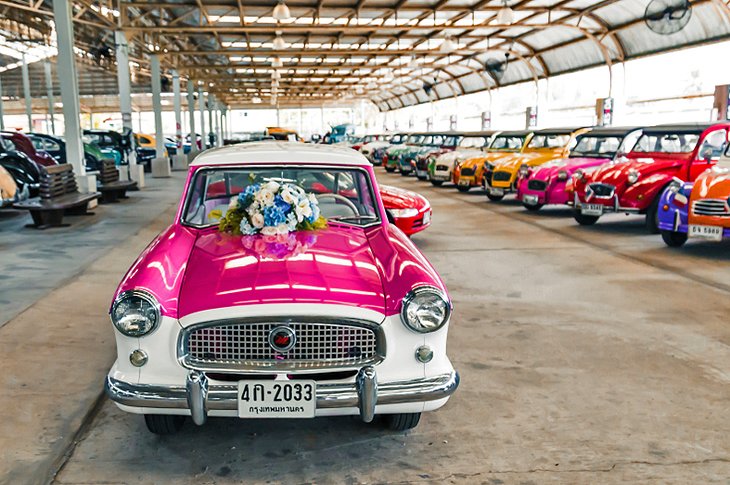 This massive collection of vintage cars and motorcycles belongs to a Thai businessman who in 2007 decided to set up his own museum. More than 500 vehicles now occupy a large hangar in Nakhon Pathom in an eclectic exhibit that features many unusual and even quirky examples of everyday transportation.
There are only a few signs here and not much logical order-chronological or otherwise-to the parking of the vehicles. Instead, the collection is here to be admired, explored, and, often enough, obsessed over.
The museum has a significant number of three-wheel cars that look very similar to modern-day tuk-tuks (Thai motorcycle taxis) but were created by well-known brands such as Lambretta and Daihatsu.
Old American "muscle" cars do have their own dedicated section-and the collection includes beautiful elongated Checkers, 1950s sports cars, and even NYC yellow taxis. There's also a DeLorean (the famous "Back to the Future" car) and buses, a micro BMW Isetta and other cars with no side doors (instead, the entire front of the car opens up to allow access), tractors, and single-person helicopters here.
Official site: https://www.jesadatechnikmuseum.com/en/
9. Wat Lam Phaya Floating Market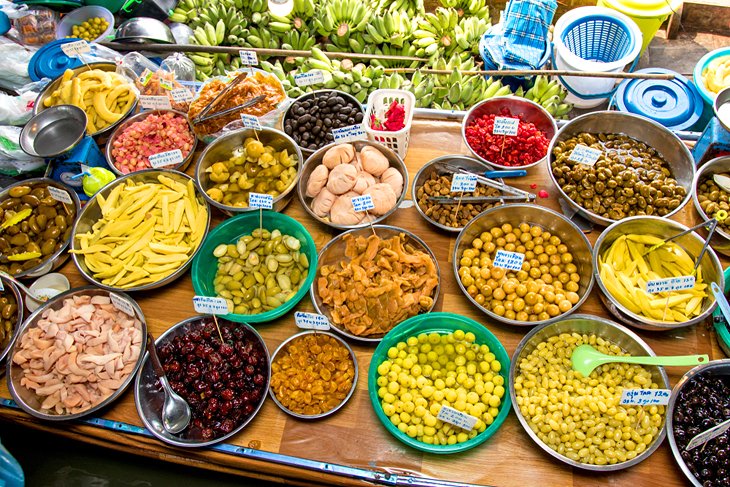 Located in front of the Lam Phaya temple, this floating market is less commercial than the ones you'll find in Bangkok. Rather than being an artificial set up to attract tourists, this is an authentic local market where people come to sell hand-made products, fruits, and even clothes. Many boat sellers also offer homemade food, including traditional dishes such as chicken Biryani and Thai vermicelli.
The floating market also includes a small museum set in a teak building. Here, visitors can see agriculture tools, pottery, and everyday life items that have shaped the life of the locals through the decades.
10. Woodland Muangmai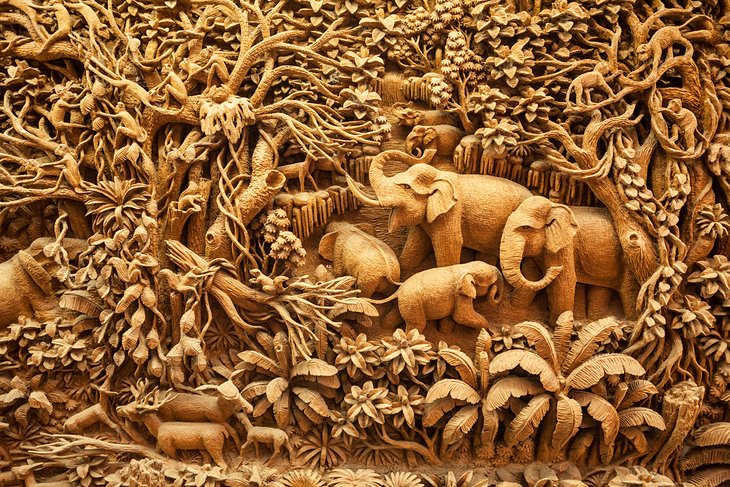 It's hard to describe Woodland Muangmai, an art village meets fantasy land where several legends and stories known as "Tales of the Wood" are told through hand-sculpted wood. The carvings here are actually all unrelated and come from a private collection encompassing carvings that go as far back as 200 years-but they have been arranged and divided into zones that together tell a story.
Visitors can enter the Abyss Room, the Buddha Room, the Dragon Cave room, and more-spaces where special effects, lights, and sound will guide them and explain the hundreds of carvings around.
One of those places you have to see to believe, Woodland Muangmai offers a wonderful insight into Southeast Asian wooden craftsmanship, and it's a very unique destination when you want to see something different.
11. Wat Sisrathong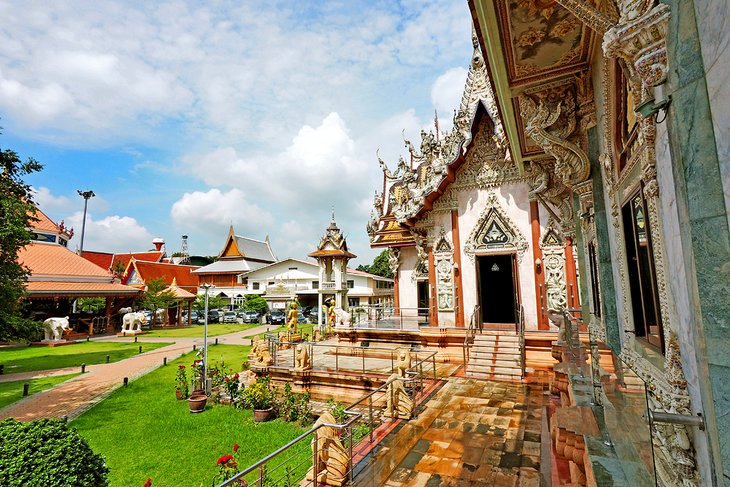 At the top of the unique places to visit in the region is this stunning temple, dedicated to the worship of the God of Darkness, Phra Rahu. Thai legends describe Phra Rahu as a moody monster who regularly eats his brothers: the sun and the moon. As a result, he causes eclipses and often brings about disasters and financial harm. Visitors come here to bring offerings in the form of black coffee, black sticky rice, or black beans in the hopes of obtaining courage, wealth, and success, or erasing bad luck from their lives.
Wat Sisrathong is Thailand's most famous temple dedicated to Phra Rahu. A stunning gold and black statue of the god sits under a sala as you enter the temple grounds. Additional ornate buildings hold Buddha statues, including a golden Buddha head found on the grounds when excavating to build the temple.
Map of Attractions & Things to Do in Nakhon Pathom
Nakhon Pathom, Thailand - Climate Chart
Average minimum and maximum temperatures for Nakhon Pathom, Thailand in °C
J
F
M
A
M
J
J
A
S
O
N
D

32

22

32

24

33

26

34

27

33

27

33

27

32

26

32

26

32

25

32

25

31

23

31

21

PlanetWare.com
Average monthly precipitation totals for Nakhon Pathom, Thailand in mm.

10

28

31

71

191

152

158

188

320

231

58

10
More Related Articles on PlanetWare.com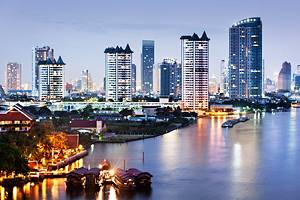 A Bangkok Base: If you're using Bangkok as your base for exploring Nakhon Pathom, make sure you book a hotel in advance, so you can take a day trip to the ancient province and then return to rest in the capital. While here, remember to check out everything the city has to offer-including some unexpected sights and destinations. For inspiration, check out our list of the Top-Rated Tourist Attractions in Bangkok.