20 Best Things to Do in Thailand
Thailand packs a punch to the senses no matter how many times you visit. This colorful, cultural, charismatic country is steeped in history and heritage, with diverse landscapes, rich cuisine, historic landmarks, and modern cities. This leaves an endless list of things to do in Thailand.
These experiences can be as active as trekking through the jungle or diving the depths of the sea, or as leisurely as camping out with a book on a beautiful, sun-bleached beach. So between visiting the tourist attractions in Thailand, don't miss out on the wonderful activities that are possible, as well.
Take a cooking class in Chiang Mai, or hop on a motorbike and explore the mountain roadways. Celebrate a festival, or try your skills at rock climbing. No matter your style of activity, Thailand has something wonderful to try. Plan your trip with our list of the top things to do in Thailand.
1. Island Hopping in Krabi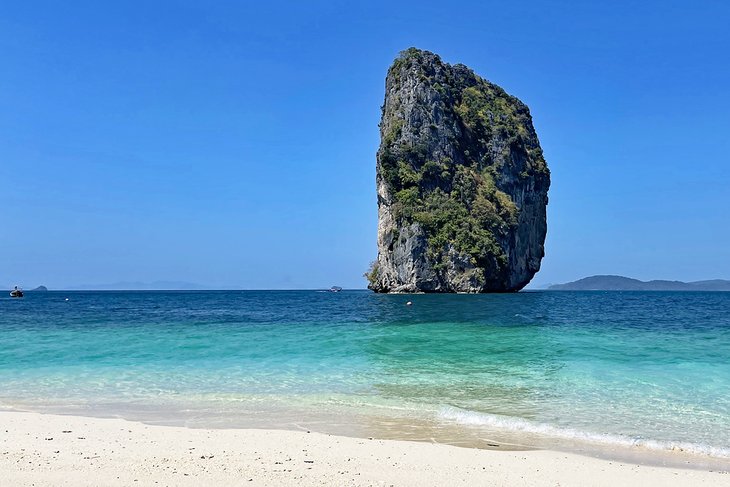 Among the many stunning landscapes you'll find across Thailand, none are more popular than the sweeping beachscapes across its hundreds of idyllic islands. In fact, Thailand is an island-lover's paradise. It has more than 1,400 of them, and most of them are fringed in bleached-white sand and dappled with languidly swaying palm trees.
Of the many island chains along Thailand's coast, it's the islands in Krabi province that tend to be the most popular for tourists looking to hop around. Most visitors to Krabi either fly into Krabi's airport, or the airport on the neighboring island of Phuket. From either port, dozens of daily ferries depart for the islands that are scattered in the Andaman Sea.
Many visitors start their sightseeing in Krabi with the Phi Phi Islands, which are among the most beautiful in Thailand, and the most developed for tourism after Phuket. Other lesser-known islands include Koh Lanta, Koh Yao Ya, and Koh Yao Noi.
Of course, Krabi has many other islands that are uninhabited, but make for great day trips or snorkeling adventures. You can sign up for three- or four-island day tours to take you to these pristine jewels, many of which are surrounded by towering limestone cliffs and some of Krabi's most beautiful beaches.
You can also find fantastic luxury resorts in Krabi. These range from intimate boutique properties to large scale complexes, and they're on found in some of the most stunning beach locations.
2. Walk to Bangkok's Temples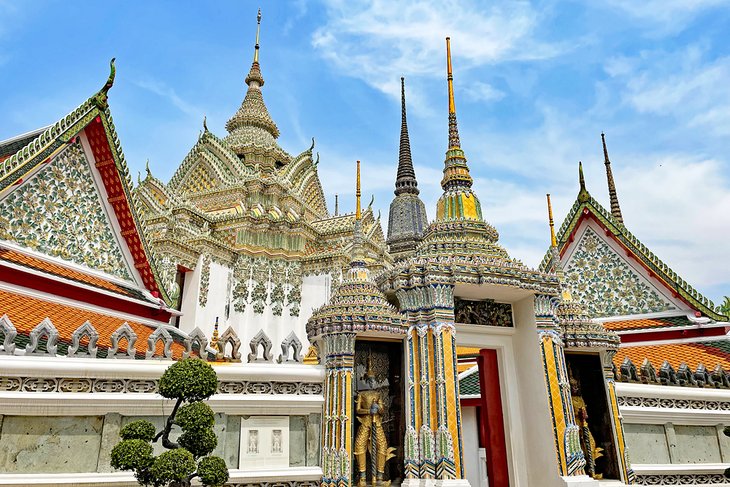 Thailand has no shortage of temples. You'll find a temple around practically every corner – in the smallest of villages, atop mountains, and tucked away in the jungle. But for the highest concentration of temples in one place, Bangkok is where you'll want to visit.
Bangkok has roughly 400 temples within the city limits. Each one is unique and worth a visit. Still, certain temples in Bangkok are bucket-list items, especially for a first time visit to Thailand. Fortunately, many of Bangkok's most popular temples are not far from each other, so it will be easy to hit several in a day.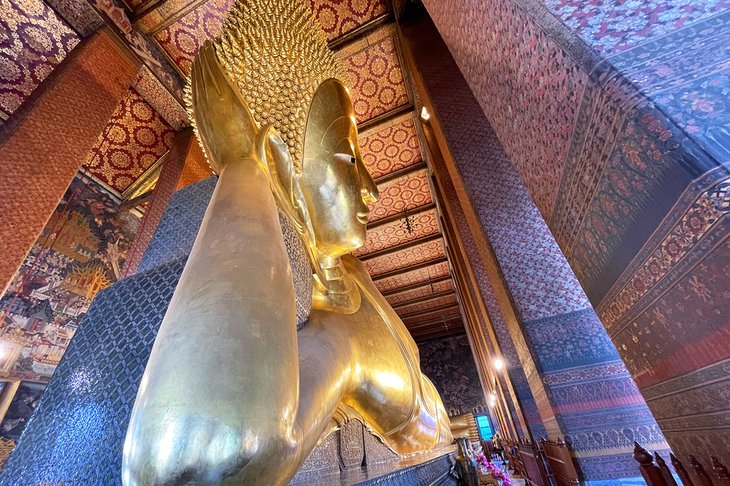 The first is Wat Pho, which is also known as the Temple of the Reclining Buddha. The largest Buddha in Thailand, the golden Reclining Buddha measures at 151 feet long. It is one of the top things to see in Thailand, and a highlight of this centuries-old temple.
Across the river via a short ferry ride, visitors can make their next stop to Wat Arun, also known as the Temple of the Dawn. The gorgeous tower is known for its pearly white color, which catches the sunrise, thus giving it its name. At night, the tower is illuminated so that it glows gold against the dark night sky.
These are just two of Bangkok's hundreds of temples, but both are heavy hitters on Thailand bucket lists and ought not to be missed.
3. Watch or Practice Muay Thai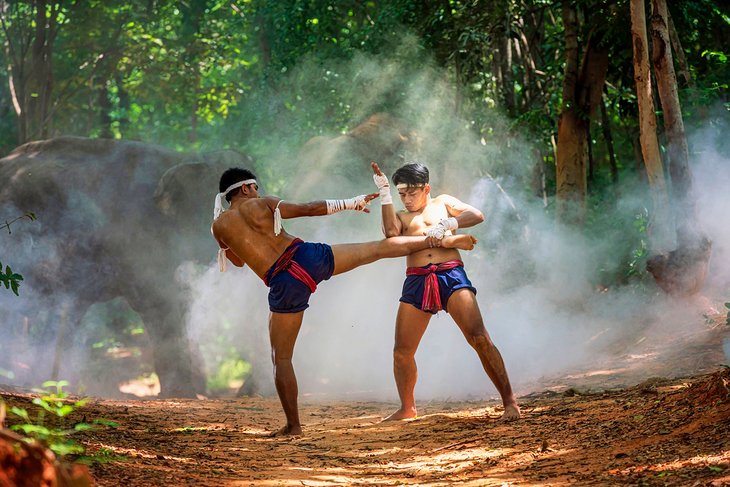 If you're interested in martial arts, you may already know about Muay Thai. But for those who do not know, Muay Thai is an ancient martial art from Thailand that was originally used as a form of military combat. Today it's used as a popular sport and fitness training, and it's possible to catch a fight almost anywhere in the country.
But the easiest and most convenient spot to watch a Muay Thai fight is in Bangkok. New Lumpinee Boxing Stadium, for example, is one of the top venues in the country. The biggest names in Muay Thai often light up the marquee here, and spectators are always electric with enthusiasm.
Of course, you can learn the art of Muay Thai when visiting Thailand, as well. Several schools for boxers of all levels are found in various tourist destinations in Thailand. From the beaches of Phuket to the seclusion of Khao Lak, Thailand has dozens of Muay Thai schools for all levels.
4. Celebrate a Festival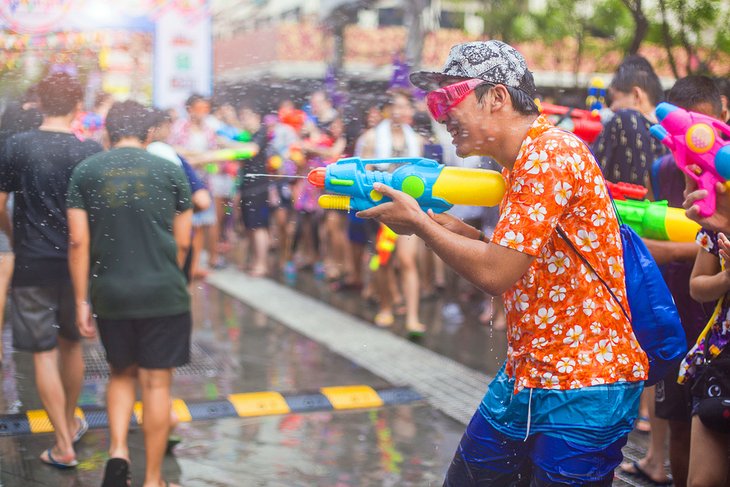 Thailand's event calendar is a non-stop rotation of fabulous events and festivals. No matter the time of year, Thailand will find a reason to celebrate, so always be sure to check your travel dates to see if you align with any of its colorful festivals. But if you can time your trip around some of the bigger ones, it will prove to be an experience you will never forget.
Perhaps one of the most important festivals in Thailand is Songkran. Celebrated in April every year, the Songkran Water Festival is also known as Thai New Year. It occurs on the day when the sun changes position in the zodiac, and the purpose of the water is that it is meant to cleanse the spirit.
With that in mind, Songkran is always a heavily soaked holiday, as people across all ages, backgrounds, and walks of life come together to drench each other in water. Chiang Mai has one of the largest Songkran festivals in the country, so this may be a good place to start your Songkran research.
Keep in mind that April is one of the hottest times to visit Thailand, so an afternoon splash will likely be most welcome.
5. Taste Bangkok Street Food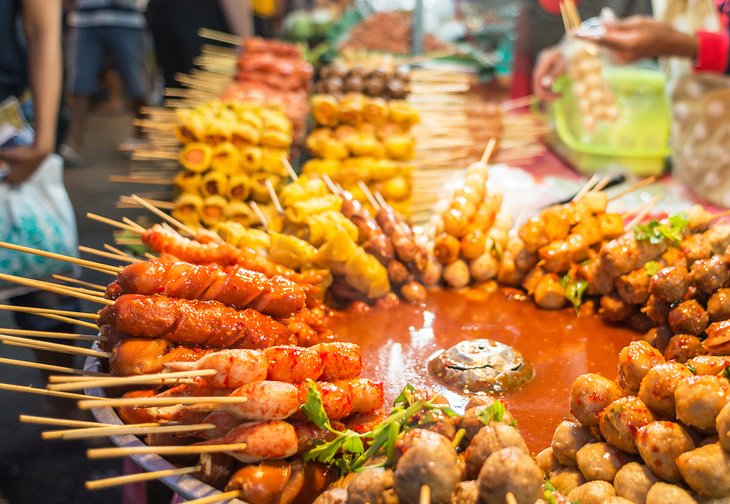 Fine dining is, well, fine. But when you come to Thailand you cannot leave without trying its legendary street food. Street food is a way of life in Thailand.
These delicious recipes are often passed down from generation to generation, always served piping hot and fresh, and at a price point so affordable, you'll never break the bank. In fact, street food in Thailand is so cheap that many residents of Thailand opt to eat out for meals rather than cook at home.
Bangkok is a veritable treasure trove of street food stalls. No matter the neighborhood, it's easy to find everything from succulent meat on a stick to salty soups, sweet-and-milky Thai iced coffees, Thai omelets, and so much more.
Wander through neighborhoods like Sukhumvit, Silom, Chinatown, Khao San Road, and all along the Chao Phraya River to experience the non-stop energy of the food stalls that make Bangkok so special.
6. Rock Climb at Railay Beach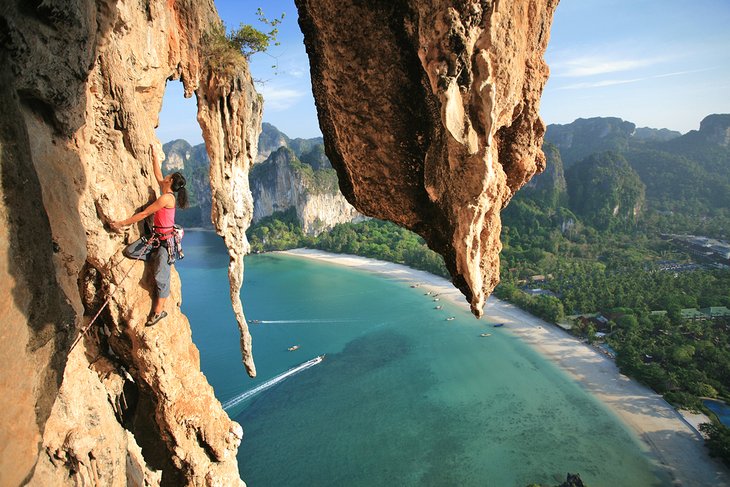 Southern Thailand, specifically coastal Thailand that faces the Andaman Sea, is known for its thousands of towering limestone cliffs. These jungle-carpeted, bone-colored peaks soar out of the turquoise water, creating quite the wild-and-rugged skyline. The cliffs have become an integral part of the landscape in southern Thailand, and for adventure seekers, they provide infinite entertainment.
Rock climbing is one of the top reasons to visit southern Thailand in order to scale these monumental peaks. Among the seemingly endless places to rock climb in Thailand, one beach in particular is beloved among experts and newbies – Railay Beach in Krabi.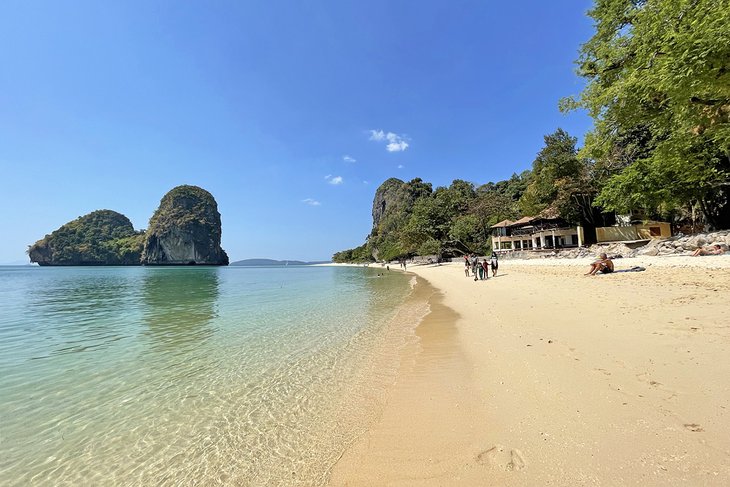 Arguably one of the most beautiful beaches in Thailand, Railay Beach is also famous for its dramatic limestone cliffs. The karsts actually keep Railay separate from mainland Krabi, which means you can only access the beach by boat. That extra step of separation adds so much to the vibe. You feel like you're another world away, when in reality the energy of Krabi and its neighboring port town Ao Nang are just on the other side of the hills.
Whether you're an expert climber or just starting out, you will be mesmerized by the sheer beauty of Railay and its cliffs. Plenty of opportunities are available for those who are just learning how to climb, including guides who will be able to help outfit you with whatever equipment you need.
7. Visit a Floating Market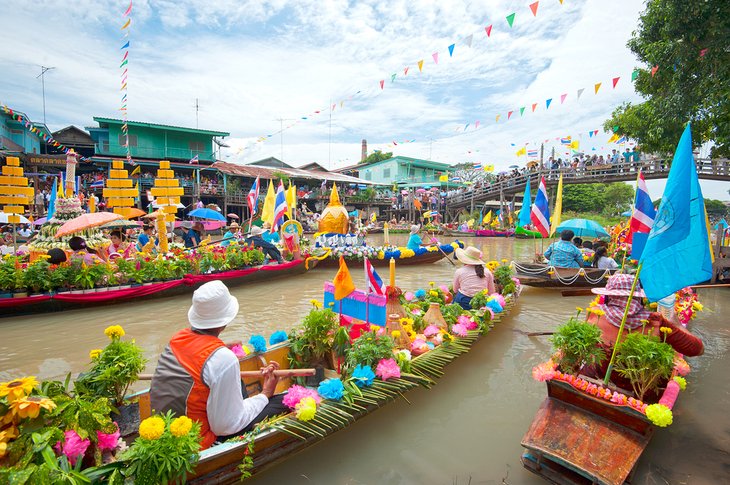 Before there were roads in Bangkok, there have always been waterways. The canals of Bangkok have always been an integral part of transportation, communication, economics, and general ways of life. As such, over the centuries, markets would spring up along the canals and waterways. These floating markets are still a vitally important part of modern day Thai culture, and also happen to be some of the best things to do while visiting Thailand.
You'll find floating markets all over the country, but the ones found in Bangkok are among the most famous.
Without a doubt the Damnoen Saduak Floating Market is the most famous and popular one in Thailand. Teeming with residents and tourists alike, this vibrant, colorful explosion of activity is about an hour outside of Bangkok. The market sprawls around several winding canals, which you can tour on a long tail boat. You'll find everything here, from produce and prepared food to clothing, souvenirs, and more.
Less touristy than Damnoen Saduak is Amphawa Floating Market, which many consider to be much more oriented towards locals. Most people are coming to Amphawa for its fresh seafood.
8. Hike Khao Sok National Park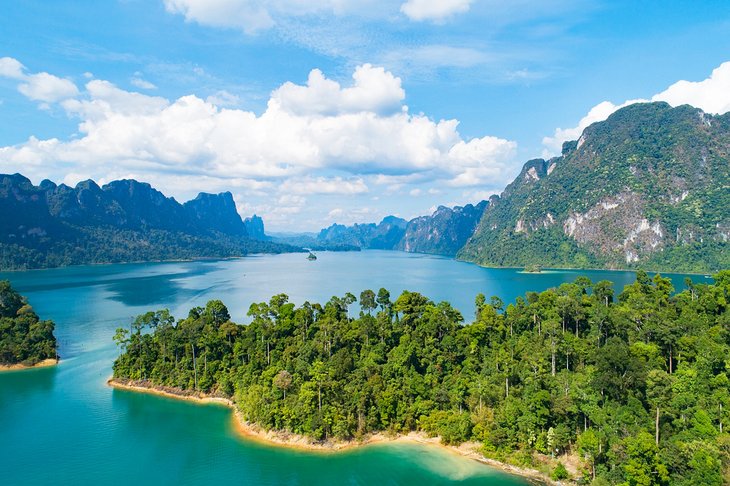 Thailand is a paradise for hikers and trekkers of all levels. In fact, roughly 30 percent of the entire country is blanketed in forest and jungle. While visitors have many natural areas to choose from, some of the best hiking can be found in Khao Sok National Park.
Located in southern Thailand, Khao Sok National Park is actually home to the oldest evergreen rainforest in the world. Located between Phuket, Krabi, and Koh Samui, it's very easy to get to from almost any major tourist beach destination.
What makes the park so special is its diverse topography, from the stunning limestone mountains to the electric blue water and jade-colored foliage that carpets the entire area. The most popular activity in Khao Sok is trekking, whether on your own or as part of a tour.
Be on the lookout for the spectacular wildlife, particularly elephants. Approximately 200 wild elephants roam freely in the rainforest. Catching a glimpse of these majestic beasts in their natural habitat is an experience you will never forget.
9. Visit Chiang Rai's White Temple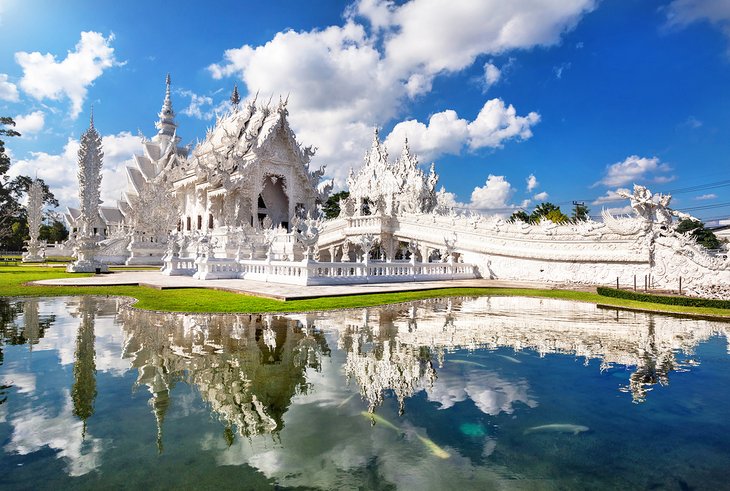 Thailand has some truly impressive temple structures all over the country. But perhaps one of the most beautiful, intricate, and interesting is the iconic White Temple located in Chiang Rai. Its official name is Wat Rong Khun, and it is one of the newest temples to be constructed in Thailand.
While many of Thailand's temples are centuries old, the White Temple was built in 197 by a local artist. The gleaming white temple is intricately carved with thousands of pieces that represent everything from Buddhist symbolism to comic book heroes. It may be considered more of an art piece than an actual religious site, but it's absolutely impressive and breathtaking nonetheless.
10. Explore the Grand Palace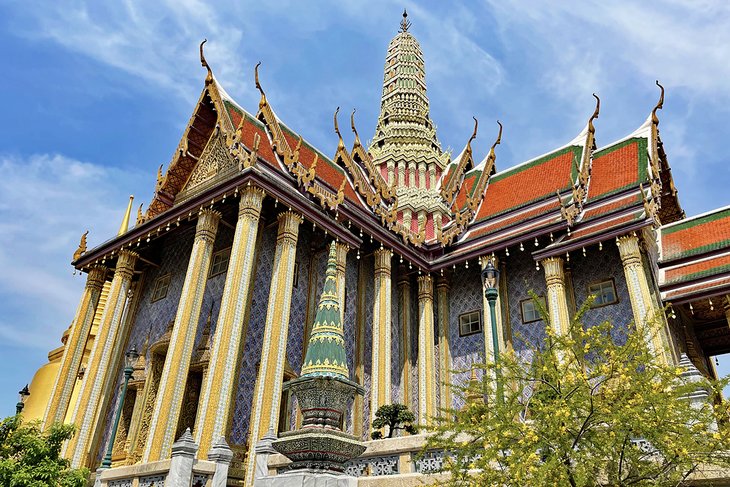 Another bucket list item for your visit to Bangkok is certainly the Grand Palace. Located near Wat Pho, the Grand Palace is one of the most elaborate and sprawling historic structures in the city, jam-packed with architectural and cultural jewels waiting to be discovered.
The complex is made up of dozens of buildings, all of which hold historic or religious significance. The grounds were the home of the royal family from the 18th century until the 1920s.
Today it is most visited for its Temple of the Emerald Buddha. Also known as Wat Phra Kaew, the Temple of the Emerald Buddha is the most sacred Buddhist temple in Thailand. Within its walls lives a small statue of a jade-carved Buddha, which is the most revered image of Buddha in the country.
In addition to the temple, the Grand Palace is overflowing with gorgeously bejeweled structures, golden chedis, statues, pavilions, and, of course, the actual palace itself. It's impossible to see everything at the Grand Palace in a day, but it's absolutely an important stop on any trip to Thailand.
11. Visit the Bridge on the River Kwai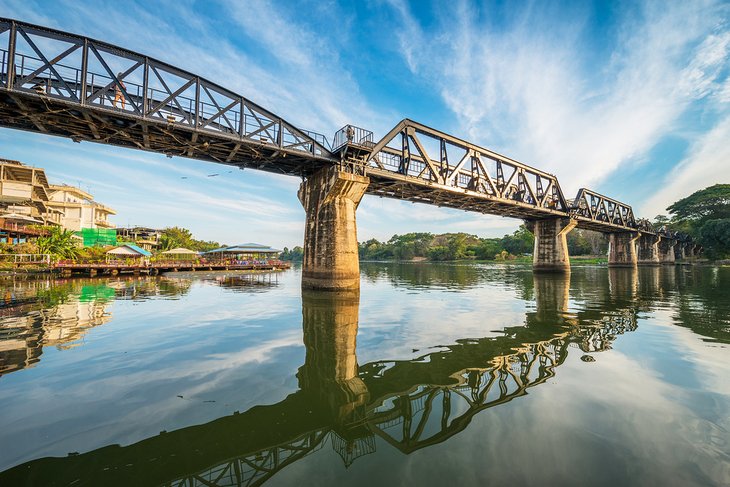 Before the novel, the film, and the line in Billy Joel's We Didn't Start the Fire, there was the actual, real-life Bridge on the River Kwai. The stories are all fictional, but the bridge is very much real. It's known as Bridge 277, and it's part of the Burma Railway that runs between Ban Pong, Thailand and Thanbyuzayat, Myanmar.
The bridge was made famous because of the film and the book. It was constructed by British and Dutch prisoners of war, as well as Asian laborers, in 1942.
Today, the bridge serves as a reminder of the plight of those who built it. A nearby World War II cemetery is yet another place to go and reflect upon the damages that were inflicted here during that time.
12. Photograph the Bangkok Skyline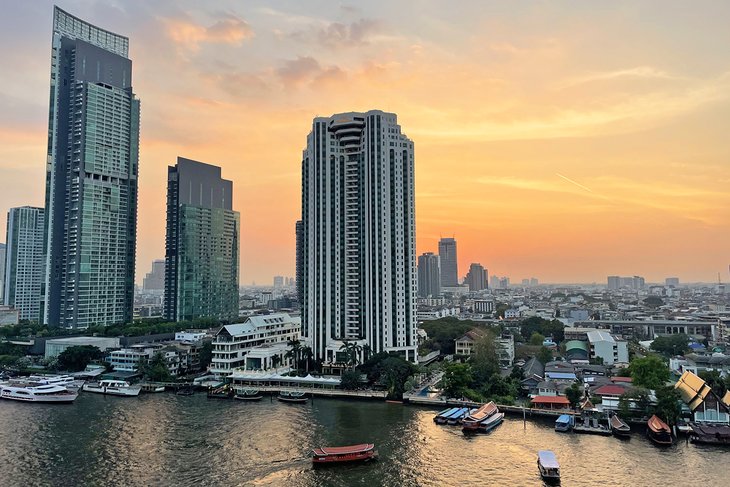 For centuries, life in Bangkok has revolved around the Chao Phraya river. This main artery was the lifeblood from which sprung the enormous, constantly-expanding city we know and love today.
Many of Bangkok's most majestic architectural landmarks, fabulous hotels, and historic temples sit along the banks of the river, making it one of the most iconic skylines in the world.
But like any major cosmopolitan city, Bangkok is in a state of constant evolution, and as such its spots to photograph are in a constant state of flux, as well. You'll find iconic skyscrapers and landmarks that extend out in every direction from the city's historic center. Driving in from the Suvarnabhumi International Airport will reveal the many new additions to the Bangkok skyline.
So grab a perch on the riverfront or head to one of the city's hundreds of stunning rooftops to drink in the views and imprint the skyline of Bangkok into your memory.
13. Rent a Scooter on Koh Samui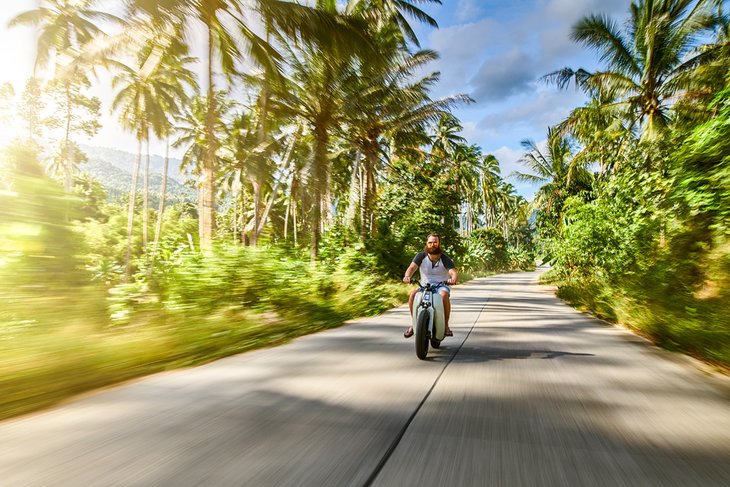 Renting a scooter or a motorbike is one of the most beloved pastimes in the entire country of Thailand. In most tourist destinations, you can rent a scooter for roughly 250 Thai Baht per day. But one of the easiest places to use a scooter is on Koh Samui, and if you plan to see many different sections of the island, a scooter provides the best way to get around
Koh Samui may be an island, but it embodies so many different personalities among its smaller communities. In addition to some of the best beaches in Thailand, it also has pristine waterfalls, jungle shrines, bustling villages, and lots of secret pockets to discover. A scooter makes it easy to sightsee in Koh Samui on your own schedule, so you are not relying on taxis.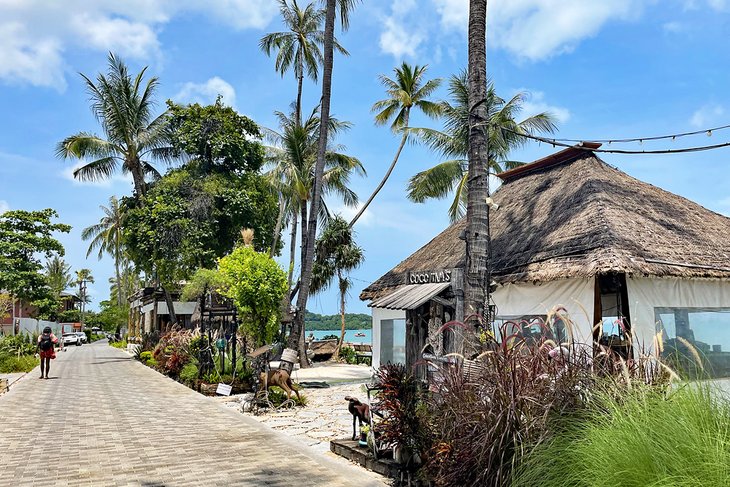 While you do not have to be a master scooter driver to rent a scooter, it is best to have a little bit of experience before you rent one. Traffic moves quickly on the island, and some of the busier sections can be overwhelming – not to mention dangerous – if you've never ridden one before.
And always remember to wear a helmet. Not only is it the law in Thailand (and you will get a ticket on Koh Samui for not wearing one), it is vital to keeping you safe.
14. Take a Cooking Class in Phuket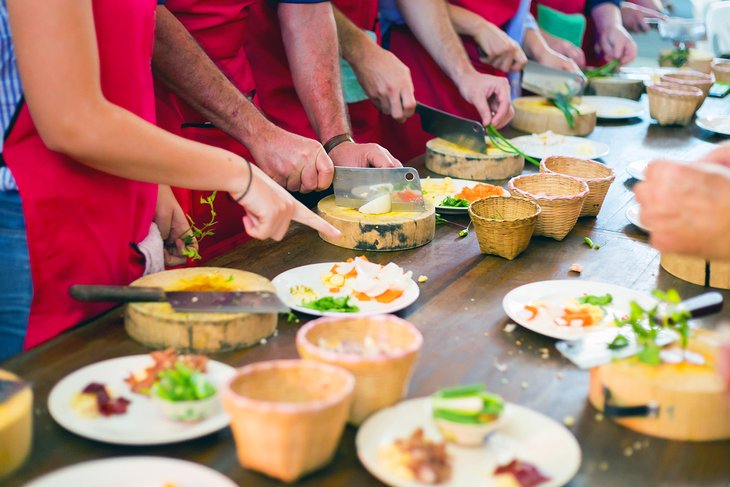 One of the best reasons to visit Thailand? The food, of course. Thai food is a beloved part of its culture, and for many travelers, it's one of the prime reasons they book a trip to Thailand. As such, Thai cooking classes are available all over the country and are some of the best things to do in Thailand.
You can find Thai cooking schools everywhere, but some of the best hands-on experiences can be found on the island of Phuket. Kata Thai Cooking, for example, is a two-and-a-half-our class that is a great introductory course for those who want to learn the basics of Thai cooking. Prepare everything from fried rice to curries, tom yum, and several other favorites.
Some of the classes even include a tour of the market.
Accommodation: Top-Rated Resorts in Phuket
Read More: Top-Rated Attractions & Things to Do on Phuket Island
15. Climb the Koh Phi Phi Viewpoint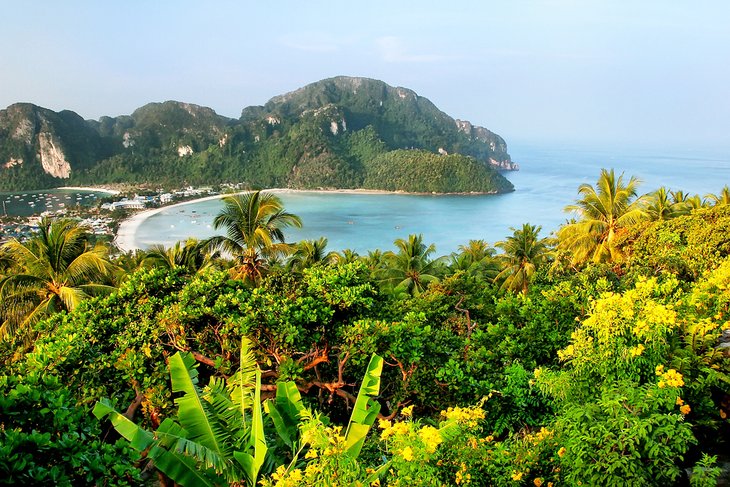 Thailand doesn't skimp on its epic coastal views. You will find expansive panoramas all over the country. But for one of the best introductions to the landscape of Thailand – and southern Thailand in particular – a visit to the Koh Phi Phi viewpoint is a must.
A visit to Koh Phi Phi is a must in general, as these islands are among the most beautiful and popular in the entire country. But do not leave the island without taking a trip up to the Phi Phi Viewpoint. From this perch, visitors will be able to drink in the views of the islands' two beautiful bays.
Bring your hiking shoes – the stairs up to the top are steep. But the effort will be worth it for the three different viewpoints. Tip: Visit Viewpoint 2 at sunset, as it is one of the most dramatic spots on the entire island.
16. Visit the Temples in Chiang Mai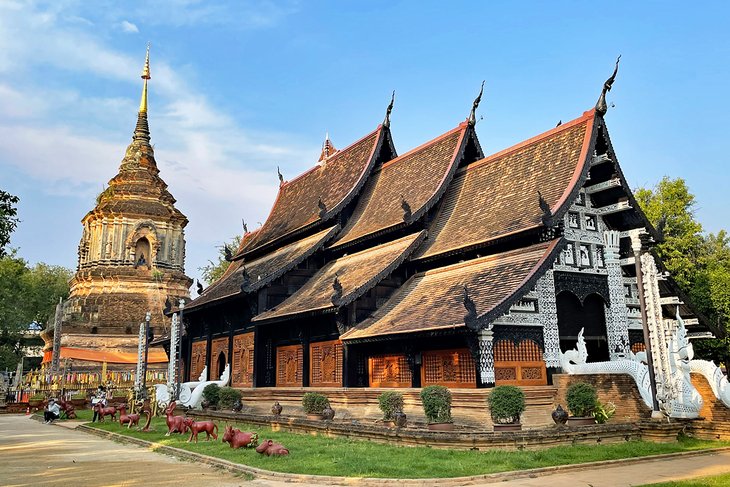 No visit to Thailand is complete without touring Chiang Mai – an ancient city in the north that was once the capital of the Lanna Kingdom. Today it is a thriving modern city with fabulous hotels, restaurants, and museums.
It is also the gateway to the mountainous jungles of northwestern Thailand, and it just happens to have some of the most beautiful temples in Thailand.
Chiang Mai is home to more than 200 temples, many of which are found right in the city. Outside the city limits are more sprawling temple complexes, some located at the tops of beautiful mountains. No matter which you decide to visit, the temples in Chiang Mai are second to none.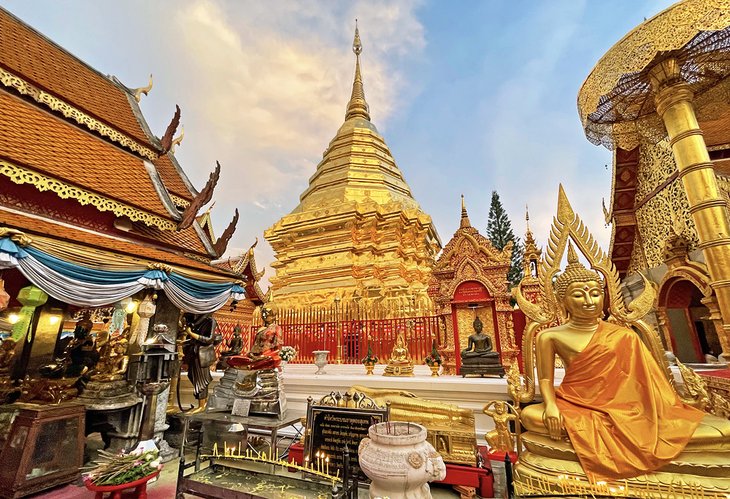 The first stop for any temple tour in Chiang Mai should be Wat Phra That Doi Suthep. The gilded monastery sits at the top of Doi Suthep, a mountain that overlooks the entire city. The complex is a tranquil place of peace, with plenty to discover at the top of its 300-plus staircase. The main stupa is the highlight and is surrounded by hundreds of Buddha statues, candles, paintings, gardens, and even more shrines.
Closer to the city center are other impressive temples like Wat Chedi Luang, which dates back to the 15th century; and Wat Lok Molee, known for its impressive chedi and stained-glass windows.
17. Go Scuba Diving in Koh Tao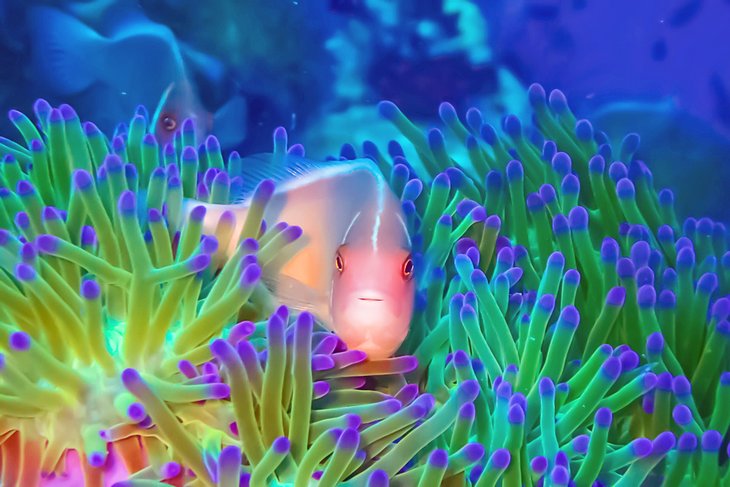 If you visit one dive site in Thailand, it ought to be the island of Koh Tao. Flung off the coast of Koh Samui, the tiny, laid-back island is a paradise for backpackers, tranquility seekers, and, of course, scuba divers.
Koh Tao is only 21 square kilometers and is part of the Champion Archipelago within the Gulf of Thailand. Though the island is exceedingly small – a mere fleck in a sea of turquoise and emerald – it is the jumping-off point for some of the best diving in the region.
Underneath the water's surface, divers will find brilliantly colored reefs, shipwrecks, rock pinnacles, and a swirling array of wildlife. Among the marine life divers can see in Koh Tao are stingrays, grouper, whale sharks, and eagle rays.
The best time to dive in Koh Tao is truly anytime, as the water condition is stable year-round, and the island gets more than 300 days of sun per year. Visibility can be up to 30 meters from July through September.
18. Drive the Mae Hong Son Loop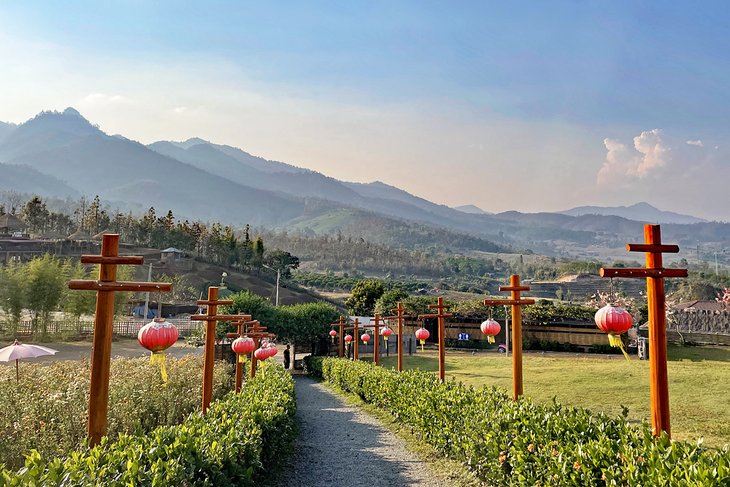 Thailand's remote Mae Hong Son province sits tucked up in the northwestern corner of the country bordering Myanmar. The gateway to the province is the city of Chiang Mai. Leaving the urban center behind, the province unfolds with misty, mountainous splendor, giving way to some of the most spectacular scenery in Thailand.
One popular way to sightsee in Mae Hong Son province is to drive the Mae Hong Son loop. The loop connects Chiang Mai with the cities of Mae Sariang, Mae Hong Son, and Pai. The approximately 300-mile loop climbs high up into the mountains, down into wildflower-strewn valleys, and past gushing waterfalls.
To break up the drive, visitors stop in the aforementioned cities, each of which offers a different kind of vibe. Pai is perhaps the most famous of the cities. A popular tourist destination, the bohemian mountain town is known for its restaurants, hostels, and backpacker vibe.
Most travelers make the trip on motorbike, though visitors can also rent a car to drive the loop.
19. Uncover Ayutthaya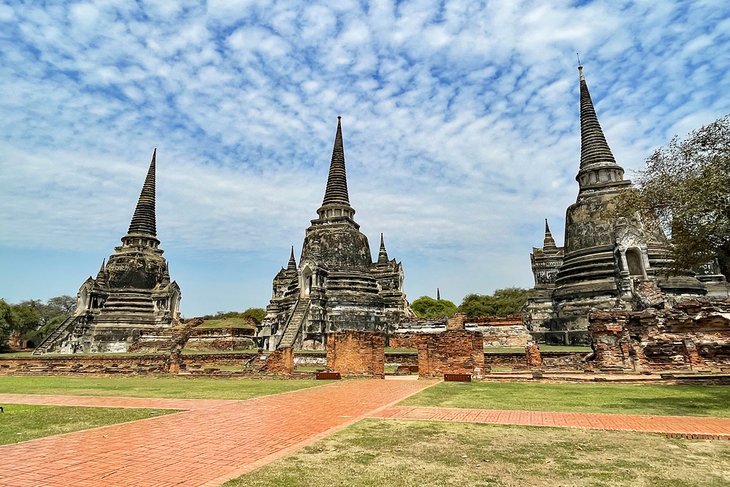 As modern of a country as Thailand is, it's impossible to forget the centuries of history within its borders. One of the best places in Thailand to learn about its history is with a visit to the historic city of Ayutthaya.
Possible as a day trip from Bangkok, or also as an overnight trip, the historic city is roughly 80 kilometers north of Thailand's capital. It was the second capital of the kingdom of Siam after Sukhothai and later fell to the Burmese in the 18th century. What remains are the relics of this once-grand city, offering a unique and haunting glimpse into Thailand's past.
The best way to explore Ayutthaya is either through an organized tour or as an individual trip on a motorbike, as many of the temples and structures require some travel to get to. The highest concentration of structures are within the confines of the old city. Here are magnificent monasteries and temple ruins, shrouded in jungle and overgrown like lost cities.
The city of Ayutthaya has grown around the ruins and today provides ample things to do for travelers, from restaurants to hotels. It's possible to exhaust the ruins in a few days, so no need to spend more than a night or two. But it is a stop that will provide so much insight into Thailand's past and will certainly be a memorable, worthwhile visit.
20. Hit Thailand's Beaches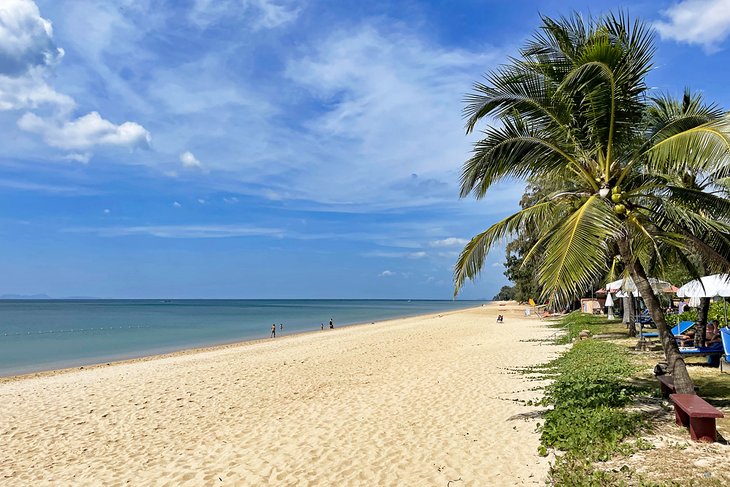 Thailand has so many adventures to choose from, ranging from electric cities to lush jungle escapes, and beautiful rolling mountains. But perhaps one of the best things to do in Thailand is to visit its beautiful beaches. Travelers from all over the world flock to the beaches of Thailand to experience its sun-bleached sand, crystal-clear water, and laid-back tropical vibes.
The country has a unique position, with coasts on both the Andaman Sea and the Gulf of Thailand. As such, travelers will find beaches all along the southern and central edges of the country.
Krabi and Phuket are the most popular provinces for beachgoers on the Andaman Sea side, while the provinces of Prachuap Khiri Khan, Surat Thani, and Chonburi have the best beaches in the Gulf of Thailand. Hua Hin, Koh Samui, and Pattaya are the most famous destinations in those provinces, respectively.
Each beach has its own style and attracts different kinds of travelers, so you'll have your pick of the type of experience you want. From the secluded, sleepy beaches of Koh Tao to the energy of Phuket, the hotel-lined shores of Hua Hin, and everything in between, the beaches of Thailand are among its best and most diverse features.
Map of Things to Do in Thailand