17 Top-Rated Places to Visit in Thailand
We may earn a commission from affiliate links ()
A bucket-list vacation spot for so many people, Thailand truly has it all: the chaotic charm of Bangkok, the epic tropical jungles, some of the best street food in the world, and palm-lined beaches that seem to go on forever. Whatever your reason for escaping to the Land of Smiles, Thailand won't disappoint.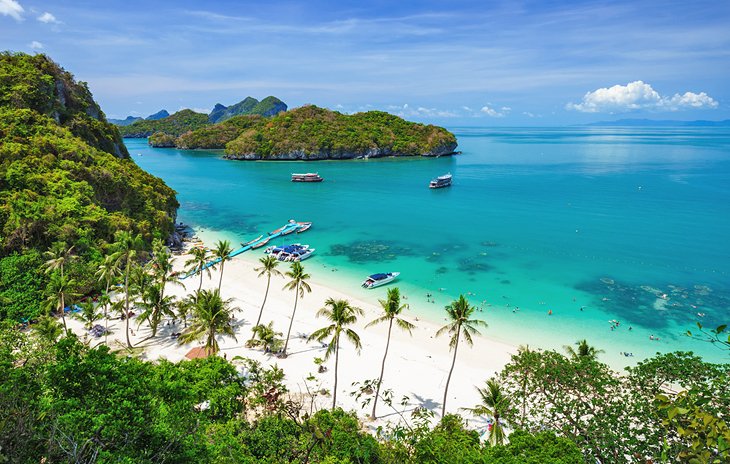 Thailand is home to well-connected trains and budget airlines that can take you from one point of interest to the next quickly and effectively. If you're researching destinations and things to do on your next tropical vacation, check out our list of the best places to visit in Thailand.
1. Bangkok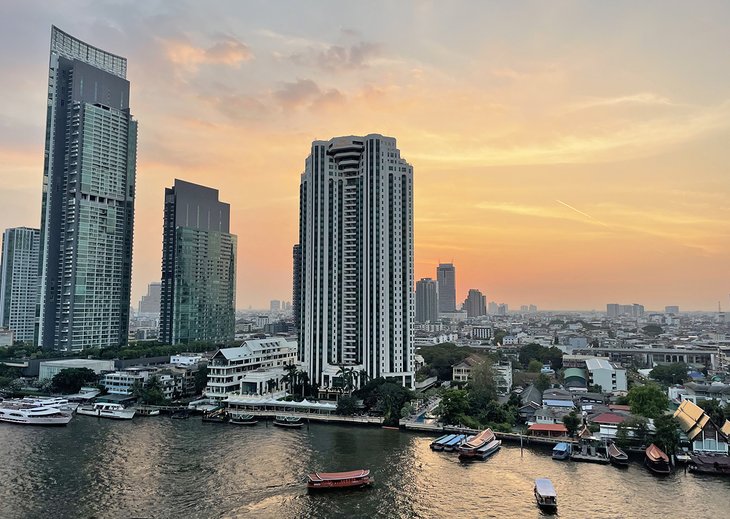 Thailand's capital is a fast, buzzing city of over eight million people. Known for its cosmopolitan feel and vibrant street life, Bangkok is also a great gateway to the country's best temples and palaces. And while it's easy to forget when walking among Bangkok's skyscrapers, the city's heart is on the water-the many canals networking throughout the neighborhoods and the vibrant Chao Phraya River, which you can tour on a long-tail boat cruise.
For those in a shopping mood, Bangkok is home to many shopping centers, including über-luxurious Siam Paragon and travel-inspired Terminal21, as well as a number of traditional floating markets. For a more unique experience, nothing can beat Chatuchak Market - one of the largest outdoor markets in the world and a labyrinth of over 8000 stalls (be prepared for the inevitable experience of getting lost there), Chatuchak has it all and sells it at local prices.
At the top of the things to do in Bangkok is the Grand Palace, a complex of buildings that include Wat Phra Kaew (Temple of the Emerald Buddha), the Royal Reception Halls, and Wat Pho, which houses a 46-meter-long reclining Buddha covered in gold leaf. Across the Chao Phraya River, you'll find Wat Arun, or the Temple of the Dawn, which is another stunning structure.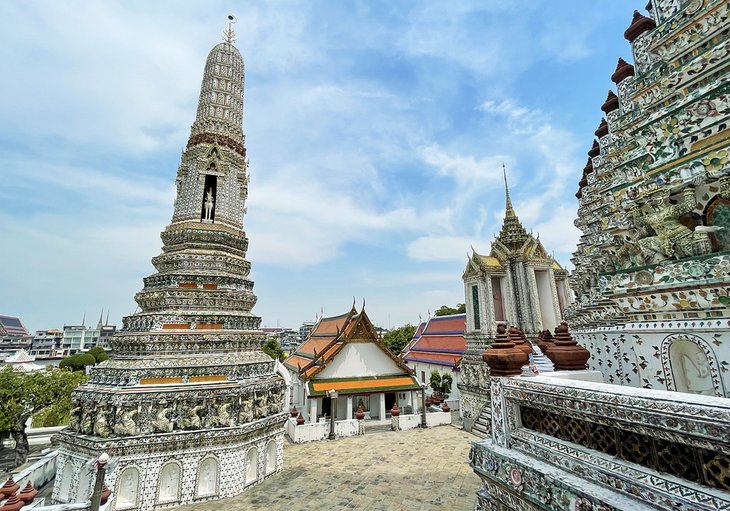 Lumpini Park, located in the heart of the city, extends like a green oasis in the concrete jungle that is Bangkok. Often missed by visitors, the park is a great place to see local life-from seniors practicing Thai Chi near the lake (where you can rent boats to paddle away the afternoon) to massive water monitor lizards.
The best street food in Thailand can be found in Bangkok, as well. Stroll down any side street and you're sure to find vendors dishing out delicious local delicacies. Areas like Khaosan Road and Chinatown are great places to start.
Accommodation: Where to Stay in Bangkok: Best Areas & Hotels
2. Chiang Mai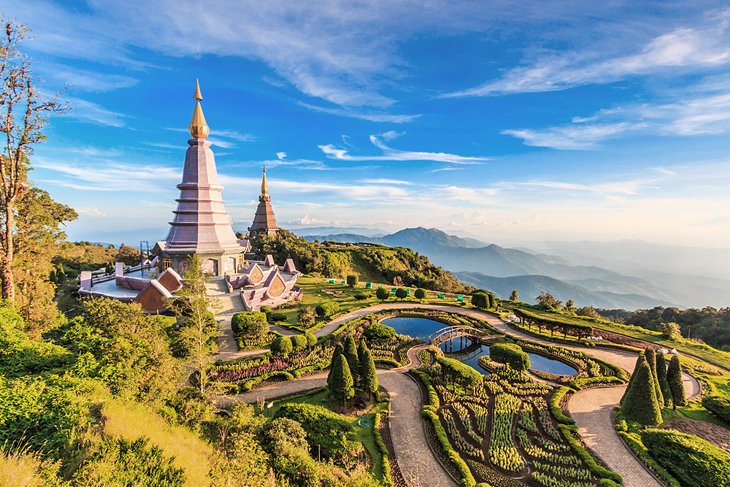 Shrouded in misty, jungly mountains, Chiang Mai is one of the best destinations in Thailand for travelers looking to see a different side of the country: a city of ancient constructions, thick tropical rainforests, and hill trekking. A good way to see the wild side of Chiang Mai is to head out to Doi Inthanon National Park, which is part of the Himalayan mountain range and home to remote villages and stunning viewpoints.
Chiang Mai is home to more active Buddhist temples than any other city in Thailand, including the famous Doi Suthep (a favorite viewpoint with impressive views over downtown), Wat Phra Singh, and Wat Phra That Doi Suthep. Just outside of the city, you'll also find a number of hill tribes, including the Meo Hill tribe and the Karen tribe. Organized tours can take you there to learn more about their history and lifestyle and to buy handicrafts tribe members sell to sustain themselves.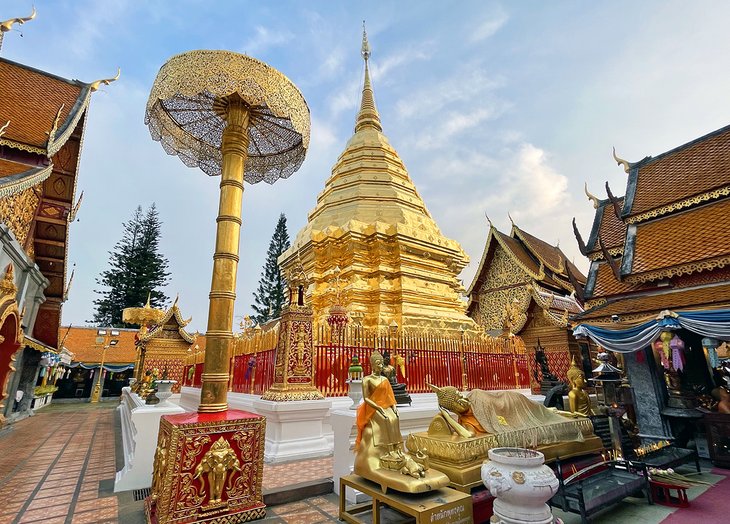 While in town, take a walk down San Kamphaeng Road, a 10-kilometer-long road where local crafters congregate to sell everything from celadon pottery to lacquerware to silk products.
Chiang Mai's historic Old City is bordered by channels that are the remains of a moat, and sections of the old city wall can be seen around its perimeter. Within the Old City are some of Chiang Mai's oldest temples, coolest restaurants, and best hotels. Near the Old City is also the famous Chiang Mai Night Bazaar, home to dozens of shopping and food stalls.
Read More:
3. Ayutthaya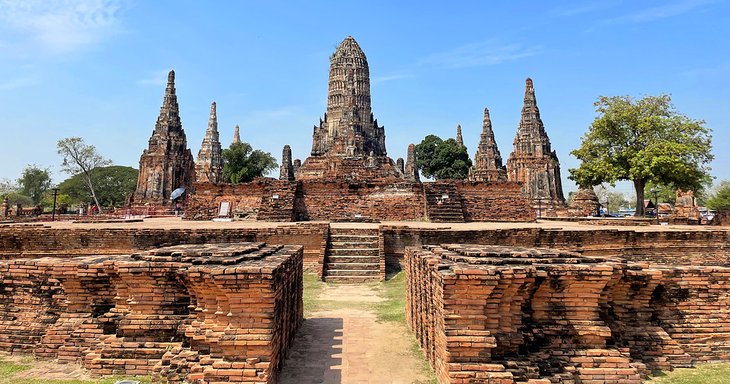 Located about 80 kilometers north of Bangkok, the ancient city of Ayutthaya was once Thailand's capital-back in the 14th century, when the kingdom of Siam was at its strongest.
Today, the ruins of the kingdom can be toured while walking the Ayutthaya Historical Park, a UNESCO site. Home to many prang (reliquary towers), wat, and stucco statues, the park is surrounded by three rivers and deep moats and covers an area of 289 hectares.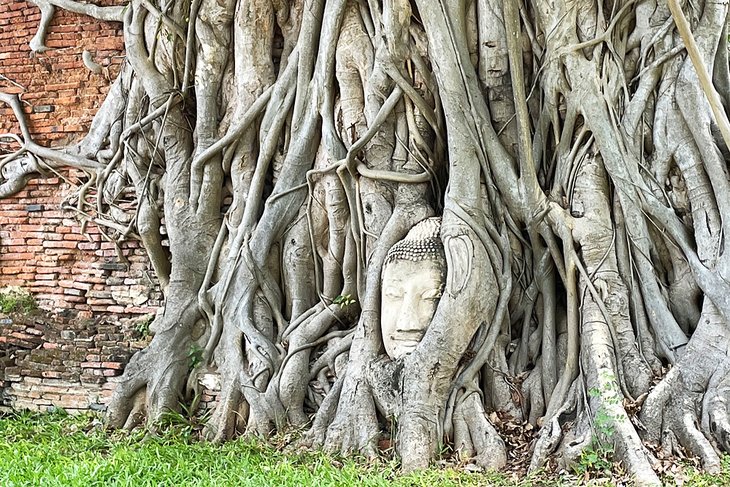 Wat Phra Mahathat is perhaps the most famous temple here thanks to a statue of a Buddha's head entwined in tree roots. Wat Phra Si Sanphet, the largest of the temples in the park, features three large silver-looking Chedis, while Wat Yai Chai Mongkol is best known for its giant reclining Buddha and the hundreds of sitting Buddha statues surrounding the temple, all draped in golden cloth.
Read More:
4. Koh Samui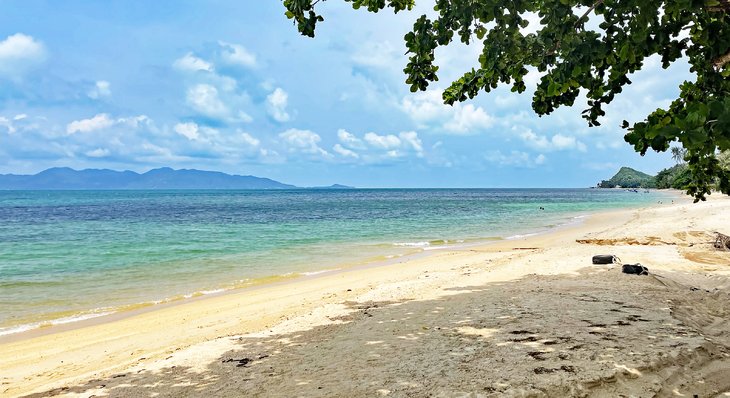 Home to some of the best palm-fringed beaches in Thailand and plenty of luxury resorts, Koh Samui has a lot more to offer than sunbathing heaven.
One of the most popular holiday spots in Thailand, Koh Samui is home to mountainous rainforests, postcard-worthy beaches, and breathtaking sunsets. There are also plenty of spas and temples to discover here, including the famous Wat Phra Yai and its 12-meter-tall Big Buddha.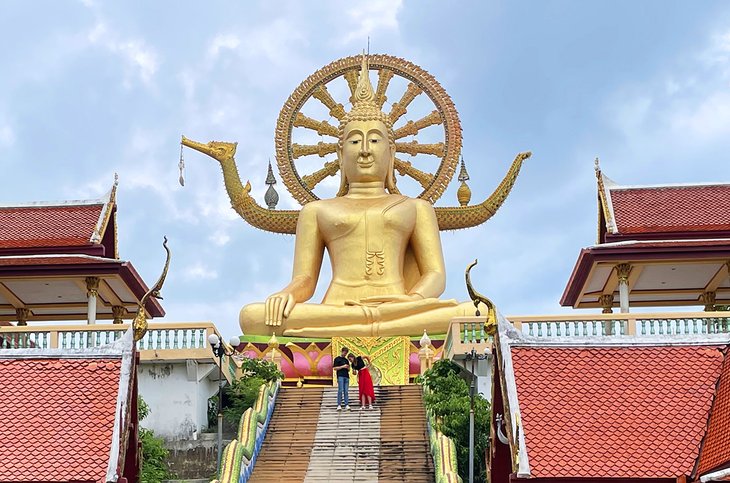 Koh Samui's neighboring archipelagos also have much to offer and are just a quick ferry ride away. Koh Tao, a smaller island right off the coast of Koh Samui, is one of the prime scuba diving destinations in Thailand. Ang Thong National Marine Park (which extends over 42 islands in the area) is a protected area, home to many exotic animal species and a perfect destination for trekking through the thick Thai jungle.
Accommodation: Where to Stay in Koh Samui: Best Areas & Hotels
Read More:
5. Phuket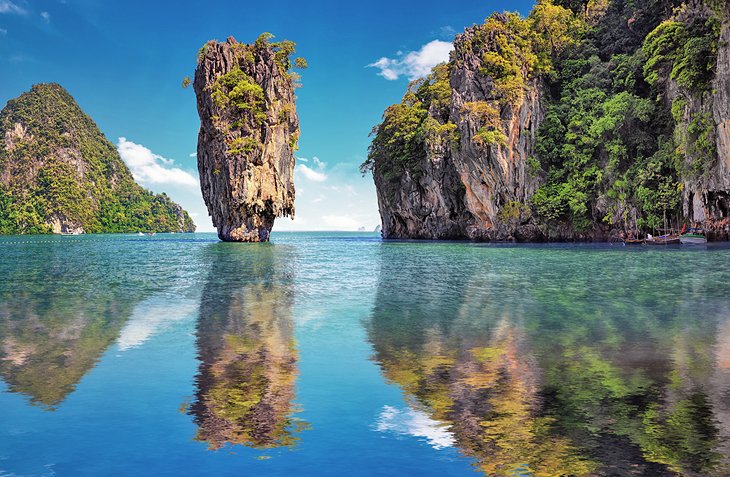 Situated off the west coast of Thailand in the Andaman Sea, Phuket is home to some of the country's most visited beaches and is a popular destination for a beach vacation. Travelers can go to Kata Noi beach for quiet scenery, to Nai Harn Beach to find crystal-clear waters under the shade of palm trees, and to Surin Beach if they're looking for luxury resorts and high-end cuisine overlooking the sea.
The spiritual side of Phuket can be found at the top of Nakkerd Hill, where the 45-meter-tall Big Buddha towers over the island. Wat Chalong is the largest temple in Phuket and home to a stupa said to hold a bone fragment of Buddha.
Phuket Town is worth exploring on foot to discover the Sino-Portuguese buildings that line up Thaland Road and the old shophouses converted into thriving businesses and markets.
Accommodation: Where to Stay in Phuket: Best Areas & Hotels
Read More:
6. Krabi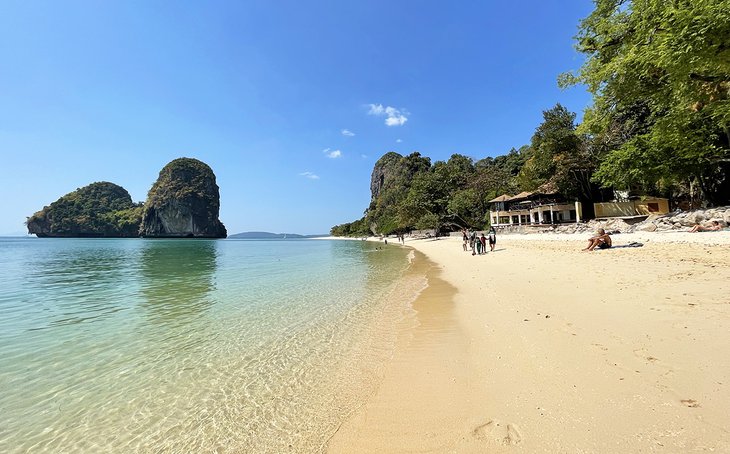 Over 200 islands make up Krabi province, with a significant amount of land now designated as national parks. The region is home to some of the best beaches in Asia. Krabi's coast is also rugged, characterized by vertical steep limestone cliffs that are very popular with climbers. Stunning Railay Beach, in particular, attracts climbers from all over the world, though it's also famous for its caves.
The Phi Phi Islands are surrounded by limestone rocks and offer coral-fringed waters and some of the best snorkeling in Thailand. Sailing, kayaking, and bird-watching are popular here. Visitors looking for some land activities can head inland to explore Thung Teao Forest Natural Park, a mostly virgin rainforest with warm-water natural pools and lush rainforest alive with exotic fauna.
Accommodation: Top-Rated Beach Resorts in Krabi
Read More:
7. Kanchanaburi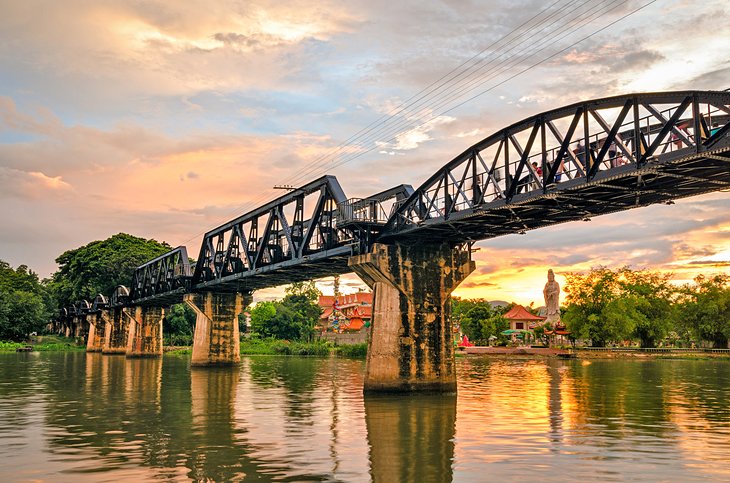 Kanchanaburi is best known for its dark connection to WWII, especially the construction of the bridge over the River Kwai. Infamous for being part of the "Death Railway," the bridge was part of the line meant to connect Thailand with Burma (Myanmar), and it was built using forced labor provided by Allied prisoners of war.
Over 16,000 POWs died during the construction of the railway, including many British soldiers. The Royal Air Force bombed and damaged the bridge extensively during the war-but it was quickly rebuilt and still stands today. Most of the railway line, however, was eventually abandoned or not finished.
Nowadays, it's possible to walk across the bridge on narrow side platforms or take a short train from one side to the other. The Kanchanaburi War Cemetery nearby is the final resting place of the many prisoners of war who died here, while the Thailand-Burma Railway Centre recounts the story of the railway construction, and the men who lost their lives for it, using interactive displays and video exhibits.
Two themed museums-the World War II Museum & Art Gallery and the JEATH War Museum-offer more insight into the times, with collections that cover everything from paintings to documents to WWII weapons.
For those with some extra time to explore, Kanchanaburi also offers a lighter side in the form of stunning nature. About 90 minutes north of the bridge are the Erawan Falls, a seven-tier waterfall and emerald green ponds hidden in the thick rainforest.
8. Sukhothai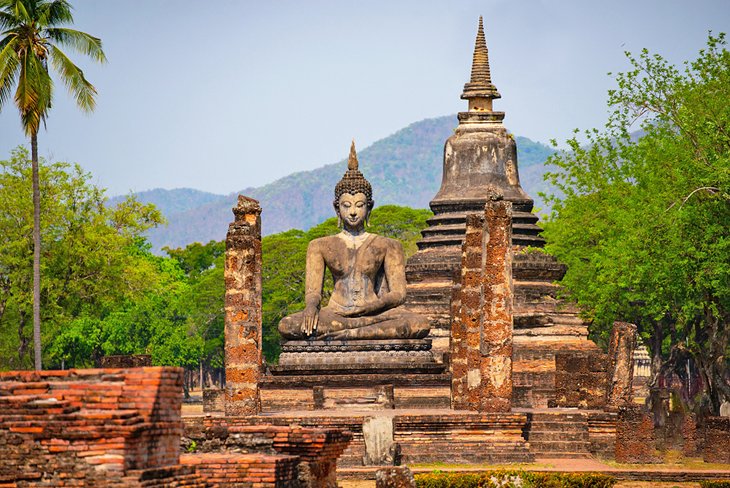 Sukhothai Thani is a small town better known for being home to the Sukhothai Historical Park, a UNESCO site that houses the ruins of the 13th-century Sukhothai Kingdom. Surrounded by ancient city walls, the park contains 193 ruins in total-a combination of 26 temples, a royal palace, and many stupas and examples of stucco statuary.
The most impressive temple on the grounds is Wat Mahathat, which features nine large stupas (the main one holding relics of the Buddha), a pillared pavilion, and two nine-meter-tall standing Buddha images. Two other ruins you can't miss are Noen Prasat, a former royal palace, and Wat Si Sawai, the oldest temple in the park. Wat Sa Si, located in the middle of a lake and accessible only through a wooden bridge, is one of the most photographed.
Read More: Top-Rated Tourist Attractions in Sukhothai
9. Chiang Rai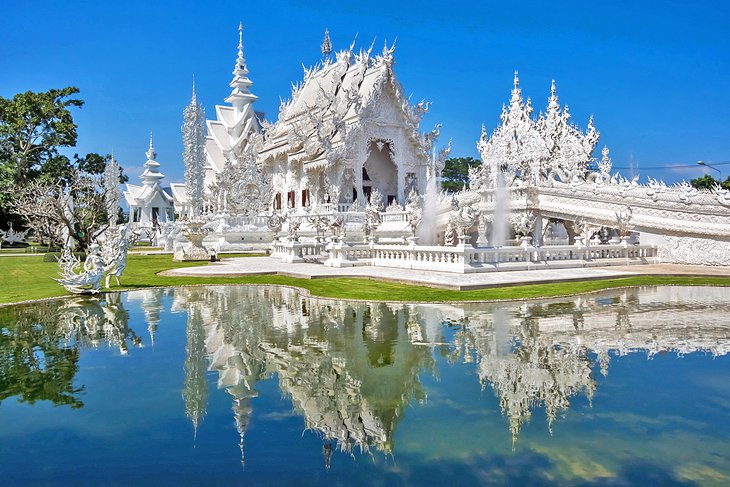 Sitting right on the border with Myanmar and Laos, the mountainous city of Chiang Rai is famous for its trekking in Lam Nam Kok National Park, with trails leading to stunning waterfalls such as the 70-meter-tall Khun Kon waterfall, lush forest, and hilltop tribe villages.
As with most Thai cities, temples are a huge attraction in Chiang Rai, with Wat Rong Khun (or White Temple) coming up at the top of the list. Wat Rong Khun is technically no longer a temple but a privately-owned compound redesigned and rebuilt by Chalermchai Kositpipat, one of Thailand's most famous contemporary visual artists. Another popular temple is Wat Tham Pla (also home to a cave and thousands of wild macaques), which can be reached by climbing a staircase flanked by the guardian Naga serpents.
Tiny Wat Phra Kaew, famous for once housing the Emerald Buddha until it was moved to the Grand Palace in Bangkok, and Doi Tang mountain-home to a botanical garden, a former royal residence, and a temple with fantastic views-are also worth a visit.
Accommodation: Where to Stay in Chiang Rai
10. Kao Sam Roi Yot National Park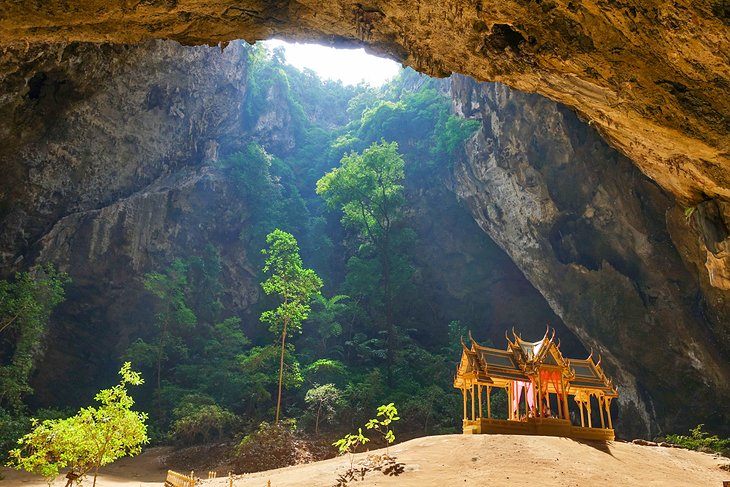 Khao Sam Roi Yot (which means "mountain of 300 peaks") national park is home to Thailand's largest freshwater marsh, as well as mangrove swamps, scenic beaches, limestone caves, and lots of tropical jungle trails.
There's too much to see and do here for a quick day trip, so plan on staying for a weekend at least if you want to tick several spots off your list. If an overnight stay is in the books, start at the northwest corner of the park, where Thung Sam Roi Yot Freshwater Marsh is located. You'll get to see many species of waterbirds, as well as a magnificent background of blueish mountains. A small campground and some bungalows are nearby if you need a place to stay for the night.
Pine-lined Sam Phraya Beach also has a basic campground plus a restaurant, while Laem Sala Beach is best known for being the access point to Phraya Nakhon, a massive cave with a royal pavilion built inside. Phraya Nakhon can only be reached after a steep, 30-minute uphill walk, but what awaits you inside is definitely worth it. Sai Cave also requires an arduous climb, but offers a viewpoint and a cool respite from the heat in a stalactite and bat-riddled cavern.
Khao Daeng Canal is another great way to explore the mangrove forests and get a closer look at the animals that call it home. You can hire a boat in the Khao Daeng village or ask near the park about finding a ride.
11. Hua Hin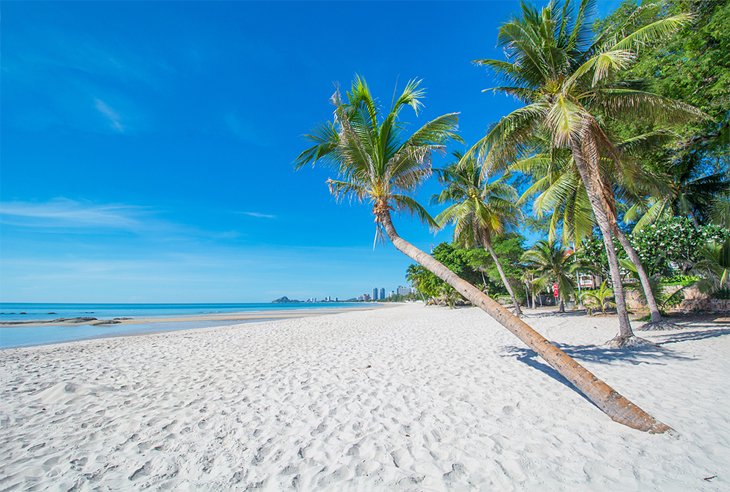 Once just a quiet town best known for being the king's summer retreat, Hua Hin has become a popular beach resort destination. Don't expect perfect turquoise waters or lively beach life here, though-this is more of a destination for those visiting with family, or singles who want to sunbathe in peace, away from the crowds.
Aside from the central Hua Hin beach, you can try nearby Cham Am Beach or Khao Takiab beach, home to Khao Takiab temple and hundreds of wild macaques. Hua Hin is particularly popular in December and January, when European tourists arrive here to escape their own freezing winter.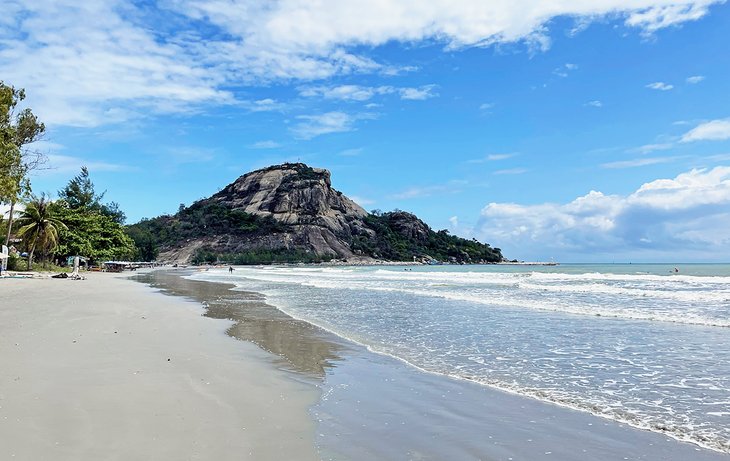 Just a few kilometers outside town towards neighboring Cha Am, you'll find the Thai-Victorian style Maruekhathaiyawan Palace, built completely out of teak wood and once the summer retreat of King Vajiravudh (Rama VI). For adrenaline-charged water fun, try Black Mountain Water Park or visit The Venezia, a themed shopping center that even offers Gondola rides.
The Pranburi Mangrove Forest and Kaeng Drachan National Park are both within 1.5 hours from Hua Hin-they offer raised wooden boardwalks; waterfalls; and lots of wildlife, including wild elephants.
Accommodation: Where to Stay in Hua Hin
12. Pattaya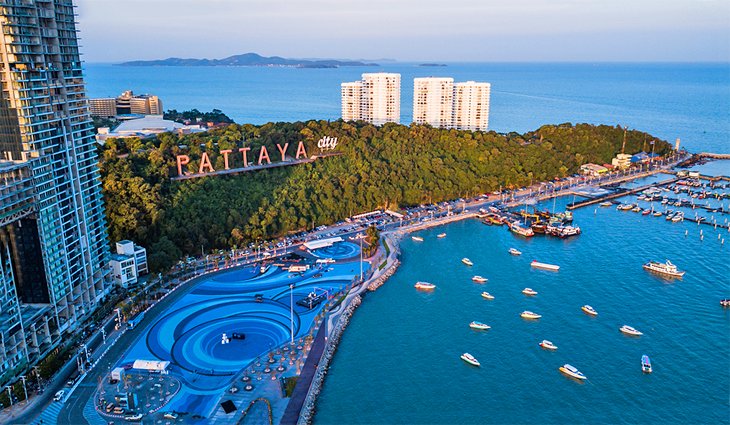 Once a quiet fishing village, Pattaya is now the closest beach getaway for Bangkokians, less than two hours away. While most visitors come here to escape the buzz of the Thai capital and soak up some sun, there's much more to do in this beachfront town.
Hat Sai Kaew (Diamond Beach) and Koh Samet beach are good places to start your visit-they're full of colorful food stalls, beach umbrellas, and stunning beach resorts. Koh Larn (Coral island) is famous for its glass-bottom boats that offer amazing views of the coral reefs, while Koh Larn Island is the prime destination for active pursuits such as parasailing and windsurfing.
For a quick sightseeing day trip from Pattaya, head to Chanthaburi Sapphire Mine-organized tours will give you a fascinating insight into the mining that's been going on in the area for centuries. Or visit Siam Pattaya, an outdoor park that holds miniature replicas of world-famous monuments, including the Statue of Liberty, Angkor Wat, and the Bridge over the River Kwai.
If you want to see at least one temple while you're here, Wat Phra Yai Temple is the one. Also known as Big Buddha Hill, this wat features an 18-meter-tall golden Buddha overlooking the entire town.
13. Khao Yai National Park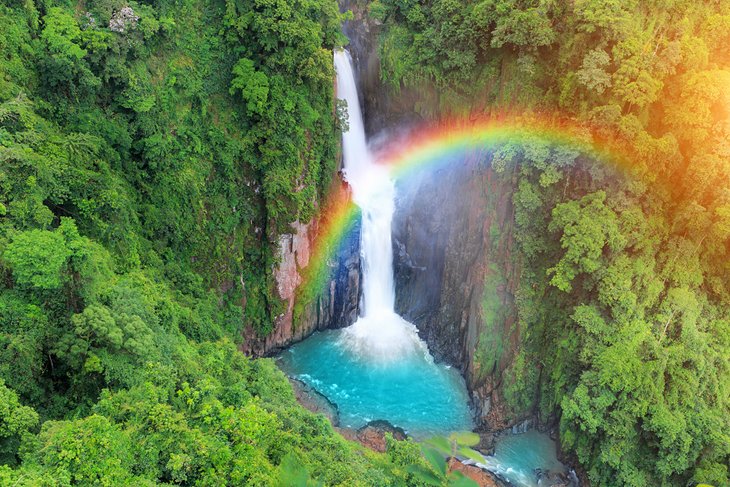 Khao Yai National Park is Thailand's oldest national park and still one of the most popular because of its large population of wild elephants. Covering an area of just under 2,000 square kilometers, this breathtaking park is home to rainforests, mountains, and grasslands. This variety of terrain means an equally rich fauna, with gibbons, jackals, and even bears calling the park home. Haew Suwat Waterfall, famous for a scene in Leonardo DiCaprio's The Beach movie, can be accessed on foot when hiking the park.
14. Pai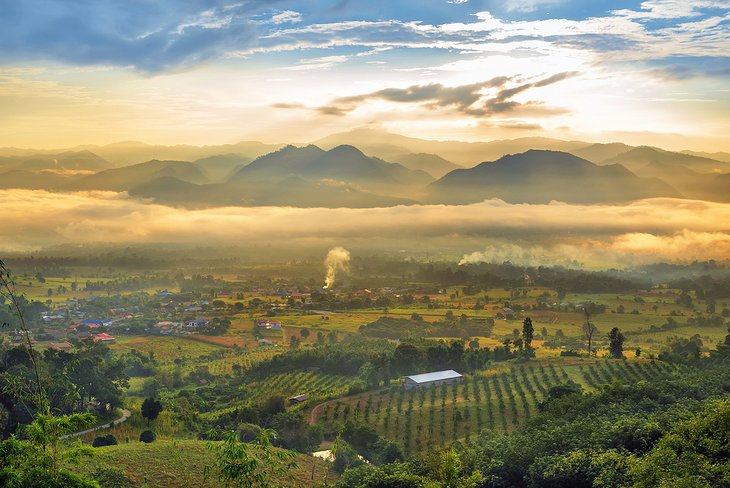 One of the most popular destinations in the Mae Hong Son province near the border with Myanmar, the small town of Pai has become a favorite among those looking for the slow, more rural side of Thailand. Once known as just a backpacker's paradise, Pai is now attracting hikers and peace lovers as well - or just anybody wanting to explore the less-traveled roads of Thailand at least for a few days.
Pai is surrounded by densely covered hills rolling into green fields, majestic waterfalls, and hiking trails that seem to go on forever. It's all the beauty of the authentic Thai countryside dotted with signs of the western bohemian world - organic food and quirky cafés included.

While Pai itself is small, the surroundings will keep you busy. There's the Pai Canyon and its heart-stopping trails to hike, the Tha Pai Hot Springs for a warm bath, and rice terraces as far as the eye can see. You can climb the 353 steps to Wat Phra That Mae Yen for stunning views over the valley, or take a day trip to the massive Tham Lod limestone cave system.
15. Mae Sariang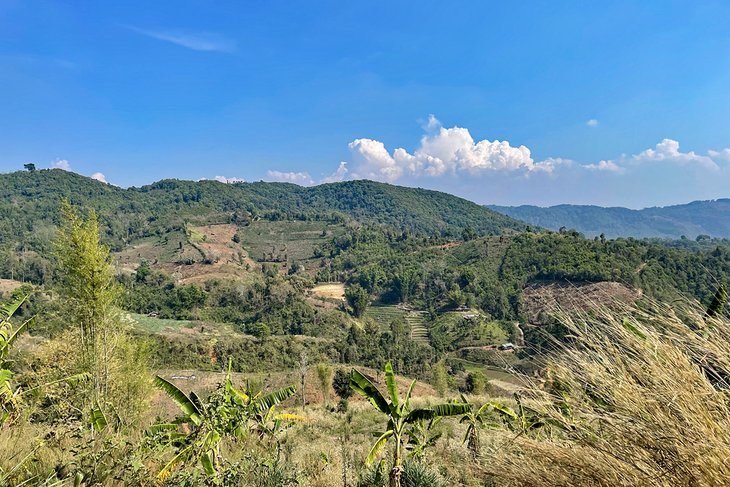 While in Mae Hong Son province, a visit to Mae Sariang is definitely a good idea. Unlike Pai, which is a jam-packed tourist destination, Mae Sariang offers a glimpse into a more traditional and local way of life.
It's a crossroads of travelers on motorbikes completing the famous Mae Hong Son loop, so expect to find many affordable guesthouses and small restaurants. The town is also right next to the Salawin National Park, which is cut by the Salween River.
Surrounded by rolling mountains, Mae Sariang is one of the best places to visit in Thailand in order to enjoy the spectacular landscapes of the north. Visit the Morning Market for a real look into daily life. Not far from the market is Wat Jong Soong, a centuries-old temple in town.
16. Koh Lanta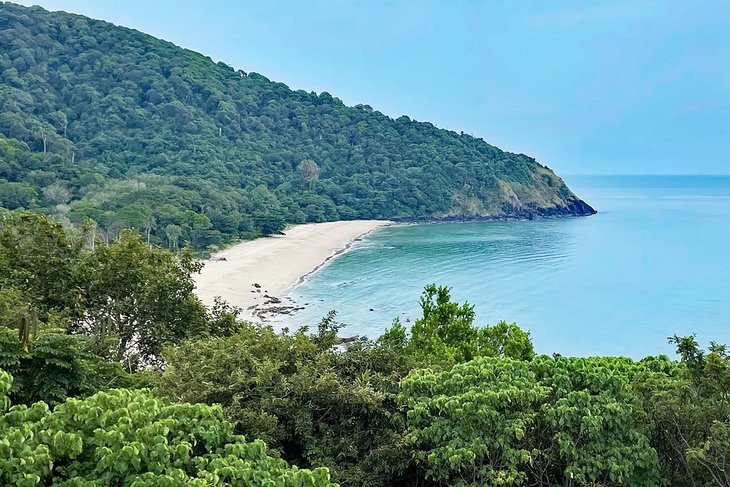 Krabi is a large province, and is often favored for the Phi Phi Islands or the mainland beach town, Ao Nang. While both are fantastic beach destinations, Krabi is also home to Koh Lanta, a lesser-traveled island that is a hidden paradise of beaches, affordable resorts, and delicious food.
Not far from the Krabi mainland, Koh Lanta is easily accessed from Koh Phi Phi or Phuket by water. The other option is to fly into the Krabi airport and drive, as the island is connected by bridge to the mainland. Still, once you're on the island, it feels like another world away.
The island is approximately 30 kilometers long and six kilometers wide, meaning it is easy to see the whole island in a day. You'll want to take your time, though, as it has many nooks and crannies to explore. Long Beach is the most famous beach here; it stretches for five kilometers. All along the shorefront are small resorts, bungalows, and charming restaurants. The water here is calm, crystal clear, and has endless views out to shadowy islands in the distance.
At the southern tip of Koh Lanta is part of the Koh Lanta National Park, which actually consists of several islands, though the largest is Koh Lanta. The laid-back island is popular among expats and low-key travelers looking to get a bit off the tourist trail, but still have access to many conveniences.
17. Koh Tao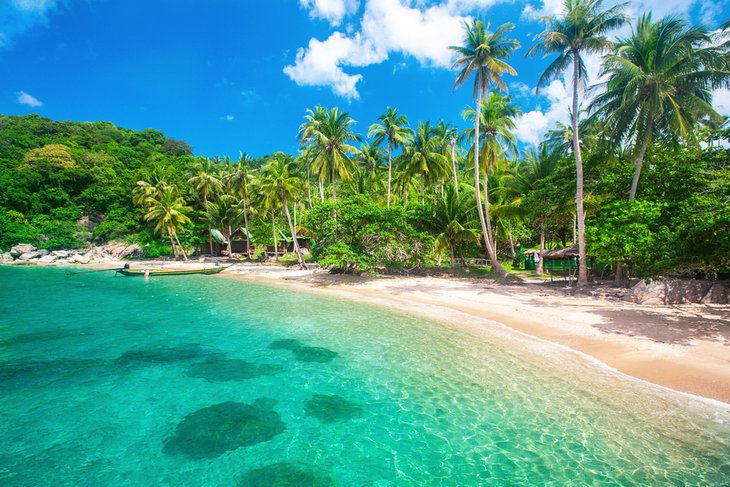 If you're visiting Koh Samui and Koh Phangan, it's only proper to round it out with Koh Tao. The third island in this archipelago, Koh Tao is by far the smallest, but offers so much for travelers looking to kick back and relax.
This pint-sized island is small enough to explore in a day, but once you get there, you likely won't want to leave anytime soon. Koh Tao was put on the map for its unparalleled diving, but has been growing in popularity among upscale travelers who are drawn to its burgeoning resort scene.
But by and large, what visitors are coming to Koh Tao for is diving, which is what gives this tiny island its monumental reputation. Submerged beneath the blue-green waters are dynamic reefs, shipwrecks, and mesmerizing rock formations. Wildlife is humming, with eagle rays, whale sharks, barracuda, snapper, grouper, blacktop reef sharks, and so much more.
More Related Articles on PlanetWare.com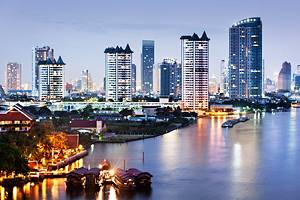 Exploring Bangkok: The Thai capital of Bangkok is often the gateway to most destinations in Thailand. If you're landing here first and need tips on what to do while you're here, see our article on the Top-Rated Tourist Attractions in Bangkok. And if you need a place to stay, see our article on Where to Stay in Bangkok: Best Areas & Hotels. Regardless of your budget, you can find a decent hotel in Bangkok.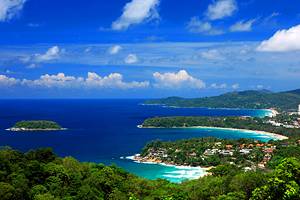 Exploring Phuket: For ideas on how to make the most of your holiday, check out what there is to see and do in the Top-Rated Tourist Attractions on Phuket Island. If you want to settle in this area for a while and would prefer a little luxury, have a read through our list of the Top Resorts in Phuket.