15 Top-Rated Beaches in Asia
Whether you're craving a quiet sunset, digging your toes in the hot sand, or an active holiday parasailing or kayaking on turquoise waters, there's probably a beach holiday destination with your name on it somewhere in Asia.
While Southeast Asia has always been considered a tropical paradise, there are also amazing beaches in other, more unexpected, parts of Asia. Even better, some of these destinations are still hidden gems, receiving a limited number of tourists every year-a place where you can have the swaying palms and far-reaching views of the tides almost all to yourself.
To help you plan a quick getaway or the trip of a lifetime-or maybe just daydream about seemingly endless stretches of sand for a while-see our list of the best beaches in Asia.
1. Pink Beach, Komodo National Park, Indonesia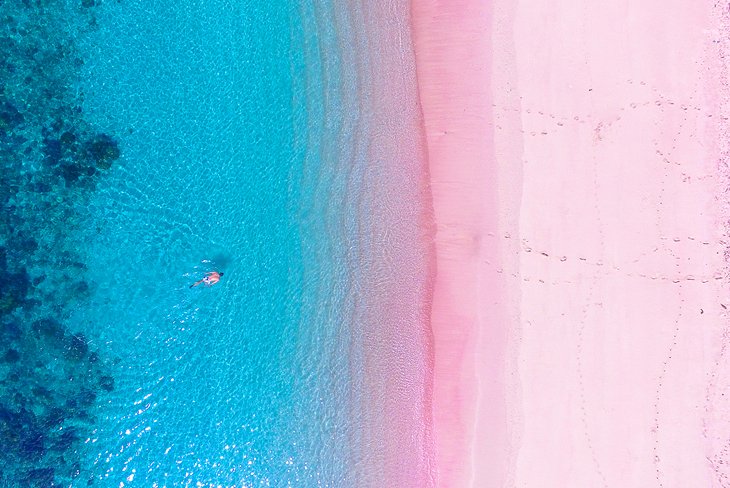 Pantai Merah (better known as simply Pink Beach) is one of only seven beaches in the world with pink sand. The striking hue is the result of the presence of foraminifera, single-cell organisms that live in the local coral reefs and have a reddish pigment on their shells. Turquoise seas lap at the beach here, where sunbathers mix in with kayakers and hikers exploring the nearby mangrove forests.
Located just a short flight and speedboat ride away from Bali, Pink Beach sits within the borders of the Komodo National Park-from where the world's largest lizard gets its name. In fact, this quiet island is home to more lizards than people-a population of about 2,500 Komodo dragons against just 2,000 or so humans.
The real attraction here, however, is the underwater life-from the colorful corals packed with tropical fish to the seagrass beds and manta rays. The park is one of the best places in the world for snorkeling.
2. Koh Yao Yai, Thailand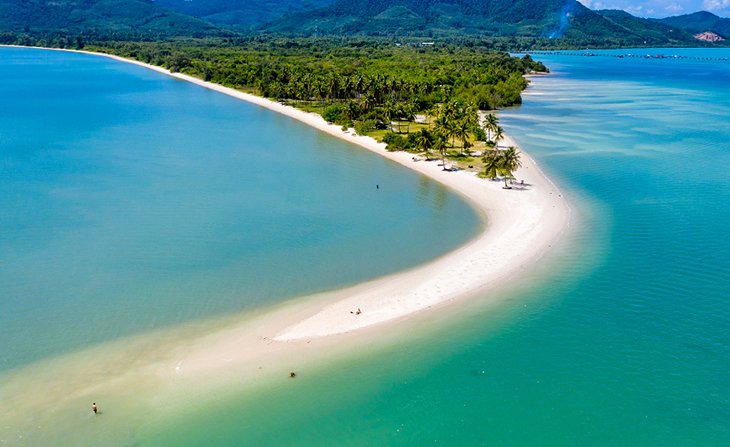 In Thailand, Koh Yao is a group of two islands that sit in Phang Nga Bay, just a quick boat ride away from Phuket. If the busy, long stretches of sand you find in Phuket are too much for you, Koh Yao, with its windswept white sands and open views across the bay, will offer a welcome getaway.
The Koh Yao islands are home to several small beaches, all fairly quiet, most of them reached only after a walk on dirt roads with no signs of civilization around. Laem Had Beach is perhaps the best known of all, a rarely crowded stretch of white sand that offers great swimming and some of the best snorkeling in the country.
Tha Khao Bay beach, on the other hand, is the place to visit for quiet solitude-no sports activities here and few, if any, sunbathers; just the rocking of longtail boats as the waves crash over the sand.
3. Railay Beach, Thailand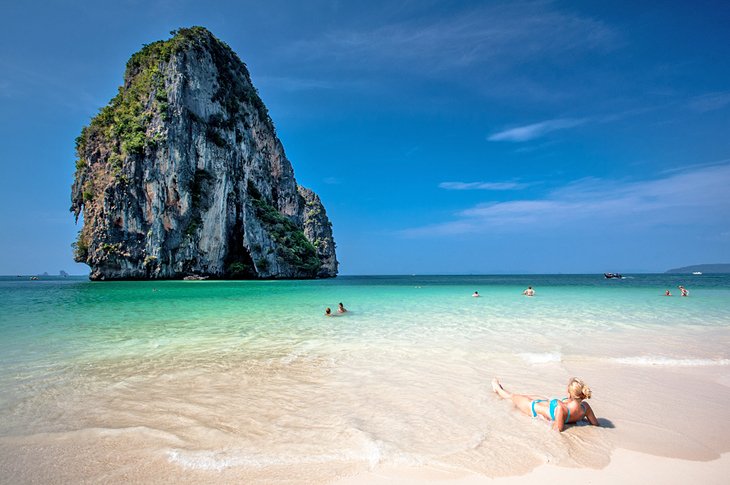 Railay Beach might not be an actual island, but the towering limestone cliffs surrounding it cut off access to the mainland-meaning the only way to get to Railay is by boat. As a result, Railay is serene, a place where monkeys frolic around sunbathers and the many rock climbers that come here. The unique setting makes it one of the best beaches in Thailand.
Parts of Railay Beach are covered in thick mangroves that make the water unsuitable for swimming. Still, these areas offer plenty of chances for hiking and trekking up deep caves or to the top of overhanging cliffs with incredible open views over turquoise waters.
Railay beach is just 15 minutes away by long-tail boat from Ao Nang, one of Krabi's most popular beaches-and a world apart from the quiet solitude you'll find at Railay Beach.
4. Nyang Nyang Beach, Bali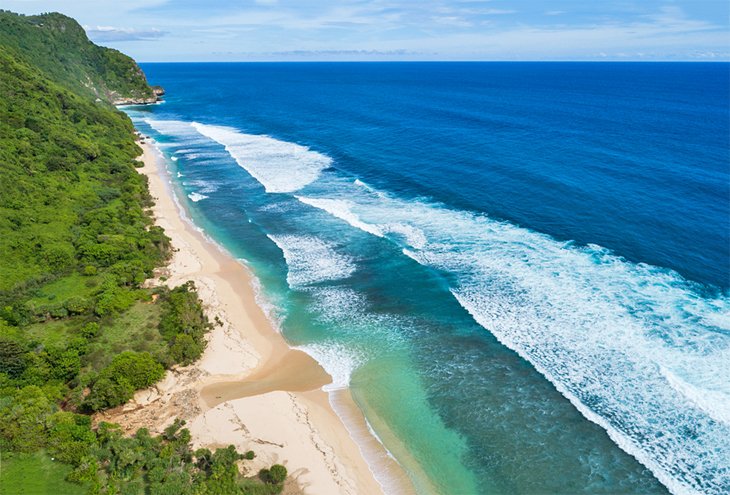 Bali's least visited beach is also one of its most stunning ones. Hidden behind lush green cliffs and only accessible after a 20-minute trek down a steep rocky hill, Nyang Nyang is well worth the effort it takes to find it. You'll be rewarded with open views of the foamy coastline below as soon as you start the descent-including shipwrecks nesting on the golden sand and the dramatic colors of the reef.
While not great for swimming because of the strong currents, Nyang Nyang is perfect for experienced surfers or those who just want a dreamy stretch of grassy sand to lie back and relax.
5. Miyako Island, Japan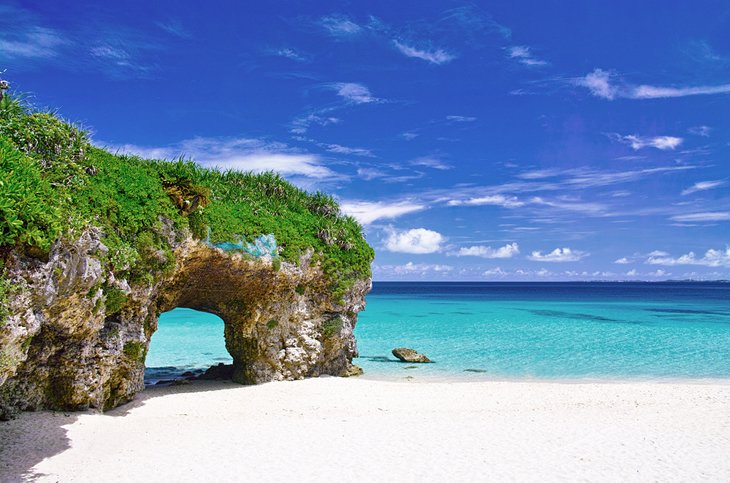 Because of their remote location and unique ecosystem, with no inland rivers eroding the ground and damaging the coral reef, the beaches on Miyako Island are some of the most unspoiled ones on the planet.
Miyako beaches are also tranquil and offbeat, a sweet break from the chaos you usually find in tropical beaches. Still a secret to many visitors to Japan, the Miyako islands offer a way to escape the crowds and still bury your toes in the sand.
With turquoise-blue waters and soft sand dunes, Maehama is the island's largest stretch of beach and one of the most breathtaking. Maehama is popular with swimmers but also locals wanting to catch the sunset over the waves. Another nice beach on the island is Yoshino Kaigan, a popular snorkeling destination because of its massive coral reef and colorful aquatic life.
6. El Nido, Philippines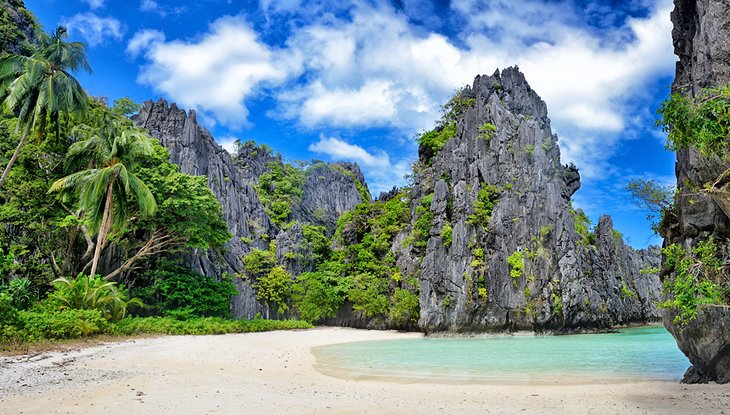 El Nido, the northernmost tip of mainland Palawan, is a protected natural area and the largest marine sanctuary in the Philippines. Surrounded by jagged limestone cliffs, prehistoric caves, and thick mangrove forests, El Nido's nickname as "Philippines' Last Frontier" is somewhat well earned.
El Nido's powdery, white beaches and coastline open over Bacuit Bay, where many islets and small islands can be seen dotting the sea far into the horizon. Most of these islands are inhabited and rich in wildlife-and because they're only accessible by boat, they receive few visitors aside from divers. If you can get a ride to one of them, chances are you'll have the entire beach to yourself.
Cadlao Island, just across from El Nido, has one of the largest beaches in the area and a saltwater hidden inlet called Makaamo Lagoon. No beaches in the world, however, can beat the one found on Matinloc Island, which can only be accessed by swimming underwater through a gap on a steep rock wall-there's no other boat or land access to this stretch of sugary white sand.
7. Similan Islands, Thailand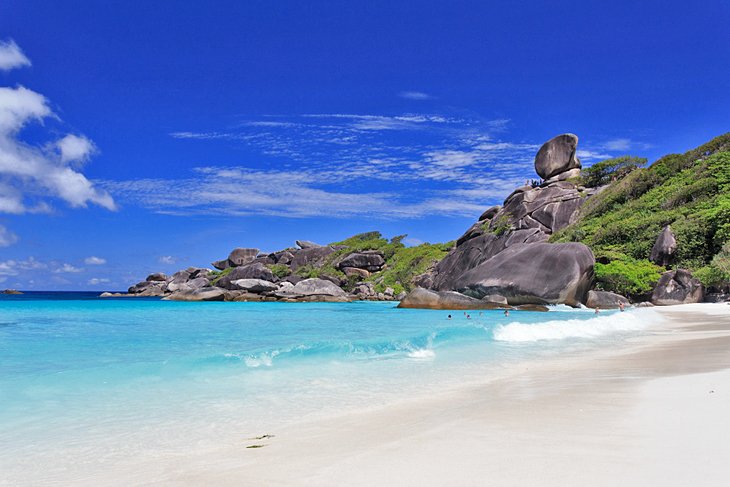 Sitting right in the Andaman Sea and reachable by speedboat from Phuket, the Similan Islands are part of the Mu Ko Similan national park. Sugar-white sandy beaches; towering boulders that dig deep into the turquoise waters; and spectacular coral reefs with colorful fish, manta rays, and plenty of turtles-the Similan Islands have it all.
Considered one of the best beach destinations in Asia for decades, the islands were completely closed off to tourists in October 2016 and only reopened in 2018-a massive effort to help the ecosystem recover from the heavy burden of tourism. Since their opening, there's a cap on how many visitors and divers are allowed into the area per day. Single-use plastic items have been completely banned, and it's no longer possible to spend the night on the island.
While these changes mean you'll have to plan your trip well in advance to obtain a park pass before arrival, it also ensures that you will arrive at a cleaner island with healthy coral, softer sand, and a much quieter piece of beach all to yourself.
8. White Beach, Boracay, Philippines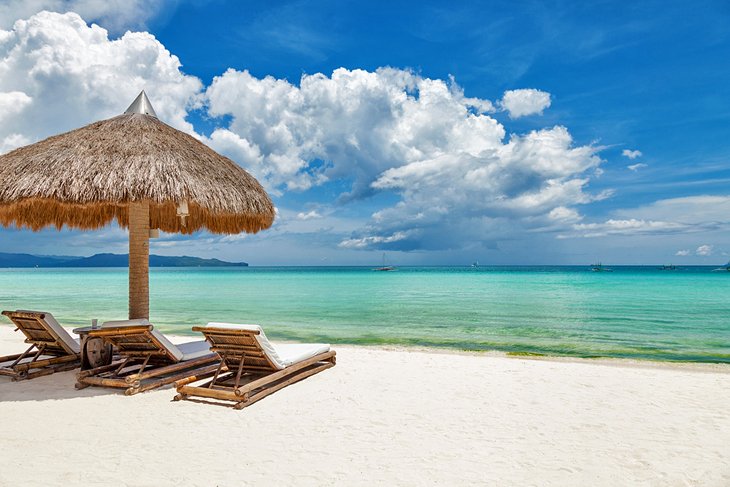 At just four kilometers long, Boracay Island's White Beach might not be the biggest stretch of sand, but what it lacks in size, this tiny beach more than makes up for in beauty. White Beach is sheltered from the strong winds that are common everywhere else on the island-and as a result, the deep-blue waters are glassy-smooth and perfect for swimming and scuba diving.
Although resorts and restaurants line up the beach here, much of Boracay is preserved forestland, so tourism is controlled, and the beauty of the island well-preserved. Soft white sand gently mixes with earthy beauty here, with paths leading from the wave-caressed coast to the lush hills and trails.
9. Pom Pom Island, Malaysia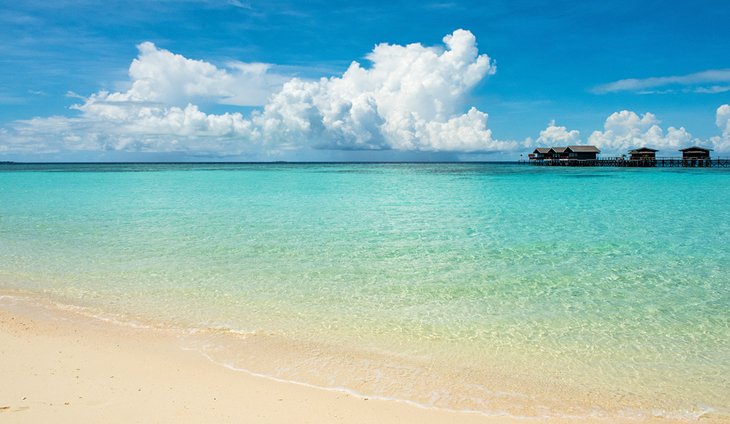 Located in the Celebes Sea, the Pom Pom Island has one of the world's highest marine biodiversity. Not only is this tiny island (so small that you can walk the entire island in about an hour) home to over 500 coral species, but it's also the nesting location for hawksbill sea turtles, a critically endangered species.
Because the island is underdeveloped-in part because its remote location and small size has made development impractical-visitors often have the unparalleled serenity of the soft sand and blue seas to themselves and a perfect place to kick back and enjoy the sunset.
Pom Pom is famous for its spectacular diving, with a reef that reaches a depth of 130 meters deep in some areas. Strong currents make this a difficult destination for beginner divers-for experienced divers, however, this is diving paradise, with excellent visibility year-round and a wall dive covered in large sea fans and many photo opportunities.
10. Pianemo Beach, Indonesia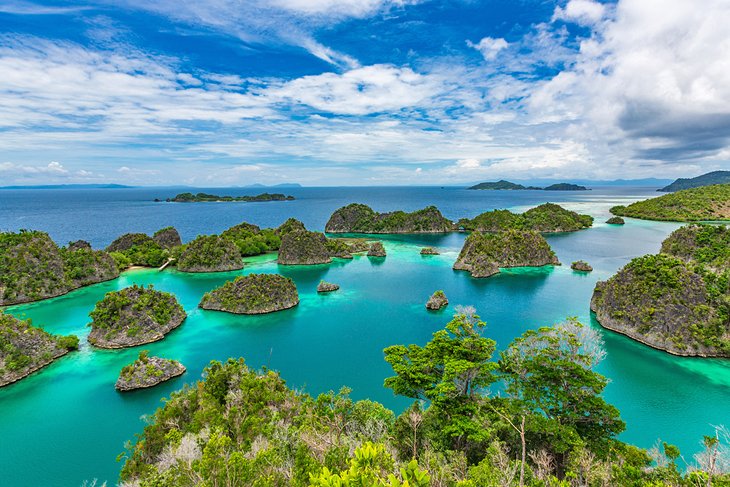 Part of Raja Ampat archipelago-a group of more than 1,500 islands in West Papua-Pianemo Beach is best known for its underwater corals and surreal diving reefs. The slow rhythm of the area, paired with the crystal-clear waters and the soft singing of the sea lapping the shore, make this a great destination for those looking to lounge on the warm sand without big crowds around.
A wooden viewpoint awaits at the top of the cliff, where you'll get picture-perfect panoramic views over the bay and the many jungle-covered islands dotting the sea. While popular with adventure lovers coming here to dive, rock climb, and kayak, there's still an unadulterated beauty to Pianemo that's becoming hard to find among tropical beaches.
11. Mataking Island, Malaysia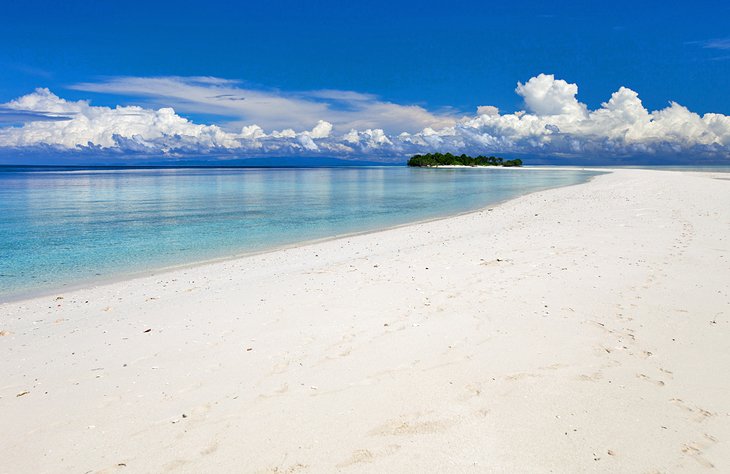 Mataking Island is unique for two reasons: First, the entire island is surrounded by a stretch of beach, a place where powdery golden sand fades into both lush greenery and the turquoise sea. Mataking Island is also privately owned by a diving resort, which guarantees not only extreme privacy and a beach that's never overcrowded, but also pristine sand and excellent wall reefs for snorkeling.
You don't have to be a diver to enjoy Mataking, as the resort is open to anybody who wishes to stay here. If land adventure is more your thing, you can pair sun-worshiping with trekking into the jungle or join the on-site naturalist on a tour to see the area where turtles come to lay their eggs.
12. Cát Bà Island, Vietnam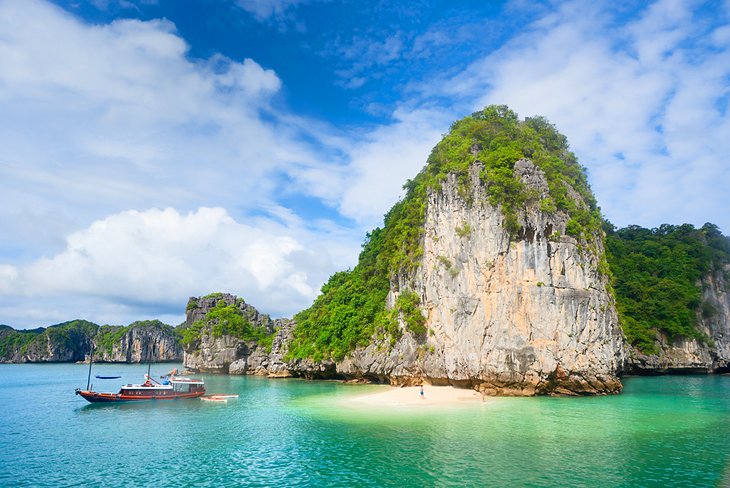 An ancient island located on the way to famous Ha Long Bay, Cat Ba might just be Vietnam's best-kept secret. Although the island is sometimes included as a cruise stop on the way to the bay, it has historically received little international tourism-though that is now changing as more people discover Cat Ba's many hiking trails, deep caves, and rugged cliffs perfect for rock climbing.
The island's most stunning beach is cliffside Cat Co 3, which offers open views over the bay and picture-perfect white sand. Cat Co 3 is narrow, and the waters around are shallow (so not ideal for snorkeling) but the beach's sunset view and the fact that the space is never crowded make this a breathtaking destination in Vietnam.
13. Kelingking Beach, Bali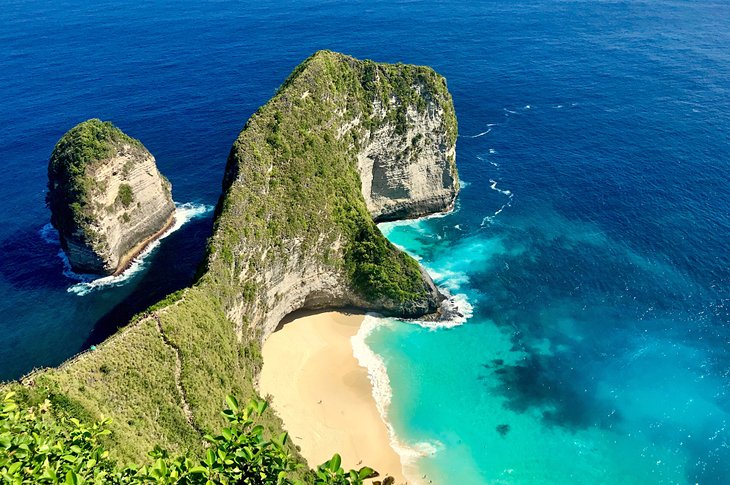 A secluded beach surrounded by steep dense cliffs, Kelingking is another hidden getaway in Bali most tourists never get to see. Affectionately known as T-Rex Bay-as the green cliffs that extend over the water resemble the shape of a Tyrannosaurus Rex's head with its mouth wide open-this shore-break beach offers sweeping views over the deep blue waters.
Getting to Kelingking Beach requires a steep descent over slippery limestone rocks guarded by shaky bamboo rails-but the reward is an almost completely secluded golden beach where you can experience the power of the ocean up close and personal.
14. Bai Sao Beach, Vietnam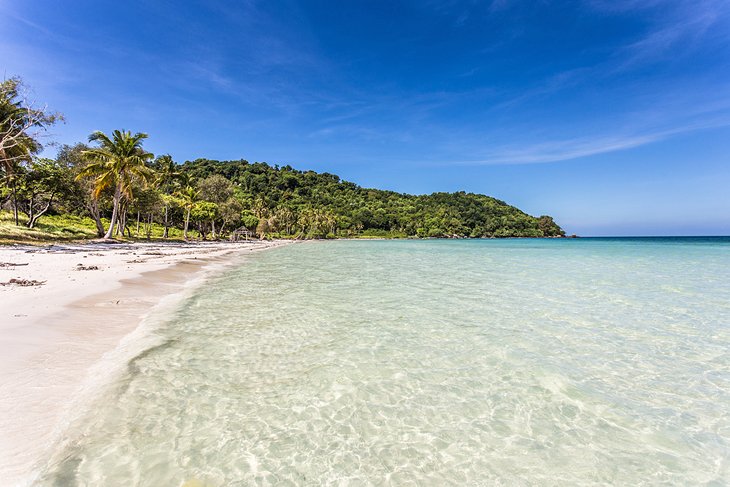 Gently hugged by two different mountain ranges, Bai Sao beach on Phú Quoc island offers the best of pristine white sand and turquoise waters-all in a space of quiet solitude with a background of thick, lush jungle.
While most beaches on Phú Quoc have stronger currents and foamy waves, Bai Sao enjoys a much calmer water surface, perfect for leisurely walks along the seaside. Although the area is becoming more popular, and day tours are starting to make their way to the island, there's still very little commercial development here, and shops often consist of little shacks with roofs made of coconut leaves. You'll find kayak and scuba diving rental facilities nearby if you're up for some adventure-otherwise, it's just you and the endless golden sand.
Read More: Best Places to Visit in Vietnam
15. Perhentian Islands, Malaysia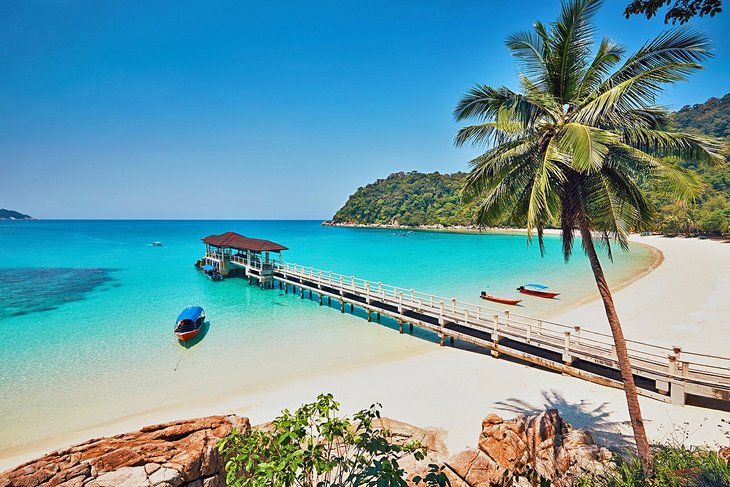 Located just off the coast of Malaysia, the two islands that make up the Perhentian have a lot to offer. Besar, the larger of the two, is where the main resorts and infrastructure are located, with plenty of palm-fringed white beaches that melt into the turquoise hues of the ocean. The smaller Kecil is less developed, which means simpler, smaller places to rest for the night, but also less crowded beaches and more affordable prices.
Kecil is also home to the stunning Coral Bay beach (famous for its sunsets) and to the Sugar Wreck, a ship that sank in 2000 and has become a popular diving site. Although too new to have coral covering, the wreck is home to thriving marine life.
Back in Besar, there's Turtle Beach, which can only be reached by boat. A protected area where sea turtles come to nest, the golden sands here are made for resting: sunbathing, picnicking, and then jumping into the blue waters for some snorkeling.
Besar is also home to a number of unnamed small beaches lined with swaying palm trees and offering some of the softest white sand you'll find in Malaysia. The kilometer-long Main Beach has some of the best views over the turquoise-colored sea and nearby Kecil, while Teluk Pauh Beach offers privacy and powdery white sand.
The Perhentian are also famous for the many trails that lead to the dense jungle and lush greenery that cover the center of the islands. You'll spot plenty of wildlife along the way, including long-tailed macaques, giant monitor lizards, flying squirrels, and langurs.
More Related Articles on PlanetWare.com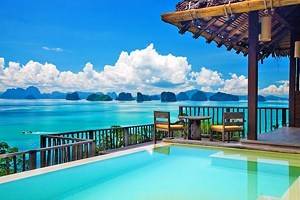 Beaches & Beach Resorts in Asia: Beach lovers looking for a holiday destination in Asia for families should have a read through our list of Top Family Resorts in Thailand. Heading to Vietnam and wondering where to stay? Have a look at our picks for best beach resorts in Vietnam. And although it's not include on the list above, you can also find beautiful beaches in Hong Kong, which is perfect if you are interested in combining the excitement of a city with some relaxing time at the beach.