15 Top-Rated Beaches in Vietnam
Author Anietra Hamper cites Vietnam as being one of her favorite countries in the world, having visited most of its regions several times and taking in some of the best beaches there.
Vietnam is a tropical Asian paradise with an abundance of natural beauty that surrounds the booming metropolitan areas like Ho Chi Minh City and Hanoi, and it remains relatively untouched in rural towns like central Hoi An and remote Cat Ba Island.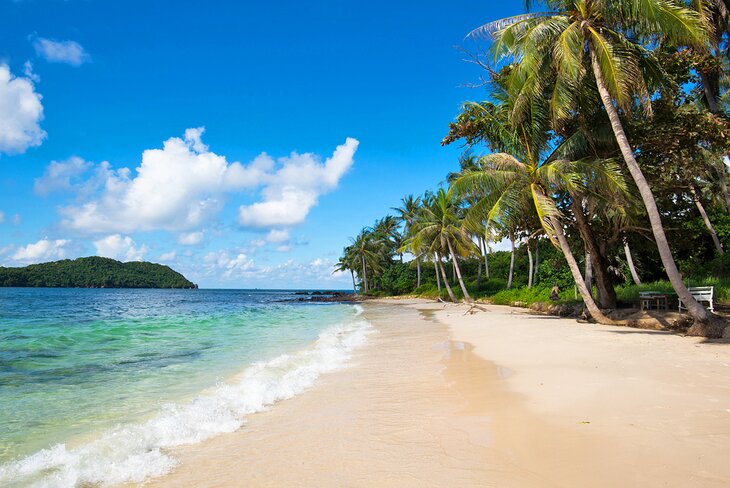 While the ancient, towering tamarind trees and mountainous limestone monoliths protruding out of the seas are impressive, few attractions can surpass the magnificence and allure of Vietnam's beaches.
The long crescent coastline makes up Vietnam's eastern border and offers plenty of options when it comes to beach resorts and vacation destinations. From the northern regions of Halong Bay to the southern remote island of Phu Quoc, Vietnam has stunning beaches for swimming, snorkeling, water sports, and quiet relaxation.
Plan the perfect seaside vacation with this list of the top beaches in Vietnam.
1. Danang Beach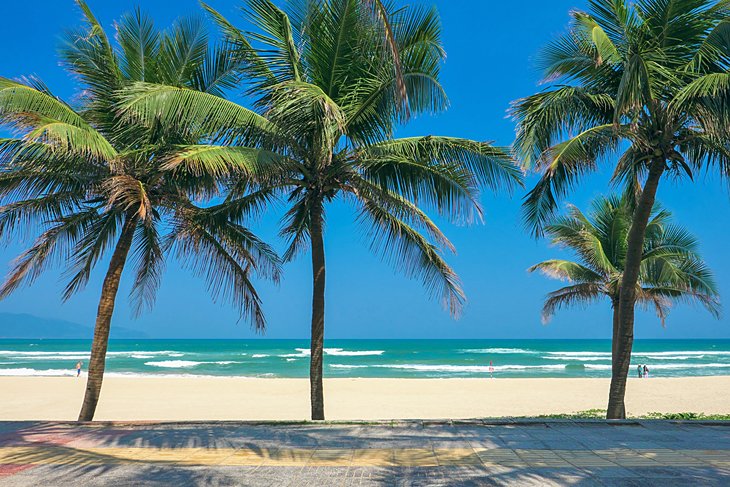 Danang Beach in central Vietnam goes by several names: Danang or Da Nang (if you are local) and sometimes My Khe. Regardless of what you choose to call it, it is the main beach in Da Nang, which is the midpoint between the north and south of the country.
With more than 28 kilometers of coastline and soft-sand sections of beach, you will find shade from the midday sun under coconut palms. You will find yourself staring off into the distance as the blue ocean dissolves into a horizon backdrop of dense, deep-green forest. Locals enjoy this beach, so you will likely get a glimpse of daily life and the unique round bamboo boats in the water.
If you plan to stay at a resort like the Belle Maison Parosand Danang, you can take a break from the midday heat and still enjoy great views of the port city from the grand windows in the rooms. If you are a beachcomber, Danang beach will give you plenty to see since coral and other marine life occasionally washes ashore.
Location: Phước Mỹ, Sơn Trà, Da Nang, Vietnam
2. Con Dao Beach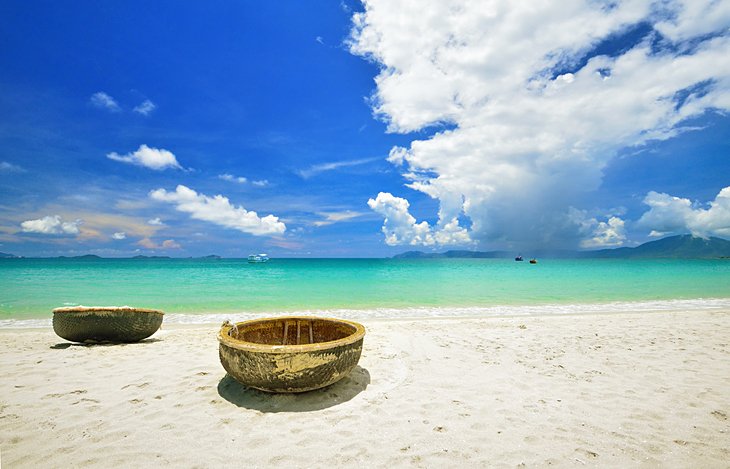 The beach experience in Con Dao is idyllic, mostly due to its quieter presence than other popular beaches in Vietnam. Con Dao is an island that is part of an archipelago off the southern region of the country.
Since it is separated from the mainland with little transportation on the island, it is not overcrowded with tourists. The clear, blue water is perfect for swimming and water sports. There are coral reefs ideal for booking a snorkeling or diving excursion. One of the most popular things to do at the beach besides soak in the Asian sun is watch the green sea turtles at the nearby turtle sanctuary.
The Six Senses Con Do is a full-service, seaside resort that can help tailor your stay. You might just choose to open your doors and spend a morning in a beach chair on your picturesque sandy porch instead of walking down to the water.
Location: Bãi biển Đất Dốc, Bà Rịa - Vũng Tàu, Vietnam
3. Long Beach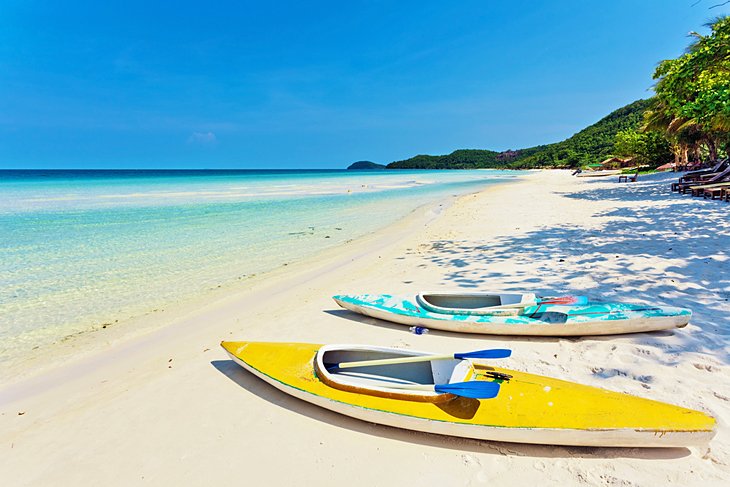 The island of Phu Quoc is popular for its scenic beach scene, and there are plenty of beaches to choose from, but most travelers gravitate toward Long Beach. The beach earns its reputation as much for its calm swimming water as for its 19-kilometer stretch of sand.
The soft beach is exactly what you imagine as a tropical beach experience, with lounge chairs, beachfront cafes, and restaurants serving fresh seafood. The locals are friendly and welcoming, often selling fresh fruit and offering massages right on the beach.
Long Beach resembles more of a lagoon than a wave-crashing experience, so it is a perfect ambience for casual swims and relaxing. Resorts like Tropicana Resort Phu Quoc continue the ambience of seclusion by surrounding rooms and the grounds with lush palms and local flowers.
Location: Phước Mỹ, Sơn Trà, Da Nang, Vietnam
4. Sam Son Beach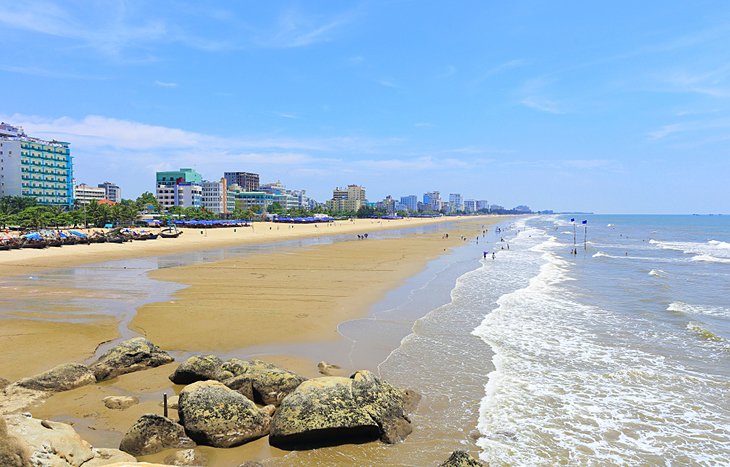 The coastal town of Sam Son offers a perfectly balanced beach experience that allows you to relax on the sand and also indulge in the local scene. The vibrant, French-inspired town is full of resorts, like FLC Luxury Hotel Samson.
Many of the resorts have their own private sections of beach. Long Beach is located near Halong Bay in northern Vietnam and is as popular among locals as it is for vacationers. The beach has an active vibe with people engaging in water sports, and local vendors selling goods like fruit and handicrafts.
If you need a break from the sun, take a stroll into the center of town to eat some local fare for lunch and enjoy the charming architecture.
Location: Sầm Sơn, Thanh Hoa, Vietnam
5. Quy Nhon Beach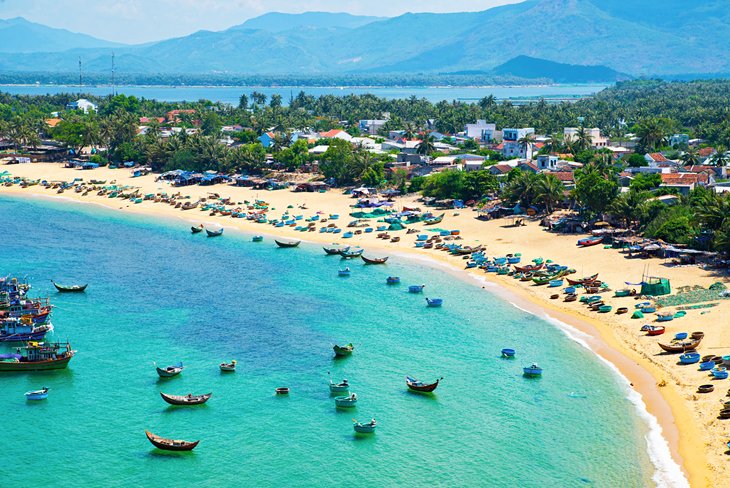 The central coast of Vietnam is blessed with many beaches, but Quy Nhon Beach is one of the best. This coastal city sees fewer tourists than some of the other central regions, so the beach is a bit quieter but has all of the tropical scenery and white sand. If you are not staying on the island, you can get to the beach easily with a 1.5 hour flight from Hanoi.
The beach is clean, and there is plenty of space to build sandcastles or swim in the surf. The town is tidy and elegant adding to the sense of serenity and luxury in this beachside community. In fact, you are likely to find locals studying tai chi most mornings under the coconut trees.
The more tranquil scene in Quy Nhon is why luxury resorts like AVANI Quy Nhon Resort & Spa thrive, with spa getaways, spacious rooms, and local cuisine experiences. The leisurely pace in town makes it nice to take a tropical sunset stroll along the sand and the park promenade that shows off the natural landscape.
Location: Thành phố Qui Nhơn, Bình Định, Vietnam
6. Nha Trang Beach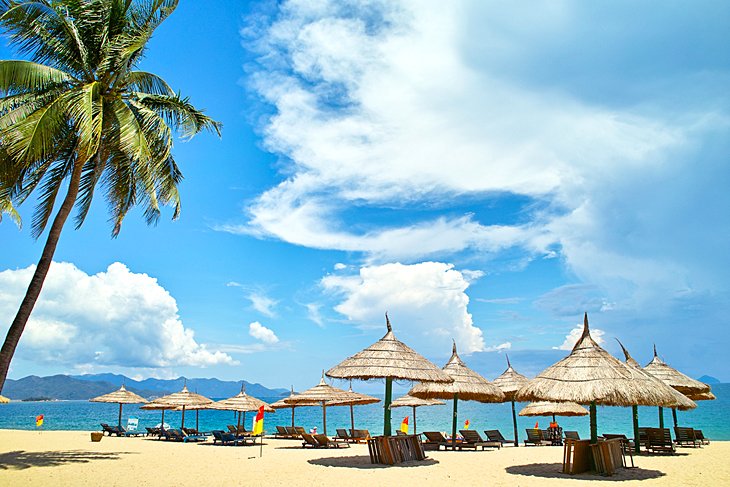 One of the most famous beaches in Vietnam is Nha Trang Beach. The pristine beach is vibrant with activity and scenery. There are parks and gardens along the coastal areas, so you can alternate beach walks with midday excursions to enjoy some of the local flora and fauna.
The crystal-clear water is popular for swimming, but the beach is also close to the Phu Dong water park and excursions like hot air balloon rides over the coastline. Resorts like the Havana Nha Trang Hotel have the best in beachfront lodging and exotic cuisine and can assist in setting up popular day trips like island-hopping excursions.
Location: Bãi biển Nha Trang, Nha Trang, Khánh Hòa, Vietnam
7. Cua Dai Beach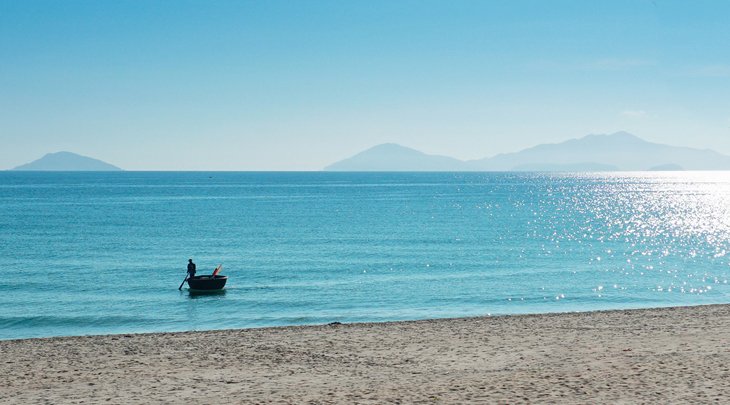 The peaceful Cua Dai Beach near Hoi An in central Vietnam is tranquil because of its unspoiled natural beauty and clear, blue water. This UNESCO World Heritage site is popular with tourists but preserved enough to maintain the true tropical appeal of a jungle and ocean environment.
Cua Dai Beach attracts plenty of tourists because it is so close to town, but it never feels crowded. The beach is popular for diving and water sports like kayaking, jet skiing, and banana boating. There is plenty of marine life to observe in the area, and you will see many fishermen lift nets off in the distance in the water.
There are a number of elegant resorts, like the Hoi An Beach Resort, right on the beach. It is worth booking extra time to walk to the ancient and charming town of Hoi An, where you will find unique handmade items, like jewelry and silk clothing, from street-side vendors.
Location: Cẩm An, Hội An, Quảng Nam, Vietnam
8. Mui Ne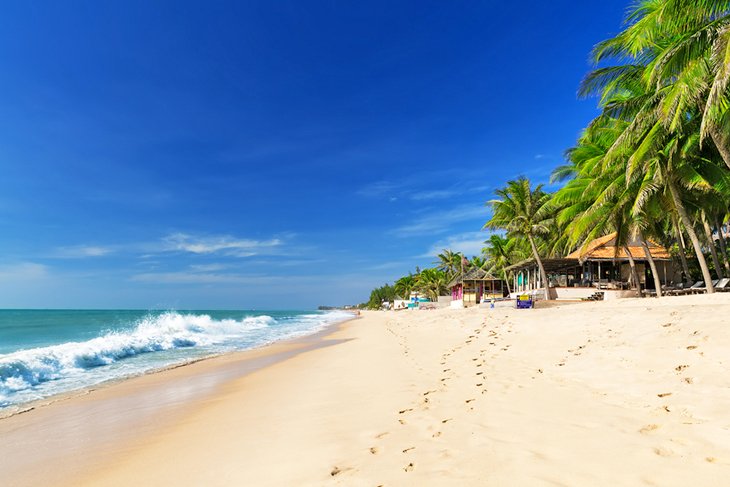 One of the most activity-filled beaches in Vietnam is Mui Ne Beach. It is three and a half hours from Ho Chi Minh City and a tropical getaway for many who live here. This beach is known for its recreational sports, like kitesurfing, which is one of the most popular activities.
Besides a great beach experience, visitors are encouraged to explore other activities like local markets, sand hills, and varied picturesque scenery. With a reputation as being a resort capital of Vietnam you will also find a large collection of luxury resorts, hotels and private bungalows.
You will gain a sense of the culture here as well with the vendors who showcase local seafood. Mornings are busy with fish markets selling the day's fresh catch and evenings are popular for sunset walks on the beach.
Location: Đ. Xuân Thủy, Hàm Thuận Bắc, Bình Thuận, Vietnam
9. Lang Co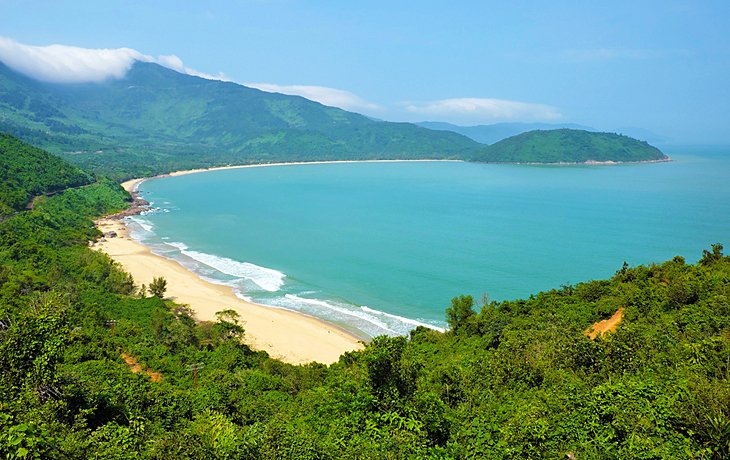 If your interest focuses on eco-travel then Lang Co Beach is awaiting your arrival. Located in central Vietnam, the bay has a long, white-sand beach with towering palms that give the perfect amount of shade in the hottest part of the day.
What makes Lang Co Beach popular is its primitive and unspoiled natural appeal. You will find the experience void of loud entertainment and water sports but filled with quiet salty air breezes and a tropical sea-green lagoon worthy of a motion picture movie. You will not find large hotels here but more subdued resorts, like the Banyan Tree Lang Co, that fit the tone of the area.
Location: Thua Thien Hue, Vietnam
10. Cat Ba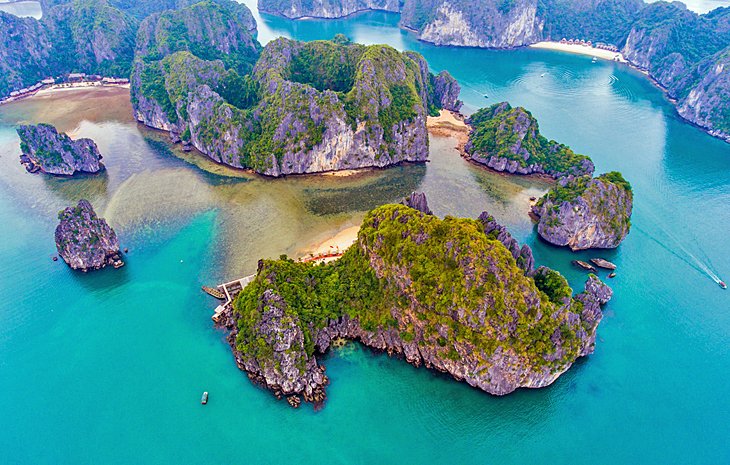 Cat Ba Island is still a relatively hidden gem in Vietnam, but because its beach is so phenomenal, it is gaining tourist recognition. Cat Ba Beach is on an island that is part of a small archipelago in northern Vietnam just off Ha Long Bay.
The collective beach is actually three small beaches couched between two large limestone monoliths that are the scenic highlight of the entire region. The beach is calm, but there are frequent ocean breezes that kick up impressive waves. It can easily be the soundtrack that you need to drift off to sleep on the shore.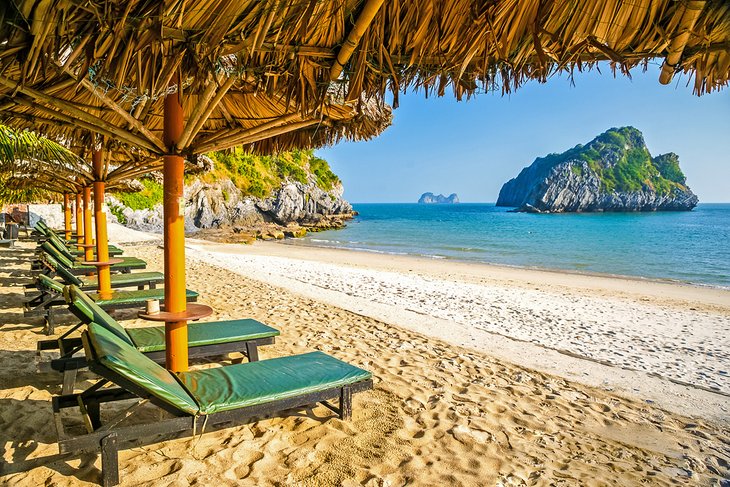 Resorts are increasing in number on the island, and a few, like Catba Sunrise Resort, are popular with tourists because they offer modern amenities. You will need to ferry to the island from Halong Bay, but instead of making it a quick taxi trip, you should consider planning extra time for the journey and hiring a boat for a more leisurely sail.
It is worth the extra time to float through fishing villages and the hundreds of towering monoliths for a visually unforgettable journey to your beach destination.
Location: Trân Châu, Cát Hải, Hai Phong, Vietnam
11. Dong Chau Beach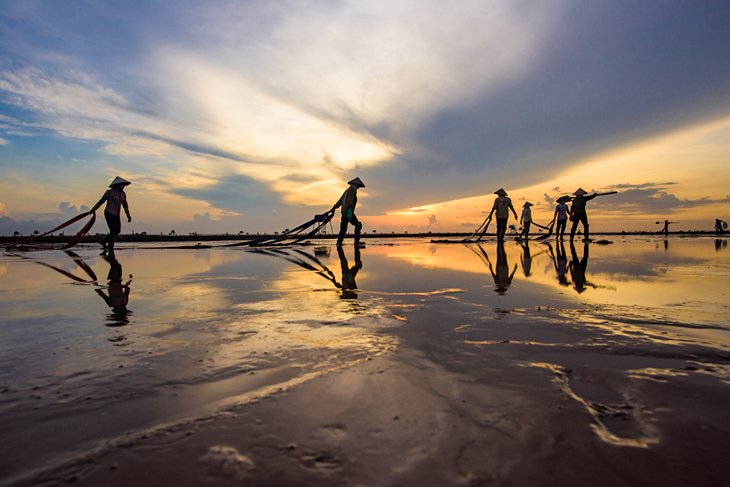 One of the oldest and most romantic beaches in Vietnam is Dong Chau Beach in the northern part of the country. It is more popular as a scenic and picnic beach than a swimming beach. The small, sandy beachfront has a regular sea breeze with clean air surrounded by pine forests and a mangrove conservatory.
There are gardens and coconut groves as your backdrop and opportunities for fresh seafood. Nature lovers should put Dong Chau Beach on the top of their list. The vegetation in the area and the geographical location make it a stop for rare migrating birds.
The peaceful nature of the beach makes kitesurfing, fishing, and volleyball top things to do here besides just relaxing. You will find mostly guesthouses in the area, but a few hotels like Petro Thai Binh Hotel, have comfortable amenities, however you will still need transportation to the beach.
Location: Đông Minh, Tiền Hải District, Thai Binh, Vietnam
12. Vung Tau Beach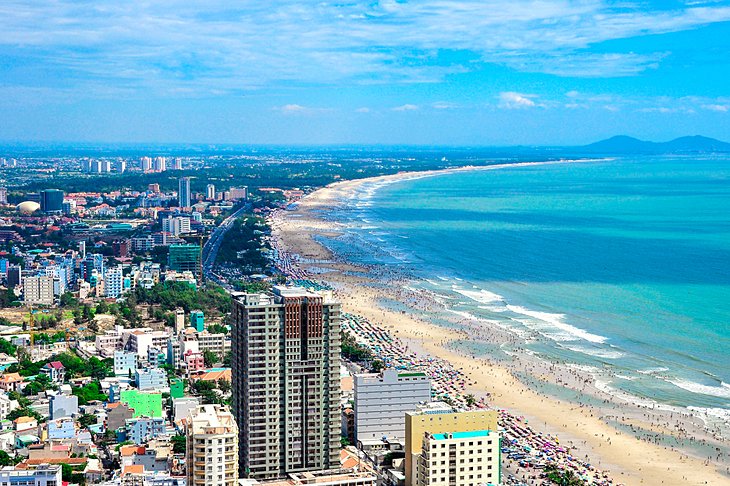 The port city of Vung Tau in southern Vietnam has a tremendous beach scene on Vung Tau Beach. The tropical climate is refreshed by the long stretch of beach and popular coastal boardwalk. The sandy coast is a vacation stop for locals coming from Ho Chi Minh City. The scenic view, which includes a mountainous backdrop behind the ocean and the buzz of beach activity is why vacationers enjoy it.
The port city provides convenient access to activities like shopping and dining beyond just enjoying a day in the sun. As you might imagine, Vung Tau has some extravagant resorts like Pullman Vung Tau that make you want to extend your vacation by a few extra days. You will find many festivals, events, and parades in the area throughout the year.
Location: Thành phố Vũng Tầu, Ba Ria - Vung Tau, Vietnam
13. An Bang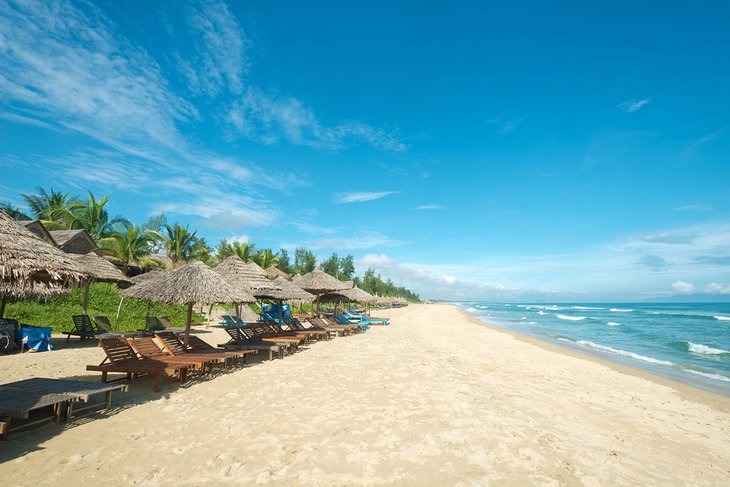 The long stretch of beach at An Bang is a nice visit for a day, with one of the best views of the Vietnam horizon. The beach is located near Hoi An, a historic and quiet area of the country with small streets and shops to visit during your stay.
An Bang is a lovely beach to enjoy while soaking in the Vietnamese culture, as you are likely to see some of the traditional basket boats parked in the sand or active in the water as local fishermen try for the day's catch. This small village is relatively unspoiled by development, so it is a quiet place to relax under a thatched umbrella and soak in the views.
An Bang is an idyllic beach experience with blue skies, white sand, and gentle waves. The spring and fall are ideal times to visit An Bang outside of the summer heat and rainy season. It is conveniently located near central tourist areas, so lodging is easy to find. The Hoi An Sincerity Hotel & Spa is one of many resorts that provide close access to An Bang.
Location: Đ. Hai Bà Trưng, Tp. Hội An, Quảng Nam, Vietnam
14. Ho Coc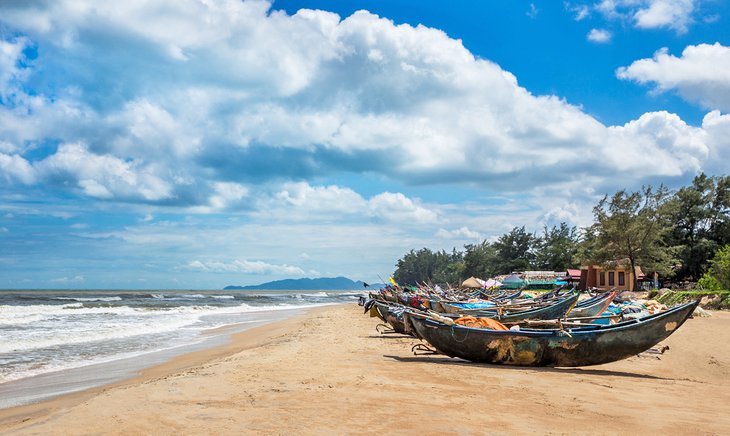 The small beach of Ho Coc is known for its clear blue water, golden sand, and quiet atmosphere. It is located less than three hours from Ho Chi Minh City in southeast Vietnam. The forested hills behind the ocean give the crescent-shaped bay a nice backdrop. Ho Coc Beach is nice for sunbathing and swimming, although be advised that sometimes the waters can be rough.
There are a number of beach shacks where you can grab some local Vietnamese cuisine for lunch. The beach has been a Vietnam gem for years, frequented by the locals, but it is becoming more popular.
It is best to avoid Ho Coc during the weekends and public holidays for fewer crowds. The beach is comfortable for a day's visit, with beach shacks and food options nearby.
Location: Ba Ria - Vung Tau, Vietnam
15. Doc Let Beach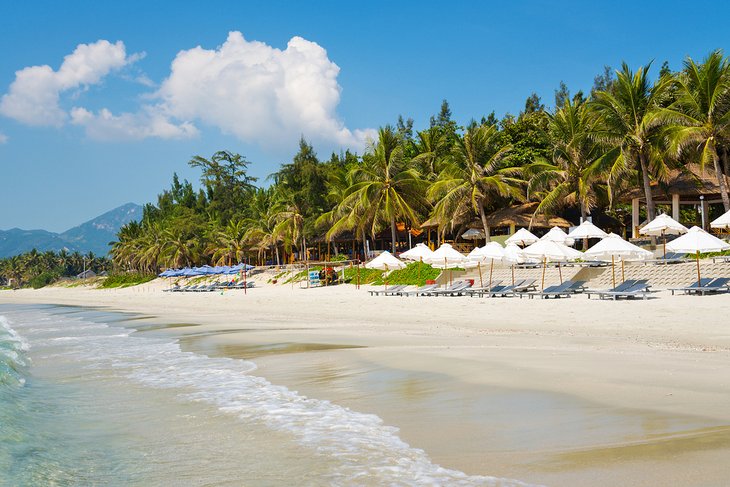 Doc Let Beach, near Nha Trang, is located on Vietnam's east coast and is characterized by a large bay with turquoise waters and a lush jungle backdrop.
This beach is less crowded than more popular beach spots, but it is perfect for a day trip to the water and for resting under one of the many palms along the coastline. It is easily accessible by train or airplane of you are basing in Hanoi or Ho Chi Minh City.
The water is suitable for swimming, and the gradual depth makes this beach nice for families who can wade in the water. Water sports are easy to do at Doc Let Beach, from kayak and WaveRunner rentals to parasailing. There are plenty of hotels in Nha Trang, like the Havana Nha Trang Hotel, which is close to the beach and shopping.
Location: Ninh Hai, Ninh Hòa, Khánh Hòa, Vietnam