15 Top-Rated Beaches in Cambodia
While many travelers may be familiar with Cambodia's rich cultural history and places to visit, like the temples of Angkor Wat, the country has hundreds of miles of beautiful beaches along the Gulf of Thailand. Aside from almost 300 miles of coastline, this Southeast Asian country also has 60 offshore islands, many of which are holiday destinations with beaches that can be explored and enjoyed. Some of the country's best resorts can be found on these islands.
Cambodia's beaches can be found in four of the country's provinces: Sihanoukville, Kampot, Koh Kong, and Kep. The beaches vary from remote, raw beaches populated only by the occasional fisherman's shack, like those on Koh Rong Samloem, to highly developed beach resort areas fronted by luxury hotels, like those found in Sihanoukville.
Plan your tropical vacation with our list of the top beaches in Cambodia.
1. Saracen Bay, Koh Rong Samloem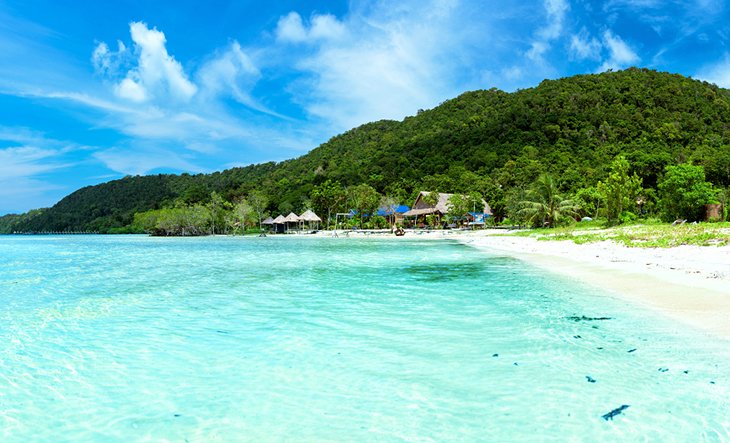 To find remote, pristine beaches, some of the best places to visit in Cambodia are the country's islands. One of two sister resort islands off the coast of Sihanoukville, Koh Rong Samloem (the other island is Koh Rong), has some incredible, secluded beaches with a lot of fun things to do. It's a 40-minute ferry ride from the mainland, leaving from Sihanoukville.
Saracen Bay was once a sleepy fishing village, and now it's a very cool tourist destination with a few different beach areas. It's popular with younger visitors and couples. There are beachfront accommodations and a small town. There are a few beach resorts here as well. Most have a very laid-back vibe.
2. M'Pai Bai, Koh Rong Samloem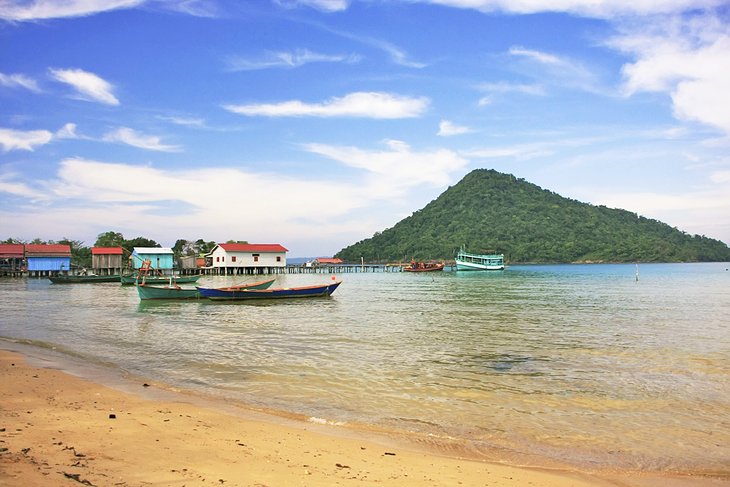 Saracen Bay is growing in tourism popularity (and crowds), and smart travelers seeking more of a personal experience are venturing to the northern side of Koh Rong Samloem island and the village of M'pai Bai.
There's a main M'pai Bai village beach fronting M'pai Bay, which is never crowded, and two more beaches in the area, which are normally completely deserted, except for local fishermen. There are no beach resorts or hotels here, only small hostels, beach bungalows, and guest houses. A short hike from the beach leads to two waterfalls, a nice hike to do to escape the heat of the day.
When you want more social fun and things to do, it's easy to head south to the Saracen Bay area.
3. Otres Beach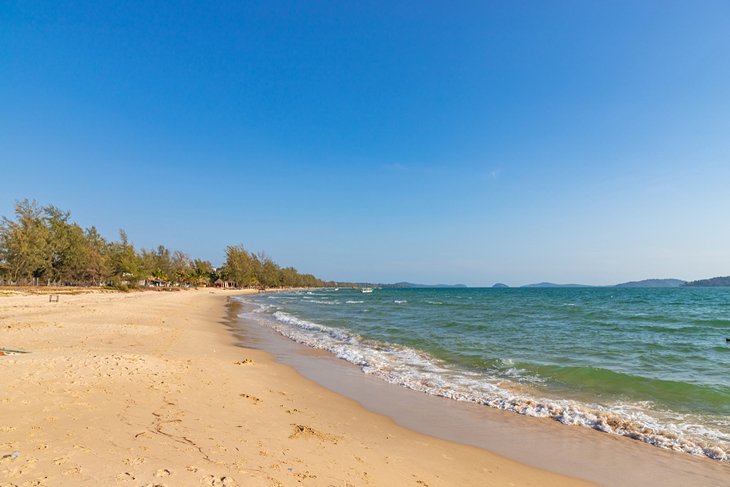 This Cambodian beach is a part of the resort city of Sihanoukville but far enough away to offer a more remote experience. Sihanoukville's Otres Beach is a five-minute moto-taxi ride from downtown or from nearby Ochheuteal Beach (the main tourist beach in the area). The water here is cleaner and clearer, and the beach is fronted by a row of tall casuarina and palm trees instead of resort hotels.
Otres Beach accommodations vary from small boutique hotels and independent resorts to family-run beach guesthouses. The beach is divided into two areas, Otres 1 and Otres 2, separated by a resort. Otres 1 is busier and Otres 2, farther down the coast, is less developed.
4. Ream Beach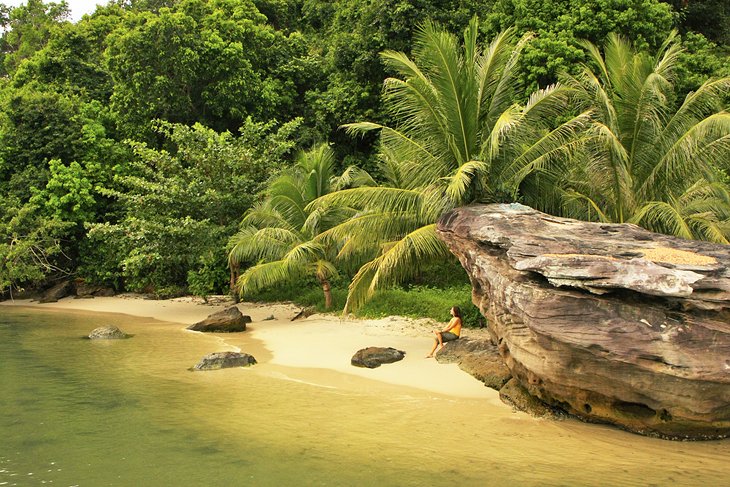 Ream Beach is a part of Ream National Park, located about 30 minutes from Sihanoukville City. This large nature preserve includes a long stretch of raw beach. There are some fishermen's shacks and a few tiny, family-run beach cafés. There are also covered seating areas with rows of hammocks. Nearby is a mangrove wetlands area. It's a good place to visit to escape the crowds of some of Sihanoukville's busier beaches, especially on weekends or holidays.
Although it's a national park, the area is home to a local community of around 5,000 families who work farms or fish (or operate tourist businesses). This beach is close to Sihanoukville Airport for those flying in or out.
5. Sner Beach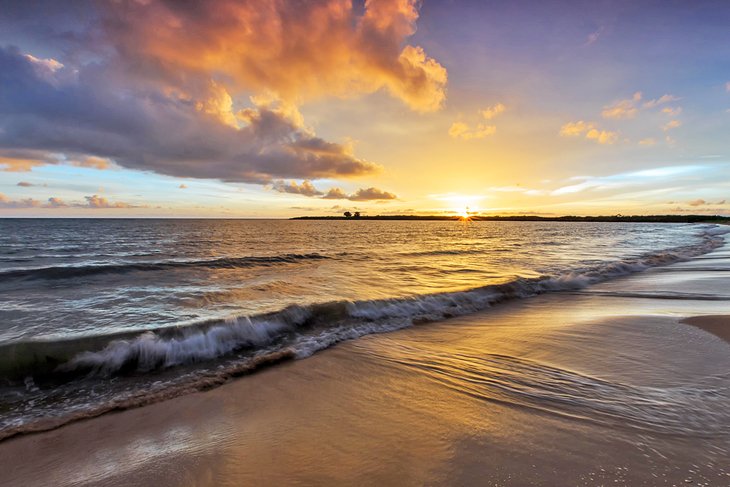 Sner Beach is in the province of Koh Kong. It has a different vibe than some of the other beaches in Cambodia, as it's at the southwestern edge of the country's coastline, right next to the border with Thailand.
It's one of those cool places to visit in Cambodia where you'll find mostly, if not only, Cambodians enjoying themselves, as it's not a popular destination for international visitors. The beach is never crowded, the water is usually clean and clear, and there are covered sections of hammocks to just relax in.
Sner Beach is also a great place to visit for foodies, as you can enjoy extremely fresh seafood, all cooked for you on the beach barbecue pits. There are a few little beach shacks and cafés along the sand.
6. Koh Russey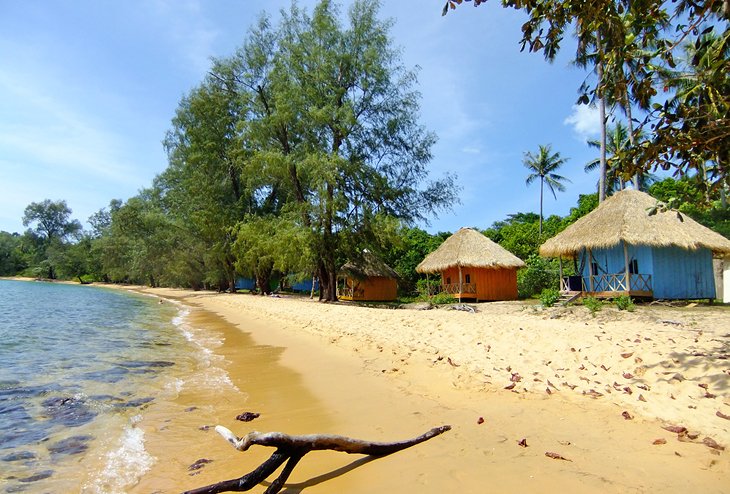 Koh Russey, also known as Bamboo Island, features a spectacular, mile-long, pristine private beach. The very gently sloping beach is backed by a row of tall mangrove and palm trees, which offer shade during the sunny part of the day.
This Cambodian island is home to the luxurious Koh Russey Villas & Resort. One of the best resorts in Cambodia (and part of the Small Luxury Resorts of the World collection), it's all individual villas and pavilions. They have one-, two-, three-, or four bedrooms and are all beautifully designed and furnished. The resort also has a full-service spa and some incredible food as well. Access is via the resort's private ferry, which drops you or picks you up at a dock near Ream.
The interior of the island is mainly jungle, which can be explored via footpaths.
7. Kep Beach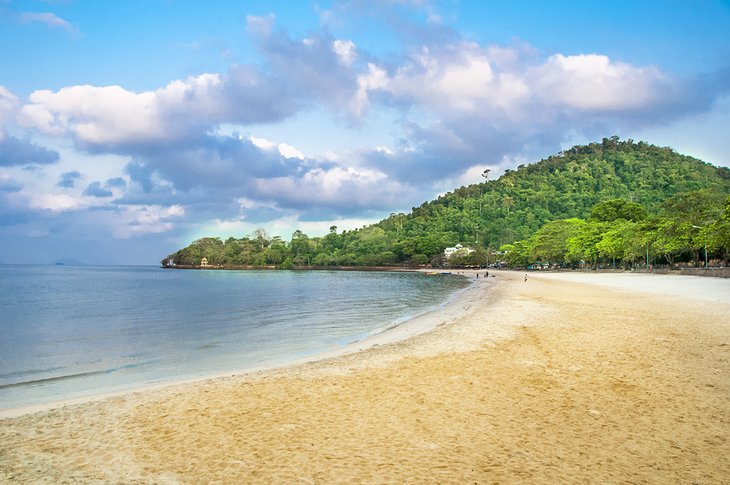 Kep is a large beach town on the southern part of the Cambodian coast, close to Vietnam. The town, also known as Krong Kaeb, has a fun beach area that offers just the right amount of development. It's a raw, remote beach, but the beachfront promenade also has little cafés and some market sections where you can pick out your own fresh seafood and fruit. Kep Beach is known for its amazing, fresh-caught seafood.
The area is especially interesting, as Kep was a former French beach resort popular during and after the period of French Colonialism (Cambodia was a protectorate of France from 1863 to 1953). Some of the architecture and wide streets recall the days of French rule. Kep was the epicenter of what was known as the Khmer Riviera in the 1950s and 60s.
The beach has vendors renting rafts, boogie boards, umbrellas, and beach chairs. The beach itself was overhauled by the government a few years ago, and massive amounts of sand were brought in from other areas to create a large, recreational beach.
8. Koh Ta Kiev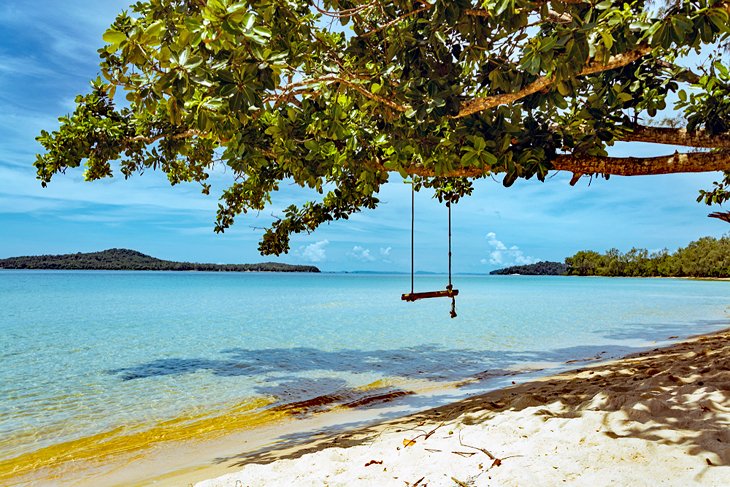 This idyllic little island, known as KTK, is accessible only by ferry or speedboat. It's about two miles off the shore of Otres Beach. KTK is rapidly seeing a lot of development but is still a beautiful place to enjoy the beach.
The island remains remote, and other than the few hotels and resorts here, there are no shops or other places to buy things. The interior of the island is jungle, and there are treehouse-type guesthouse accommodations available. Aside from the guesthouses and overnight accommodations (you can also camp here), Koh Ta Kiev makes a great day trip.
9. Koh Tonsay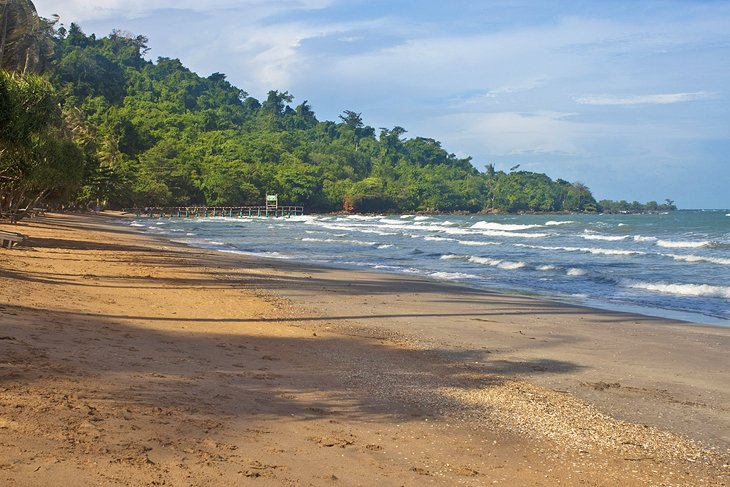 Also known as Rabbit Island (due to its shape), this remote and undeveloped beach resort area is just off the south part of the Cambodian coast, near the border with Vietnam. The beaches here are either rather thin and sloping, with coarse brown sand, or wide and flat, with fine white sand. In both cases, they're backed by rows of tall trees. The water is clean and clear, and it's a great beach for swimming and snorkeling.
Access is via a 20-minute boat ride from the city of Kep. In addition to its beautiful beaches, the island is a popular spot for fishing. You can go out on a fishing boat for a few hours or just fish off the beach or one of the docks.
10. Lonely Beach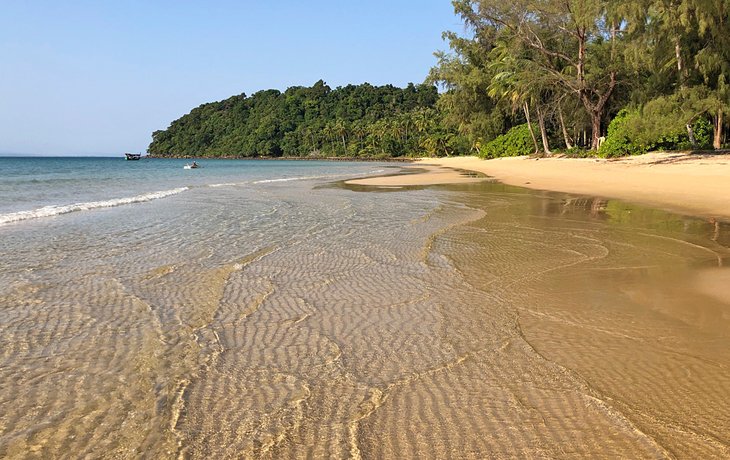 This aptly named beach is on Koh Rong, the sister island to Koh Rong Samoem. It's off the coast near Sihanoukville and takes about 40 minutes to get to by boat. Lonely Beach can be found at the northern tip of the island, away from much of the other resort development.
The sea here sometimes glows at night. During certain seasons, the surf is filled with bio-luminescent plankton, which literally glow in the dark.
For a seriously remote adventure, try the Lonely Beach Koh Rong resort. The destination is the only one on the northern part of the island, so you have miles of unspoiled beaches virtually all to yourself. The casual, barefoot resort has little bungalows, some of which are right on the beach.
11. Victory Beach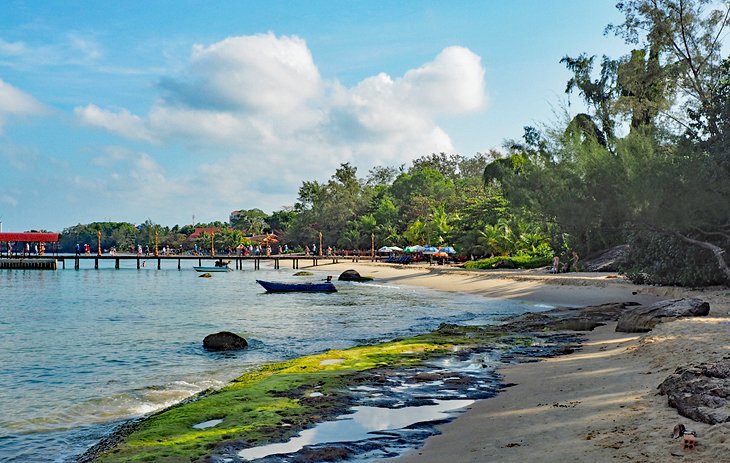 If you have limited beach time, this beach is close to Sihanoukville City (next to the new port), yet offers a nice, somewhat secluded feel. It has a few beach shacks and other little cafés and tourist businesses renting rafts and umbrellas. There's also a little pier that extends out into the sea, good for fishing or sightseeing. The views can be spoiled by the construction cranes of the nearby port development, but this helps keep the crowds away as well.
Victory Beach can be much less crowded than its much more popular and developed neighboring beaches like Serendipity. When you're ready for some food after a day on the sand, walk up from the beach to the cool Victory Hill neighborhood.
12. Serendipity Beach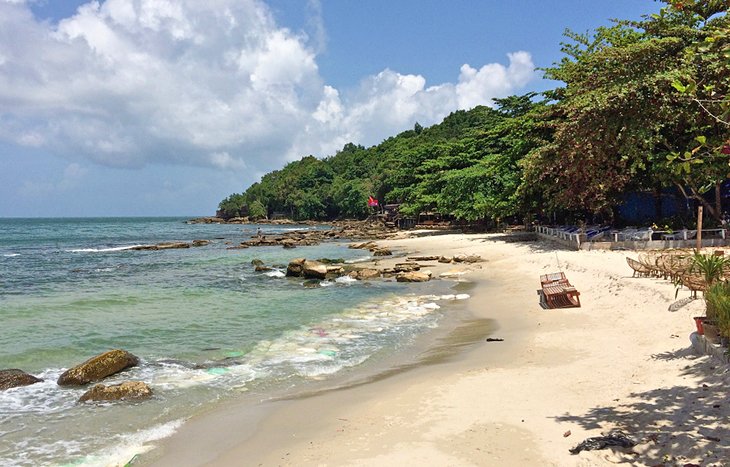 Sometimes, like when you are traveling with children or just have a few hours to spare, you want a big beach with lots of facilities and things to eat and do. Serendipity Beach is the largest beach area right at Sihanoukville. Although you won't find peace and privacy here, you will find a huge beach, lifeguards, and gentle surf. You'll also find a long pier, as well as a beachfront area filled with accommodations, shops, and cafés.
The beach's proximity to Sihanoukville City means you can also walk a few minutes and have lots more shops and restaurants close by.
13. Song Saa Private Island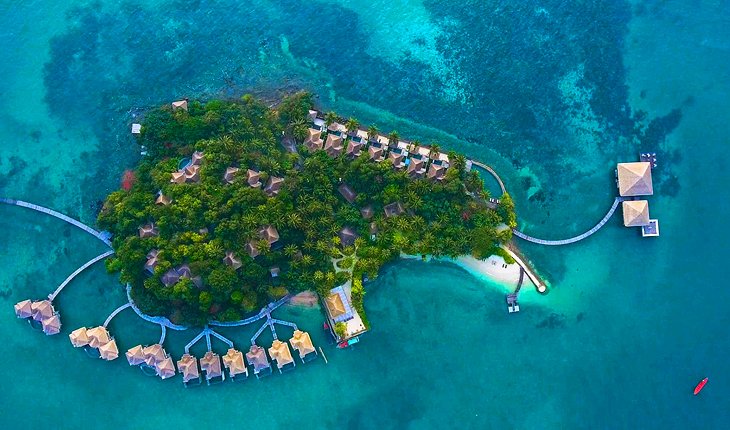 This sustainable, ultra-luxury boutique resort is on its own tiny island at Koh Rong and offers a seriously remote, beyond luxurious tropical island resort experience. Not only does it have incredibly beautiful private beaches but it also has some Instagram-worthy, over-the-water villas. These have elements like glass floors or other openings allowing you to see down into the blue-green water below. All the villas are furnished in a modern, luxurious Khmer style, and all have their own private pools of some kind.
The resort has multiple dining venues (or in-villa dining) with Michelin star-level food, a wellness-focused spa, and a breathtaking infinity pool surrounded by cabanas and day beds. Activities at the resort include morning yoga on the beach and wide range of water sports.
Access to the Song Saa Private Island is via a short boat ride from Sihanoukville.
14. Koh Totang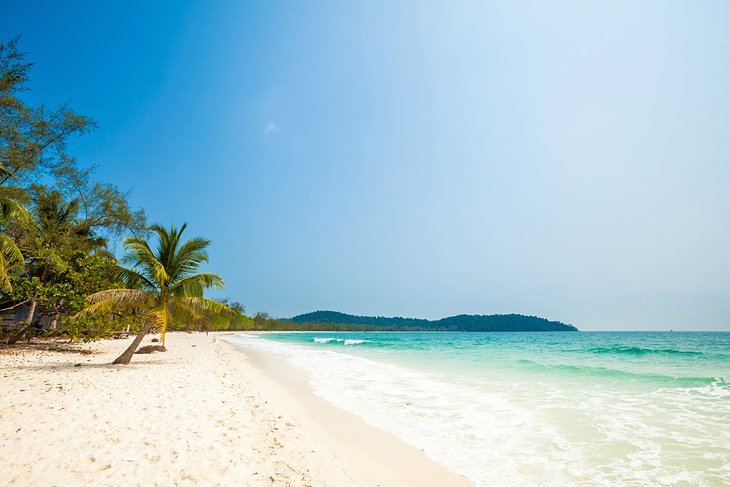 This isolated, remote, barely developed, virtually uninhabited island is the perfect destination to really experience the sheer raw, natural beauty of Cambodia's beaches (it's also got some great snorkeling). The island has no hot running water, electricity only for a few hours a day, and the Nomads Land beachfront eco-bungalows as its only accommodation.
Koh Totang is one of 12 little islands that form the Koh S'Dach archipelago. It's far enough away from Sihanoukville to keep the crowds low, but still easy to access within a few hours. The island is about halfway between Sihanoukville and the Thai border, and you can drive here (thanks to a new road) or take a boat.
15. Koh Krabey
Another essentially private island with a sole resort on it is Koh Krabey. It's home to the Six Senses Krabey Island resort, one of the world's great wellness resorts. Accommodations are 40 freestanding villas, each with their own infinity pool. The sustainable yet sumptuous villas are thoughtfully designed with multiple levels and living roofs.
Importantly, the resort boasts an impressive ecological program that aims for zero waste. This includes no disposable plastic, producing their own essential oils and cleaning products and even an on-island desalination plant. The entire design and construction blends into the natural environment.
The resort's world-class spa uses products and essential oils produced on-site with their menu of locally inspired massages and treatments.
The private island is about three miles (five kilometers) off Ream.
Map of Beaches in Cambodia
More Related Articles on PlanetWare.com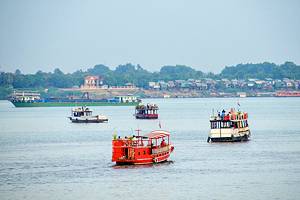 Exploring Cambodia: For helpful ideas on planning your trip, see our article on the Best Places to Visit in Cambodia. If you are transiting through Phnom Penn, it's worth spending some time seeing the tourist attractions.