13 Top-Rated Things to Do in Halong Bay
A UNESCO World Heritage Site and a popular day trip from the capital Hanoi, Halong Bay is famous for its limestone karsts and almost two thousand islands and islets that dot the turquoise-green waters. While most of these islands are just towering rocks emerging from the ocean, with no place to land, many make for great climbing destinations or have caves that can be approached with boats.
Only 40 of the islands in Halong Bay are inhabited, and only a few of those are developed enough to offer hotels, restaurants, and recreational opportunities for visitors–including the larger Cat Ba Island, where most of the cruise boats dock. Still, many visitors that arrive in Halong Bay via a cruise spend their nights onboard, using the daytime to snorkel, kayak, or sunbathe.
If you're considering a trip to the area, discover the best things to do with our list of the top attractions in Halong Bay.
1. Take a Cruise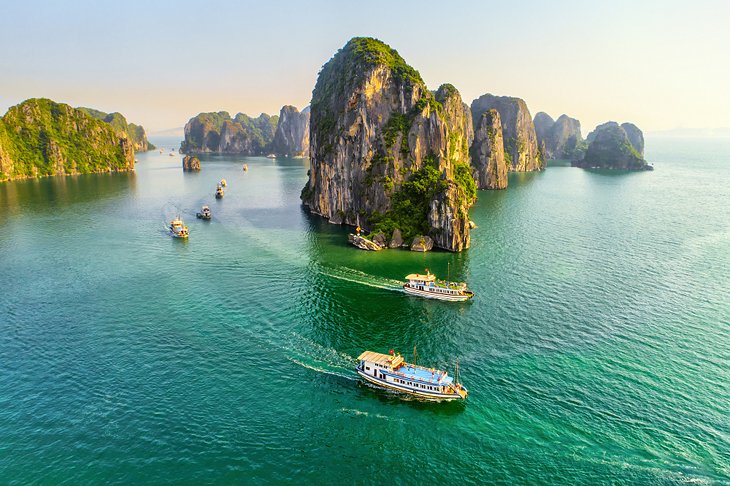 There's no better way to see the beauty of Halong Bay than from the water, zigzagging among the tiny islands and towering limestone cliffs that populate the bay. But what type of cruise experience you want makes a world of difference, and the options go from quick half-day tours around the day to overnight trips leaving from the capital Hanoi.
You also have a choice of amenities: you can take a traditional junk-boat cruise with sails or a more modern yacht-style boat that's faster but less charming.
Halong Bay is located just over 140 kilometers from Hanoi, so a one-night cruise leaving from Hanoi might be just about enough. These two-day, one-night trips are perfect if you want to just kick back and relax without having to make any plans on your own: food, accommodation, and sightseeing will all be part of the cruise ticket.
Halong Bay cruises are usually air-conditioned and offer sun loungers for an open view of the waters as you get to and then explore Halong Bay. If you get a cruise trip for two to three nights, you will probably also get the option of sleeping at a resort on one of the islands (usually Cat Ba).
When choosing a cruise, always ask what activities are included–most offer a combination of kayaking, swimming, cave exploring, onboard cooking classes, and sometimes excursions to floating villages.
2. Visit Cat Ba Island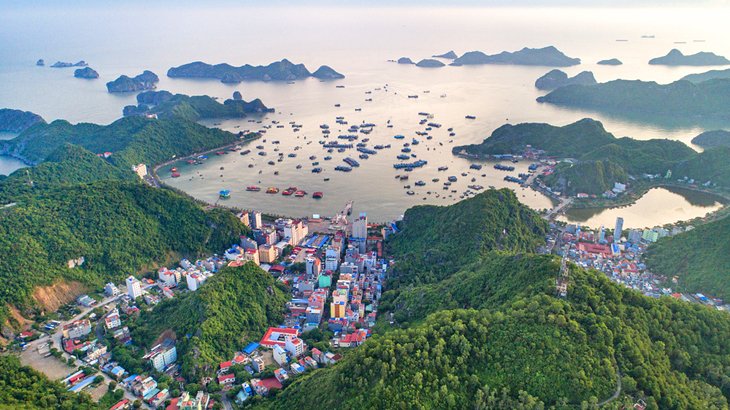 Cat Ba Island is Halong Bay's largest island and the best stop if you want to do something else besides exploring the deep turquoise waters. The island is home to some nice hotels; Cat Ba National Park, which covers one third of the island; and a number of tourist attractions connected to the Vietnam War–more notably the Hospital Cave, an underground, bomb-proof hospital and safe house.
Cat Ba is also the starting point for adventurers wishing to get up close and personal with Halong Bay. This is the best place to get a kayak, join a tour to explore the caves on the island, take off on a hike through the national park (trails are clearly marked so you won't get lost), or do some rock climbing. Organized tours are available if you want to try something not included in your cruise package, but many visitors just pay a local for a ride on their boat.
Cat Ba doesn't have many roads, so walking and biking are not only the easiest and greenest ways to get around but also the best options to make sure you don't miss out on anything–including opportunities to run into giant lizards or catch sight of a rare eagle in flight.
Cat Ba also has its own three beaches that are perfect for swimming and quiet in the mornings, before cruises arrive. Between May and September, it's also possible to snorkel around the island.
3. Kayak in Bai Tu Long Bay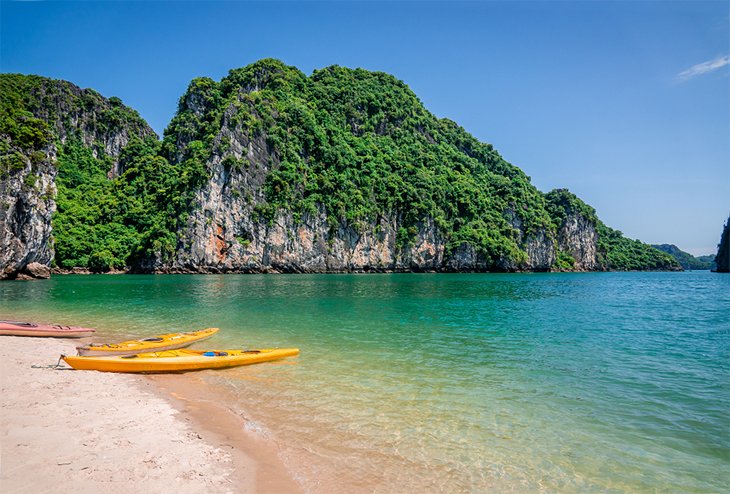 Bai Tu Long is technically right next to Halong Bay, but it's an area that until recently wasn't part of the normal cruise tours. While more and more visitors are now making their way to this corner of the bay, it still mostly remains off-the-beaten-track–mainly because accessing it through the labyrinth of limestone mountains is a little trickier, so only those on a longer cruise (at least three days) will find their way here.
Since the waters around Bai Tu Long Bay aren't as crowded with large ships, you can easily (and safely) explore the area in a kayak. Bai Tu Long has a number of caves that can only be accessed from the water, as well as hidden pockets of stunning untouched beauty around almost every corner.
The island itself is covered in rainforest and mangroves, and it's home to a number of endangered species, including the leopard cat and the large Indian civet.
4. Snorkel and Dive near Cong Do Island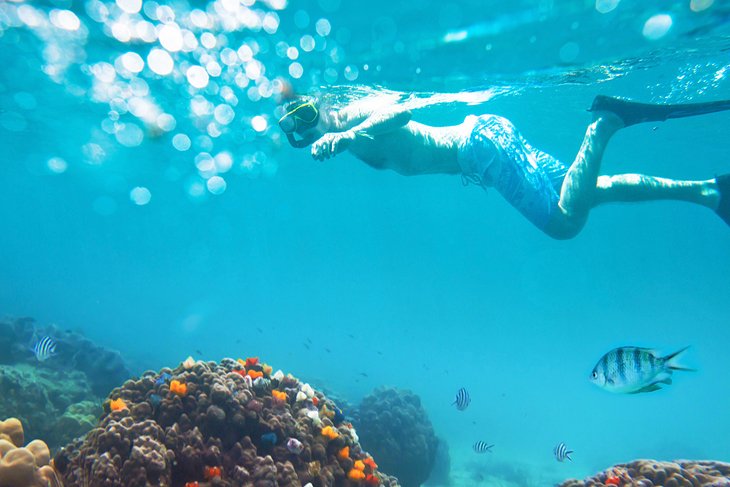 The clear waters of Halong Bay make snorkeling and scuba diving some of the top things to do, but the areas around Cong Do Island and Van Gio Island are especially good starting points because their isolated location means less boat traffic and a greater variety of marine species.
Cong Do Island is a favorite snorkeling destination because it has its own system of five lakes that are hidden among limestone peaks but still connect to the sea, offering a unique and diverse ecosystem.
In addition to rare corals such as red and forest corals, the island is also home to seagrass beds, the preferred living space for sea turtles and sea horses. Stone crabs, lizards, and hornbills inhabit the wet areas around the coast and can be easily spotted once you step back on land.
Once off the water, the islands also offer plenty of hiking opportunities, where you'll run into hidden lagoons and ancient trees along the way.
5. Experience the Thrills of Sun World Halong Park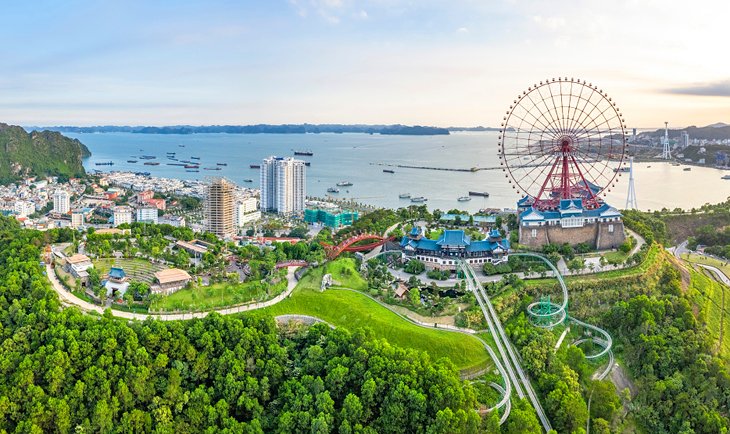 Sun World is Vietnam's largest amusement park, a mega recreational complex that covers 214 hectares and is divided into two sections: the Mystic Mountain Complex (also known as the Ba Deo Hill Park) and the Coastal Amusement Complex, which also includes the Typhoon Water Park.
The two sections of the park are connected by the Queen Cable Car, which rides high up over the bay and the island for two kilometers of beautiful photo opportunities.
The Coastal section of the park offers plenty of thrill rides, including a roller coaster, water rides, giant slides, and lots of options to cool off–all surrounded by its own sandy beach that gently slopes into the turquoise waters around.
At the Ba Deo park, you'll find one of the world's tallest Ferris wheels, the Sun Wheel Halong, which offers stunning views of the bay from its 64 cabins. There's also an arcade; an indoor game zone; a wax museum; and a Zen garden complete with bonsai trees, waterfalls, and a miniature Mount Fuji.
6. Sunbathe in Ti Top Beach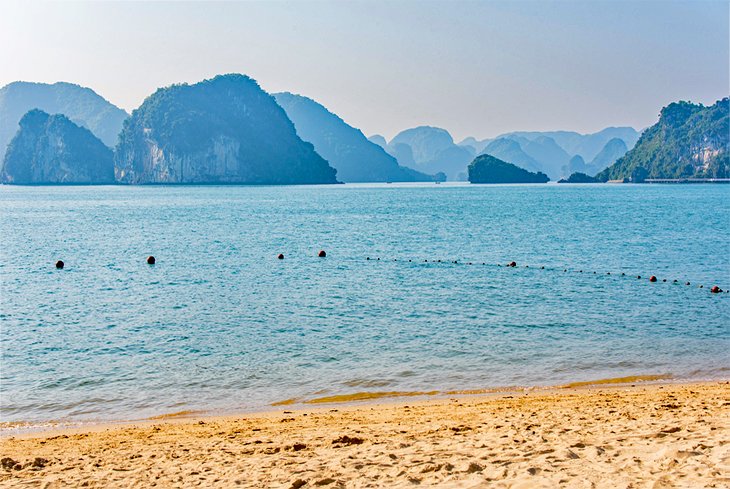 This crescent-moon-shaped beach might not be the largest in Halong Bay, but it's definitely one of the most stunning. Tip Top island is a tiny islet with white sands and calm waters and can only be reached by boat from Halong Bay.
A popular rock climbing destination, the island is also a common stop for day cruises–however, boats only stop here for a couple of hours, so if you want a longer visit, rent your own boat and spend some extra time just sitting on the sand, admiring the majestic bay around you.
The island has a small shop that doubles as a mini café and also rents equipment for snorkeling and swimming, as well as beach chairs.
7. Stop by the Quang Ninh Museum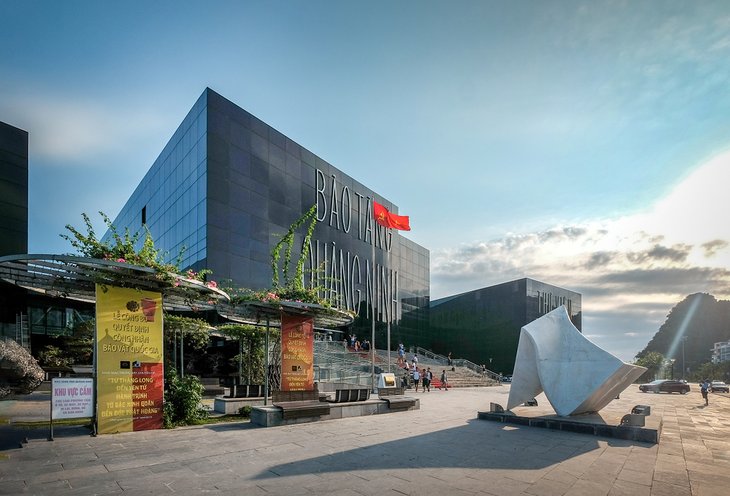 Covering an area of 24,000 square meters in Halong City, this mix of museum, library, and exhibition space offers a very eclectic collection that includes everything from sailboat models to items connected to Buddhist culture and the resistance effort against the French Colonial empire.
While the exhibits are clearly marked, this isn't meant to be a typical museum where you can find large collections organized into specific groups, but more of a wide insight into the land and people (including minority ethnic groups) of Halong Bay.
In addition to a massive book collection, the library also offers a screening room, theater, coffee shop, and bookstore. With reading rooms, special rooms for kids, and areas where rotating exhibits are available, this is a great complex to learn more about the city, but also a good place for a quiet break from the heat when you're in the area.
8. Explore Caves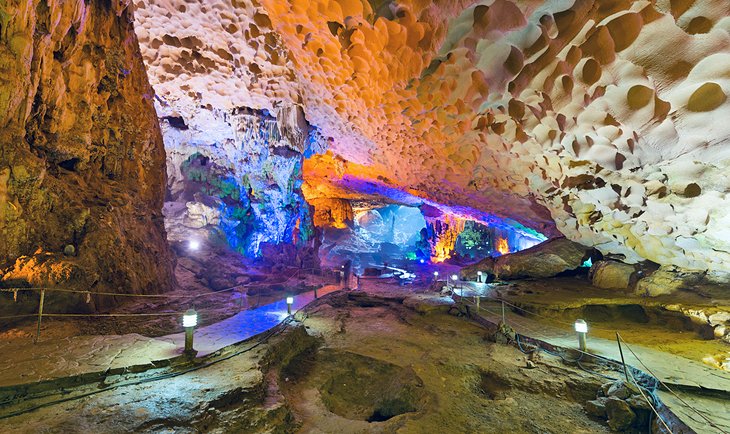 With cliffs and mountains everywhere, it's no surprise that Halong Bay also has an abundance of caves–and Driftwood Island is a particularly good place to visit to discover some of them.
This small island in the southwest of Halong Bay is home to two caves: the massive Thien Cung cave and the tall but less deep Dau Go grotto. Both caves are at least two million years old and have some impressive chambers–the entrance of Dau Go cave, for example, is "just" 12 meters high, but the highest dome inside reaches 25 meters tall, and it's covered in stone pillars and stalagmites.
Artificial lights have been arranged all around the caves to illuminate certain areas, especially rock formations that seem to mimic animal forms and even a deep well of clear, blue water.
Thien Cung Cave is home to three ponds, and it's illuminated with colorful lights, which creates a dancing of ghostly images on the walls as visitors walk by. Openings in the ceiling also let in natural light, and there are narrow passageways connecting different rooms for those who are more adventurous and want to explore deeper.
9. Walk the Grounds of the Cai Bau Pagoda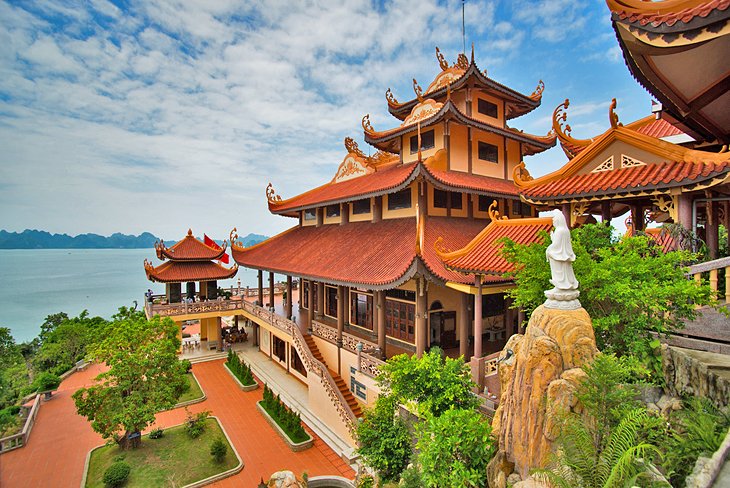 Located high up on a hill overlooking Bai Tu Long Bay, the large pagoda occupies an area of 20 hectares, where shrines, gates, and towers offer a spiritual break and plenty of opportunities for photo taking. Although there were temples in this location over 700 years ago, the current pagoda was completely reconstructed and expanded in 2007.
The manicured gardens of the pagoda include small ponds, bells, statues (including two large mythological creatures guarding the entrance through the gate), and plenty of secluded places to visit to sit and enjoy the cool breeze and the stunning views over the water.
10. Discover the Vung Vieng Floating Village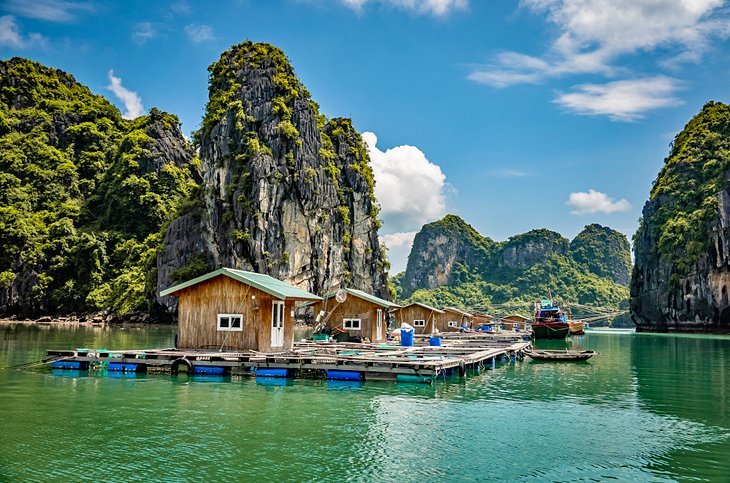 Vung Vieng is a fishing village in the heart of Bai Tu Long Bay. Originally set up in the 19th century by local fishermen, it is home to over 300 people today–some of whom actually live inland now but still spend most of their time in the village for work. And while it's the largest of four similar floating villages in the Halong Bay area, Vung Vieng has also remained the most authentic–the village's main earnings still come from sustainable fishing rather than tourism.
Luckily for tourists, the village has also converted one of its larger floating buildings into an open center, in which visitors can attend workshops or stop by to purchase handicrafts and food.
It's also possible to get a peek into some of the houses to see what they look like and even spend the night in one of the homes (and do some night fishing with the locals) for the ultimate authentic experience.
The village can only be approached on small rowing boats, often manned by the local residents themselves.
11. Visit Tuan Chau Island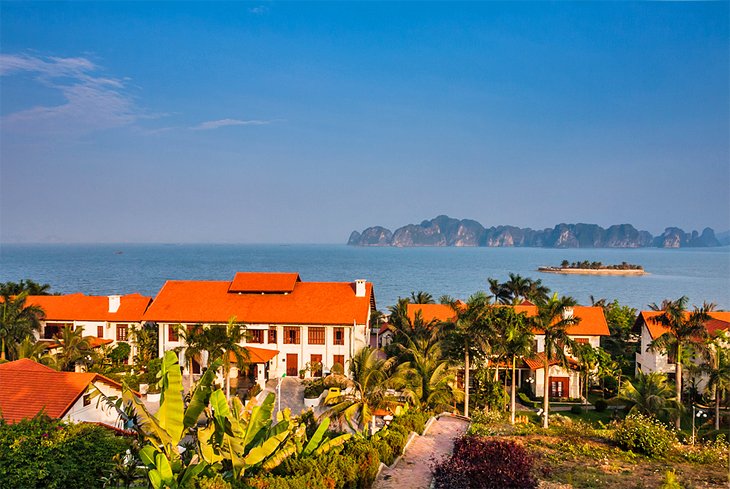 Located just off the coast of Halong City, this tiny island of just 1,500 residents is one of the most developed tourist destinations in the area. Tuan Chau can be reached via a two-kilometer-long road that connects it to the mainland, which has made it a lot easier and convenient for visitors to stay here and get "the island experience" without having to worry about transportation.
A well-developed resort destination, the island has a golf course; beach villas; a number of restaurants; and a beautiful marina, where cruises often stop so travelers can catch a dance performance or grab some souvenirs.
A nature reserve on the island offers chances for trekking and camping, while the coastline is perfect for kayaking, water skiing, and parasailing.
12. Escape to Lan Ha Bay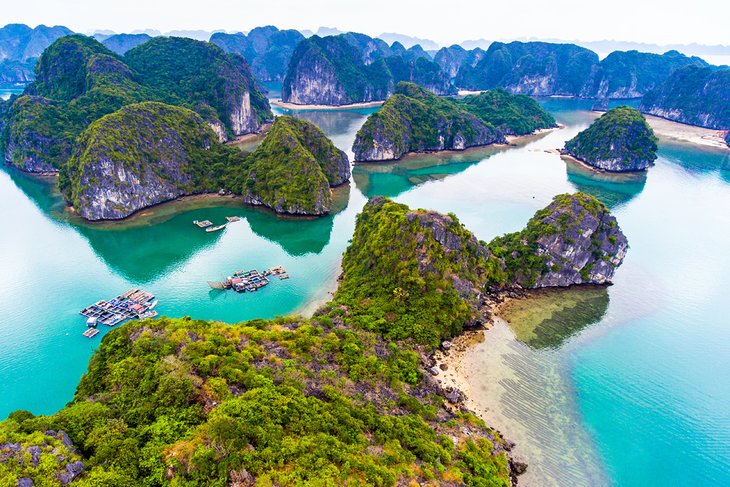 Located just south of Halong Bay, Lan Ha Bay is a lot quieter, smaller, and more untouched than its very famous neighbor. Over 400 islets and outcrops dot the sea in Lan Ha Bay, so there's certainly much to do here – photographing the dramatic landscape of karst formations, exploring caves (Trung Trang Cave is particularly beautiful and unique) and pristine beaches; and quiet, almost private, sea kayaking trips around the islands are just the beginning.
If you're visiting the area for more than a couple of days, it makes sense to visit both Halong Bay and Lan Ha Bay. Go ahead and take a cruise on Halong Bay, so you can see the most beautiful islands and famous spots – then get ready to discover the more than 100 calm, secluded beaches that make up Lan Ha Bay, where you can chase sunsets and enjoy the golden sands almost on your own.
13. Sample the Local Food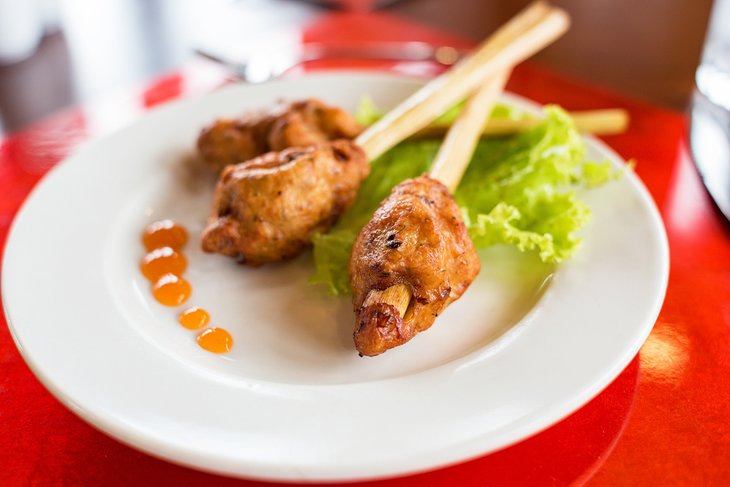 It should come as no surprise that Halong Bay is famous for its seafood – but you will still be surprised at the many ways the locals have managed to come up with unique dishes based on fish.
If you're up for trying something different, Halong Bay also has a number of unique dishes that will please both vegetarians and meat-eaters alike, including the famous local dish known as Banh Gat Gu (nodding cake), which is basically a rolled-up rice flour cake filled with all kinds of different ingredients. Just ask what's inside before you grab a plate of them – they're served everywhere in Halong Bay, so keep trying until you find a filling you like.
Map of Things to Do in Halong Bay
More Related Articles on PlanetWare.com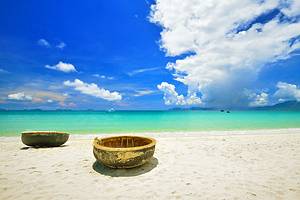 Exploring Vietnam: Halong Bay is just one of the great destinations to visit in Vietnam. Other popular cities include Hanoi and Ho Chi Minh City. If you're looking for beautiful beaches, see our guide to the best beaches in Vietnam. And if you are planning more of a vacation than a backpacking trip, see our list of the top beach resorts in Vietnam.