8 Top-Rated Street Markets in Hong Kong
We may earn a commission from affiliate links ()
For serious shopping, most visitors head to the mall, but for bargaining, sightseeing, people watching, and fun, wandering through Hong Kong's street markets is the best option.
Many of these are not just tourist markets, they're where locals shop and daily life plays out. You can find everything from trinkets and souvenirs to produce, clothing, and even exotic birds and fish.
And although it's highly unlikely you are looking to purchase a live bird on your vacation, you may find some good bargains and pick up a few unique items. Either way, they're all interesting places to see.
The best markets and the ones most suitable for tourists, are located in Kowloon, but they're easy to reach from anywhere in Hong Kong via the metro (MTR). For more details, see our list of the top street markets in Hong Kong.
Note: Some businesses may be temporarily closed due to recent global health and safety issues.
1. Temple Street Night Market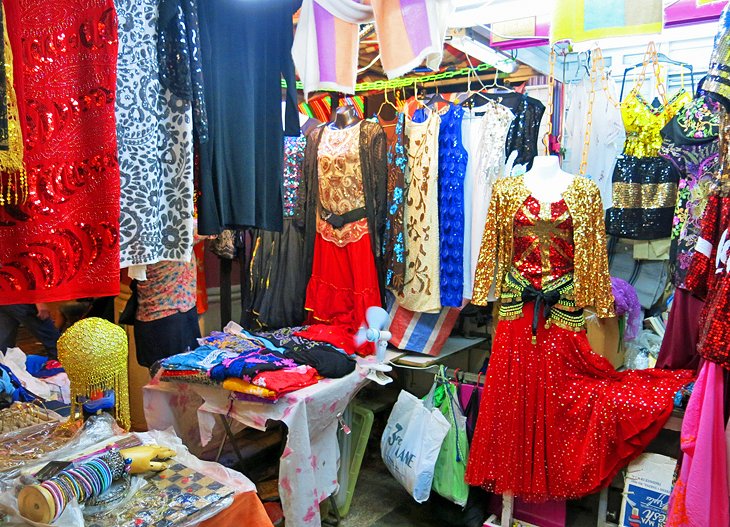 As dusk falls on Hong Kong, the vendors of the Temple Street Night Market begin setting up for the long evening ahead. This unassuming street transforms into a tightly packed market of three-sided tents and fold-up tables, draped in everything from purses, dresses, and trinkets to electronics and housewares.
If you have time to visit only one market while you're in Hong Kong, the Temple Street Night Market is the place to go and by far the most popular. The market opens at around 6pm, and crowds start arriving shortly thereafter.
At the intersections along Temple Street, and in the establishments tucked in behind the street-side stalls, you can also find good food. While the dining experience may be limited to plastic tables and chairs, some of the restaurants here are worthy of a repeat visit.
Temple Street Night Market is located in Kowloon. If you are staying in the areas of TST or Mong Kok and you are up for a long stroll, you can walk to Temple Street, or you can take the metro (MTR) to Jordan Station and take exit A. From here, just follow the well-marked street signs.
If you are looking to stay near the market, the Novotel and the Eaton Hotel are good-value hotels, just a couple of blocks away.
2. Bird, Fish, and Flower Markets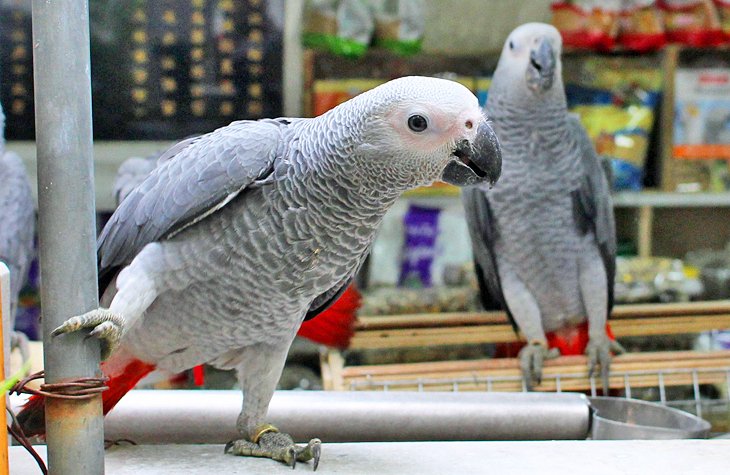 The Yuen Po Street Bird Garden, the Fish Market, and the Flower Market are all within easy walking distance of one another, and while you are in the area, you might as well see all three.
The fish and bird markets are both live markets, where you can purchase a bird in a cage or a live fish in a baggie. The flower market, as you might expect, sells fresh cut flowers and plants.
Most of the vendors have permanent shops along the streets with goods set up on the sidewalks in front of the stores. All three of these markets are interesting, visually stimulating, and fun places for photography.
The Yuen Po Street Bird Garden, also called the Bird Market, is more of bird park, not unlike a dog park, rather than just a market. On one side of the market, live birds in cages or on perches line the walkway and are available for purchase.
On the opposite side, bird owners come to let their birds hang out with other caged birds, while the owners sit around socializing. Cages are hung up on hooks or placed on fence posts, where the birds can chirp and sing at each other.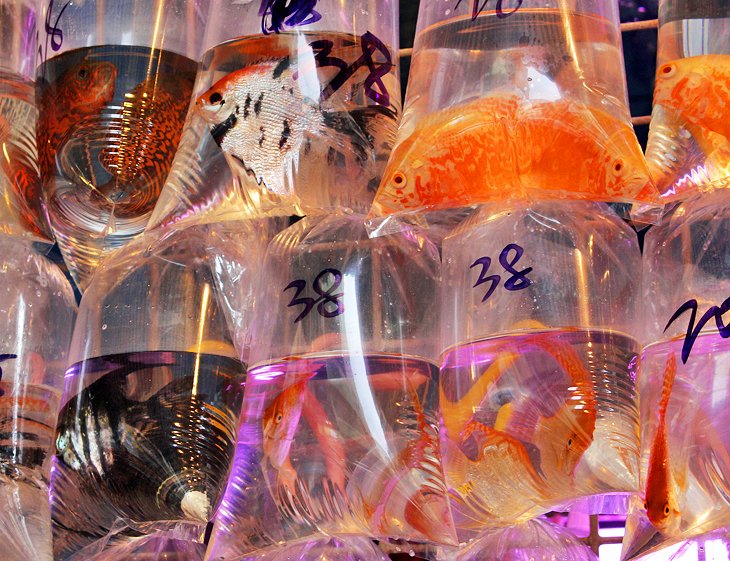 The Fish Market is more like a fish store sidewalk sale. The street here is lined with fish stores that display their fish inside and on the sidewalk. In the stores are traditional aquariums and tanks, but on the street, the colorful, live fish hang from pegboards in individual baggies, bound for home aquariums. Crowds gather in front of the displays as shoppers examine the selection and make their purchases.
For a colorful display of floral arrangements, with the wafting scent of fresh-cut flowers, take a walk through the Flower Market. This market will lighten anyone's mood.
All three of these markets are in the Mong Kok area of Kowloon, north of the Ladies Market. If you are taking the metro, get off at Prince Edward station and use exit B1.
The Flower Market and the Bird Garden are right next to each other, just a few blocks east of the station. The Fish Market is just south of these, on Tung Choi Street. You can walk through the first two, then head south, through the Fish Market, and then hop aboard the metro at Mong Kok station on Argyle Street.
The Cordis is a wonderful luxury hotel in this area, just a couple of blocks from the Mong Kok MTR station. Even if you aren't interested in staying here, the hotel's The Place restaurant offers a tasty buffet lunch.
3. Reclamation Street Market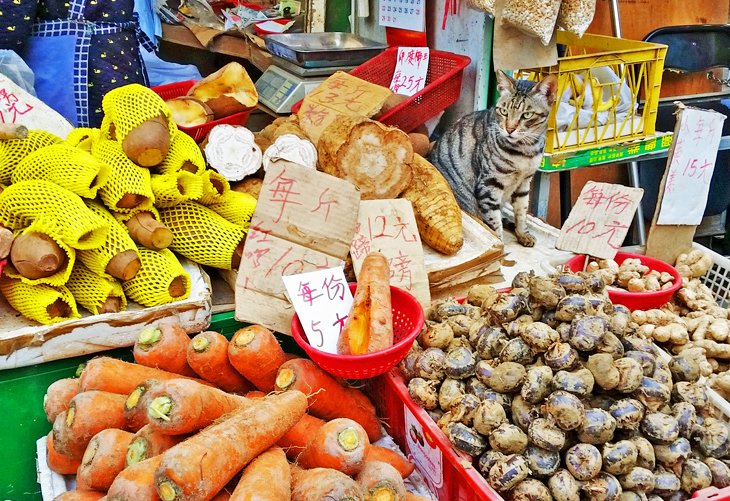 Unlike many of the other markets, which are active at night, the Reclamation Street Market is a day market and lively in the morning. This is a locals' market, where people come to buy fresh produce, fish, cured meats, clothing, and a variety of everyday items.
As a traveler, it's a good place to pick up some fresh fruit, but mostly it's just a pleasant place to people watch and go for a stroll. The street is wide enough that you don't have to squeeze by other shoppers, you can simply wander around and take in the sights. This is a great place for a morning walk, before the heat of the day sets in. You'll find few tourists and no sales pressure.
Reclamation Street in Kowloon runs parallel to Nathan Road and is very close to the Temple Street Night Market.
4. Ladies Market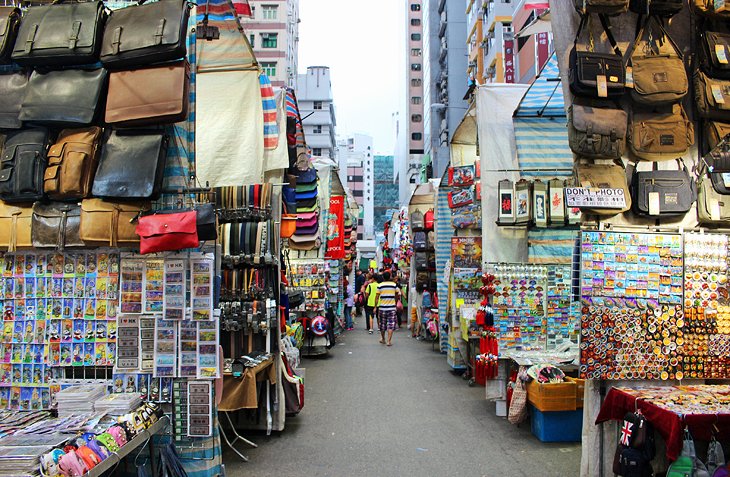 The Ladies Market is similar in nature to the Temple Street Market. In fact, you may find yourself wondering if there is any difference at all, apart from the location. Purses, jewelry, scarves, toys, and fashion accessories dominate the market. It's called the Ladies Market, but men can find items of interest here as well.
The Ladies Market is located along Tung Choi Street, just a couple of blocks east of Nathan Road, in the Mong Kok district of Kowloon.
The market does not technically have any set hours but it is a night market. Some vendors set up in the early afternoon, but most of the action here begins after 4pm, when the road is closed to traffic. It runs until about 10 or 11pm.
5. Cat Street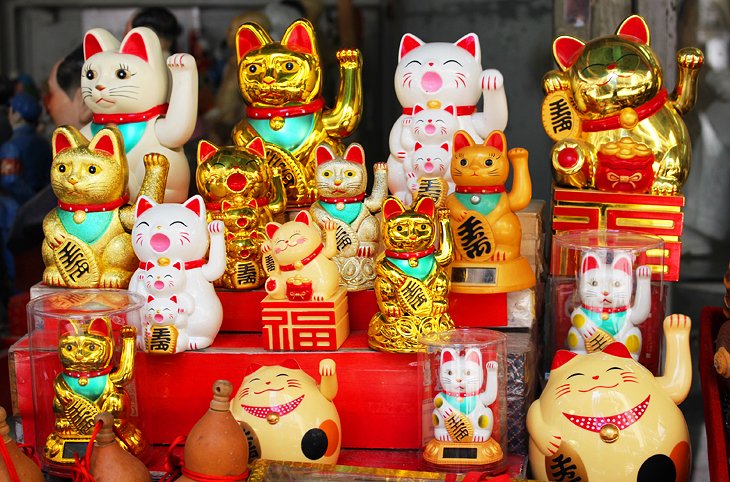 If you are on Hong Kong Island and are looking to pick up a souvenir or just kill a little time, wander through Cat Street Market, located along Upper Lascar Row. Unlike some of the other markets mentioned here, this is a tourist market, not a locals' market.
It is touted as the place to go for antiques and art galleries, but you can find all kinds of tourist trinkets, souvenirs, jewelry, and other inexpensive treasures.
Vendors set up tables and stalls in the street, but this is not the tightly packed scene you find at the Temple Street Night Market or the Ladies Market. Cat Street Market operates during the day, but don't arrive before noon, or you will only find a small selection of vendors set up.
6. Jade Market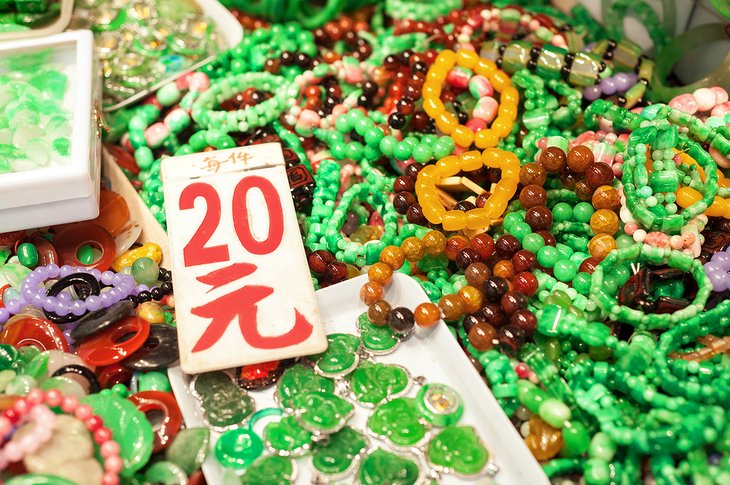 Jade is an important stone in Chinese culture and as a result, it is carved into a wide variety of shapes and sizes. The best way to see all this is a visit to Jade Street.
Jewelry is the star of the show here with necklaces, earrings, pendants, and bangles. You'll also find various figurines in a range of sizes. Do your research on what quality jade consists of before visiting.
The market is found in the Yau Ma Tei district of Kowloon on Kansu Street.
7. Stanley Market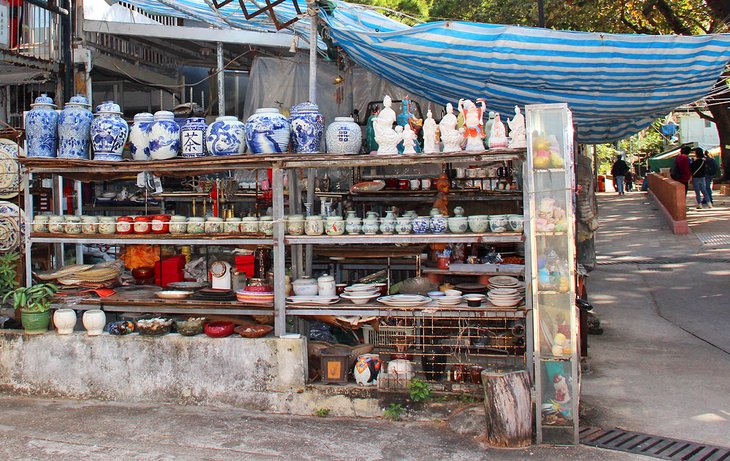 Should you find yourself over in Stanley be sure to wander into the warren of alleyways to find the local market. Here, you'll find trinkets, toys, apparel, and small electronics.
Stanley Market is just back from the waterfront, so if you work up an appetite from all your shopping, settle into one of the seaside eateries and grab a bite to eat.
8. Sneakers Street
If you've done enough walking during your visit to Hong Kong that you now need a new pair of shoes, Sneaker Street might be worth a stop. You can find every kind of athletic footwear you could ever imagine all in one spot.
All the major brands are on sale, along with many you've probably never heard of. One weird twist is that the vendors will not let you try on the shoes, so make sure you know your foot size before visiting.
The market is located on Fa Yuen Street in Mong Kok. Take the MTR and get off at the Mong Kok station and use exit D3.
Frequently Asked Questions
Do I need to bargain?
Most definitely. The vendors at the markets are professionals; they sell things every day to tourists from around the world. Bargain hard, try a price a third of the asking, and start from there.
Don't feel that you are missing out on an item, lots of the the vendors sell the exact same things, and it's more than likely you'll find the item you desired farther along with a vendor more willing to negotiate.
What is the best time to go to the markets?
Most markets are active at night, but a few operate during the day.
For night markets, an ideal evening would be to head out to the market around 7pm, find a restaurant, and enjoy a sidewalk meal. Dining at the night market, with its hustle and bustle, is an experience, and food can be outstanding.
After dinner, stroll around the various kiosks and find the perfect item. The markets run late into the evening, so you could definitely start your evening around 8 or 9pm should you wish.
Do the vendors take credit cards?
Yes, but cash is definitely preferred and will get you a better price.
Are the Hong Kong markets safe?
Yes, the markets are safe. They are thronged with locals and tourists and have a fun vibe. That said, be careful with your wallet or purse as you would in any crowded setting.
More Related Articles on PlanetWare.com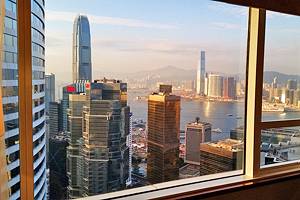 Accommodation in Hong Kong: If you are looking for a quality hotel in any price range or wondering where you should stay in Hong Kong, check out Where to Stay in Hong Kong: Best Areas and Hotels. This can help you sort through the options in each category and offer tips on where to base yourself, depending on your interests.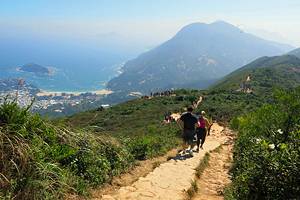 Hong Kong Outdoors: It's tempting to think of Hong Kong as just a big city, but you can also find lush, undeveloped areas to explore, and plenty of space to find tranquility in nature. Discover some of the best hikes in Hong Kong or find out where to go to enjoy the best beaches in Hong Kong.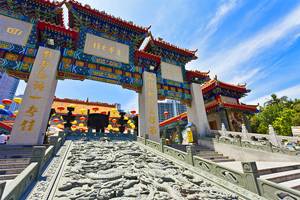 Sightseeing in Hong Kong: Looking for other things to do in Hong Kong and wondering where to start? See our guide to the Top-Rated Tourist Attractions in Hong Kong.