11 Top-Rated Tourist Attractions in Hangzhou
Hangzhou ("Hangchow"), the capital city of the province of Zhejiang, lies at the southernmost end of China's famous Grand Canal — a UNESCO WORLD Heritage site and, at 1,776-kilometers, the world's longest canal — which connects the city to Beijing. Thanks to the canal and the city's location at the foot of a picturesque mountain range, Hangzhou is also one of the country's most popular tourist destinations and makes a great jumping-off point for travelers seeking a taste of Eastern China's rich cultural heritage.
Considered more tranquil than many of China's other big cities, the downtown core is built up around the beautiful West Lake with its many old shrines and temples, romantic bridges, and pagodas, all of them popular to see at night when they're lit up. Hangzhou was famously described by Marco Polo as the most beautiful city in the world and is also known as the Silk City for its long tradition of manufacturing the material — a tradition that lives on in its many silk mills and markets. Today, the city is also popular for its famous Dragon Well tea (lóngjing chá), hand-picked twice a year and celebrated, like its silk production, in a variety of splendid attractions. Explore more with our list of things to do in Hangzhou.
1. West Lake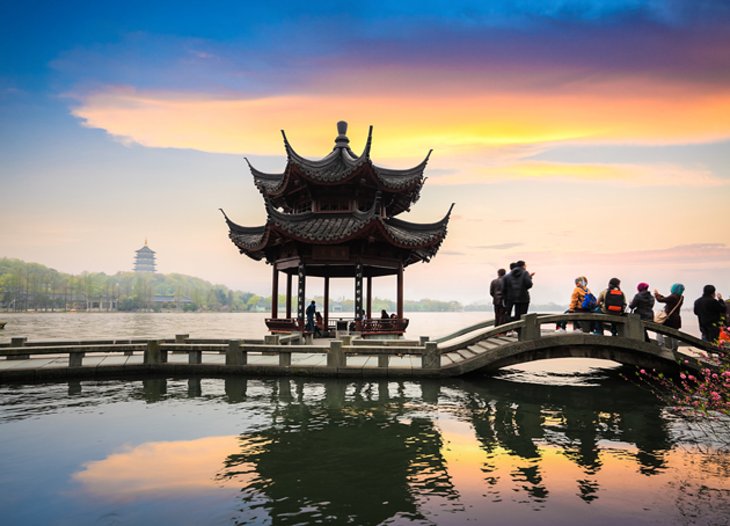 The focal point of a visit to Hangzhou is beautiful West Lake, around which much of the oldest part of the city is centered. Surrounded by hills and historic temples, this large lake covers an area of nearly six square kilometers and is divided into five sections by the Su and Baidi Causeways: the Outer Lake (Wai Hu), the North Inner Lake (Beili Hu), the West Inner Lake (Xili Hu), the South Lake (Xiaonan Hu), and Lake Yue (Yue Hu). The nearly three-kilometer-long Su Causeway was built in 1089 and is itself one of West Lake's most important attractions as it links its north and south banks and is tremendously popular for strolls, particularly in spring when its flowerbeds and peach trees are in bloom (an especially pleasing sight when viewed while taking a boat ride across the lake).
It's also home to many fine old bridges, most notably the Broken Bridge (Duanqiao) linking the Baidi Causeway with the shore. Other highlights are the Pavilion of the Autumn Moon (Pinghu Qiuyue) from 1699, and the Pavilion of the Cranes built around 1300 in honor of poet Lin Hejing, who died in 1028 and whose grave lies nearby. Also worth visiting are the Isle of the Hill of Solitude (Gushan) with its fine views and museums; Little Paradise Island with its four mini-lakes linked by the zigzagging Bridge of the Nine Arches and famous for its lotus blossoms, water lilies, pavilions, and terraces; and the Bay of Flowers (Huagang), a 50-acre park dating back to the 12th century. Another interesting attraction here is the West Lake Museum with its many exhibits related to this important body of water and its influence on the city. Also, be sure to catch one of the fun West Lake musical fountain performances, held each evening at 7pm.
If you have access to a car or aren't averse to taking a tour bus, try to add Qiandao Lake to your travel itinerary. Located 80 kilometers southwest of Hangzhou, this manmade lake is one of the most picturesque settings in an already lovely location and serves as a great place for hiking and water-based activities such as swimming and pleasure boat rides, as well as adventures including diving around the famous Submerged city of Shi Cheng.
2. Home of the General: Yue Fei Temple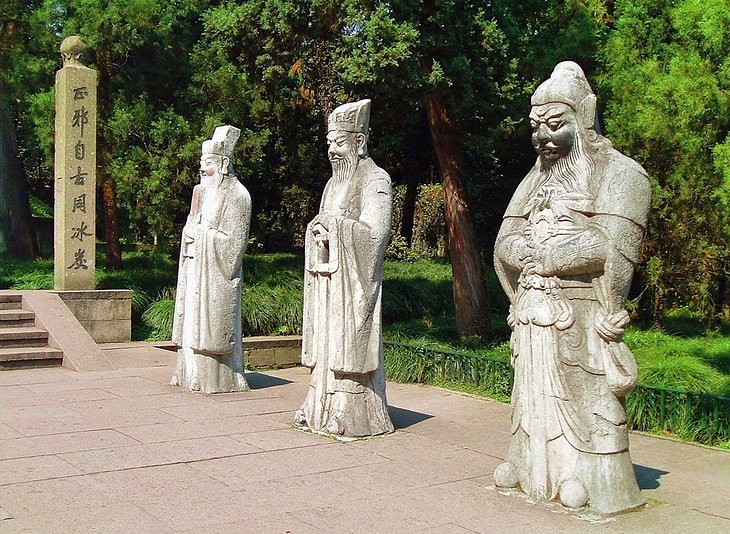 If you're only able to visit one of the many fine architectural structures on West Lake, make sure its Yue Fei Temple (Yuewang Temple). Located at the northern end of the Su Causeway, this splendid old temple was built in 1221 in honor of the much-revered General Yue Fei. Despite having successfully repelled several Tartar raids, he was falsely accused of high treason and, along with his son, was hung in 1142. Later, he was cleared of the charges and reburied on the site of the temple built in his name. Highlights of a visit include a statue of Yue Fei in the Temple Hall, the ceiling of which is richly decorated with cranes, a symbol of immortality. The temple also contains 86 stone plaques on which Emperor Gaozong and his wife engraved classical texts by Confucius, while the most valuable treasure is a stone celestial globe dating from the time of the Five Dynasties (907-960). Also worth a visit is the nearby 500-acre Hangzhou Botanical Gardens with 4,000 species of plants, a splendid herb garden, and numerous different kinds of bamboo.
3. Pretty Pagodas: Liuhe, Leifeng, and Baochu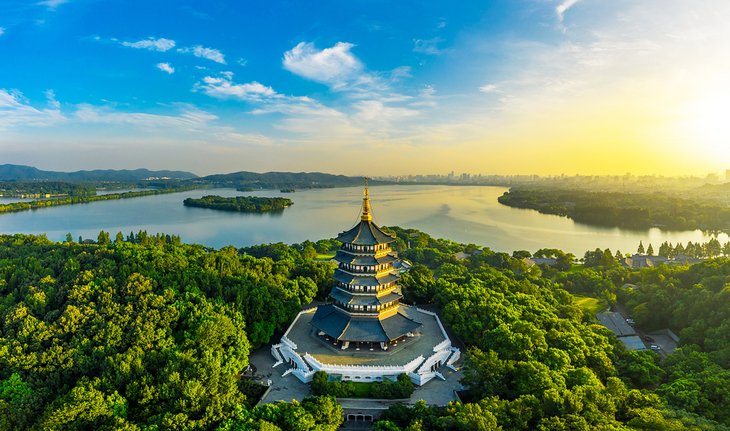 Just eight kilometers south of Hangzhou on the north bank of the Qiantang River, the exquisite 60-meter-high Pagoda of the Six Harmonies is well worth making the short commute to visit. Tracing its roots back as far as AD 970 to the former pagoda, believed to have stood 150 meters tall and to have served as a lighthouse, the present structure was built in 1899 with the original ancient brick core retained and covered in wood cladding (also of interest are the many replicas of other pagodas from across China). A climb to the top of the building, accessible via a staircase, is well worth the effort for its superb views over the Qiantang River and its 1,322-meter road-and-rail bridge, built in 1937. Also worth a visit is the city's Leifeng Pagoda (Léi Feng Ta), a splendid five-story octagonal tower overlooking West Lake, which dates from AD 975, and the ancient stone Baochu Pagoda, perched atop Precious Stone Hill.
4. Lingyin Temple and The Peak that Flew from Afar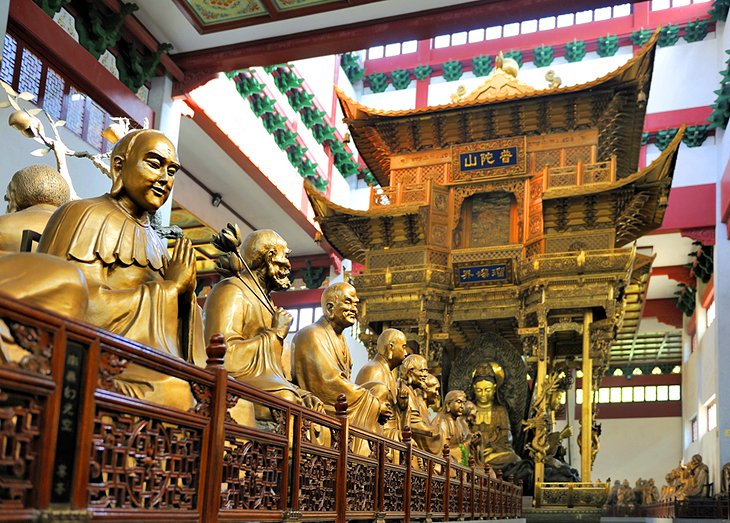 Another of Hangzhou's many splendid historic sites is the Lingyin Temple (Língyin Sì), the Temple of the Soul's Retreat, dating from 326 BC and one of the most famous Buddhist monasteries in China. Highlights include the Hall of the Celestial Kings with its many fine 12th-century sculptures, including those of the Four Celestial Kings, and the 34-meter-high Sumptuous Hall of the Great Hero (Daxiong Baodian), famous among pilgrims for its 20-meter-tall gilded statue of Buddha made of 24 pieces of camphor wood. Also notable here is The Peak That Flew from Afar (Feilai Feng), a mountain riddled with numerous caves and niches, the latter containing 380 Buddha statues dating from the 10th century, including the three oldest examples dating from AD 951 and found in the east wall of the Qinglin Cave. To the north of the Temple of the Soul's Retreat is the North Peak (Beigao Feng) with its superb views of West Lake and the surrounding scenery.
Address: Zhejiang, Hangzhou, Xihu
5. Longjing Tea and the Dragon Well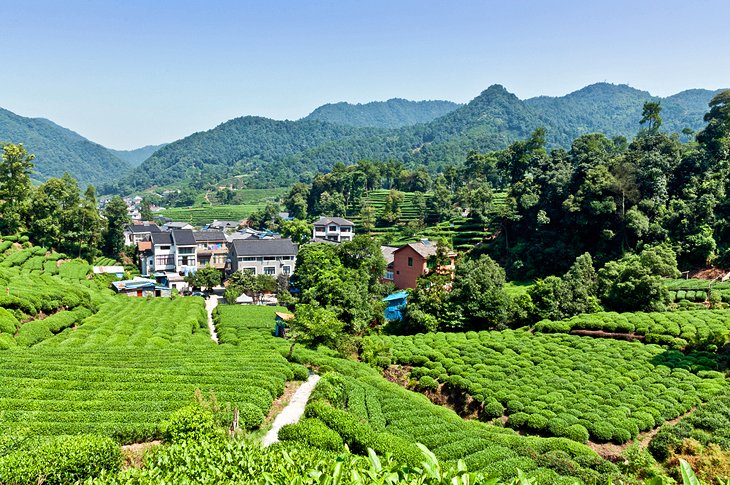 Hangzhou is famous the world over for its local Longjing tea (lóngjing chá), named after the small village just three kilometers southwest of West Lake where it's grown. The picturesque village of Longjing — literally translated as Dragon Well - sits amid some of China's most beautiful countryside and is easily accessible from Hangzhou. A highlight of a visit to the village and its many plantations is the chance to sample its traditional teas at source, the unique flavor of which is credited as coming from the ancient spring that provides water for the village's well, the Dragon Well. Tours take in one of the tea factories in which the fresh tea leaves are refined, processed, and packed, as well as the superb China National Tea Museum, highlights of which are numerous exhibitions related to the production of tea, as well as the many ceremonies surrounding its consumption.
Address: 88 Longjing Rd, Xihu, Hangzhou, Zhejiang
6. Qinghefang Ancient Street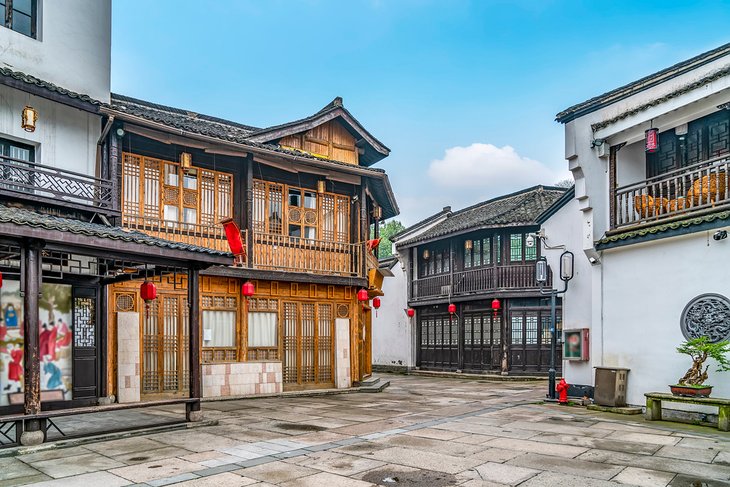 Be sure to allocate at least a few hours in your Hangzhou itinerary to wander the city's splendid historic district, centering on Qinghefang Ancient Street (qing hé fang gu jie). An easy walk from West Lake, this always bustling and relatively unspoiled area provides a glimpse into what city life in China must have been like in the old days. In addition to its many traditional restaurants and teahouses, the area is a hotbed of creative culture, with countless street artists demonstrating ancient writing skills and art techniques, along with boutique stores and market stalls selling everything from silk products to tea (Longjing, of course). Be sure to take a peek into some of the many unchanged side alleys leading off Qinghefang for a look at how Chinese tradesmen and craftsmen have lived through the centuries.
7. The Chinese National Silk Museum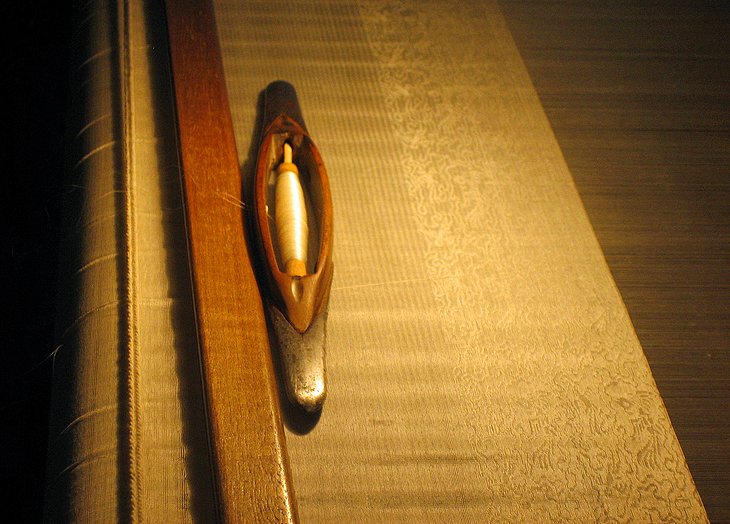 Hangzhou's famous silk is celebrated across the city in its many markets and stores, as well as its cultural and arts facilities. However, the best place to learn more about this ancient industry's impact on the city is the superb Chinese National Silk Museum. Just a short hike from West Lake, this world-class facility — the largest of its kind in the world — offers a number of fascinating displays on the history of the country's most important textile through the centuries, covering everything from its manufacture to the many products made from it. Highlights are the numerous silk relics, including works of art and clothing, as well as exhibits on silk's importance as an item of trade and the famous Silk Road.
Address: 73-1 Yuhuangshan Rd, Xihu, Hangzhou, Zhejiang
8. Magnificent Mount Mogan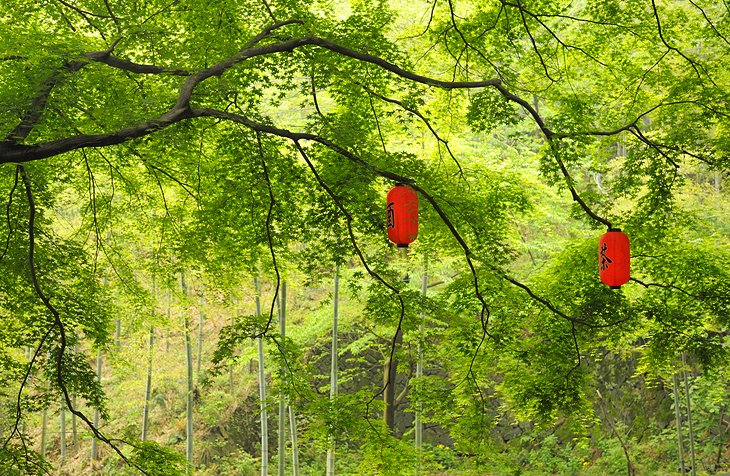 One of the best excursions from Hangzhou (and easily accessible by public transit and tour buses) is to Mount Mogan (Mògànshan), a 719-meter-tall mountain about 50 kilometers northwest of the city. Taking its name from a legendary couple who lived here in the 5th-century BC — both gifted blacksmiths who devoted their lives to making two incomparably beautiful swords for the emperor — it's highly regarded for its outstanding natural beauty and has long been a favorite retreat for the country's social elite (Chiang Kai-shek had a place here). In addition to sightseeing, other popular activities include hiking and biking with many stopovers at quaint local inns or smaller hotels set up in some of the older villas built in the early 20th century. A good jumping-off point is the small town of Moganshan, home to many traditional restaurants and contemporary lodging options.
9. Wuzhèn Water Village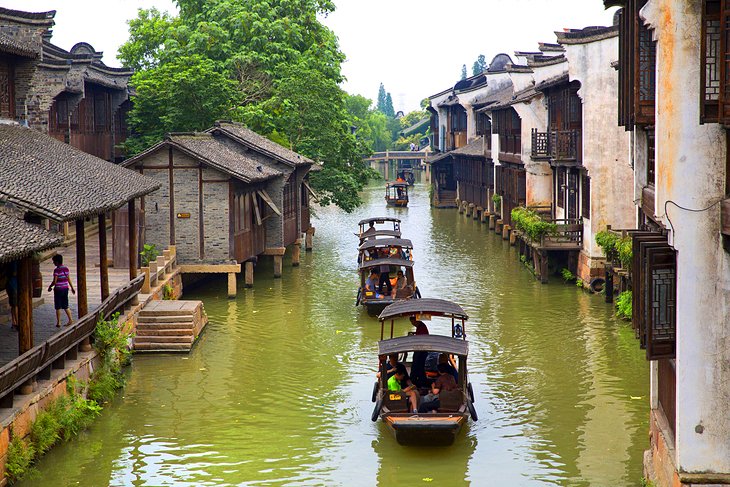 An hour's commute northeast of Hangzhou is Wuzhèn, one of China's most famous "water villages." Like a much smaller version of Venice, Wuzhèn is crisscrossed with waterways both wide and narrow, each bustling with long boats steered by locals punting along the water with large poles and carrying everything from vegetables and livestock to tourists. This popular tourist destination is split into six unique districts, each focusing on a particular facet of the area's rich culture, including those dedicated to crafts and workshops, traditional housing, food and drink, arts and entertainment, as well as a shopping district. Exploring the town is easy thanks to a variety of well-marked routes leading to whatever particular area most interests you, and it's easy to spend hours wandering its many paths and bridges and exploring its many points of interest (be sure to partake in a boat ride). The town's most popular crossings are the Tongji and the Renji Bridges, famous because either can be viewed through the other's arch.
10. Running Tiger Spring
Also known by the romantic name of Dreaming of the Tiger Spring, Running Tiger Spring (Hupáomèngquán) is just five kilometers south of West Lake and is one of China's best-known springs. Legend has it that the spring was discovered by a monk around AD 819 who, during a time of drought, dreamed he would be led to a source of water by two tigers. To celebrate the discovery, a number of fine statues of tigers have been built overlooking the springs and its curative mineral waters, which flow at an impressive 80 gallons per second (it's also famous for enhancing the flavor of locally grown Longjing tea, served in a nearby teahouse and across the region). Note that the surface tension of the water is unusually high and can be tested by placing a small coin on the surface and watching it float.
Address: 39 Hupao Rd, Xihu, Hangzhou, Zhejiang\
11. Fun Children's Attractions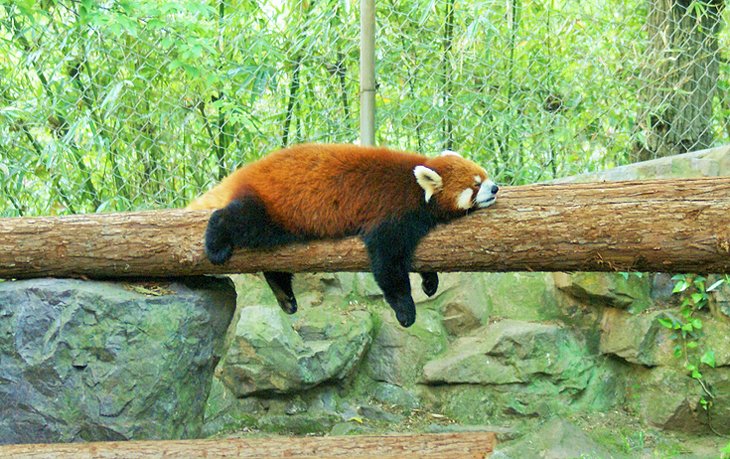 Along with its many more serious attractions — it's famous for its fine pagodas and temples — Hangzhou also offers a variety of fun kid-centric points of interest. Few youngsters would want to miss the opportunity to visit Hello Kitty Park, a theme park located an hour away in Anji, focused exclusively on one of Japan's most famous animated characters. The first of its kind to open outside of Japan (and the biggest so far), you can enjoy exploring six areas, each with its own uniquely themed kids rides, character meet and greets, and, of course, merchandise.
The Hangzhou Zoo is another attraction that's sure to please kids. Located just a short distance from West Lake, the 50-acre site is home to more than 2,000 creatures representing some 200 species. While the highlight, of course, are the zoo's adorable giant pandas, you'll enjoy the opportunity to see other native animals, including South China tigers, golden monkeys, red-crowned cranes, and Asian elephants.
Finally, consider taking the kids to the National Wetland Museum of China, near the Xixi National Wetland Park. Here, you'll be able to experience numerous displays related to the area's unique environment, as well as wetland area's from other regions around the globe. Other notable features you'll discover as you wander the sprawling site are displays of historic dragon boats, a traditional fishing village, rare lotus flowers, and plenty of bird watching. There's also an on-site restaurant.
Where to Stay in Hangzhou for Sightseeing
Luxury Hotels: Thanks to its popularity as a tourism destination, Hangzhou is home to a good number of luxury hotels that are sure to please those who enjoy a little indulgence. One of the top-rated options is the five-star Hangzhou Marriott Hotel Qianjiang, which boasts superb river views, floor-to-ceiling windows, serene room decor, as well as world-class amenities, including a full-service spa and inviting pool. A similarly high level of service and pampering can be enjoyed at the Four Seasons Hotel Hangzhou at West Lake, overlooking the city's famous West Lake. Here you'll enjoy a picturesque setting with many quiet gardens in which to relax and unwind, a full-service spa, and elegantly appointed suites and rooms... all just steps away from the water. The Banyan Tree Hangzhou is another deluxe five-star offering and is popular for its unique water-village theme set within view of Xixi National Wetland Park, a beautiful urban wetland area.
Mid-Range Hotels: Popular mid-priced accommodation options include Courtyard Hangzhou Wulin. Part of the internationally-renowned Marriott group of hotels, this property features bright modern décor in its rooms, a casual café, and an indoor pool. The East Hotel Hangzhou is a great choice for those seeking something a little more intimate. This affordable boutique hotel features well-appointed rooms with spacious bathrooms and great amenities including free use of bikes to explore the vicinity. Also worth booking is the Angsana Hangzhou, a high-end property offering great prices. It's located in the Xixi National Wetland Park and is notable for its authentic Chinese water-village experience and great amenities (including an outdoor pool and yoga classes). It also offers a number of larger suites well-suited to families traveling with kids.
Budget Hotels: Brightly decorated inside and out, the Jinjiang Inn Central Hangzhou West Lake Avenue Nansong Yujie offers excellent budget-priced accommodations within an easy stroll of the famous West Lake. Other notable features of this quiet hotel (it faces a pedestrian-only street) include free parking and polite multilingual staff. Other contenders in this category are Huguang Hotel Hangzhou, which offers comfortable and clean rooms close to the city's top attractions, and Jinjiang MetroPolo Hangzhou East Railway Station, offering helpful staff and a great location close to public transit.
Tips and Tours: How to Make the Most of Your Visit to Hangzhou
Personalized Tours of West Lake: Widely regarded as one of China's most picturesque cities, Hangzhou is a delight to explore at a leisurely pace. In addition to its fine cityscapes, the area contains a number of important UNESCO-listed landscapes, most notably beautiful West Lake. Here, you can enjoy an idyllic cruise before strolling around the many fine parks and gardens dotted along its shorelines, including the fabled Flower Harbor Park. These and other Hangzhou attractions, such as Meijiawu Tea Village and Lingyin Temple, can be enjoyed as part of a personalized Hangzhou Sightseeing Private Full-Day Tour, which takes in the best of West Lake (and you set the pace). Other features of this fun tour include a traditional lunch with a local farming family in the picturesque village of Amanfayun (pickup and drop-off are also included).
A World of Water in Wuzhèn: Another big draw is wonderful Wuzhèn Water Village. Located an easy one-hour drive northeast of Hangzhou, Wuzhèn is probably the best-known (and certainly the most visited) of China's many "water villages," idyllic communities built around a network of canals, which have, in many respects, remained untouched over time. In order to ensure you can make the most of a visit with a minimum of fuss (someone else gets you there and takes care of admissions, etc.), consider booking the services of a professional tour guide. A great option is the splendid Wuzhen Water Town Day Tour from Hangzhou. In addition to getting you to and from the village, these full-day guided tours (English-speaking guides provided) cover such highlights as the fascinating Hundred-Bed Museum, Hongyuan Tie Dye, and traditional cultural activities such as a shadow puppet show. Lunch is also provided.
More Related Articles on PlanetWare.com
Shanghai: Just a two-hour drive northeast of Hangzhou is the mega-city of Shanghai. But don't be put off by its immense size. The largest city in the country offers plenty of fun things to do, including some unique points of interest that, once you're here, seem as far removed from a bustling modern metropolis as could be imagined. The most notable of these is the magnificent Bund, a nearly three-kilometer-long promenade located on the west bank of the Huangpujiang River. The Bund's pleasant European ambience does draw the crowds, but this is offset by its many charming parks and greenspaces, where it's extremely easy to shut out the rest of the world.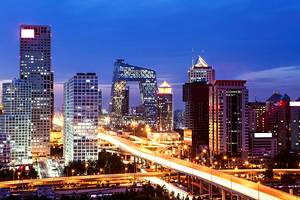 City Hopping: With an easy two-hour internal flight from Hangzhou will can be exploring the sites of Beijing, the nation's capital and a must-visit for its many magnificent historic attractions. Top things to do here include the famous Imperial Palace and the Forbidden City; Tian'anmen Square; and Beihai Park, popular for its connection to the city's ancient imperial gardens. A two-and-a-half-hour flight due west will get you to the historic city of Chengdu, best known as the home of the country's panda research, rescue, and breeding operations. If you are making the journey to the Chengdu Research Base of Giant Panda Breeding, be sure to also include in your itinerary a visit to the Wolong Nature Reserve, where you'll see these and many other creatures in their natural habitat.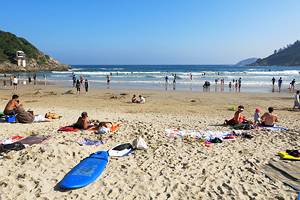 China Vacation Ideas: Other great destinations in China that are rich in attractions and should be included in your travel itinerary to this fascinating country are Dunhuang and Jiayuguan. These cities are tucked away in the remote northwestern corner of the country, but you'll be rewarded for your efforts with a unique opportunity to explore part of what was once the famous Silk Road, including the remarkable Mogao cave dwellings and the westernmost section of the Great Wall (the latter is a special treat as few tourists travel here). Also worth including in your itinerary is Hong Kong, where you can explore traditional markets or discover fine beaches and cityscapes.
More on China