21 Top-Rated Attractions & Things to Do in Chengdu
The city of Chengdu has played an important role in China's history for thousands of years. It is located in the province of Sichuan, one of the country's leading rice and wheat growing regions. It was under the Qin and Han Dynasty of around 316 BC that Chengdu became the political, economic, and cultural center of southwest China, as well as a hub for its breeding of silkworms and the weaving of brocade.
By the period of the Three Kingdoms from AD 220 to 280, Chengdu had become the capital of the state of Shu Han and, by the 8th century, it was an important center of trade, commerce, and industry, notable for its lacquered and silver filigree work. During the rule of the Five Dynasties from AD 907 to 960, Emperor Meng Chang arranged for large numbers of hibiscus trees to be planted along the town walls and streets, a tradition that continues to this day and provides the city with its nickname, Hibiscus City (Rong Cheng).
These days, Chengdu is a major industrial town and is undergoing a tremendous construction blitz. It's also a prime cultural and tourism destination, and is home to 14 colleges, including Sichuan University, as well as many traditional teahouses and tea gardens. And given the fact that, like most Chinese cities, Chengdu is a safe place for travelers, it's fun to explore at night, taking in cultural activities such as a Sichuan opera, and other fun things to do such as dining and shopping.
This dynamic city also serves as a great jumping-off point for day trips and explorations of the surrounding countryside. Find the best places to visit in and around the city with our list of the top attractions and fun things to do in Chengdu.
1. Feed the Pandas at Chengdu Research Base of Giant Panda Breeding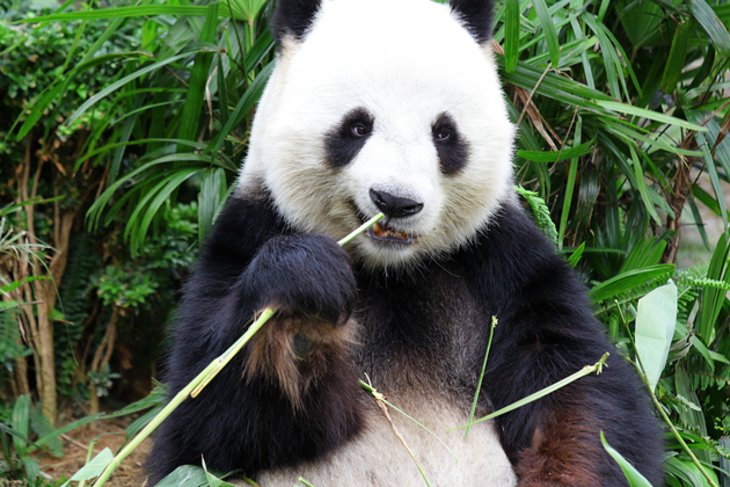 The Chengdu Research Base of Giant Panda Breeding — often shortened to Chengdu Panda Base — not only offers a chance to see these amazing creatures up close in their natural environment, it also provides an in-depth look at one of the world's most-loved and laid-back animals.
Established in 1987, the facility began with just six rescued giant pandas, a number that has since grown to 83 animals and seen some 124 panda births. Tours also include a chance to visit the on-site museum featuring exhibits dealing with the reproductive problems of these fickle bears. Often found sleeping, pandas are their liveliest during morning feeding times, so plan your trip accordingly.
A great way to get the most out of a visit is to join an organized tour, such as the Half-Day Chengdu Panda Breeding Center Tour. If you can, be sure to select the upgraded baby panda holding option for an unforgettable, close-up experience of these fascinating — and cuddly — creatures. Hotel pickup and transport is included.
For an even more memorable experience, consider taking the Panda Rescue Center Volunteer for a Day package. This unique experience allows you to prepare food for these lovable creatures, as well as receive a private tour of the facility (hotel pickup, transport, and lunch provided).
For a chance to see pandas in the wild, book a trip to the vast Wolong Nature Reserve, 130 kilometers west of Chengdu. Covering an area of 2,000 square kilometers, this superb conservation area is surrounded by mountains and is home to 60 different types of mammals, as well as 300 species of birds and 4,000 kinds of plants, including giant redwood trees. And, of course, pandas!
Address: 1375 Panda Road, Northern Suburb, Chengdu, Sichuan
Official site: www.panda.org.cn/english/
2. Take a Day Trip to the Leshan Giant Buddha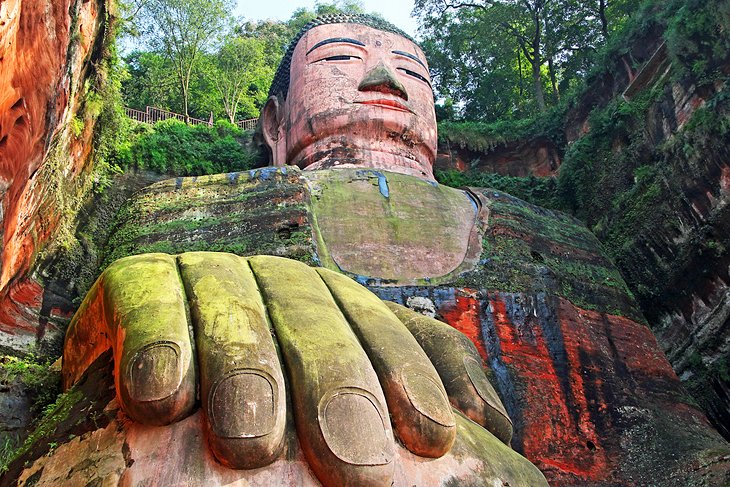 The Leshan Giant Buddha, a colossal stone statue of Maitreya, has been a UNESCO World Heritage Site since 1996. Standing 71 meters high and carved directly from the surrounding rock, this amazing feat was started by a Buddhist monk by the name of Haitong in AD 713. After his death, the work was continued by a number of other monks and artists until it was eventually completed in AD 803.
Today, the figure is the largest sculpture of Buddha to be found anywhere in the world and attracts pilgrims and tourists from far and wide. It's also responsible for the famous saying, "The mountain is a Buddha and the Buddha is a mountain."
One of the best ways to enjoy a hassle-free trip is to book a private tour, such as the first-rate Day Trip to the Leshan Grand Buddha from Chengdu. Highlights of this popular day trip include an English-speaking guide, who will lead you to a few different lookout points from which to view the Buddha, including from an optional river cruise, if you so choose. You'll also enjoy a private tour of Lingyun and Wuyou Temples. Included with your trip are lunch at a traditional Chinese restaurant, as well as pickup and drop-off from your hotel in Chengdu.
Address: 2345 Lingyun Road, Shizhong District, Leshan, Sichuan
3. Tour the Chengdu Wuhou Shrine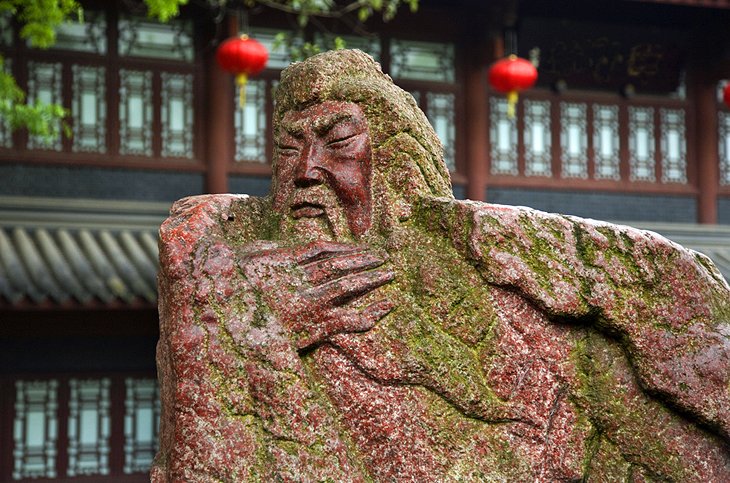 One of Chengdu's oldest temples, the splendid Chengdu Wuhou Shrine dates all the way back to AD 302. It was built in honor of Zhuge Liang, a famous strategist and statesman who later served as Chancellor of the Shu Han empire from AD 221 to 263. For his services, Liang was made a prince.
Rebuilt in 1672, this vast temple complex boasts many interesting features. The most interesting include its large central hall with a gilded clay figure of Zhuge Liang; the two small figures on either side of the prince are his son and grandson.
Also worth seeing is the temple dedicated to Liu Bei, ruler of the Shu Han Empire who's buried in the adjacent 12-meter-tall burial mound. Other notable features are the 28 terra-cotta statues of ministers, generals, and high officials of the state of Shu Han displayed in the east and west covered walks. There are also a number of ancient inscribed stone tablets featuring poems and writings from this important period in China's history.
Address: 231 Wuhouci Dajie, Wuhou District, Chengdu, Sichuan
4. See the Dujiangyan Irrigation System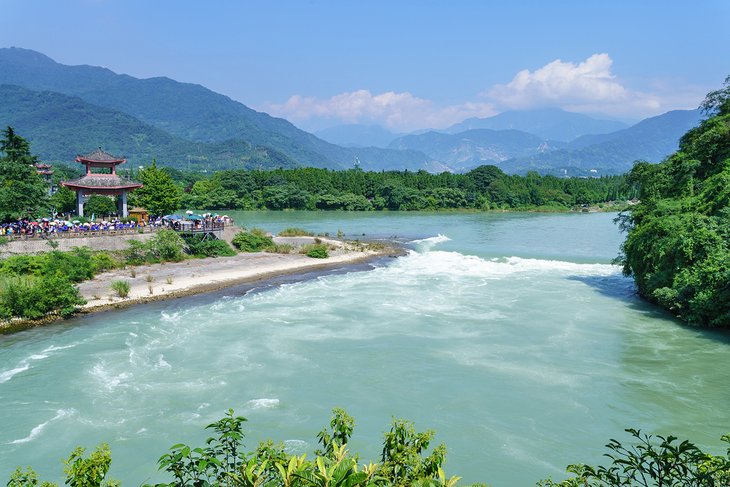 Constructed in 250 BC, the fascinating Dujiangyan Irrigation System is located near the town of Guanxian on the upper reaches of the Minjiang River. Although some 55 kilometers northwest of Chengdu, it's well worth visiting as part of a day trip to this beautiful part of the country.
Constructed to prevent catastrophic flooding, this amazing system included a network of earth dams with sections branching out into tributaries and canals to irrigate fields. The system comprises interestingly named components such as the Fish's Jaws, which functions as a watershed and dike; the weir known as Flying Sands (Feisha Yan); and the canal, the Neck of the Precious Bottle (Baoping Kou). As a result of this ingenious system, the Minjiang hasn't flooded for more than 2,200 years, and the Chengdu Plain of central Sichuan has become one of China's most fertile regions.
A nearby attraction that's well worth visiting is the Cave of the Heavenly Master (Tianshi Dong), where Zhang Daoling, the founder of the Taoist religion, taught in a cave in Mount Qingchengsahn. The temple dates from the Sui period of AD 589 to 618 and includes a terra-cotta likeness of Zhang Daoling and three statues dating from AD 723 representing Fuxi, Shengong, and Xianyuan, three rulers said to have lived in China in prehistoric times.
A great way to enjoy the Mount Qingchengsahn area while at the same time taking in the must-see irrigation system, along with a number of other nearby points of interest, is the fun Qingcheng Mountain and Dujiangyan Irrigation System Day Trip from Chengdu. After departing your Chengdu hotel, you'll spend a full day exploring some of the most beautiful scenery in the Sichuan region's Qingcheng Mountains, along with its many well-preserved temples.
The undisputed highlight, of course, is Dujiangyan. In addition to explaining the workings and significance of this marvelous feat of engineering, your English-speaking guide will also introduce you to great traditional food over lunch.
Location: Dujiangyan City, Chengdu, Sichuan
5. Visit the Wenshu Monastery (Manjushri Monastery)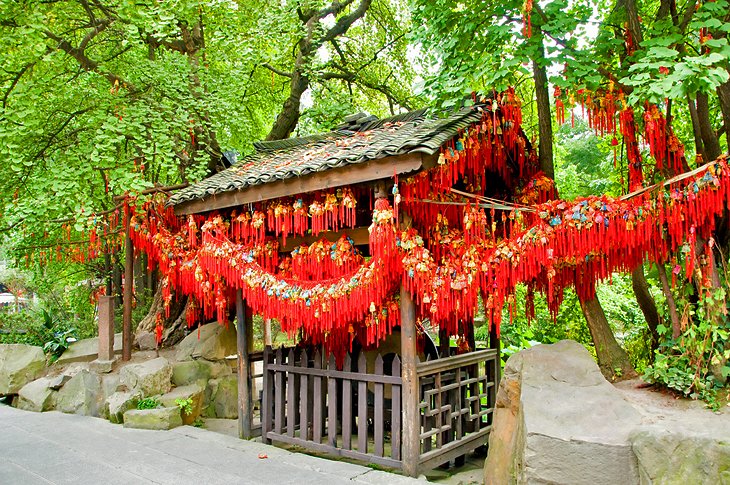 Covering an area of more than 12 acres, the Wenshu (Manjushri) Monastery consists of five separate temples built from wood and stone. The complex was constructed in 1691 above the ruins of an earlier monastery dating from the time of the Southern Dynasties between AD 420 and 589.
Highlights include the Hall of Shuofa Tang with its 10 iron statues of Buddhist guardian gods from the Song period of AD 960-1279, as well as the more than 100 bronze sculptures of Buddhas and Buddhist saints from the Qing era between 1644 and 1911, and many more made from materials such as jade and wood. The site also contains numerous other important cultural relics, including paintings and calligraphy by leading Chinese artists and writers. Be sure to also spend some time enjoying a traditional beverage at the on-site teahouse.
Address: 66 Wenshu Yuan Jie, Qingyang District, Chengdu, Sichuan
6. Take a Side Trip to Mount Emei and its Temples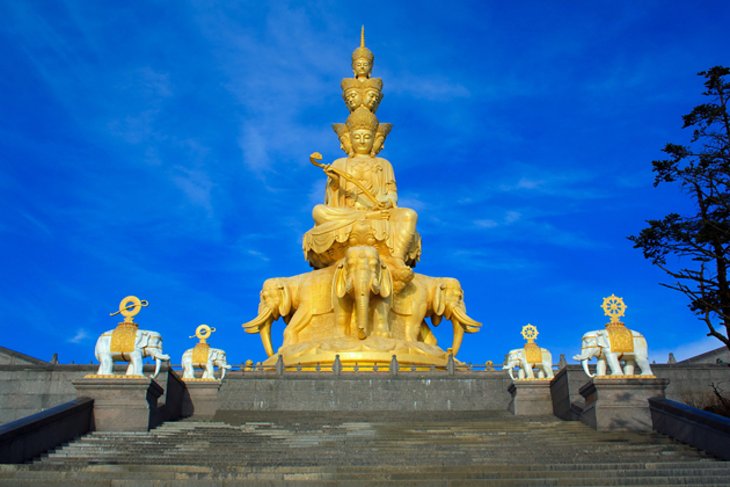 Mount Emei (Emeishan), dedicated to the Bodhisattva Puxian, stands 160 kilometers southwest of Chengdu and is well worth a visit. The mountain's highest peak, the Peak of the Ten Thousand Buddhas (Wanfo Ding), reaches a height of 3,099 meters and is revered by Chinese Buddhists as one of the four Holy Mountains, the others being Mount Wutaishan in Shanxi province, Mount Jiuhuashan in Anhui province, and Mount Putuoshan in Zhejiang province.
As shrouded in legends and myths as they are in clouds and mists, the first Taoist temples on Mount Emei were built during the Eastern Han dynasty from 25-220. From the Tang period of AD 618-907 onwards, it became one of the major destinations of Buddhist pilgrims due to its more than 200 shrines. Some 20 temples and monasteries still survive.
7. Visit the Poet's Home: Du Fu Thatched Cottage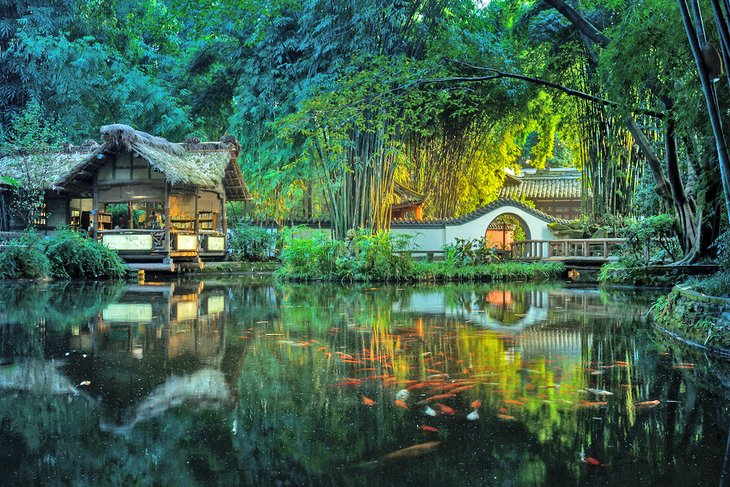 The sprawling Du Fu Thatched Cottage complex (Dù Fu Cao Táng) in Chengdu covers 24 acres and is dedicated to one of China's best-known poets. The site replicates the home in which Du Fu lived between AD 759 and 763 and in which he wrote more than 250 of his best-known poems.
Located on a picturesque bend of the Huanhuaxi River, the complex features lush gardens, numerous pavilions, and lovely bridges and pathways. While not original, most of the buildings date from between 1500 and 1800 and were carefully restored in 1949. Other highlights include the Gong Bu Memorial Hall, with its exhibits portraying the life and work of Du Fu, complete with a foreign language section.
The reconstructed cottage itself, a simple structure with a study, bedroom, and kitchen, can also be visited. So, too, can the Hall of Great Poets showing scenes from his most famous poems, including one dedicated to the destruction of the original cottage by a storm.
Address: 28 Caotang Road, Qingyang, Chengdu, Sichuan
8. Wangjiang Pavilion Park and River Watching Tower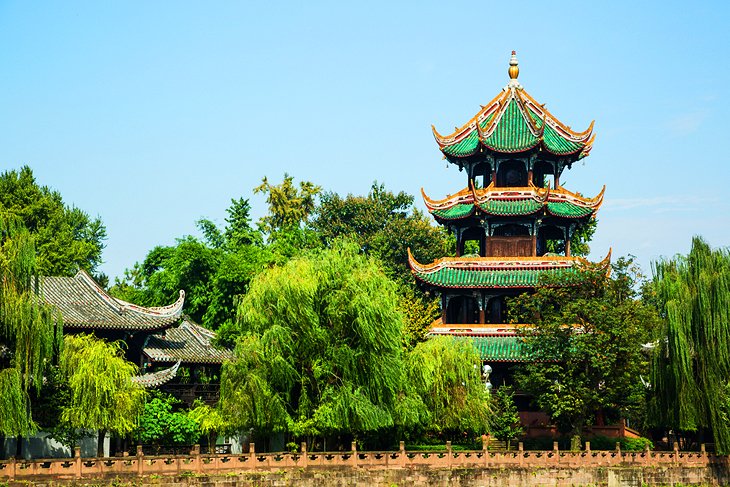 Famous as the location where poetess Xue Tao lived from AD 769-834, Wangjiang Pavilion Park is notable for its splendid 30-meter-tall River Watching Tower. Built in 1889, the attraction features the famous old fountain from the Tang period of AD 618-907 from which the poetess is said to have drawn the water used to produce the unique red paper on which she wrote, and which to this day still bears her name.
Also of note are several other buildings dedicated to her memory, including the Tower of Poetic Recitation (Yinshi Lou), the Pavilion of the Washing of Paper (Wanjian Ting), and the Tower of the Washing of Brocade (Zhou Lou). Another lovely feature is a large bamboo grove laid out in her memory. All told, the site boasts 140 different species of bamboo, a favorite tree of the poetess.
Address: 30 Wangjiang Road, Chengdu City, Sichuan
9. The Yongling Museum and Mausoleum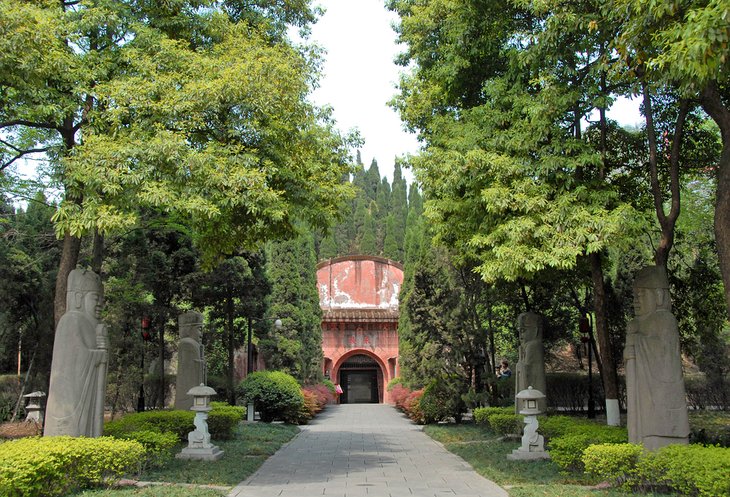 Also referred to as the Eternal Mausoleum, the Yongling Mausoleum is where you'll find the well-preserved royal tomb of Wang Jian, ruler of the Early Shu Empire until his death in AD 918. Located in the northwest section of Chengdu and now a museum, this lovely 15-meter-high building with its 14 impressive archways opened to the public in 1942 and is divided into three chambers, the central of which houses the emperor's exquisitely decorated sarcophagus.
Other highlights of a visit include a fine stone statue of Wang Jian and detailed murals of 24 musicians carved from stone — the only such decorations of their kind from the Tang Dynasty.
Address: 10 Yongling Road, Jinniu District, Chengdu, Sichuan
Official site: http://en.cdylbwg.org/About.aspx?mid=17
10. Chengdu Culture Park and the Sichuan Opera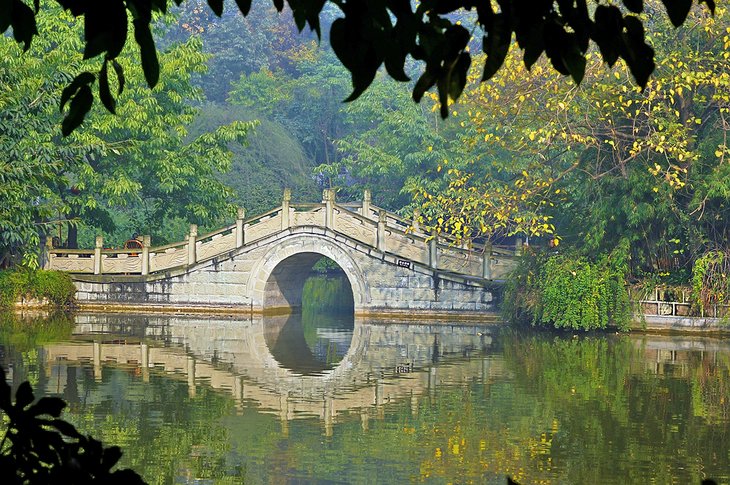 In Chengdu's Cultural Park (Wenhua Gongyuan) in the western part of the city stands the old Taoist Qingyang Temple. Although dating from the Tang period of AD 618-907, the present buildings are from the Qing period between 1644-1911. Particular highlights include the Pavilion of the Eight Trigrams (Bagua Ting), with its eight stone pillars and intricate carvings of dragons and other symbols from Chinese culture.
The park is also where you'll find the Shufeng Sichuan Opera House. One of the city's most important cultural destinations, it's home to numerous regular performances of traditional Chinese music and theater. It's here you'll be able to experience the famous "Bian Lian," where performers in brightly colored masks seemingly undergo "face-changing" as they seamlessly swap masks with various expressions with a flick of a traditional Chinese fan. Amazing!
Also worth a visit, People's Park is the city's oldest public park and is notable for its many important monuments. The best known is the historic Railway Protection Movement Monument.
Address: 23 Qintai Lu, Chengdu
11. The Monastery of Precious Light: Baoguang Temple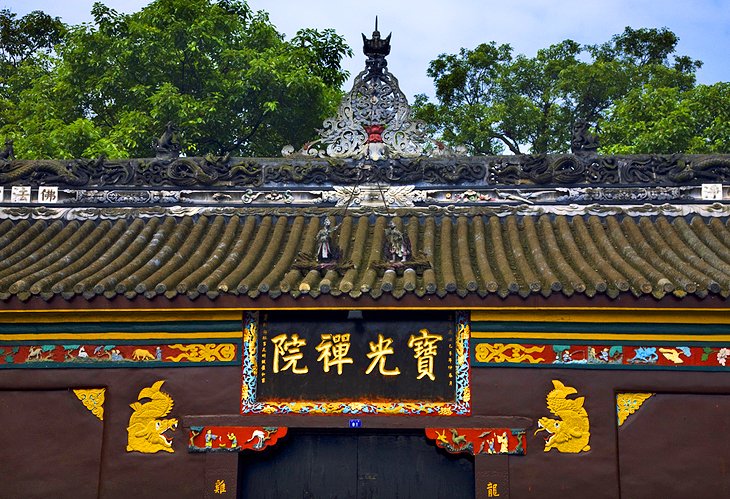 In the small town of Xindu just 18 kilometers northeast of Chengdu, the Monastery of Precious Light (Baoguang Si) is well worth taking the time to visit. Thought to date from the Han Dynasty of AD 24-220, this vast complex consists of more than 20 well-preserved buildings constructed in 1670, including a fine pagoda, five temples, and 16 courtyards scattered over an area of some 20 acres.
Perhaps the most impressive of all is the 13-story Sarira Pagoda, which has survived intact from the Tang period of 618-907. Other highlights are archaeological displays, including a stone tablet with 1,000 Buddha reliefs dating from AD 540, as well as 500 larger-than-life terra-cotta statues from the Qing period of 1644-1911.
Address: 210 Baoguang Ave Middle Section, Xindu District, Chengdu, Sichuan
12. Travel the Jianmen Pass Scenic Route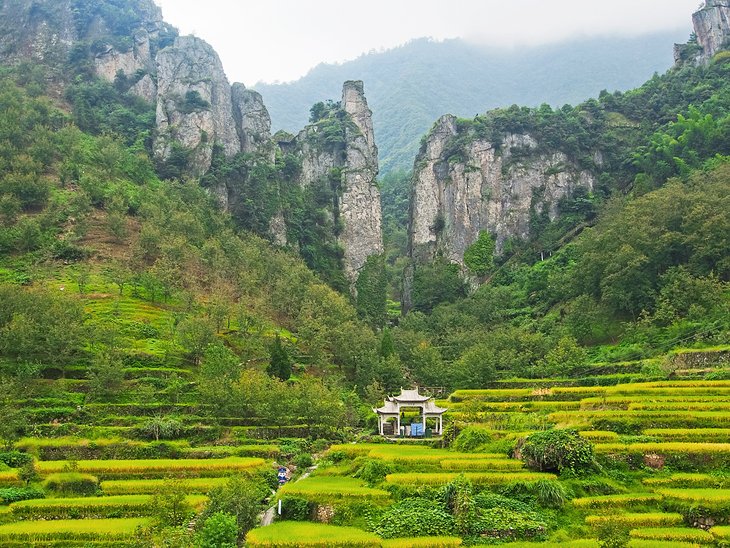 Accessible from Chengdu along the ancient Sichuan Road (Shudao), the Jianmen Scenic Route is often included in the itinerary for formalized tour groups. Although it's a round trip of more than 300 kilometers, it's well worth a visit for those traveling solo or in smaller groups via professional tours that depart regularly from the city.
This scenic route takes in the spectacular Jianmen Pass (Jianmen Guan). Known as the "Sword Gate Pass" in English, it's noted for its steep slopes surrounded by some 72 peaks, as well as many important historical and cultural sites. These include the Old Plank Road, the Thousand-Buddha Cliff, Mount Douchui, and Huangze Temple. But the main highlight is the reconstructed gate itself, a superb replica of the original, which protected the road during the Ming Dynasty and for centuries after.
Location: Jiange County, Guangyuan, Sichuan
13. Take a Day Trip to Mengdingshan Tea Plantation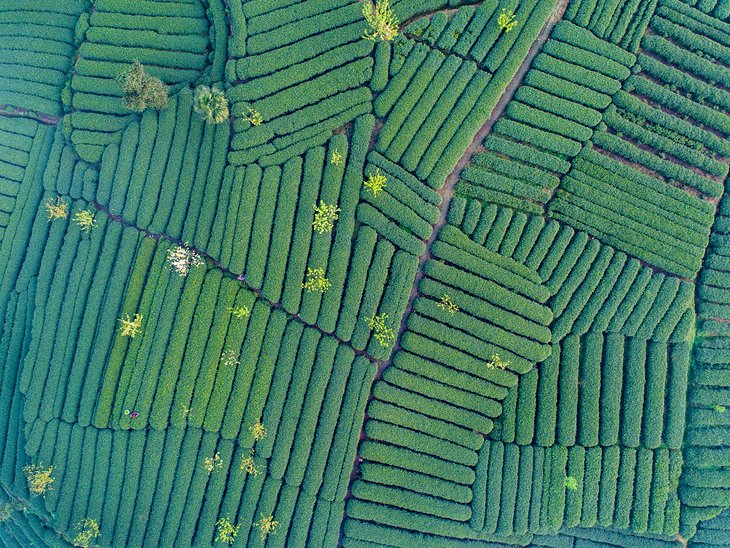 Given the popularity of the beverage in China — not to mention across the rest of the world — no trip to Chengdu is complete without paying a visit to an authentic tea plantation. One of the country's oldest tea-growing regions is Mengdingshan, just a two-hour journey away and an easy day trip from the city.
In addition to enjoying beautiful scenery, a plantation visit provides a chance to learn about the different types of tea, as well as its importance in Chinese traditions and culture.
A great way to experience the region's deep connection to tea firsthand is via an organized group tour such as a private Tea-Making Tour of Mengdingshan Tea Plantation. This day-long adventure includes pickup (and drop-off) from your Chengdu hotel and the chance to meet a local farmer who will share details of the tea-growing process, along with the history of the country's ancient tea-making rituals (an English-speaking guide is provided). Other highlights include the chance to enjoy a traditional lunch at an authentic local Chinese restaurant, as well as sampling the region's tea.
Location: Mingshan District, Ya'an, Ya'an, Sichuan
14. Wander Chengdu's Historic Alleys: Kuan, Zhai, and Jing Xiangzi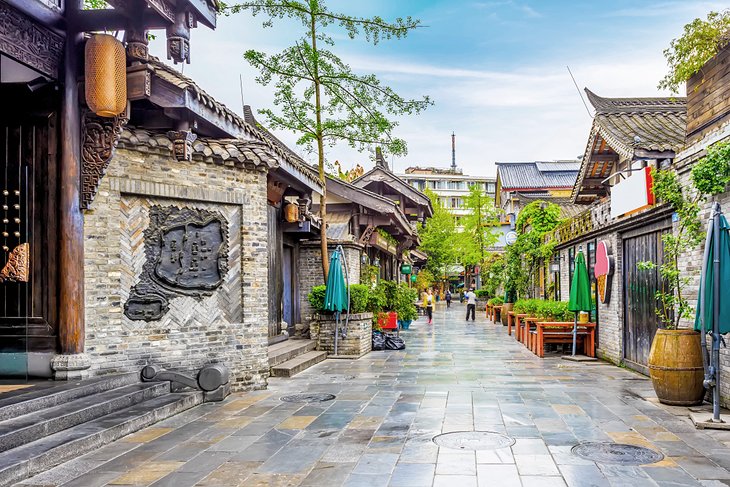 Exploring the three historic alleyways in the city's old quarters is increasingly becoming one of the most popular things to do in Chengdu. Given the fact that they're narrow and devoid of traffic, these pedestrian-only alleys are a delight to wander and provide a good sense of what the city would have been like prior to industrialization and the advent of the motorcar.
The two oldest alleys, Kuan Xiangzi (Wide Alley) and Zhai Xiangzi (Narrow Alley), can, in fact, trace their history all the way back to the Quing Dynasty of the 17th century, when the area was used to house troops. Today, these two alleys — along with the more recent Jing Xiangzi (Well Alley) — have been completely restored to their former glory to showcase and preserve the city's rich historic and cultural roots.
In addition to the many traditional stores, workshops, and restaurants lining the alleys, you'll be exposed to over 20 lovely courtyards, many now pleasant public spaces where you can sit and relax while enjoying a meal or beverage (be sure to experience a traditional teahouse). The area is also home to a number of important religious sites, including Wenshu Monastery and the Daci Temple.
Address: Changshun Upper Street, Qingyang District, Chengdu, Sichuan
15. Take the Bus to Huanglongxi Ancient Town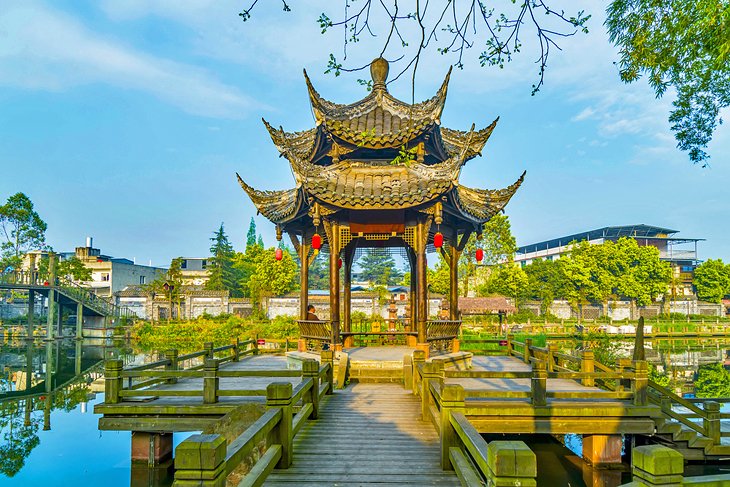 A day trip to Huanglongxi Ancient Town, just an hour outside Chengdu, provides another great opportunity to get a taste of old China. This popular tourist spot offers a unique opportunity to experience life in China as it once was, with highlights including perfectly preserved architecture dating back to the 14th-century Ming dynasty.
Other highlights include the chance to explore many exquisite temples from this era and the later Qing dynasty, a working watermill, and a remarkable covered bridge. Along the way, you'll also see numerous traditional shops, craft workshops, restaurants, and teashops, as well as enjoying a picturesque pedestrian-only riverside walk. The region also boasts two other notable historic communities, Luodai Ancient Town and Jiezi Ancient Town, both of which offer similar immersive experiences.
If you are not up for doing this on your own (public transit and taxis will get you there), it's also possible to visit on a tour. One of the best is the Chengdu to Huanglongxi Ancient Town private tour, a popular tour that also provides an opportunity to see some of the lovely countryside around the city.
This day-long adventure takes in a traditional Chinese market, as well as a fun hike to Chen Jia Xiang, a quaint village that provides a glimpse into traditional rural lifestyles that have remained largely unchanged for centuries. It also comes with a traditional farmhouse lunch made using locally produced ingredients. Other features of this tour, in addition to its great value, is the inclusion of refreshments at an authentic teahouse, an English-speaking guide, and pickup/drop-off at your hotel.
16. Qingyang Palace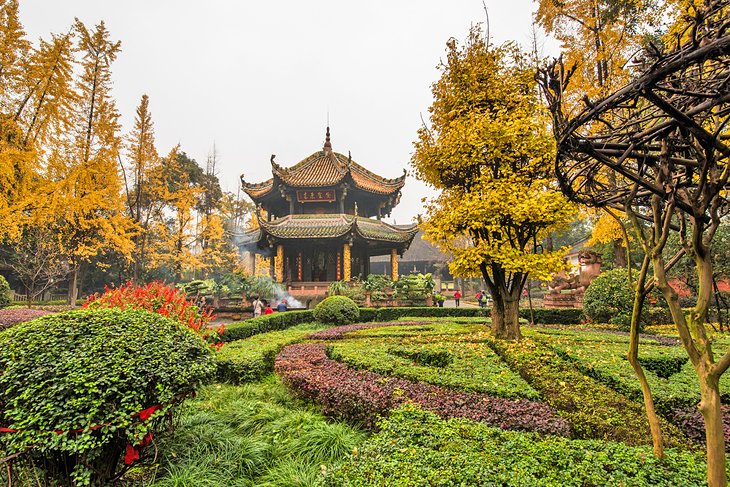 Also often referred to as Qingyang Palace, the Qingyang Monastery (Qing Yang Gong) is well worth taking the time to explore (it certainly helps that it's an easy walk from the already mentioned Wenshu Monastery). Considered one of the most important Chinese Taoist temples, parts of this historic site can be traced back as far as the 7th century and the Tang Dynasty, with newer sections built or restored in later centuries.
Be sure to make a bee-line for the impressive Eight Trigrams Pavilion, the site's most remarkable structure and notable for its octagonal shape, large glazed dome, and dragon-emblazoned pillars. Also notable here are the temple's famous bronze goats, brought here from Beijing, as well as a large collection of important Taoist artifacts. If time allows, be sure to partake in a soothing beverage at the on-site teahouse.
Address: 9 W 2nd Section, 1st Ring Road, Qin Tai Lu, Qingyang District, Chengdu, Sichuan
17. Huangcheng Mosque
One of China's most important Muslim sites, the Huangcheng Mosque dates back to the 18th century and is in the heart of the city's old Xicheng District. Although severely damaged by a Japanese air raid in 1941, the site stands out for its mix of traditional Chinese and Arabic-influenced architecture, with its white walls and colorful flourishes. It's most notable feature is its large 16-meter-long prayer hall covered in original tiles.
Other highlights include the attractive central courtyard, its two gates, as well as a library containing many block-printed Korans written in both Arabic and Chinese. To learn the exact date the building was constructed, look for the beam with a plaque that reads: "Seventh year of the empire of Qianlong" (the answer is 1742).
Address: 80 Yongjin Street, Xicheng District, Chengdu
18. Anshun Bridge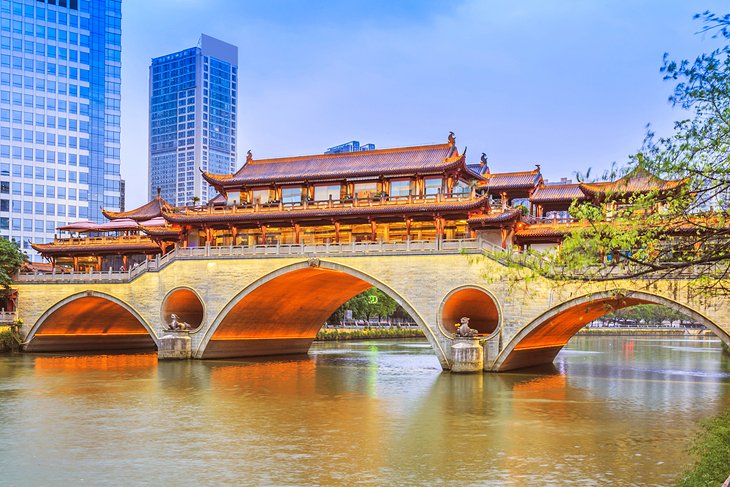 The attractive Anshun Bridge, which crosses the Jin River, is undoubtedly one of the most attractive structures in Chengdu. Although not original — its predecessor was built in 1746 and destroyed by a devastating flood in 1947 — this faithful replica, dating from 2003, is a joy to look at.
It's especially popular to visit at night when it and the surrounding cityscape is lit up. In addition to providing a handy pedestrian crossing over this wide river, the bridge is also home to one of the city's most popular restaurants, too (the views while you dine are well worth taking the time to enjoy).
Address: Binjiang E. Road, Jinjiang District, Chengdu, Sichuan
19. Sichuan Science and Technology Museum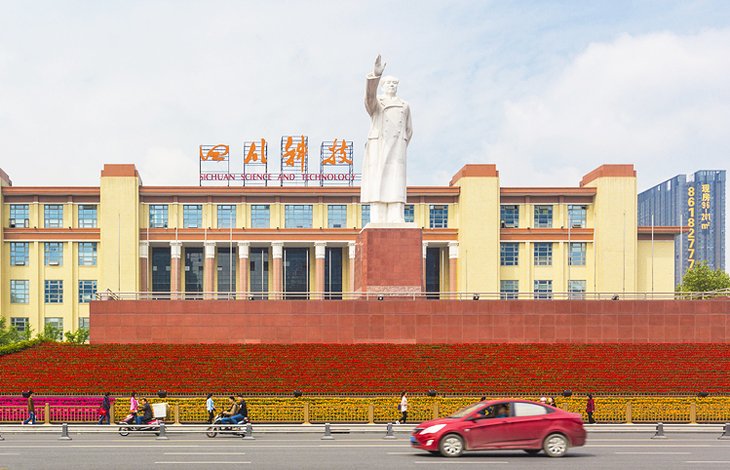 Although housed in a rather austere looking building, the Sichuan Science and Technology Museum is well worth a visit for those with an interest in..., well, science and technology, but with a distinct Chinese twist. And at an impressive 60,000 square meters spread over five levels, it's a large attraction, so be prepared to walk a lot.
You'll be rewarded with a chance to enjoy some 600 exhibits dealing with topics as diverse as ancient farming techniques and land use, right up to China's place in the space race, robotics, and aircraft. Be sure to check out the display focusing on the country's famous Dujiangyan Irrigation System. This working model provides a useful insight into the attraction before (or after) you visit it in person.
Also worth seeing is the Sichuan Museum. A similarly large affair, it features numerous interesting displays of ancient pottery and Buddhist art collected from around the region. And if time allows, gourmands and foodies should pop into the Sichuan Cuisine Museum of Chengdu. Highlights include fascinating displays and exhibits related to the famous Sichuan style of cuisine, along with the chance to hone your skills by participating in a fun cooking class.
Address: 16 Renmin Middle Rd 1st Section, Luo Ma Shi, Qingyang District, Chengdu, Sichuan
20. West Pearl Tower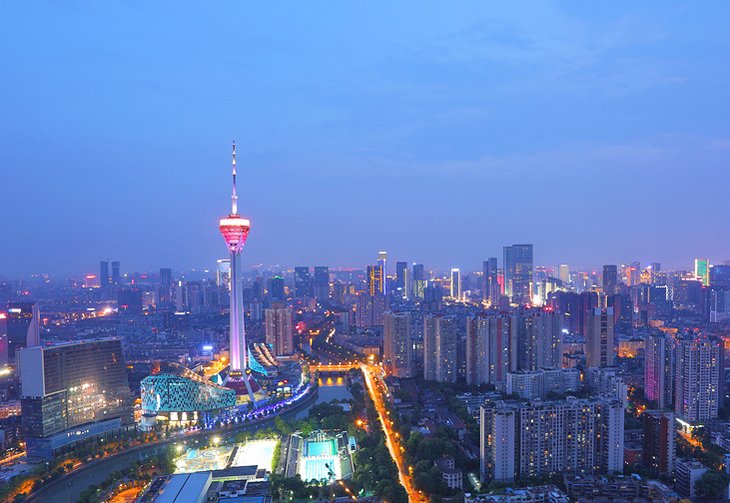 No Chinese city worth its salt has managed to get through the country's phenomenal growth of the past few decades without having a tall tower added to its skyline. And Chengdu is no exception. Here, you'll find the impressively designed 339-meter-tall West Pearl Tower rising out of the city's bustling business district.
Located adjacent to the Jinjiang River, the tower looks like something out of a science fiction film. Since its opening in 2004, the tower — the tallest structure in the city — has been a major tourist magnet, drawing steady crowds of travelers to enjoy not only the panoramic views from its observation deck, but also a meal in the city's highest restaurant (and yes, it revolves). Other highlights include an art gallery with displays of local artwork, photos, and traditional Chinese calligraphy.
Address: 96 Mengzhuiwan St, Chenghua District, Chengdu, Sichuan
21. Sanxingdui Museum and Jianchuan Museum Cluster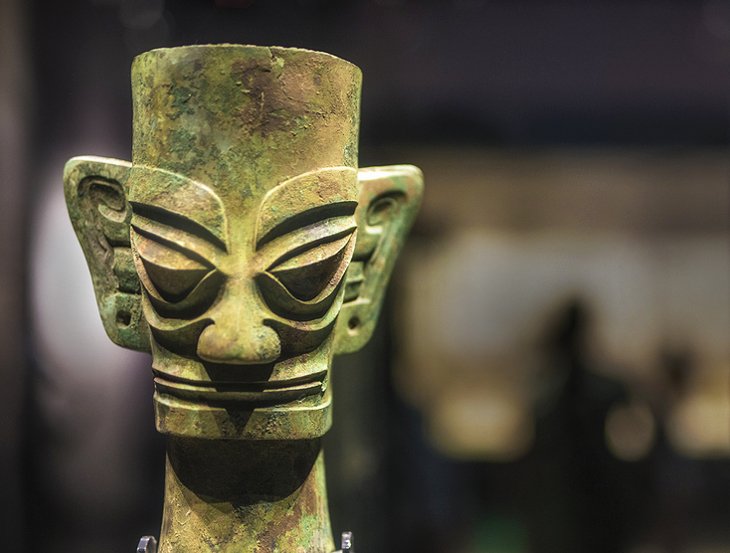 Although an hour north of Chengdu by car (slightly longer by public transit), the Sanxingdui Museum near Guanghan is certainly worth a visit. Also known as the "Three-Star Piles Museum" after the ancient mounds found here, this huge, modern facility is home to countless important relics unearthed nearby that demonstrate the Sichuan area's rich cultural heritage, as well as the lives of the area's earliest human populations.
While the one-acre building contains many of the most important finds, including artifacts made from bronze (check out the museum's famous "bronze tree"), many larger relics and displays, such as the three mounds themselves (known to be part of an old wall), are spread across an area stretching some 12 square kilometers around the museum.
If you're in the mood for some museum hopping, make a full day of it by heading out to the fascinating Jianchuan Museum Cluster in Anren Town. Located an hour's drive west of Chengdu, the cluster consists of 15 important museums containing the country's largest private collections of antiquities and relics (more than eight million at last count). Items on display date from the Japanese invasion prior to WWII (the Communist Party Anti-Japanese Army Museum) to the plight of the country's POWs during this devastating conflict (The Unyielding POW Hall), which are fascinating, especially for war history buffs.
Location: Anren Town, Dayi County, Sichuan
Chengdu, China - Climate Chart
Average minimum and maximum temperatures for Chengdu, China in °C
J
F
M
A
M
J
J
A
S
O
N
D

10

2

11

4

16

8

22

13

26

17

28

20

30

22

30

22

25

18

21

15

16

9

11

4

PlanetWare.com
Average monthly precipitation totals for Chengdu, China in mm.

8

10

20

46

86

104

231

224

132

41

18

5
More Related Articles on PlanetWare.com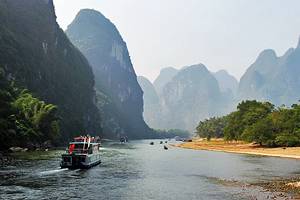 Outdoor Adventure: There are certainly no shortage of great adventures in China. A great way to see some of the most beautiful parts of the country and which can be easily added to your Chengdu itinerary is a Li River cruise, starting in Guilin and traveling some 83-kilometers to the beautiful city of Yangshuo. This wonderful trip can last the best part of a day, and is also suitable for those traveling from Hong Kong.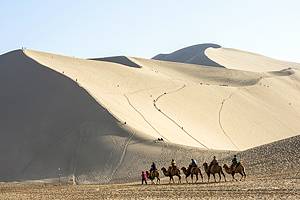 China Vacation Ideas: China is a top vacation destinations, and little wonder: this huge country offers plenty of great attractions and points of interest. Popular options include a stay in Beijing, the country's capital. Thanks to its 3,000-plus-year history of human habitation, you'll find no end of great things to see and do here, from exploring the famous Imperial Palace and Tian'anmen Square to enjoying world-class shopping and dining and exploring nearby attractions on day trips, such as the Great Wall of China and the Caves of Zhoukoudian, famous for the discovery of Peking Man. Also popular for tourists is Shanghai, the largest city in China and known for its many ancient temples and shrines.
For a completely different, distinctly non-urban experience, consider exploring the country's Dunhuang and Jiayuguan regions. While located in the northwest part of the country and a little trickier to access, you'll be rewarded with an unforgettable experience, which takes in many landmarks along the famous Silk Road, including the Gobi Desert and the Mogao Grotto Caves.