15 Best Places to Visit in China
While many of the country's most important attractions are in and around the largest cities, some of the smaller towns and cities offer their own tourist treasures and are among the most beautiful places to visit in China. Thanks to China's rapidly expanding economy, its infrastructure has grown at an astounding rate, and it is now relatively easy to embark on some serious city hopping.
From the transportation hubs of Shanghai and Beijing, the arrival point for most tourists, it's possible to visit other important cities, such as historic Xi'an, famous for its Terracotta Army, or even venture out into the magnificent countryside surrounding its many large metropolitan areas.
However you choose to travel, these top tourist towns and cities are well worth taking the time to explore. Plan your trip with our list of the best places to visit in China.
1. Beijing: Home of the Imperial Palace and Forbidden City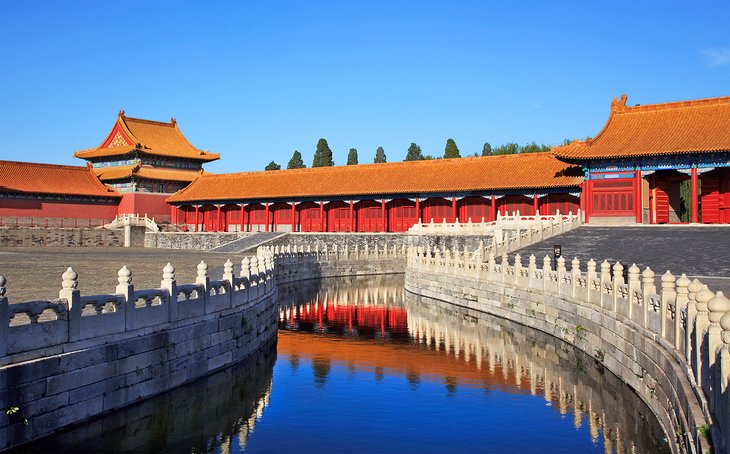 China's second biggest city, Beijing has been the country's political center for more than 800 years. And for almost as long it has been an important center for cultural, economic, scientific, and academic life.
Beijing is home to many of China's best-known attractions, including the spectacular Imperial Palace, also known as the Forbidden City. Many of the city's top tourist attractions are in its well-preserved historic city center, making it possible to visit most of them on foot as part of an organized tour. Of these, highlights include the magnificent Temple of Heaven (Tiāntán), Tian'anmen Square (the world's largest public square), and the beautiful Beihai Park. You should also include the fascinating Beijing Ancient Observatory. Built in 1442, it was still in use in the early 20th century.
A newer attraction that's worth a visit is the wonderfully designed Beijing National Stadium (Guójiā Tǐyùchǎng). Also known as the "Bird's Nest," this unique structure was built for the 2008 Olympics, and in addition to guided tours, you can visit the stadium during concerts and sporting events. Beijing is also a great place from which to explore the surrounding area and attractions, such as the Great Wall of China.
2. Historic Xi'an: The Terracotta Army and More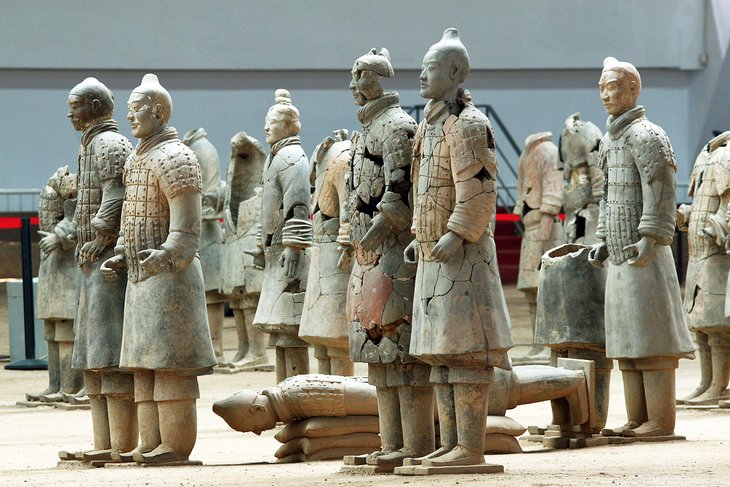 The bustling city of Xi'an, situated between the Weihe River in the north and the Qinling Mountains in the south, is one of Northwest China's chief textile centers. It also possesses more items of archaeological interest than perhaps any other city of its size in China. The most important and best known of these tourist attractions is the world-famous Terracotta Army, which can be enjoyed with a tour to the impressive Emperor Qinshihuang's Mausoleum Site Museum.
Xi'an's history stretches back some 6,000 years, and by the 3rd century BC it boasted one of the highest urban populations in the country. The remains of the Han imperial residence can still be seen, along with fortifications and other evidence of the city's importance as the starting point of the famous Silk Road. From here, this fabled route wound its way through Central Asia and the Middle East as far as the Mediterranean, linking Xi'an with such far away cities as Istanbul and even Venice.
Among Xi'an's other important historic sites are the 64-meter-tall Pagoda of the Great Wild Goose, a survivor of the Tang Dynasty from AD 618 to 907, and the 43-meter-high Pagoda of the Small Wild Goose, built in AD 684 in honor of the Tang Emperor Gaozong. Another must-see is the Historical Museum of Shaanxi Province, China's most important archaeological museum, illustrating the origins and achievements of Chinese culture from prehistory to the Qing period of 1368 to 1911
Other points of interest include the Town Walls, completed in 1398 with four gates and numerous watchtowers, and the city's 15th-century mosque. This impressive structure features five courtyards and traditional Chinese buildings decorated with Islamic patterns.
3. Hong Kong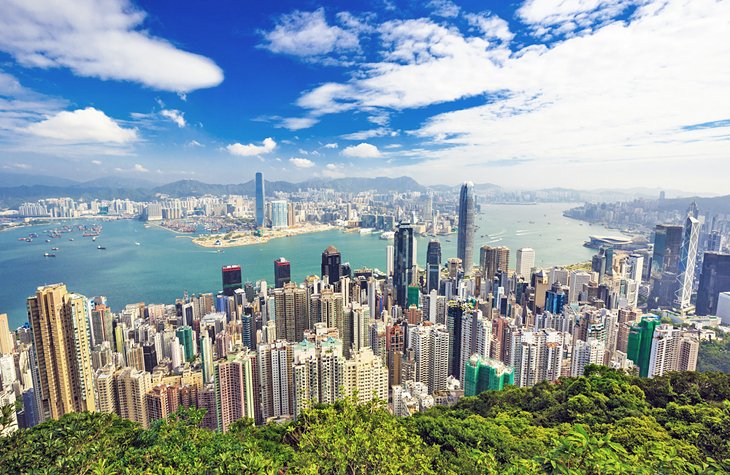 Hong Kong is, quite rightly, regarded as one of the world's most dynamic and exciting cities. While much of this can be attributed to its colonial past, it really owes its uniqueness to its rich mix of old and new China.
Famous as a high-tech center of banking and commerce, its modern luxury hotels and shops rub shoulders with many examples of an older, traditional way of life. This is seen everywhere, from its many authentic family-run restaurants to its ancient temples and fascinating street markets.
However long you're planning to visit, there are some Hong Kong attractions and fun points of interest that you simply must experience here. A highlight for many is hopping aboard the famed Star Ferry service and heading out from Victoria Harbour to the mainland and back - it's a great and affordable way to get your bearings and take in the city's impressive skyline.
Other must-dos include taking the funicular railway to the top of Victoria Peak, which provides another great vista, this time over the island and its many hills; and spending an evening exploring the busting Temple Street Night Market, one of the best street markets in Hong Kong.
Also, consider heading out on one of the hiking trails for great views and unique experiences, or spending a day on one of Hong Kong's glorious beaches.
4. Guilin and Yangshuo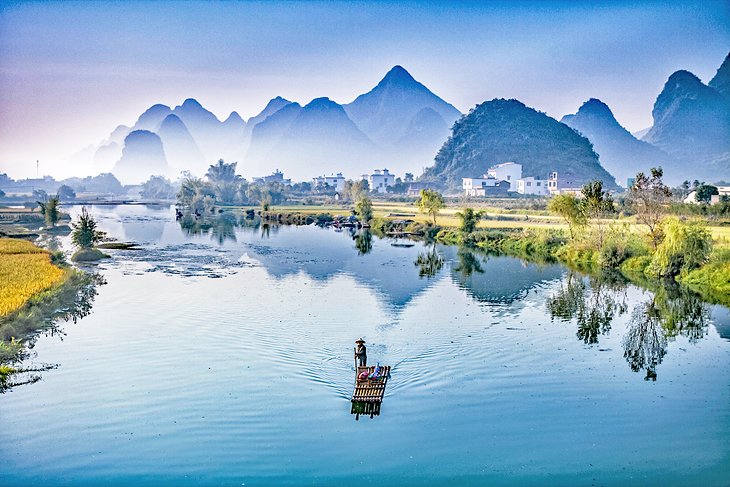 No trip to China is complete without spending at least a little time enjoying a river cruise. One of the most popular options - and one that's perhaps best left to a professional tour company to organize on your behalf - is a cruise along the majestic Li River, which connects the two important cities of Guilin and Yangshuo.
This 83-kilometer journey whisks you past spectacular scenery, as well as small Chinese villages, which offer a glimpse into the country's rich culture and traditions. It's a one-way, five-hour journey that begins upriver at Guilin, which boasts an airport and railway connections to destinations including Hong Kong, and ends in Yangshuo. Be sure to plan on spending time afterwards exploring the many historic sites in the latter.
Many tourists in fact spend at least a few days exploring Yangshuo and the surrounding area. It's certainly time well spent, and offers a variety of unique adventures and experiences not available elsewhere. Of these, perhaps the most popular is taking one of the fun, two-person, people-powered bamboo rafts along the quiet Yulong River.
Other must-dos in Yangshuo include making the trek up Moon Hill for its superb view, or renting a bike to explore the paths and trails along the Yulong. Be sure to take in the spectacular Liu San Jie Impression Light Show. Designed by the same team that provided the choreography for the 2008 Beijing Olympics, it's a fitting finale to your Yangshuo adventure.
5. Shanghai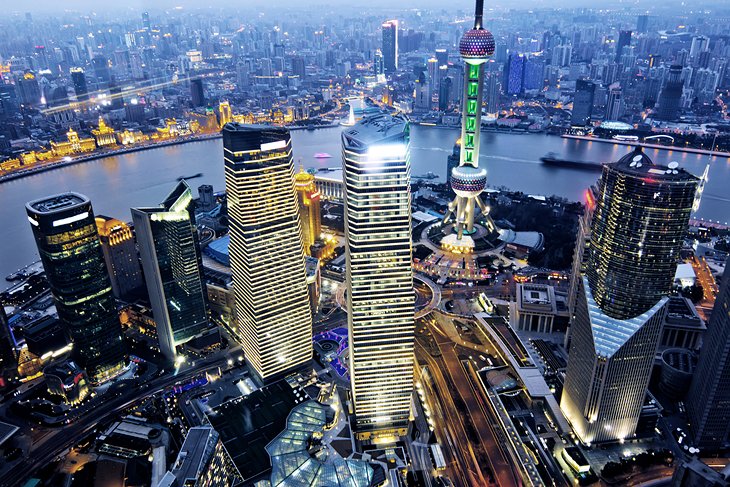 The largest city in China, Shanghai is famous for being the country's most modern metropolis and offers a diversity of tourist attractions old and new. Boasting in excess of 24 million citizens, the city's highlights include numerous world-class museums and art galleries, ranging from the excellent Shanghai Museum to the China Art Museum. There are also a surprising number of quiet green spaces, old temples, and pagodas to explore - not to mention some great shopping experiences, too.
Must-see points of interest include Shanghai's broad promenade, the Bund. This lovely pedestrian walkway runs along the west bank of the Huangpujiang River and is popular for its very distinctive European architecture. It's an especially beautiful sight at night. Also notable here is the beautiful Yu Garden (the Garden of Happiness), with its many fine old buildings.
Other things to do in Shanghai include spending time exploring its more modern attractions, such as the 468-meter-tall Oriental Pearl Radio and TV Tower with its excellent views over the river and city. Be sure to include the fun Shanghai Science and Technology Museum, one of the country's most visited science museums, on your itinerary, along with Shanghai Disney.
6. Chengdu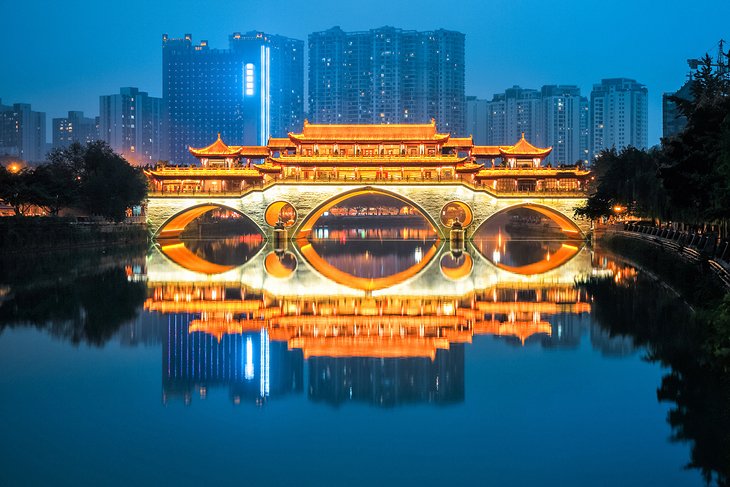 If, when you think of China, you think of pandas, you'll want to make sure the city of Chengdu is high on your list of must-sees. It's here you'll find the Chengdu Research Base of Giant Panda Breeding, a massive facility that is home to more than 80 of these wonderful animals.
Tours of the facility include a chance to see pandas up close. If you can, try to time your visit to coincide with feeding time. Also worth seeing, the on-site museum features exhibits detailing everything you'll ever want to know about the challenges of conserving these notoriously placid creatures.
For a chance to see pandas in the wild, take a day trip to the Wolong Nature Reserve, two hours west of Chengdu. This vast scenic area serves to protect the natural habitat of pandas and other important species.
Other Chengdu attractions worth seeing include numerous old pagodas and bridges, along with the many historic alleys in the old part of the city. There are also many religious sites here, too, such as the Monastery of Precious Light and Chengdu Huangcheng Mosque, one of China's oldest and most important Muslim sites.
7. Ningbo and the Tianyi Ge Library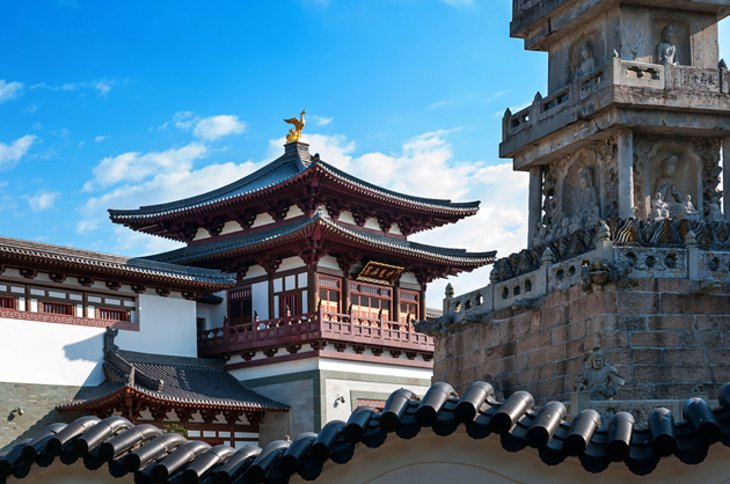 Ningbo, located in the northeast corner of the province of Zhejiang just 25 kilometers from the East China Sea, has been one of the country's most important ports since the 7th century. Crisscrossed by countless navigable canals, this busy city is dubbed "Little Shanghai" and can trace its history back some 2,300 years to the period of the Qin Dynasty.
It's best known attractions include such historic sites as the magnificent Tianyi Ge Library. Built by high-ranking official Fan Qing between 1561 and 1566 to house his private book collection, it's one of the oldest of its kind in China. Consisting of some 80,000 rare Chinese volumes and manuscripts, this remarkably preserved collection also includes a large number of stone inscriptions dating from the 14th century. Also of interest is the artificial pond outside this splendid old two-story structure, intended to provide water in the event of a fire.
You'll also want to visit the 55-meter-tall, seven-story Tianfeng Ta Pagoda. Also known as the Tang Pagoda, this stunning structure was built in AD 695 and is well worth the climb for its panoramic views of the old city.
Ningbo is also somewhat of a popular seaside destination for Chinese tourism and has a number of wonderful, white sandy beaches. It's also popular for its shopping and dining options, too.
8. Hangzhou and the Historic Grand Canal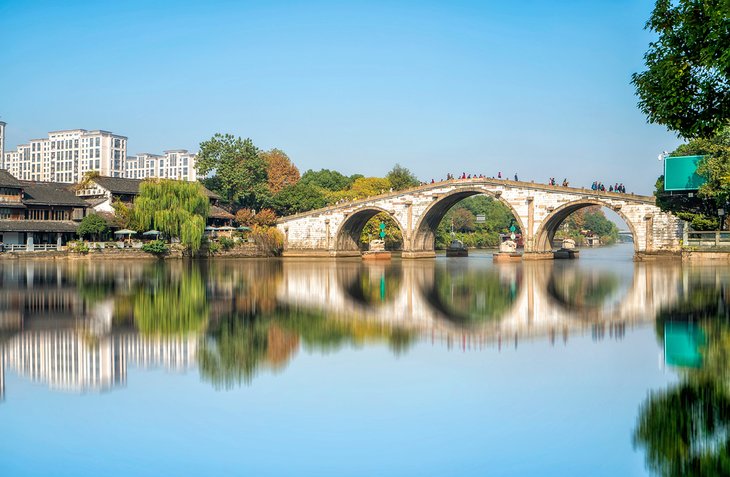 Located at the southern end of China's famous 1,776-kilometer-long Grand Canal, a remarkable engineering feat and UNESCO World Heritage site, Hangzhou is one of China's most visited cities. As big a draw as this centuries-old canal, which connects Hangzhou to Beijing, is the city's picturesque location at the foot of a tall mountain range overlooking beautiful West Lake with its many old shrines and temples, romantic bridges, and pleasant pagodas.
Still often called the "Silk City" for its many silk mills and markets, Hangzhou is famous for having attracted many of China's most important artists through the centuries, as well as famous travelers such as Marco Polo, who declared it the most beautiful city in the world. A tradition that has been around even longer than the legend of Marco Polo is taking the famous Dragon Well tea (lóngjing chá), handpicked in the surrounding countryside twice a year and still much celebrated in art and ceremonies throughout the city.
9. Qufu and Confucius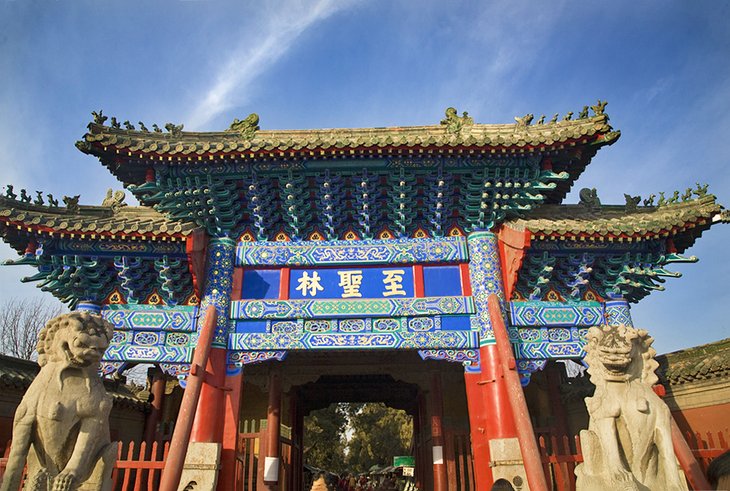 Thanks to its connections with Confucius, China's most revered philosopher, the small town of Qufu in southwest Shandong has long been one of the country's most important places of pilgrimage. Not only was Confucius born here in 551 BC, he was also buried here in 479 BC. As a result, numerous temples and shrines have been erected by devotees in celebration of his life and teachings.
Perhaps the most important of the three main historic sites related to the great teacher - together forming part of a UNESCO World Heritage Site - is the Cemetery of Confucius (Kong Lin). This large burial ground contains the graves of Confucius, family members, and numerous followers.
The grave itself is a mound marked by a 15th-century gravestone carrying the inscription "Grave of the Sacred King of Culture, who achieved Absolute Perfection." The graves of his son and grandson are situated close by. The cemetery, laid out around Confucius' grave in the 14th century, makes for a delightful excursion thanks to its more than 10,000 trees. Other important sites worth exploring are the Temple of Confucius and the Kong Family Mansion.
10. The City of Ceramics: Zibo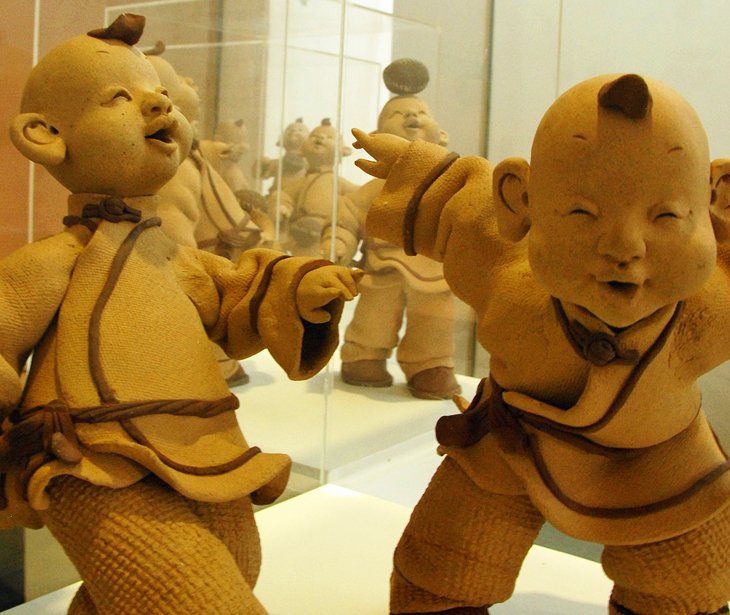 Situated in the center of Shandong province, the city of Zibo was the capital of the Qi Empire for 630 years. During this time it became famous for its ceramics and lacquered works of art. It was in fact here that China's famous green glass was first developed some 1,500 years ago, as well as the region's distinctive black glazed porcelain.
Between 960 and 1279, local makers also perfected the technique of coating earthenware with a brownish layer of glaze displaying tear-shaped runs. This still popular style has cemented Zibo's reputation for hand-made porcelain and ensured its status as China's major producer of ceramics.
Zibo's connection to the history of ceramics is celebrated at the Zibo Chinese Ceramics Center. This fascinating attraction features large collections of locally produced artifacts and displays showing both modern and traditional manufacturing methods.
Another attraction worth seeing is the Great Wall of the Qi. More than 2,500 years old, many sections of its 600-kilometer length still stand and can be visited. Zibo boasts a variety of other interesting cultural experiences, including its unique cuisine and theatrical performances, which can be included as part of a tour package.
11. Quanzhou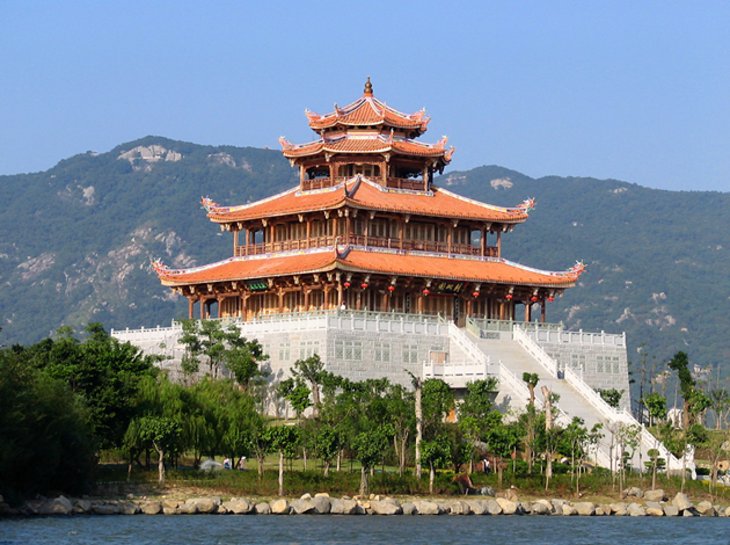 Located in the southeast corner of Fujian province on the broad Jinjiang estuary, Quanzhou was already an important port in the 6th century. Highlights of this historic port include the Temple of the Beginning of the New Age, built in AD 686 and one of the largest temples in China.
Covering some 70,000 square meters, this vast temple site includes a number of impressive pagodas, including the 48-meter-tall eastern pagoda (Zhenguo) dating from the end of the Tang Dynasty around AD 700 and decorated with 39 bas-reliefs crafted from alabaster; and the 44-meter Pagoda of Longevity (Renshou Ta) from the early 10th century and decorated with birds and flowers.
Also of interest is the Mosque of Peace and Clarity, erected in 1009 in the style of a Damascus prayer house and financed by Muslim merchants. One of the oldest mosques in China, the building is notable for its impressive main gate and walls with Arabic engravings of the Koran.
Be sure to also visit the Quanzhou Maritime Museum with its historic displays, including a 24-meter-long 10th-century sailing ship; hundreds of sculptures; and stone tablets with inscriptions in old Chinese, Latin, Syrian, and Arabic. You'll also see numerous ceramic pieces crafted in Quanzhou from the 10th century onwards. Afterwards, spend time exploring the downtown area, popular for its shopping, authentic restaurants, and many fine hotels.
12. Yangzhou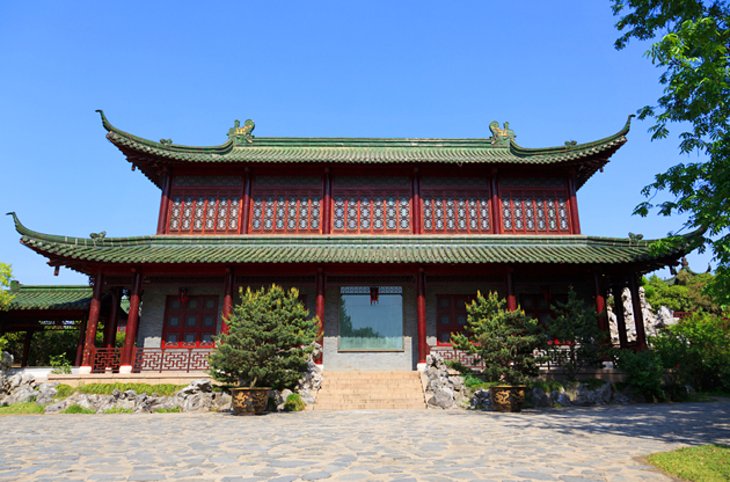 Yangzhou lies in the central region of Jiangsu province between the Yangtze River and the Grand Canal and can trace its roots back some 2,400 years. It was the building of the canal in the 6th century, however, that saw the city rise in importance as a place of foreign trade, attracting the likes of Arab missionary Behao Aldin in the 7th century and later Marco Polo, who stayed here for a spell.
In addition to being famous for its traditional local cuisine, unique art forms, and handicrafts, the town boasts a number of first-rate attractions, which together form a great walking tour of the old town. These include the picturesque Narrow West Lake; the old Bridge of the Great Rainbow (Dahong Qiao); the 18th-century Bridge of the Five Pavilions; and Fuzhuang Island, reached by a zig-zag bridge and home to a number of pleasant pavilions and covered walks.
Another must-see attraction is the 4th-century Temple of Heavenly Peace. Located at the foot of the Mountain of the Plum Blossom (Meihua Ling), it's famous as being the place where, in AD 418, a Nepalese monk translated the Buddhist scriptures. Also worth seeing, the 1,500-year-old Daming Temple was once home to the monk Jianzhen, famous for spreading the Buddhist gospel to Japan.
13. Foshan's Famous Buddhas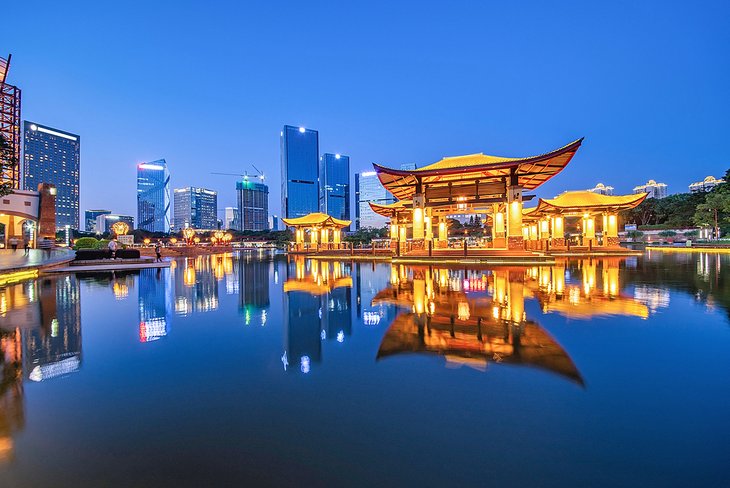 Foshan lies in the center of Guangdong province, about 20 kilometers southwest of the larger city of Canton, and is notable for being one of the oldest towns in China. This popular tourist destination takes its name from three ancient bronze Buddha statues discovered here in AD 628 and soon after became one of the country's most important places of pilgrimage. Under the Song Dynasty from AD 960 to 1279, Foshan became known as a center of the porcelain industry along with metalworking and silk weaving.
Among Foshan's other attractions are the centuries-old Ancestral Temple, now used to stage traditional Cantonese opera performances, and Shi Wan, an old porcelain furnace that's been in operation since the 10th century and is said to have remained permanently lit.
Another highlight of a visit is simply wandering the old town's well-preserved European-influenced streets and courtyards. It's a real treat due to the shopping opportunities at the many small traditional potteries offering their unique goods for sale to curious passersby.
14. Dunhuang and Jiayuguan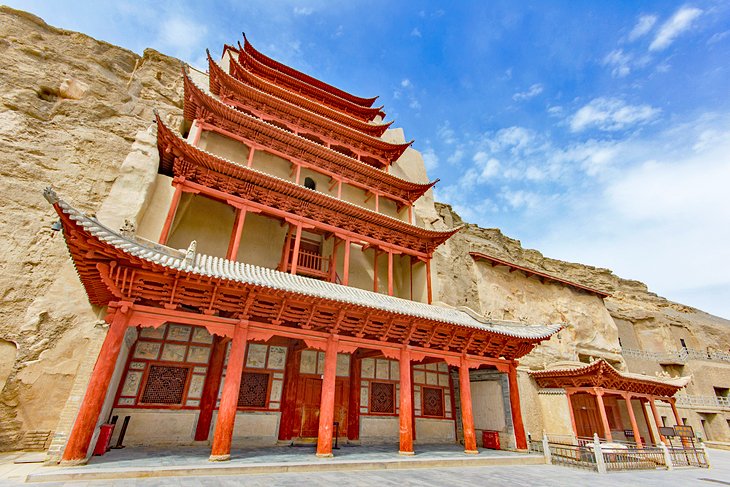 Although remote, the cities of Dunhuang and Jiayuguan are big draws for adventure seekers and certainly one of the best places to visit in China. Located to the northwest of China, these two cities have long been famous for their association with the Silk Road trading route, which connects Asia with Europe.
Dunhuang's proximity to the Gobi desert - the city was established on an oasis, the first (or last, depending on the direction you were headed) in China - makes it the perfect place to experience a fun sunset camel trek along the dunes. From here, you'll also be able to explore the spectacular ancient Mogao Grotto Caves, man-made dwellings literally chiseled out of the mountainside.
Jiayuguan, some 386 kilometers east of Dunhuang, is where you'll find the spectacular Jiayuguan Pass. This breathtaking natural scenery is enhanced by a number of once important forts, as well as the most westerly section of the Great Wall of China, a real treat to explore due to the fact fewer tourists venture to the area.
After all that adventure, you can enjoy the chance to explore historic Jiayuguan, a popular shopping destination for its many finely crafted goods, as well as a great place to experience authentic regional cuisine.
15. The Gardens of Wuhan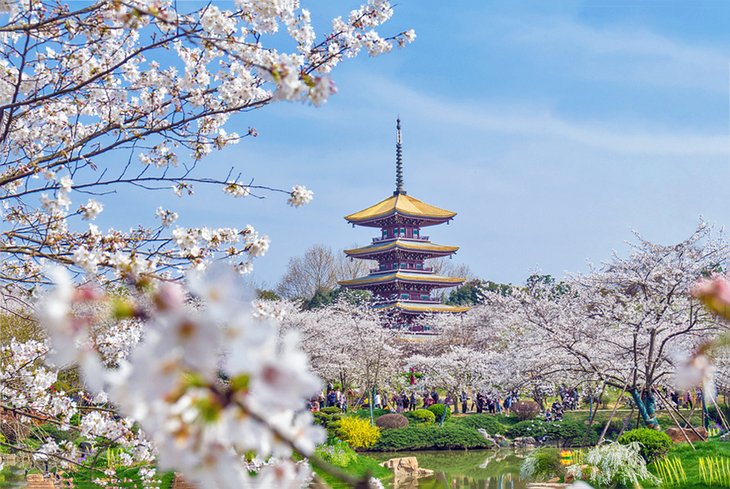 Large by Western standards due to its population of nearly three-and-a-half million souls, Wuhan, the capital of Hebei Province, lies at the confluence of the Yangtze and Hanshui rivers on the Beijing-Canton rail route in Central China. Well over 3,000 years old, the city offers a number of first-rate tourist attractions worth exploring on foot.
One of the best is East Lake, the largest urban lake in China and famous for its many gardens, which burst forth each spring in a cacophony of color as cherry trees and lotus flowers bloom. Those with an interest in Chinese culture and history are well served, too, thanks to the excellent Hubei Provincial Museum. Highlights of the museum, regarded as one of the best in China, include rare finds from the 5th-century tomb of Marquis Yi (Zenghouyi), 2,500-year-old musical instruments, and a superb collection of bonsai trees.