15 Top-Rated Tourist Attractions in Shanghai
Shanghai, China's largest city, offers many exciting sightseeing opportunities for travelers. Despite having a population of more than 24 million, this always busy city offers a number of quieter historic districts and places to visit alongside its many newer tourist sites. One of the world's busiest container ports thanks to its position at the mouth of the Yangtze River, the city also provides opportunities for exploration by water along the Chinese coast and its inland waterways.
Things to do here include visiting the city's world-class museums and art galleries, such as the Shanghai Museum and the China Art Museum; wandering through lovely gardens and parks; or getting in some shopping, especially in the "New World" pedestrian area with its luxury boutiques and galleries. Also fun is exploring the city's many fine old temples and traditional pagodas.
To help you plan your visit to China's most exciting city, be sure to read through our list of the top attractions and things to do in Shanghai.
1. Take a Stroll along Shanghai's Promenade: The Bund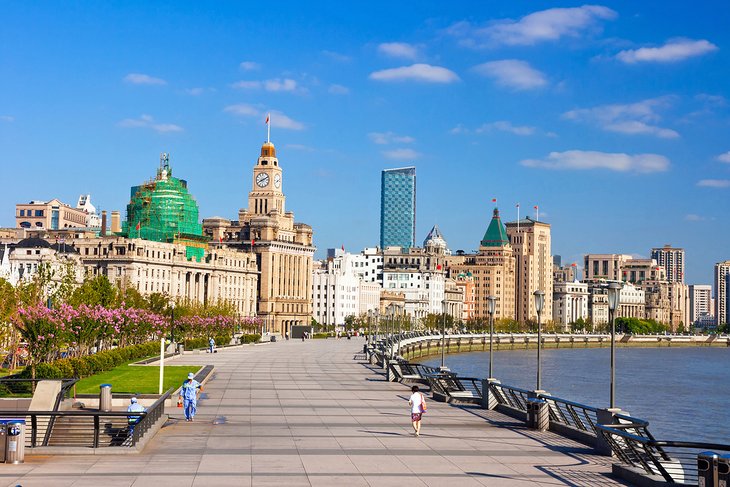 Best known by its Anglo-Indian name of Bund (Wàitan), the Zhongshan Lu is a lovely broad promenade running along the west bank of the Huangpujiang River. It's particularly popular among tourists - the area has retained a European feel, as it was once the location of the city's International Settlement. This influence is particularly noticeable in the many old English and French buildings now serving as restaurants, boutique stores, galleries, and offices.
Always bustling, it's a splendid place for a stroll day or night as you take in the Bund's 52 unique buildings, constructed in a variety of styles including Gothic, Romanesque, Baroque, Neoclassical, and Renaissance influences. The Bund is also home to what amounts to one of the world's most impressive collections of Art Deco architecture.
Moving from south to north, the dominant buildings are the former headquarters of the Hong Kong and Shanghai Banking Corporation with its splendid cupola, the harbor customs office with its bell tower, the old Peace Hotel, and the Bank of China.
Huangpu Park, located at the north end of The Bund, opened in 1886 and is famous as the country's oldest public park. It's a pleasant place to visit, and has an interesting museum dedicated to The Bund's history. The Bund is also a great place from which to embark upon a sightseeing tour aboard a boat around the port and the confluence of the Huangpujiang and Yangtze rivers.
Address: Zhongshan East 1st Road, Huangpu, Shanghai
2. Visit Shanghai's Oldest Green Space: Yu Garden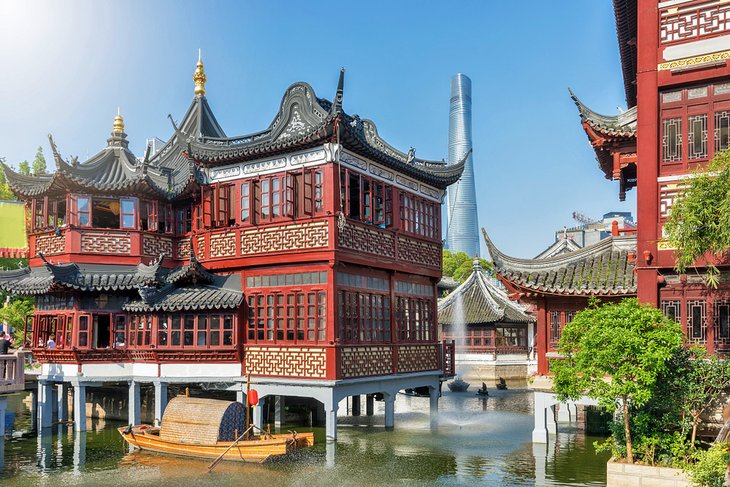 To the northeast of the old town and laid out in 1559 is the splendid Yu Garden (Yù Yuán). Also known as the Garden of Happiness, this vast green space covers an area of more than 20,000 square meters and consists of an outer and an inner garden.
The oldest section is the Outer Garden, with further changes being made in the 18th century when Sansui Tang, the park's main hall, was added. This impressive building is notable for its lovely roof ornaments, figurative representations in bas-reliefs, and window openings, as well as its dragon-adorned walls.
The best-known building is the Hall of Spring, where the Company of the Little Swords (Xiaodao Hui) had its headquarters between 1853 and 1855 when it ruled Shanghai. Of great historical importance are the artificial rocks in this part of the garden, the only work of the master garden designer Zhang Nanyang that has been preserved.
The newer and much smaller Inner Garden is also worth seeing. Dating from 1709, it includes features typical of a classical Chinese writer's garden: attractive little pavilions, decorative stones, and miniature mountain ranges, dividing walls and small ponds, and even a richly decorated theatrical stage.
Address: 279 Yuyuan Old Street, Huangpu, Shanghai
3. See the Priceless Statues of the Jade Buddha Temple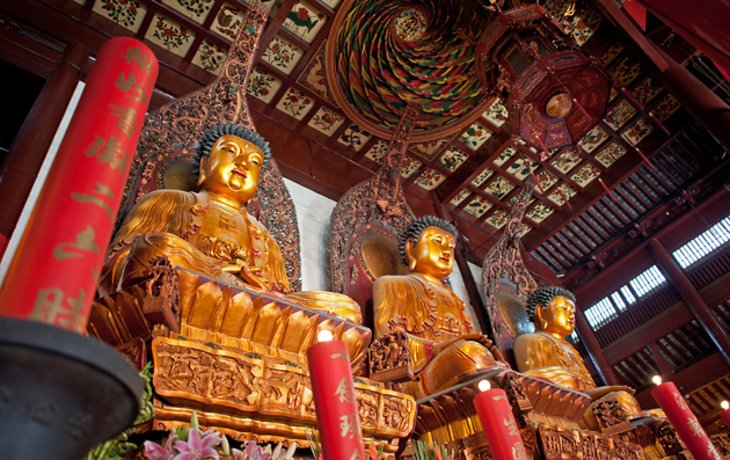 Located in the Anyuan Lu district of Shanghai, the beautiful Jade Buddha Temple houses two Shakyamuni statues, which the monk Huigen brought with him from Burma. The present building, erected in 1928 to replace the original temple built in 1882, is divided into three halls and two courtyards.
The most impressive structure is the splendid Hall of the Kings of Heaven (Tian Wang Dian), notable for its statues of the four heavenly kings and two Shakyamuni sculptures. Carved from white jade, one of these impressive statues stands nearly two meters high in the Wentang Main hall, where a collection of Buddhist manuscripts is also kept (the smaller statue is in the west courtyard).
Also of interest is the charming Hall of the Great Hero (Daxiong Baodian) with its Buddhas of the Three Ages, along with 18 Luohan figures. Another of Shanghai's many important Buddhist sites is the stunning Jing'an Temple on Nanjing West Road.
Address: 170 Anyuan Road, Jing'an, Shanghai
Official site: www.yufotemple.com/en/
4. Learn about Chinese Culture at the Shanghai Museum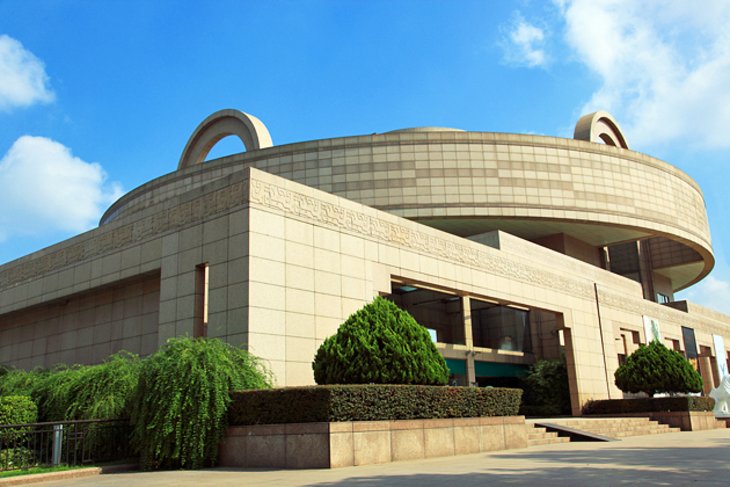 Founded in 1952, the Shanghai Museum remains China's most important museum of classical Chinese art. Set in a modern building that's something of a work of art itself - its unique round top and square base encompasses traditional Chinese concepts of the Earth - the museum's four floors include impressive displays of bronzes and ceramics from prehistoric cultures to the 19th century.
Other highlights of the collection include ink drawings, calligraphy and seals, as well as large collections of art from ethnic minorities. It's also home to large collections of jade, coins, furnishings from the Ming and Qing periods (1368-1912), and a well-stocked gift shop.
Address: 201 Renmin Avenue, Ren Min Guang Chang, Huangpu, Shanghai
Official site: www.shanghaimuseum.net/mu/frontend/pg/en/index
5. Visit Historic Longhua Temple and Pagoda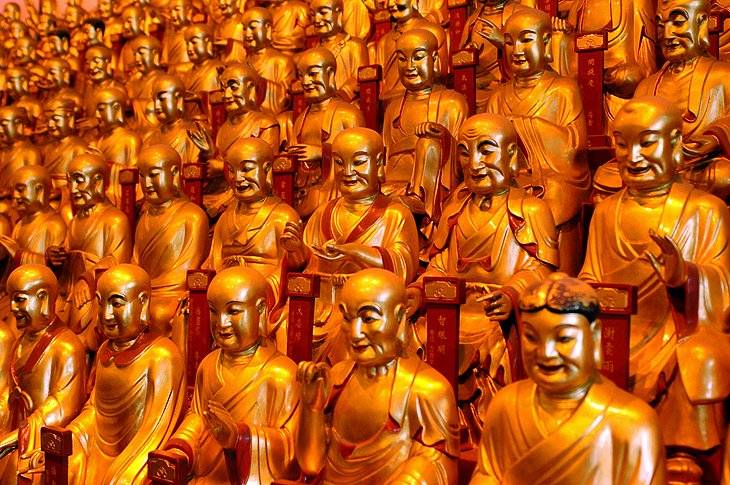 Located in a pleasant park in the southwest area of Shanghai, the splendid Longhua Temple remains one of the oldest religious sites in China. Built along with the nearby 40-meter-tall wood and brick pagoda around AD 242, this important place of worship was destroyed and rebuilt many times through the years, with the present structure dating back to the 10th century.
The site is still used for regular Buddhist ceremonies and consists of five large halls, including the Maitreya Hall (Mile Dian), with its large Buddha statue; the Heavenly King Hall (Tian Wang Dian), dedicated to the Four Heavenly Kings; and the Grand Hall of the Great Sage (Daxiong Baodian), with its fine statues and a 16th-century bell.
Other highlights include the Bell Tower with an even older, two-meter-tall, five-ton bell from 1382, which is still used on special occasions; the Library with its old manuscripts and ceremonial instruments; and the impressive sight of some 500 gold-painted Luohan Buddhas.
Address: 2853 Longhua Rd, Xuhui, Shanghai
6. See the Views from the Oriental Pearl Tower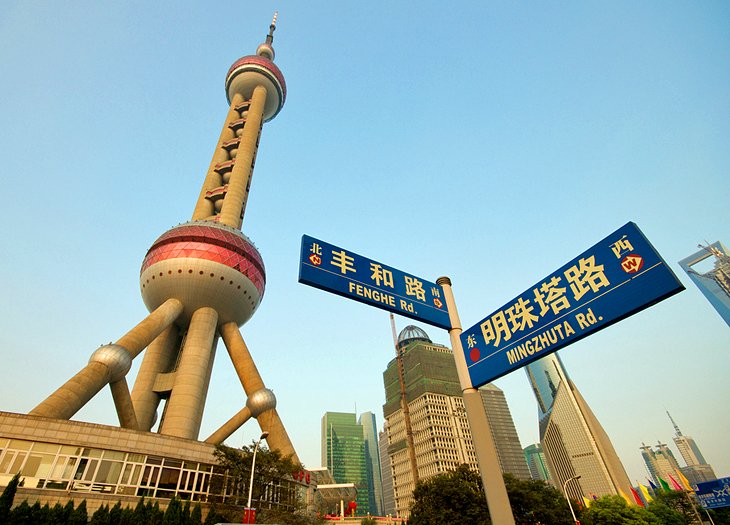 A must-visit while in Shanghai is the 468-meter-tall Oriental Pearl Radio and TV Tower (Dongfang Míngzhuta). It's located in Pudong-Park on the east bank of the Huangpu River. In addition to its excellent views over the busy river and the new city, you'll be rewarded with superb views over the historic Bund promenade.
Built in 1991, the tower takes its name from its 11 linked spheres of various sizes, the highest of which - the Space Module - contains an observation level at the 350 meter mark with a glass-floored outside deck. All told, the tower boasts 15 viewing areas, including the Sightseeing Floor and Space City, as well as a revolving restaurant with great views.
Other highlights include a lower level shopping mall, the Space Hotel offering rooms with spectacular views, and a fun virtual reality rollercoaster ride. Even if you can't make it up the tower, you'll enjoy viewing it at night when the whole structure is lit up as part of a fascinating light show.
Address: 1 Century Ave, Lu Jia Zui, Pudong, Shanghai
7. Shop 'Til You Drop on Nanjing Road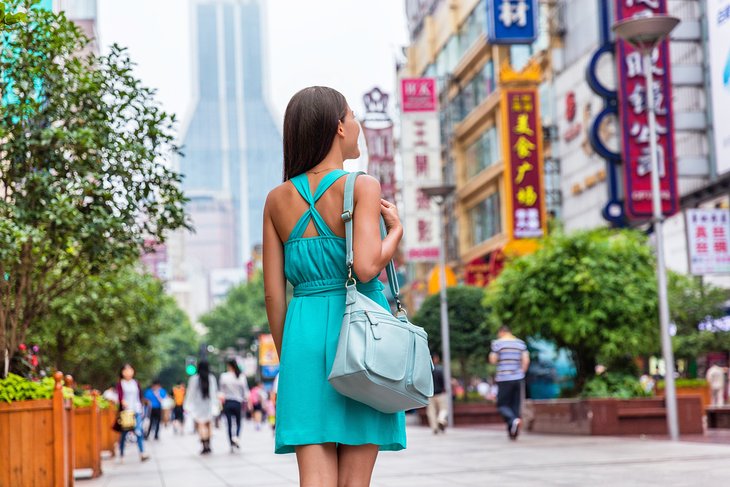 Nanjing Road (Nánjing Lù) is Shanghai's principal shopping street. Constructed in the second half of the 19th century, it runs from the Zhongshan Lu for several miles towards the west. Along this largely pedestrian-friendly street, you'll find every conceivable type of consumer goods, from street vendors selling Chinese-themed souvenirs to expensive boutiques selling traditional arts and crafts. There are also a number of large shopping malls and department stores such as the iconic Yibai and Jiubai.
It's also a busy entertainment district, home to many restaurants and cinemas, as well as a hub for street performances. It's especially fun to visit during major holidays such as Chinese New Year when the street becomes a focal point for festivities and fireworks.
Another dedicated shopping area to explore is Xintiandi, an affluent pedestrian zone that retains some of the ambience of the old city.
8. Gather at the People's Square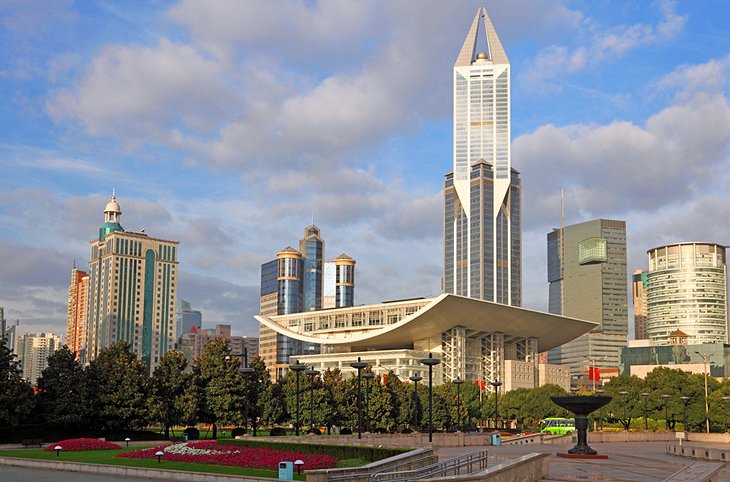 Built on what was once the city's racecourse, the People's Square (Rénmín Guangchang) has been transformed over the years into Shanghai's premier public space. Home to the new Shanghai City Hall, the Shanghai Museum, and the state-of-the-art Grand Theatre, it's a perfect spot from which to begin touring the city.
You'll also want to spend time visiting the excellent Shanghai Urban Planning Exhibition Center. Here, you'll find superb displays and models - even a 360-degree movie theater - showing both existing and planned-for buildings. Be sure to view this massive scale-model from the upper galleries for a fascinating bird's-eye perspective of this modern metropolis.
Address: Wusheng Road, Huangpu, Shanghai
9. The French Connection: Tianzifang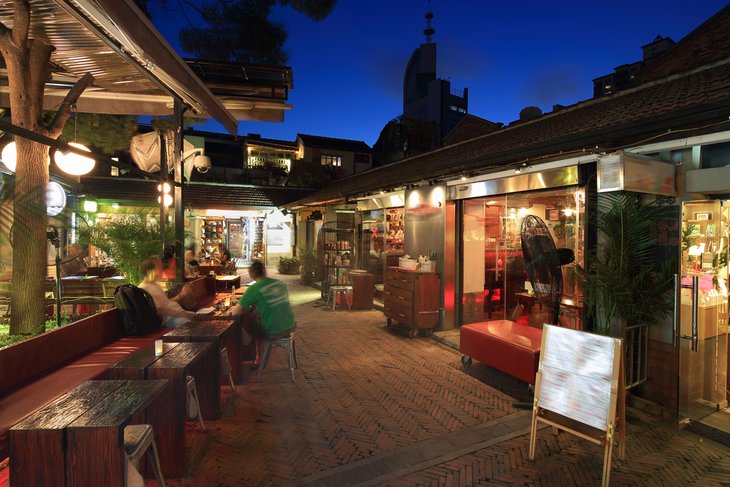 In what was once Shanghai's French Concession, Tianzifang has been transformed into a fascinating arts and crafts destination. While much of the older homes and buildings have been replaced, the character of this old European district has been carefully preserved in its architecture and layout, with numerous small laneways and alleys just begging to be explored.
In addition to its many shopping opportunities - it consists of numerous small galleries and craft shops, rather than the bigger stores found elsewhere in the city - it's also a fun place to visit at night due to its many restaurants serving traditional fare, its numerous cafés and music joints, as well as artists' studios and workshops.
Fuxing Park is another notable tourist attraction with a distinct French flavor. The city's largest park when constructed in 1909, it remains a delightful place to wander due to its many fountains, gardens, and pavilions.
Address: 10 Taikang Road, Da Pu Qiao, Huangpu, Shanghai
10. Xujiahui Cathedral and the Sheshan Basilica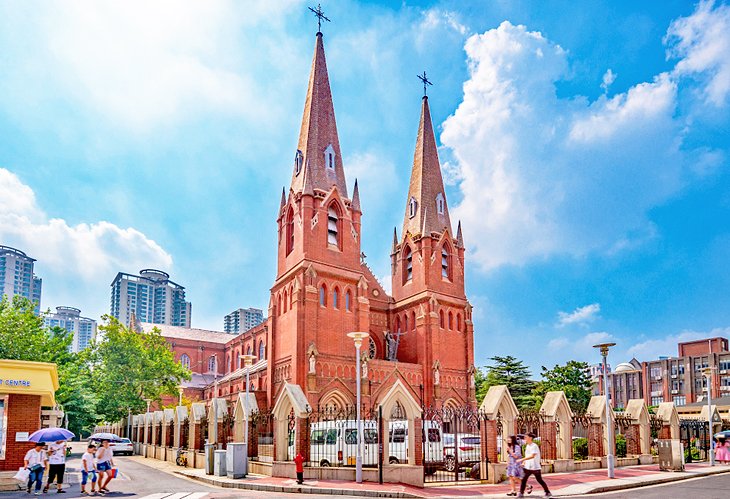 Built in 1911 in Neo-Romanesque style, Xujiahui Cathedral - also known as St. Ignatius Cathedral - is another splendid reminder of Shanghai's rich multi-national heritage. In the southern city district of Xujiahui, it's the largest place of Roman Catholic worship in Shanghai, and in addition to its splendid park-like setting is worth visiting for its twin 50-meter-high bell-towers and restored interior with fine stained-glass windows.
Another important religious site is the Sheshan Basilica (the National Shrine and Minor Basilica of Our Lady of Sheshan). This fine old Roman Catholic church stands on the western peak of the hill after which it's named. Like so many other religious sites, it was heavily damaged during the Chinese Cultural Revolution but in recent years has undergone extensive renovations and remains an important pilgrimage site. A highlight of a visit is following the 14 Stations of the Cross, which zigzag up the hill to the church, along with the many splendid views along the way.
Address: 158 Puxi Road, Xu Jia Hui, Xuhui District, Shanghai
11. Visit the Shanghai Science and Technology Museum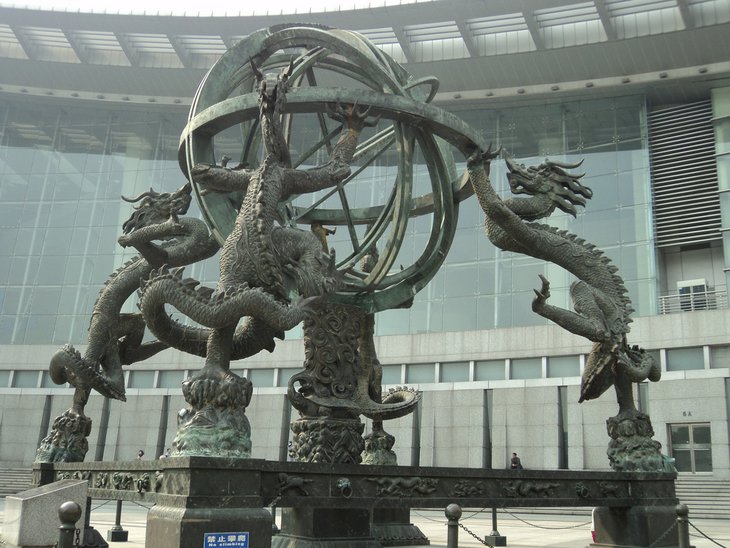 In keeping with its status as a world-class city, Shanghai is not without its fair share of top-notch museums. In addition to the splendid Shanghai Museum, the city is home to the huge Shanghai Science and Technology Museum, the largest of its kind in China and one of the city's top draws with more than two million visitors each year.
Opened in 2001, the museum offers numerous things to see and do, including interactive multimedia exhibits, permanent displays, and state-of-the-art science theaters. Highlights include a large collection of animals native to the region, scientific achievements, a fascinating exhibit on robotics, as well as exhibits focusing on space travel.
Other fun attractions for families include the Shanghai Ocean Aquarium. This worthwhile attraction is popular for its 120-meter underwater tunnel, which provides a close-up view of the region's diverse marine life. Also worth a visit is the Shanghai Zoo, famous for its large collection of native species, including giant pandas and South China tigers.
Address: 2000 Century Ave, Pudong, Shanghai
Official site: http://en.sstm.org.cn
12. The China Art Museum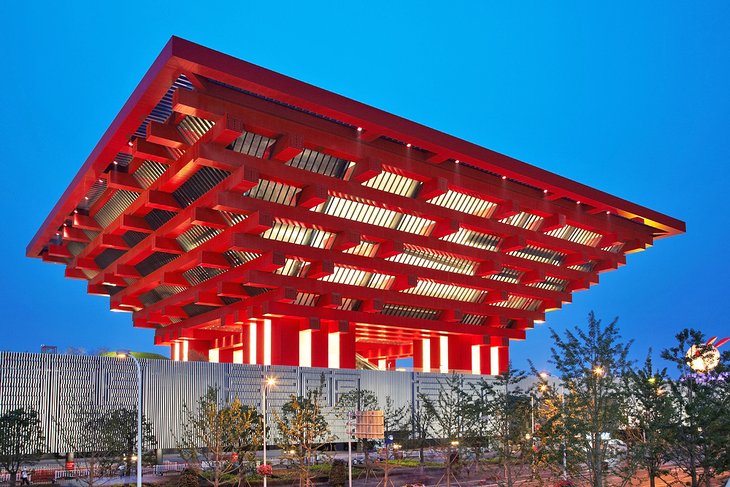 Also often referred to as the China Art Palace, the China Art Museum (Zhonghuá Yìshù Gong) is the largest art gallery in Asia. It's also home to the country's most important collections of modern art, housed in the city's spectacular China Pavilion, the sole survivor of the city's Expo 2010 event (and looking a little like an upside-down pyramid).
Highlights of a visit include its fascinating collections of Chinese modern art, exhibits of prominent Chinese artists, as well as numerous works related to Shanghai's cultural development over the decades. Culture lovers should also invest a little time visiting the Oriental Art Center, one of the city's most important venues for performances of classical music, opera, and theatrical productions.
Also of note is the splendid Shanghai Grand Theatre, well regarded for its regular roster of concerts, operas, ballet performances, and traditional theater.
Address: 205 Shangnan Road, Pudong, Shanghai
13. Visit Shanghai Disney Resort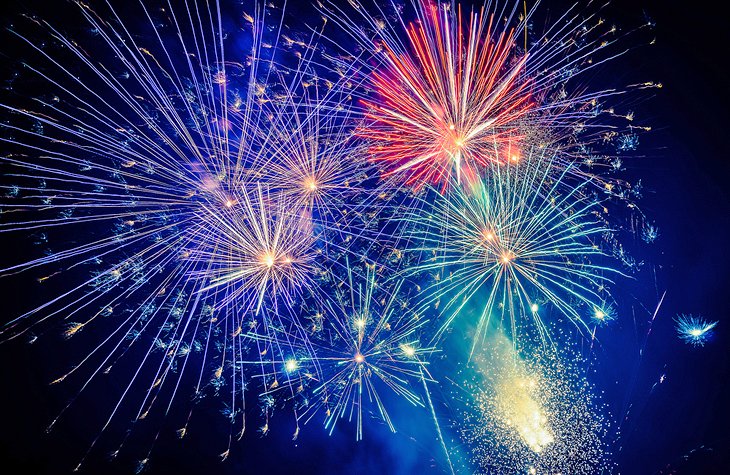 Shanghai Disney Resort, China's second Disney venture after Hong Kong Disneyland Resort, opened to great fanfare and huge crowds in 2016 and shows every sign of being a massive success.
In addition to its two themed hotels and the Disneytown entertainment and shopping district, this nearly 1,000-acre site in the city's Pudong district is home to the Shanghai Disneyland Park, the hub of all the action and the real reason some 10 million people visit the resort each year.
And it's every inch the kind of Disney experience fans and families alike can't seem to get enough of. The fun starts on Mickey Avenue, with its character meet and greets and merchandise-cum-souvenir shops, before guests head off to their favorite part of the park.
Highlights include Gardens of Imagination, with its pleasant Chinese gardens and Dumbo carousel, and Fantasyland, in many ways the parks "heart and soul." It's here you'll find the Enchanted Storybook Castle and hordes of mini wannabe princesses waiting to catch a glimpse of their favorite Disney royalty. Also popular is Treasure Cove, home to a thrilling Pirates of the Caribbean-inspired ride.
Address: 310 Huangzhao Road, Pudong, Shanghai
Official site: www.shanghaidisneyresort.com/en/
14. Jin Mao Tower and Skywalk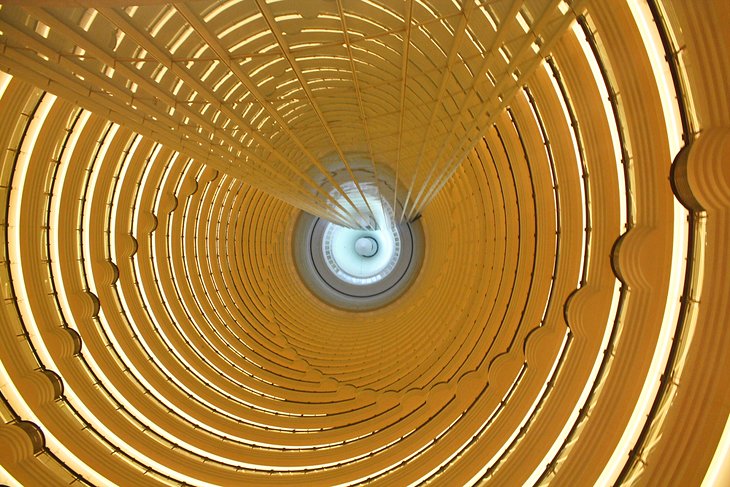 In a country that seems to build super-tall skyscrapers at a rate of knots, the Jin Mao Tower (Jinmoh Dusa) certainly manages to stand out. Reaching 93-stories skyward (420.5 meters), this impressive tower stands as testament to the new found prosperity that is so evident in Shanghai - hence the building's name, which in Chinese translates to "Golden Prosperity Building."
One of the world's tallest freestanding structures, it has become a popular tourist attraction for its thrilling Skywalk, a massive enclosed observation deck located on the 88th floor that's capable of holding upwards of 1,000 people at a time. While the views over the city and the Bund are of course impressive, it's the building's unique and spectacular interior view down to the atrium of the Grand Hyatt Shanghai Hotel far below that draws the biggest "oohhs" and "aahhs."
While here, be sure to visit the large shopping center at the base of the tower. Also worth visiting are the other neighboring skyscrapers, including the 121-story Shanghai Tower and the Shanghai World Financial Center, which together with the Jin Mao Tower make for the world's tallest trio of super-tall skyscrapers.
Address: 88 Century Ave, Lu Jia Zui, Pudong, Shanghai
15. Shanghai Natural History Museum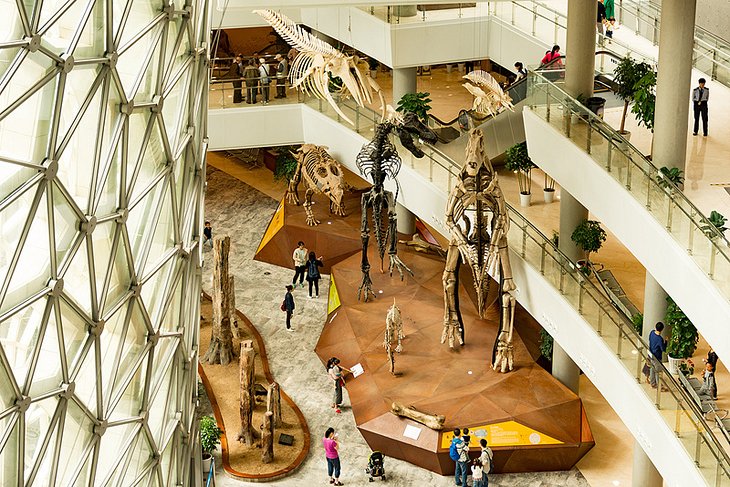 Museum goers won't want to miss the chance to visit the Shanghai Natural History Museum. This stunning world-class facility was established in 1956 and only recently opened up in its new state-of-the-art location in Jing'an Sculpture Park in 2015. This is one of the country's largest museums - it covers an impressive 40,000 square meters.
You'll be rewarded with a chance to peruse a vast collection of more than 240,000 artifacts, many of them unique to China and including everything from rare animal and plant specimens, some dating back as far as 140 million years (there is a rare dinosaur skeleton, which stands over four stories high). Also fun to see are the many large animatronic dinosaurs, which provide a pretty good idea of the sheer size, power, and appearance of these extinct beasts.
Location: Jing'an District, Shanghai
Map of Tourist Attractions & Things to Do in Shanghai
Shanghai, China - Climate Chart
Average minimum and maximum temperatures for Shanghai, China in °C
J
F
M
A
M
J
J
A
S
O
N
D

8

1

9

2

13

5

19

11

24

16

27

20

32

25

32

25

27

21

22

15

17

9

11

2

PlanetWare.com
Average monthly precipitation totals for Shanghai, China in mm.

38

58

81

102

114

152

130

132

155

61

51

36
More Related Articles on PlanetWare.com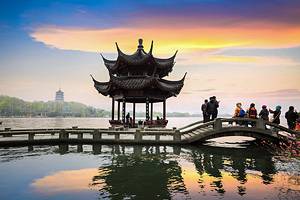 Historic Hangzhou: Just a two-hour train ride away from Shanghai is the historic city of Hangzhou. Famous for its many beautiful temples, including the 13th-century Yue Fei Temple, and the six-square-kilometer West Lake with its lovely waterside parks and pagodas, Hangzhou is also a great place to explore on foot, especially around the historic Qinghefang Ancient Street area, popular for its old cobbled streets, quaint squares, traditional restaurants, and shopping.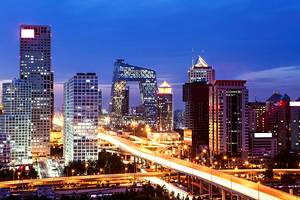 Taking Flight: Thanks to its being a major transportation hub - both nationally and internationally - Shanghai serves as a great jumping-off point to explore other parts of the country. An easy two-hour flight away, Beijing, the country's capital, is a must for visitors to China. Highlights include the magnificent Imperial Palace, the Forbidden City, Tian'anmen Square, and more modern wonders, including the Beijing National Stadium, famous for its role in the 2008 Summer Olympics, and the Beijing Capital Museum.
Beijing also offers a variety of interesting day trip options, the most popular being a trip to Badaling Pass and the Great Wall of China.
A little further afield but still under three hours flying time, Chengdu is where you'll have the unique opportunity to spend time getting up close to the country's most iconic animals at the Chengdu Research Base of Giant Panda Breeding (be sure to opt for one of the special, immersive caretaking packages, which include feeding and cleaning up after these cuddly creatures).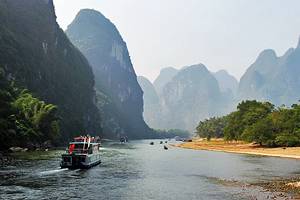 China Vacation Ideas: Thanks to its immense size, China offers a wide variety of interesting landscapes to explore. One of the most popular is a Li River Cruise from Guilin to Yangshuo. Starting in Guilin, you'll spend the best part of a day drifting along the Li River, enjoying the beautiful karst mountain scenery along the way, before disembarking in Yangshuo. Here, you can enjoy activities like exploring the riverside pathways by bike, or taking a ride on one of the traditional bamboo rafts available for hire.
Another great option for adventurous types is to take the (silk) road less traveled to Dunhuang and Jiayuguan. Located in the northwestern corner of the country, here you can enjoy such experiences as a spectacular sunset camel ride across the Gobi Desert, or exploring parts of the Great Wall of China not normally visited by tourists around the spectacular Jiayuguan Pass.