17 Top-Rated Tourist Attractions in South Korea
South Korea offers everything a traveler could want in a destination. It has a long and fascinating history, a wonderful culture, amazing food, friendly people, and an excellent tourism infrastructure (including a new high-speed rail system). It's also a country of contrasts, with tourist attractions ranging from ancient mountaintop Buddhist temples like Bulguksa to the ultra-modern skyscrapers of Seoul like the Lotte World Tower.
It also has one of the most unique attractions in the world that can be visited, a no-mans land, part of a military border between two countries technically still at war (the DMZ). Plan your trip with our list of the top tourist attractions South Korea.
Note: Some businesses may be temporarily closed due to recent global health and safety issues.
1. Changdeokgung Palace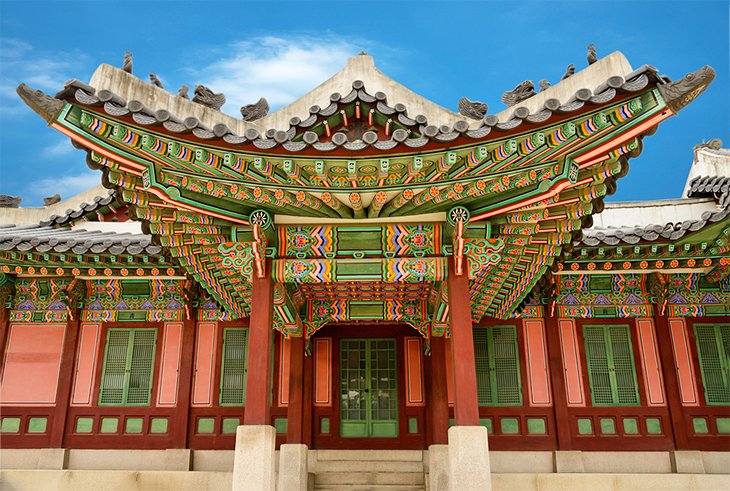 Of the five grand palaces built by the Joseon Dyantasy in the 15th century around Seoul, Changdeokgung Palace was always the preferred royal residence. It's where the king and royal family lived their daily lives. It's not one building, it's a complex of buildings, and each served a different purpose. Some are accommodations, some are libraries, dining rooms, and meeting rooms, among other uses. Be sure to spend some time in the 78-acre Huwon, or palace garden, located behind the palace. It's filled with pathways, green spaces, pagodas, streams, and lakes.
Address: 99 Yulgok-ro, Waryong-dong, Jongno-gu, Seoul, South Korea
Accommodation: Where to Stay in Seoul
2. Busan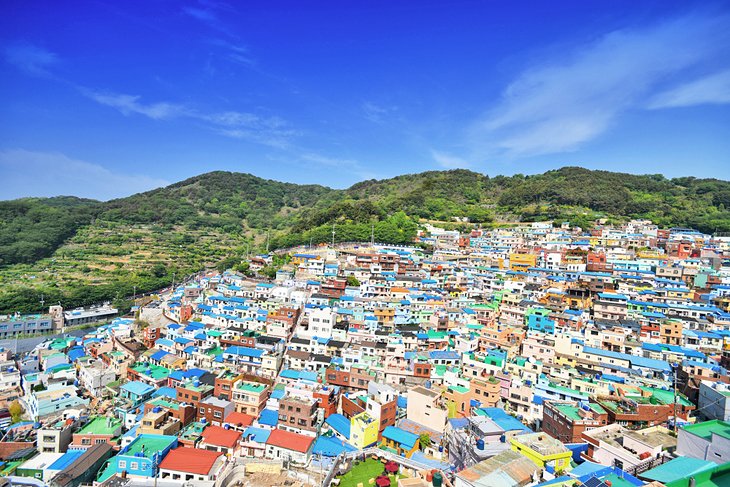 Did you know you can hit the beach in Korea? Busan is the second largest city in the country, and its coast is lined with some beautiful beaches and resorts. There's a lot of culture and history here, too. Be sure to visit the Beomeosa Temple and the hillside village of Gamecheon. Gamecheon is a European-style village on the cliffs above the sea, like Korea's version of Santorini.
Seafood lovers should be sure to visit Jagalchi Market, the country's largest commercial seafood market. Part of the market is open to consumers, and there are many small restaurants that will cook up your purchase, so you can eat it right here.
3. Jeonju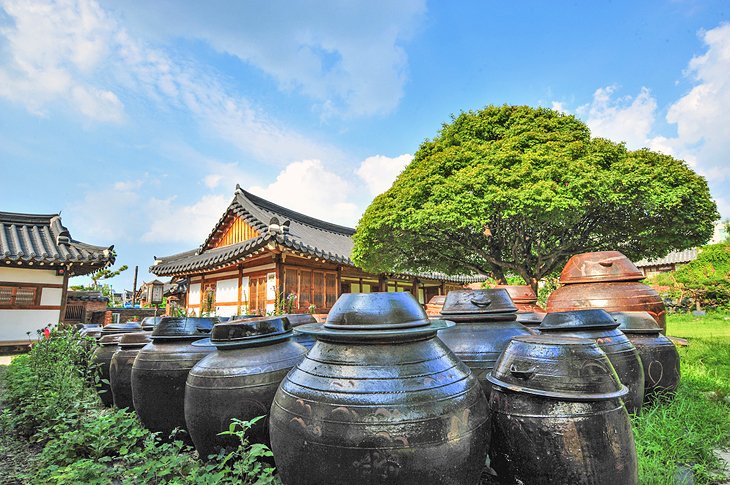 This historic city, once the spiritual capital of the Joseon Dynasty, is about 90 minutes by train from Seoul. It's home to many ancient temples and shrines along with a hanok village. These are found throughout Korea, they are preserved neighborhoods of ancient and old homes (hanoks), allowing visitors to get a feel for what life was like in ancient Korea. Some of the homes in the hanok villages are open for tours, and others have been made into museums (and restaurants and lodging, too).
4. Seoul Tower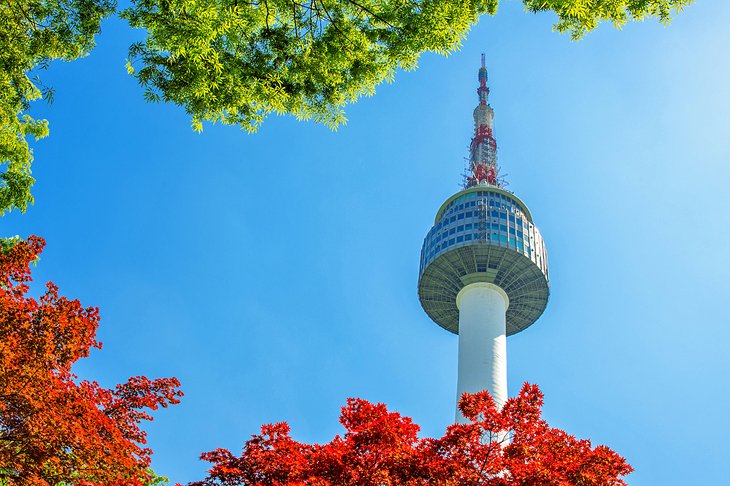 Yes, everyone visiting Seoul should go up in the city's iconic observation tower. Its position almost on top of a mountain, plus the height of the tower itself, gets you almost 500 meters above sea level and the city below. But leave some time to explore the surrounding mountain area. The tower is near the top of Mount Namsan, and the entire area is Namsan Park, which is run by the city. There are miles of hiking trails to explore, all within a few minutes of downtown Seoul.
There's a cable car that takes you from the city (near Myeongdong) to the tower's base area. You can then hike from here. After climbing the mountain and riding on the cable car, leave time to explore the Namsan Hanok Village. These preserved historic villages, which are located all over Seoul and Korea, are re-creations of ancient Korean neighborhoods. This village includes five restored hanoks or traditional Korean homes.
Address: 105 Namsangongwon-gil, Yongsan 2(i)ga-dong, Yongsan-gu, Seoul
Official site: http://www.nseoultower.co.kr/eng/
5. Bukchon Hanok Village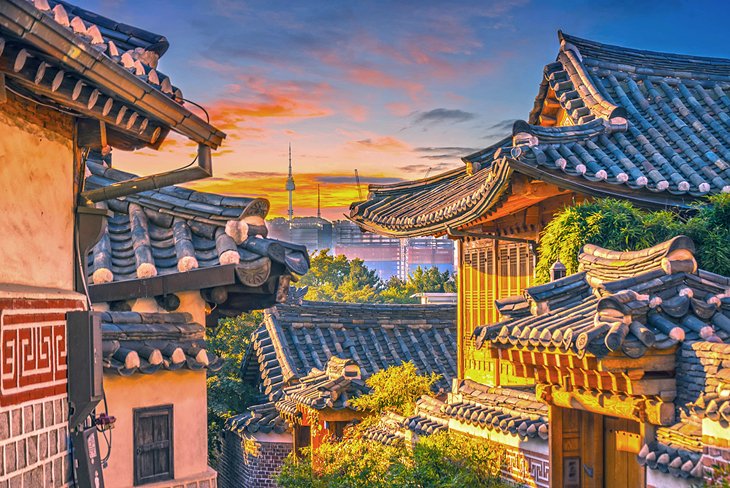 Hanok villages, which can be found in a few places in Seoul and around Korea, are living museums. They're restored and preserved ancient neighborhoods, some in their original location (like Bukchon) and some re-created with hanoks (traditional Korean homes) moved from elsewhere. They give visitors an opportunity to not only experience what it was like to live in a hanok, but also what it was like to live in Korea 600 years ago.
You can experience the tiny, narrow streets and also explore Korean culture, as many of the hanoks are museums or offer cultural demonstrations. Some are private homes, and some offer accommodations.
Bukchon Hanok Village is a popular place to explore, as it's right in central Seoul, in the area between the Gyeongbokgung Palace and the Changdeokgung Palace.
6. Seoraksan National Park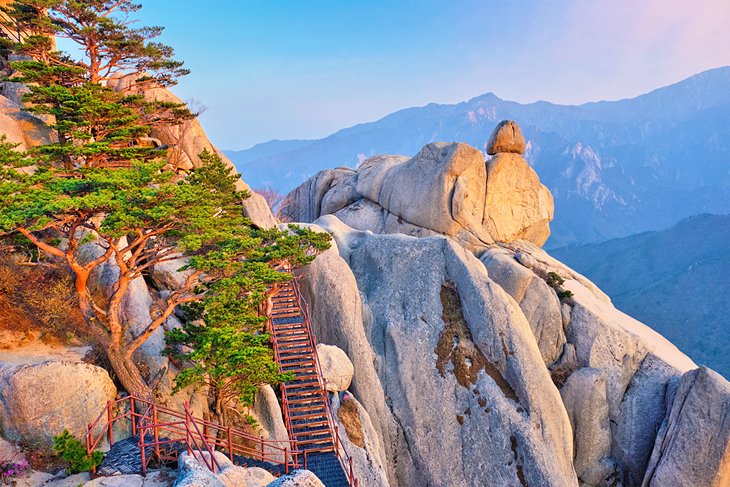 Like the Yosemite of Korea, this majestic natural wonderland (Korea's first national park) has mountains, lakes, waterfalls, streams, and miles of hiking trails that allow you to explore them. The park is known for its natural diversity, as it has over 1,500 different animal species and over 1,000 different kinds of plants. There are also two Buddhist temples inside the park, one known as the "Temple of a Hundred Pools" due to all the ponds around it fed by mountain streams.
When you get tired of walking, there's a cable car that will take you up Seoraksan Mountain for some incredible views of the mountains and valleys. It takes about four hours by bus or three hours by car to reach the park from Seoul.
7. The DMZ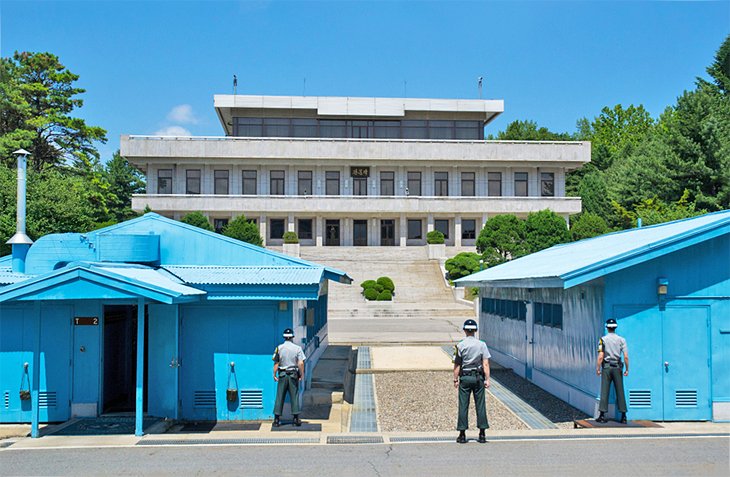 DMZ stands for demilitarized zone, and it's the no-man's land border between North and South Korea. Heavily guarded and mined, the strange area can be visited, but only on an official, guided tour (the USO operates a popular one). The official area is about four kilometers wide and is formally known as the JSA or Joint Security Area. The closest town is Panmunjom.
Tours include a visit to a North Korean gift shop and the very strange Military Armistice Commission Conference Room, which straddles the Military Demarcation Line. Visitors can step over the border into North Korea, while inside the cross-border room. The site and surrounding area also has several observation towers, parks, and museums.
8. National Museum of Korea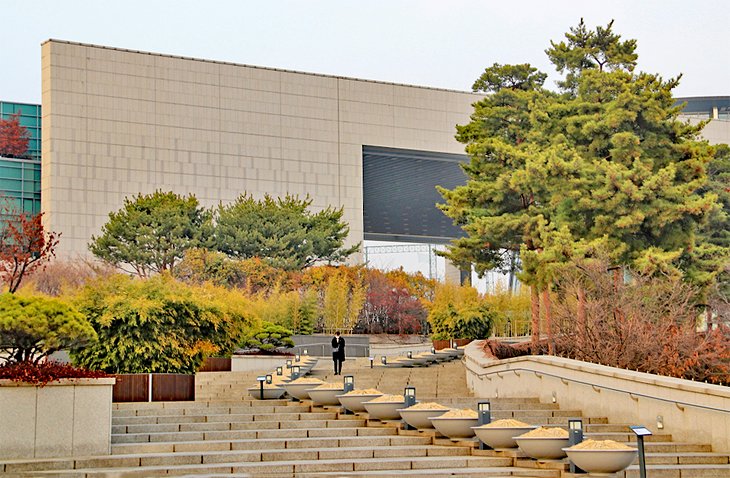 As a world capital, Seoul is filled with a lot of museums. The largest is the National Museum of Korea, and like the Met in New York, it's a place that really can't be explored in a single visit. The vast collection combines art, history, and archeology, presented to show the history of Korean culture and tell the story of the Korean people.
It's also an excellent attraction to see if you only have limited time in Seoul. The collection is beyond vast, as it goes back over a million years. It's fascinating, especially for families and kids as there's such a wide range of objects. Everything from Stone Age tools to modern artwork by Korean artists.
Address: 137 Seobinggo-ro, Seobinggo-dong, Yongsan-gu
Official site: https://www.museum.go.kr/site/eng/home
9. Lotte World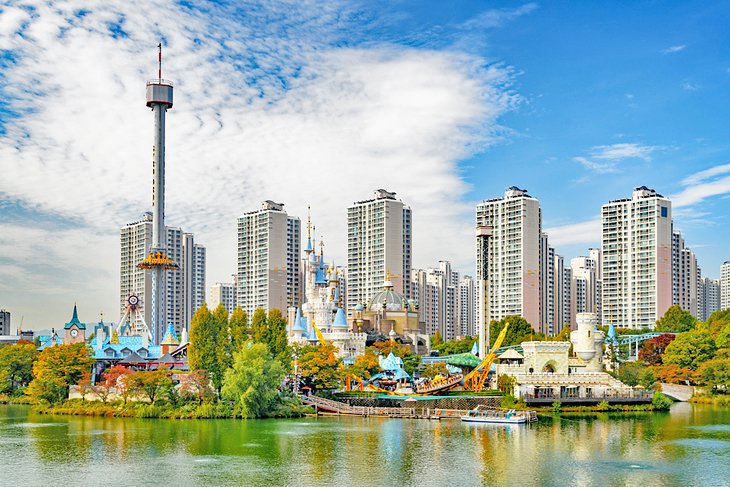 There's an amusement park right in the middle of downtown Seoul. It's a fun place to spend the day and a chance to immerse yourself in real Korean commercial culture. Lotte World includes a hotel, movie theaters, a folk museum with traditional performances, and activities like ice-skating.
A visit is fun for both kids and adults, and aside from the rides and attractions there's a lot of shopping and also artists' workshops and cultural performances to watch. There's a large indoor theme park and an outdoor theme park area called Magic Island.
For a bigger, outdoor theme park experience, Everland is about 45 minutes outside Seoul and is Korea's version of Disneyland.
Address: Songpa-gu, Jamsil 6(yuk)-dong, Olympic-ro, 300, Seoul
Official site: https://www.lwt.co.kr/tower/en/main/main.do#sec01
10. Gyeongbokgung Palace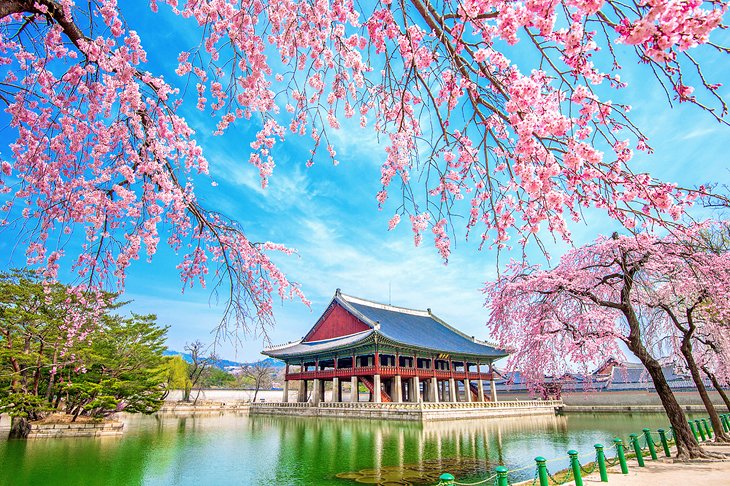 Also known as the Northern Palace, the large Gyeongbokgung Palace complex has gone through some incredible turmoil over the years. It was first built in 1395 during the Joseon dynasty, who built five grand palaces around Seoul. The palace has been bombed, destroyed, rebuilt several times, occupied by the Japanese (first in 1592), and only finally restored in 1990. Be sure to check out Gyeonghoeru Pavilion and Hyangwonjeong Pond, two of the remaining original structures from the Joseon period.
The palace compound can be explored on a guided walking tour. There are also two museums inside the grounds (the National Palace Museum and the National Folk Museum), both worth a visit.
Address: 161 Sajik-ro, Sejongno, Jongno-gu, Seoul
11. Hallyeo Maritime National Park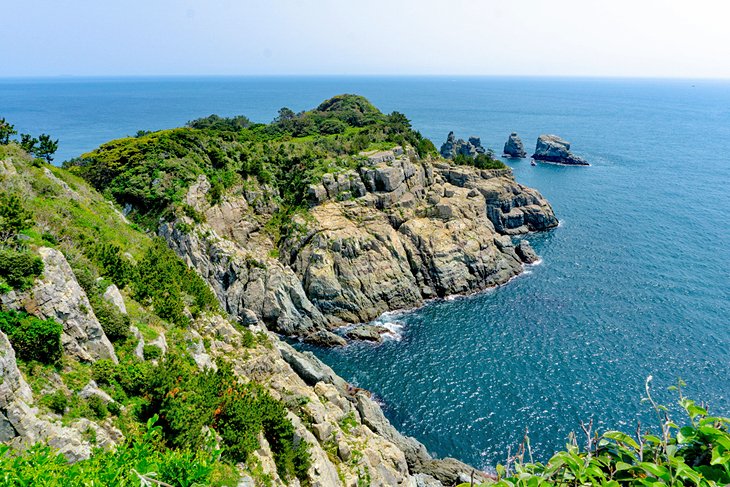 This beautiful national park includes miles of raw coastline on over 300 separate islands. Each has hiking trails with spectacular ocean and cliff views. The area also features a cable car, known as the Hallyeosudo Viewing Ropeway. It's the only dual-cable, automatic circulating gondola system in the country.
The ride is almost 2.4 kilometers long and takes nine minutes to reach the summit. You're rewarded with sweeping views of the countryside and coastline, including the Japanese island of Daemado. The park is about an hour by bus or car from downtown Seoul.
Official site: http://english.knps.or.kr/Knp/Hallyeohaesang/Intro/Introduction.aspx?MenuNum=1&Submenu=Npp
12. Bulguksa Temple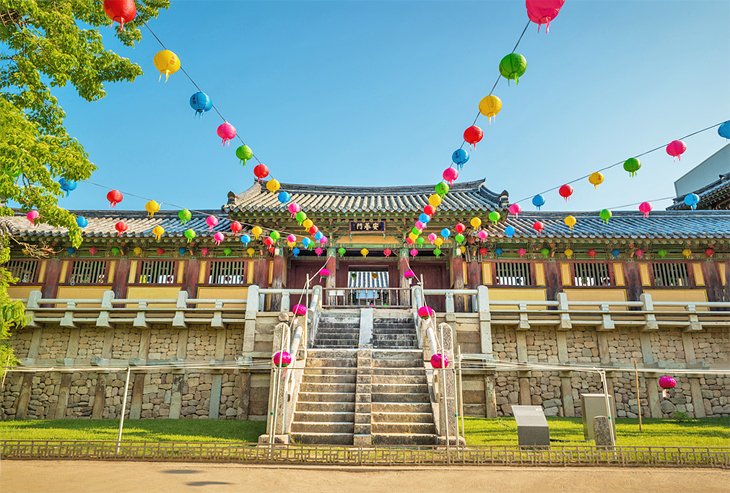 One of Korea's true must-see Buddhist temples, Bulguksa Temple is considered by many to be the country's most important. It's officially Historic and Scenic Site Number One as classified by the government. The temple is home to seven of the country's national treasures, sacred pagodas, and statues of the Buddha.
The temple is on the slopes of Mount Toham in Gyeongju, the ancient capital city of Korea. It's a city so historic, it's called a "museum without walls" due to all the historic sites and temples. Gyeongju is about two and half hours from Seoul via the new KTX high-speed train.
Address: 15-1 Jinhyeon-dong, Gyeongju, Gyeongsangbuk-do
13.
Blue House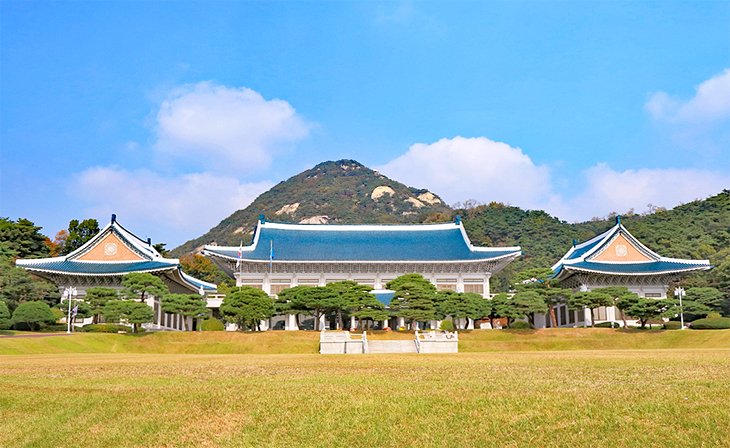 Named for the striking blue-tile roofs of its many pavilions and buildings, the Blue House, much like the White House, is the home of the Korean president. The very secure complex of buildings also houses many Korean executive government offices and official meeting sites. It's an interesting place to visit, as it gives you a behind-the-scenes look at modern Korean government and Korean formal culture. A lot of what you see on the guided tour are meeting rooms and official state reception rooms where foreign dignitaries are welcomed.
Hour-long public tours are given, but you need to apply online in advance for a security check.
Address: 1 Sejongno, Jongno-gu, Seoul
Official site: https://english1.president.go.kr/Contact/Tours
14. Jeju Island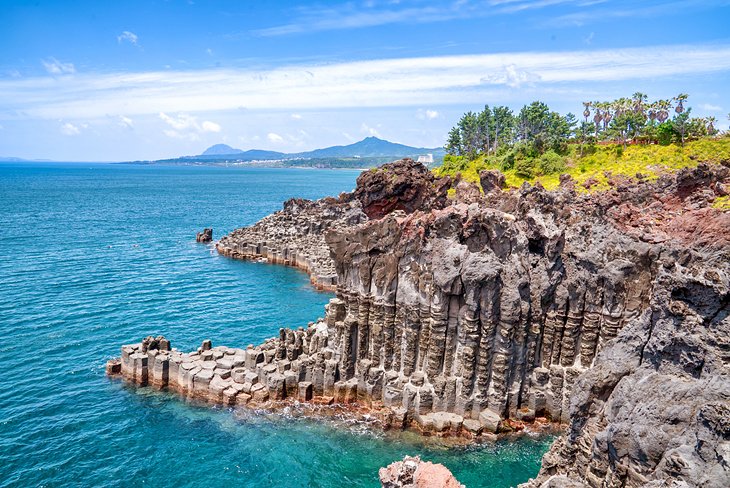 A very popular resort destination, this volcanic island is best reached via a quick hour-long domestic flight from Seoul. The island boasts beautiful beaches along with a lot of culture and history. The highest mountain in South Korea (a dormant volcano called Hallasan) is here along with miles of giant lava tubes. The lava tubes, which can be explored, are natural air pockets in the hardened lava, the size of railway tunnels.
Be sure to visit Jungmun Beach to see the diving women. These are women who free dive hundreds of feet to catch different types of seafood. This tradition started centuries ago, when the local men were all out on the fishing boats. The island also has hundreds of miles of hiking trails and a lot of hot springs and health spas.
15. Gwanghwamun Gate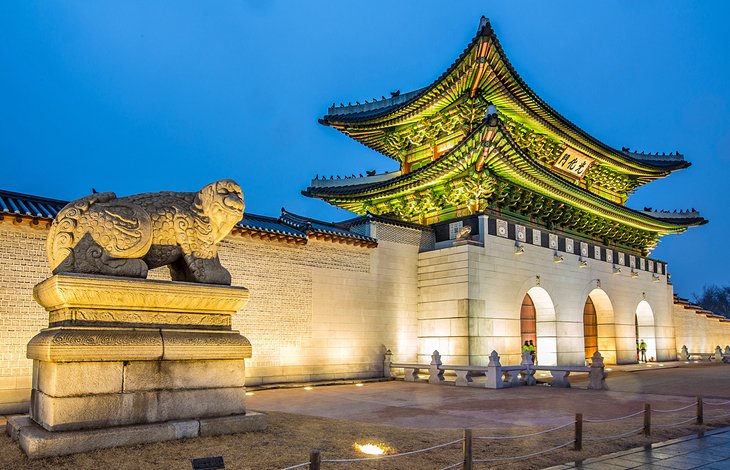 This attraction is a giant gate, formerly the opening in the fortress wall to the Gyeongbokgung Palace located within. It was originally built with the palace in the 15th century but has been destroyed and rebuilt many times. Most recently in 2010, it was moved back to its original location in front of the palace and Gwanghwamun Square and restored with authentic materials. The previous restoration included concrete and other non-traditional construction techniques, but the new gate has been completely constructed with ancient techniques, using only native woods and handmade fittings.
Gwanghwamun Gate is home to the changing of the guards ceremony (performed since 1469), which happens daily (except Tuesdays) at 10am and 2pm.
Address: 161 Sajik-ro, Sejongno, Jongno-gu, Seoul
16. Jingwansa Temple
This ancient temple complex about 15 minutes from downtown Seoul offers both an authentic Buddhist temple experience (including a temple stay program) and a beautiful national park. The temple, which was first established at the site in 1,000 BC, has several programs for visitors to learn about and experience Buddhism and the monk lifestyle.
You can do a temple stay program, which includes an overnight visit, or just come for a meal (vegetarian) or to explore the buildings and shrines. You can also visit the area just to explore Bukhansan National Park, as the temple is inside it. There are miles of hiking trails and three peaks, which can be climbed. Aside from the mountains and forests and their spectacular scenery, there are also ruins of an ancient fortress along the hiking trails.
Address: 73 Jingwan-gil, Jingwan-dong, Eunpyeong-gu, Seoul
17. Itaewon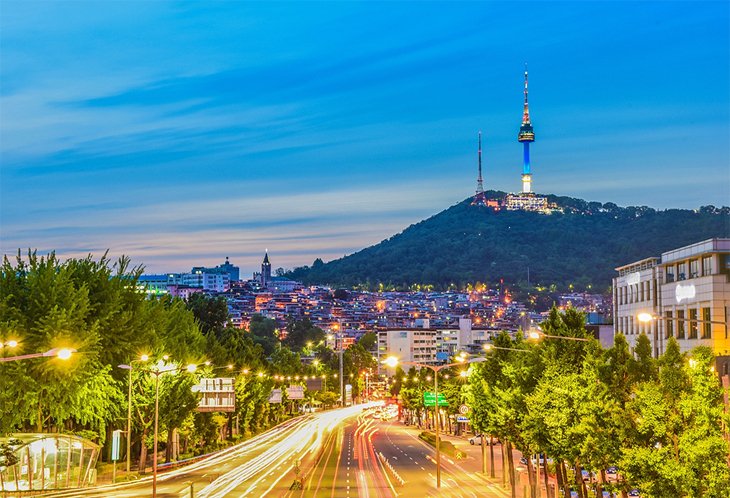 Yes, it's a touristy, ex-pat area filled with gift shops and street food, but the Itaewon neighborhood is a great place to just spend an afternoon wandering around. It's especially fun in the early evening, when residents also come out to grab dinner and people watch. There's an energy here that defines the cosmopolitan city, and it's also a popular strolling spot for locals. You'll see a lot of Korean families, kids, and couples, all enjoying the shops and restaurants.
For those in search of authentic Korean food, this is not the place to come, but it is the place to come for international foods not widely available in Seoul. Things like Italian food, pizza, burgers, and American-style western barbecue.