12 Top-Rated Tourist Attractions in Fukuoka
One of Japan's largest cities, Fukuoka is the administrative, economic, and cultural center of the southernmost island of Kyushu and is one of the country's most progressive cities. Located in Hakata Bay, Fukuoka is divided in two by the River Naka, with Hakata, the older eastern part of the city, serving as an important port and commercial center.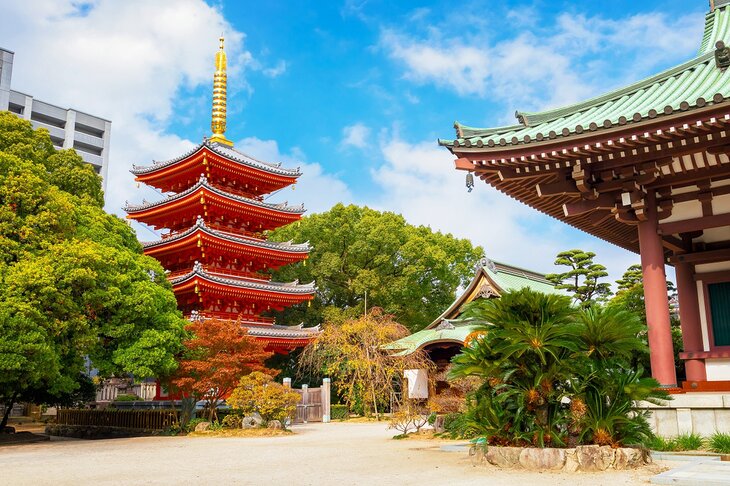 The once-fortified town grew in importance during the 17th century, and after amalgamation with Hakata in 1889 became an important cultural center. These days, Fukuoka is a tourism hot spot that's home to numerous fine museums, art galleries, and theaters, as well as great places to eat.
The city also hosts many professional sporting events and festivals. Perhaps the most popular is the famous Hakata Gion Yamakasa, a two-week long, 700-year-old celebration held each July, which involves colorful parades, traditional races, and costumes, along with musical offerings.
Fukuoka also offers many interesting shopping and dining opportunities, in particular in Canal City Hakata. This impressive city-within-a-city comes complete with a waterway running through its bustling complex of hotels, restaurants, arcades, cinemas, a theater, 250 shops, and other fun things to do.
Make finding the best places to visit in this city easy with our list of the top tourist attractions in Fukuoka.
1. Fukuoka Castle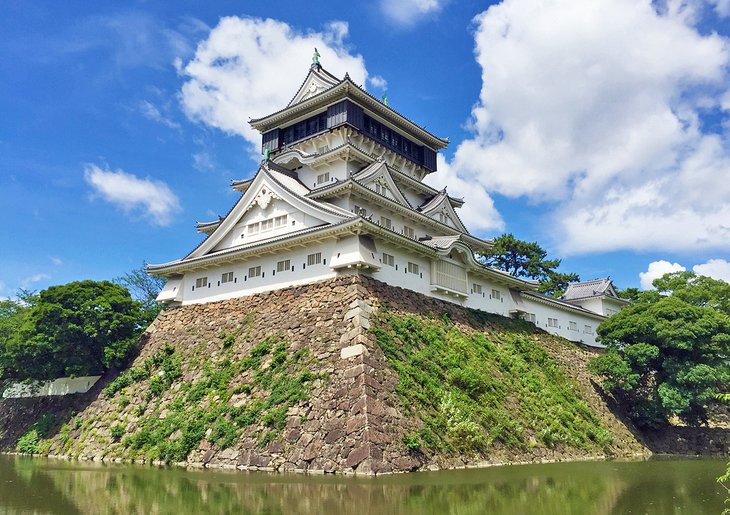 Highlights: The last remaining structure of a once-47,000-square-meter castle complex
Sometimes also known as Maizuru Castle and Seki Castle, Fukuoka Castle (Fukuoka-jō) is a fine example of the type of lavish 17th-century hilltop home once preferred by the country's ruling elite.
While the large remaining structure is only a small fraction of the original castle's once massive complex - it's believed to have covered an area of some 47,000 square meters - it remains an impressive site, perched high atop a tall stone foundation overlooking the Naka River.
Highlights of a visit include exploring a number of the original castle gates, turrets, and towers within the extensive castle grounds (much of it now part of Maizuru Park). Also fun is exploring the ruins of an even older guesthouse once used for visiting diplomats, the only one of its kind in Japan.
A great time to visit is the first week of April during the Fukuoka Castle Sakura Festival. This event is famous across the country for its displays of more than 1,000 cherry blossoms. And if time allows, be sure to make a return visit to the castle and its grounds after nightfall - the illuminations are spectacular.
Address: 1 Jonai, Chuo Ward, Fukuoka
2. Sumiyoshi-jinja Shrine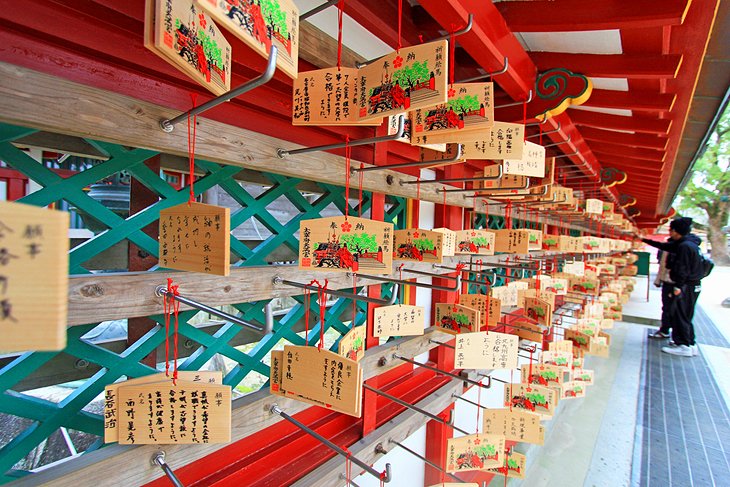 Highlights: One of the oldest shrines in Japan, dating back to the 17th century and surrounded by lovely trees and gardens
One of the oldest such sites on Kyushu, the Sumiyoshi-jinja Shrine is, like its counterpart in Osaka, dedicated to the protective divinities of seafarers, the last of a series of such shrines sailors would visit before heading out to sea.
Particularly impressive is the Main Hall, which was rebuilt in its current classical style in 1623. Other highlights include a number of important national treasures, most notably an ancient sword and a copper axe, along with old manuscripts and documents dating back to the Middle Ages.
From the shrine, which is surrounded by a large grove of Japanese cedars and camphor trees, are fine views over the River Naka. Be sure to allow plenty of time to also explore the adjacent Sumiyoshi Park.
If you can, try to time your visit to coincide with one of the shrine's traditional theater performances. Also of interest is a festival held in October that includes displays of sumo wrestling.
Address: 3 Chome-1-51 Sumiyoshi, Hakata Ward, Fukuoka
3. Kyūshū National Museum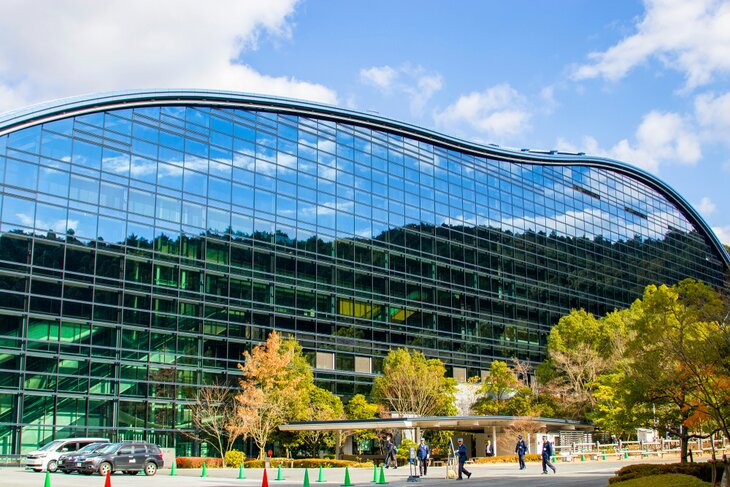 Highlights: One of the newest museums in Japan, home to prehistoric relics found from archaeological digs, as well as other national treasures
Opened in 2005, Kyūshū National Museum (Kyūshū Kokuritsu Hakubutsukan) made headlines not only for its award-winning architectural design, but also as Japan's first new national museum to open in more than 100 years.
Built to house a large publicly owned collection of art and historically important artifacts related to the island's rich history, this state-of-the-art facility can easily occupy visitors for the best part of a day.
Highlights include displays of prehistoric relics found in numerous archaeological digs, as well as exhibits tracing the long history of the island's importance as a trading link between Japan and nearby China and Korea. Also on display are a number of important national treasures, including 15th-century art by leading Japanese artist Masanobu Kano, along with many historically significant documents and manuscripts.
Be sure to check the attraction's website for news of its rich program of temporary visiting exhibits. The museum also hosts a café, restaurant, and a well-stocked shop.
Address: 4 Chome-7-2 Ishizaka, Dazaifu, Fukuoka 818-0118
4. Kushida-jinja Shrine
Highlights: One of the oldest Shinto shrines in Japan that hosts a two-week-long festival every year
One of Japan's best known (and Fukuoka's oldest) Shinto shrines, Kushida-jinja was founded in AD 757 and contains many unique features, including exquisite carvings of the Chinese zodiac and a gingko tree said to be more than 1,000 years old.
The shrine is also famous for hosting the Hakata Gion Yamakasa each July. This spectacular two-week-long festival focuses on prayers for good health and prosperity and includes an elaborate race involving teams carrying heavy wooden floats from the temple to various locations around the city.
Other temples of interest are the Shōfuku-ji Temple, the oldest Zen temple in Japan founded in 1195, and the Tochoji Temple, founded in AD 806 and noted for having the largest wooden statue in Japan. Other highlights include the tombs of the lords of the Kuroda clan, local feudal lords since 1600.
Address: 1-41 Kamikawabatamachi, Hakata Ward, Fukuoka, 812-0026
5. Hakata Machiya Folk Museum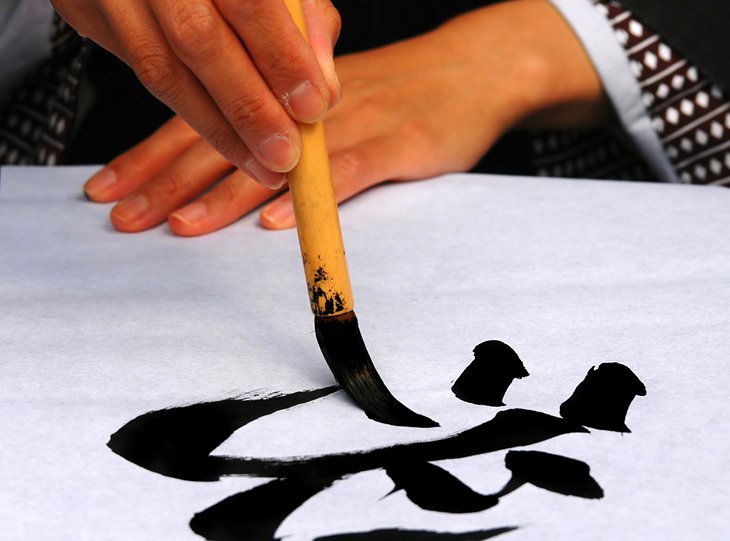 Highlights: A hands-on experience for visitors to learn about Japanese art, culture, and crafts
Housed in one of the city's few surviving buildings from the Meiji era of the late 19th and early 20th centuries, the Hakata Machiya Folk Museum is a fun diversion found in Fukuoka's Hakata district. In addition to its many displays of local crafts, this fascinating attraction offers tourists a unique insight into Japanese culture and tradition.
Not only can visitors watch these artisans at work, they can also join in, gaining first-hand experience of such ancient art forms as calligraphy and origami.
Also fun, especially for kids, is the chance to dress in traditional Japanese outfits and masks and participate in a variety of ceremonies such as serving tea. The museum also houses a number of displays relating to Hakata's many important festivals, as well as a mock-up of the home of a typical merchant family. A souvenir shop is located on the premises.
Address: 6-10 Reisenmachi, Hakata Ward, Fukuoka, 812-0039
6. Dazaifu Tenman-gū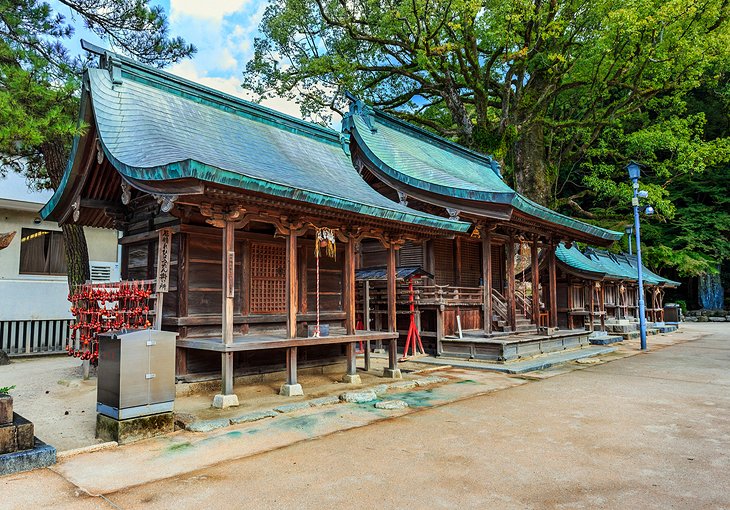 Highlights: The shrine to the God of Education sits on a sprawling 3,000 acres and dates back more than 1,000 years
Dazaifu Tenman-gū, dedicated to the god of education, is another of Fukuoka's well-known shrines. Spread across 3,000 acres, it's also one of the city's largest. It's particularly popular with students wanting to pass exams, who you'll often see here purchasing small wooden prayer tablets to deposit at the shrine.
The most important of its many structures is the Honden, or main shrine. This structure originates from 905 CE and has been replaced many times through the centuries, with the current structure dating from 1591. The site is also notable for its numerous smaller shrines along with the Treasury where many of its most important relics are kept.
Also of note are its attractive gardens, ponds, and bridges, as well as its more than 6,000 plum trees. While here, be sure to pick up a savory "umegae mochi," a local delicacy made of grilled adzuki beans that has long been a tradition for visitors to sample.
Address: 4 Chome-7-1 Saifu, Dazaifu, Fukuoka 818-0117
7. Ōhori Park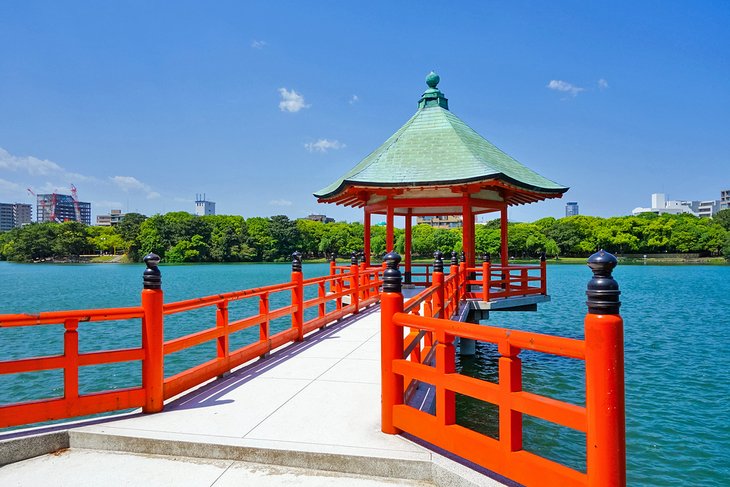 Highlights: A beautiful park with a historic lake that was once the moat of Fukuoka Castle
Fukuoka boasts a number of large public parks worth exploring. One of the most popular is Ōhori Park (Ōhori-kōen), a designated place of scenic beauty just a few minutes' walk from the city center.
Taking its name from the large man-made lake around which it's centered - once the moat of Fukuoka Castle - this magnificent water park was established in 1929 and is a delight to explore.
Highlights include a trail that circles the lake, lovely traditional Japanese gardens, and beautiful cherry blossoms each spring, along with a number of bridges and promenades leading over the water to quaint islands. It's a particular treat to visit at night, when these walkways and the park's many pagodas and pavilions are lit up. If you can, try to plan your visit for the spectacular fireworks displays held in August.
Another green space worth exploring is Maizuru Park. Part of the former Fukuoka Castle grounds, this popular park is home to a number of sports facilities and an art museum.
Address: 1 Ohorikoen, Chuo Ward, Fukuoka
8. Nanzoin Temple and the Reclining Buddha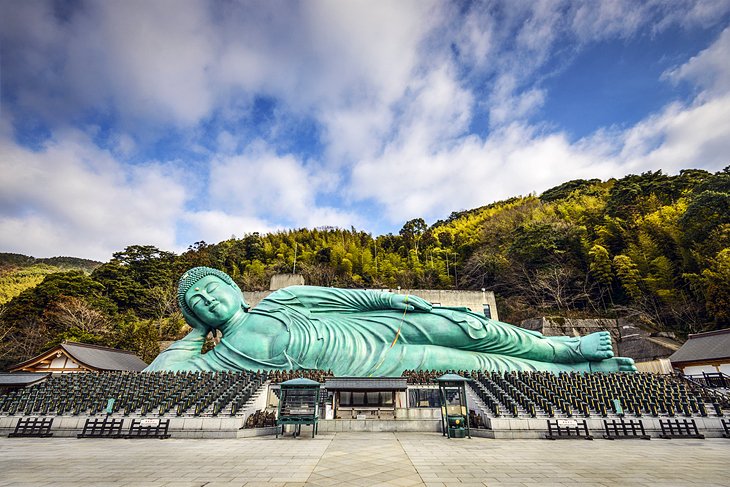 Highlights: A record-breaking statue of the Reclining Buddha, said to be the largest bronze statue in the world.
Just 15 kilometers east of Fukuoka is the Nanzoin Temple. One of the prefecture's most visited (and most important) Buddhist shrines, it attracts more than a million pilgrims and visitors annually.
The big draw here is undoubtedly the massive bronze statue of the Reclining Buddha (Nehanzo or Shaka Nehan), erected in 1995 and said to be the largest bronze statue in the world (if the statue of Liberty in New York were laid down beside it, the Buddha would be longer).
As interesting as the temple and statue is the pleasant walk to the site along a shady hillside trail from the quaint village of Sasaguri, a route that is clearly marked and notable for its many smaller statues of Buddha, as well as its picturesque streams, bridges, and gardens.
Also worth a visit is the famous wooden Buddha at Tōchō-ji, the oldest Shingon temple in Kyushu (it was founded in AD 806). Both temples are especially popular to visit in the autumn, when the hills around them are painted a brilliant shade of red with the changing colors.
Address: 1035 Sasaguri, Kasuya District, Fukuoka
9. Marine World Uminonakamichi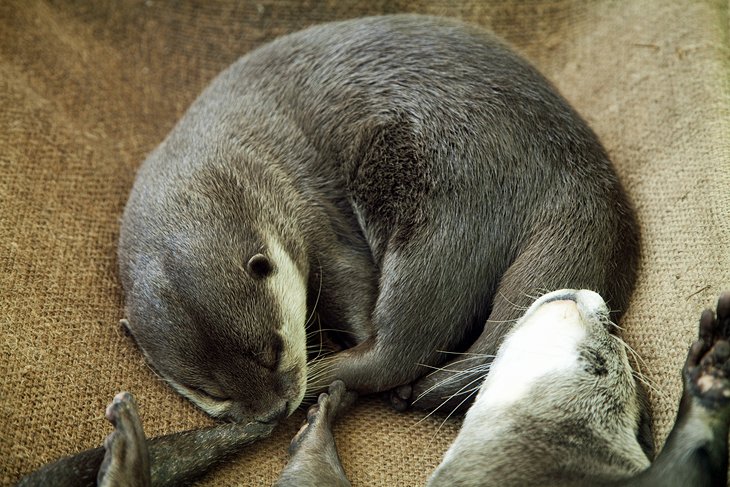 Highlights: A massive aquarium home to more than 20,000 aquatic creatures, including sharks, seals, sea lions, and otters
Housed in a large, sea-shell-shaped modern building near the waterfront of Hakata Bay, Marine World Uminonakamichi (Marin-wārudō-Uminonakamichi) is an excellent way to learn more about Kyushu's abundant marine life.
Containing some 70 tanks, the largest of which houses more than 20,000 creatures, the aquarium boasts numerous species of local warm water fish, as well as more than 100 sharks swimming freely in its large panoramic water tank.
Other species include a large collection of marine mammals, such as seals and sea lions, as well as a number of playful sea otters. Be sure to stay for one of the animal shows in the on-site Marine Theater, including the fun dolphin and sea lion show.
Afterward, spend a little time exploring the surrounding Uminonakamichi Seaside Park, popular for its displays of seasonal flowers and wild plus domestic animals (for added fun, take the ferry to the park).
If traveling with kids, you may wish to add on a visit to Fukuoka Municipal Zoo and Botanical Garden, which offers a variety of animal viewing experiences.
Address: 18-28 Saitozaki, Higashi Ward, Fukuoka
10. Fukuoka Art Museum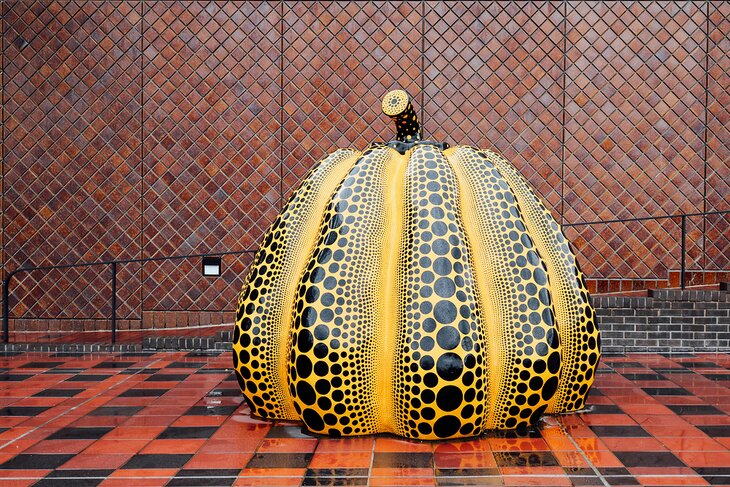 Highlights: An impressive collection of Japanese paintings and crafts, as well as pieces from other international artists
The Fukuoka Art Museum (Fukuoka-shi Bijutsukan) features a large collection of Japanese paintings and crafts, along with pre-modern Korean arts and crafts and many important Western artworks and prints. The museum also boasts an extensive collection of ancient Persian glassware along with Chinese, Korean, and Japanese paintings and applied arts.
One of the museum's most important modern works is Salvador Dalí's The Madonna of Port Lligat and works by Andy Warhol and modern Japanese artists such as Fujino Kazutomo are on view. English language tours are available.
Address: 1-6 Ohorikoen, Chuo Ward, Fukuoka, 810-0051
11. Fukuoka Tower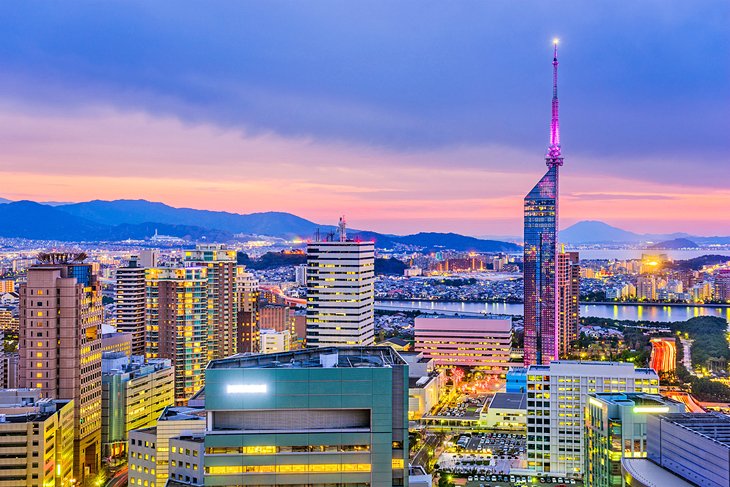 Highlights: One of the best viewpoints in town, with a 360-degree observation deck
As with so many of Japan's larger cities, Fukuoka boasts an iconic tower structure that offers visitors superb views over the surrounding area. Built in 1989 and overlooking Hakata Bay, Fukuoka Tower stands 234 meters tall and holds the record as the country's tallest seaside tower.
Highlights of a visit include spending time in the tower's highest observation deck (it has three), with its breathtaking 360-degree views over the city, which are even more spectacular at sunset.
Afterward, be sure to spend a little time enjoying the illuminations, when the tower - sheathed in 8,000 half mirrors - is spectacularly lit up with displays, including swimming fish or the Milky Way.
Address: 2 Chome-3-26 Momochihama, Sawara Ward, Fukuoka
12. Fukuoka's Food Markets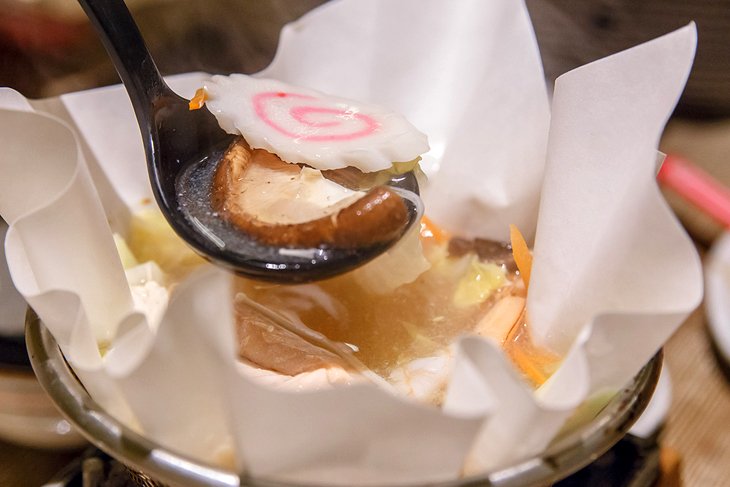 Highlights: The best places to eat the local cuisine and get a slice of daily life
A great way to experience any tourist destination is to explore the places where the locals shop. Fukuoka is no exception and offers a variety of great food markets worth experiencing.
The most popular is Yanagibashi Market, known locally as "Hakata's Kitchen" for its many great food vendors and fresh produce stalls. Also worth a visit is the Nagahama Seafood Market.
Map of Tourist Attractions in Fukuoka
Fukuoka, Japan - Climate Chart
Average minimum and maximum temperatures for Fukuoka, Japan in °C
J
F
M
A
M
J
J
A
S
O
N
D

9

3

10

3

14

5

19

10

23

15

26

19

31

24

32

24

28

20

23

14

17

9

12

5

PlanetWare.com
Average monthly precipitation totals for Fukuoka, Japan in mm.

74

71

99

127

145

249

299

165

175

97

81

61

Average monthly snowfall totals for Fukuoka, Japan in cm.

4

4

0

0

0

0

0

0

0

0

0

1
Average minimum and maximum temperatures for Fukuoka, Japan in °F
J
F
M
A
M
J
J
A
S
O
N
D

48

36

50

37

56

41

66

50

73

58

79

66

87

74

89

75

82

68

73

57

63

47

53

40

PlanetWare.com
Average monthly precipitation totals for Fukuoka, Japan in inches.

2.9

2.8

3.9

5.0

5.7

9.8

12

6.5

6.9

3.8

3.2

2.4

Average monthly snowfall totals for Fukuoka, Japan in inches.

1.6

1.6

0

0

0

0

0

0

0

0

0

0.4
Fukuoka sits on Japan's southern Kyushu island. It's a destination that experiences a change in seasons, with each one offering something different. The best time to visit Fukuoka is in the spring, including the months of March, April, and May. These are when the city is at its warmest and most sunny, and the fluffy pink cherry blossoms are in full bloom. The average temperature in the spring hovers between 15 degrees Celsius and 19 degrees Celsius.
Fukuoka in the months of June, July, August, and September is hot and humid. Its southern, warm location means that it's a spot for thunderstorms during the summer months. Temperatures can be as high as 35 degrees Celsius in the summer months.
October in Fukuoka is a lovely time to visit with the cooler temperatures and the beautiful fall foliage. The rain begins to slow down in October, and temperatures are still warm during the day at an average of 23 degrees Celsius.
Fukuoka's winters are considered to be mild. The months of November and December stay between 10 and 14 degrees Celsius, and Fukuoka rarely sees any snowfall.
More Related Articles on PlanetWare.com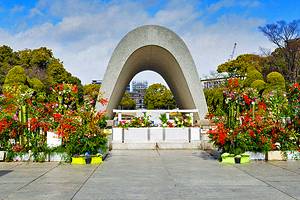 Great Day Trips from Fukuoka: Although Fukuoka is located on Japan's southern island of Kyushu, the island is joined to the mainland by a bridge — a fact that opens up numerous fun day trip ideas. One of the most popular is taking the Bullet train to Hiroshima, famous for its Peace Memorial Park and many shrines and temples. Another option is hopping aboard an easy domestic flight to explore the attractions of historic Kyoto, perhaps the best-preserved historic city in the country.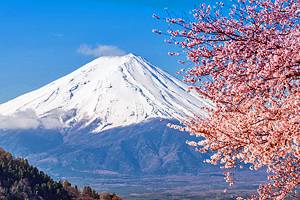 Japan Vacation Ideas: There is certainly no shortage of fantastic vacation opportunities in Japan. Those unafraid to explore large cities should consider seeing the highlights of Tokyo, the nation's capital. Here, you'll be spoiled for choice of fun things to see and do, from shopping to dining, to pampering in luxury spas and hotels, to spending time exploring the city's endless points of interest. It's also a great jumping-off point to see the country's most iconic natural landmark: Mount Fuji.