7 Top-Rated Beaches in Hong Kong
You may not plan a beach vacation to Hong Kong, but if you are here on a hot, humid, sunny day, and need an escape from the concrete jungle, you'll be glad to hear that spectacular beaches are nearby.
You don't have to go far from the attractions of the city center to find beautiful soft-sand beaches, but if you venture out a ways, you can have some all to yourself. On Hong Kong Island, the beaches are in close proximity to each other, but each has its own unique character.
If you are looking for an oceanfront area that is trendy or casual, with big waves or no waves, you can find something to suit your mood. Kick back and relax on a laid-back beach in one of Hong Kong Island's villages, or head to the more upscale beach of Repulse Bay.
Some of the beaches listed here are conveniently located on Hong Kong Island and easy to access by MTR (metro), bus, or taxi. Others, located on Lantau Island, require a scenic ferry ride and are good options for a weekend getaway.
Grab your sunglasses and towel and plan your outing with our list of the best beaches in Hong Kong.
1. Shek O Beach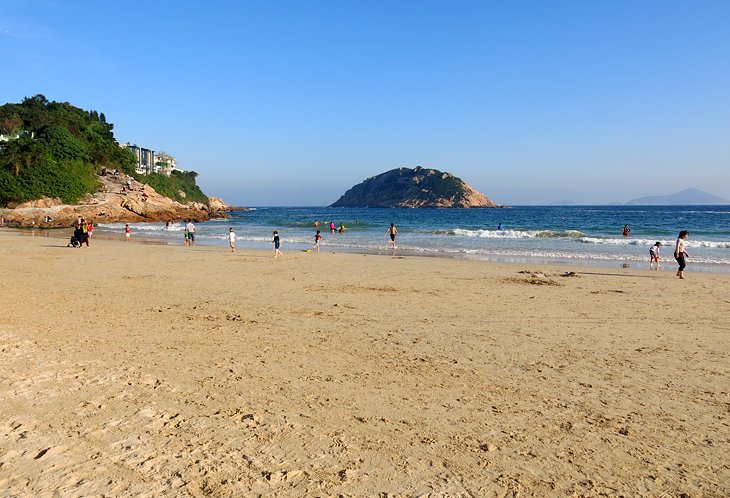 Set at the base of lush mountains on the back side of Hong Kong Island, far from the bustle of the busy city, the oceanside village of Shek O offers a beautiful, wide stretch of soft sand, just perfect for relaxing on a warm and sunny day.
On Shek O Beach, you can rent a beach chair and umbrella if you like, play in the gentle waves, and soak up the sun. Lifeguards watch over swimmers.
Behind the beach, the village of Shek O is an unassuming little community with a maze of narrow streets, where you can find casual outdoor restaurants serving mainly Chinese dishes, along with a couple of western options on the menu.
A few street-side vendors sell beach accessories, so you can pick up anything you might have forgotten to bring. The beach is nice at any time of day but the late afternoon sun here is irresistible.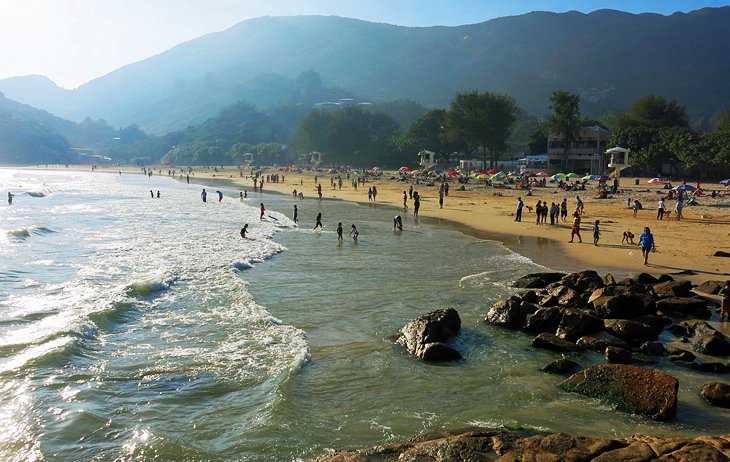 You can easily catch a taxi to the beach from your hotel in Central Hong Kong, but on busy days catching a taxi back may require a short wait. It may be more convenient to hop on one of the large, double decker buses (#9 bus), which service Shek O regularly. These run to Shau Kei Wan MTR station. From here, you can catch the metro back to Central Hong Kong or take a taxi.
2. Big Wave Bay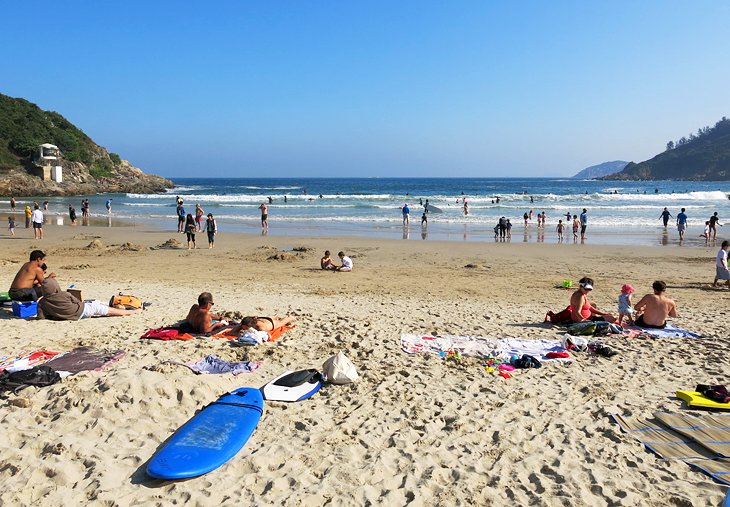 Just a short drive from Shek O Beach, Big Wave Bay has an authentic, laid-back beach town feel. And as you might have guessed by the name, this is where surfers come to get their fix.
This beach is less developed than Shek O, with a small village behind it, making it feel like you are on one of the Outlying Islands, rather than Hong Kong.
Waves crash on the beach and rocky headlands. Expats, travelers, and locals sunbathe on the beach or hit the waves with their boards. Behind the beach, diners in flip-flops and bare feet eat in outdoor restaurants, while fish and other meats cook on barbecues lining the pedestrian streets. The atmosphere here is completely casual. No shoes required.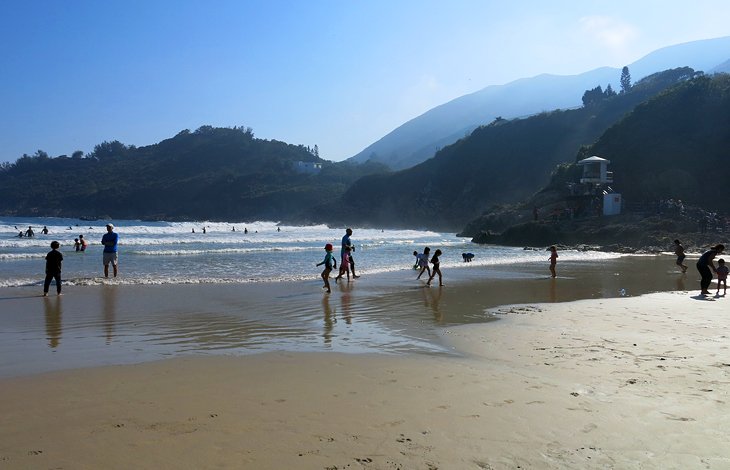 Hikers can combine a trip to the beach with one of Hong Kong's top hikes. The scenic Dragon's Back hike, which overlooks this beach from a ridge high above, ends at Big Wave Bay. Change rooms and other facilities are available.
Getting here is similar to accessing Shek O, with bus #9 running regularly to and from the Shau Kei Wan MTR station (every 10 minutes on weekends).
3. Repulse Bay Beach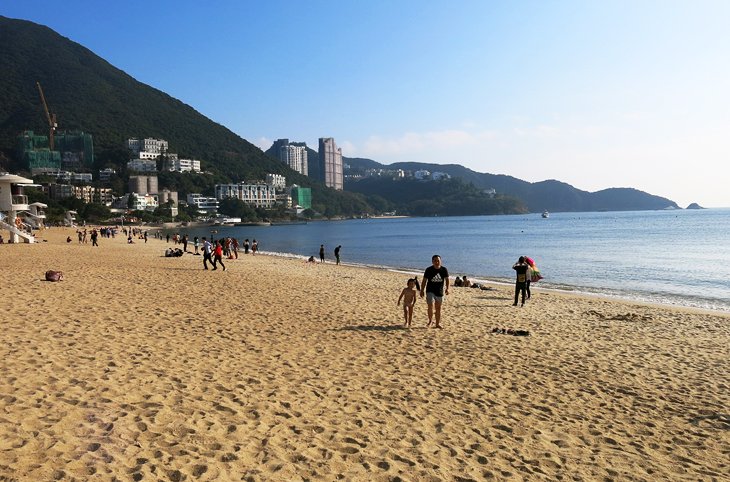 Repulse Bay Beach is a beautiful, long stretch of golden sand with fabulous views to offshore islands. Unlike the small villages of Shek O and Big Wave Bay, Repulse Bay is fully developed, with a modern two-story strip mall across the road from the beach.
Here, you can find an assortment of good restaurants overlooking the ocean, as well as a sports shop selling anything you might need for a day at the beach. Behind the beach are high-rise apartment buildings.
The vibe here is trendy and chic. People come to hang out on the beach, walk their small dogs along the street, or enjoy a tasty seaside lunch. A convenient lunch option is Amalfitana, an open-air Italian pizzeria on the ground level.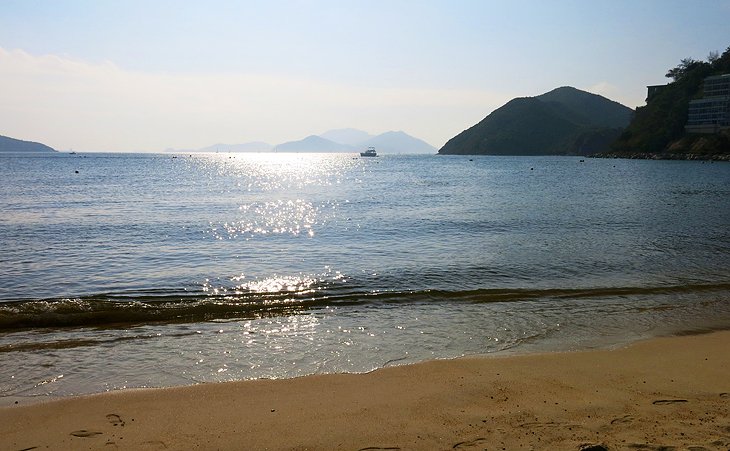 Getting to Repulse Bay became easier with the opening of the new South Island Line (MTR), which runs from Admiralty MTR Station in downtown Hong Kong to Ocean Park, which is just a short bus or taxi ride from Repulse Bay and Deep Water Bay. From Admiralty, it is only a four-minute metro ride to Ocean Park, and only one stop, as the train runs through the mountain.
The same route by taxi is well over 20 minutes. If you are staying in one of the hotels attached to Pacific Place shopping mall, like the Conrad, the JW Marriott, or Island Shangri-La, the Admiralty MRT station is on the lower level of the mall, so you don't even need to go outside to hop on the train.
There are essentially no beach resorts or hotel options at Repulse Bay, Deep Water Bay, Shek O, or Big Wave Bay. If you want to stay near the beaches, one of the only options is the Stanley Oriental, which is on the south side of the island. The closest beach to this hotel is Repulse Bay but it is not within walking distance.
4. Cheung Sha Beach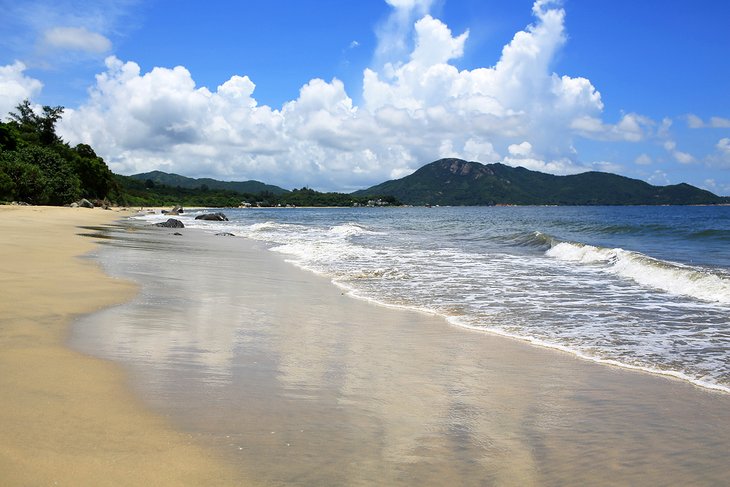 Cheung Sha Beach is the longest beach in the Hong Kong area. Located on Lantau Island, this three-kilometer stretch of white sand is lapped by clear, clean, cool waters.
Kiosks rent water sports equipment, including kayaks, surfboards, windsurfers, boogie boards, and assorted floaties.
Just back from the beach are a decent assortment of restaurants with outdoor patios, ideal for lounging and soaking up the sun.
To get to Cheung Sha Beach from Central, take the Mui Wo ferry. Once you alight, take either bus 1, 2, or 4 to Cheung Sha Ha Tsuen and walk to the water.
5. Pui O Beach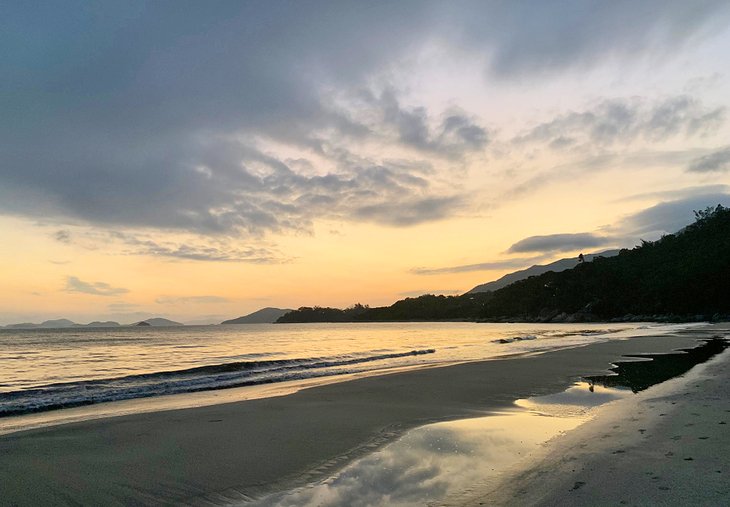 Located on Lantau, this long stretch of sand is nestled in between two lush headlands and is one of the rare spots that you can camp on the beach.
The sand here is a combination of black and tan and doesn't have the same white-sand look as Cheung Sha Beach. Nonetheless, the setting is incredible.
Cheung Sha is not overly developed and has a laid-back feel. A few restaurants set back from the water serve an assortment of local and Western dishes along with cold drinks.
To get to Pui O Beach from Central, take the Mui Wo ferry and then take either bus 1, 2, or 4 to Pui O San Wai Tsuen and walk to the water.
6. Golden Beach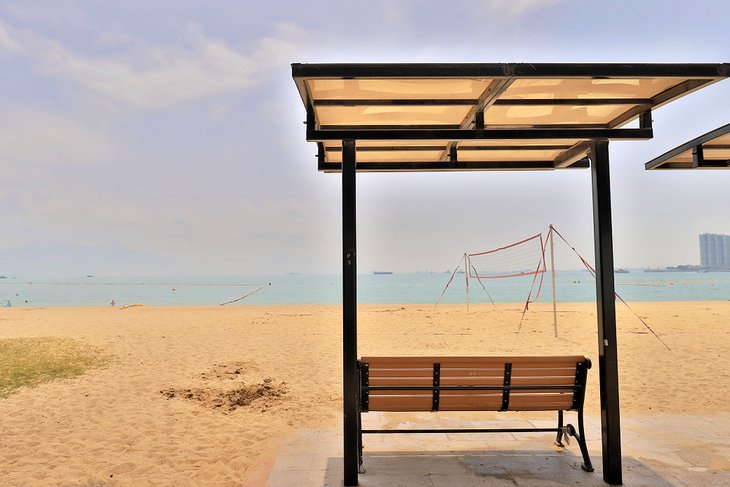 Golden Beach is a busy area that's perfect for those who like to see and be seen. Packed with people on warm summer weekends, this is a lively beach with restaurants and shops in behind.
For families with young children, a large playground structure is located just off the beach.
The large Hong Kong Gold Coast Hotel dominates the southern end of the beach and is a good spot to stay if you feel like making this a weekend getaway.
Golden Beach is located in the Gold Coast area not far from the Tuen Mun MTR station. Take a taxi from here to the beach or catch the 505 tram to the end and walk 30 minutes.
7. Deep Water Bay Beach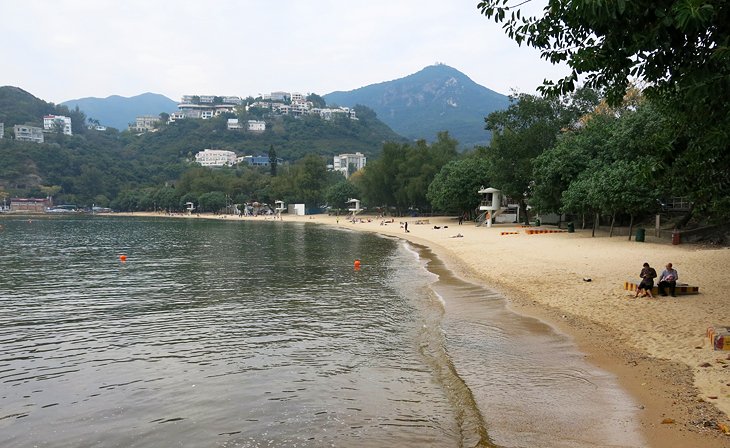 Deep Water Bay Beach, just around a headland from Repulse Bay, is the least developed of all these beaches. You can walk to it from Repulse Bay Beach, along a scenic seaside promenade that links the two beaches.
The bay is sheltered by offshore islands, and the water here is generally calm. This is a small, peaceful beach with not much going on, making it perfect if you just want a quiet day. Boats are anchored offshore in the distance, and high up on the mountain top to the right, you can see Ocean Park.
At one end of the beach is a picnic area with barbecue pits. Locals set up here, and the smell of cooking meat permeates the air on weekends.
Near the road that runs in behind the beach are a couple of very casual restaurants, which look more like take-out places with a few picnic tables out front. One of the best options is Lido, an Italian restaurant serving mainly pizza and pasta.
Map of Beaches in Hong Kong
Frequently Asked Questions
Are there lifeguards at the beaches?
Most beaches have lifeguard stands, and lifeguards are on duty most days during peak times.
Is the water warm?
The water is definitely warm on the beaches in Hong Kong. The beaches mentioned here tend to be shallow for a relatively long way out. This allows the water, which is warm to begin with, to warm up even more.
What is the best beach in Hong Kong for families?
Shek O can't be beat for its wide-open spaces, generally calm water, and ease of access from downtown Hong Kong. The little town back from the beach is also great for lunch and for purchasing beach toys.
Which Hong Kong beaches are the best for surfing?
Big Wave Bay is the best location to surf in Hong Kong. The waves also get to a decent size on Cheung Sha Beach. Both beaches offer rentals.
Hong Kong - Climate Chart
Average minimum and maximum temperatures for Hong Kong in °C
J
F
M
A
M
J
J
A
S
O
N
D

19

14

19

15

22

17

25

21

28

24

30

26

32

27

32

27

31

26

28

24

24

19

21

16

PlanetWare.com
Average monthly precipitation totals for Hong Kong in mm.

28

43

74

140

285

399

363

376

297

119

38

25
Average minimum and maximum temperatures for Hong Kong in °F
J
F
M
A
M
J
J
A
S
O
N
D

67

58

67

59

71

63

77

69

83

75

86

79

89

81

89

81

87

79

83

75

76

67

70

60

PlanetWare.com
Average monthly precipitation totals for Hong Kong in inches.

1.1

1.7

2.9

5.5

11

16

14

15

12

4.7

1.5

1.0
The best time to visit Hong Kong's beaches are the summer months from May through September. It's hot and humid with temperatures at or above 30 degrees Celsius each day. The sun shines most days although the occasional heavy downpour may catch you unawares. At this time the water in the sea is warm and ideal for bathing.
The months of April and May and September and October are also very good months to hit the beach. At this time the humidity is lower, and the days tend to be drier so you'll have less chance of rain. The only watch out for these months is September when typhoons tend to develop and may head towards Hong Kong. November is also a decent month to head to the beach, especially in the early weeks of the month.
Occasionally December has a few hot days but for the most part the winter and early spring have few suitable beach days. Many of the author's photos above were taken in December.