19 Top-Rated Tourist Attractions in Hong Kong
We may earn a commission from affiliate links ()
Hong Kong is known the world over as a glamorous city and a top choice for luxury shopping. But this city-state is steeped in culture and history, and has a lot more to offer than mouthwatering dim sum and an impressive skyline.
Hong Kong has an energy about it that is hard to describe. Around every corner is something new and unique, whether it's an ancient temple, a shop selling the latest electronic gadget, or a man taking his bird in a cage for a walk.
Hong Kong has another side as well, where you'll find forest-covered mountains, hiking trails, beautiful beaches, islands, and traditional fishing villages.
As a Special Administrative Region of China, Hong Kong presents an interesting study in the influences of ancient Chinese culture, as well as its own attitudes and history, independent from that of mainland China.
Hong Kong is one of the most impressive cities in the world, certainly, but there's much more here than meets the eye. Find out what to see and do and discover the best places to visit with our list of top attractions in Hong Kong.
See also: Where to Stay in Hong Kong
Note: Some businesses may be temporarily closed due to recent global health and safety issues.
1. Star Ferry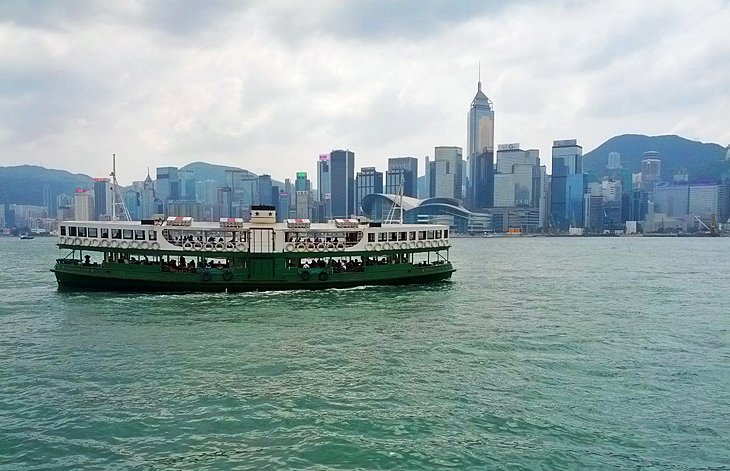 Hong Kong's famous Star Ferry, with roots dating back to 1880, costs only a few Hong Kong Dollars to ride, making it one of the best deals in all of Hong Kong. Victoria Harbour is a hive of activity, and ships of all shapes and sizes chug, zip, or wallow past as the expert captains of the Star Ferries somehow avoid collisions.
As you travel the main route from Kowloon to Hong Kong Island, or more specifically, Tsim Sha Tsui (TST) to Central, it's hard not to be struck by the dense towers of Hong Kong Island, backed by green mountains rising up before you. The breeze off the water is exceptionally refreshing, and the wide-open spaces are a perfect antidote to the tight confines of the city.
Don't worry about scheduling a time to ride the ferry, they leave every few minutes all day long and later into the evening, so it's always easy to get a great seat in the front or along the rail. The return trip from Central to Tsim Sha Tsui is also just as impressive.
If you time it right in the evening, you can catch one of Hong Kong's Symphony of Lights shows. The 360-degree spectacle of laser beams striking the skyscrapers on either side of the harbor is one of the city's free attractions and one of the most popular things to do at night in Hong Kong.
2. Hong Kong Skyline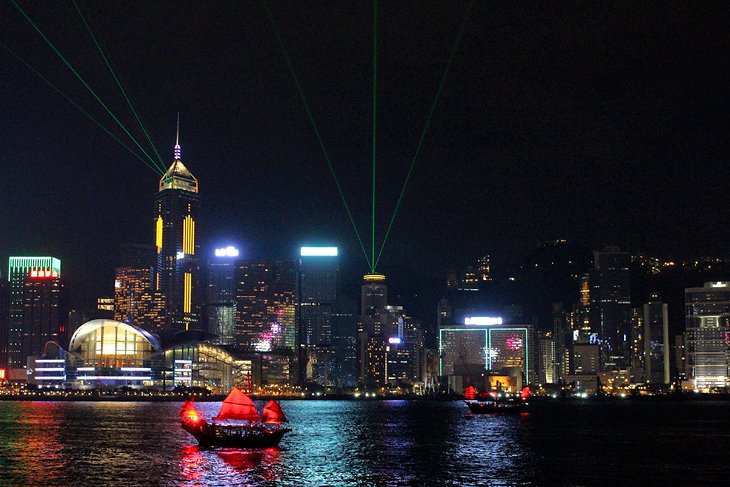 Hong Kong has one of the most impressive and recognizable skylines in the world. The dense collection of skyscrapers, both on the island of Hong Kong and in Kowloon, combined with the surrounding mountains and harbor set this city apart.
In the harbor, traditional red-sailed Chinese junk boats and the historic Star Ferry contrast sharply with the backdrop of modern high-rises. At night, the skyline changes character completely as the sky darkens and the city lights fill the scene.
Two of the best places in Hong Kong to see the skyline are from the top of Victoria Peak or from the Kowloon waterfront (along the Tsim Sha Tsui Promenade near the clock tower), not far from the Star Ferry dock, where benches line the waterfront and look across to Hong Kong. The latter location is the best place to watch the nightly A Symphony of Lights laser and light show set to music.
3. Victoria Peak (The Peak)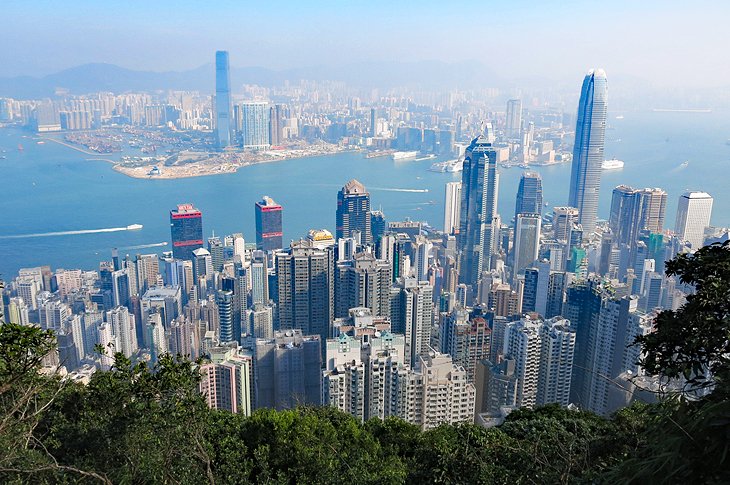 You haven't seen the best of Hong Kong until you've taken in the skyline from Victoria Peak, more commonly known as The Peak. Ride the tram to the top of this scenic viewpoint to see the skyscrapers, bustling city, harbor, and surrounding islands.
The tram station is located near the entrance to Hong Kong Park by the Murray building. At the top of the tram are the Peak Tower and Peak Galleria, with shops, restaurants, and an observation deck. Most of The Peak is covered by a large park with lush greenery, nature trails, and more beautiful lookouts with views over the thriving metropolis below.
A trail also leads down from The Peak to the city below, following a mix of trails through the forest and sections of road here and there. It can be a bit confusing finding your way. See our article on Hong Kong hiking trails for more details.
Evening is a great time to visit The Peak, when you can see the spectacular skyline lit against the night sky. This is one of the best views in Hong Kong at night. If the tram line is long, or you want to go directly from your hotel, you can also take a taxi to the top.
4. Big Buddha (Tian Tan Buddha Statue)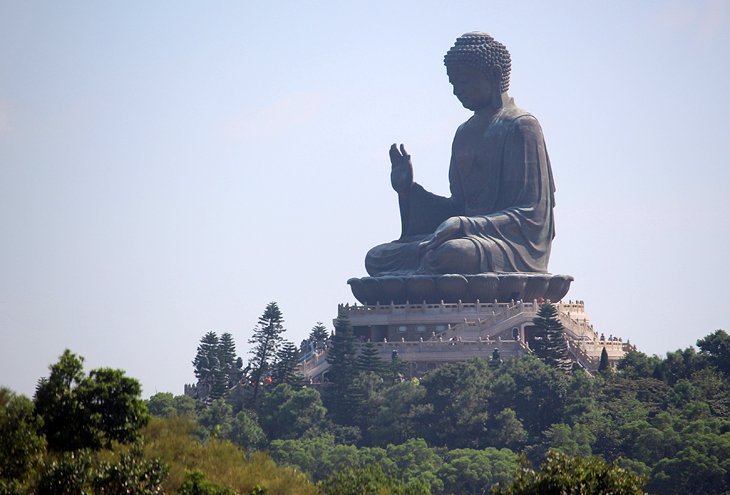 The 34-meter-high "Big Buddha" sits above Lantau Island's Po Lin monastery, which was a fairly secluded place until the statue was built in 1993. This is one of the largest Buddha statues of its kind in the world and took 12 years to complete. The size is astounding, both up close and seen from a distance. The setting here is also incredible, surrounded by the green forest and views out over the ocean and islands.
Although you can take a bus, the best way to reach the Buddha is via the scenic Ngong Ping cable car, which takes you on a 5.7-kilometer, 25-minute ride over forest, water, and mountains. The ride terminates at the small tourist-focused Ngong Ping Village, which you'll have to walk through before reaching the monastery and Big Buddha. Once through the village, a huge set of stairs leads up to the base, but don't be daunted. The walk up goes quickly, and the views from the base of the statue are well worth the effort.
You can access the cable car from the MTR Tung Chung Station. Some people combine a trip to the Big Buddha with a stop at Tai O fishing village, 20 minutes away by bus, but still on Lantau Island. You can also pick up a Hong Kong Travel Pass Combo: MTR Pass, Ngong Ping Cable Car, and Big Buddha Tour, which will give you a one- to three-day MTR Pass (metro), round-trip cable car ride, and a guided tour of the Big Buddha. This is a good deal if you are planning on getting around by MTR during your stay in Hong Kong.
5. Wong Tai Sin Temple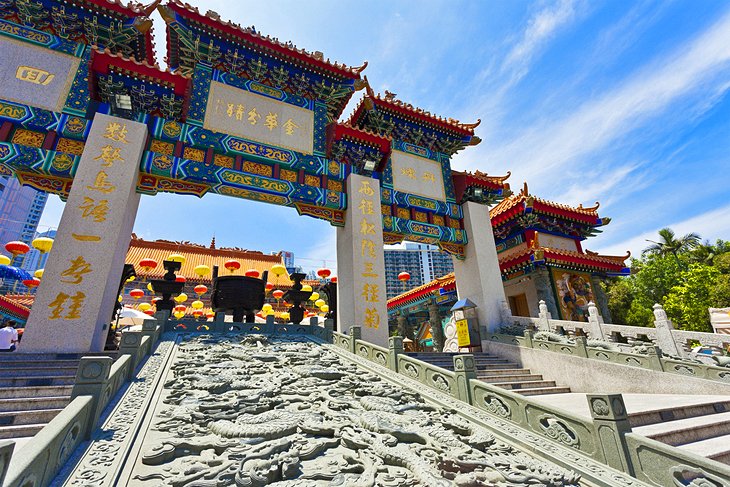 The Wong Tai Sin Temple is one of the newest in Hong Kong and also one of the most interesting. Located in Kowloon, the original temple was a private structure built in 1920. It was later replaced with a newer building in 1968, which is what visitors see today.
The temple was built to honor the Taoist god Wong Tai Sin, whom locals regard as the bringer of good luck in horse-racing and a healer of illnesses. A festival is held at the temple in Wong Tai Sin's name each fall.
The temple complex is made up of several buildings, including the Hall of Three Saints, the Good Wish Garden, and another hall dedicated to Confucius and his 72 disciples. Expect to see fortune-tellers in the large hall, as well as joss sticks and other offerings that visitors can use. It is customary for guests to leave a small donation toward the temple's maintenance.
Address: 2 Chuk Yuen Village, Wong Tai Sin, Hong Kong
6. Repulse Bay and the Beaches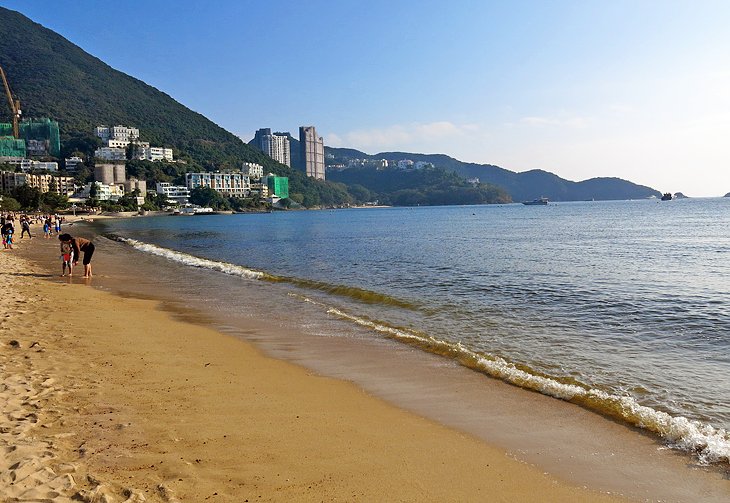 Not everyone thinks of beaches when they think of Hong Kong, but you don't have to go far to find some incredible stretches of soft-sand. The beach at Repulse Bay is the most popular in all of Hong Kong, with beautiful views and a great place for swimming, although it's very non touristy.
A day spent here is complemented with the luxury and style typical of Hong Kong itself. The street running along the oceanfront and overlooking the wide beach is lined with trendy restaurants and shops. Amalfitana is fun place to enjoy a pizza, with casual open-air dining looking over the beach.
Another nearby spot for a day at the beach is Big Wave Bay. Here, the water rolls in relatively gently to a large U-shaped cove with a splendid beach. This is a much more relaxed and casual atmosphere than at Repulse Bay. A popular outing is to walk part of the famous Dragon's Back hike to Big Wave Bay and dip in the ocean for a swim.
At the back of the beach, barbecues line the walkway to the parking lot and serve up seafood and other tasty treats. Scheduled buses and the occasional taxi are available in the carpark area and will whisk you back to the city.
Also worth checking out is scenic Shek O Beach. It's easily accessible via public transit. For more details see our article on the best beaches in Hong Kong.
7. Temple Street Night Market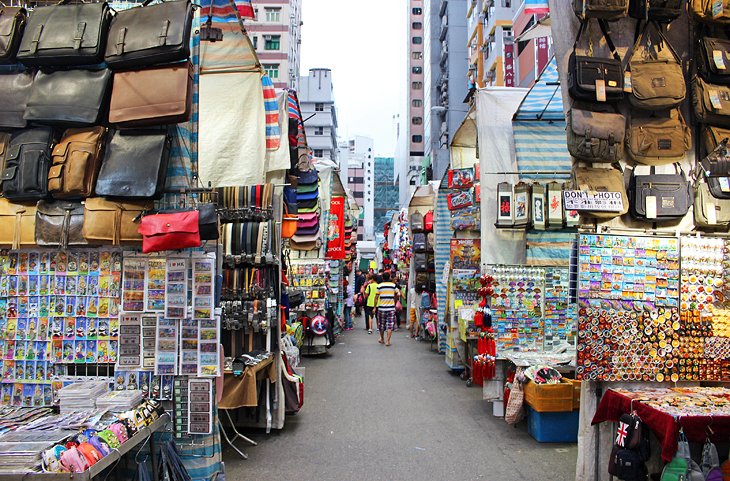 A stroll through the Temple Street Night Market is another one of those all-important things to do while you're in Hong Kong. Located in Kowloon, this is the place to go to taste eclectic foods and to shop for bargains on everything from clothing and trinkets to electronics and household goods. Vendors sell gadgets of every shape and size, as well as jade jewelry and traditional Chinese crafts.
This is the best market for tourists in Hong Kong, but you can find a number of other interesting street markets selling almost anything you can imagine. See our article on Hong Kong street markets to learn about markets to explore by day.
The market gets going around 6pm, but vendors are often slow to get set up, so it's best not to arrive too early. The MTR stop for the Temple Street Night Mark is Jordan Station, Exit A.
8. Hong Kong Disneyland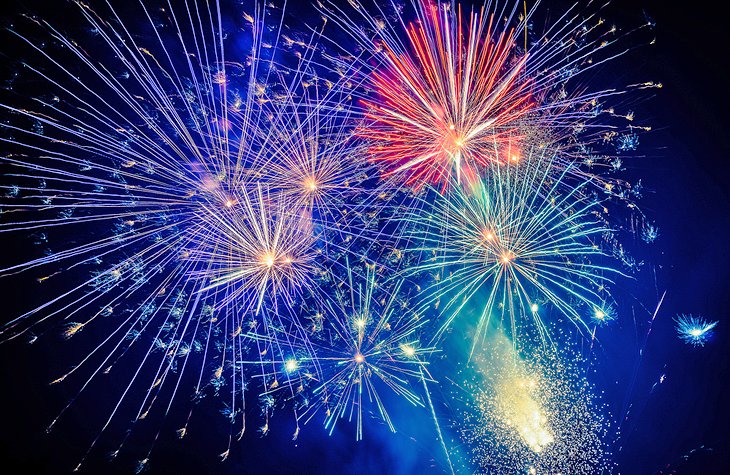 Hong Kong Disneyland is located on Lantau Island. Here, you'll find a wonderful world filled with fun and fantasy populated with the cast and characters from Disney movies. The park is divided into seven lands: Adventureland; Fantasyland; Toy Story Land; Tomorrowland; Grizzly Gulch; Mystic Point; and Main Street, U.S.A.
Performances happen throughout the day in the various lands and feature everything from parades to musicals, right through to evening fireworks over the castle. Also on offer are a wide array of adventures, ranging from Jungle cruises to a trip to Tarzan's Treehouse, as well as water-based fun at Liki Tiki.
The park undertook significant renovations and upgrades in late 2019. One of the major highlights of this revitalization was the construction of the Castle of Magical Dreams. Here, your children can gaze in awe at wonders like Cinderella's Coach, Snow White's apple and Belle's rose. The new castle will also be the venue for daytime and evening musical shows and extravaganzas.
The second major upgrade is the addition of the Frozen area and the installation of the brand new ride called Wandering Oaken's Sliding Sleigh, where Olaf and Sven pull your sleigh to the top of the hill and send you on your way. In addition to the ride, you'll be able to meet Elsa and wander through the kingdom of Arendelle.
You can reach this site on the MTR Disneyland Line, Disneyland Station. If you want to save yourself some time and hassle, pick up a Hong Kong Disneyland Admission with Transport. This comes with hotel pickup, general admission ticket, and an MTR pass to either Hong Kong or Kowloon to get you back at the end of the day.
Official site: www.hongkongdisneyland.com
9. Ocean Park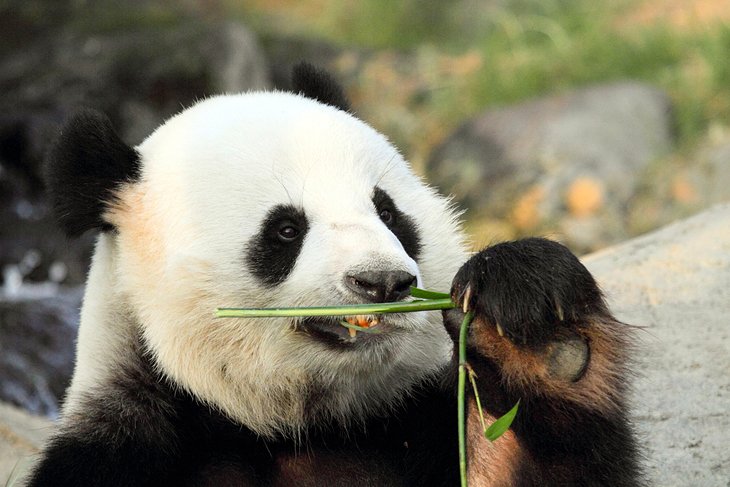 As theme parks go, this one covers all the thrills you can handle in a day — a walk through old Hong Kong, roller coasters, a Grand Aquarium, and a look at rare and exotic wildlife. Ocean Park boasts a huge aquarium dome and offers a look at thousands of fish from 400 species, a Reef Tunnel, and a chance to get hands-on with sea stars and sea cucumbers.
Above the sea, you can partake in a Giant Panda Adventure, featuring giant pandas, red pandas, and the endangered Chinese Giant Salamander. Also worth checking out are special programs focused on the North and South Poles. Fun rides include the Mine Train, Raging River, Hair Raiser, and the Eagle. To reach Ocean Park, take the MTR South Island Line to Ocean Park Station.
Major changes are planned for Ocean Park starting in 2021, with older rides being replaced by new ones and with the park focusing more on marine conservation. Ocean Park is opening a new Mega Waterpark with 27 water features.
Official site: www.oceanpark.com.hk/en
10. Dragon's Back Hike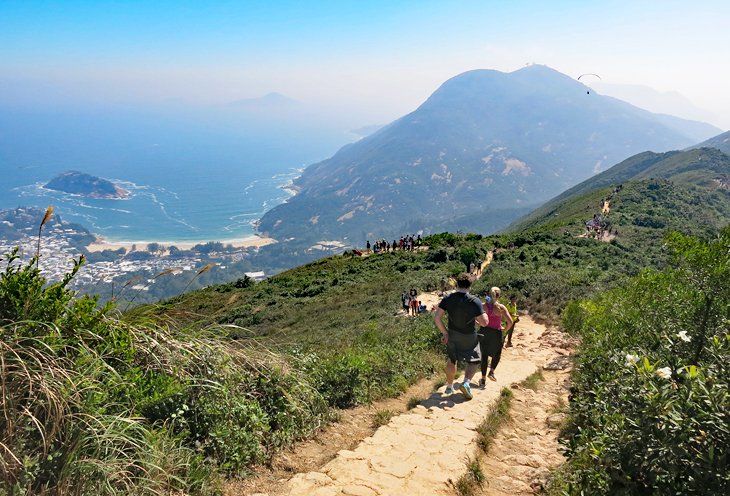 If you've had enough of the tight confines of Hong Kong and are ready for a little exercise, try escaping to the Dragon's Back Hike. Hong Kong's most popular hiking trail, this hike offers spectacular views out over the ocean, Big Wave Bay, Mount Collinson, Stanley, and Shek O. It's a pleasant change from the buzz of the big city to hear birds singing, the sound of small waterfalls, and the leaves rattling in the ocean breeze.
The hike is relatively easy but be sure to start at Section 8 (bus stop To Tei Wan). From here, the walk takes you up a short distance and then is predominantly downhill with rolling sections to Big Wave Bay. Once you've reached Big Wave Bay, you have the option of catching a taxi or mini bus to nearby Shek O.
Both areas have fantastic beaches for swimming, and Shek O has a variety of restaurants serving good seafood. Don't forget to bring plenty of water and your bathing suit and towel on this hike. A swim to cool down followed by a fruit smoothie or ice-cream at the end of the hike is heavenly.
11. Lan Kwai Fong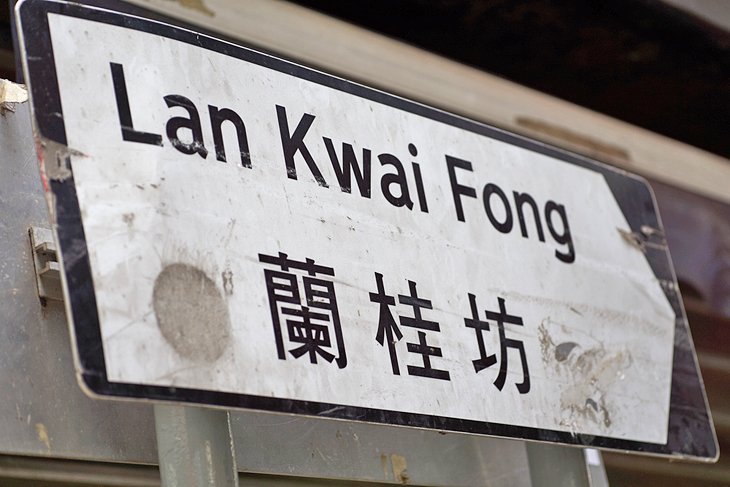 As Hong Kong's most popular dining area, the lively streets that make up Lan Kwai Fong are packed with crowds checking out Hong Kong's trendiest restaurants. If you are looking for a place to eat in Hong Kong, especially at night, this is the place to come. Dining on the open-air patios lining the sidewalks, and watching the crowds stroll by is a must-do when in Hong Kong.
In addition to the street level establishments, you'll find restaurants are literally stacked upon one another in the buildings along here. Be sure to check out the directories located at the main entrances. You can find cuisine from around the world. For a dependably good meal, try Bistecca (Italian) or Brickhouse (Mexican).
The main street in Lan Kwai Fong is D'Aguilar, but make sure you don't miss wandering down some of the many laneways to find hole-in-the-wall-style restaurants serving some of Hong Kong's best food. Lan Kwai Fong is just up from Queens Road in Central Hong Kong (MTR Central Station).
12. Tai O Fishing Village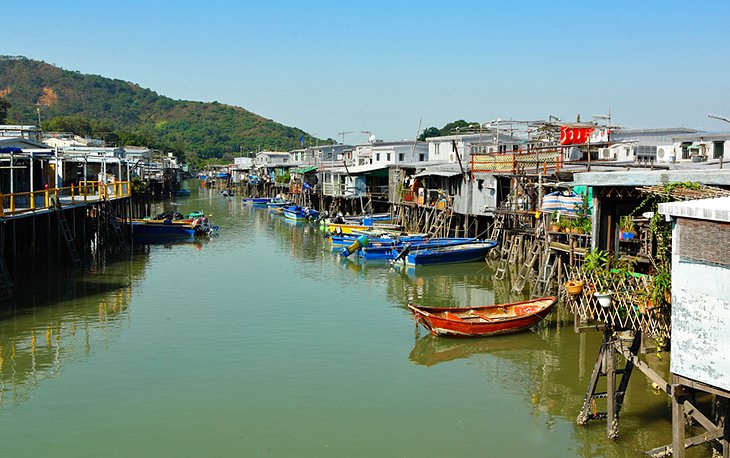 A visit to Tai O village offers an experience you won't find anywhere else in Hong Kong. Although it is a popular place to visit for tourists, it is a far cry from the busy city, crowded markets, and theme parks. Tai O is home to people who live a quieter, more traditional way of life.
The Tanka people who live in Tai O, found on Lantau Island, build their homes on stilts over tidal flats. Villagers offer boat rides around the village, after which you can visit the local markets and sample some of the fresh seafood. Occasional sightings of the endangered pink dolphin occur in the nearby waters. Many people visit Tai O village after they've made the journey up to the Big Buddha.
13. Avenue of Stars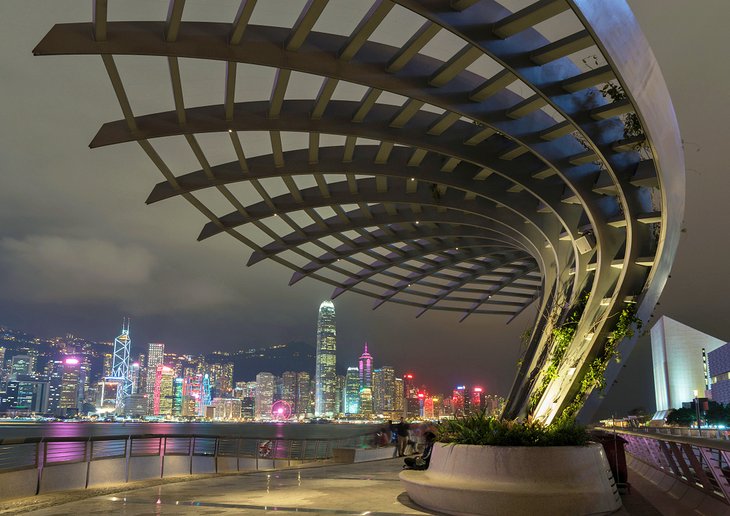 For an escape from the city towers to a wide-open space with a bit of culture thrown in, be sure to visit the Avenue of Stars. This is where the city pays homage to some of Hong Kong's best known film stars. Similar to the Walk of Fame in Hollywood, the Avenue of Stars is dedicated to Chinese performers.
Closed for several years due to waterfront development, it has now reopened bigger and better than ever. The new walkway is curved and stretches farther out into Victoria Harbour than before, allowing fantastic views to Hong Kong Island. The Avenue of Stars is one of the best spots to catch the nightly laser show and to see the neon lights shimmering across the water.
The famed handprints are back, along with two new impressive sculptures, one of Bruce Lee with a wonderful water feature and another of Anita Mui. Each night, just down the way, a water fountain dances and sprays water high into the air in a choreographed performance on a regular schedule.
14. Ten Thousand Buddhas Monastery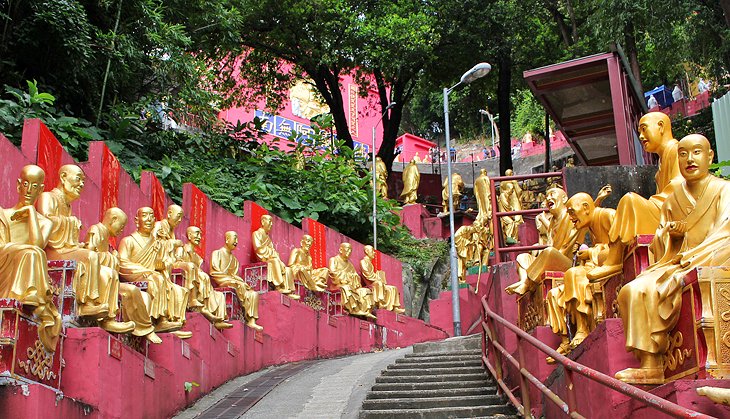 Ten Thousand Buddhas Monastery, located in Sha Tin, offers a beautiful and peaceful escape from the bustle of central Hong Kong and a look at the countryside. Set on a hilltop, the main access to the monastery is reached by walking up a long and curving set of stairs (approximately 400 steps), lined with hundreds of golden statues.
The walk is part of the attraction, and each of the statues is unique, many with quirky facial expressions and other interesting characteristics. Once at the top, the path opens into the square in front of the main temple, a welcome sight both because it's the end of the climb and for the impressive structures and statues that surround the open space.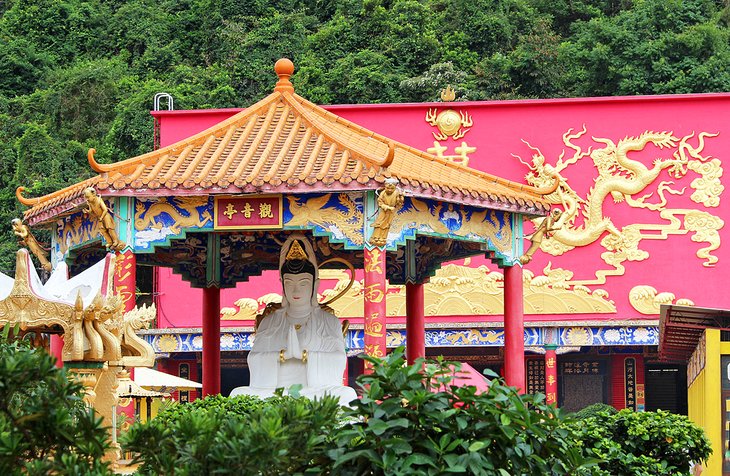 Inside the main temple, small Buddha statues line the walls from almost the floor to the ceiling. In the square stands a large pagoda, and statues surround the complex. At the opposite end of the square from the main temple, the view extends out over the lush surroundings, with beautiful vistas looking over pine trees and rolling hills.
Despite the name, Ten Thousand Buddhas Monastery is not actually a monastery at all, and no monks live on the site. It also contains far more than 10,000 Buddhas. The complex was built in the 1950s but is still listed as a historic site.
To reach the monastery, take the MTR East Rail line to Sha Tin Station, Exit B. It's easy to get confused here, and another temple is located on a nearby hill. Make sure you are on the right path before heading up.
15. Hong Kong Park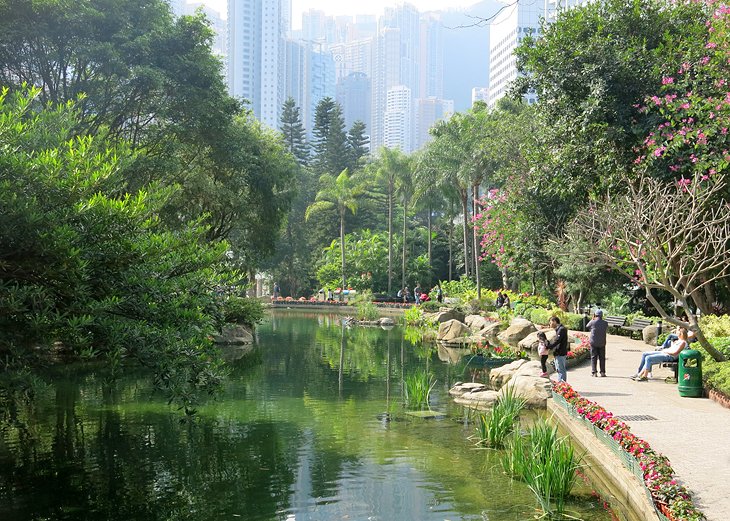 Located in Central Hong Kong, this beautiful park is a true oasis in the jungle of high-rises and one of the most peaceful places to visit in the city. Stretching out along a hillside, this huge, lush park contains a small forest of mature trees, water features, and a number of important attractions.
One of the main highlights is the aviary. This large, outdoor area covered in netting is home to more than 80 species of birds, and wandering through this space, you would hardly believe you are not in a forest. High walkways take you up to canopy level, where you can see birds nesting and resting in the trees.
Also in the park is a green house, the Hong Kong Visual Art Center, the Flagstaff House Museum of Tea Ware, and plenty of space to simply relax and soak up nature. MTR Admiralty Station, Exit C1.
16. Chi Lin Nunnery and Nan Lian Garden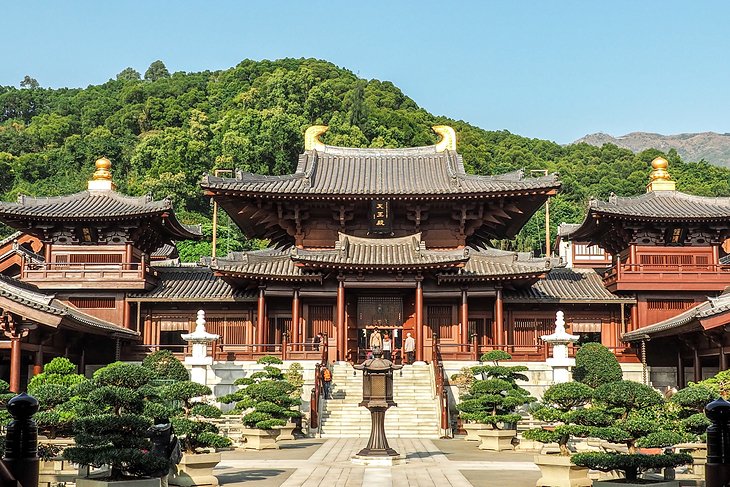 This Buddhist temple dates to the 1930s but was rebuilt in the 1990s in traditional Tang Dynasty style. The structures are all made of wood, and the large complex is incredibly impressive. In front of the complex are carefully sculpted bonsai trees surrounding the Lotus Pond Garden, with several ponds featuring water lilies.
The Chi Lin Nunnery and the nearby Nan Lian Garden are located in Diamond Hill, in Kowloon. To reach the site, take the MTR Kwun Tong Line to Diamond Hill Station, Exit C2.
17. Day Trip to Lamma Island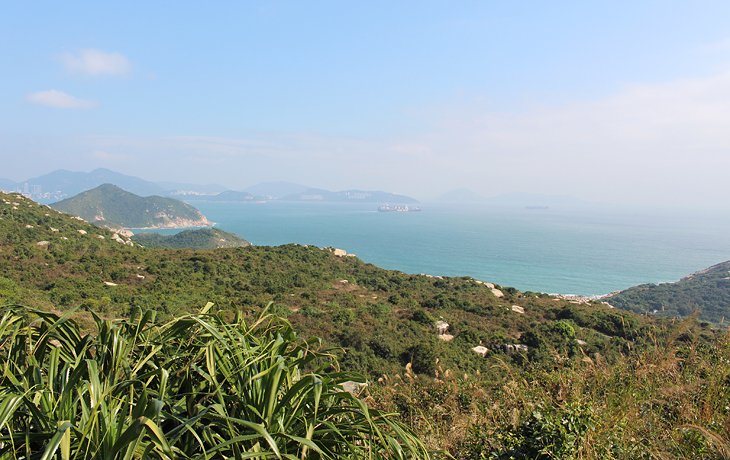 If you are looking for a quick escape from the city and want a complete break from streets and cars, one of the easiest and most rewarding things to do is to take a ferry to Lamma Island. This beautiful island of rolling hills, scattered beaches, and quaint villages, has no roads or vehicles. You can hike through the interior to remote beaches and seaside villages.
Ferries will take you either to Yung Shue Wan or Sok Kwu Wan. Both of these villages are quite lovely and have restaurants. You can hike between these two villages, and many tourists choose to take the ferry to one of these and then hike to the other to catch the ferry back to Hong Kong Island. If you are interested in doing a hike on Lamma, see our article on the best hikes in Hong Kong to plan your route. If you don't want to do any hiking, Lamma Island still makes a beautiful outing.
Approximately 8,000 people live on this island, which is only about 13 square kilometers, but most of the island is simply covered in forest. Ferries leave the city from Central Pier 4 to go to Sok Kwu Wan and Yung Shue Wan and take about 30 to 40 minutes. Check the ferry schedule for times.
18. Man Mo Temple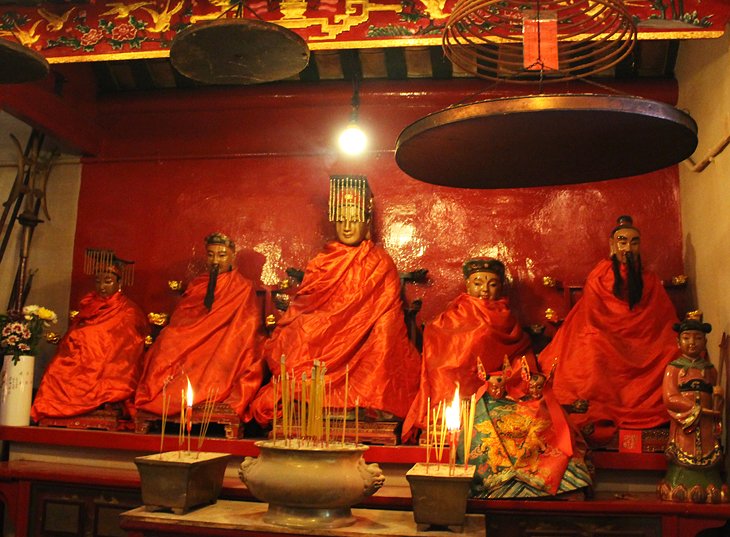 As you stroll down Hollywood Road, you will smell the incense from the Man Mo Temple long before you see the building. The temple was built in 1847 and is often remembered for its smoke-filled interior, where incredible coils of burning incense hang from the ceiling.
Here, worshipers pay tribute to Man, the god of Literature, and Mo, the god of War. For those looking to see into the future, fortune-tellers are on-site and will advise you for a small fee. Note, there are multiple Man Mo temples throughout Hong Kong, but this location on Hollywood Road is the largest and most famous.
Address: 124-126 Hollywood Road, Sheung Wan, Hong Kong
19. Tsim Sha Tsui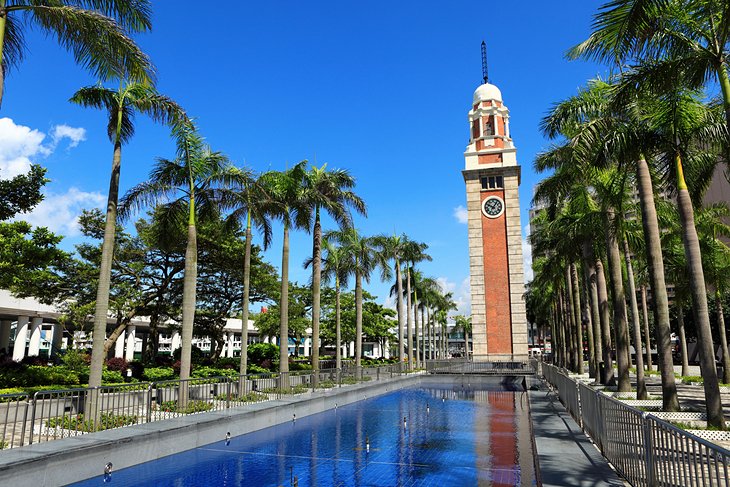 Tsim Sha Tsui, known more commonly as TST, is a shopping and entertainment hub at the southern point of Kowloon and offers a real taste of what Hong Kong has to offer. The Tsim Sha Tsui district is a melting pot of culture and commerce that speaks to the heart of Hong Kong.
Nathan Road is the main artery running through the area, where you'll find numerous restaurants, boutiques, and other unique vendors. If you're looking for the world-class luxury Hong Kong promises, you can find high-end retailers on nearby Canton Road.
At the southern end of the neighborhood, you'll find the Clock Tower, a Hong Kong landmark. Nearby, the Tsim Sha Tsui Cultural Complex is the premier cultural center in the country and includes tourist attractions such as the Hong Kong Space Museum and the Hong Kong Museum of Art. In the evening, the waterfront is the perfect place to watch the nightly light show, lighting up the sky and skyscrapers across the harbor.
Where to Stay in Hong Kong for Sightseeing
When selecting a place to stay in Hong Kong, you will need to decide whether you want to base yourself in Kowloon, or across Victoria Harbour on Hong Kong Island. Both areas offer a wide range of hotels, from budget right through to luxury.
Attractions are spread across both areas, but Hong Kong Island has a greater proportion of the most popular sites and more outdoor dining and entertainment options. Kowloon is home to the most popular markets and also has the best nighttime views of the city lights. Below is a list of top-rated hotels in convenient locations:
Luxury Hotels:
Standing proudly and historically near the Kowloon waterfront, The Peninsula Hong

Kong

offers elegant rooms, old-world charm, and exceptional service. High Tea is offered each day from 2-6pm.
Another well-positioned hotel, one block from the water on the Kowloon side, is The

Langham

. This is a smaller property, but well-appointed, with top-end service and a Michelin three-star restaurant.
On Hong Kong Island, connected to the Pacific Place shopping mall, is the Conrad Hong

Kong

. This hotel has outstanding views over the harbor, or to the mountains behind, and features a large outdoor pool and breakfast served al fresco, if you choose.
Mid-Range Hotels:
On the Kowloon side and handy to the Temple Street Night Market is the Eaton

HK

, with an outdoor rooftop pool. Rooms are smallish but well equipped and the hotel is part of the Langham Group of hotels.
For those not requiring a pool, just across the street, the well-regarded Nathan

Hotel

has slightly cheaper rates.
On Hong Kong Island, the 99 Bonham All Suite

Hotel

is a good option for those looking for rooms with a small kitchen. Located in the Sheung Wan area the hotel has incredible views from many of its rooms.
Budget Hotels:
Located in the Mong Kok area and ideally located for visits to the Ladies Market is the iClub Mong Kok

Hotel

. Rooms come with a continental buffet breakfast, and a few rooms have views.
Over on Hong Kong Island and one of the few budget places with an outdoor pool is the Bishop Lei International

House

. This hotel is near the top of the Mid-Levels escalator, but still very convenient for dining and sightseeing.
For a small room in the middle of all the action on Hong Kong Island, the Mini Hotel

Central

can't be beat. It's just steps from the good times in Lan Kwai Fong.
Tips and Tours: How to Make the Most of Your Visit to Hong Kong
Attraction Passes:
If you have a few days to visit Hong Kong and plan on doing some sightseeing, you can save money with the Hong Kong and Macau Attractions

Pass

. This three- or five-day pass gives you access to numerous attractions, including a round-trip tram ride to The Peak, a cable car ride to Big Buddha, and a full-day tour of Macau. It also allows you to skip waiting in line to by tickets at individual attractions.
Octopus Card:
An Octopus Card functions like a prepaid credit card, which can be used on the MTR; buses; trams; local ferries, including the Star Ferry; taxis; 7-Elevens; McDonald's restaurants; and many other fast food restaurants. This is incredibly convenient and will save you trying to find correct change for transportation. You can also reload the card with more money at any time.
Hong Kong at Night:
To see Hong Kong by night and admire the impressive neon signs, stroll through Temple Street Night Market, and other evening destinations, try a Hong Kong Night Walking

Tour

. These take about three hours and are limited to small groups of only 12 participants.
More Related Articles on PlanetWare.com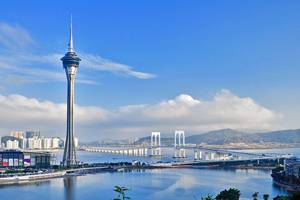 Day Trip to Macau: In October of 2018, the 55- kilometer-long Hong Kong-Zhuhai-Macau Bridge opened, connecting Hong Kong and Macau. However, most visitors use the high-speed ferries, which transport passengers to the bustling island of Macau in just under an hour. You can easily spend a day or even a couple of nights exploring the sites of Macau. People come here for everything from shopping and entertainment to visiting temples and historic sites.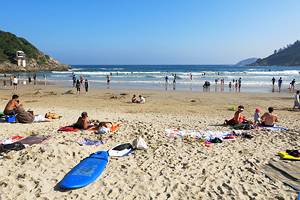 Hong Kong Outdoors & More: If you have time to spare in Hong Kong, be sure to see the street markets. For those more interested in nature, don't miss our articles on Hong Kong's beaches and the best hiking trails. And for more details on finding accommodation and deciding where to base yourself, see our piece on Where to Stay in Hong Kong: Best Areas & Hotels.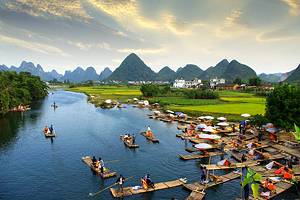 Excursions: For a quick hop into mainland China, you can easily catch a train to Shenzhen, just over the border, for a look around and some shopping. If you want to head farther inland and see some of China's most beautiful scenery, consider taking a bullet train from Shenzhen to Guilin and explore the Li River and quaint town of Yangshuo. For details on how to make this journey and how to make the most of it, see our article on Guilin to Yangshuo & a Li River Cruise.