Hong Kong in Pictures: 16 Beautiful Places to Photograph
Most people only picture skyscrapers and busy streets when they think of Hong Kong, but if you take time to explore, you'll also find soft-sand beaches, lush green mountains, islands without streets, and incredible cultural sites. In the heart of the city are the street markets, high-end shopping, and fascinating street scenes. Many of the best photos of Hong Kong also capture Victoria Harbour.
Note: Some businesses may be temporarily closed due to recent global health and safety issues.
1. Junks in Victoria Harbour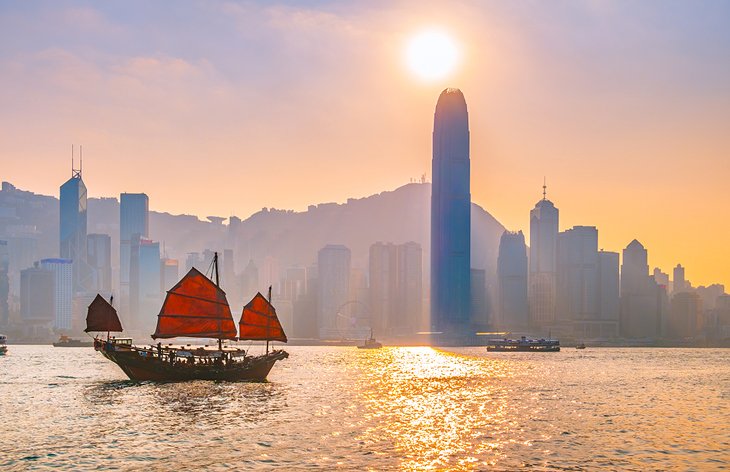 See the red sails on traditional junk boats as they sail along in Victoria Harbour. If you want the Hong Kong Island skyline, take your picture from Tsim Sha Chui in Kowloon. Try photographing them at sunset or at night, when the sails are lit and glow a bright red against the dark water and sky.
Accommodation: Where to Stay in Hong Kong: Best Areas & Hotels
2. View from Victoria Peak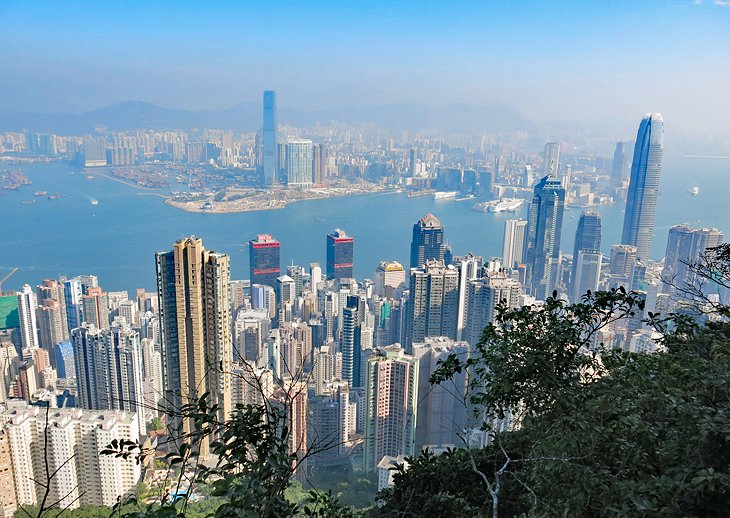 Hong Kong is a city of skyscrapers best photographed early in the morning when the skies are clear. One of the best spots to capture an overview picture of Hong Kong is from Victoria Peak, easily reached via the historic funicular railway.
Take the tram up to The Peak. Amazing views can be obtained by walking to the left of the tram station along the Peak Trail. For views of the other side of Hong Kong Island out over the ocean, continue walking the trail, which is a complete circle all the way around. The walk takes about 50 minutes. This is one of the best walks in Hong Kong.
3. Big Buddha (Tian Tan Buddha Statue)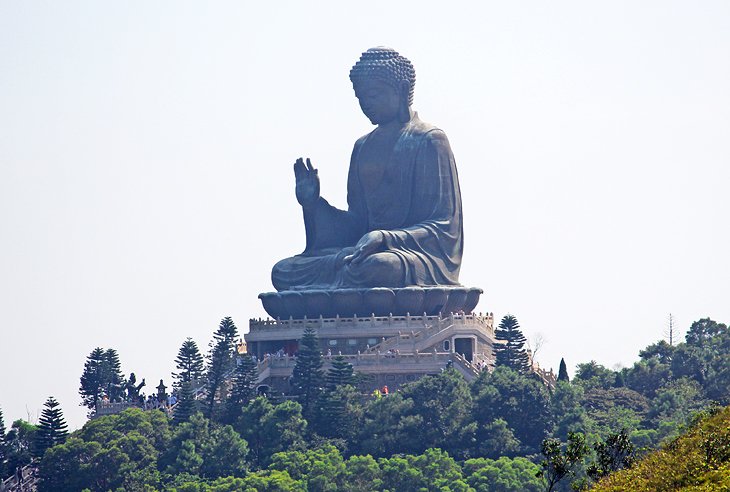 Located on Lantau Island, the 34-meter-high Big Buddha is best photographed from either right at the base looking up, or from a distance, to give a little better sense of the size. Most people reach the Big Buddha by taking the scenic cable car. Try to grab a shot from the cable car as you ascend.
4. Street Markets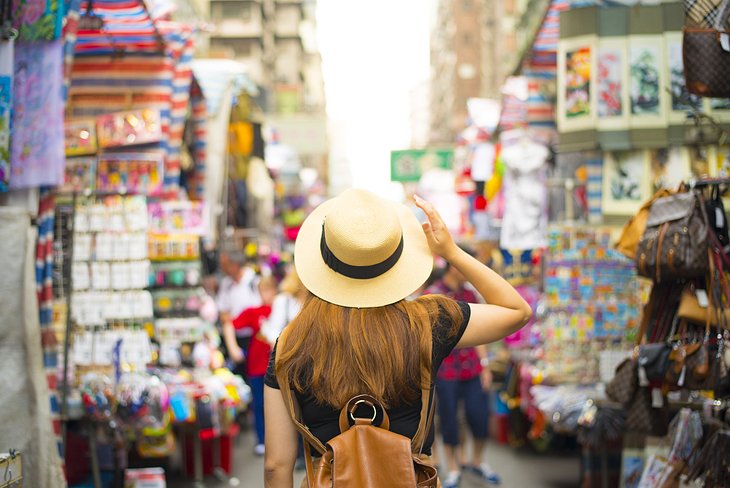 Hong Kong has several different street markets that happen during the afternoon and evening. The most popular is the Temple Street Night Market. Colorful stalls selling everything from household goods to purses and trinkets line the narrow walkways. You can also stop at the open-air restaurants to grab a bite to eat.
5. Views from the Dragon's Back Hiking Trail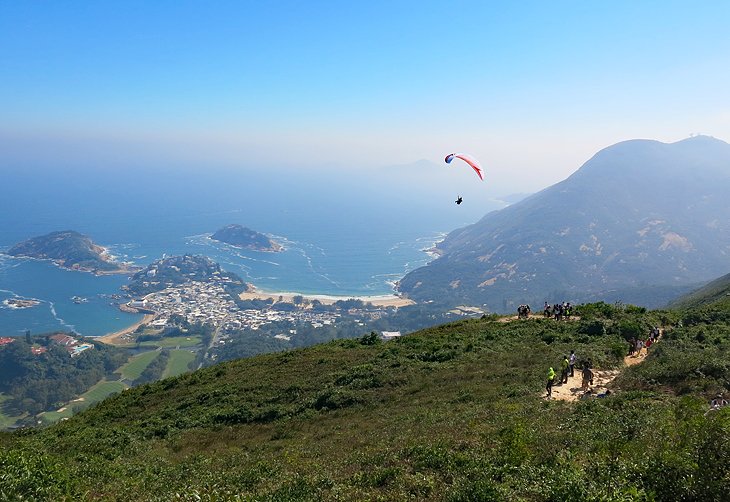 For a new perspective of Hong Kong, one that is more nature based, grab your camera and hiking shoes and tackle the Dragon's Back Hike. Section 8 will take you up and over to Big Wave Bay with glorious views out over the ocean and surrounding peaks. This is one of the best hikes in Hong Kong.
6. The Historic Star Ferry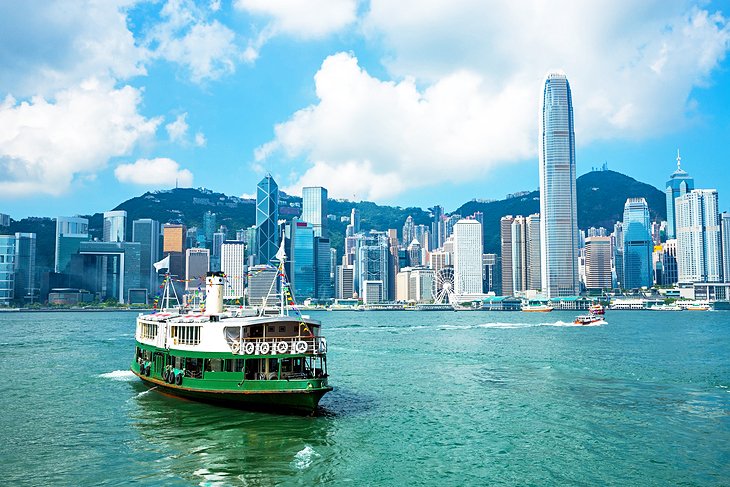 The Star Ferry has been running in Victoria Harbour since 1880 and is one of Hong Kong's top attractions. As the ferry transits between Hong Kong Island and Tsim Sha Tsui (Kowloon), photos can be taken of either skyline. For a special experience, time your ride across to coincide with the nightly Symphony of Lights, a high-tech laser show. The ferry is also an excellent place to capture photos of the giant, colorful container ships plying the seas.
7. Tai O Fishing Village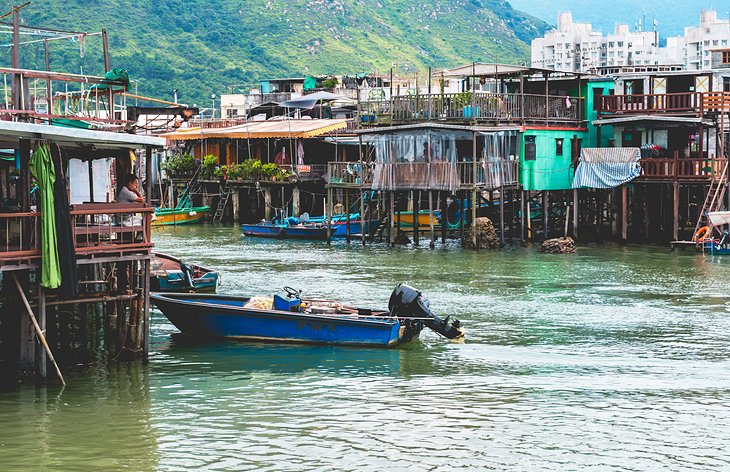 Easily reached via regular ferry, the Tai O Fishing Village has over-water restaurants serving the freshest seafood. A visit here is ideally combined with a stop at the Big Buddha
8. Man Mo Temple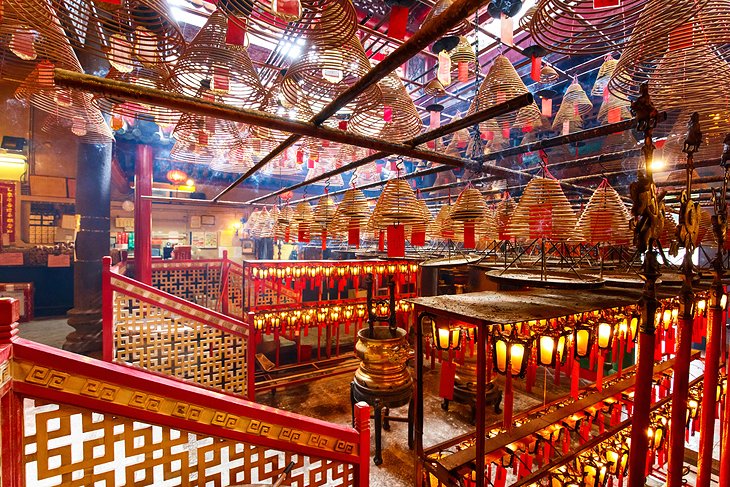 The Man Mo Temple is easily located in Hong Kong by the copious quantity of smoke wafting from the doorway. Colors abound here as do many geometric and circular shapes. This place may test your creativity.
9. Kowloon Park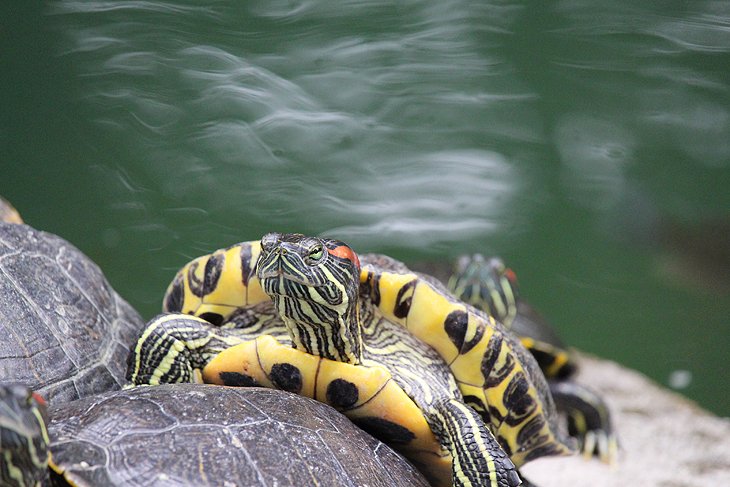 An oasis of calm and green in busy Hong Kong, Kowloon Park has many great photography spots where you can capture images of nature, animals, and artwork. The ponds are particularly beautiful, and turtles are always resting on the rocks and logs.
10. Big Wave Bay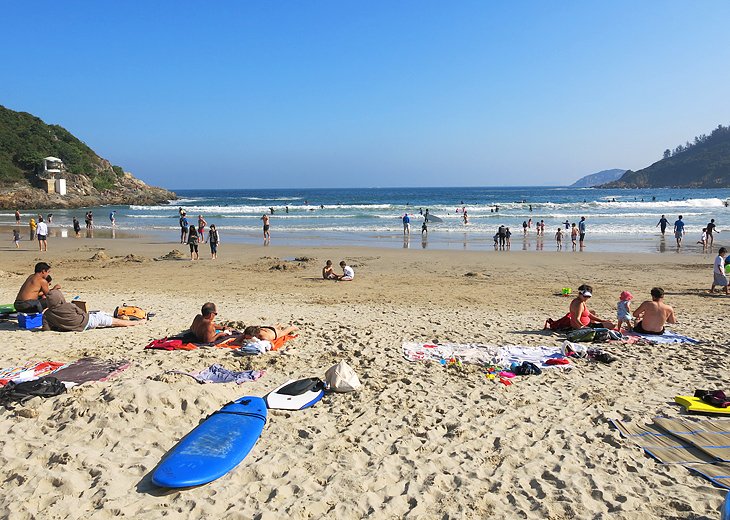 Photograph the surfers riding the waves at Big Wave Bay on Hong Kong's southern side. Big Wave Bay is easily reached off a side trail from the famous Dragon's Back hiking trail, or you can reach it by public transport. This is just one of several beautiful beaches in Hong Kong.
11. Shek O and Shek O Beach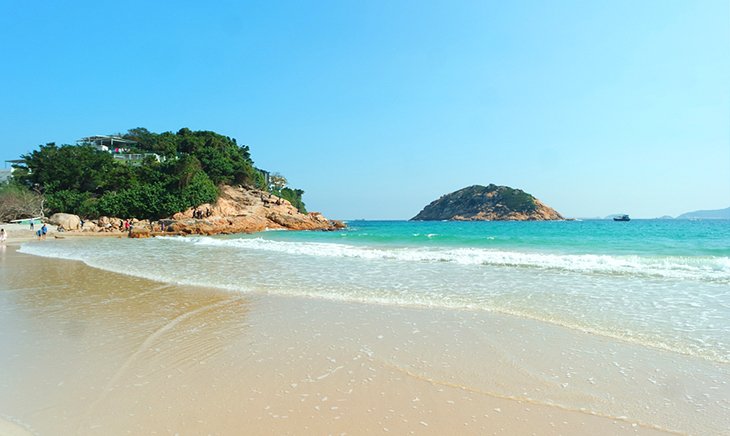 Shek O is a great spot for taking photos. On the oceanfront is a beautiful beach and in behind, you'll find markets and open-air restaurants. Bring your bathing suit and go for a swim.
12. Repulse Bay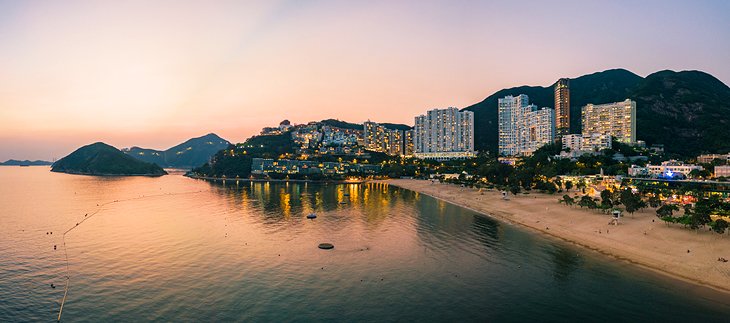 A popular wedding photo destination, Repulse Bay has a wonderful wide beach backed by a mall with shops and good restaurants. It is easily reached by taking the South Island Line - get off at Ocean Park and take a bus or taxi to the beach. On hot days come here for a swim and grab some lunch.
13. Hong Kong Park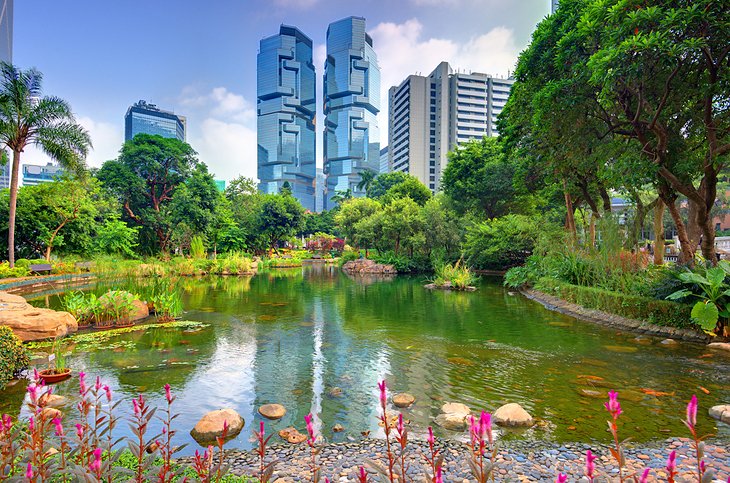 Hong Kong Park is an ideal place to photograph colorful birds, but you'll also find fountains and flowers, along with other attractions. The park is free to enter as is the bird enclosure, a giant netted area containing 80 species of tropical birds. The feeding stations are ideally located, so you can get up close with your camera.
14. The Peak Tram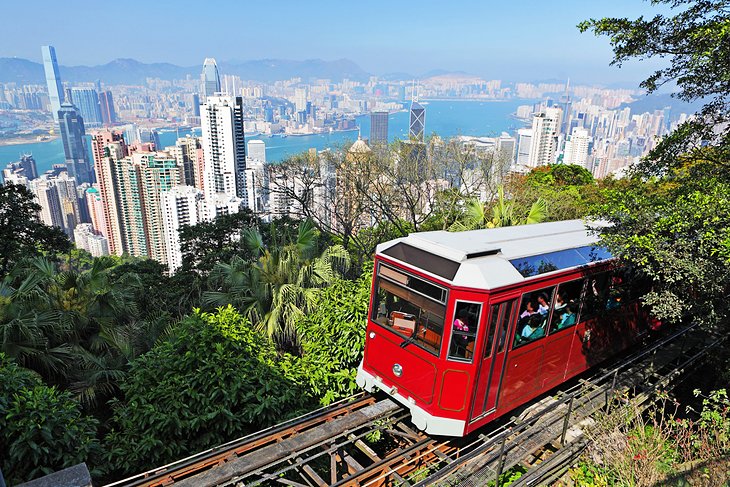 This iconic Hong Kong attraction provides great photo opps as it ascends to The Peak station. To capture the Peak Tram in action, walk to the right of the main station and shoot downwards. Combine a trip on the tram with a stop in Hong Kong Park. The park is located across the street from the bottom tram terminal near Admiralty.
15. Ten Thousand Buddhas Monastery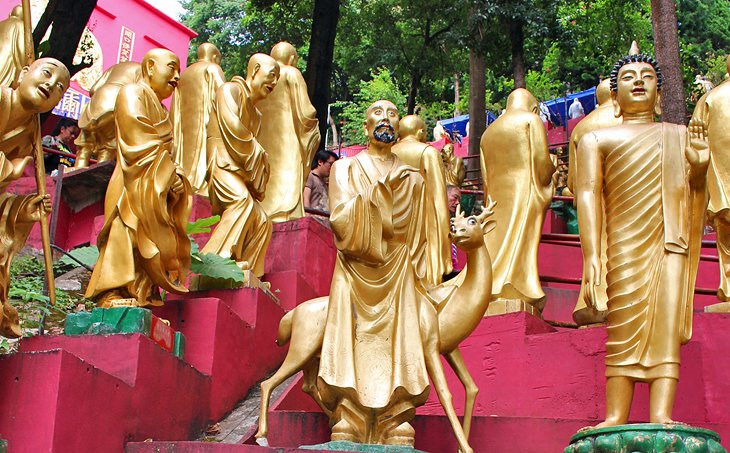 Climb the 400-step winding stairway past hundreds of Buddhas in various postures and all with different features and facial expressions. The golden statues stand out against the natural green background and red walls lining the stairs.
16. Fish Market, Flower Market, and Bird Market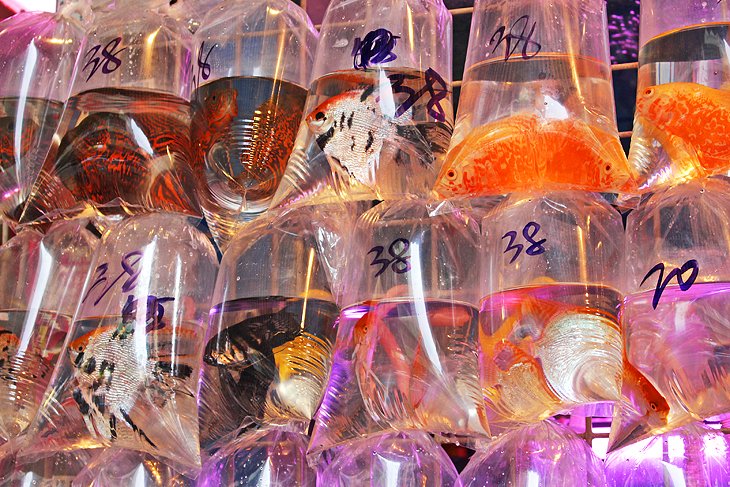 Take photos of colorful fish in small bags and aquariums at the fish market. Also nearby is the flower market, with beautiful displays of exotic flowers, and the bird market, with large and small colorful birds chirping as you pass by. Learn more about these places with our article on the best markets in Hong Kong for tourists.