14 Top-Rated Attractions & Things to Do in Mae Hong Son
We may earn a commission from affiliate links ()
The city of Mae Hong Son is often overlooked on a first-time trip to Thailand. But that is a true shame, as it is located in one of the most beautiful provinces in the country.
The province, also called Mae Hong Son, is a rugged northern area with rolling mountains, a fusion of Thai and Burmese culture, and some of the most stunning landscapes you'll see in the country.
Mae Hong Son township is known for its dense forests and mist-shrouded valley and lies in the mountainous border region between Thailand and Burma. It's a magical city on its own, but the province is also home to fantastic attractions and things to do that ought not be missed.
The province can easily be reached from Chiang Mai, the largest city in northern Thailand. Tourists can hop inexpensive local buses or minivans to various destinations in Mae Hong Son once they arrive in town. But one of the best ways to explore Mae Hong Son is to rent a car or a motorbike and go at your own pace.
For some inspiration and ideas on things to do once you arrive, see our list of top tourist attractions in Ma Hong Son.
Note: Some businesses may be temporarily closed due to recent global health and safety issues.
1. Wat Phra That Doi Kong Mu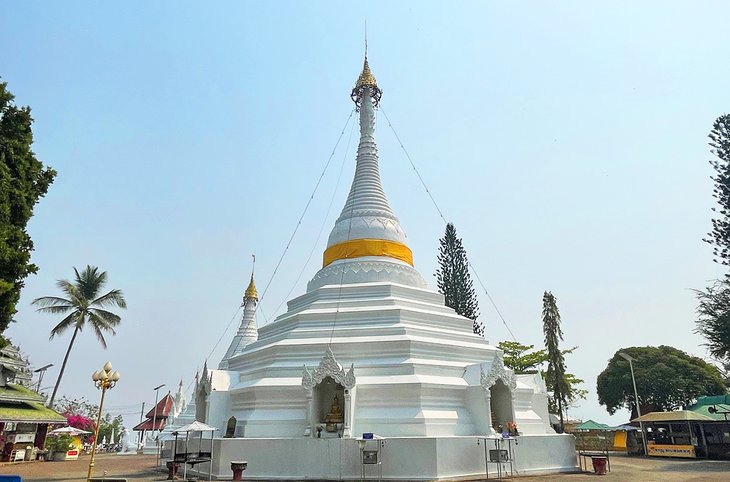 Make the half-hour trek to the top of Doi Kong Mu hill through dense forest, and you'll find this unique temple with two white chedis plus some of the best views of Mae Hong Son you can find anywhere. Two enormous Burmese-style lion statues greet you at the foot of the overgrown staircase to the top.
The chedis-which date back to the 1800s and are topped by golden spires-hold the ashes of one of the chief disciples of the Buddha, as well as the ashes of the governor who ordered the construction of the temple. The chedis are "guarded" by Naga, a mythological snake and a lion-like creature called a Chinthe. At night, the chedis are lit and can be seen from the town.
Short on time? No need to hike to the top. A winding road up the mountain via motorbike can take you up to the chedis in less than 10 minutes.
Accommodation: Where to Stay in Mae Hong Son
2. Buat Luk Khaeo Festival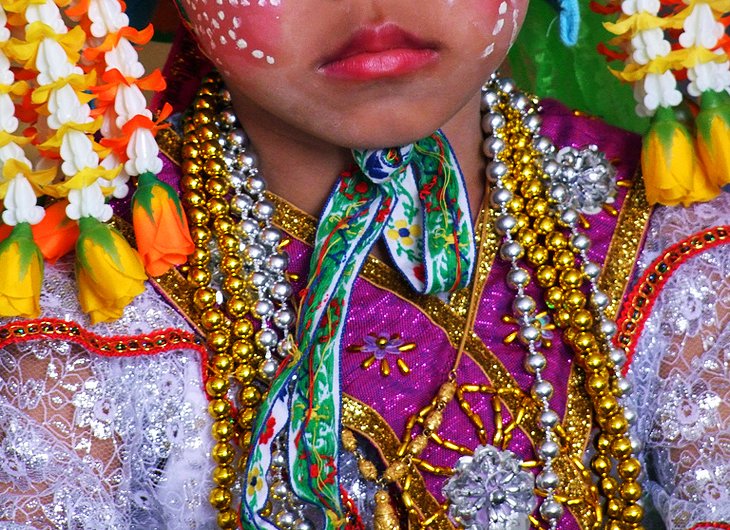 This festival, held once a year, honors young boys between the ages of 10 and 13 who are ordained as novice monks. Mae Hong Son is the place to see this celebration, as it is more colorful here than anywhere else in the country. The three-day festival is held at the beginning of April each year (perfect timing if you plan to stick around for Songkran, the Buddhist New Year).
The novices, known as nakh, participate in several activities throughout the festival, including having their heads shaved and receiving saffron monk habits. The most entertaining event for tourists is the first-day procession, when the boys wear elaborate costumes and are lifted up on adults' shoulders to be led to the temple with music and great fanfare.
3. Burmese Temples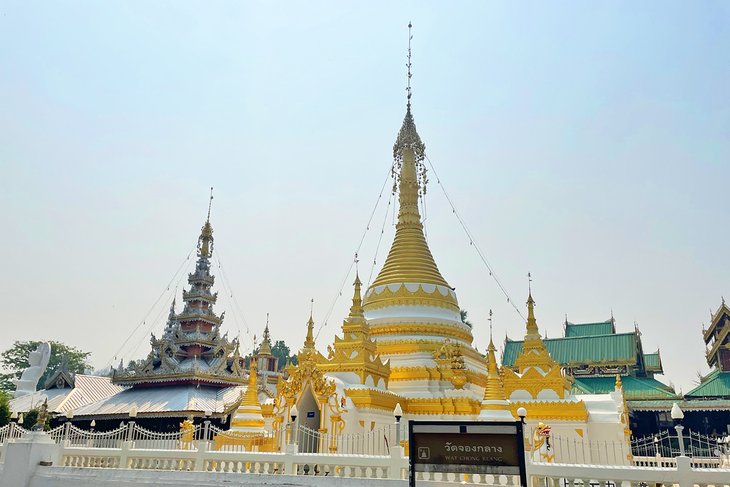 Standing next to each other by a little lake in the southern part of town, Wat Chong Kham and Wat Chong Klang are Burmese-style temples. Especially notable for tourists is the Wat Chong Klang wiharn, which holds over 30 statues brought to Thailand from Burma around 1860.
The temples are surrounded by a park used by the locals for recreation. There's also an outdoor market here, where temple visitors can buy hill tribe handicrafts, traditional sweet snacks, and textiles.
4. Take it Slow at Pai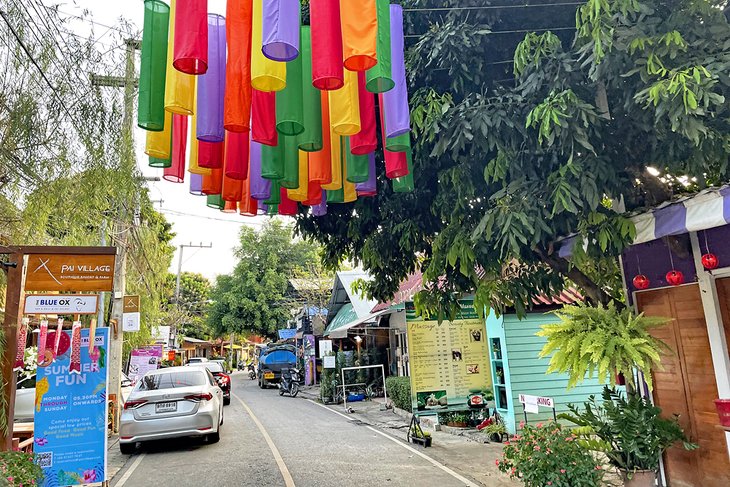 This small town near Mae Hong Son is loved by both locals and tourists for its slow pace and beautiful natural surroundings. There's no shortage of guesthouses and quaint eateries, not to mention bungalows occupied by long-haired hippie wannabes strumming guitars and lazing in hammocks.
Nearby tourist attractions include a waterfall, the Pai canyon, and a chance to go tubing down the Pai River. Located about 3.5 hours from Chiang Mai, Pai is easily accessible by minivan, motorbike, or a short flight.
Today Pai is a bit more of a tourist attraction than a hippie hideaway. Expect to see lots of young backpackers wobbling on scooters, and entire streets that cater to a late-night crowd. Still, Pai is a wonderful home base from which to explore the natural beauty in this section of the province.
5. Get Off-the-Beaten-Track Travel at Mae Sariang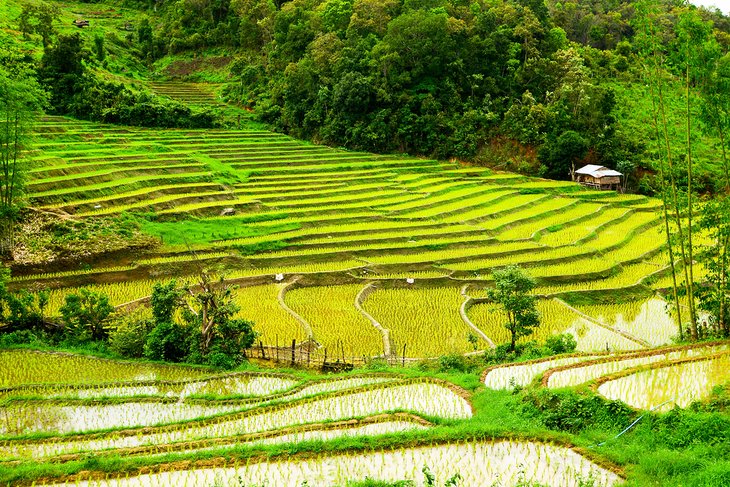 Pai may be a favorite place to visit among backpackers on a soul-seeking experience, but Mae Sariang holds its own charm for those willing to get a bit off the beaten path. Smaller and lacking Pai's notoriety, Mae Sariang promises quiet authenticity – an opportunity for a true northern Thai experience.
Here, you can trek to local hill tribes, bike through the town, purchase local handicrafts, and visit many temples. Being one of the few foreigners in the area will give you a different perspective on life in rural Thailand.
Mae Sariang is about three hours south of Mae Hong Son city, so either leave early in the morning for a long day trip or plan on spending a night somewhere along the way.
6. Ride the Mae Hong Son Loop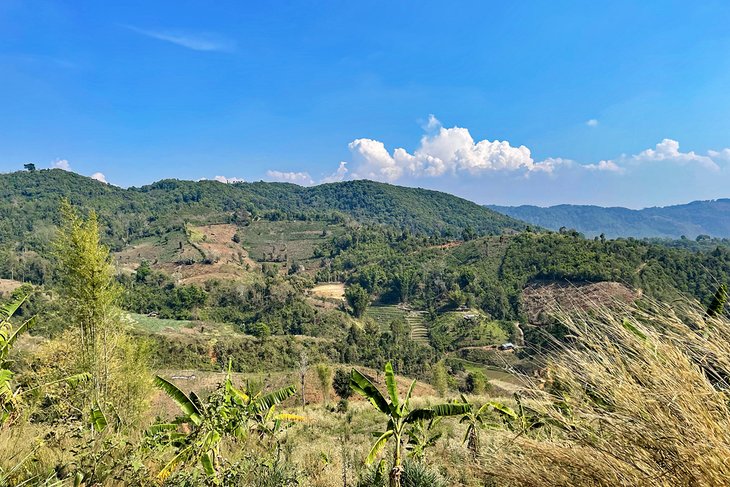 You can take in all the sightseeing highlights of the province by following the popular Mae Hong Son Loop route. Many travelers rent a motorbike and spend a few days riding through mountains and countryside, with stops at waterfalls and small towns along the way. The loop includes Doi Inthanon, the highest peak in the country, as well as Mae Hong Son town, Mae Sariang, Pai, and Chiang Mai (typically the starting point).
Allow several days to enjoy the sights, stop for food, and photo ops along the way, and to relax as well-many of the small villages offer homestays or guesthouses for a simple but satisfying night of rest.
The route is beautiful at any time of year, but keep in mind that end of February and into March is the burning season in Mae Hong Son. This means that the air quality can be quite poor on most days, and you'll be swapping endless views for smokescreens.
7. Visit the Padong Longneck Village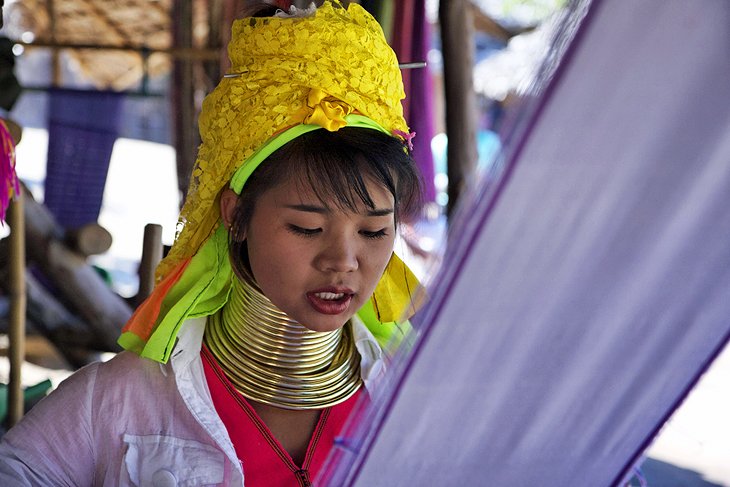 About 1.5 hours from Mae Hong Son town, you can visit the Padong Longneck Village, where members of a local hill tribe still stretch their necks with golden rings. Girls begin wearing the rings at age four and more are added until they turn 25. Tourists pay a fee to enter the village, and often to take photographs as well.
There are many tour options for visiting the local ethnic minority communities, known as hill tribes-but all are not created equal. Tour companies, looking to make money off unique lifestyles and traditions, often exploit groups. These communities are fascinating, but make sure to research companies and packages before you purchase.
Many local resorts will offer personalized tour opportunities, or you can do a homestay in a village rather than popping in for a photoshoot while on a bus tour around the region.
8. Explore the Region's History at Ban Rak Thai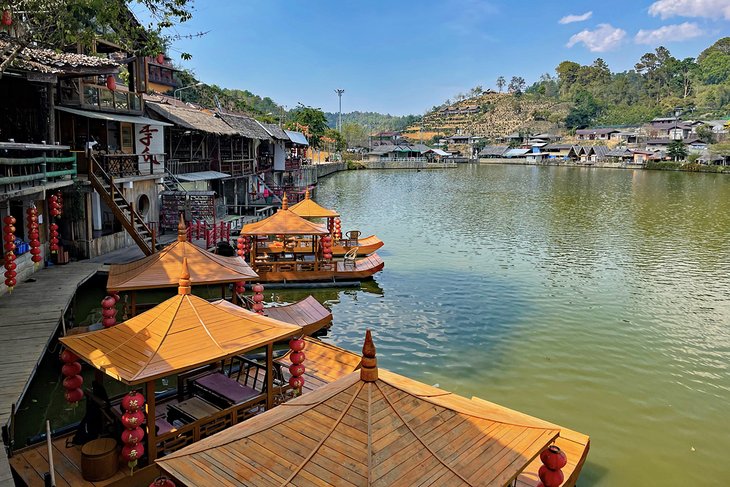 Much is made of Thailand's proximity to Burma, and rightly so, as many Burmese live in Thailand as migrant workers and refugees. But China also sits in close proximity to both countries and Ban Rak Thai stands as a testament to that nation's history.
Ban Rak Thai, about 20 kilometers northwest of Mae Hong Son, is home to mostly Chinese immigrants. The Chinese who live here are the direct descendants of General Chiang Kai-shek's Nationalist troops who, after losing the war against Communist China, fled to Burma and then Thailand rather than following their leader to Formosa (now Taiwan). Many of the men work for the Thai police or as guards and officials along the Thai-Burmese border.
Today the region is known for its oolong tea, and many of the restaurants surrounding the reservoir offer tea tasting of the rich and fragrant indigenous beverage. The peaceful village feels like stumbling into a slice of China right in Northern Thailand, and the drive to reach it is a spectacular, winding route through the tea fields.
9. Discover an Authentic Shan Village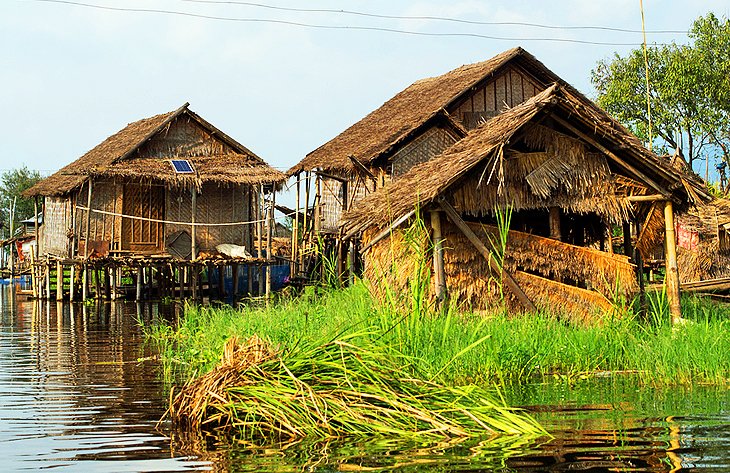 The Shan people have fought both the Burmese and Thai government for decades, and ongoing violence and upheaval often force refugees across the border. The Shan state lies just across the border from Thailand, and, as a result, there is a good deal of Shan influence in some Mae Hong Son areas.
If you're interested in visiting a Shan village, one of your best options is to hire a local guide who knows the area. You can also find your own way to the Mae Lana village near Soppong-surrounded by rice paddy fields, this small village does not receive much commercial tourism, so you'll have a better chance of seeing authentic local customs and maybe even catch a Buddhist ceremony at the temple.
10. Relax by the Fish Cave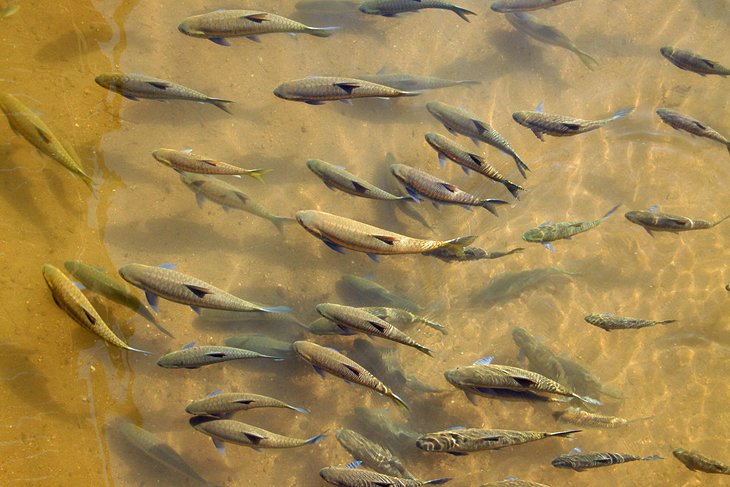 Known as Tharn Pla in Thai, this popular tourist destination is exactly what it sounds like: a pool fed by a small river that is home to an array of exotic fish you can feed, a short hiking trail, and a number of food stalls.
Located about 17 kilometers from Mae Hong just off a highway, this place can be hard to find but worth the effort if you're after a relaxing couple of hours in a cool shady park by the water.
Despite the name, there's no cave here but instead a jungly hill surrounding the stream where the giant fish live-and giant they are, with some of the blueish brook carp reaching one meter long.
11. Explore the Massive Tham Lot Cave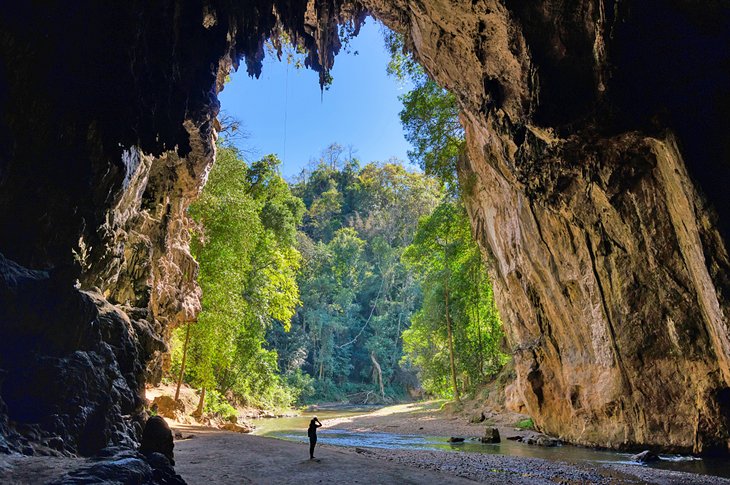 Thailand's biggest cave is over 1,600 meters long and is home to huge chambers, plenty of stalactites, and even signs of prehistoric life. When archeologists first explored this cave in the 1960s, they discovered not only pottery but also teak coffins-left behind by the ancient Lawa tribe that once inhabited the cave.
You can explore the cave on foot if you hire a local guide, or you can get on a bamboo raft that will follow the Nam Lang River, which flows through the cave.
The cave is inhabited by bats and swifts, a perfect combination for an impressive sunset show- as the sun starts to set, the swifts return to the cave for the night, followed by the colony of bats exiting on their own dance across the sky.
12. Pang Tong Royal Development Project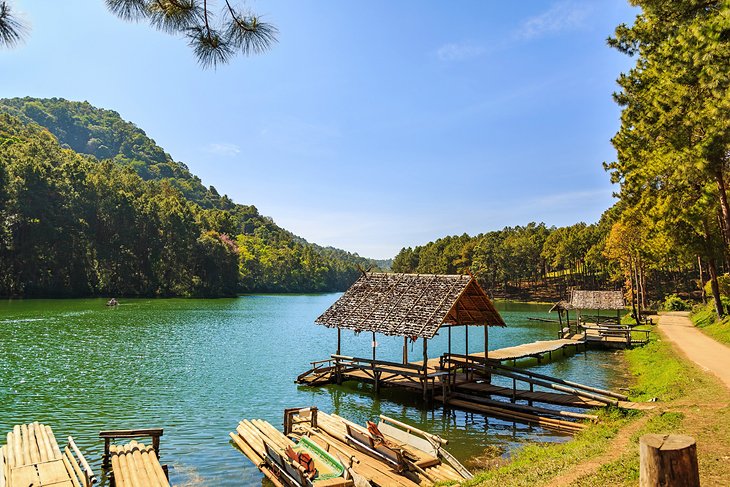 This special protected park on the banks of the Huai Pang Tong Reservoir is not only a beautiful natural area, but also a community where hill tribes live and grow a number of plants, including avocados and Chinese pears. The cool climate here is also ideal to grow roses and hydrangea, which many locals do to sell at the markets.
The land surrounding the lake is covered in soft rolling hills and evergreen forests, perfect for hiking, relaxing in the shade, or picnicking. Visitors can also get on a raft for a sightseeing tour or interact with the park rangers to find out more about the endangered Laew, a small green frog that calls this area home.
13. Namtok Mae Surin National Park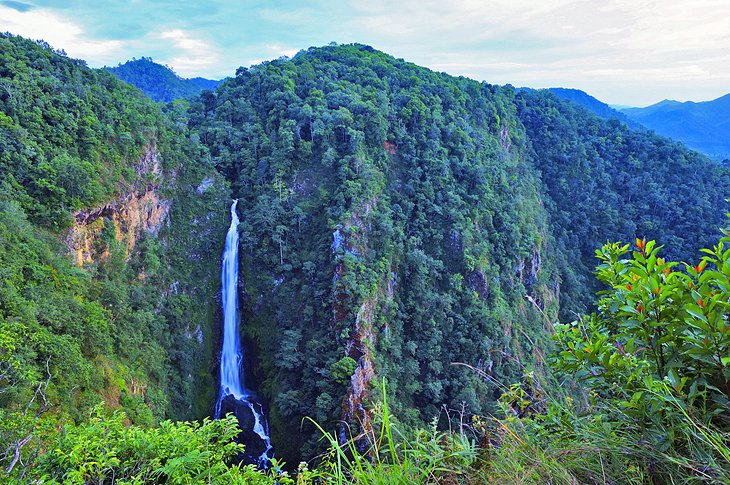 Located very close to Mae Hong Son town, this 399-square-kilometer park is home to waterfalls, caves, and the Doi Pui mountain, which reaches 1700 meters at the peak.
The park's main waterfall is Mae Surin Falls, one of the tallest in the country at over 100 meters high. During the dry season (November to February), you can hike to the bottom of the falls, but this gets trickier and more dangerous as the monsoon rains arrive. You can see the waterfall from the parking lot of the park at any time, though-so you can always get a good picture even if a hike is not on the cards.
The Pai River, which runs through the park, is a good place for rafting-and visitors can even camp on the shore.
14. Yun Lai Viewpoint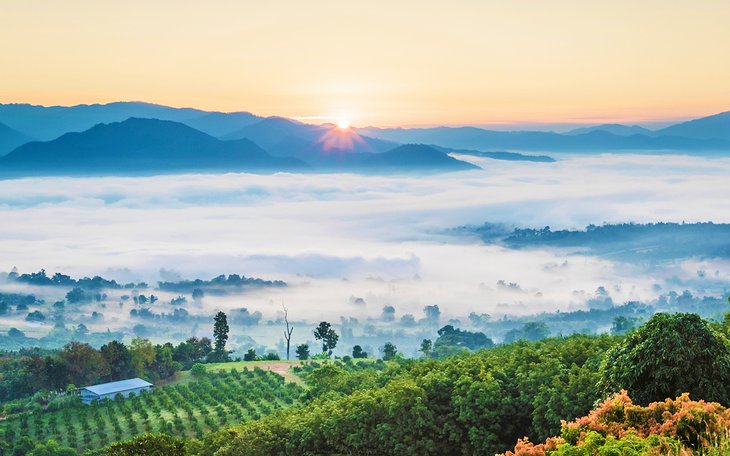 Located in the small town of Pai near the Myanmar border, the Yun-Lai Viewpoint is one of the most stunning attractions in the area. Though the view over flowering meadows and the city is beautiful at any time of the day, the best time to arrive is at 6am, so you can catch the sunrise. When the sun starts to rise, you'll get a panoramic view over a sea of mist as the sunlight turns the sky into shades of yellow.
To get here, rent a scooter or catch a ride on a songthaew taxi. Get off at the top of the mountain, and walk down a trail through a field to find the viewing platform. There's a very small fee to get on it, but the entrance ticket includes a cup of green tea at the on-site café. You can also get coffee and pastries here if you need a little pick-me-up.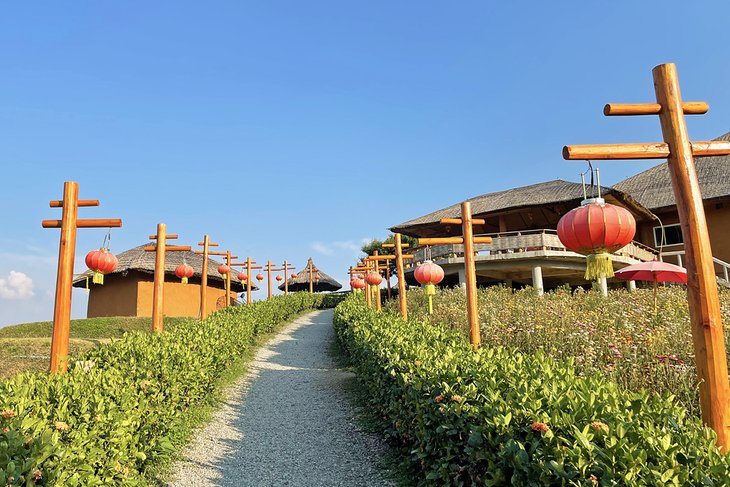 While there isn't much else to do up here, you can rent a bungalow for the night right at the viewpoint and catch the sunrise the next morning.
Where to Stay in the Mae Hong Son Area for Sightseeing
Mae Hong Son doesn't have any luxury accommodations. Here, visitors have a choice between comfortable mid-range hotels or simpler accommodations in bungalows or family-owned hotels. Many of the best accommodations are either outside town, surrounded by their own green oasis of tropical jungle, or smacked right in the middle of everything in the center of the city.
Mid-Range Hotels:
The closest you'll get to luxury (but with surprisingly affordable prices) is the Imperial Mae Hong Son

Resort

, which offers grounds covered in a teakwood forest, an outdoor swimming pool, and a restaurant on site. Rooms are spacious, and some offer a pool view.
Sib-Lan Buri

Resort

offers accommodation in spacious rooms that are basic but comfortable and come with garden views and their own outdoor deck.
Budget Hotels:
For clean and modern rooms with big balconies that overlook the mountains, the B2 Mae Hong Son Premier

Hotel

is a very good choice. The hotel offers a pool and is in a good location in the center of town.
Piya Guest

House

is also in town, with simple but clean rooms that overlook a lake or the swimming pool. The small café at the hotel serves breakfast only, but there are plenty of places to eat just down the street.
More Related Articles on PlanetWare.com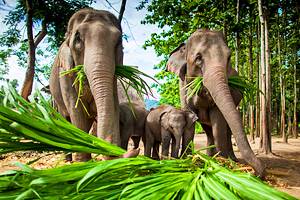 Exploring Chiang Mai: The city of Chiang Mai is just a short flight away from Mae Hong Son, and it's often the starting point for travels around the area. If you're making the city your home base, make sure you spend time exploring some of the top tourist attractions in Chiang Mai before you head to Mae Hong Son. For help finding the ideal accommodation, check out the top places to stay in Chiang Mai.