12 Top-Rated Cities in Thailand
Thailand is a country of contrasts. While most people imagine soft white beaches and days in the sun when they think of Thailand, this tropical paradise is also home to cosmopolitan cities, grand palaces and ancient temples, hiking trails that disappear into misty mountains, and some of the best shopping in Southeast Asia.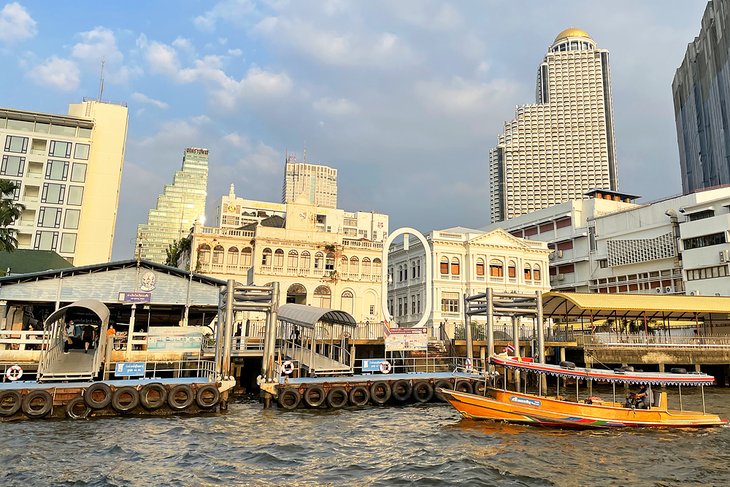 Even if your first stop is Bangkok, it's worth looking into visiting other cities using Bangkok as your home base to explore the country. From seaside Hua Hin to outdoor-oriented Chiang Mai to beach getaways like Krabi and Phuket towns, there are many destinations waiting to be discovered.
Plan your travels with our list of the best cities in Thailand.
1. Bangkok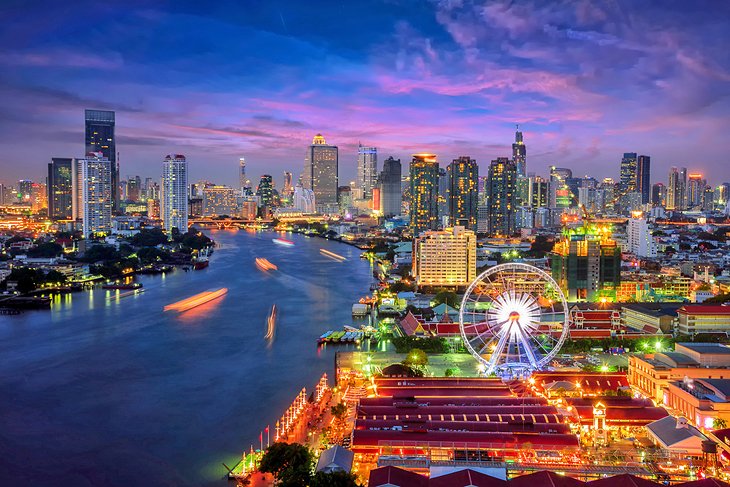 There are plenty of things to do in Bangkok, a bustling metropolis where metal and glass skyscrapers sit next to centuries-old temples.
Wat Phra Kaew, better known as the Temple of the Emerald Buddha, is considered the most sacred temple in the country and a must-see for visitors to the Thai capital. It is located within the grounds of the Grand Palace, the official residence of the Kings of Siam until 1925.
Today, the temple and palace complex is a sort of living museum, where royal ceremonies are still being held, and visitors can walk the halls, pavilions, and courtyards of the world's richest royalty.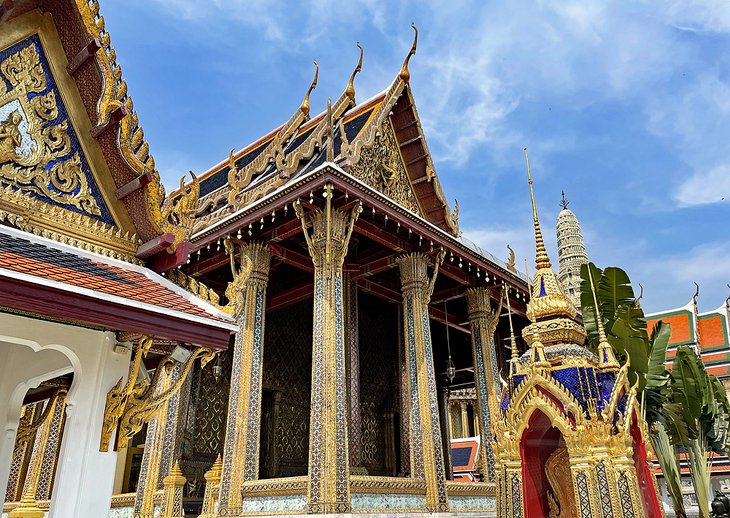 Wat Pho, home to a 46-meters-long reclining Buddha covered in gold leaf, is a 10-minute walk from the Grand Palace and another must-see.
For those in the shopping mood, Bangkok is home to a number of massive malls, as well as the world's largest outdoor weekend market. With over 8,000 market stalls selling everything from handicrafts and antiques to pet accessories and furniture, the Chatuchak Weekend Market is a good place to bargain for the best souvenir prices in the city.
Khao San Road, in the heart of Bangkok, is another great place for shopping and street food, popular with backpackers and tourists – it's also very lively at night, with live music, street performers, and plenty of open-air restaurants.
2. Ayutthaya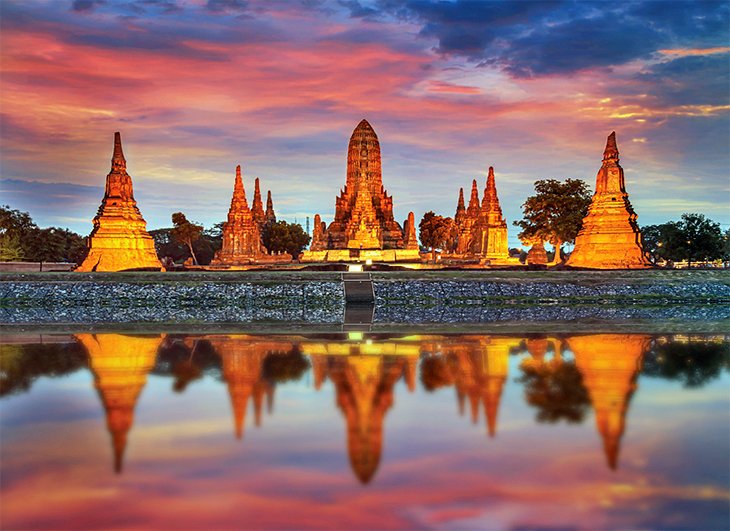 One of the most popular day trips from Bangkok, the ancient city of Ayutthaya is certainly worth a visit. A UNESCO Heritage Site expanding over 289 hectares, the massive complex of ruins is located on an island surrounded by three rivers.
Ayutthaya was the capital of Thailand from the time it was founded in 1351 until it was razed and burned by the Burmese Army in 1767. Though many of the buildings were destroyed and many objects stolen over the years, the massive temples and stucco towers that remain are still awe-inspiring.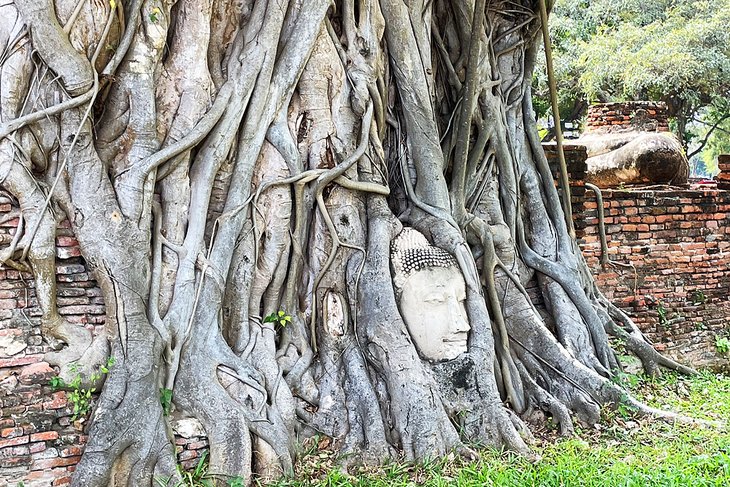 One of Ayutthaya's best-known attractions is Wat Chaiwatthanaram, with a 35-meter-high prang (tower-like spire) and eight chedi-like chapels at the heart of the structure. Wat Mahathat, a smaller temple, is famous for the head of a Buddha statue caught in the roots of a tree.
3. Chiang Mai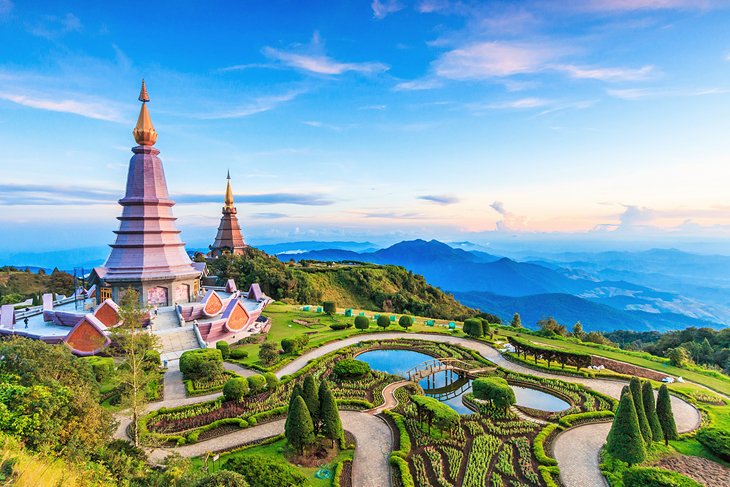 The laid-back city of Chiang Mai is easy to navigate and considered the ideal base for outdoor lovers – it's surrounded by national parks, waterfalls, and mountains dotted with historic temples, including Doi Inthanon, Thailand's highest mountain.
Hill tribe trekking is also a popular thing to do in Chiang Mai, where visitors get a chance to trek the local hills and mountains to reach tribe villages.
Chiang Mai won't break travelers' budgets; it's very vegetarian-friendly, and it offers ethical options to get closer to nature. While many cities in Thailand offer ethically-questionable elephant rides, Chiang Mai is home to a number of elephant sanctuaries set deep in the mountainside, where visitors can interact with rescued animals in their natural habitats.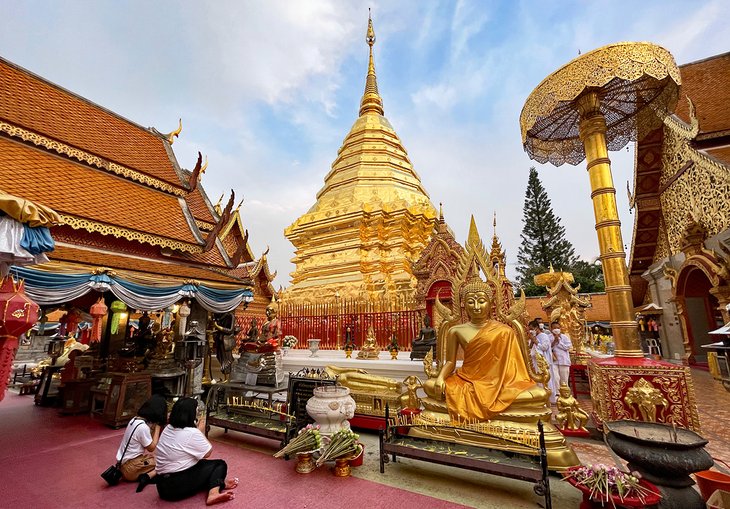 Famous for its many Thai cooking schools, Chiang Mai is also a great destination to see temples, including the 14th-century golden Wat Phra Singh and Wat Phra That Doi Suthep at the top of a mountain.
Accommodation: Top-Rated Places to Stay in Chiang Mai
4. Hua Hin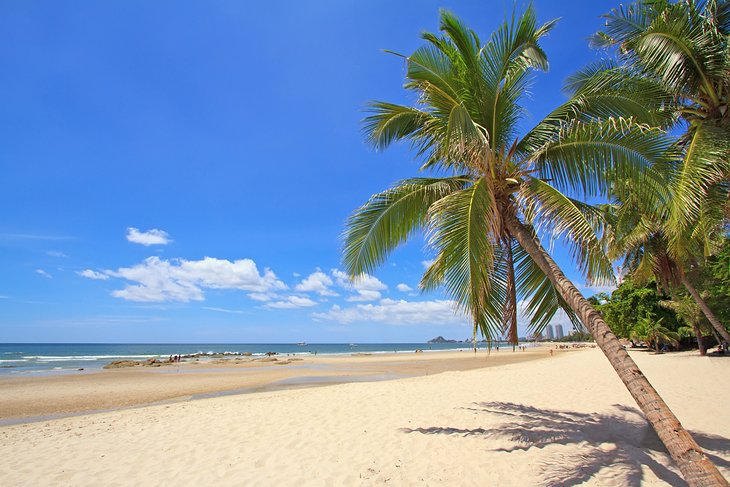 Located 200 kilometers south of Bangkok, Hua Hin was once just a quiet little fishing village until King Rama VII adopted it as his summer getaway destination.
Over the past few decades, Hua Hin has become a popular beach resort destination, favored by families, couples, and those who want access to the sea without the chaos of nightlife and the very busy sands you'll often find on the islands.
Because of its proximity to the capital, Bangkok residents often make it here on weekends, so the town tends to be busy year-round. During the dry season (December to mid-March), Hua Hin is a popular golf destination.
Hua Hin offers plenty of other things to do besides golf. The city also offers a major water park, two themed shopping centers (including Plearn Wan, a retro open-air mall that mimics the 1920s shophouses of Thai-Chinese immigrants in Bangkok); a buzzing night market; and the royal teak Klai Kangwon Summer Palace, built facing the ocean.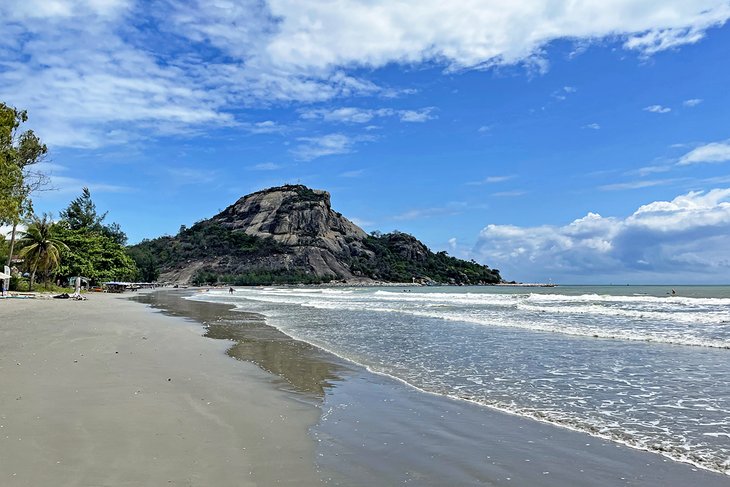 The main attraction here, however, is the 20-kilometer-long soft sandy beach that stretches all the way to Khao Takiap Mountain. On the other side of the rocky bay - which features a giant Buddha, a temple and lots of monkeys that rule the space - there's Suan Son beach, which is technically owned by the Thai Army but remains open to the public. This is a great destination for those looking for quiet and solitude under the sun.
5. Phuket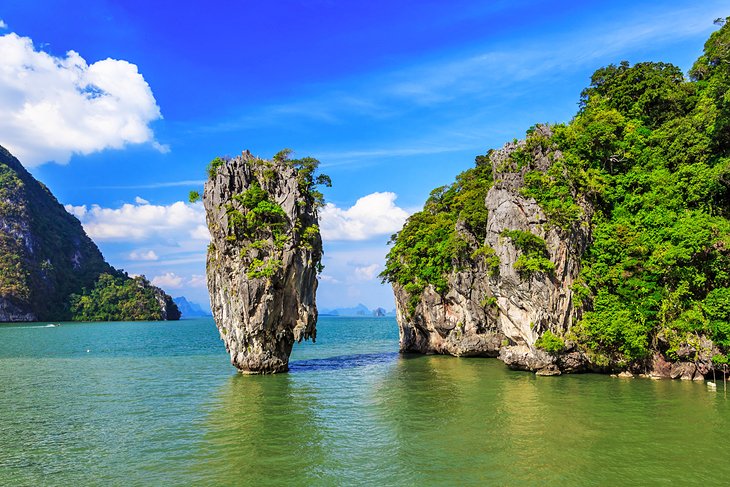 Most people who come to Phuket Town are just on their way to the many white sandy beaches around – but the town itself deserves a visit for its beautiful heritage, obvious to anybody who takes a walk around the Old Town center.
A mix of Sino-Portuguese architecture and 19th-century shophouses, Phuket Town is always buzzing with excitement but hasn't lost its historic charm.
The Phuket town night market runs only on weekends, but it's still the best shopping destination around. You'll find everything from souvenirs to clothes to electronics here, plus some of the best street food in Phuket. And because of the Chinese/Cantonese influence in the area, this means an incredibly large variety of options – from dim sum to colorful pastries and roti (pancakes made with sweetened condensed milk) to refreshing papaya salad.
Other things to do in Phuket include a number of modern attractions that have opened in town in the past few years, such as a "trick-eye" museum and an "upside-down house," but the Jui Tui Shrine (center stage for the famous annual Phuket vegetarian festival) and the Thai Hua Museum (housed in a stunning Sino-colonial mansion) are equally worth a visit.
Accommodation: Top-Rated Resorts in Phuket
6. Pattaya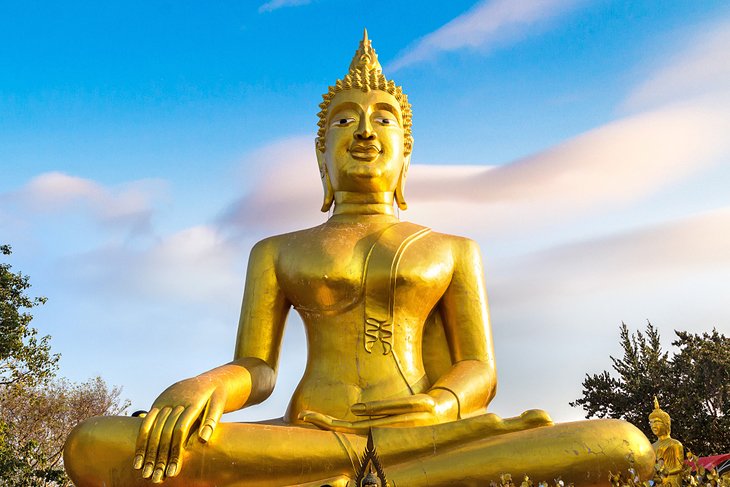 Pattaya might be better known for its raucous nightlife, but the city also has much more to offer in the form of water activities, a four-kilometer-long sandy seashore, and plenty of hiking opportunities – including a chance to walk up a massive golden staircase to reach the 18-meter-tall golden Buddha at Wat Phra Yai temple.
Another top thing to do in Pattaya is hike Pratumnak Hill for a sweeping open view over the bay and sea.
Just two hours away from Bangkok, Pattaya is a popular weekend destination. The central Pattaya beach gets noisy and crowded, but Jomtien and Naklua beaches offer a chance to watch the sunset in almost solitude.
For those wanting to see something different, the Sanctuary of Truth is a teak hall designed as a center of art and faith and a stunning sight just north of Wongamat Beach.
Pattaya also offers some unexpected sights in the form of the 17th-century-French-style Nong Nooch Tropical Gardens; a floating market; the biggest water park in Thailand, with 50 slides; and its own tiny island, Koh Larn. Located just across the shore from Pattaya, Koh Larn is the perfect destination for parasailing, jet skiing, and beach massages.
7. Kanchanaburi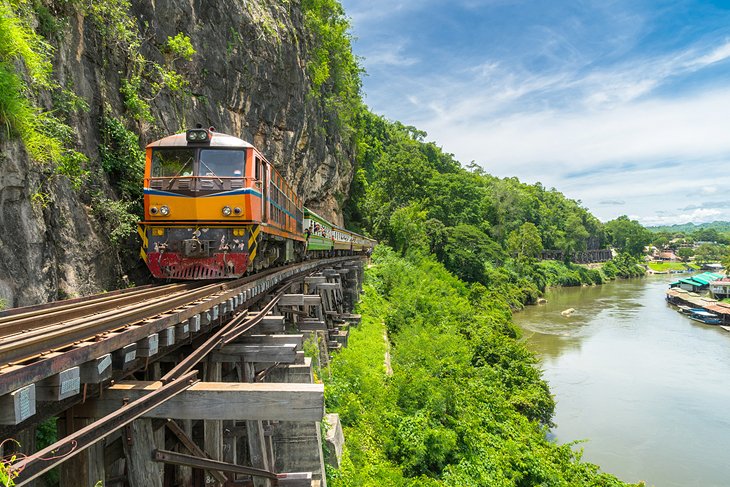 The town of Kanchanaburi is best known as being the home of the "bridge over the River Kwai." Built by the Japanese during WWII using labor force from prisoners of war, the bridge was meant to be an important part of the infamous Burma railway, which would connect Thailand to Burma. More than 12,000 Allied prisoners died during the construction and reconstruction of the bridge, which was bombed several times.
While the Burma railway was never finished, visitors today can hop on a regular local train that crosses over the bridge. It's a picturesque, if somber, ride that will take just a few minutes.
Nearby, the Kanchanaburi War Cemetery and the Thailand-Burma Railway Center are other top places to visit in Kanchanaburi. They offer in-depth information about the history of the railway and the prisoners who lived and died here.
Wat Tham Phu Wa temple, located inside a nearby cave, attracts many visitors, and so does Erawan National Park, home to the stunning seven-tiered fall of the same name.
8. Krabi Town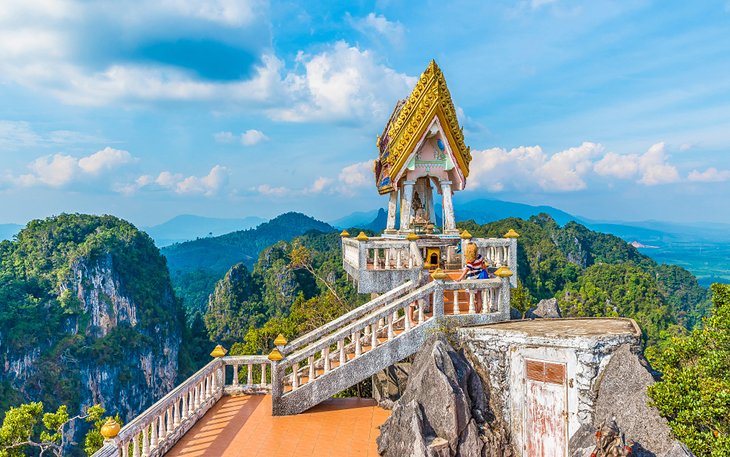 An authentic Thai market town just minutes away from ultra-famous white-sands Railay beach, Krabi is much more than just a transit point. Even if Krabi's stunning islands like Koh Phi Phi are calling your name, Krabi Town deserves a visit for a chance to discover true Thai culture.
The Krabi Riverside walk, where the town's night market is held every day, is a good place to get a feel for the town: boats, older residents practicing Tai Chi, and small food stalls all mix in perfect harmony here.
Wat Tham Sua (Tiger Cave Temple) is at the top of a hill just three kilometers from the center of town. Take a tuk tuk here for an authentic Thai experience, then climb the 1,237 steps up to the big golden Buddha.
Just outside town, and reached by a 15-minute ride on a long-tail boat, is the Khao Khanab Nam Mountains, which are in reality 100-meter-tall limestone hills with a secret: a number of caves, some of which have been converted into temples, are hidden inside the mountains. And, of course, there always Krabi's beautiful beaches to enjoy.
9. Sukhothai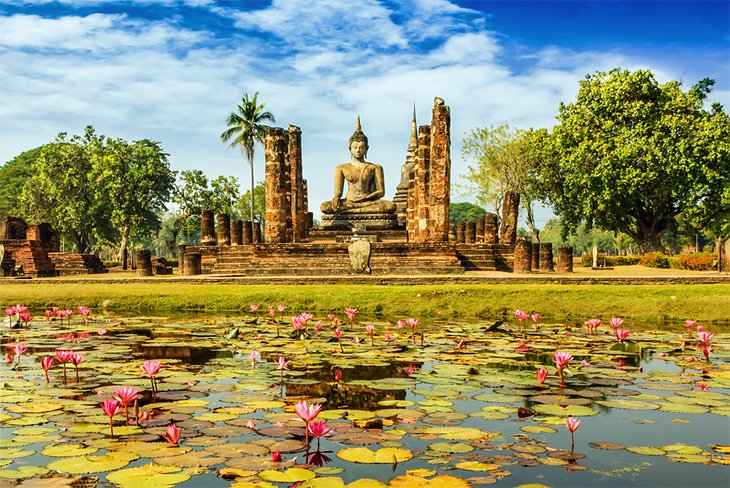 Once the capital of ancient Siam, the historical city of Sukhothai and its temples are just as magnificent as they were 700 years ago. While the modern-day town of Sukhothai Thani doesn't have too much to offer in the form of attractions, the Historical Park attached to it attracts thousands of visitors every month.
Sukhothai's ancient kingdom covers an area of 7,000 hectares, though most of the ruins – including 193 temples and structures – are located within a 70-square-meter area.
Wat Mahathat (which translates to "temple of the great relic") is the largest temple here, designed based on a mandala to hold relics of the Buddha. The temple contains 168 stucco statues, eight stupas surrounding the large central one, and a stunning pillared hall that serves as a corridor.
The oldest temple in the park, Wat Si Sawai, was founded in the late-12th century and it's famous for its three richly carved prangs (tower-like spires) that represent the Hindu trinity.
Lotus lakes, terraces, and stucco works abound here and make for a perfect day of exploring. Many of the large bronze and stone statues from the temples have been moved to the National Museum in Bangkok, but others are exhibited at the Ramkhamhaeng National Museum, located within the park itself.
10. Pai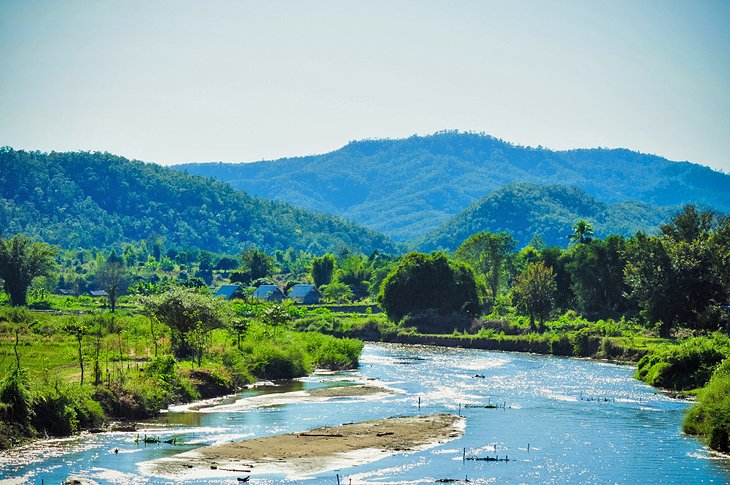 Chances are very good you haven't heard about tiny Pai town – and you're not the only one. Located right on the banks of the picturesque Pai River, Pai has become a favorite with backpackers and explorers who want to see a different side of Thailand.
You won't find luxurious hotels with swimming pools here, but Pai makes up for it with stunning hills perfect for hiking; hot springs; and plenty of hill tribes, including Karen and Hmong villages, that you can visit.
Santichon Village is one of the most popular city attractions. It consists of a complex of clay houses and shops that showcase the way of life of the Yunan People, an ethnic group from Southern China with important ties to the Pai area. Over 2,000 people live in the village permanently, where they grow tea, offer donkey rides to visitors, and hand power a wooden Ferris wheel for those brave enough to get on.
For the best views of Pai, climb up to Wat Phra That Mae Yen, where the big white Buddha at the top of the hill also provides some great photo opportunities.
11. Chiang Rai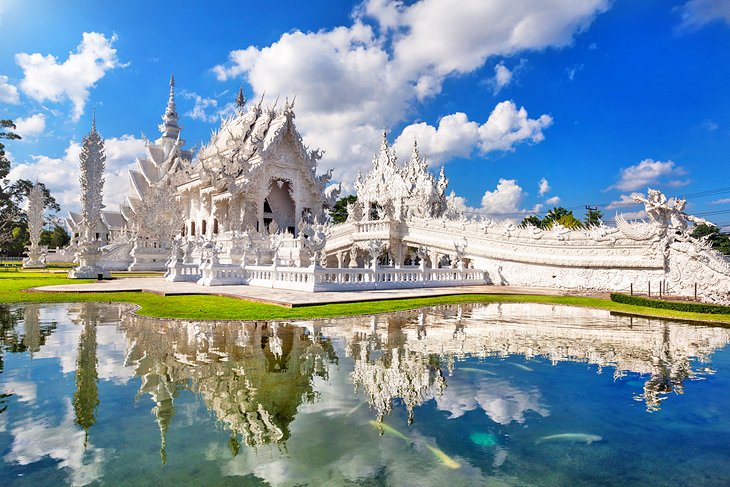 Located near the borders with Laos and Myanmar, the large city of Chian Rai doesn't get as much traffic as other northern cities. Visitors who do make it here will have a chance to explore stunning scenery and catch the sunrise at the Phu Chi Fa national forest park.
Perhaps the best-known spot in the city is Wat Rong Khun (also known as "white temple"), which is technically not a religious building but the brainchild of a local visual artist. The temple is full of Buddha imagery; a bridge that seems to float over water and represents crossing purgatory before you enter the main chapel in the building; and elaborate murals with colorful images of spaceships, Harry Potter, and even characters from Star Wars and Spiderman.
Another famous temple is Wat Huai Pla Kang, featuring a 23-story-high statue of Kuan Yin, the Goddess of Mercy, and a nine-story high pagoda.
12. Prachuap Khiri Khan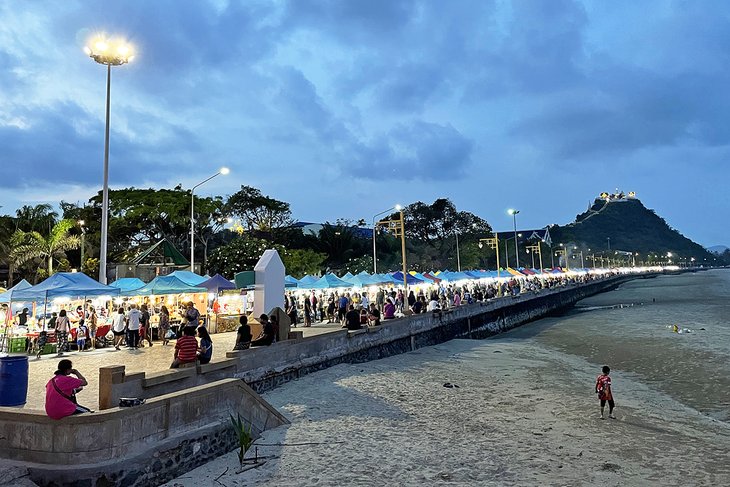 Prachuap Khiri Khan province is most famous for its world-renowned beach escape, Hua Hin. But the capital of the province, also called Prachuap Khiri Khan, is a relaxed city on the sea, with plenty to offer travelers while still remaining delightfully under the radar.
If Hua Hin packs too much energy, then Prachuap Khiri Khan is the welcome antidote. The sleepy city sits perched on a broad bay of turquoise water, with carpeted green limestone mountains bordering either end, and the rolling hills that separate Thailand from Myanmar in the distance.
The main landmark in Prachuap is Ao Prachuap, or Prachuap Bay, which has an oceanfront promenade that is always a hive of activity. But it comes most alive on weekend evenings, when street stalls run almost the entire length of the coast for a lively night market.
On either end of the city are quiet beaches mostly frequented by locals, particularly Ao Manao beach, which has a smattering of beachfront restaurants that serve fresh seafood.
For cultural landmarks, Prachuap Khiri Khan has Wat Ao Noi, a gorgeous wood temple with a dramatic golden snake that stands at its entrance.
Prachuap may not be as touristy as other beachfront cities, but that's what makes it so special. It's a perfect place to blend into the background and sample a slice of everyday living in Thailand.
Map of Cities in Thailand
More Related Articles on PlanetWare.com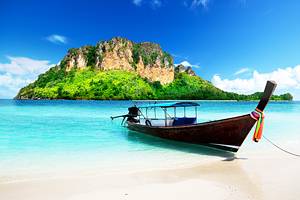 Planning Your Thailand Trip: The jewel of Southeast Asia is most famous for its beaches, as you can see on our list of the best beaches in Thailand, but this tropical destination has a lot more to offer in the form of great shopping, stunning temples, and beautiful limestone mountains. Take a look at what makes Thailand so unique in our Top-Rated Places to Visit in Thailand and Top-Rated Tourist Attractions in Thailand articles.