14 Best Places to Go Snorkeling in the World
We may earn a commission from affiliate links ()
The ocean graces more than 70 percent of our planet, and millions of marine species call these waters home. Whether you are a novice or an experienced snorkeler, there are plenty of places to witness enchanting underwater life. All you need is a mask, snorkel, and fins to experience the beauty of coral reefs and the intriguing creatures that thrive beneath the waves. From sharing the sea with manta rays in the Maldives, to humpback whales in the Dominican Republic, and being surrounded by vibrant schools of fish in the Caribbean, these are the best places to go snorkeling in the world.
Note: Some businesses may be temporarily closed due to recent global health and safety issues.
1. Great Barrier Reef, Australia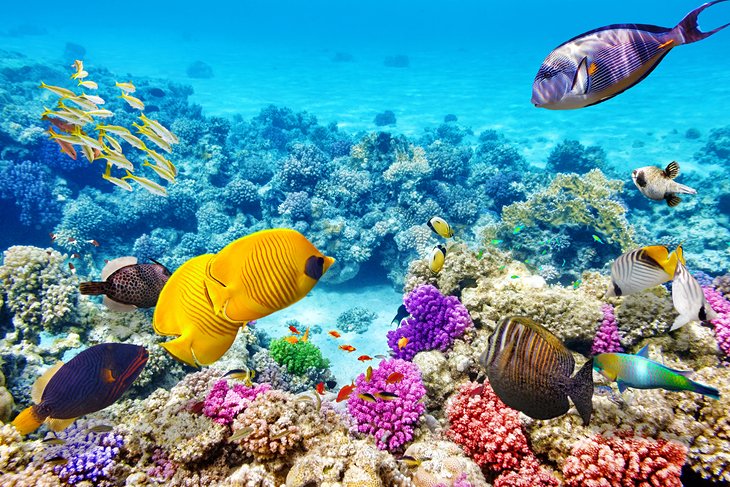 For brilliant marine life and eye-popping coral, there's nowhere better than the Great Barrier Reef. As the planet's largest reef system, the Great Barrier Reef is made up of 2,900 individual reefs and coral cays stretching 1,400 miles off the Queensland shoreline. More than a thousand fish species, along with six species of sea turtles, inhabit the reef. Warming waters are causing the coral to bleach, and scientists predict that the reef could become extinct as soon as 2050. So, take in the unmatched beauty of the Great Barrier Reef before it's too late. The best way to experience this year-round destination is on a boat tour to various spots from your basecamp in Cairns or Port Douglas.
2. Komodo National Park, Indonesia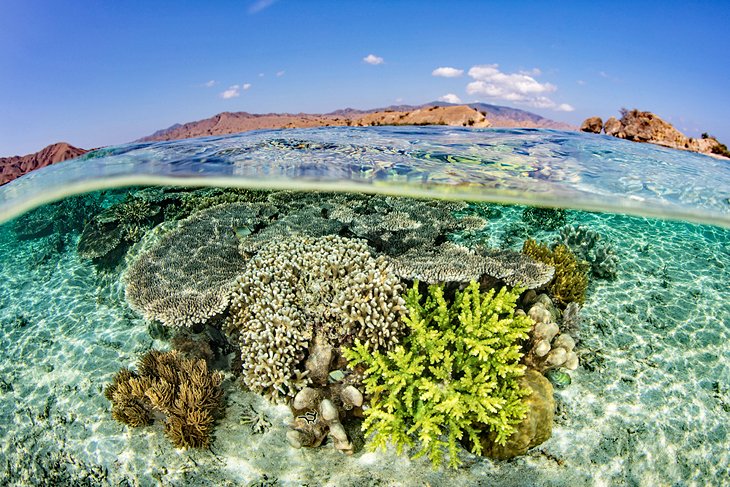 Komodo National Park is centrally located along Indonesia's Lesser Sunda archipelago, a chain of volcanic islands extending eastward from Java. Established in 1980 to preserve the Komodo Dragon, the Park became a UNESCO World Heritage site six years later. As one of five islands where you can see these unique lizards in the wild, the National Park gets a lot of attention, but the surrounding waters shouldn't be overlooked. Having enjoyed protected status for more than 30 years, the reefs are thriving with an abundance of exotic undersea life, including dugongs, manta rays, sharks, and over 1000 species of tropical fish.
3. Devil's Crown, Galápagos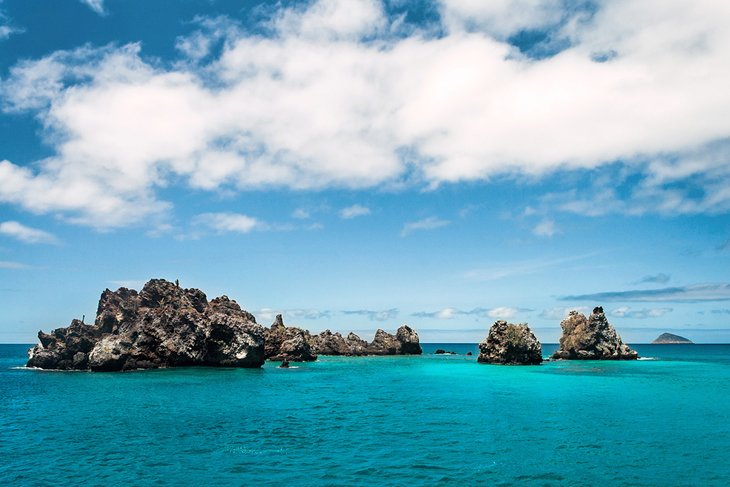 Devil's Crown, an extinct sunken volcanic cone near Floreana Island, attracts snorkelers and divers to its underwater kaleidoscope of fish, eagle rays, and shy reef sharks. Located 600 miles west of Ecuador in the Pacific Ocean, the Galápagos Islands are heaven on earth for animal lovers. The area's nickname was derived from the circular formation of jagged lava rocks. Within a few minutes of snorkeling at Devil's Crown, you will spot a myriad of sea life — including sea turtles and eagle rays gently "flying" above lavender and green-colored coral reefs. If you venture outside the crown, you may even see hammerhead sharks. Just beware — the currents are strong — and be sure you follow an experienced guide.
4. Grenada, The Caribbean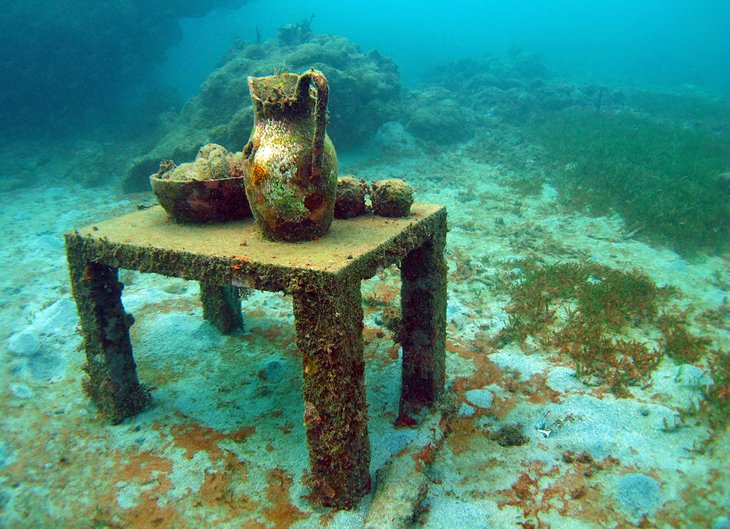 See the first ever marine sculpture garden at Molinere Sculpture Park in Grenada. This Caribbean island is famous for its spices, lush mountains, and scenic cliffs stretching towards tranquil waters. Just a half-hour boat ride from Pink Gin Beach lies a collection of ecological, subaqueous contemporary art at the sandy bottom of Molinere Bay. These coral-graced cement sculptures, including the famous ring of children holding hands, are teeming with colorful fish and offer a one-of-a-kind underwater experience.
5. Bay of Donsol, The Philippines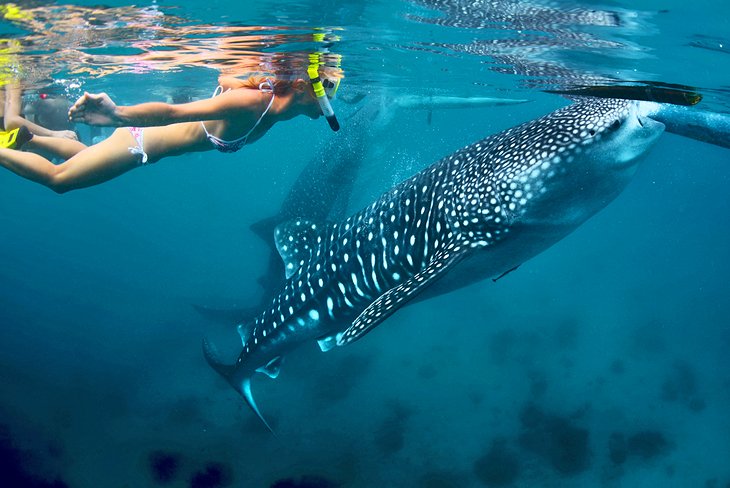 With more than 7,000 islands, choosing the right snorkeling spot is not an easy task in the Philippines. This is especially true when the waters surrounding the archipelago have a diverse ecosystem filled with breathtaking wildlife. At the Bay of Donsol, located in the Sorsogon province in the northern Philippines, you can snorkel alongside the largest living fish — the whale shark. These protected animals congregate in Donsol Bay between November and June, feeding on the rich nutrients coming from the mouth of the river. Snorkelers can see up to 20 whale sharks on a single boat tour.

6. Baa Atoll, Maldives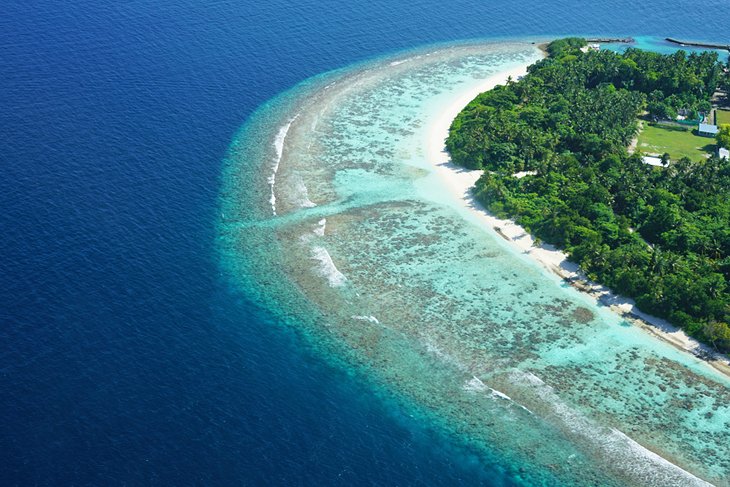 The Maldives, located southwest of India, are some of the most picturesque islands in the world, and their beauty is not just relegated to the land. The 1,200 picture-perfect coral islands are surrounded by aquamarine waters, home to hundreds of vivid fish species and other marine animals, including sharks, octopii, and manta rays. Baa Atoll, a UNESCO Biosphere Reserve, is one of the Maldives' 26 geographical atolls. It supports one of the largest groups of coral reefs in the Indian Ocean, and hundreds of manta rays gather to take advantage of the zooplankton trapped in the bays from June to November.
7. Madang, Papua New Guinea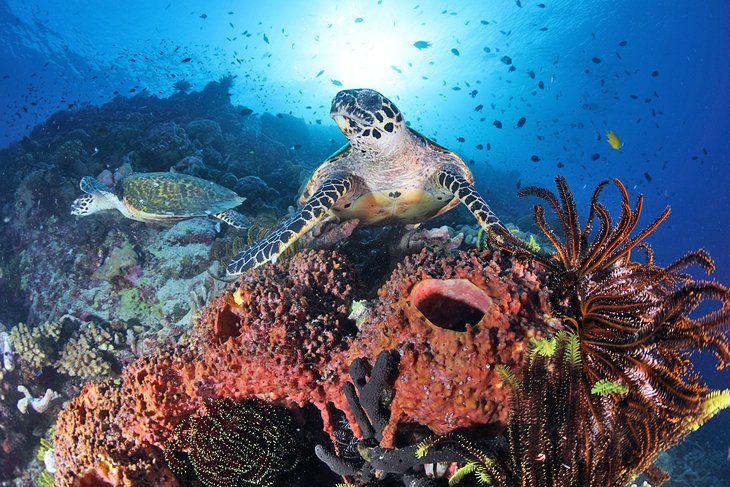 The tropical nation of Papua New Guinea is located north of Australia in the Coral Triangle, also known as the Amazon of the ocean. Papua New Guinea and its offshore islands evoke a sense of wonder, just by the very nature of their remote location. The nation boasts more than 700 tribes and it's equally diverse beneath the seas. Because Papua New Guinea doesn't suffer from overtourism, the reefs have remained pristine and plentiful. Just offshore from Madang is the volcanic seamount Planet Rock, whirling with barracuda, tuna, snapper, and reef sharks. If you are into diving, there are also some WWII wrecks nearby to explore.

8. Maui, Hawaii, United States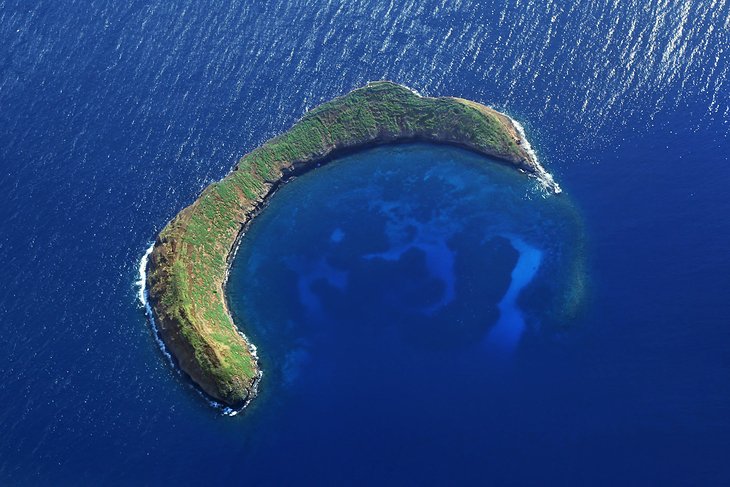 The lush island of Maui has unique lava rocks and coves that make for a one-of-a-kind experience. You can either snorkel off the island's beaches or venture out to popular reefs to see technicolor fish, sea turtles, and coral formations. A stone's throw away from the Four Seasons Resort Maui is the Ahihi Kinau Natural Area Reserve, a perfect place for beginners to enjoy undersea life. The Molokini Crater, a half-sunken, crescent-shaped caldera a few miles from Maui's shores, boasts calm waters with visibility up to 100 feet. Here, you can come face-to-face with rainbow fish, eagle rays, monk seals, and sea turtles inside the arms of the crater.
9. Silver Bank, Dominican Republic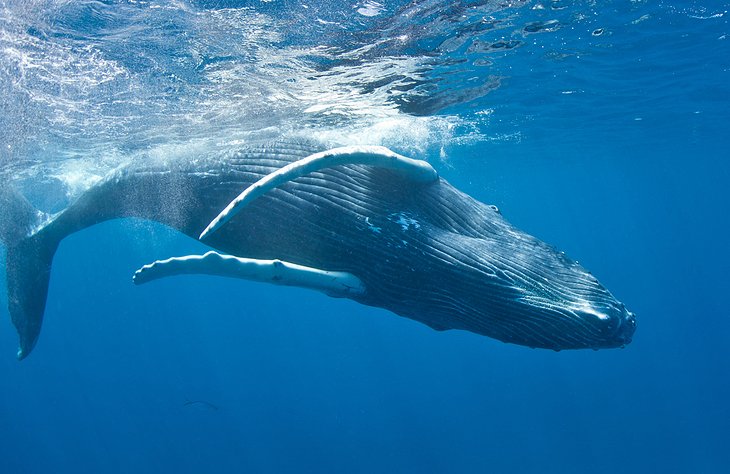 If you've ever dreamed of snorkeling alongside humpback whales, Silver Bank, in the Caribbean Sea, 80 miles north of the Dominican Republic, is the place to be. Go between December and April, when these charismatic megafauna migrate to the warm, shallow waters of Silver Bank's submerged limestone plateau to mate, calve, and raise their young. This Marine Mammal Sanctuary is one of only three places in the world that allows visitors to swim and snorkel among the North Atlantic humpback whales.
10. Bora Bora, French Polynesia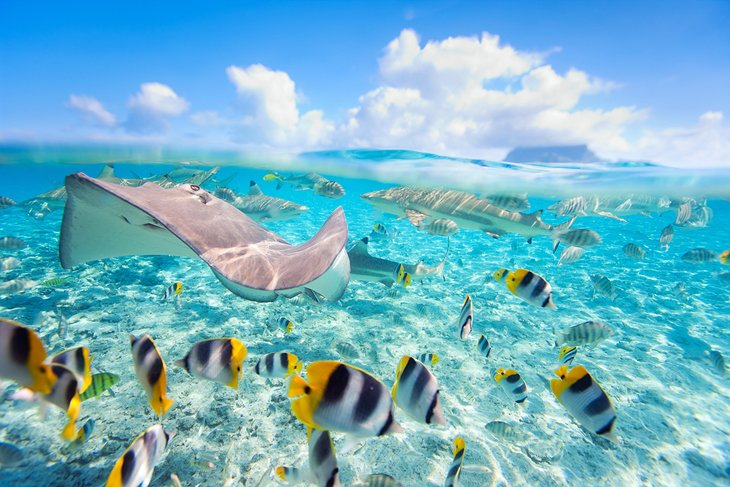 Crystal clear waters, pure-white sand beaches, and plenty of opportunities to get up close to stingrays right from your overwater bungalows await in Bora Bora. These "water puppies," as they are often called, inhabit the warm waters surrounding Bora Bora and neighboring islands. They have an affinity for humans, often coming right up to you for attention. Be careful not to swim directly over them or step on their long tails. And if you've ever wanted to get close to sharks, these sunlit, shallow tropical waters are abundant with blacktip reef and lemon sharks, along with an array of turtles and colorful reef fish.
11. Isla del Cocos, Costa Rica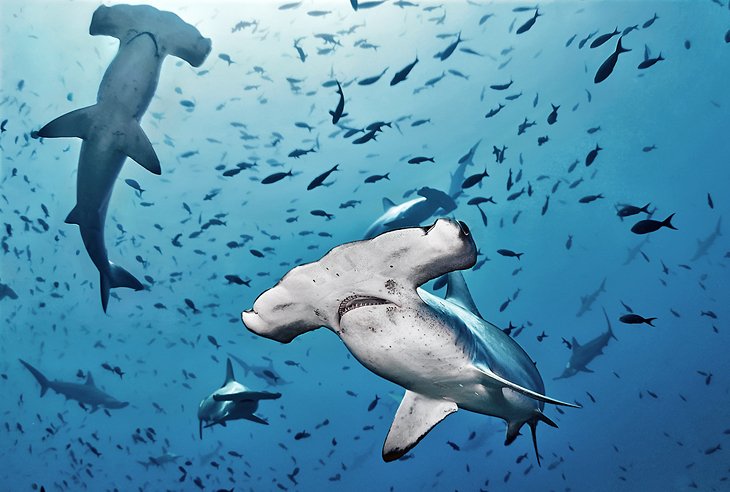 Cocos Island National Park, 340 miles off the Pacific coast of Costa Rica, is a UNESCO World Heritage site and the only island in the eastern Pacific with a tropical rainforest. Situated atop an ancient volcanic mountain, it is nicknamed "Treasure Island" as the former hideout for pirates hundreds of years ago, and today, it's renowned for its natural treasures. The island's emerald waters host amazing marine life that thrives among the extinct volcano's tunnels, caves, and coral reefs. Cocos Island is considered one of the best places to snorkel and dive with pelagic species like manta rays, moray eels, bottlenose dolphins, the occasional whale shark, and schools of hammerhead sharks.
12. Los Cabos, Mexico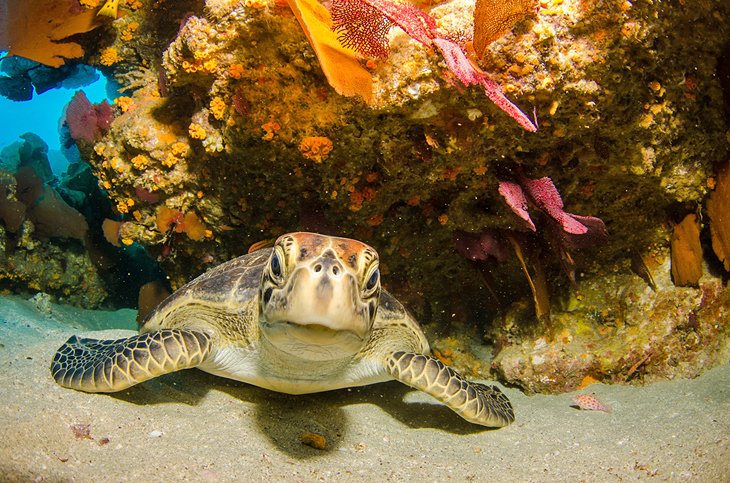 Los Cabos, situated at the southern tip of Mexico's Baja Peninsula, is nestled between the coastlines of the Pacific Ocean and Sea of Cortez. On the East Cape is Cabo Pulmo, a protected National Marine Park recognized as a UNESCO World Heritage Site, which has one of the three coral reefs in North America. Cabo Pulmo's living reef is estimated to be 20,000 years old, with 800 species of marine life, making this "Aquarium of the World" a perfect destination for snorkeling to see parrot fish, angelfish, damselfish, dolphins, sharks, and whales.
13. St. Kitts, The Caribbean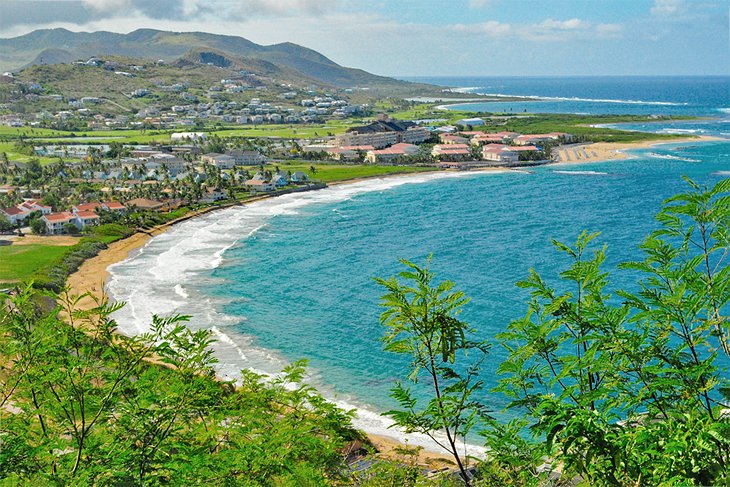 The island of St. Kitts is acclaimed for its beautiful beaches, pristine tropical forests, and year-round warm weather. An abundance of sea life inhabits the waters on the west side, south of the capital of Basseterre. In White House Bay, you can explore a collection of shipwrecks at the bottom of the sea floor, including the recently discovered 18th-century British troop ship. The best way to experience snorkeling is to take a charter to deep-water sites.
14. Isla Holbox, Mexico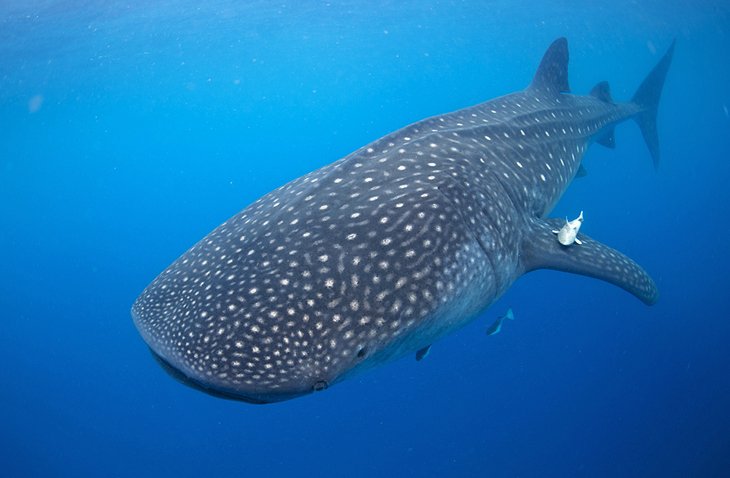 Cancun and Tulum get all the attention, but it's this sleepy island off Mexico's Yucatan Peninsula in the Gulf of Mexico that's now garnering buzz as a top ecotourism destination for swimming with whale sharks. During the summer months, these gentle giants swim near the surface feeding on plankton. You may also witness sea turtles, manta rays, and dolphins. This car-free island is one of the Yucatan's lesser known destinations, which equals fewer tourists to rub elbows with on your snorkeling adventure.